Jim Rayel's grandfather, Bob Rayel, was the vice president of the Heathens Motorcycle Club in Reading, Pennsylvania, in the 1960s. He rode an American-made Triumph, wore a steel German army helmet, and had a rebel streak with scrap to match.
As cool as it would be to write about bloody knuckles and busted skulls, trashed bars and chopped bikes, and beer-and-drug fueled all-weekenders and standoffs with state police, the real story behind outlaw motorcycle clubs — in this case, the Heathens — is that most of these guys went home to seemingly normal families and lives after club business was attended to.
These outlaws were mechanics, steelworkers, longshoremen, and heavy equipment operators. They had bosses who didn't give a shit what they did on their own time as long as they punched the clock on time Monday morning and did their jobs. They had apartments or homes. Some lived with their moms. Some had old ladies, and some had kids with their old ladies.
Clockwise from top left: Three snapshots from the dirt track races at the Reading Fairgrounds; a rally at an unknown location. Photos courtesy of The Reading Record.
Bob Rayel (simply called "Rayels") was one of those guys. He had a wife and two boys, extended family nearby, a 9-to-5, bills to pay, and gifts to buy for birthdays and Christmas.
Juxtaposed with the rowdy free-for-alls the club started any given weekend, it's amazing just how soft his life was otherwise — how much it looked like the Kodachrome of most any American family.
Club History
Outlaw motorcycle clubs were formed as early as the late 1930s in Michigan, Southern California, and along the Eastern Seaboard. In the 1960s, the Heathens had grown in status to become one of the most respected clubs on the East Coast, which makes sense, since Reading was the No. 3 producer of motorcycles in the country at that time and had more motorcycle owners per capita than any other city in the US.
Top row: At the Reading Fairgrounds. Bottom row: Settling a beef; time for a beer at the bar. Photos courtesy of The Reading Record.
The mob actually feared the Heathens — run by Chuck Ginder, a bear of a man and a former paratrooper — more than they feared law enforcement, and law enforcement essentially went out of their way not to fuck with the Heathens.
Where Chuck was the undisputed brawn, Rayels was the quiet force behind him. Together, they ran a small empire that ultimately caught the attention of the Pagans, the largest of the outlaw motorcycle clubs on the East Coast and arguably the most feared in the country. In 1966 Chuck agreed to have the Heathens "patch over" and join the Pagans as one-percenters. Out of respect for the club and the fact that Heathens were Heathens to the core, the Pagans allowed them to wear the Heathen club patch on the fronts of their jackets.
Patching over is when one club joins another and swaps the patches on their backs for the new club's colors. In the '60s, the biggest and most hardcore outlaw motorcycle clubs proudly wore the one-percenter patch as well. The name came from the American Motorcycle Association's attempt to calm the average, outlaw-fearing Joe and Jane motorcycle clubs around the country by saying, "Don't worry! 99% of motorcyclists are good, wholesome, law-abiding people!"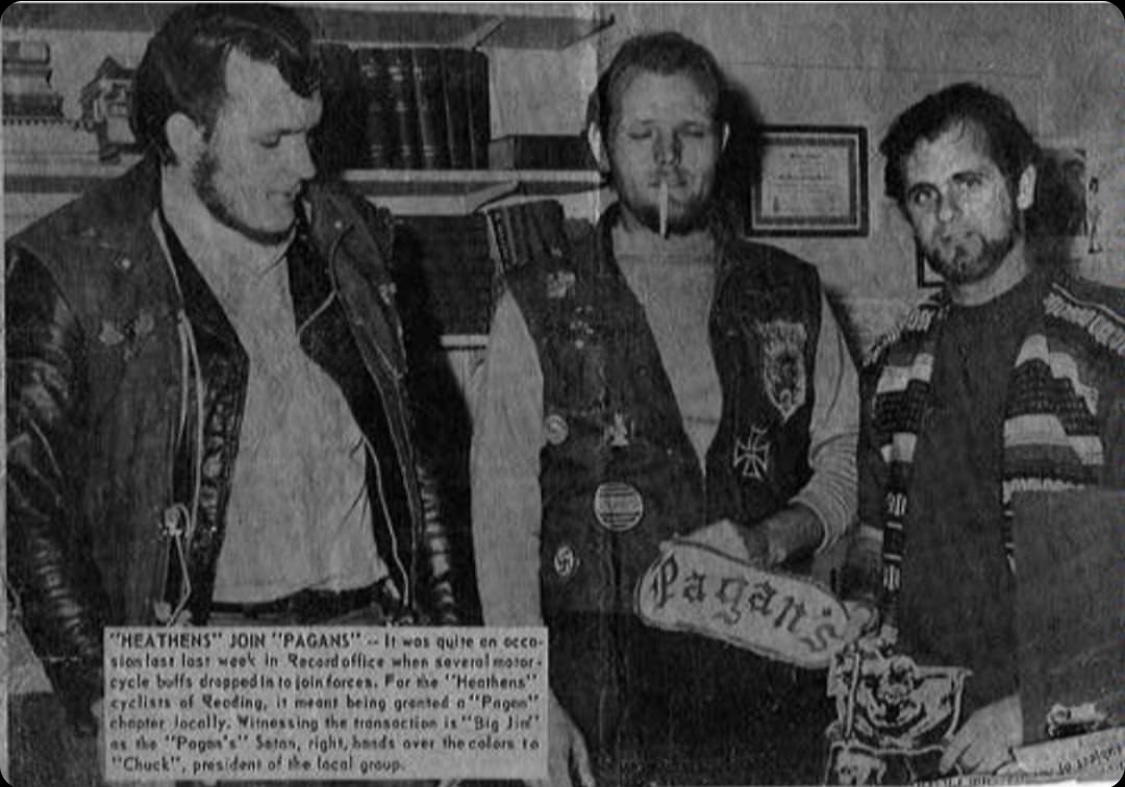 Rayels didn't agree with Chuck about making the Heathens a Pagan chapter. He knew that the Pagan patch would be the beginning of the end of the club. But he stuck with them until '68, turning in his colors only after his mind started to betray him; he had lost his wife and had finally had enough. He died of a brain aneurysm only a couple of months later at age 24.
Family Behind the Family
Bob Rayel was born Jan. 5, 1944, and wasn't yet 1 year old when his dad died of exposure at the Battle of the Bulge. Even though he grew up without a father figure, his childhood looked about as normal as the next boy's. Rebellion took the wheel in his late teens, though, and he got into fast cars and motorcycles.
Rayel met Jane in West Reading in 1962. They were married in '64 and had two boys, Bob and Dan, not long after. Rayel worked for Penn Optical making eyeglasses and raced a '62 Ford Galaxy Superstock at the Reading Fairgrounds drag strip. He was a fearless driver who finished three-tenths of a second shy of the record at Superstock Nationals.
Clockwise from top: Bob Rayel with a stringer of trout; his school photo; the happy newlyweds, Bob and Jane Rayel; the couple in the backyard. Photos courtesy of Jim Rayel.
Jim Rayel is Dan's son. He's in the electricians union and lives in a small town a stone's throw away from where his dad and uncle grew up in Reading. The family's biker history is as close as Jim's backyard, but he's largely had to piece it together by asking a lot of questions. Dan died young, like his father did, when Jim was in his early 20s.
While Jim hasn't been able to get a definitive answer on how his grandfather got into the club, he figures that the Pagans were at the Fairgrounds for the dirt track races in '65 or '66 and spotted the young hotshot.
Jim recalled, "Jane died when I was 16. When she was alive, there was really no talk of the club. It was weird. I mean, I knew my dad really, really well. It's kind of like he only knew as much as he wanted to know, if that makes sense."
Dan was about 3 years old when Rayels died.
"My old man didn't really know his dad, so he would always kind of gravitate towards the biker culture. He was looking for something, I think, to fill that space. He was a heavy equipment operator and he worked with a couple Pagans at the landfill and stuff. So, I even grew up in that culture. He always talked about joining, but my mom gave him the ultimatum: It's family life, or it's the club. He chose the family life.
"My dad was always super fucking loyal. Family was No. 1, I think because that's what he didn't have. My grandmother remarried twice, and it just wasn't good. Not that my dad was abused or anything. But, you know, she married a guy when my dad was young. He was a fucking asshole. She married again later when my dad was grown. Probably in his mid-20s or so. I think my dad just wanted stability for his kids. He definitely broke that cycle and stayed present."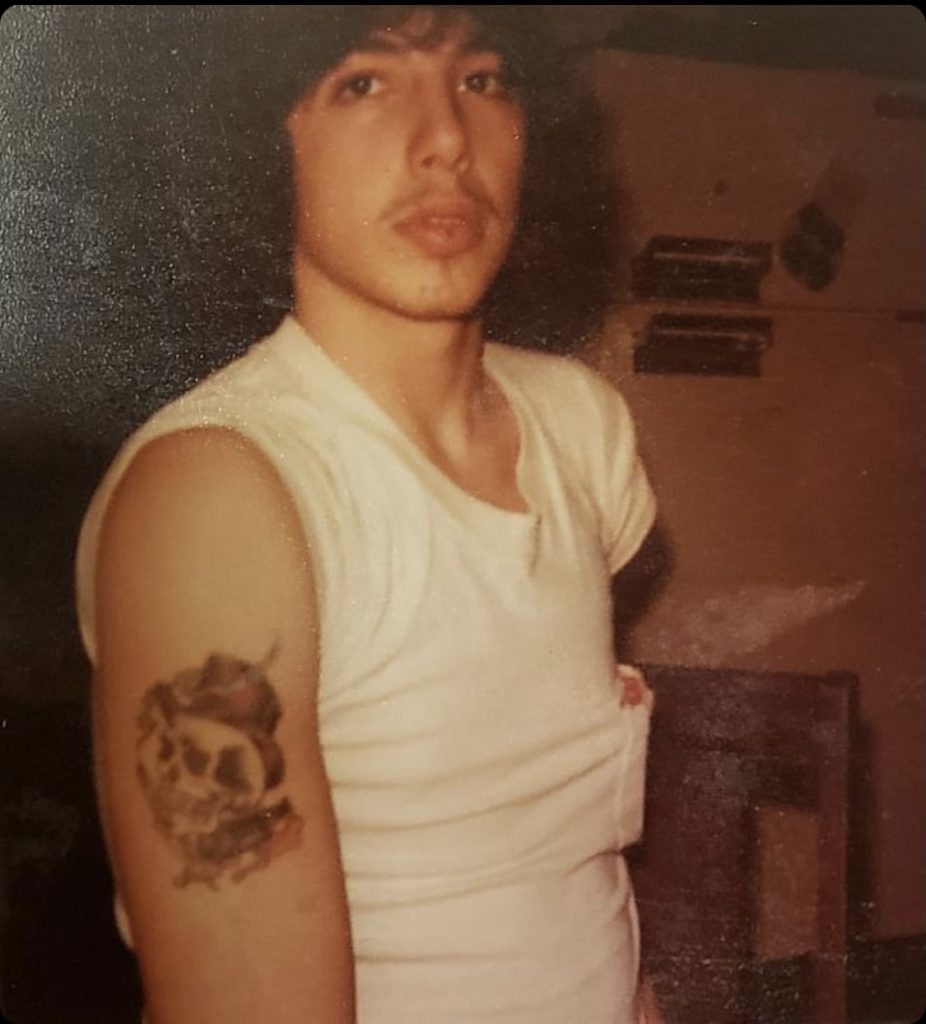 That Was Then. This Is Now.
Sometimes it's tough to reconcile a man to his actions — how Jim's grandfather could essentially live two lives.
"I try and put myself in the mentality of a 23- or 24-year-old fucking guy that's, you know, running wild, doesn't have a dad, has two kids at home, but still wants to sow his oats. I just try and put myself in their shoes and what life was like in that time period.
"I knew a lot of those original guys from the club around here, 90% of them didn't have an old man. They lost dads to the Second World War and friends to Vietnam. I'm lucky I had my dad for as long as I did."
The distance from the early club culture and the need to belong faded as the club started getting into harder drugs and more brash criminal activity.
"You know, I can appreciate the outlaw lifestyle, you know. Living outside the boundaries of society and shit. I just chose my family, you know, like my dad.
"I had three bikes. The first two I bought, rode for a little while, and then sold. Then I had one I was building from scratch. Totally chopped, raked forks, tiny tank, and everything. But I knew it'd kill me if I finished it. I still have my dad's bike, but I don't ride it.
"There's a lot of stupid people out there. I don't want to lose my life or be injured and be away from my wife and kids or something just for a ride. I'd rather live vicariously through writing or research or reading or just understanding it better. I don't have to actually put my ass out on the line, possibly get killed.
"My grandfather, my dad, and me all have the dark hair and dark eyes. Dad always said the demon really followed down through the generations. But I don't think so anymore. Old club guys say he was a great, great guy, like, just a fuckin' super nice guy who didn't say much and would just do anything for you. That's what my dad was like, too. Quiet and laid back. I think that's what will be passed on."
Read Next: Hard-Working Americans: The Mechanic