Everything's bigger in Texas: Friday night football, the stars at night, never-ending wide-open ranges, belt buckles, Stetsons, and country-bluegrass music. And you have to add Texas BBQ to that list. 
Texas is one of the four main barbecue regions in the US, along with the Carolinas, Memphis, and Kansas City — and the state's meat of choice is beef. It's no surprise, given the ranch and cattle-heavy culture of the state. Even so, pork ribs and sausage make appearances as well.
Of course, like any other barbecue region, there are subregions that claim their own unique flavor or style. In Texas, they would be Central, West, East, and South.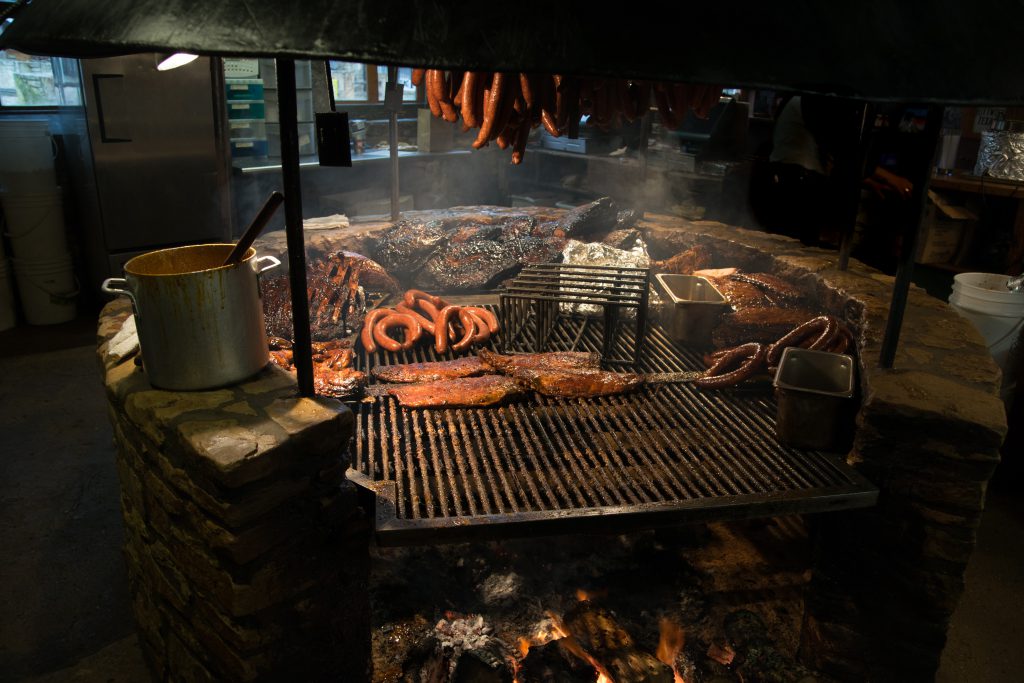 East and South barbecue emphasize sauce, whereas the rub is king in Central barbecue. Central burns oak and pecan wood, but West loves its mesquite. Barbecue is cooked at high temperatures in West Texas, while Central Texas barbecue is slowly smoked with low heat.
The diverse cooking styles come from the cultural variety of the people who settled in the area.
Czech and German settlers in Central Texas owned butcher shops and would often smoke leftover meat with salt and black pepper to preserve it. Once their customers got a taste, they couldn't get enough, so the shops evolved into barbecue joints. 
Thanks to generations of Mexican farmhands living near the border, traditional barbacoa is in South Texas's roots. Slow-cooked meat is slathered in a thick molasses-like sauce to keep it moist and tender.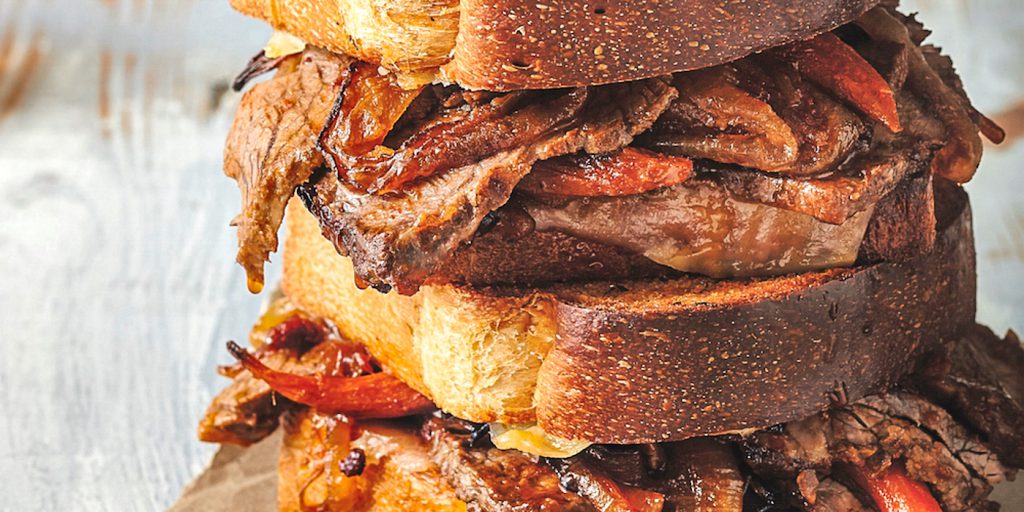 Emancipated enslaved people who settled in East Texas brought slow-cooked, fall-off-the-bone, chopped barbecue with a sweet tomato-based sauce from the Southeast.
"Cowboy barbecue" out of West Texas is done over an open fire, echoing the era of cattle drives and trailblazing. Not as reliant on slow-cooking as the other regions, West Texas barbecue is closer to grilling but still ridiculously good.
Sauce styles and tastes run the gamut in Texas. Some are as simple as vinegar mixed with some sugar and salt, while others have complex flavor profiles that emphasize vinegar, chiles, mustard, ketchup, and Worcestershire sauce. Of course, there are some places that don't allow sauces within a country mile of their smoked meat.
Best Texas BBQ Joints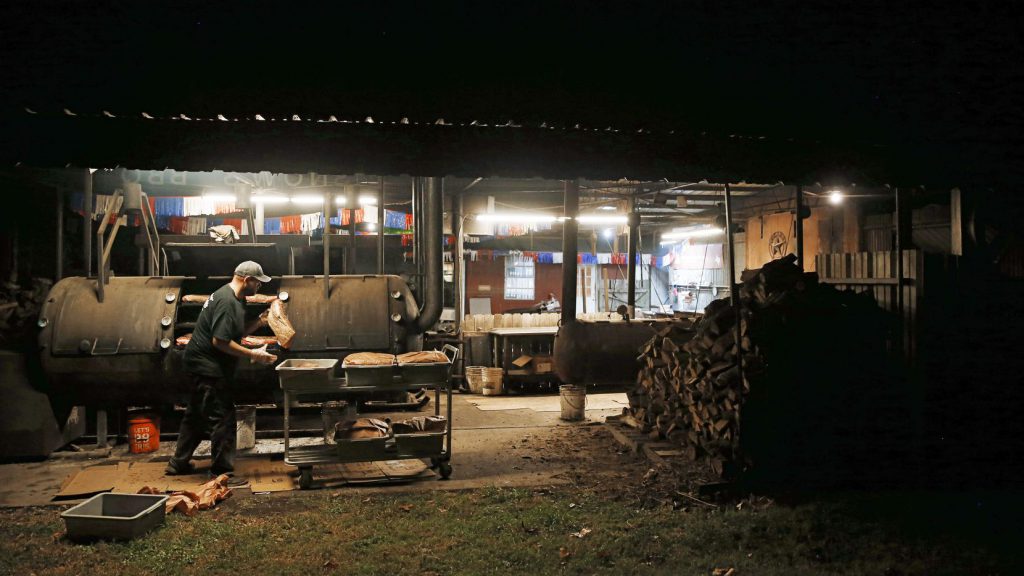 RELATED: Barbecue, Politics, and Alabama White Sauce
Snow's BBQ
Tootsie Tomanetz is a legend in the world of barbecue, in Texas, and beyond. The Saturday barbecue she cooks up with owner Kerry Bexley brings people from all over the country and even other nations to the small town of Lexington, Texas, which has only 1,100 residents. Everything on the menu is sold by the pound: brisket, pork spare ribs, pork shoulder steak, turkey breast, chicken, original sausage, jalapeno sausage, and a laundry list of sides. Get in line early. You've been advised.
Franklin Barbecue
What do Jimmy Kimmel, Anthony Bourdain, and former President Barack Obama have in common? A love for Franklin Barbecue. Owners Aaron and Stacy Franklin have made a big name for themselves in a short time. People wait in line for hours for the melt-in-your-mouth Franklin brisket. It's no surprise with James Beard Awards for Best Chef, Barbecue, and Sauce, and Aaron's spot in the American Royal Barbecue Hall of Fame.
Goldee's Bar-B-Q
Lane Milne, Dylan Taylor, and Jonny White made their bones in the barbecue world eight years ago and never looked back. The co-owners of Goldee's have worked for eight of the Texas Monthly Top 50 barbecue restaurants and trained under the best pitmasters in the nation. Their joint, named after the old, golden Ford F-250 they used to tow around their first pit, is the perfect culmination of passion and countless hours spent dialing in timeless smoking methods and experimenting with new variations of classic sides. These young guns are the future of Texas BBQ.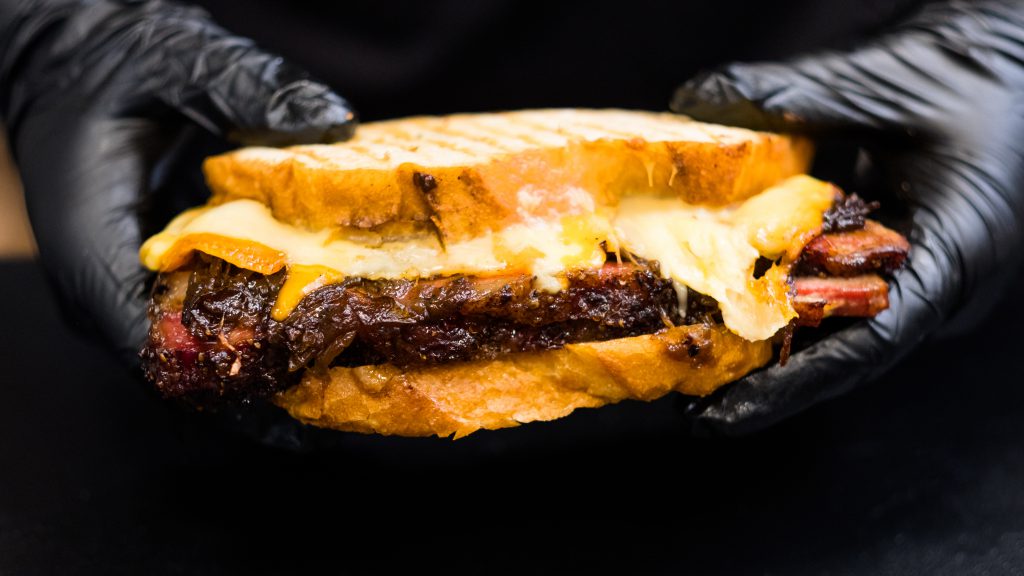 Interstellar BBQ
Named to the top spot on Texas Monthly's Best BBQ list, only the highest quality ingredients make it to the pits at InterStellar. They source the best wood and take the time to cook one batch at a time. Rushing or taking shortcuts to create a delicious experience is blasphemy. Get yourself ready to dig into sliced or chopped brisket, beef kielbasa, peach-tea–glazed pork belly, sliced brisket tacos, and more. 
TRUTH BBQ
Leonard Botello IV, the owner and pitmaster at TRUTH eats, sleeps, and breathes live-fire cooking. This is authentic Central Texas-style barbecue with relentless attention to detail. The menu includes such deliciousness as a whole turkey, whole brisket, and smoked sausage, but you'll need to order ahead for pickup. If you're not a local, you can get anything shipped, including a whole lot of sauce choices.
Burnt Bean Co.
If you head into Burnt Bean and think you're going to be served by a barista, you're going to be disappointed. Well, unless you're a fan of barbecue. Ernest Servantes opened his doors in January 2021, and he's had lines of customers waiting for his barbecue ever since. Part of the draw is his reputation as a killer pitmaster. He's won nearly 50 grand championships and is an 18-time state champion. Servantes is out to prove that Texas has the best barbecue, period. 
Lone Star Sauce Recipes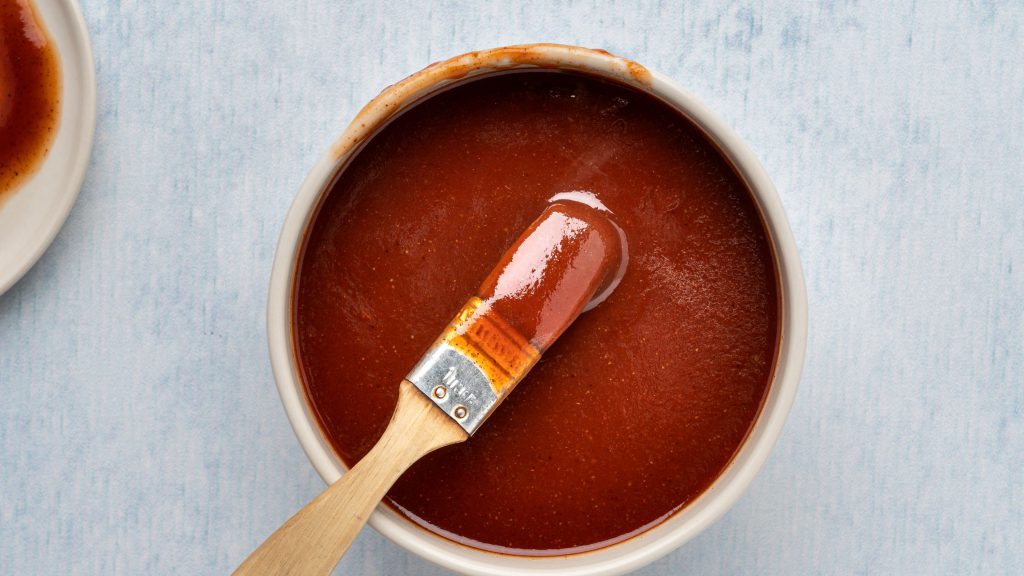 RELATED: Kansas City BBQ: 'The Sauce' Is King
To make a killer Texas BBQ sauce, follow directions from the best in the business:
There's really no limit to what flavor profile you can achieve. If you want to experiment at home, start with these ingredients and give 'em hell:
Sauce Ingredients
Tomato sauce
Tomato paste
Apple cider vinegar
Olive oil
Diced onion
Chopped garlic
Molasses
Worcestershire sauce
Yellow mustard
Black pepper
Directions
Cook onion and garlic in olive oil till soft. Try bacon grease instead of olive oil if you're not worried about your cholesterol. Add jalapeños if you're not worried about your tastebuds. Stir in the rest of the ingredients and let simmer. Pour the whole thing in a blender and whir until it's uniform; re-simmer till you're ready to slather.
Texas BBQ Rub Recipes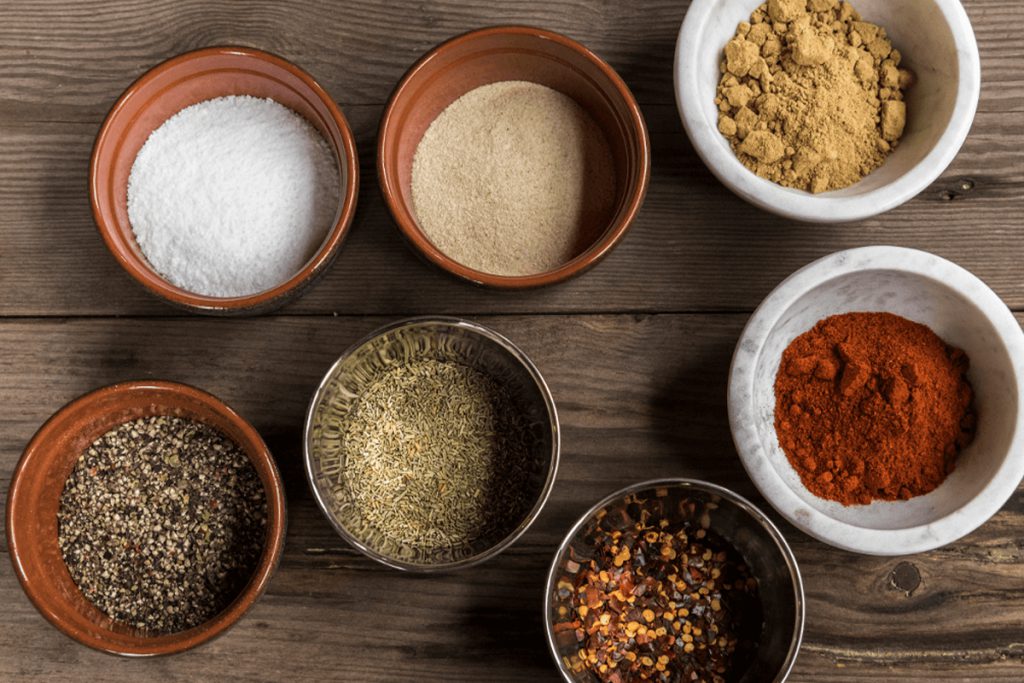 RELATED: Memphis BBQ: Dry Rub or Sauced You Can't Go Wrong
Two classic dry rubs:
Here's another opportunity to go off the deep end with flavor. But first, start with these basics. 
Dry Rub Ingredients
Chili powder
Brown sugar
Salt
Ground black pepper
Ground cumin
Garlic powder
Onion powder
Paprika
Ground cayenne pepper
Directions
The possible tweaks and touches are endless. Include some coffee for a bit of bitterness and a rich aroma. Cinnamon works well, too. Add or subtract chili powder and brown sugar, depending on how hot or sweet you want the taste, Don't overdo the dry rub coverage on the meat. You want the rub to complement the smoky flavor, not overpower it.
Read Next: St. Louis BBQ Ribs: From Surplus to Luxury Cut