On the south side of Bloomington, Illinois, in a warehouse next to an empty golf cart dealership, a small tribe of men and women prep to suffer.
Over the sink in the restroom where I'm hiding hangs a 1st Ranger Battalion flag. Next to the urinal is a poster of King Leonidas from the movie 300, looking ripped as fuck. There's a wire shelf in the corner where I sat my gym bag. There are no tall lockers here like in a normal globo gym. Nothing about this place — Element26, run by an ex-Army Ranger — is normal. This is Gym Jones. And I'm about to get my ass beat.
In the world of hardcore fitness, Gym Jones stands alone. The movement started in 2003 when Mark Twight, an accomplished climber, and his then-wife, Lisa Boshard, opened the original, invite-only Gym Jones in Salt Lake City. Boshard, long involved with jiujitsu, soon brought mixed martial artists to train with their core group of climbers. Members of the US military special operations community heard about this powerful new program and were invited in. It quickly earned a reputation for the hardest workouts in America.
In 2005, Boshard, who did wardrobe work for Zach Snyder, connected Twight to Hollywood. As the story goes, Snyder so admired Twight's charisma, he said, "That guy could get people to drink poison in the jungle." The business was soon after named Gym Jones.
For the movie 300, Twight turned 35 actors and stuntmen into Spartans. Instead of a Venice Beach-style, "back and bi's, chest and tri's" protocol that dominated bodybuilding at the time, Twight combined high-intensity interval programming and compound movements like Olympic lifts and kettlebell work with a "mind is primary" philosophy that pushed climbers, brawlers, and warfighters to peak physical performance. This early Gym Jones programming became legendary in the fitness world, but details were limited. If the first rule of CrossFit is tell everyone you do CrossFit, Gym Jones took the opposite approach. Boshard still jokes about "the clever marketing of no marketing." To fully grasp Gym Jones you had to show up, and put out.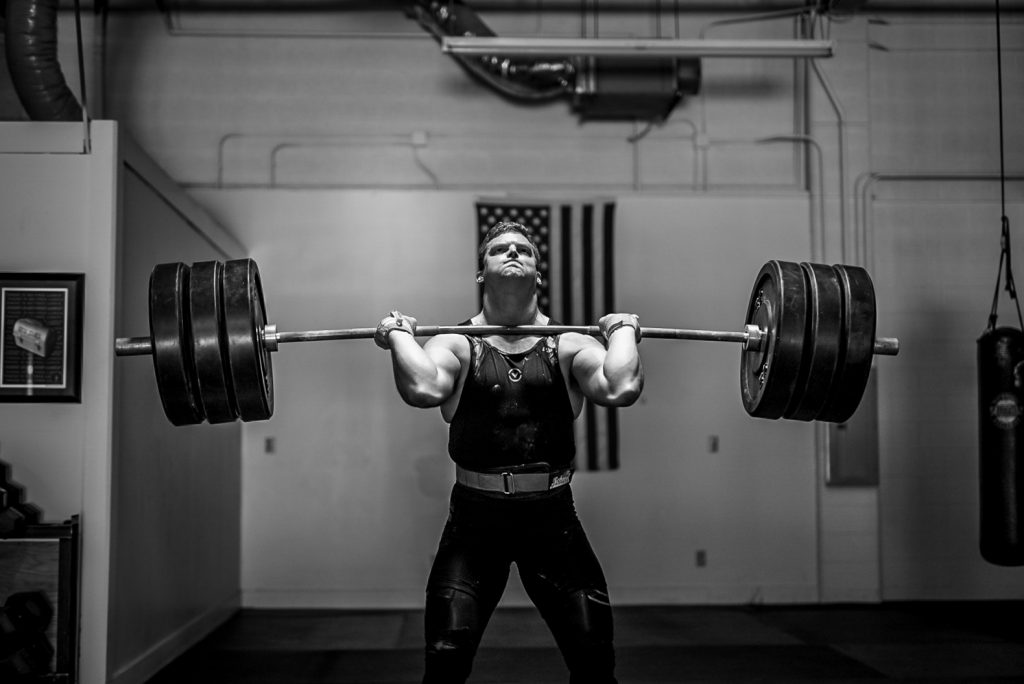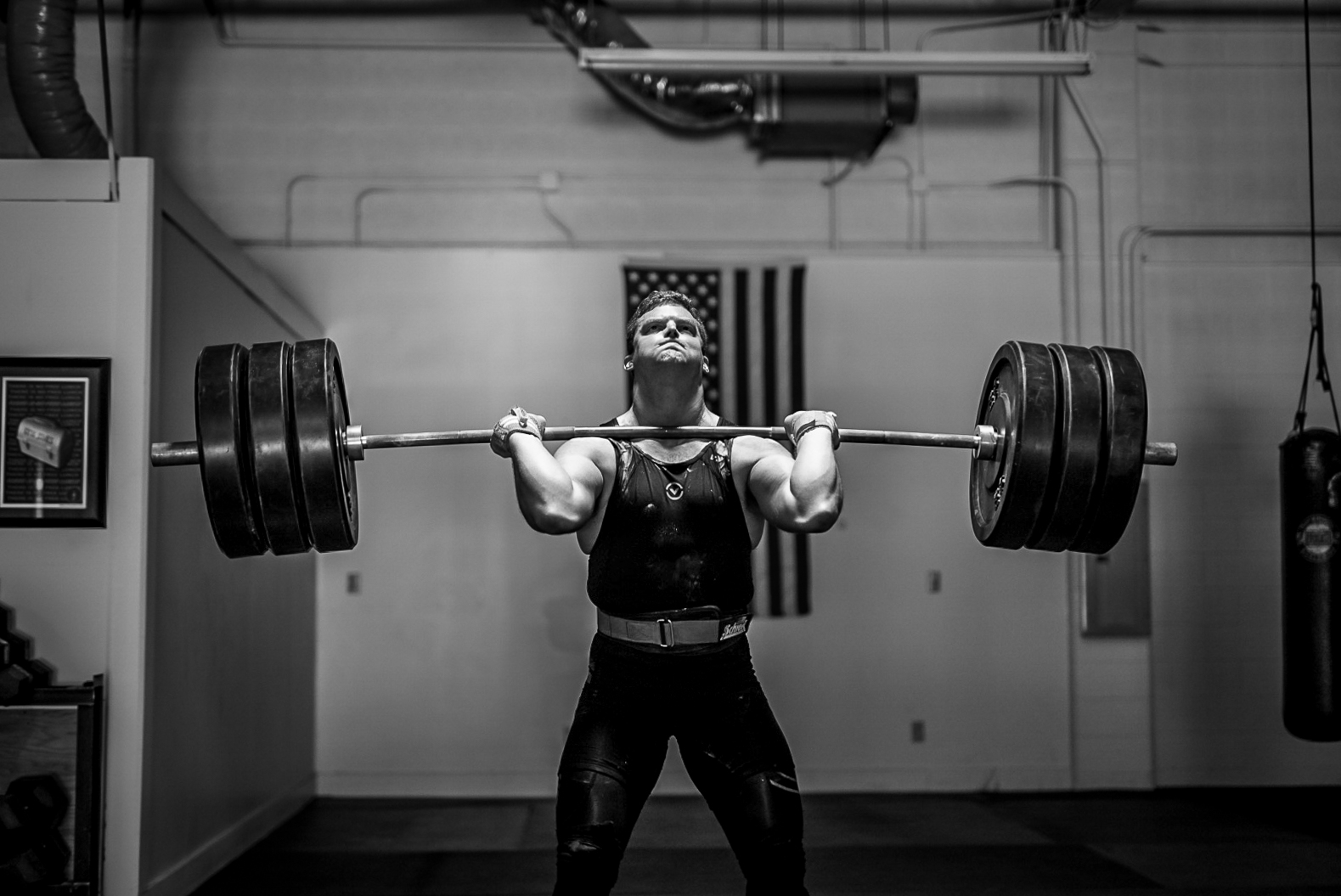 On the floor at Element26, this all starts easy enough. There's a fleet of Concept2 bikes, rowers, and skiers, and a group of us assembled for a Gym Jones Fundamentals seminar. We spend 10 minutes warming up. 
"Grab a PVC pipe," says Kurtis Frasier, Element26 owner and Gym Jones instructor. We shuffle toward the stack of 1-inch pipe, 6 feet long, and Frasier leads us in a stretch routine to open up shoulders, knees, and hips. Circled up, everyone introduces themselves. There's a 45-year-old firefighter from the Chicago 'burbs who wants to "run into burning buildings when I'm 55," and a squad of big lifters from Project Deliverance in St. Louis. There are a few ripped young women, and a "cheer mom" coming back from a leg injury. Matt Owen, owner of Project Deliverance and a Gym Jones certified instructor, gives us a quick lesson on proper deadlift form. We move into the first heavy lift of the weekend.    
"What's your goal with all this?" Frasier asks me as I slot 45-pound plates on a bar.
"Not to get hurt."
"That's a good goal," he says. He'd rather see me lift 100 pounds with good form than an ugly 200, he says.
The group goes to work, lifting weight and putting it down. The instructors float, pointing out form adjustments and issuing weights. Owen comes up and looks me over. I need to lift from my heels, not the balls of my feet. Shoulders broad, not rounded, chest proud, bar close to shins. "Add on some 25s," he says. There are groans and the sound of big weight hitting the floor around me. Most of the other attendees have some degree of Gym Jones education and came to this seminar with personal records, or PRs, in mind. I do two sets of 10.  
"Good," Owen says. "Take those 25s off and put on 45s. Five reps." My quads are screaming, but something about it feels easier with more weight. "It forces better form," Owen says, "to a point." He adds a few small plates till I hit a one-rep max. "How much do you weigh?" he asks me.
"One-seventy."
"Man, I could get you to twice your body weight in eight weeks," he says. That, I'd learn is a Gym Jones "standard."    
C.J. Wagner, a Gym Jones instructor at Equinox in Chicago, walks over and points at my bloody shin. "Someone is listening," he says. I don't get it. "The bar," he says, "cut your shins. You're lifting it close to your shins."
It all feels good and manageable. Then, there's a rattle and slam like some small car accident.
"COME ON!" yells Jon Balint, screaming into the face of his brother Danny. The bar in Dan's hands bends 3 inches off the deck as he muscles up damn near 600 pounds. "COME ON!" his brother yells. Everyone is clapping now, cheering. Dan Balint cranks up the big weight and the whole gym goes bat shit. 
"You can do this!" Frasier yells. Across the floor, his wife, Ashley, attempts a deadlift PR. She nails it, drops the weight, and jumps into his arms. Everyone is cheering now. Stephanie Scoles, the 45-year-old cheer mom, is up. "Come on, Steph!" someone yells. She walked into Element26 a year ago, her foot in a boot. "You can do this!" She draws a big breath, and the weight is off the floor, heels down, back straight. She crushes it — another personal best. Scoles lets down the weight, happy tears rolling down her face. "Yeah, Steph!" someone bellows. The room is electric: clapping, cheering, howling support. The chaos seems to sync with the heartbeat in my ears. Our collective war drums rage. Intensity is a drug, and our veins are coursing with it.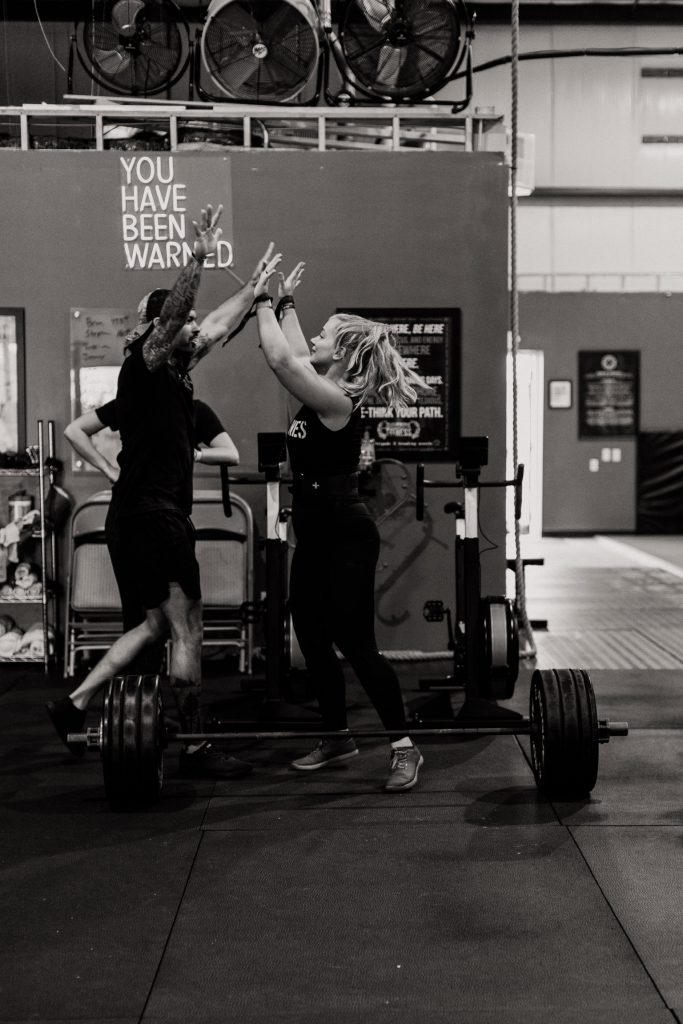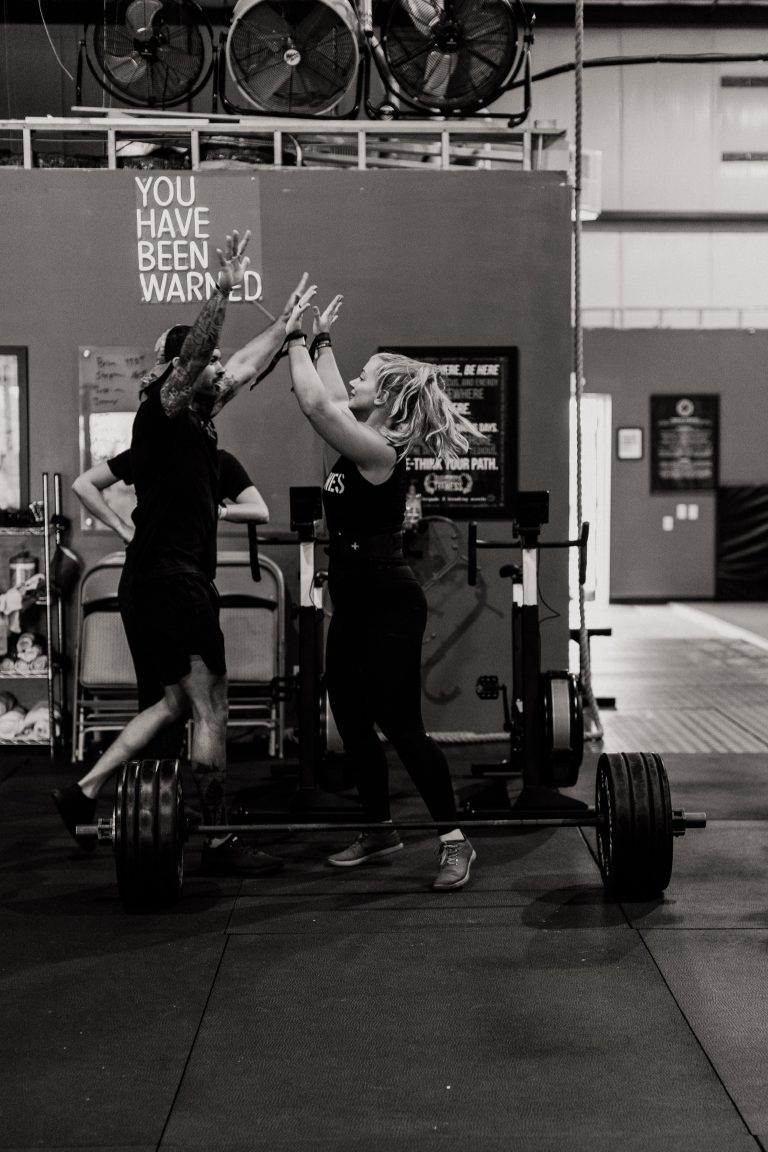 Wagner and Kevin Baird, the fourth Gym Jones trainer here for the weekend, who hails from Station 515 in Detroit, wheel out Concept2 Dynamic Rowers to the middle of the floor. "This is called Tailpipe," Frasier says, and a few knowing attendees groan. A signature Gym Jones workout, Tailpipe got its name because halfway through it feels like you're sucking on a truck exhaust. We're paired in teams and while my partner straps in the rower, I'm given 35-pound kettlebells and told to hold them near my neck, in the racked position.
"Go!" Frasier yells, and a stopwatch starts. Brian Wilson, a coach in training at Element26, takes off full-speed on the rower. The goal is to pull a fast 250 meters. The longer it takes Wilson to row, the longer I'm holding 70 pounds at my throat. Four teams work on rowers side by side. Everyone not rowing or holding weight is hollering. The whole place has gone mental. When Wilson hits his mark, we switch. Rowing is a core Gym Jones tactic. It burns more calories an hour than a bike — engaging legs, core, arms, and back all at the same time. A display on the machine charts my distance and my time. Owen barks out pointers: Go deeper, full extension, lean back. When I hit 250, I nearly fall off the fucking thing and scramble to rack the kettlebells. Wilson's turn again. It isn't over till we both row 750 meters. Two more cycles to freedom.
One of the major early Gym Jones insights grew out of the best exercise science of the early 2000s — "the mind is primary." When we feel exhausted, when the body screams it can't go on, this is basically a lie. The mind acts as a governor limiting the physical engine. Timothy Noakes, M.D., Ph.D., director of the Exercise Science and Sports Medicine Research Unit at the University of Cape Town, summed this up beautifully. "Your brain sabotages your performance," he said. "When you feel fatigued, it's just an emotion. It has nothing to do with your physical state at all. Your biology sets your true limit, of course, but how close you get to it is determined by what you believe."
To change what you believe, or "unfuck your mind," as Gym Jones disciples call it, exercises like Tailpipe and others have been designed as team events. Yes, you could slack-ass on the rower and take your leisurely time, but all the while your partner is standing there with racked kettlebells, sucking fumes, glaring you down. It's a visceral, psychological motivation. "Look at him!" someone bellows halfway through my last spin on the rower. I'm dragging now, but there is Dan, suffering, and I must crank on.
When Tailpipe is over, folding chairs are set out for the classroom portion of the seminar. I sit there, legs spread out, impossible to get comfortable, eyes closed, thinking, Don't throw up, don't throw up, don't throw up. Two hours into the weekend, rubbed thin as tracing paper, I get at something deep down in myself — a hidden thread of vanity. Don't throw up, my mind begs the body. What will these people think, if I fucking throw up?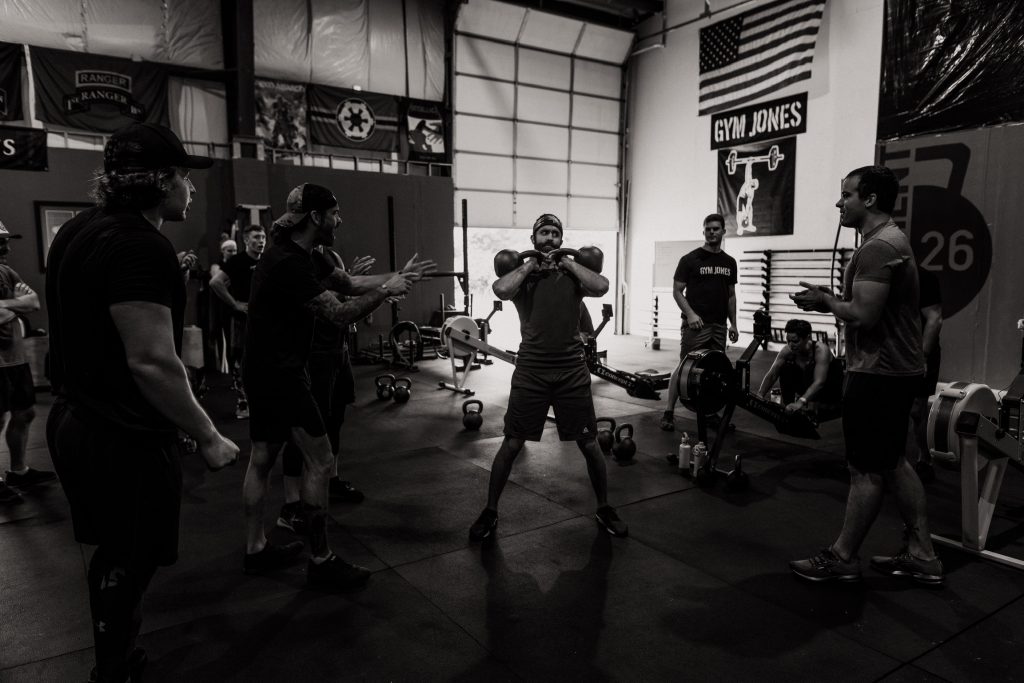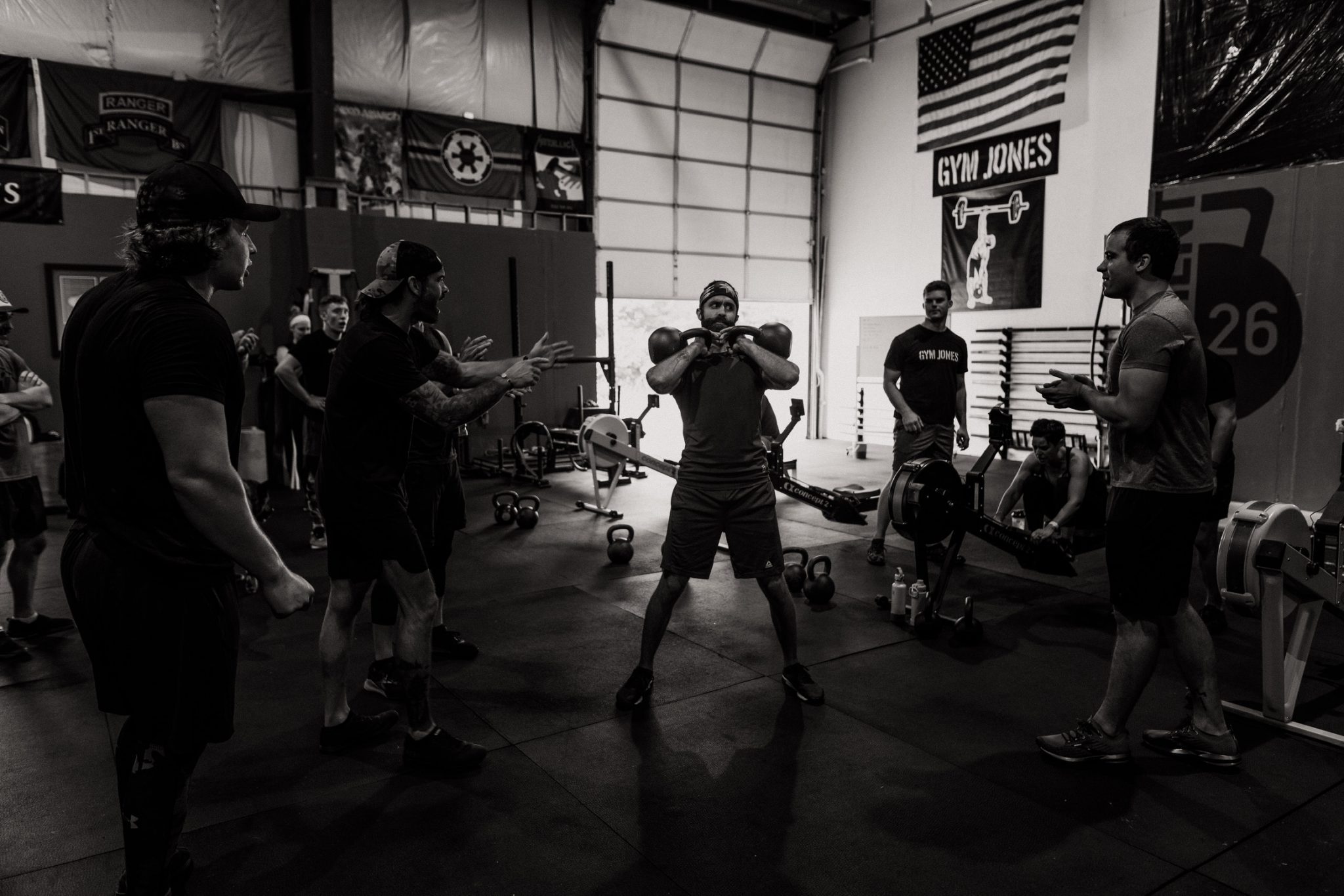 Sometime after the success of the movie 300, Twight and Boshard divorced. In the settlement, Boshard took full ownership of everything Gym Jones. (Twight declined to be interviewed for this story.) In the fallout, some trainers took sides and posted their feelings online. Like any divorce, some kids went with mom, others with dad. Gym Jones went through a few iterations soon after — with high-profile fitness directors. The Salt Lake gym went public. All of it, Boshard recently told me, was a failure. "I've been trying to get the egos out of this thing since we started," she wrote to me in an Instagram message after my first day at the seminar. "It took a pandemic and me setting fire to the bullshit of the past to get it done. We are a resource to others. Period. We have lots of improvements to make, as we all do."
Today, Gym Jones maintains its only physical location in Salt Lake. New applicants are vetted as they were in the past. It's no longer open to anyone off the street. There is a new online training program through its wider website, gymjones.com, and the fitness app Train Heroic — but the core of the resource remains the seminars. Dozens of Gym Jones certified instructors operate at gyms around the world. The instructors have completed the series, through the five-day Advanced Seminar, and have achieved a laundry list of physical goals — the infamous Gym Jones standards. The course of education starts with the Fundamentals Seminar, which is what brought me to Element26, sick in a folding chair, wondering WTF did I get myself into. This is the first Gym Jones seminar of 2020 taught outside of Salt Lake. And it's no coincidence that Kurtis Frasier is running it.  
Bear, the Frasiers' giant Akita-German shepherd mix, can tell I'm beat up and comes over for a butt scratch. In the space where we're sitting, the walls are black-and-white like all the photographs associated with Gym Jones. I ask Frasier about it, a photographer himself who does work for Black Rifle Coffee Company. "Part of it is just branding, I think," he says. Then he adds, "For me, I think about a thing I read on how you can't fake a black-and-white photograph. With grading, with Photoshop, I can take an okay color photograph and make it good. You can't fake black-and-white."
Flags line the wall at Element26, representing all branches of the US military and much of the special operations community. Next to the US Navy flag hangs the LGBT rainbow, next to that a Black Lives Matter banner, next to that a Thin Blue Line American flag. There's the Gadsden, Join or Die, No Quarter, Bleed Last, and a neon sign blinking on the wall: "You Have Been Warned." Element26 is a closed gym — you can't just pay monthly dues and join. Frasier vets new members for "mindset," or "How hard are you willing to work?" The flags are a tribute and a message: Everyone is welcome, leave politics at the door, now let's get the fuck to work. Frasier does not accept applications the month of January, when most gyms make their bottom line cashing in on New Year's resolutions. "It's a bad business decision, maybe," he says, "but good for culture."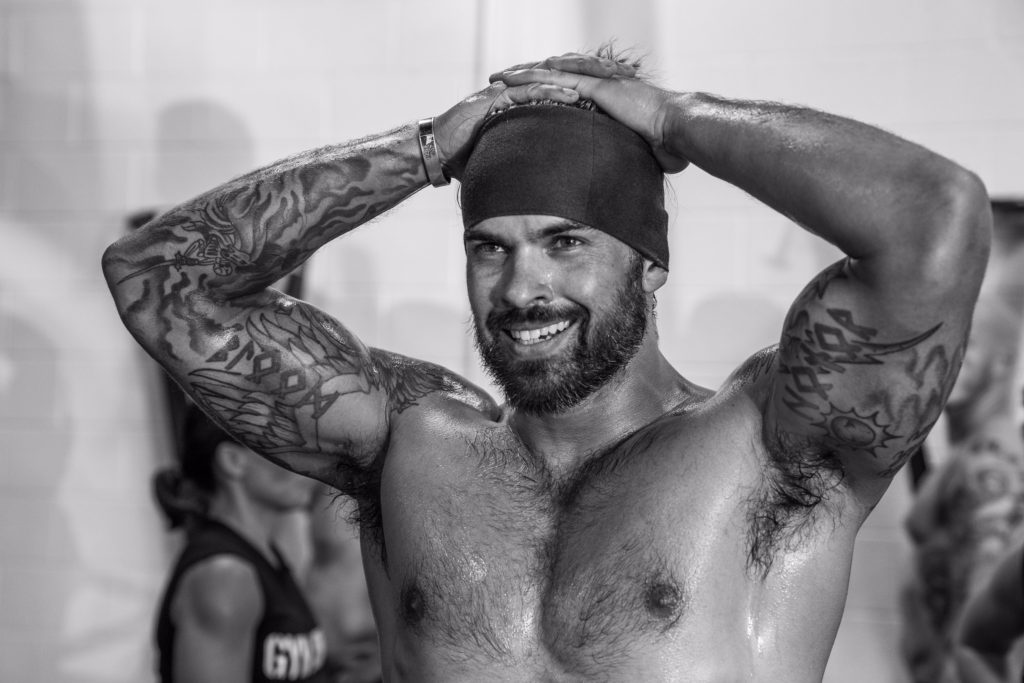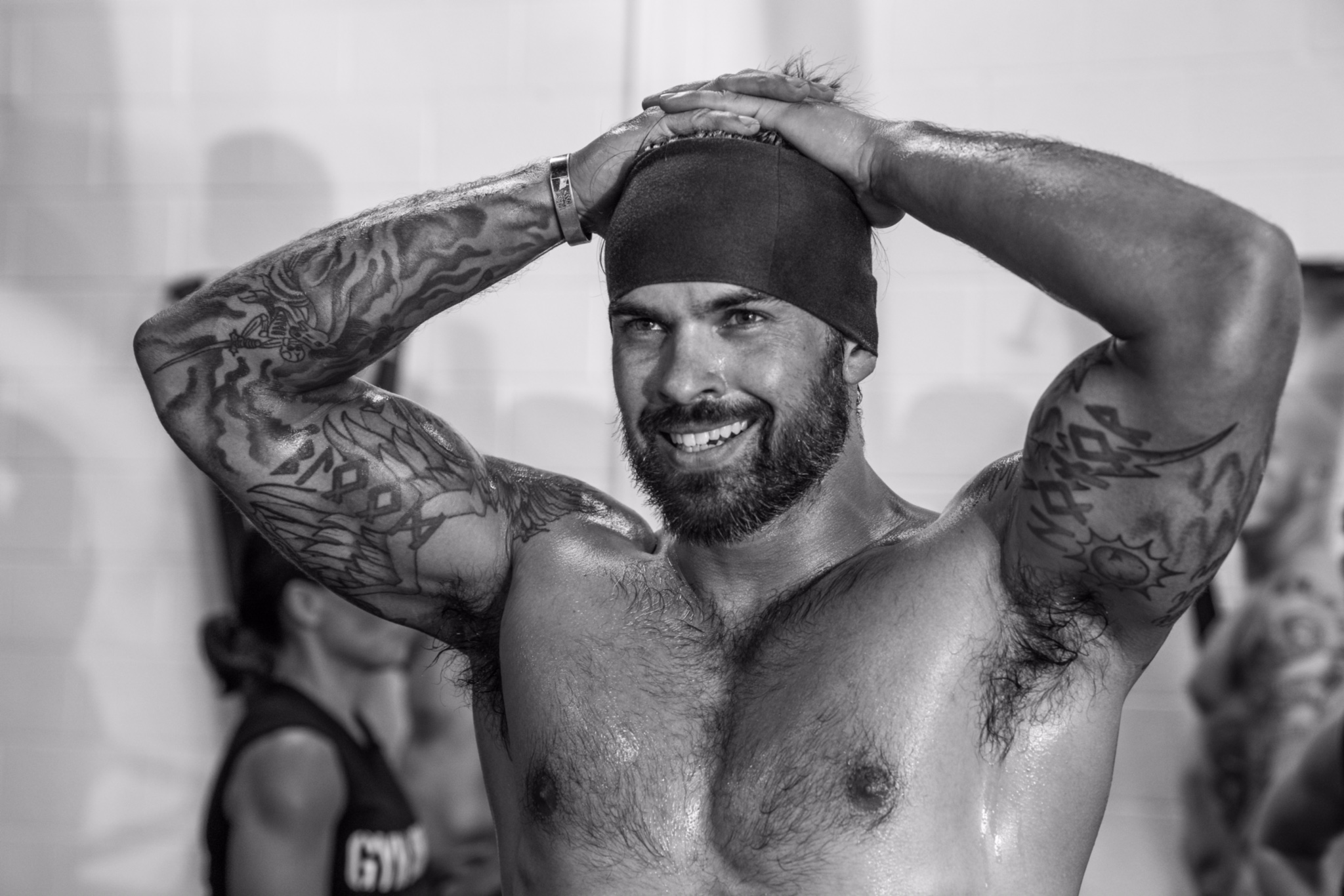 On the counter by the door is a coffeepot and a pour over set. Next to the coffee are three framed pictures of 1st Battalion, 75th Ranger Regiment warfighters, Staff Sgt. Kevin Pape, Sgt. Robert Sanchez, and Spc. Chris Wright, all of whom served with Frasier and were killed in action.
There's a deep connection between Gym Jones and the special operations community. Twight trained personnel from military and intelligence services since the gym's early days. He designed a cold-weather clothing system for United States Special Operations Command, and lost some of his very best students in the Extortion 17 tragedy. Frasier heard of Gym Jones back in his Ranger days but didn't formally get involved until after service, while completing an exercise science degree at the University of Illinois, Bloomington. Boshard told me of the powerful energy that lingers in the walls at Gym Jones in Salt Lake: "Anyone from a martial arts background walks in and they immediately bow." This warehouse building that is Element26 is like that, too. A dojo literally — with mats by the door where Frasier, a black belt, teaches jiujitsu — but metaphorically, where any schlub like me (vetted for mindset I like to tell myself) can train at the limit of self.
Brandon Lilly, the world-champion powerlifter and coach, has taught at Gym Jones Advanced Seminars, and describes the methodology as "a pathway that connects physicality, through mentality, to spirituality. It's a refining process, refining the understanding of how you work, how you fail and how you adapt."
Lessons that apply well outside the gym.
Everyone is here for something," Frasier says. The whiteboard is out and he's called us to attention. "There is no, I just want to lift. The gym doesn't mean anything. What we use the gym for is what it's about. It's why we're here.
"Why are you here?" Frasier points to Steve Styx, the firefighter and a former MMA fighter.
"I want to be harder to kill," Styx says.
"Why?"
"I want to be there with my brothers, when we're in 1,200-degree heat, ripping ceiling tiles, I want to last."
"You don't want to draw down that bottle," Frasier says.
"No. I've seen guys ring out in 10 minutes."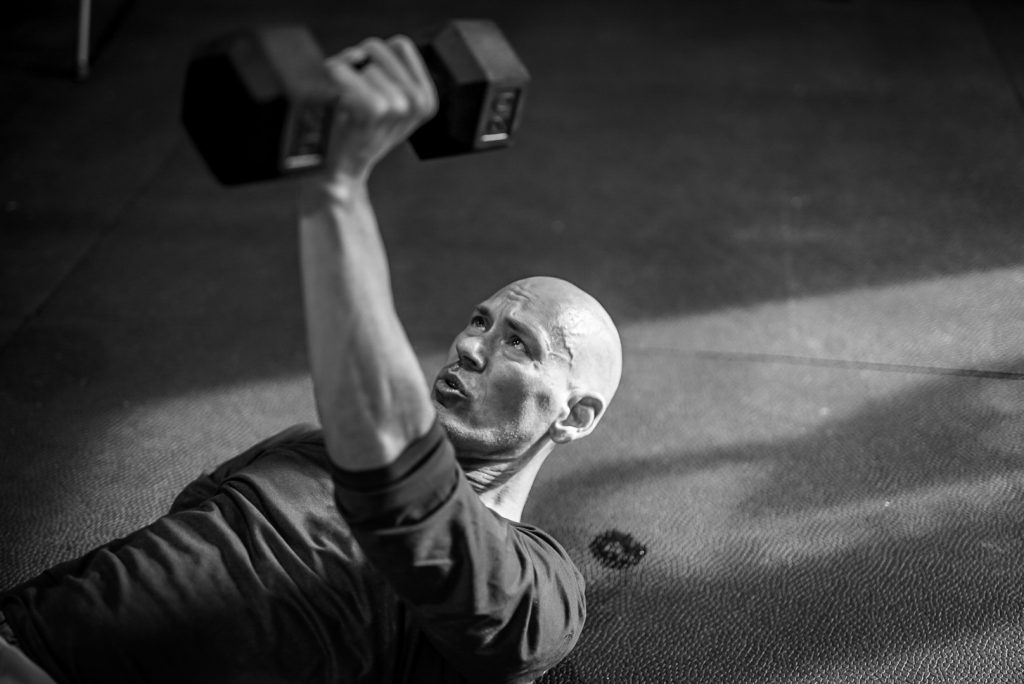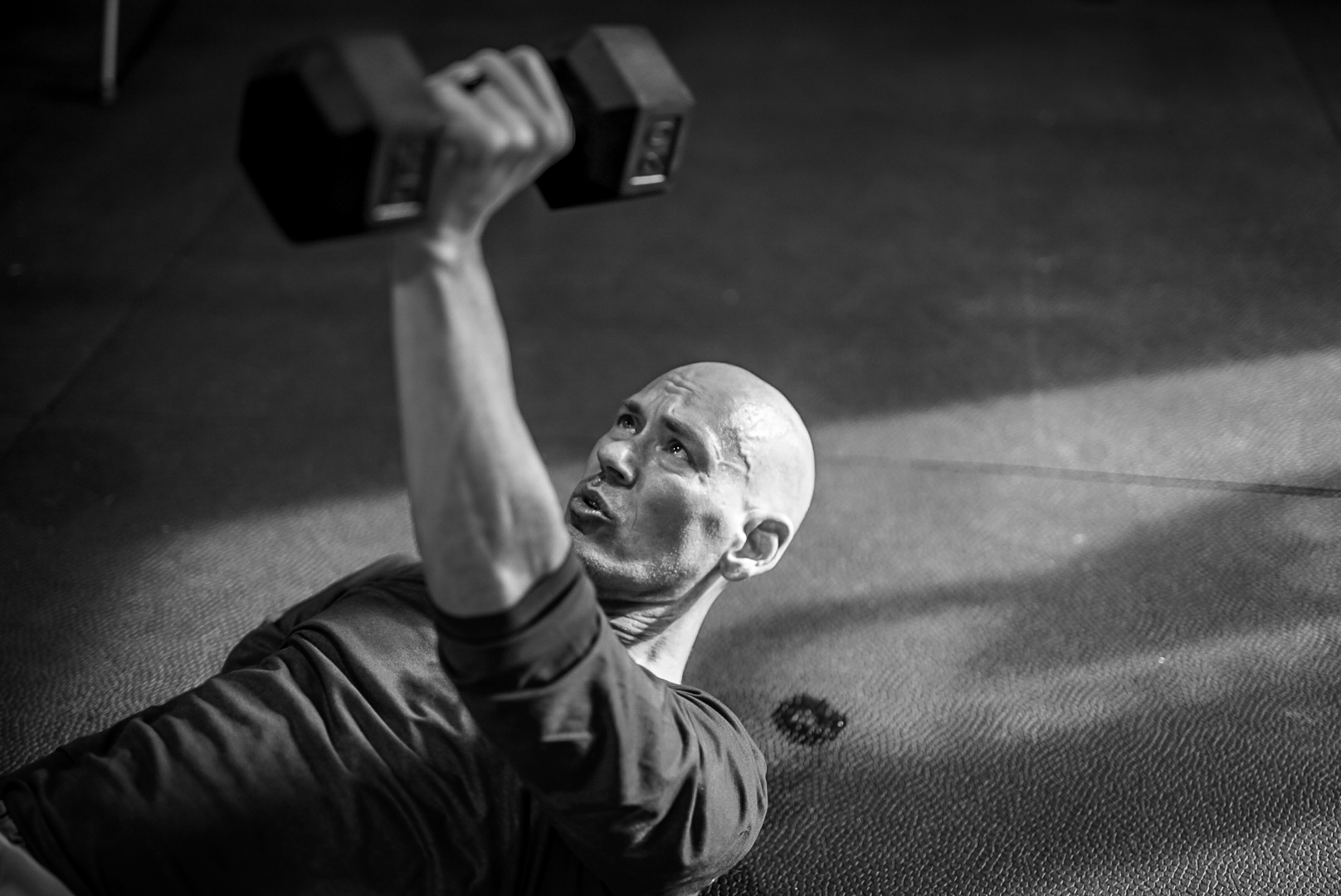 Firefighters wear a self-contained breathing apparatus or SCBA — an octopus-like mask and tube system connected to an oxygen bottle. The amount of oxygen in the tank is fixed at 4,500 psi, but how fast a firefighter burns through that is directly connected to their fitness. A fit body will run a lower heart rate and lower respirations per minute, draw less oxygen, and stay in that fire longer. When the bottle is low the system rings — a loud ratcheting siren — that tells everyone in the burning building, this dude needs to go. That firefighter has rung out. 
Gym Jones preaches a gospel of functional fitness. The programming — or personalized training program every Gym Jones member receives — is outcome-based. For Styx the firefighter, the training is tuned to a single outcome: stay in the fire longer. Gym Jones instructors like the metaphor of an automobile. Styx needs an engine to do the strength work of tearing out overhead ceiling with a heavy axe, but he also needs a gas tank large enough to keep at it over time, keeping his vitals calm, drawing less O2. His program is tailored for this unique mix of strength and endurance. Likewise, a NASCAR auto is built different from a drag racer that's built different from a school bus. Each has a different goal. In the cult of Gym Jones, you figure the goal, and you've figured the fitness program.
Firefighters, policemen and women, and military operators are all considered tactical athletes by Gym Jones. Frasier, a decorated Army Ranger, is updating and spearheading their tactical training program. The biggest differentiator between a tactical athlete and the rest of us is "tactical personnel don't have an off-season." What happens if a police officer has a crazy-heavy leg day, is not recovered, then has to sprint after a bad guy? Or the firefighter is called up for high-stakes ladder rescue, and his arms are shot from going too heavy a few days before? The goal, Frasier says, is not to train tactical athletes so they're hitting 100% on one-rep-max-style work in the gym, but to elevate the floor so every day of the week they're running a strong 90% to 95%. "It's more about raising minimums than hitting maximums," he says.
Within each of these professions are special considerations too. "All patrol officers have bad hips," Frasier says, "and they're all worse on the left side. Why is that?" We're all quiet. Frasier mimics stepping out of the driver's side of a squad car, wearing a heavy-duty belt. "In and out, in and out, all day long, in a weight belt."
Then there are individual considerations. Frasier tells us of a police officer he trains, Matt. Matt is a beast and will come off the third shift straight to the gym, motivated to work. "The guy doesn't sleep," Frasier says. "Rest and recovery are as important as the weights. If you're not committing to sleep, you're not committing to this program." Matt would walk in the gym some mornings, and Frasier would just look at him and point to the door. "Nope, not today. Go get some sleep." That's the personalized component. Matt is banned from the gym unless he's gotten at least six hours of sleep. Another Element26 member bought Matt a Whoop band, so now Frasier can monitor Matt's sleep remotely, on his iPhone. It works. "He's not trying to sneak in here exhausted," Frasier says. In Gym Jones parlance, this is called "find the problem, fix the problem." Matt is a hard-driving dude, but because of that drive he doesn't sleep enough, and his performance suffers as a result. The solution is, Matt needs to sleep more. Matt resisted this, so Frasier got blunt, and the community around them chipped in, too, and provided a tech solution, so Matt can better understand himself and work on his own self-limiting behaviors.
"So, basically you're a therapist," I say to Frasier later.
He laughs. "Yeah. Basically." 
"Does anyone walk in who doesn't need their mind unfucked?"
"Not really. We're all a little screwed up. Think about it, just by the act of walking into a gym we're saying we're not enough. We have to look at that. We have to ask, Why?"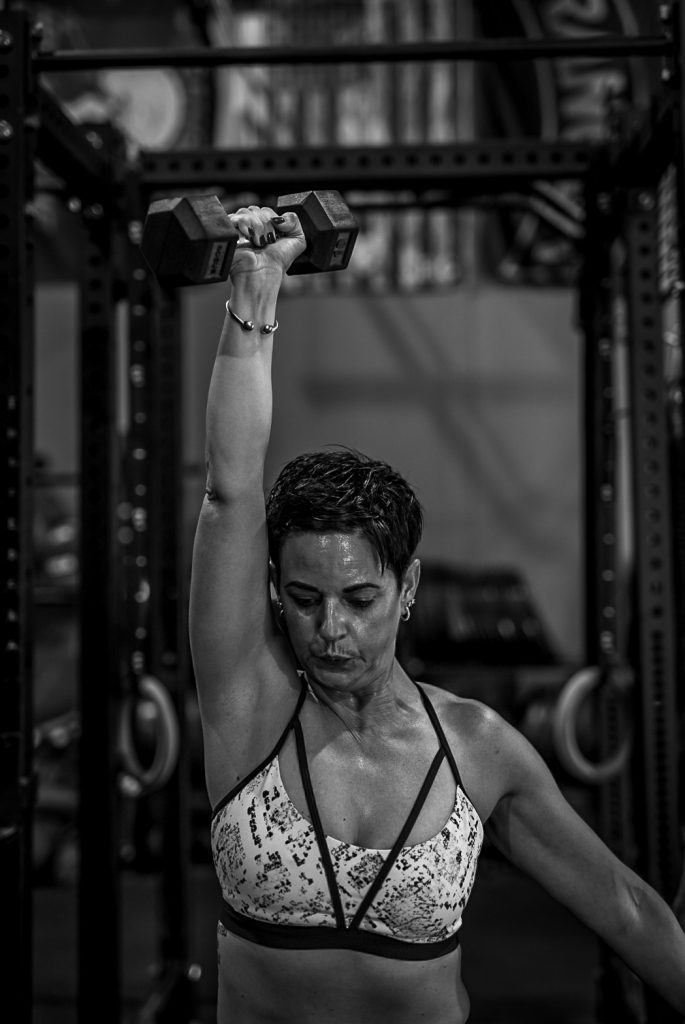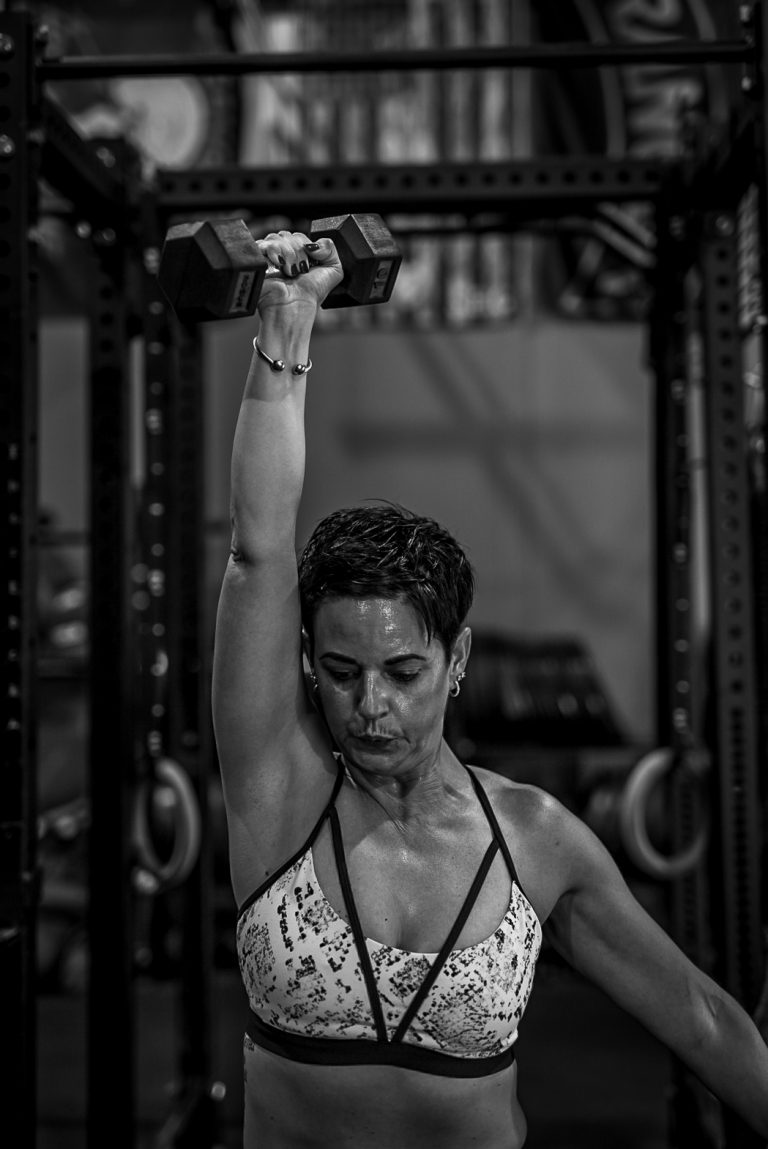 Hard-chargers have different hang-ups than people who struggle to get off the couch. At this seminar, the crew generally does not struggle with motivation. There's lots of talk about sleep, and rest, and recovery. "Nine hours of sleep in a blacked-out room, for men, can raise testosterone levels by 50 percent," Frasier says, getting every guy's attention fast. Frasier won't even talk to someone about supplements like protein or Vitamin D until they've established a healthy routine, started eating right, and are getting enough sleep. Gym Jones advocates personalized nutrition work with certified nutritionists, "not gym-bro science or fad diets," he says. When I ask him about keto, he looks like he's trying to hide a very deep sense of annoyance. 
With the individual's fitness goal identified, and strengths and liabilities assessed, Gym Jones instructors like Frasier and Owen build custom training plans for clients, based on the conjugate method and block periodization. This means new and different types of exercises are constantly rotated in and out of the program, keeping the mind and body fresh, but within macrocycles or "blocks," each with specific block goals. Hypertrophy or bulking up, strength, power, or endurance, are the most common blocks, but they can get more specific, particularly for athletes training for a sport. 
Gym Jones looks at blocks like a spectrum. At one end, there's strength, then power (strength + speed), then power endurance (strength + speed over time), then endurance (an effort greater than 90 minutes) and ultraendurance, a two-hour to multiday task. A powerlifter may live on one end of the spectrum, and an ultramarathon runner on the other. A tactical athlete like a warfighter may cover the whole band.
"An operator needs to have the physical capacity to do, say, a 10K offset infil to a target," Frasier says, "or walk for over an hour in full combat kit going up and down uneven terrain, then be able to sprint an unknown distance to the target if compromised, while possibly under gunfire, have the ability to engage a hostile threat with accuracy, with enough reserve to move wounded personnel off target, then get to a secure location for extraction. What good is having a 600-pound deadlift one-rep max if you don't have the engine to carry it through the fight?"
Frasier, who's designed selection-prep programs for soldiers and sailors working through various special operations pipelines, clearly sees wide mainstream benefits for non-operators willing to take up this total approach to fitness. "In selection programs, one of the standard requirements is a 5-mile run in under 40 minutes," he tells me later. "Is that fast?"
"Eh," I say. "Not bad, sub-eight-minute miles."
"Right. Not bad. But you're not winning any races with those times."
"Right."
"But now take those sub-eights, and throw in a two-times-bodyweight deadlift, a bodyweight clean and jerk, a seven-minute 2,000-meter row."
"Now you're getting somewhere."
"You're getting to a basic level of total fitness."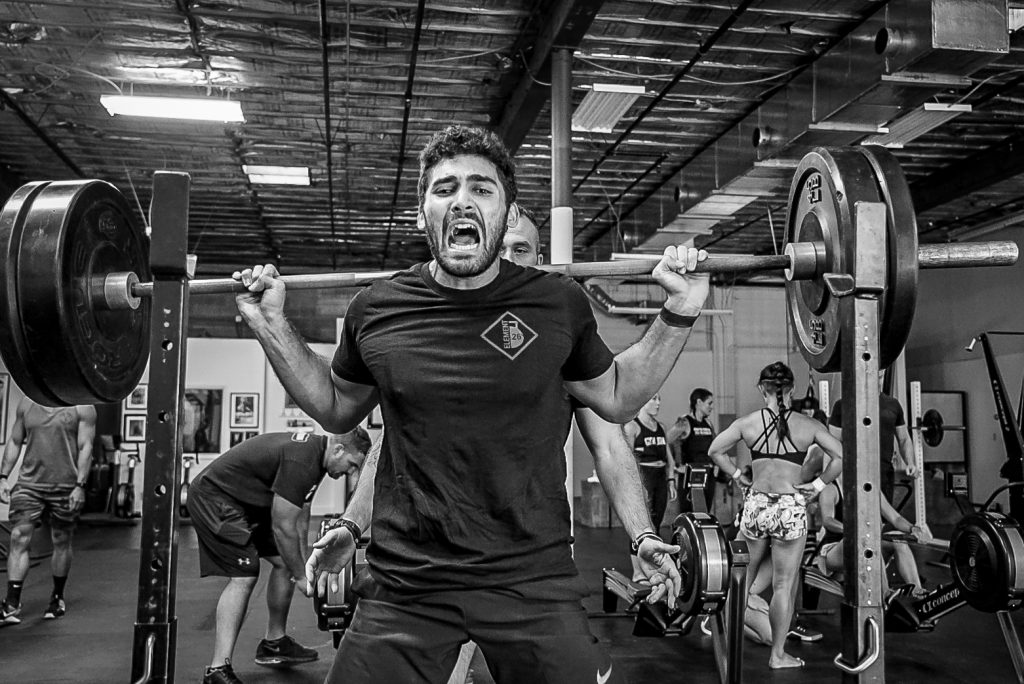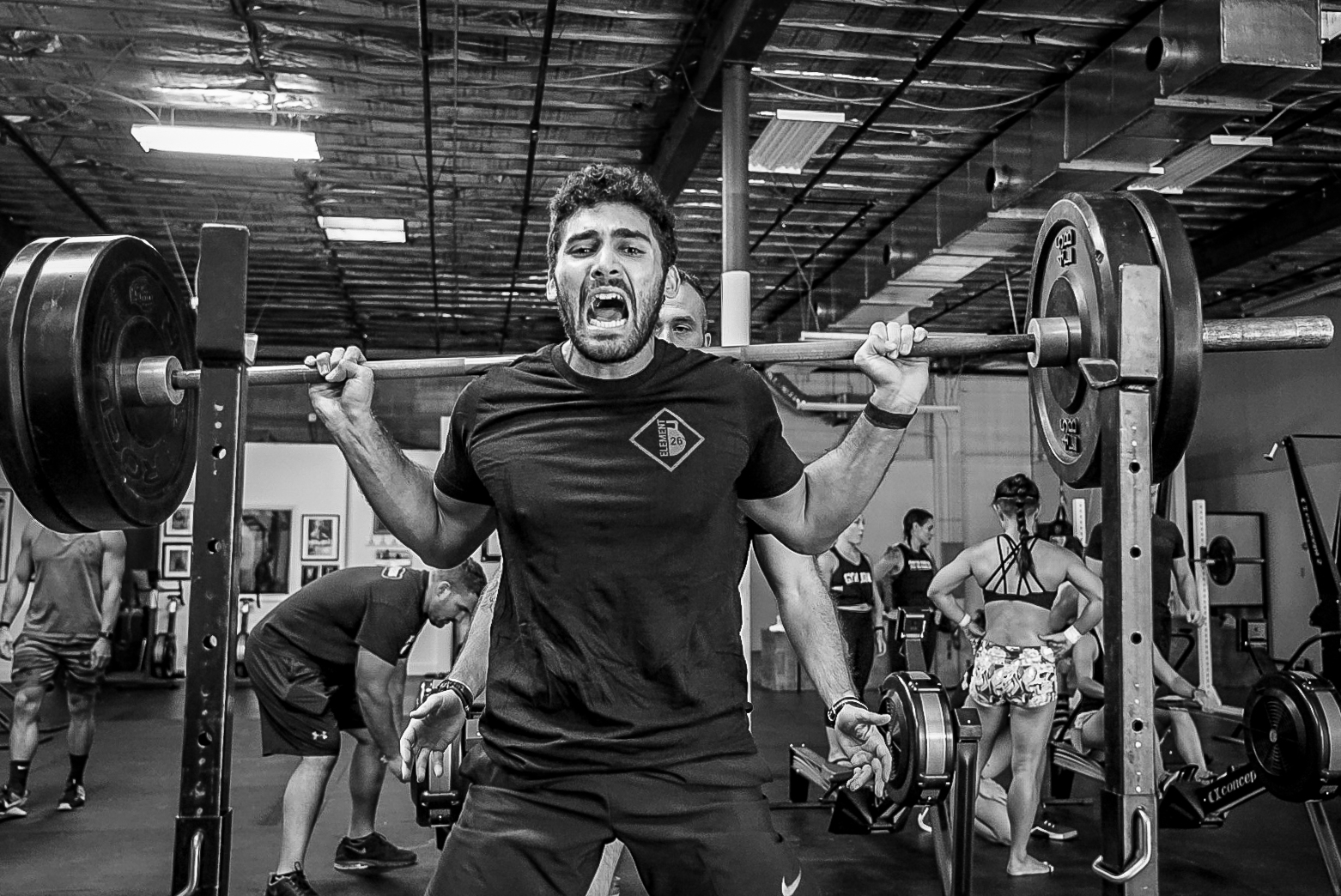 In the handouts for the seminar is a page on the Gym Jones Standards. These are the numbers to which good basic fitness is measured in this crowd. Frasier doesn't get into them at the whiteboard until he's completed a monologue on how working out for numbers is mostly bullshit, and if your fitness goal doesn't line up the numbers, to change them. At the bottom of the page in italic print it reads, "If these standards do not apply to your definition of fitness, develop standards that do. Then test and maintain them."
On the list is the 2x bodyweight deadlift for men, 1.5x for women, plus a 1x bodyweight bench press for men, 15 pullups, a 1:30-minute 500-meter row, plus a 10K run under 50 minutes. All told, there are 18 metrics in five categories: strength/power, strength/endurance, cardiorespiratory power, cardiorespiratory power endurance, and endurance. Taken one at a time, none of the 18 metrics feels out of reach, but taken together and well … you've built a fucking beast.
After an hour of classroom work, the vomit feels have mostly left me. By the end of the afternoon, I'm feeling good, motivated, like everyone else in this Fundamentals seminar. We fold up the chairs and tables and clear the gym floor for the final workout of the day, a body-weight series with 30 seconds of work, followed by 30 seconds of rest. We stretch out and spin on the Concept2 machines to get the blood flowing.
Instructors Wagner and Baird scribble on a portable whiteboard in the corner while we warm up, then wheel it front and center. "This will feel good," Baird says with a devilish grin. There's a long list of fitness hieroglyphics: 4x this, 4x:30/:30 that. "KB swings m-53lbs, f-35lbs." 
Whiteboards and shorthand script like this dominate the modern fitness landscape. Trainers and fitness buffs on Instagram will post story slides of their morning routines, black-and-white images of these boards. For the uninitiated like me, it looks like ancient Egyptian, but stare at it long enough and it starts to make sense, this specialized language of output used in the modern fitness galaxy from CrossFit to Conjugate.
We start with four sets of warmups — "inch worms" — walking our hands out along the floor from standing to pushup position, then 10 pushups, inchworms back up, and 15 air squats. That morning feeling of trashed quads and hammies comes roaring back. The instructors lob pointers again. The seminar attendees on deck cheer us on. 
Warmups done, we transition right into 30 seconds of split lunge jumps onto a 20-inch box, 30 seconds of rest, 30 seconds of kettlebell swings, rest, pushups, rest, single-arm thrusters powering a kettlebell up over our heads, rest, flutter kicks, rest, then back to jumps.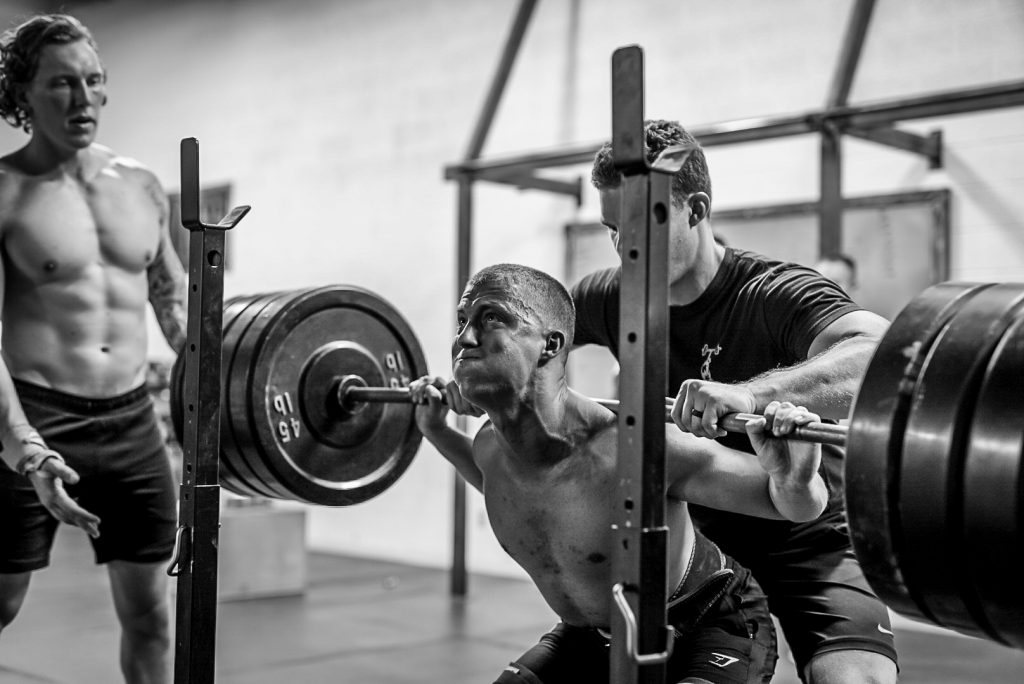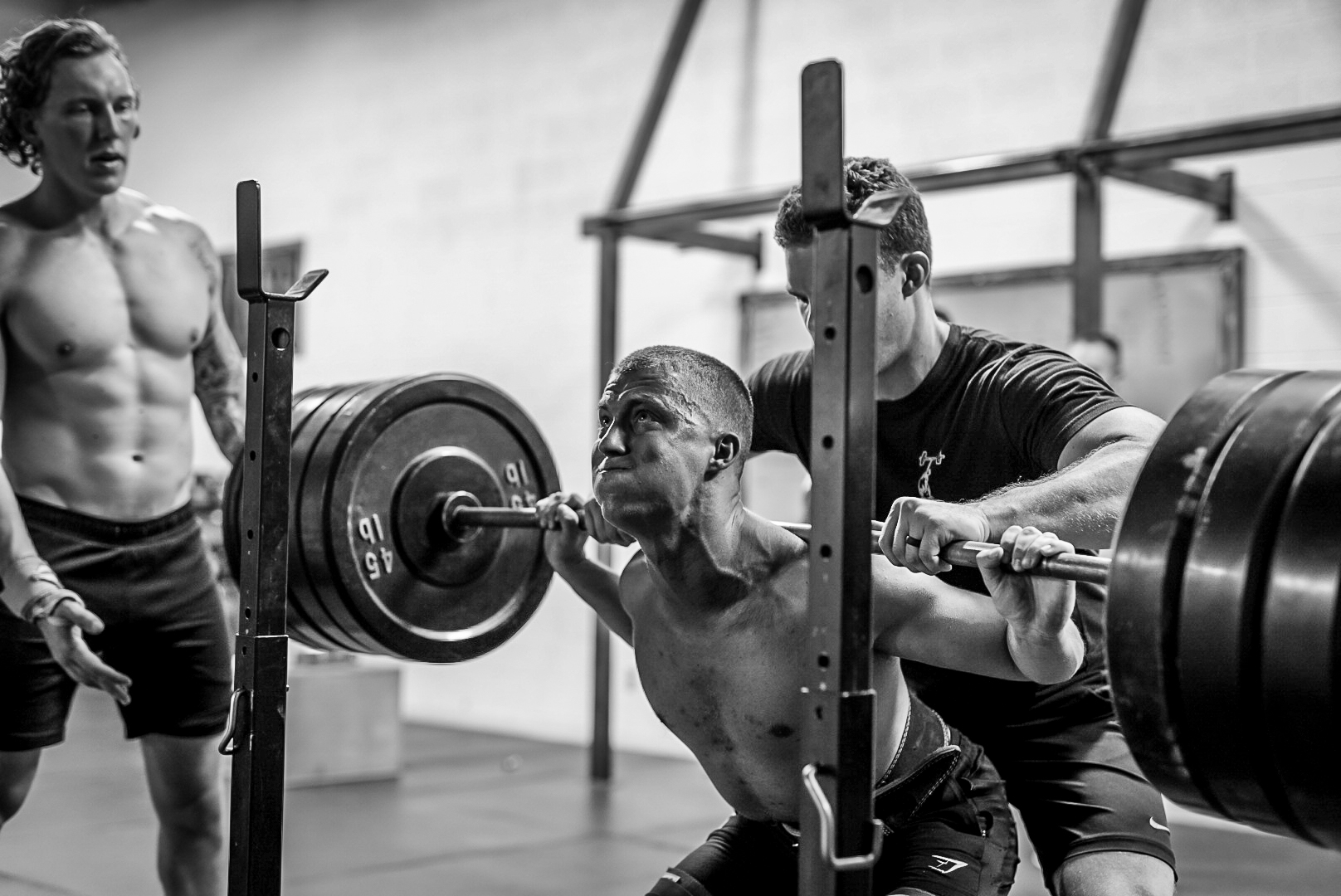 By the second cycle, my whole body is garbage. To my right, Steph Scoles leaps off the ground to her box. WTF. My legs won't work. I can barely step up let alone jump. "Hold on, hold on," Baird says, grabbing my shoulder. "Take a second. Focus." Hands on knees, I'm gassed, sucking wind. "Now jump. One good jump. Just one." I'm up, 2 feet off the floor. It's an ugly aerial of beat legs and flapping arms, but I'm on the box. "Good," he says, spotting me down. And I'm up again. "Good!" he yells. "The mind is primary, dude. You can do this."
There's a misconception that Gym Jones is only for elite athletes, or special operator types. What it really does is open up those pathways to physical excellence for anyone willing to kill themselves trying. Kafka once described literature as "an axe for the frozen sea within us." That's what all this feels like to me. A tool, a resource, for breaking down those iced-up chunks of self, those old ideas of what is and isn't possible — dosed with a healthy slug of peer pressure. My legs won't move, but the limit isn't biology, the limit is my thinking.
Gym Jones lost its way as a cult of revolving personalities, Boshard told me. Now, she says, it's found its way post-pandemic as a decentralized network of trainers like Frasier with fresh, battle-proven experience, and experts like Matt Owen, a top-five nationally ranked powerlifter. Baird comes from a professional hockey background. Wagner competes in 30-mile ultra-Spartan races. It's not one mind, but a collective of dialed-in overachievers.
For the last exercise, on the last day, the instructors set up a team triathlon event. Split into two groups, each team has to cover 5,000 meters on the skier, 10,000 meters on the bike, and 5,000 meters on that evil rowing machine. 
Halfway through, sweat-drenched, sucking air, my teammate Scoles, the 5-foot cheer mom stands next to me, hands on hips, dying with a smile. "I'm so thankful," she says, panting. "For this."
A lifelong runner, she broke her tibia with a stress fracture at 39. The doctors discovered she had osteoporosis. "Bones. Bad bones," she huffed. She did everything the doctors ordered, and at 43 rebroke her leg in the exact same spot. "A year ago." Now the osteoporosis is in reversal. By every metric, she's stronger, faster, and healthier today at 45 than she was at 39. She's grateful, she said, for the breaks, for the osteoporosis, for the hard, long road. "Hey," she pants, pointing to the rower. I'm next in line. "Get ready." 
Baird, our ringer, bails off, and I clip in for my last rip. Scoles howls at me, "Get some!" 
For a quick second, the whole world falls away. This is the magic of Gym Jones. They push you to failure, then move the line. You fail again, but fail better.
"Hey!" Scoles barks. She's caught her breath now. "Pick it up!"