Sweat dripping down his face, Phil Smage sat on his Kawasaki KLX 110 pit bike at the starting line of the first-ever Pastranaland Pit Bike Championship. Nine national-level motocross competitors were beside him — all gunning for the same first-place finish and at least a year's worth of bragging rights. For Smage, or "Smagical" as his friends and fans now call him, it was about more than medals and shit-talking. This was Smagical's first race back after a tragic accident that broke his neck. Doctors told him he'd never walk again. 
Travis Pastrana, ringleader of the Nitro Circus series of extreme motorsports events with an impressive record of daredevil firsts, is a close friend of Smagical and helped organize his return at this upstart pit bike championship event. 
Smagical is "a true testament of just what the mind is able to overcome," Pastrana told Free Range American before the start of the race. "They said he would never use his right arm again, he would be lucky if he ever walked again, and here he is on the starting line."
But was he ready? Doctors told him even a minor crash could be fatal.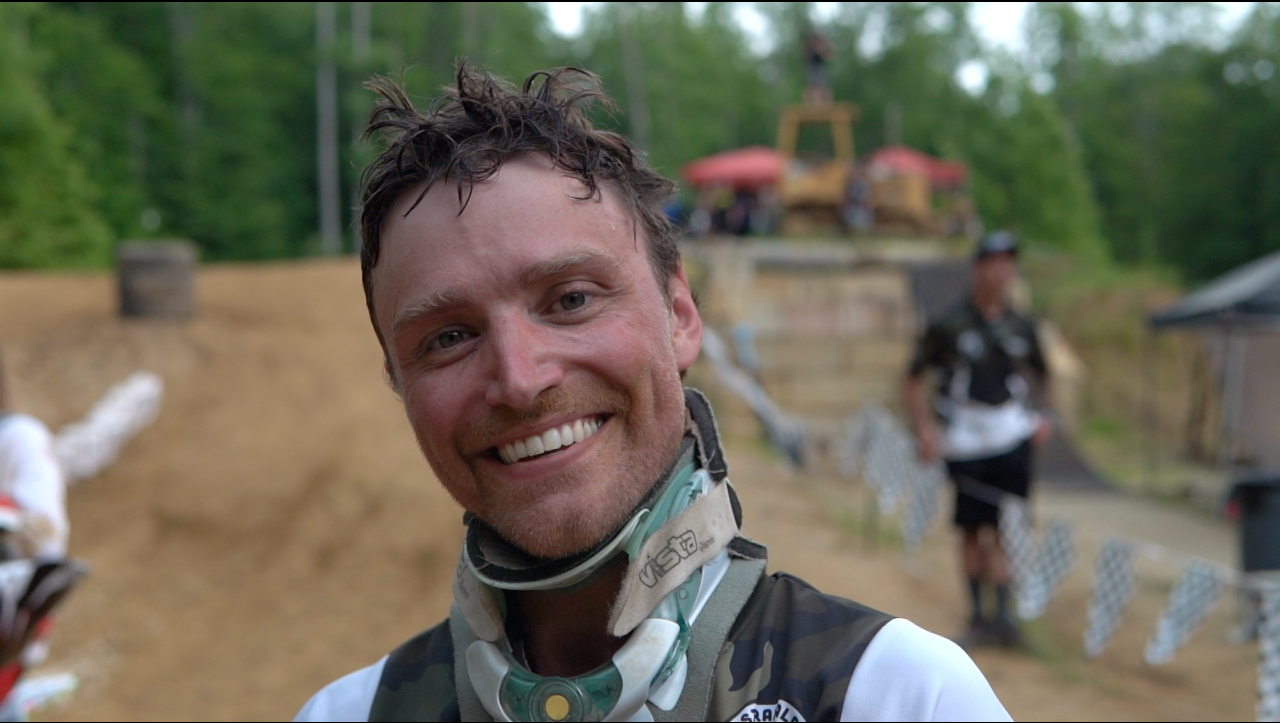 "That scares me," Pastrana said. "This is the gnarliest pit bike race ever held, and he's not 100% yet, but he's also making all of us try and believe he's 100%."
On the line, the racers revved their engines and just like that, they were off, throttle down, speeding toward glory on a 500-foot oval dirt track. Its hairpin turns, massive ramps, and muddy layout was a sight to see. 
Pit biking is essentially motocross but with a 110 cc motorized mini dirt bike. Because of their small size, pit bikes and the moves good riders can pull on them more resemble BMX than riding a Harley. Smagical, who grew up on a family farm in Elk Horn, Wisconsin, got his start in BMX before making a name in several action sports arenas, including snowskating, motocross trials, freestyle racing, and pit biking. He has set three Guinness World Records and is a three-time X Games champion in snowskating, a hybrid between skateboarding and snowboarding. Smagical and his brother, Patrick, crossed over into mainstream consciousness with a Top 10 finish in the television show America's Got Talent. Then, three years ago, it all came to a crashing halt.
Smagical eagerly accepted the opportunity to break a world record by jumping a side-by-side an astonishing 250 feet. The previous record was 106 feet, which Smagical said he wanted to "crush." He traveled to Pastranaland, Pastrana's Nitro Circus playground in Maryland, to get as much practice with a Polaris UTV RZR as possible. The practice setup there wasn't remotely comparable to the actual setup.
On May 25, 2018, at the Brimstone White Knuckle Event in Huntsville, Tennessee, Pastrana landed a 180-foot practice run with the UTV RZR to test the ramp setup. Spectators gathered rampside to watch Smagical attempt to crush that by almost 100 feet. He came ripping down the dirt path, throwing dust at full speed like a man on fire, then turned a corner and hit the straightaway with zero brake. The UTV blasted off the ramp throttle down, and as it soared through the air it seemed to float, hovering in silence over the ramp, over the great span of dirt, over the crowd, over Earth itself.
Then it started to shift. Wind lifted the front end — just a nudge, then a little more. As the UTV returned from orbit it was no longer square; the whole machine kinked out at an ugly angle. The silence and beauty of man and machine in flight came to an abrupt and explosive stop — the machine and Smagical wrecked in a cloud of dust and parts. 
The GoPro footage of the crash is widely available online. It feels like an earthquake. Smagical's body is jerked around inside the metal UTV cage, and a violent thud punctuates the outcome. Pastrana runs over and yells out, "Are you alive?" An ambulance speeds toward them. Smagical is awake and talking but motionless, frozen. Firefighters cut him out with the Jaws of Life. 
"Sorry dudes, I ruined the party," Smagical says while a crew wheels him to a medevac helicopter. 
Someone says, "You're okay man, you're going to be fine." 
Smagical was flown to the University of Tennessee Knoxville Medical Center with a broken wrist, a broken collarbone, and multiple broken ribs, as well as shattered vertebrae. He underwent surgery that night and his cervical vertebrae, C3-C7, were fused. He was now paralyzed from the neck down. In an instant, he went from one of the world's most extreme athletes to unable to wipe his own ass. Kept alive by ventilators and feeding tubes, he couldn't handle it. There were nights when he asked his wife, Sarah, to pull the plug. 
"Hey," Sarah remembers telling him, "there's a reason that you're still alive. You can't give up." 
That became something of a mantra for Smagical and all the friends and family around him. You can't give up. Hope returned. Soon he imagined walking under his own power again, even riding pit bikes again.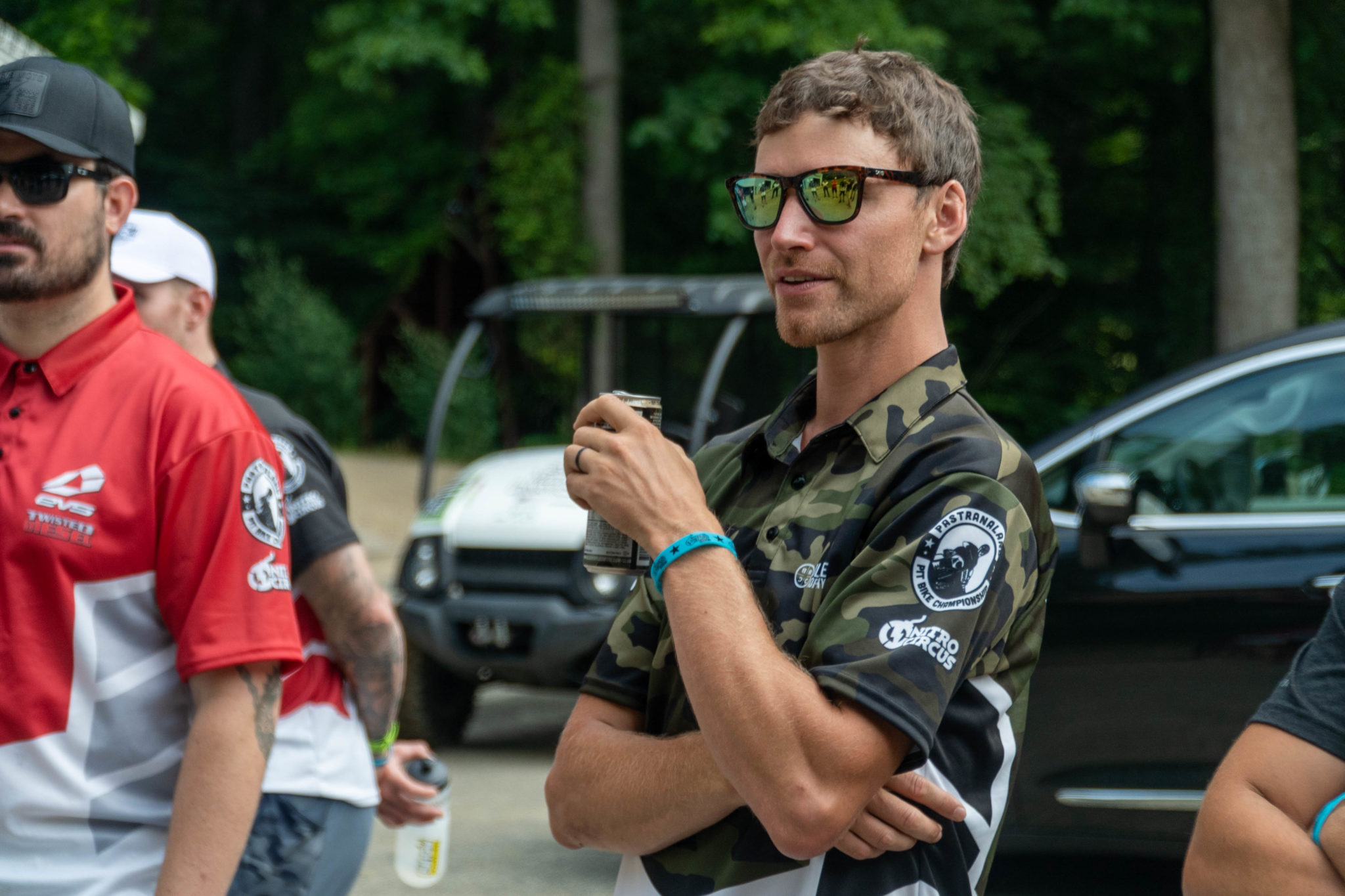 Spinal cord injuries, especially the destruction of cervical vertebrae in the neck, can cause permanent paralysis. In most cases, people afflicted with these injuries never walk again, and if they do, it's through the help of exoskeleton-type devices that control the limbs of the paralyzed individual. Smagical, to his credit, defied all odds. After the first 10 days in the University of Tennessee Medical Center's ICU, he was flown in an air ambulance to Froedtert Hospital in Milwaukee, Wisconsin. He completed a month of rehabilitation there, grinding his way through painful but minor movements, trying to fight against his seized-up muscles, sending signals to his limbs to regain motor function.
He was discharged home and continued outpatient physical rehabilitation in Milwaukee, still largely reliant on a wheelchair. After two to three months of outpatient care, Smagical and other members of the Nitro Circus crew received an invitation to Virginia High Performance, a state-of-the-art physical rehabilitation facility that works with active duty military and veterans. Pastrana went to be evaluated for the effects of multiple concussions, but he was also a crucial part of Smagical's support system.
Smagical stayed at VHP for a month. Everything he did was regulated, from when and how long he slept to what he ate. He was evaluated and given highly personalized programs for physical rehab. Rep after rep, he grinded. 
Every day he regained some sensation and musculoskeletal control. Each day he continually got better, defying his initial prognosis. Before the month was over, Smagical asked the VHP staff what their most difficult movement was. The answer was a vibrating base with a balance board on top of a ball, with the patient standing on the board. He worked toward it. Smagical may have entered VHP in a wheelchair, but he left walking on his own two legs.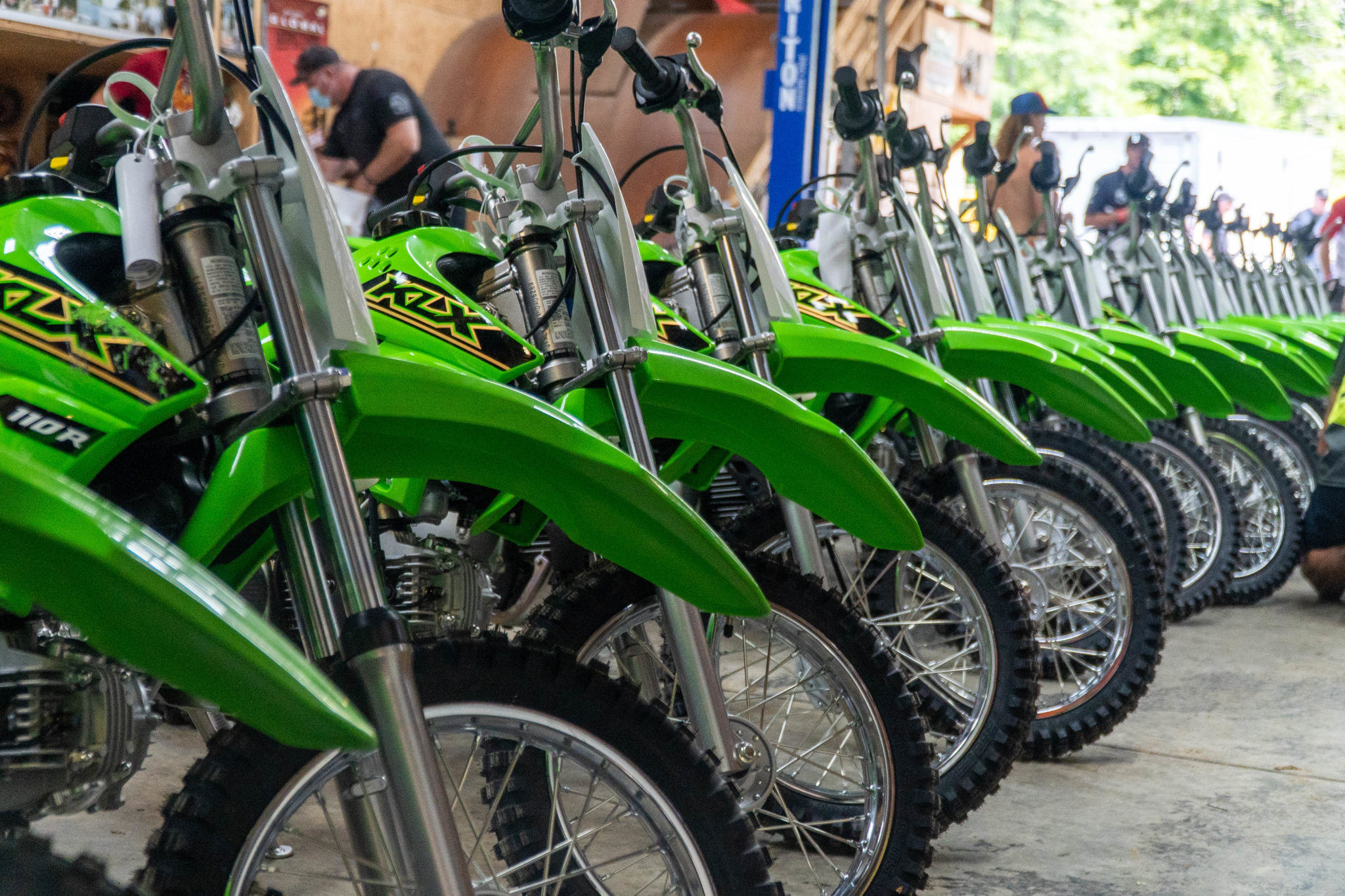 On a hot weekend in June, Travis Pastrana hosted the Pastranaland Pit Bike Championship. National-level competitors traveled from all over the US, sponsored by various companies. Smagical and his teammate, Conner Martell, represented Black Rifle Coffee Company.
With intermittent storms dumping rain, constant work went into maintaining the dirt track to keep the safety level as high as possible. The track was wet in some areas, making the tires of the pit bikes dig in a little deeper than is optimal, threatening pile-up crashes. But these competitors have been racing their entire lives, competing at some of the highest levels of extreme sports. 
At least from an onlooker's perspective, Smagical, with his 5-foot-11-inch frame, dark hair, and constant smile, walked and talked confidently throughout the weekend despite muscle cramps and overall aches and pains. The pit bikes were provided with everything stock, except the handlebars and the teams' custom stickers. Smagical and Martell went to work with the help of BRCC's team, placing the sponsor stickers and adjusting the handlebars to the right degree. Smagical cracked jokes throughout — beaming with an excited, positive energy.
Smagical's wife, Sarah, later explained his mindset: "It's just part of our blood — it's who we are. Other people go out to the bars every single night, but with us we train for racing. The danger is what makes it fun." 
From the stands, the danger looked real. As Smagical took off from the start, he kept pace with the leaders. Then, he seemed to slow down before going over the first of the three tabletop jumps. He landed hard, his arms gave out, and his chest smashed down to the bike — but he rode it out. He slowed to a stop long enough to collect himself, then fired right back onto the track and into the race.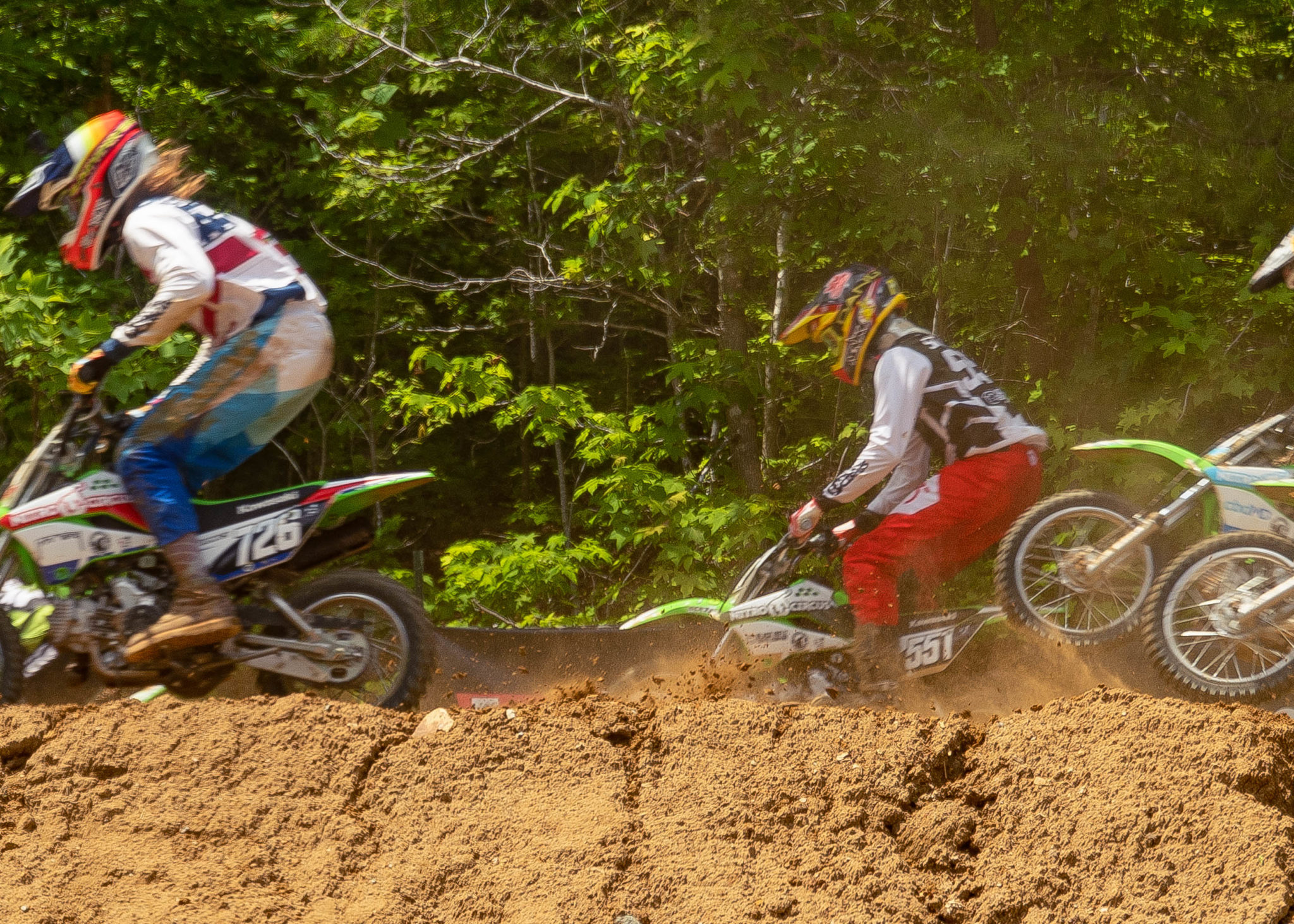 A near miss with a crash that could have paralyzed him again — or even killed him — didn't seem to shake Smagical, Sarah, or anyone at Pastranaland that weekend. Everyone cheered as he ripped down the track. He didn't make time to land in the finals, but none of that seemed to matter. Smagical was back.  
Extreme sports have been Phil "Smagical" Smage's entire life. It's his driving factor, his greatest passion. Crashing on his bike presents as much danger to him as slipping on the ice and reinjuring himself or getting into a car crash driving down the highway, he reasoned, and he doesn't plan to stay inside when it's cold out or stop driving on the highway. He wants to live doing what he loves, not sitting back watching the days go by.
"Unless you've ever been completely devoted to something," he said after the race, "not knowing me, knowing my condition, this all might sound crazy."
But after the Pastranaland Pit Bike Championship concluded, Smagical had just one question: "When's the next race?"