It's about a quarter past 11 on a drizzly July morning in Butte, Alaska, when Tim Montana and his entourage roll into the dirt courtyard of Jeff Heard's property and pour out of an SUV for a day of four-wheeling in the Alaskan countryside.
Montana's wearing a black hoodie, and his long hair is tied back in a hasty knot behind a black ball cap. His long red beard partially covers a black paisley bandanna hanging over a red-and-black-checkered flannel and a pair of Pit Viper sunglasses. If he's hungover, his smiling eyes and good-ole-boy charm do a good job of concealing it.
He meets Heard — a ginger-bearded retired Air Force veteran — with a hearty handshake, infectious smile, and childlike energy. After getting some basic bio info and thanking Heard for his military service, Montana asks about the area. He doesn't know where he is.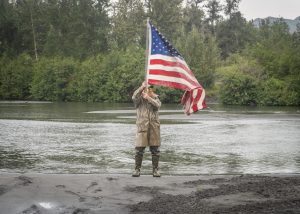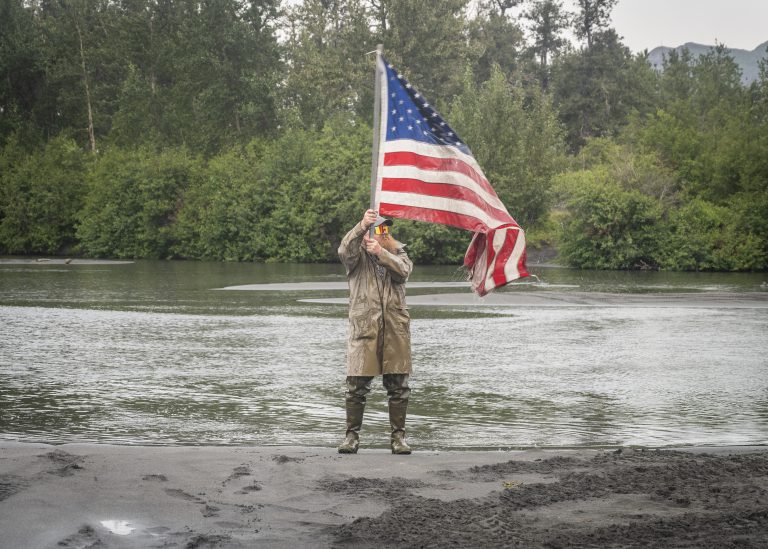 "We're in Butte, Alaska," Jeff says. 
"Butte, Alaska! Oh my God, I came from Butte, Montana, to go to Butte, Alaska?" Montana says excitedly.
The gingers yuck it up for a minute before Montana turns his attention to Amanda Heard, who is strapped with a .45 in a cross-body holster over a purple sweater. 
"What are you packing there?" Montana asks after initial intros. "Is that bear spray?"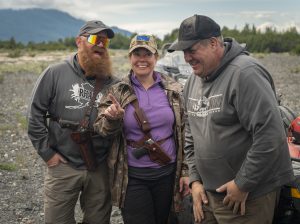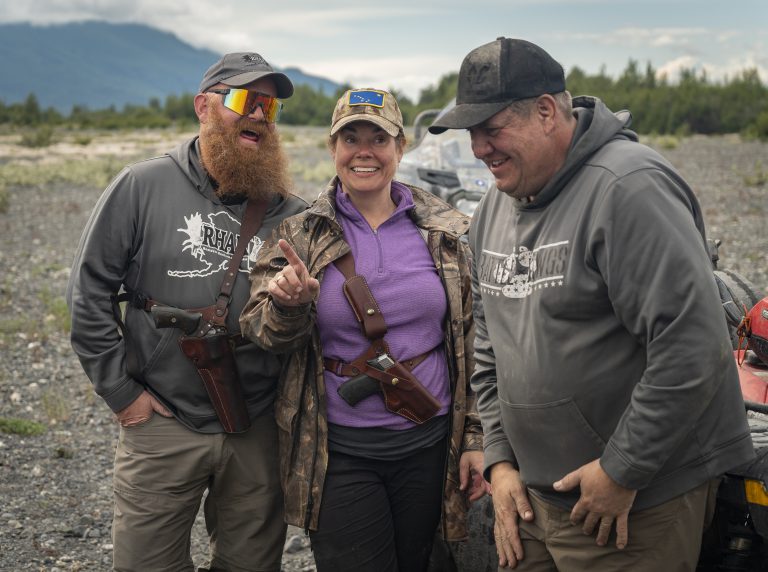 "It's the necessary sidearm for all things Alaskan — bears, dogs … men, kids — all those things," she says, laughing.  
"Right, just in case your kids get truculent," Montana says, riffing right along.  
"I can whip 'em with it," Amanda says with a wide smile. "You know — it's multipurpose." 
"You ain't lived till you've pistol-whipped a toddler, I'll tell you what," Montana says, giggling with his new friend.  
This is Tim Montana.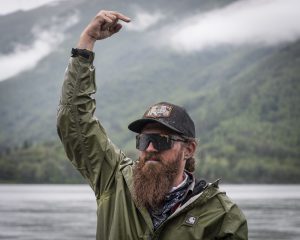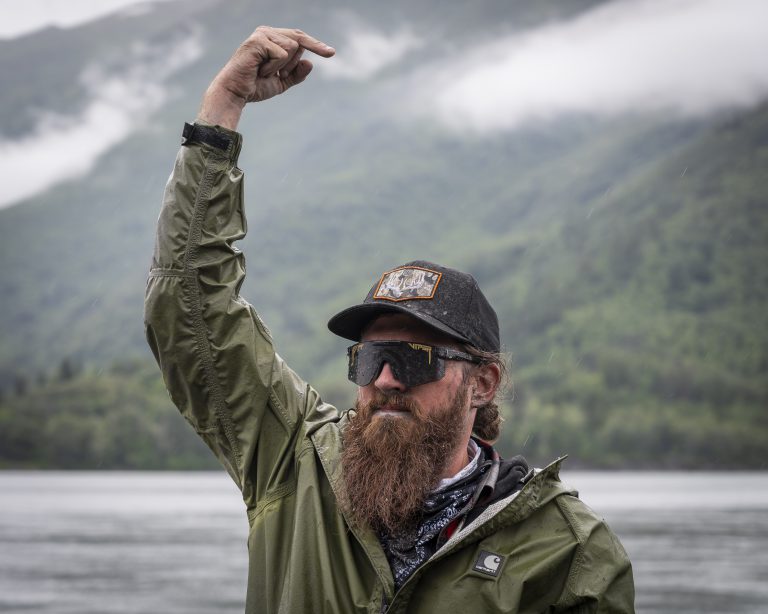 The rising-star country rocker pretty much never turns it off. He's constantly performing and has an insatiable need to infect others with his seemingly boundless energy and positivity.  
"You can't put Tim in a box," says his brother Dustin. "He gets away with murder because he's got such a genuine, magnetic personality. As soon as you meet him, you know who you're dealing with. Then as soon as you party with him, you're saying, 'Oh my god, what did I get myself into?' Tim should probably be dead or in jail, but everybody loves him."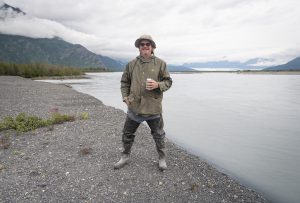 After years of working his way up through Nashville's honky-tonk scene and making a name for himself as a prolific songwriter, Montana is in the midst of a breakout year. He recently signed a major record deal with Music Knox Records/BBR Music Group, and Cars on Blocks, his four-song EP and label debut, dropped Nov. 20. The full-length album he recorded earlier this year will be released in 2021. 
In March, Montana scored a huge hit on YouTube when he teamed up with Black Rifle Coffee Executive Vice President Mat Best to write and record "Quarantine" — a perfectly timed pandemic anthem for which Best and Montana produced a viral video featuring an endless stream of famous friends, including Charlie Sheen, Lee Brice, Chris Kirkpatrick, Michael Ray, Chase Rice, and more.
"It's funny because I write songs from the heart all the time, and then you write a song as a joke with a friend on Skype, and it gets like 3 million views on YouTube in less than a month," Montana told a crowd in Palmer, Alaska, before playing "Quarantine" in July. 
Montana's no stranger to YouTube success. His charming wildman persona has made him a popular social media personality and brand ambassador for companies including Polaris, BRCC, Fender, Gerber, Giant Bicycles, Indian Motorcycles, K&N, Kicker Performance Audio, Orange Amplifiers, Snap On, Traeger Grills, and more.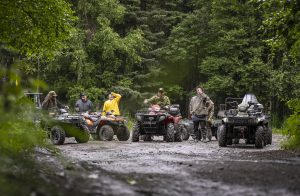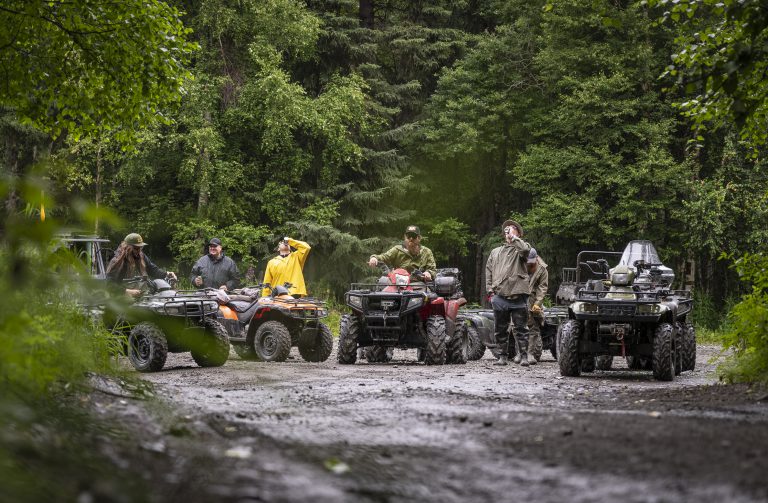 Montana also recently scored his first speaking part in a feature film, which he describes as "a Western, selling whores at the bar to cowboys. Right on brand!" He also has his own show, Tim Montana's Wild Side, on Velocity Outdoor Channel.  
"Hey, whose coffee is that?" Montana asks, pointing to a cup on a truck nearby. The group is still preparing for the four-wheeling adventure.  
"It's mine," says Kyle Law, the band's not-yet-proven new drummer and subject of endless hazing and general fuckery.  
The band erupts with shouts of "Ooohh!" pointing accusing fingers at Law, who has, for the umpteenth time in recent days, fallen for the trap that requires him to pay another 20 pushups for saying the word "mine."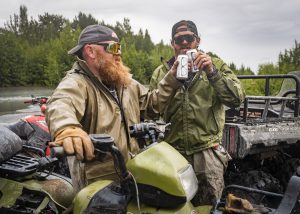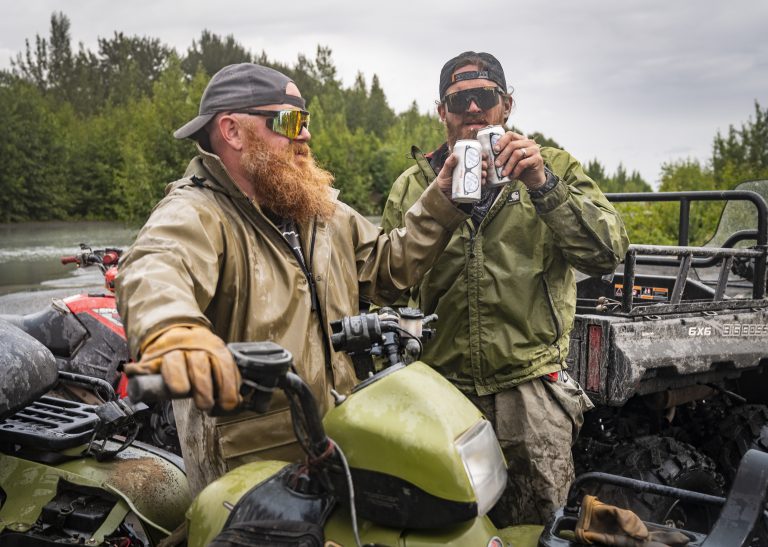 Montana imposes Travis Pastrana's rules of the road, which require participants to do 20 pushups any time they get caught saying the word "mine." The rules also allow anyone to call "bullmoose" on someone caught drinking with their dominant hand. The bullmoose then has to chug their drink.   
"Goddamnit!" Law says, smiling while dropping down to the ground and pumping out his reps, his long, matted brown hair flailing alongside a scruff beard and thick-rimmed glasses.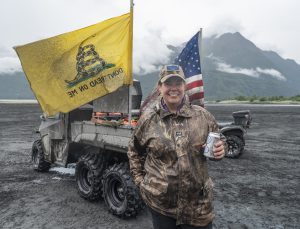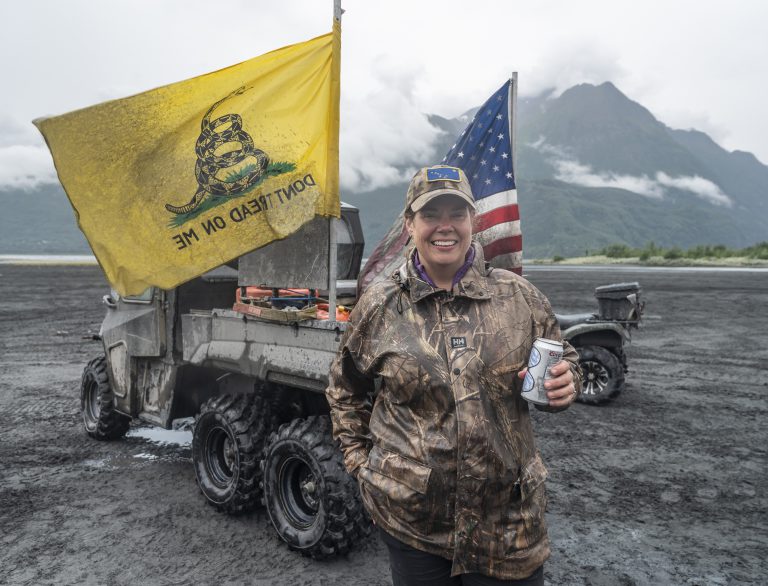 The band's destination for the day is the Knik Glacier, almost 17 miles away. I jump in the six-wheeled Ranger with Amanda and her dog, Ace. With Old Glory and the Gadsden flag flying proudly on the back of the vehicle, the Ranger is the flagship of our tiny fleet of four-wheelers.  
Amanda informs me that she's a nurse, and because she's seen far too many traumatic injuries from four-wheeler accidents, she doesn't really have the same taste for danger and adrenaline that the boys do. This comforts me for about a second before Amanda, who isn't wearing her seatbelt, puts the Ranger in gear and jolts off behind the boys toward the ragged, muddy trails that cut through wild woods and rocky riverbeds. My pucker factor climbs as I hastily calculate the ego-to-safety ratio at play in the cab of our little death cart.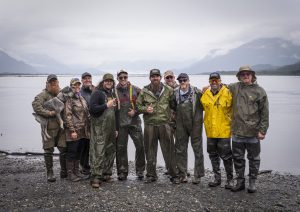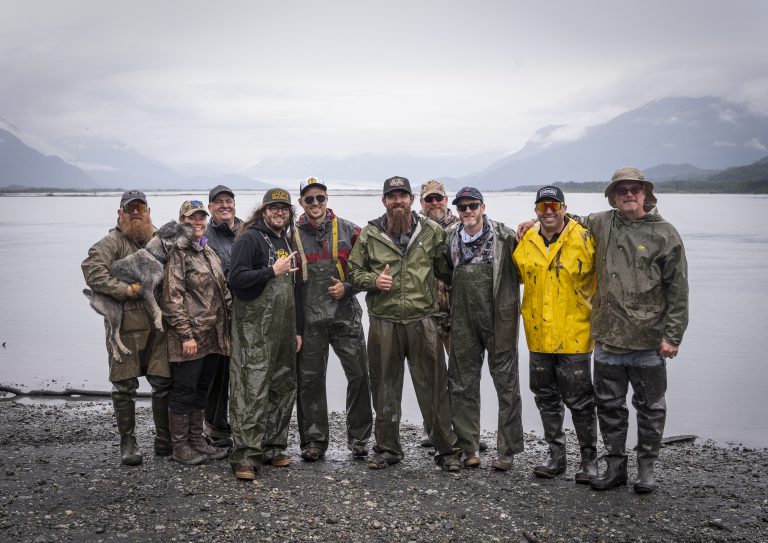 I look at the seatbelt and then back at Amanda. Then at the AR-15 and shotgun in the ceiling rack. The .45 strapped across Amanda. The dog between us, looking cool as a Hindu cow. The seatbelt. 
As Amanda tears down the trail, I begin to think she was either totally full of shit with all that cautious-nurse talk or this Alaska life has completely broken her danger gauge.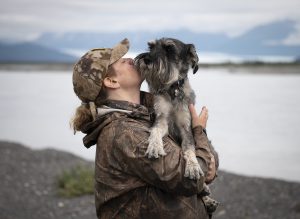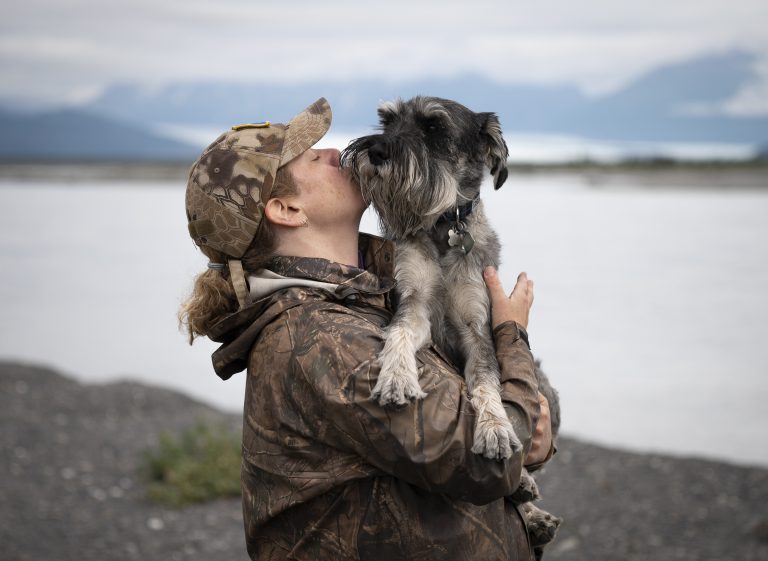 As Montana and the Shrednecks relentlessly pursue big air and crazy fun for the next eight hours, I grow to love Amanda, who delivers me safely across miles of sketchy terrain and muddy waters in the Alaskan wilderness. We only make it about halfway to the glacier before having to turn back, but in that time it becomes clear that Alaskans are about as wild and beautiful as the environment they live in, and Tim Montana is right at home here. This is his third time touring in the state.   
"Alaska is wild and majestic," Montana says cheerily. "It's full of great people — great human beings. They'll take you four-wheeling, fishing, feed you all the moose meat you could ever want."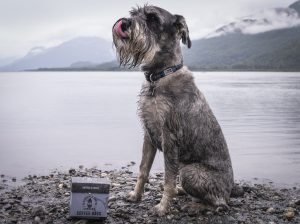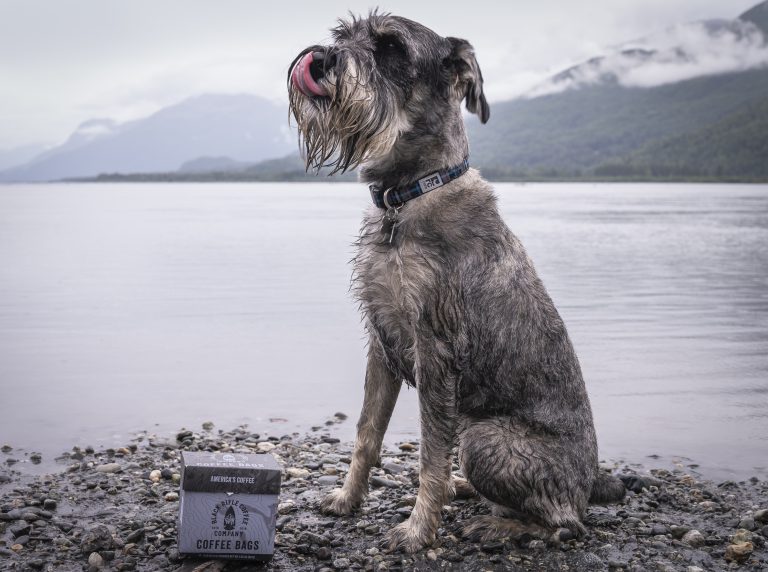 It's been about 18 hours since the boys passed out after capping off their four-wheeling journey with a night of drinking games. The Shrednecks are nursing hangovers and drinking coffee and Gatorade in the back of their RV in Anchorage and prepping for their first show in four months. Law is knocking out yet another set of 20 pushups as the band waits to go on stage in a parking lot across from a bar called Chilkoot Charlie's, or Koot's to the locals. 
"There's about seven people out there, thanks to COVID," manager Jake Crownover says hyperbolically about the low turnout.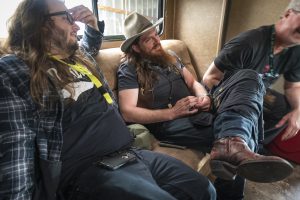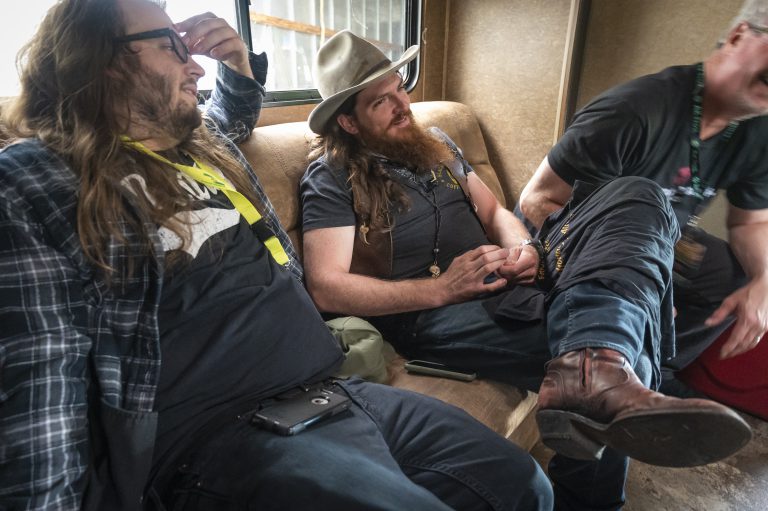 Montana admits he's disappointed that the pandemic has kept the crowd small, but the band is excited to be playing live for the first time in months. When they take the stage for a quick sound check, Law wins a small victory when he points to a water bottle Montana has staged nearby and says, "Whose is this?"  
"It's mine," Montana says, immediately catching himself. "You sonofabitch! You got me!" 
He drops down and knocks out 20 pushups as Law watches, beaming from behind the drums. Montana recovers and settles in to start the set.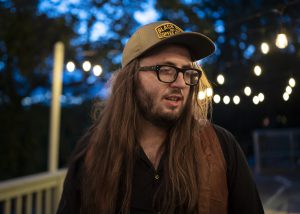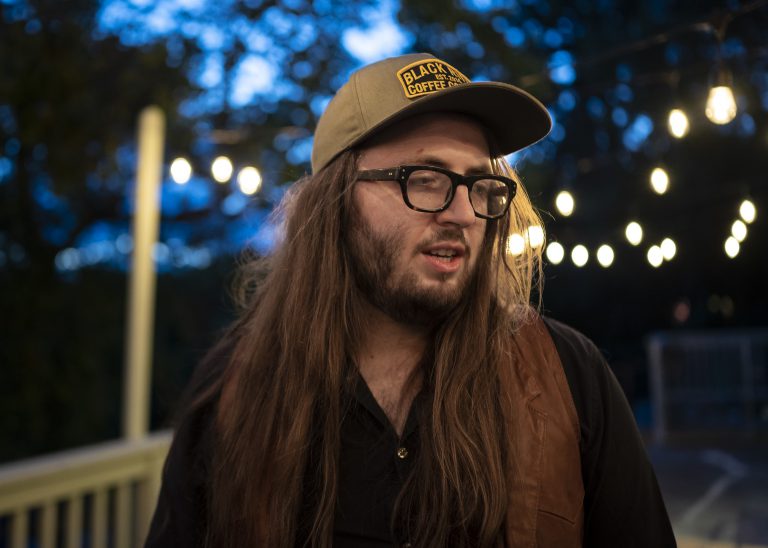 The crowd in the parking lot is sparse and spaced out, but by the time the Shrednecks take the stage, fans are properly lubed up and ready for a show. They sip on Coors Light and strong cocktails in plastic cups.  
Montana and the boys turn their attention to Law, who signals he's ready and then crashes the cymbals as they open up. A percussion countdown follows, and electric energy erupts across the parking lot.  
"How we doing, Anchorage! We got a brand-new pile of songs for you!" Montana yells into the microphone, whipping up the crowd.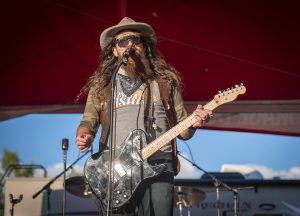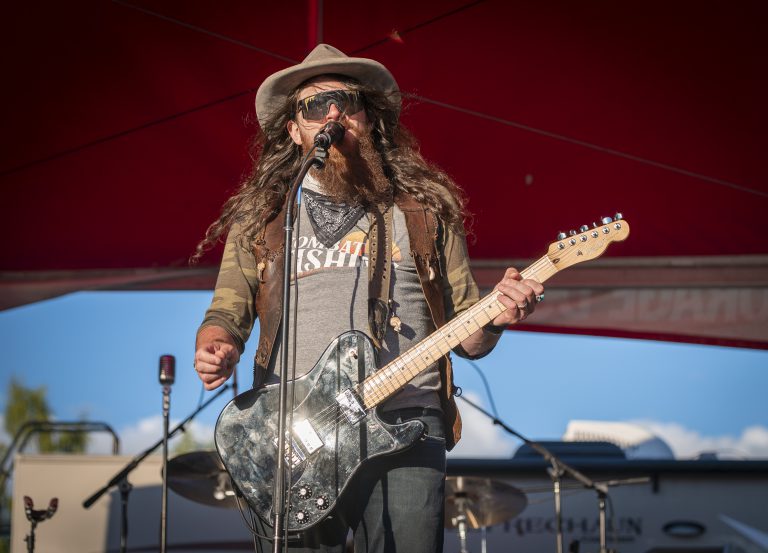 The band shreds for a roughly 90-minute set, playing a mix of fan favorites like "American Thread," "Cowboys on the Run," and "Weed and Whiskey," and new material that the crowd can't seem get enough of. The band slips in some of their favorite covers: ZZ Top's "La Grange," "Lose Yourself" by Eminem, and 2Pac's "California Love." Fans sip drinks as they dance and sing along, and for the duration, everyone escapes the stress of pandemic life and loses themselves in the music, the moment, the camaraderie. 
Andrew Jensen came out to see Montana for the second time after a small show in Alaska a few years earlier.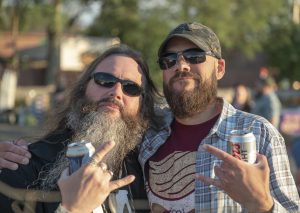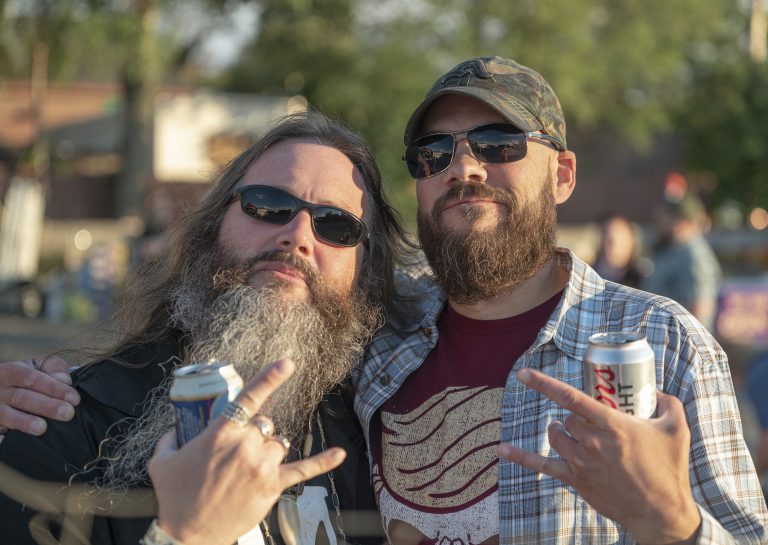 "It's not fake with Tim," he says. "Everything he writes, you actually feel it."
The only thing that would have made it better, Jensen says, is if Montana had played "Son of a Song," his favorite, which tells a story about Montana's life. 
"My eyes well up when I hear that song," Jensen says. "It's such a great, emotional, heartfelt song. And it's not because I grew up that way, but I can relate to it. I can hear what he says about the way he grew up, and it's touching."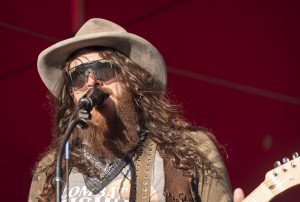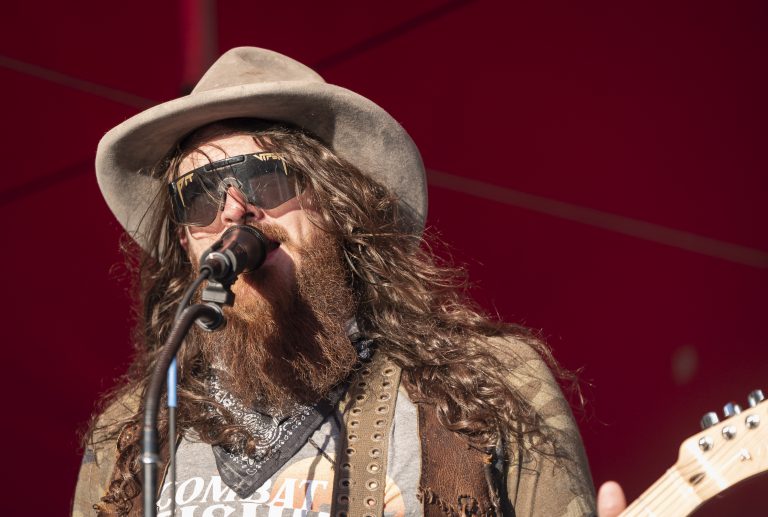 Two weeks earlier, I'd never heard of Montana when my boss called to ask if I wanted to "go hang out in Alaska with some crazy rednecks." I thought, Who the fuck is Tim Montana? The answer mattered less to me than the opportunity to get out of COVID lockdown and spend a week in Alaska.  
Now, 48 hours into my Tim Montana experience, I'd only seen snippets. He was the hard-living joker with an insatiable hunger for adrenaline, booze, the outdoors, and good times with good people — the flirty wild man who planted a firm, beardy kiss on my cheek in the Alaskan countryside the day prior, made me pull over and pay my 20 pushups on the side of the road as I chauffeured him to the band's rented house outside Anchorage, got shit-hammered and passed out before the drinking games started on my first night with the band, and may or may not have woken up in the middle of the night to piss on a closet door.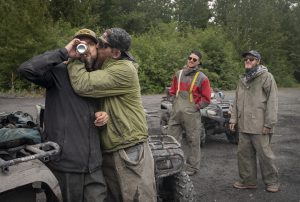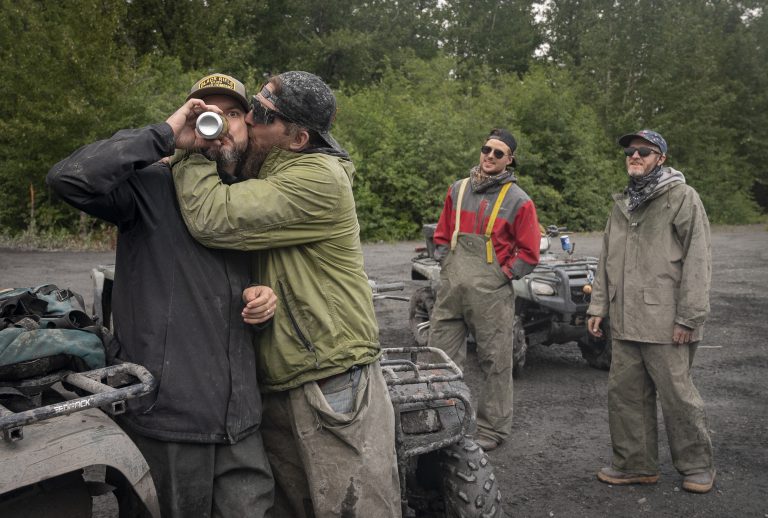 But after the Anchorage show, Montana's exterior starts peeling away.  
Later that night, after we all spend the night drinking and telling stories around the kitchen table of the rental house, Montana becomes somber and reflective when a few of us step outside for a smoke.  
When Montana was 5 years old, his biological father, who was supposed to be sharing custody with his mom, took the boy and fled to Spokane, Washington. Ultimately, law enforcement caught up to the man, arrested him, and returned Montana to his mother. He never saw his father again.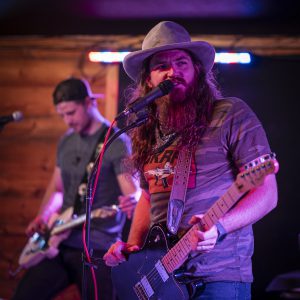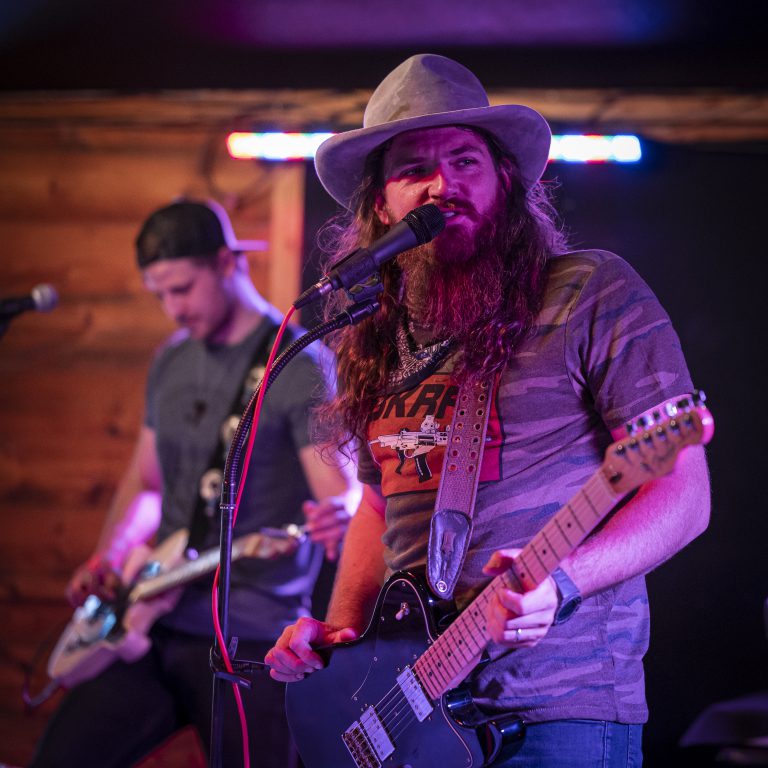 At 6 years old, Montana was living in an apartment above a pawn shop and gun store in Kalispell, Montana, when his stepfather — who was involved in the militia movement of the 1990s — moved his family to Butte to live off the grid in a double-wide trailer with a diesel-powered generator. Montana, who taught himself to play guitar in a lantern-lit room, grew up in an environment where burying buses and rifles to prepare for a tyrannical government takeover was common. Randy Weaver, the former Special Forces soldier known for the standoff with the FBI at Ruby Ridge in Idaho, was a friend of Montana's stepfather. 
"I could break down an AK-47 before I could play a D chord," Montana says.  
Montana looked almost lost and confused as he described a spartan existence under his abusive stepfather, who used hard labor as a means of relentless torment or some kind of cruel tutelage.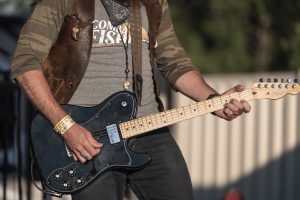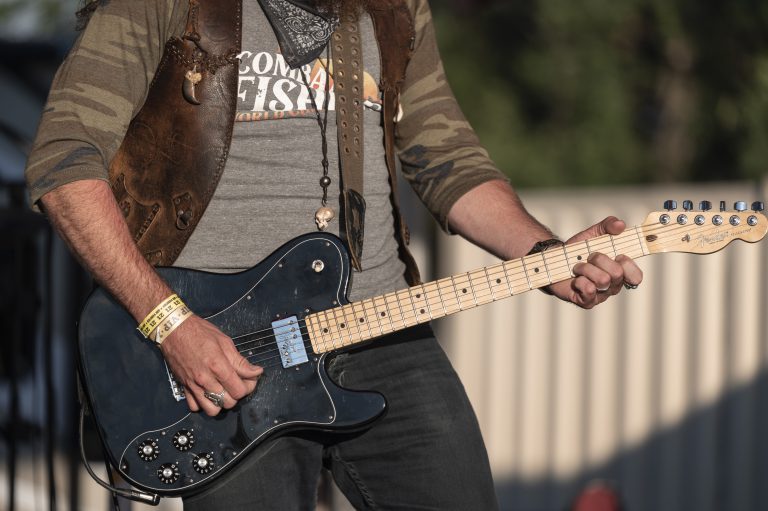 When Montana could barely lift an ax, he was made to split a truckful of wood. His stepfather would have him move rocks from one side of the field to the other, and when Montana would finish, his stepfather would say, "Now bring them back to the other side."  
"It was just 24/7," Montana says, describing how finished tasks were always met with demands for more.  
In the parking lot after the Koot's show, Jensen seemed to grasp something about Montana that I hadn't been exposed to yet. The man behind the roughneck rock 'n' roll persona is incredibly complex, thoughtful, and deeply sensitive, and "Son of a Song" is about his life:
So I cried myself to sleep at night / Praying Lord get me out of this double wide / A backwoods boy raised with guns and knives / But it's this guitar that saved my life / Drowned my sorrow in a melody / At a time when God forgot about me / When no one was there to sing along / With a son of a, son of a, son of a song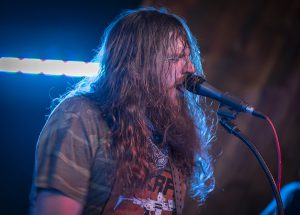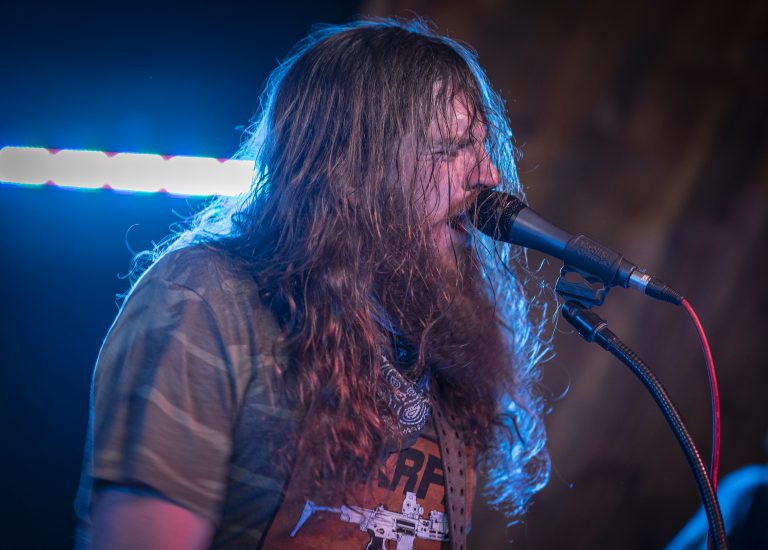 Montana grudgingly admits his stepdad is the person who got him his first guitar. And after it became his main means of comfort and escape, his stepfather began to use it against him.
"Having that guitar was a real lifeline for Tim," his sister, Francy, told me. "I think that guitar probably saved his life to be honest."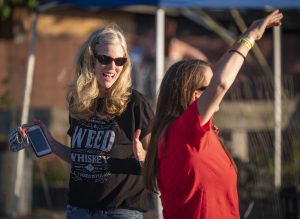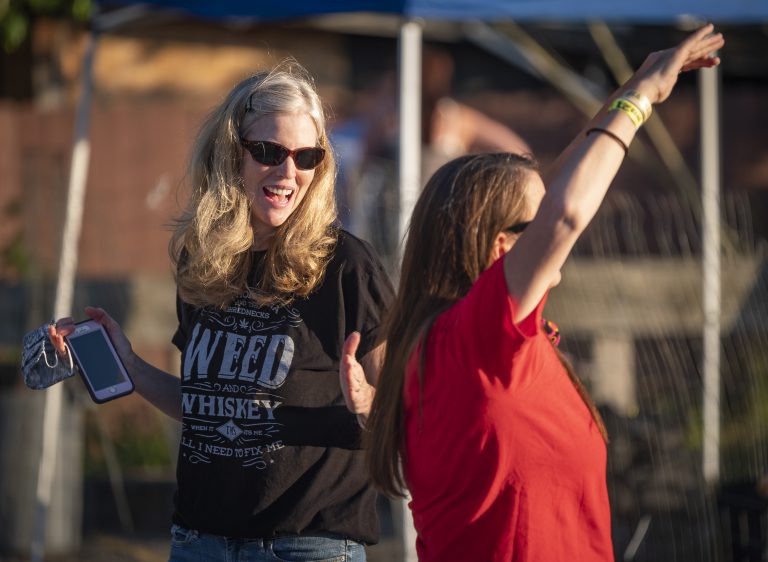 Montana used to sneak his guitar out of the house so he could practice it at school. When Montana won the school talent show, his stepdad punished him after learning about it in the local newspaper. He was constantly taking the guitar away, and Montana always did whatever it took to earn the guitar back. 
"It's weird, man. I can never put my finger on why he picked on me like that all the time, but I think that really prepared me for the music business," Montana says. "Everyone's like, 'Oh, the music business is tough.' But this isn't any tougher than the shit I grew up with."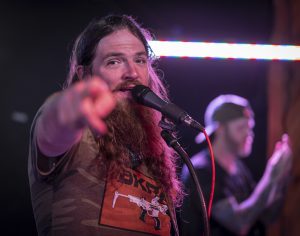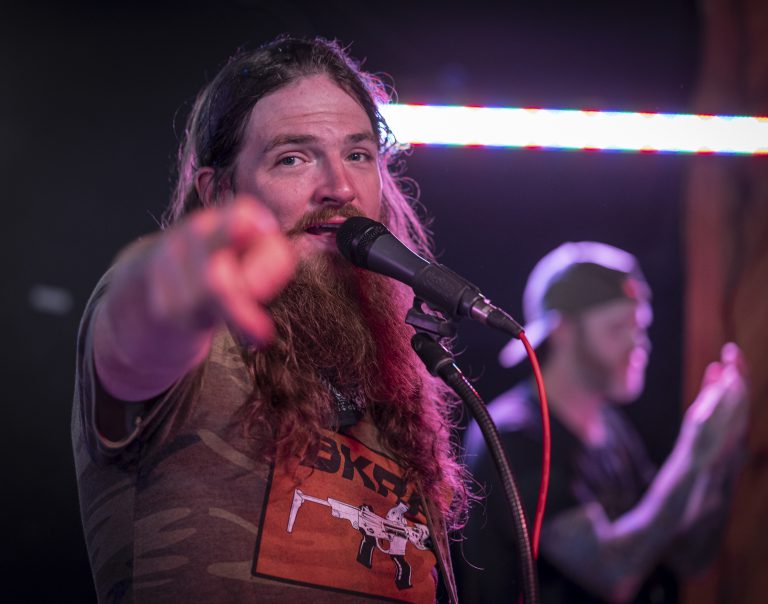 Jensen told me Montana shines as a songwriter because he writes about "where he's from and what he's about."  
"That's why I like going to see Tim Montana — because it's not about just party, rowdy music. That's easy; lots of guys do that. But Tim really brings heart to it."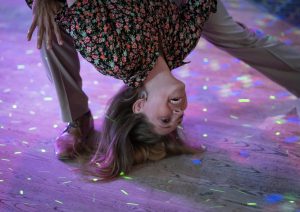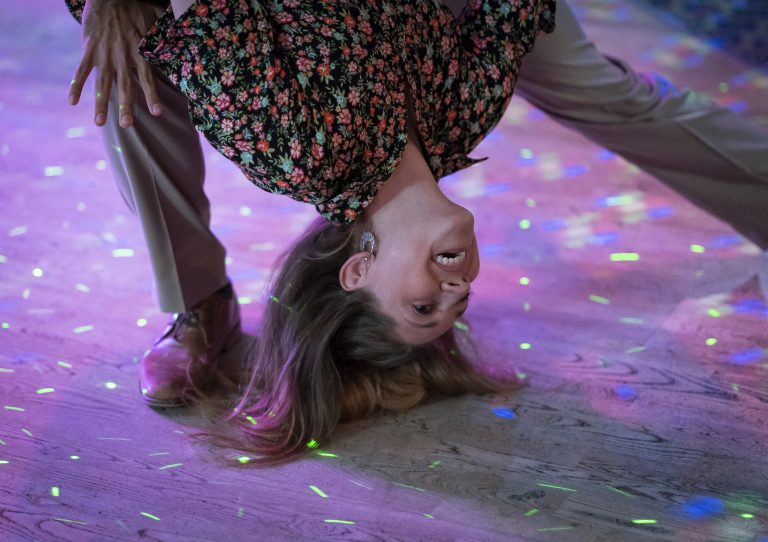 As the band breaks down and packs up their gear, Crownover cracks at Law that he didn't commit a single mistake in the set, and Montana and the others quickly agree and all enthusiastically heap praise on their new drummer.  
"That was a great fucking show, and you're the only one who didn't commit a single mistake," Montana tells Law. "You're still a dirty little weirdo, but you're a damn good drummer. I'm impressed, man."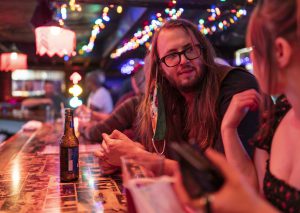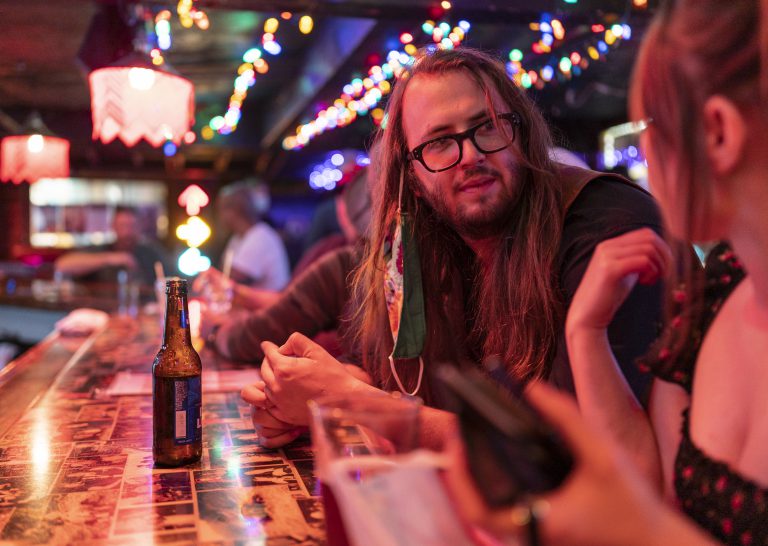 Bandmates Matt Black and Tom Samulak echo Montana's critique, and Law is clearly excited to finally turn the tide from near-constant ridicule as the band's FNG. 
"Thanks, y'all," he says. "I'm pretty OCD about my drumming. I'm kind of a perfectionist."
After packing up, the band heads over to Koot's for a drink, where Samulak — whose Hollywood good looks and panty-dropping guitar solos make him a popular target for would-be groupies — is nearly mugged by the thirsty wife of a deployed soldier. The boys watch and laugh as she all but climbs on him while ignoring his polite declinations.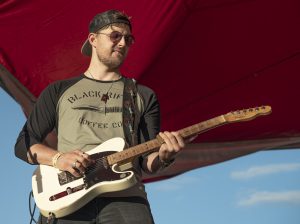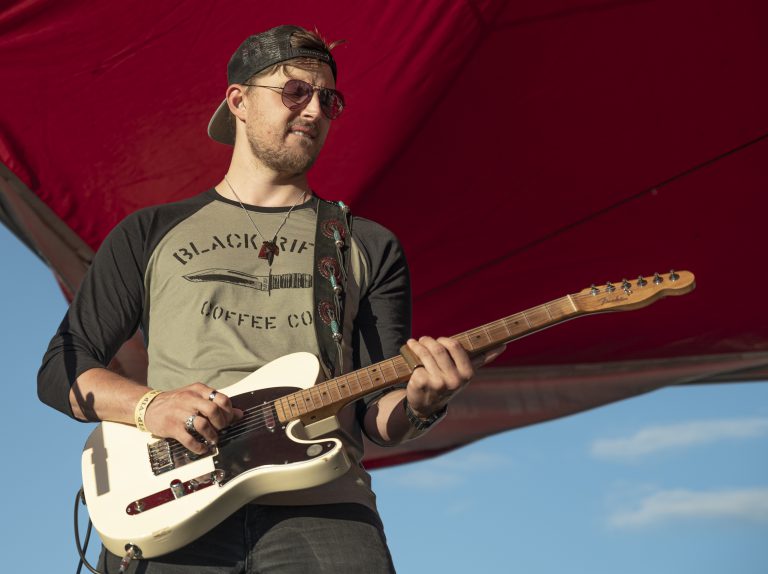 Everyone decides they'd rather spend the night drinking back at the rental house than keep risking COVID-19 exposure in the bar, and Samulak, who has a longtime girlfriend, is relieved to be rescued. 
Back at the house, we sit around the kitchen table, tearing through cases of Coors Light and Alaskan IPA and telling stories. I point out that the band is really failing to fulfill some of the rock-star stereotypes I had expected to see. There is a distinct lack of half-naked women, especially. The locals tell me there should be no shortage of them because "in Alaska, everybody kind of fucks everyone because there's only so many partners to go around."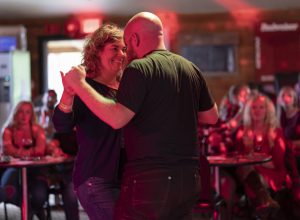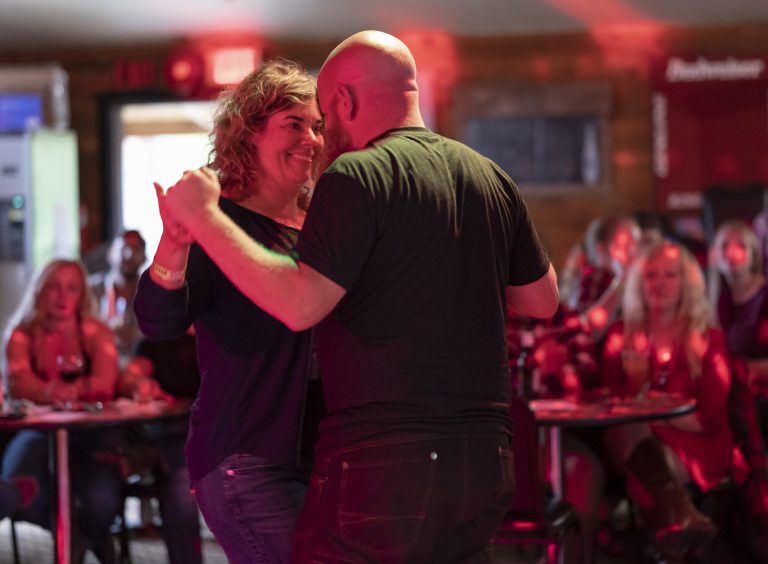 "Yeah, I've toured with a lot of bands, and I don't think I've ever seen musicians who are actually faithful to their wives and girlfriends," says Law, who's single. "Y'all are sincerely good dudes."  
"That means a lot coming from a degenerate like you," Crownover fires back as everybody cracks up.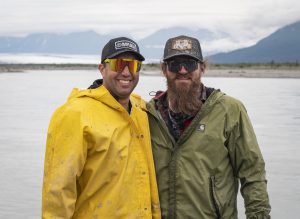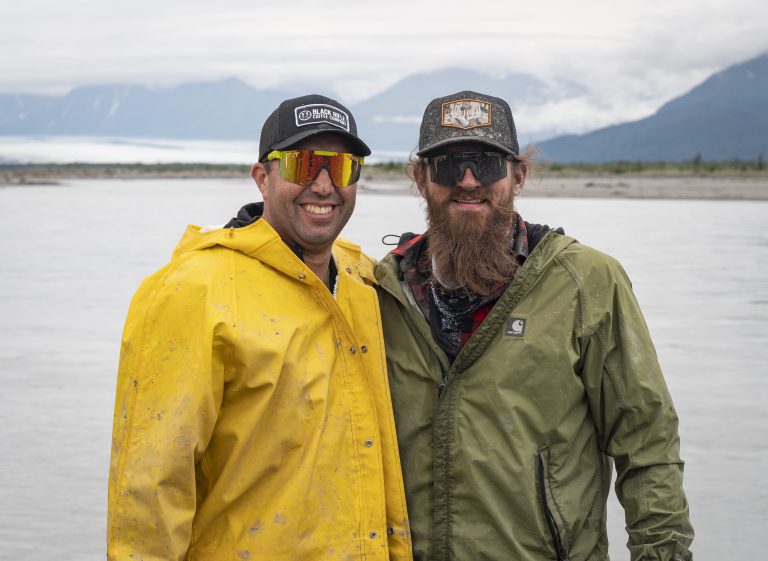 Montana parties hard, but he checks in on FaceTime with his wife, Danielle, and his kids, Savannah, Walker, and Dalton, every day. He proudly tells me that he recently "put another baby in" his wife.  
"Fuckin' COVID, man," he says with a signature giggle.  
Tim and Danielle met in 2006 in a Nashville honky-tonk called Tootsies Orchid Lounge while Danielle was traveling for work. Tim was smitten, and within weeks, he was visiting Danielle in California and falling in love.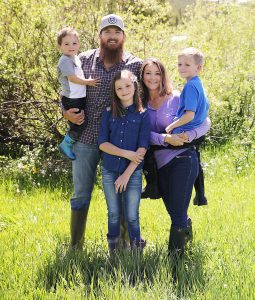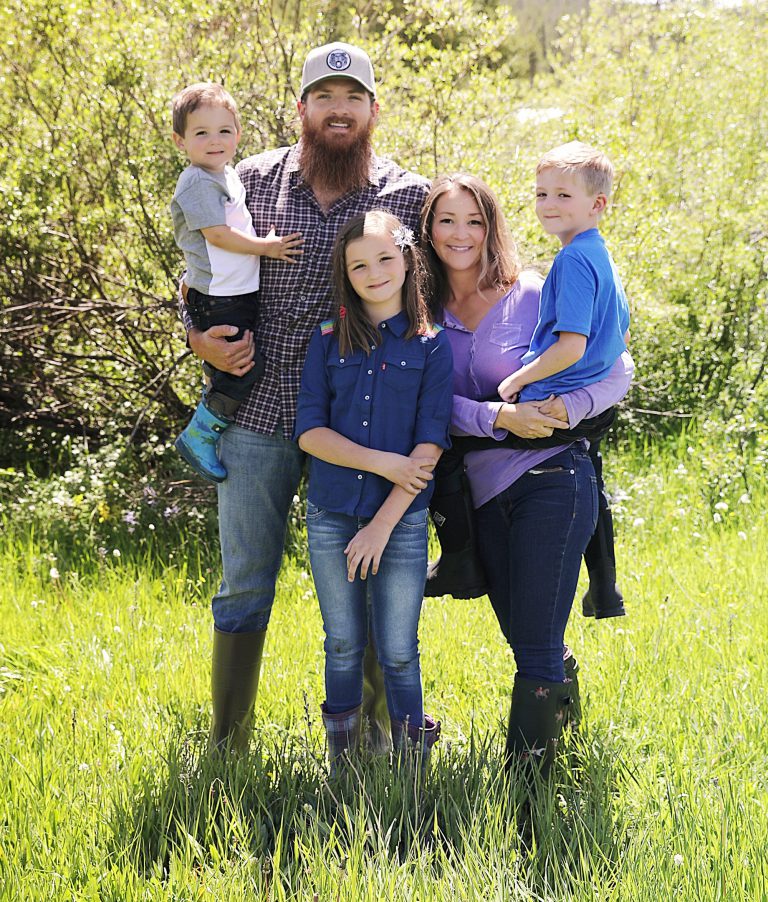 A proposal and a move for Danielle from California to Nashville soon followed, and the couple stopped at her parents' house in Las Vegas so they could meet their soon-to-be son-in-law.  
When Danielle's mom bought Tim a joke gift for the occasion, she never expected Tim's response. 
"Mom bought him an elephant thong," Danielle told me over video chat a few weeks after the Alaska tour. "You can imagine what you put in the trunk." She lets that sit for a beat and laughs. 
"Mom thought it would embarrass Tim. Instead, my husband puts it on and comes out in nothing but this elephant thong, dancing in front of my dad who's sleeping. The dog starts barking, and dad wakes up. So Tim's dancing like a freak, my mom's dying laughing, and the dog locks onto the elephant's bobble eyes. Then you just see Tim's white ass cheeks running away."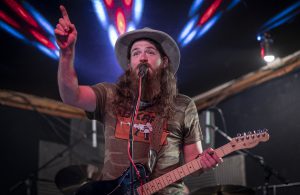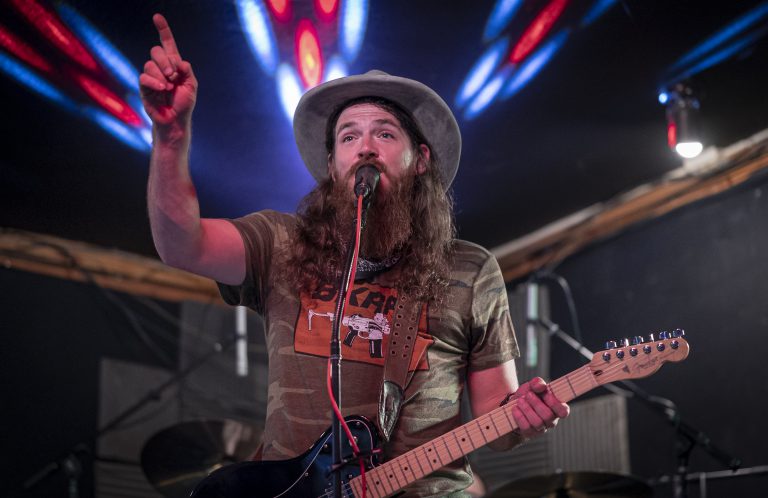 This is the story Danielle picks when I ask her to tell me a quintessential Tim story. 
"Tim's always trying to create that environment that's fun and off the wall," she tells me. "As an artist, he pulls from real experiences, real emotions." 
Now I tuck my kids in bed most nights / Got a house now, hell with a double wide / Still a backwoods boy with guns and knives / And I play this guitar for my sweet wife / Still get lost in a melody / And all is good between God and me / Thankin' everybody who sings along / With a son of a, son of a, son of a song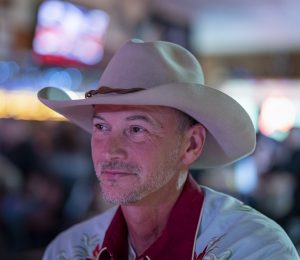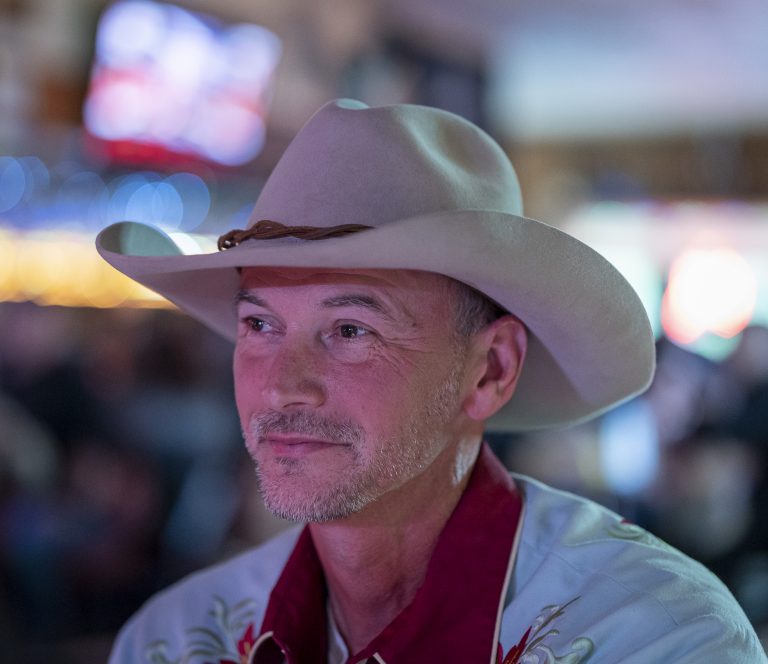 On the night that Tim told me about his childhood, his good friend and bassist Matt Black was there to listen to the same backstory he'd heard plenty of times before. 
"He was a piece of shit," Black said of Montana's stepfather. "And you became a great musician and a great husband and father despite that piece of shit."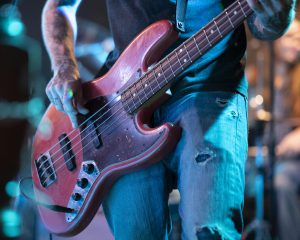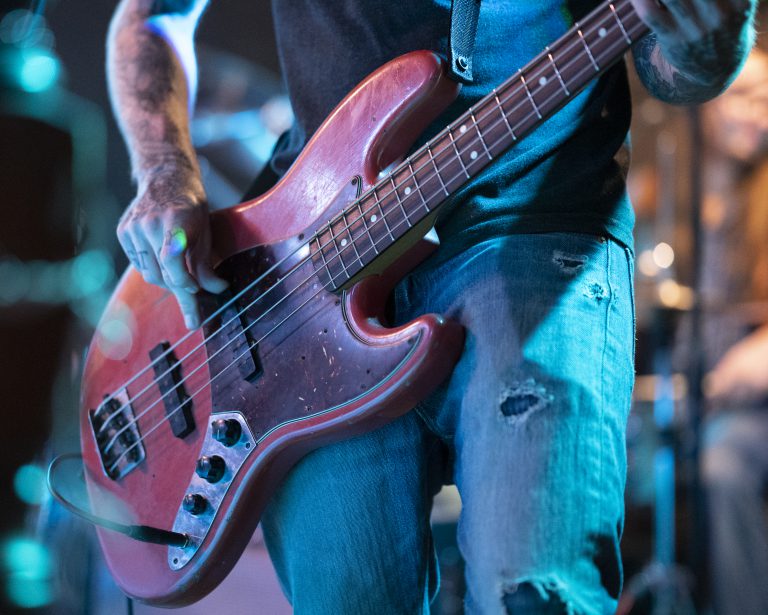 Later, when he's sober, Black tells me what an incredible father Montana is and how he has thoroughly broken the cycle of abuse that so many families suffer. 
"I just love him," Black says. "He's family to me. He's absolutely insane, and sometimes he drives me crazy, but I love him to death. He's one of the most genuinely good people you will ever meet in your life."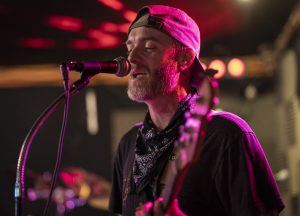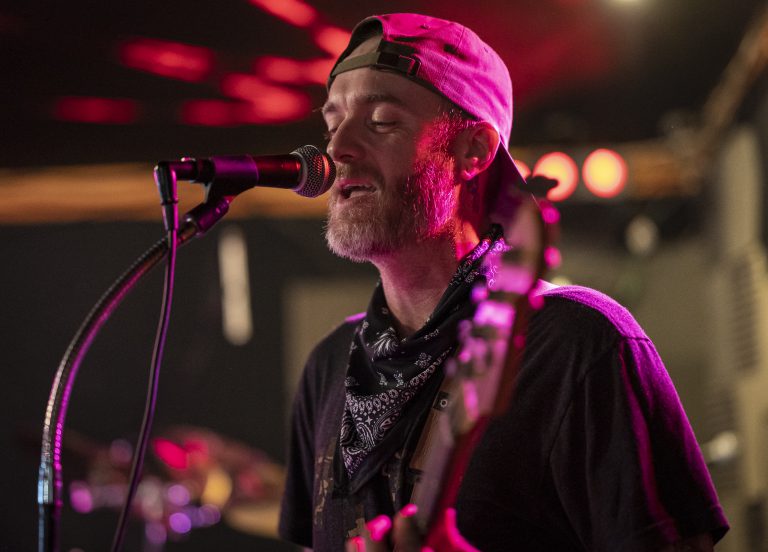 Montana has raised three kids alongside Danielle, often filling the stay-at-home dad role, which fits the artist lifestyle more so than Danielle's corporate sales job, for which she travels a lot.
"I would have never put up with anything less than an amazing dad," Danielle says. "He works to build the kids up. He's not afraid to tell them that he loves them. He showers them with affection, but at the same time, he disciplines them. I know we have the right balance there, and I think that's so hard to achieve when you come from an abusive background. It takes a lot of work internally to break that cycle and overcome that. I think that's something to be applauded every day, and I think it would have been a lot easier to go down a different path."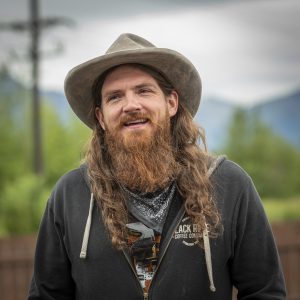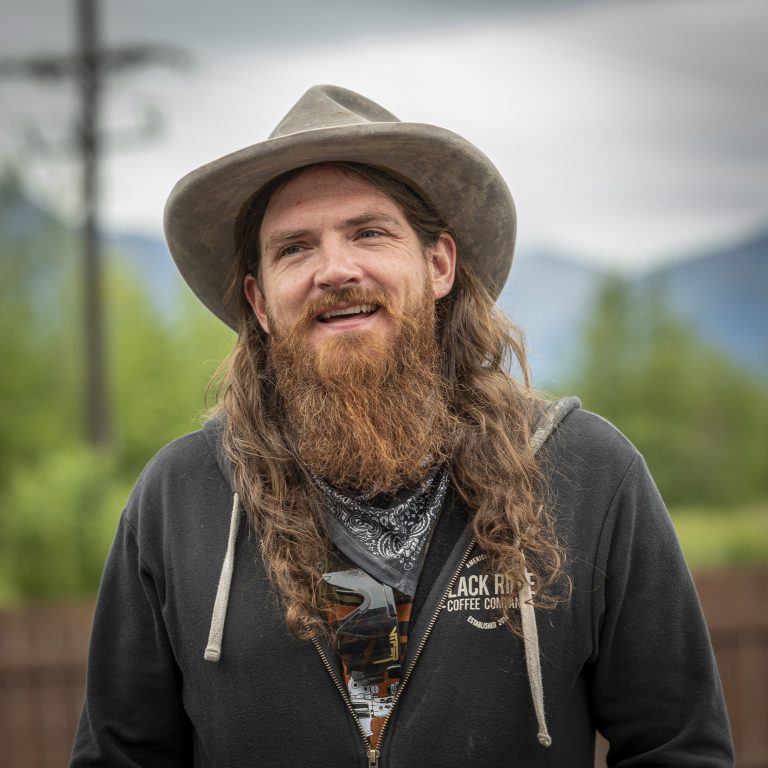 Over the four days I spent with Tim Montana in Alaska, I got to know one of the most interesting human beings I've ever met. The initial impression he made on me seems to be the common one: This man is certifiably insane — an intoxicated infant in a man's body. 
But after about my 100th pushup, or the second time he kissed my cheek, or third time he humped my leg, Montana's infectious charm wore me down. Under the shenanigans is a deep well of empathy even an evil stepfather couldn't run dry.
The childhood trauma doesn't define him. Montana seems to be the type of person who has channeled his demons into post-traumatic growth and a new life full of love and success. And in my mind, that makes Tim Montana one of the most American people I've ever met.