Sharpening and honing a knife blade is a necessary outdoor skill, but it's hard to beat the convenience, weight, and surgical precision of modern scalpel-like replaceable-blade knives. Many of the most knowledgeable hunters and outdoorsmen have found a place for these knives in their pack. The folding, razor-sharp, replaceable-blade knife was first made popular by Havalon a decade ago. Today, dozens of options on the market range from ultralight, skeletonized scalpels for gram-counting mountain hunters to more traditional folders destined for the whitetail woods. We gathered 19 of the most popular models plus a few outliers and put them through the paces to test the best replaceable-blade knife on the market today.
How We Tested
We spent a day with the team at Van Galder Family Farms, a full-scale butcher shop in upstate New York, to put all these knives through the paces. Owner Kyle Van Galder and his staff slaughter and break down sheep, pigs, and cows year-round and process hundreds of deer every season for local hunters. Our judging team consisted of full-time meat cutters, butchers, hunters, and outdoorsmen who came to the test with little to no experience with replaceable-blade knives.
The 19 replaceable-blade knives were judged based on our testers' thoughts in six categories: comfort, durability, functionality, edge retention, overall design, and value. Each tester used each knife extensively while butchering cow carcasses and then rated each blade by category on a scale of 1 to 10, with 1 being horrible and 10 being the very best.
Extra points were awarded for knives that offered comprehensive warranties as well as those manufactured in the USA.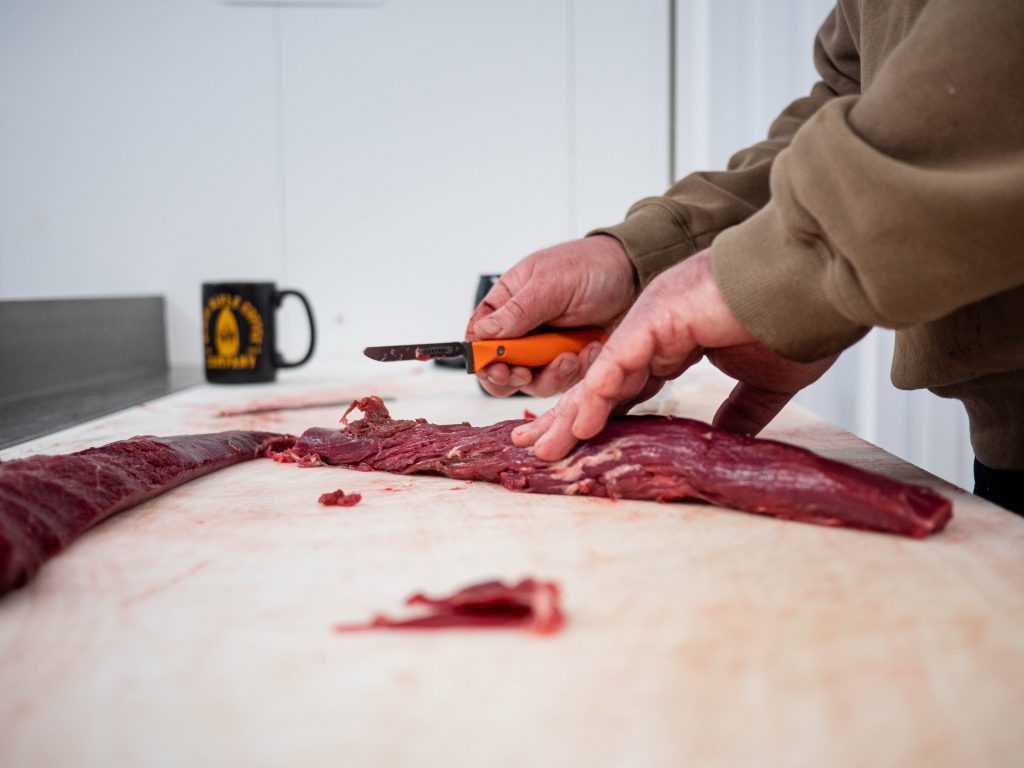 The testing criteria also included questions to help guide the review. For example, on functionality, we asked, Is it easy to swap blades? Does the mechanism get gunked up easily? How easy is it to clean?
We took a knife's average score for each criterion and weighted those averages. Comfort, durability, perceived edge retention, and value were weighted 10% each; functionality and overall design, 25% each; and the remaining 10% was split between warranty and whether a knife was made in the USA. These weighted averages translated into a total possible score of 100 points.
So as not to compare apples to oranges, we split the knives themselves into three categories:
Folding scalpel-blade knives.
Fixed scalpel-blade knives.
Replaceable-blade knives with proprietary blade designs.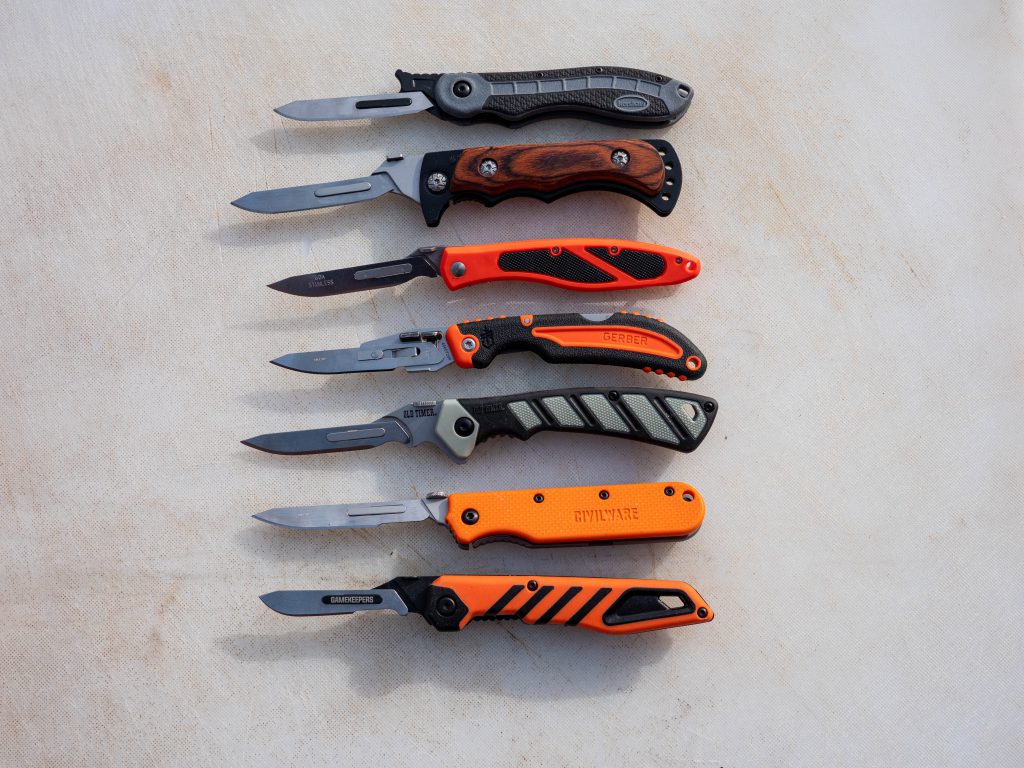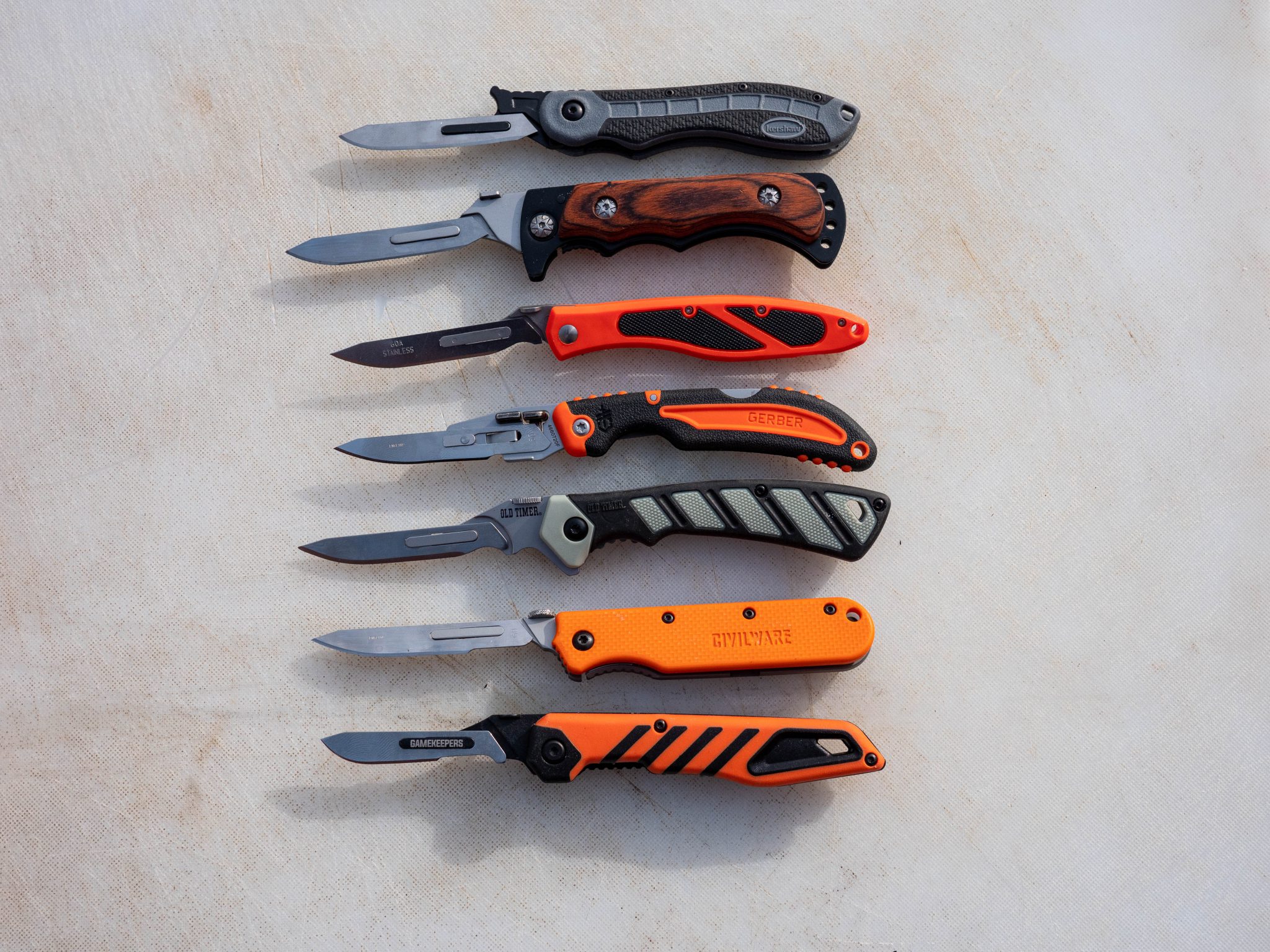 RESULTS: Scalpel-Blade Folding Knives
A medical manufacturer named Havel mounted its scalpel blades to a folding handle, called it the Piranta, and the replaceable-blade hunting knife was born. While Havalon might have paved the way, countless others have followed. Utilizing a #4 surgical blade mount, these knives accept numerous blade sizes and styles, with the most common being #60. Blades with the suffix "XT" (#60XT) are the older style and are thinner and more brittle than the newer, thicker "A" blades (#60A). With the comfort and familiarity of a folding knife and the ability to swap blades, these knives bridge the gap between a disposable medical implement and a trusty pocket folder.


No. 1 Kershaw Lonerock RBK
Score: 75.6 ($46; kershaw.kaiusa.com)
Features: Glass-filled nylon handle, K-Texture grip, thumb assist
Warranty: Limited lifetime
Includes: 15 #60A blades, extra "buddy" handle, nylon belt pouch
Pros: Small comfy handle, stays clean and cleans easy, easy to open and close, great value
Cons: Lack of color options, feels cheap but isn't, included blades fit poorly

The Kershaw Lonerock RBK was the sleeper of the bunch. Its maker packed a ton of value into an affordable, quality package. Our testers had nothing but good things to say about it. The nylon composite handle is comfortable with textured rubber lining for grip. The blade opens quickly and locks solidly. The thumb rest is a nice touch and acts as an opening assist. During use, the whole thing stays relatively clean and rinses off easily after. It was one of the few knives without a pocket clip, and we honestly didn't miss it. It comes with 15 heavy-duty blades, a blade box, a nylon belt sheath, and an extra "buddy" handle — a heavy-duty plastic handle you can use as a backup or hand to a buddy with a blade as a second knife. It's a steal with a real-world price as low as $30 online. The only thing we didn't love about it was the included blade, which did not fit as tightly as we would have liked. But other non-Kershaw #60A blades fit perfectly. The handle felt a little cheap compared with knives like the Havalon or Wiebe, but in more of a utilitarian workhorse kind of way than an actual lack of quality or function — the way a Dexter-Russell feels next to a Wusthof. It would be nice to see the Lonerock RBK offered in blaze orange, but it's a minor complaint. For the price, the Lonerock RBK is a hell of a deal.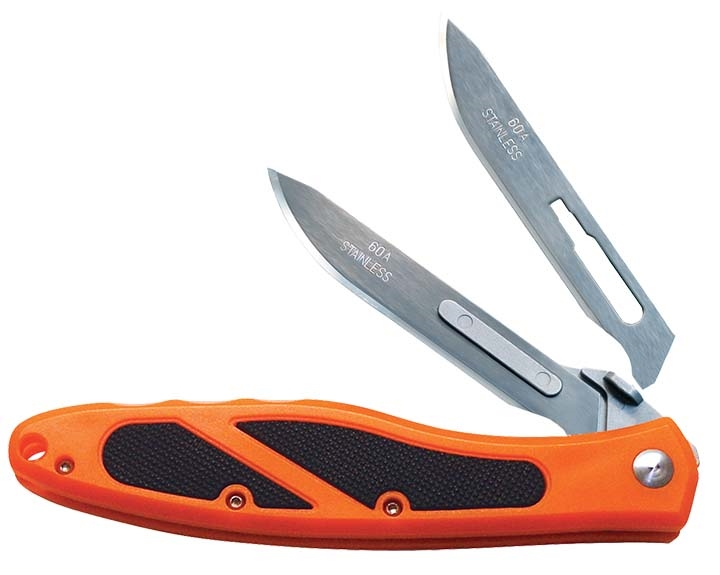 Havalon Piranta Edge
Score: 73.6 ($44.99; havalon.com)
Features: Rugged ABS plastic handle, ambidextrous thumb stud, open back for easy cleaning, pocket clip
Warranty: Lifetime warranty
Includes: 12 #60A blades, nylon holster, blade change tool
Pros: Solid construction, easy to clean, lightweight, great warranty
Cons: Slippery handle, pocket clip uncomfortable in hand
Havalon was among the first to bring the idea of disposable surgical blades to wild game processing, and its Piranta was clearly the inspiration for many of the other knives in this test. The Piranta Edge is Havalon's bestselling knife, and our testers loved its quality feel and sturdiness, but it did lose some points for handle design. The knife's handle felt slippery when wet with meat juice and would benefit significantly from finger grooves or a similar solution. Testers also thought the pocket clip was uncomfortable in hand. That said, the Piranta Edge is very well built, and the open design makes it a breeze to clean. The handle, blade holder, and lock are all very sturdy, and most of the different blades we tested fit the frame reasonably well. While you certainly don't need the included tool, it would be a nice thing to have if you're trying to swap out blades with frozen fingers. One tester thought the bottom lock button was too small for bigger hands and it was the one area of the knife that collected unwanted meat, fat, and fur. Beyond our testers' minor gripes, the Edge is undeniably excellent and remains massively popular among various hunters for a good reason.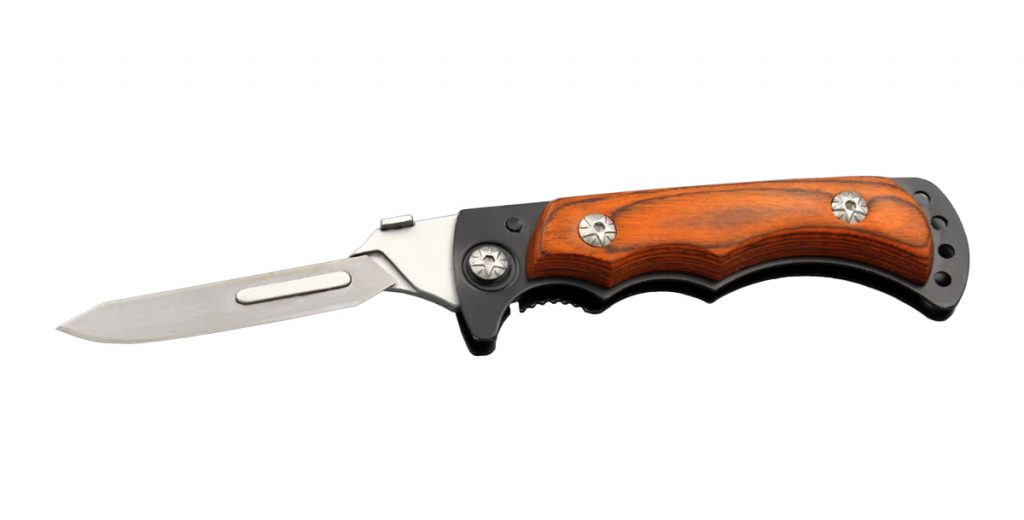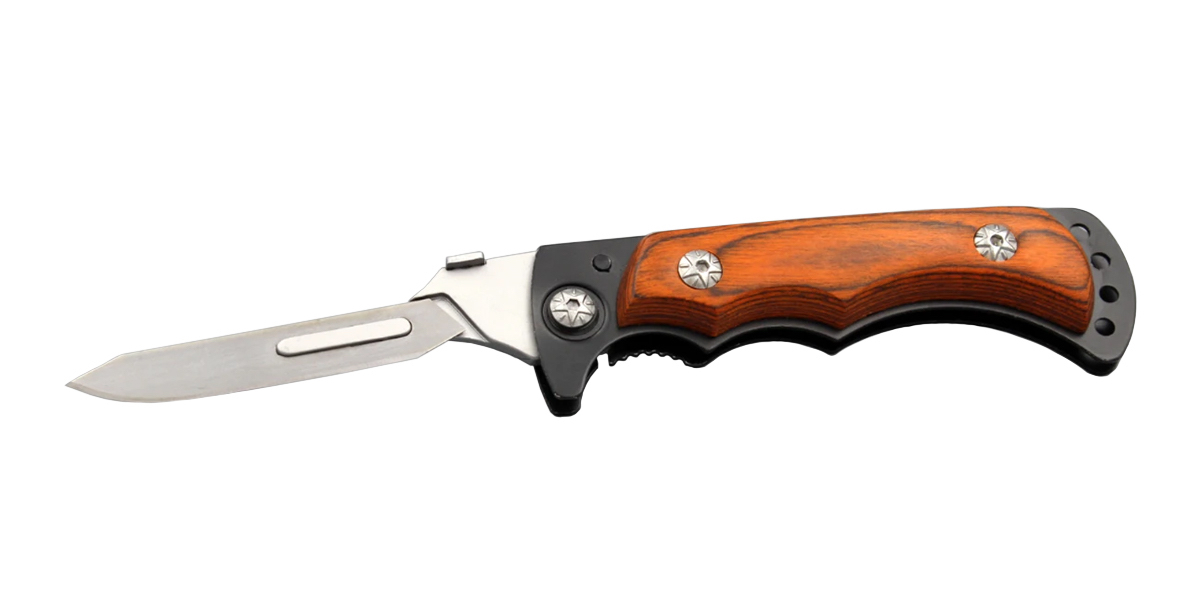 Wiebe Vixen Folding Skinning Knife
Score: 73 ($39.99; wiebeknives.com)
Features: Fine wooden handle, metal frame, bottom release
Warranty: Limited lifetime
Includes: 24 blades, nylon belt pouch
Pros: Lightweight, ergonomic, high quality, inexpensive, aesthetically pleasing
Cons: Cold on hands compared with synthetic handles
Wiebe is a small company specializing in skinning and fleshing blades and accessories. It offers several replaceable-blade knives, but the Vixen caught our eye with its sexy wooden handle and black metal hardware. It's a very comfortable knife in hand, too. The finger grooves and guards are very ergonomic, and the lack of a pocket clip helps to minimize hot spots when doing work. Testers liked the thumb assist and smoothness of the action. Wiebe must be doing something special with its machining because we tested various blades from numerous manufacturers, and they all locked into this knife without the slightest wiggle. It's a rock-solid blade-to-handle connection. The Vixen approaches the quality fit and feel of knives like the Civilware IBK for one-third of the price. Our testers loved it and thought it was probably the best-looking knife in the test but agreed that the wood and metal handle would be colder on the hands than a synthetic handle when in the field. Given our Vixen experience, we'd assume Wiebe's other models are equally awesome and worth a look.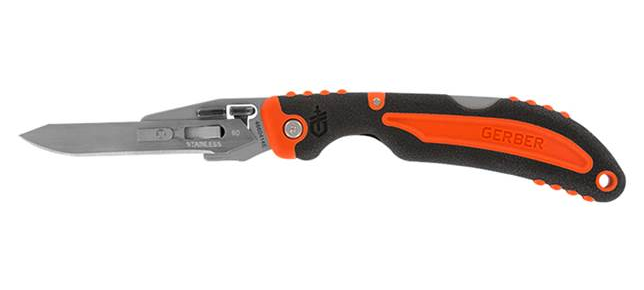 Gerber Vital Pocket Folder
Score: 67.4 ($46; gerbergear.com)
Features: High-vis orange rubber overmold handle, Split Sec Tech push-button blade release
Includes: Six #60A blades
Warranty: Limited lifetime
Pros: Easy blade swaps, lightweight, very sharp, easy cleaning
Cons: Loose blade, not terribly comfortable, blade swap mechanism has potential issues
The Gerber Vital Pocket Folder is the folding version of the original Vital Fixed Blade. While most of the knives we tested use a standard slide-on surgical blade holder, the Vital employs a Split Sec Tech mechanism similar to the Randy Newberg EBS. Swapping blades couldn't be easier. It's almost too easy, and the testers accidentally popped the blade out of the frame during use. It's picky about what size and style of blades it likes; some blades fit loosely, some fit perfectly, and one or two didn't fit at all. While we didn't come remotely close to breaking it, we felt the blade swap mechanism's small moving parts would naturally be more prone to breaking or malfunctioning than the standard #4 surgical blade holder. The only other thing the testers complained about was the pocket clip's size and location, which made the knife uncomfortable to hold. There were mixed feelings on the form factor, with some testers feeling it was a little small for larger hands. That said, the Vital Pocket Folder is well built, and a perfectly decent knife whose popularity speaks for itself. If easy blade swapping is your most important factor, the Vital pocket folder is for you.
Schrade Old Timer Replaceable Blade Folding Knife
Score: 66.8 ($36.99; oldtimerknives.com)
Features: TPE rubber overmold handle
Warranty: Limited lifetime
Includes: 12 #60A blades, polyester belt pouch, blade box, blade change tool
Pros: Decent blades included, stays relatively clean, thumb and back button opening, smooth operating
Cons: Feels cheap, mixed reviews on grip, ugly low-vis color option
The Old Timer is Schrade's decent attempt at a replaceable blade knife. The knife has a few things going for it, and it's a perfectly acceptable option. The testers generally liked the shape, feel, and function but questioned its durability over time. It felt good in the hand and was one of the only knives with a pocket clip that we didn't want to tear off. The thumb button works great, and the flipper's addition on the back is a nice touch lacking in most of the other models we tested. Even with its unique aspects, the Old Timer feels just a bit behind the curve in terms of quality, and with so many competitive scalpel folders at this price point, it probably wouldn't be our first choice. The Old Timer will get the job done, but how long will it hold up?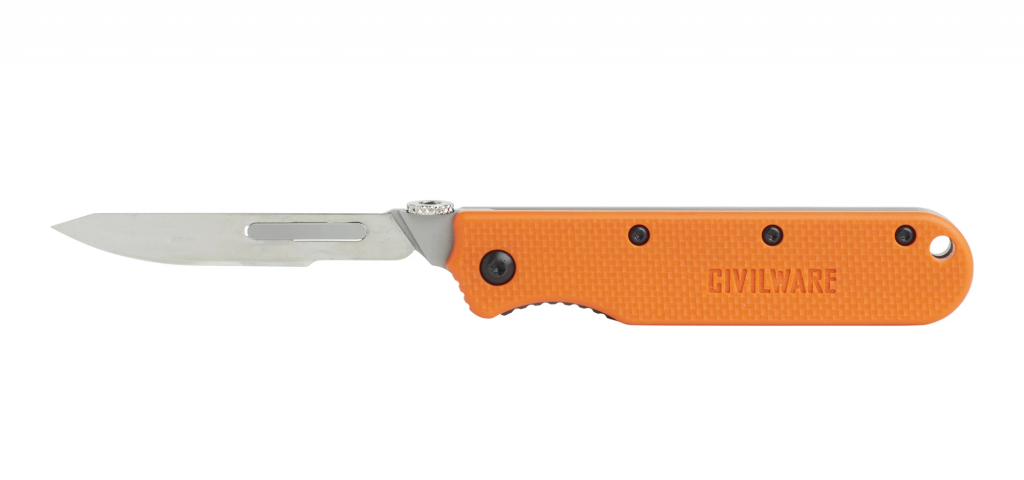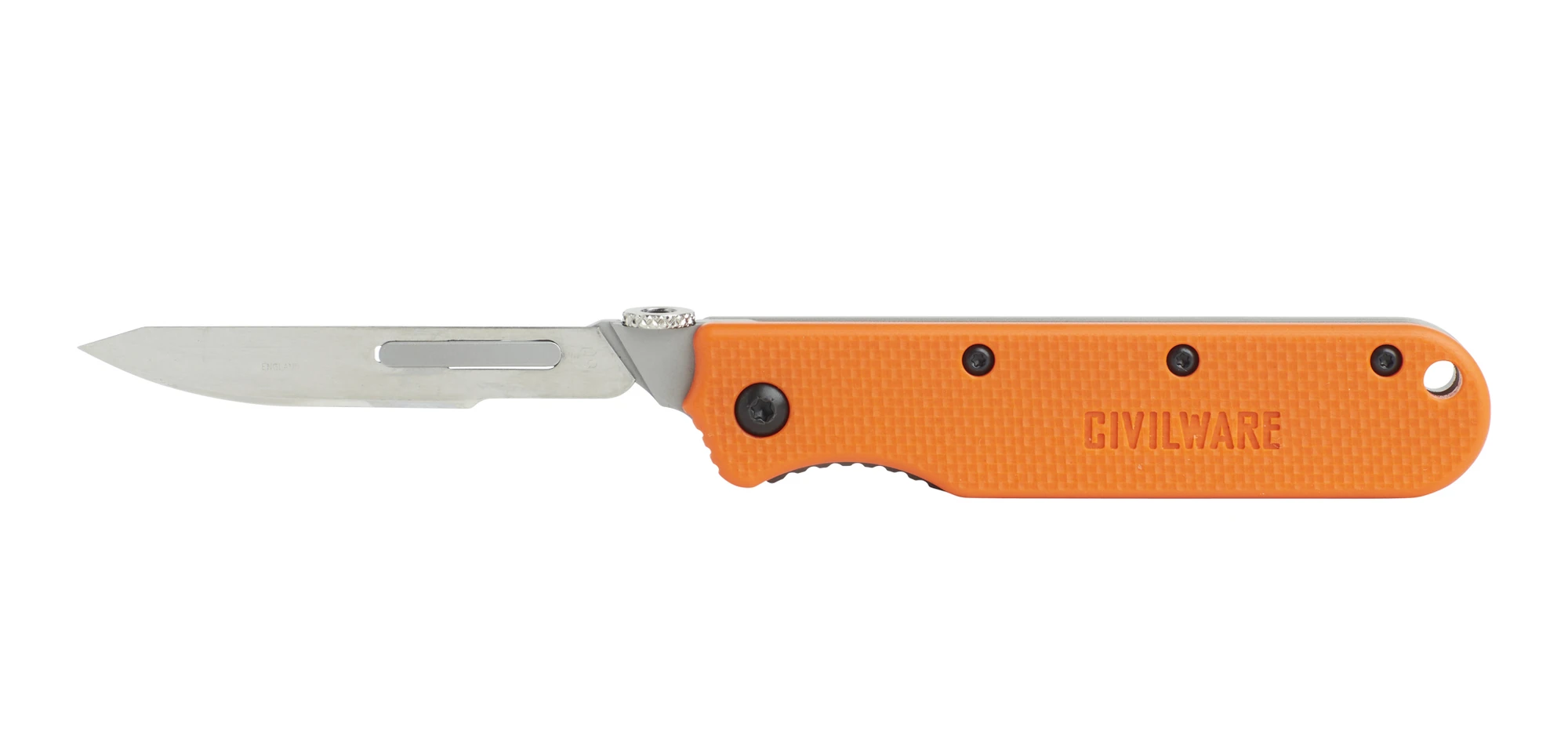 Civilware [IBK] Scalpel Folding Knife
Score: 60.3 ($125; civilware.com)
Features: Textured G10 fiberglass laminate handle, titanium belly, heat-treated 416 steel hardware, pocket clip
Warranty: Limited lifetime
Includes: 10 #60 blades
Pros: High-quality materials, well built, tight tolerances, lightweight, very solid
Cons: Expensive, stiff opening, mediocre grip and ergonomics, lots of places to get gunked up
Spearheaded by professional skateboarder turned hunter Geoff Rowley, Civilware went with the "buy once, cry once" approach to folding replaceable blade knives. At $125, Civilware's IBK Scalpel Folding Knife isn't cheap, especially for a knife that isn't made in the USA. Our testers had many good things to say about the IBK, but few could fully justify the expense when options like the Kershaw, Havalon, and Wiebe are available. In terms of the quality of materials and craftsmanship, the IBK is a stud, and it feels like it's in another league compared with most of the competition in its category. It's built like a brick house: solid frame, no blade play, tight tolerances, etc. You're not going to break this thing quickly, and once you lock in the blade, it's not going anywhere. But it's not perfect. It is damn hard to open. The pivot point is very stiff out of the box and almost impossible to open one-handed. The small thumb stud doesn't make opening any more accessible, and it sits way too close to the frame to get a good purchase. The handle is workable but isn't terribly grippy or ergonomic and lacks contour for your fingers. Despite its quirks, what Civilware's IBK lacks in value, it makes up for in class and quality. You get what you pay for, and if you have the cash to burn, the Civilware is an excellent option.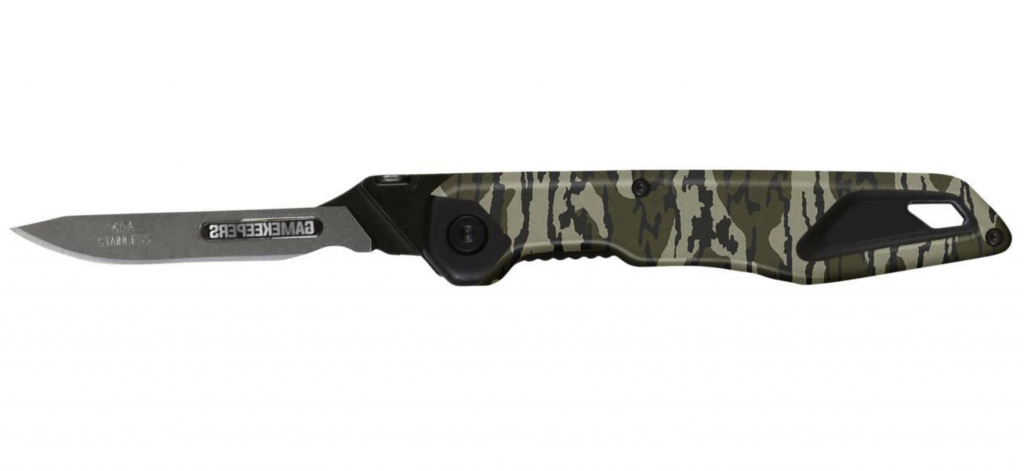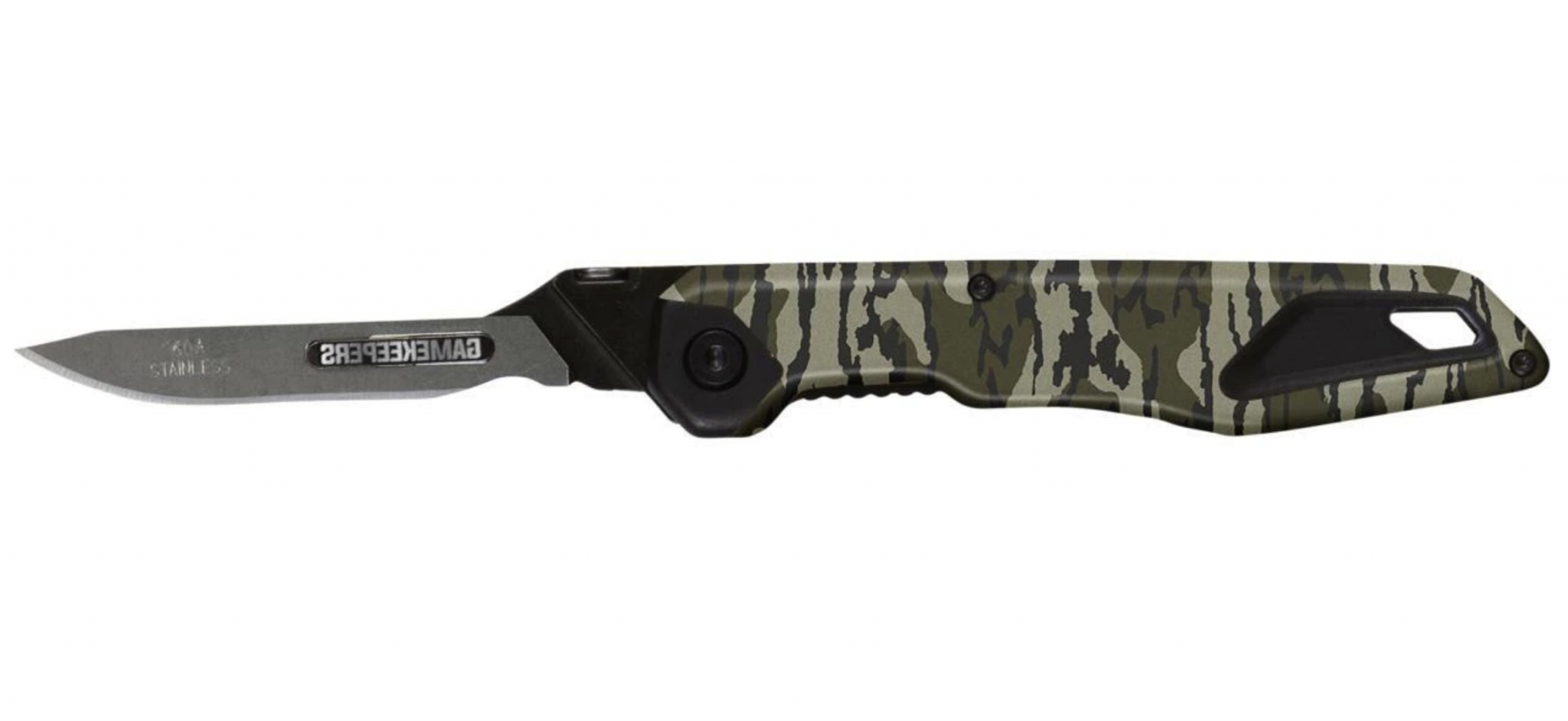 Allen Company Gamekeepers Switchback Replaceable Blade Knife
Score: 54 ($21.99; byallen.com)
Features: Locking blade and thumb lock, rubber handle grip, pocket clip, lanyard hole
Warranty: 1 year limited
Includes: Sheath, three blades
Pros: Inexpensive, easy blade swap, grippy handle
Cons: Not super comfortable, included blades dull quickly, feels/looks cheap
Nearly every outdoor retailer in the country sells Allen products, and the Gamekeeper is the company's contribution to the replaceable-blade knife market. Like many Allen products, the Gamekeeper gets the job done, but that's about it. Don't expect it to make you a cappuccino like the Civilware or Wiebe. To be fair, there aren't any glaring issues with the Gamekeeper other than the fact that the testers thought it felt cheap. Its boxy handle is not the most comfortable to hold, but it's not going to hurt you either. It does grip the hand surprisingly well. It opens and closes easily, is pretty solid — with very little play in the blade or lock mechanism — and doesn't cost too much. We wouldn't expect it to hold up forever, but it will last long enough to justify itself. If I was in a pinch and the Gamekeeper was the only thing on the Walmart shelves, I wouldn't leave empty-handed.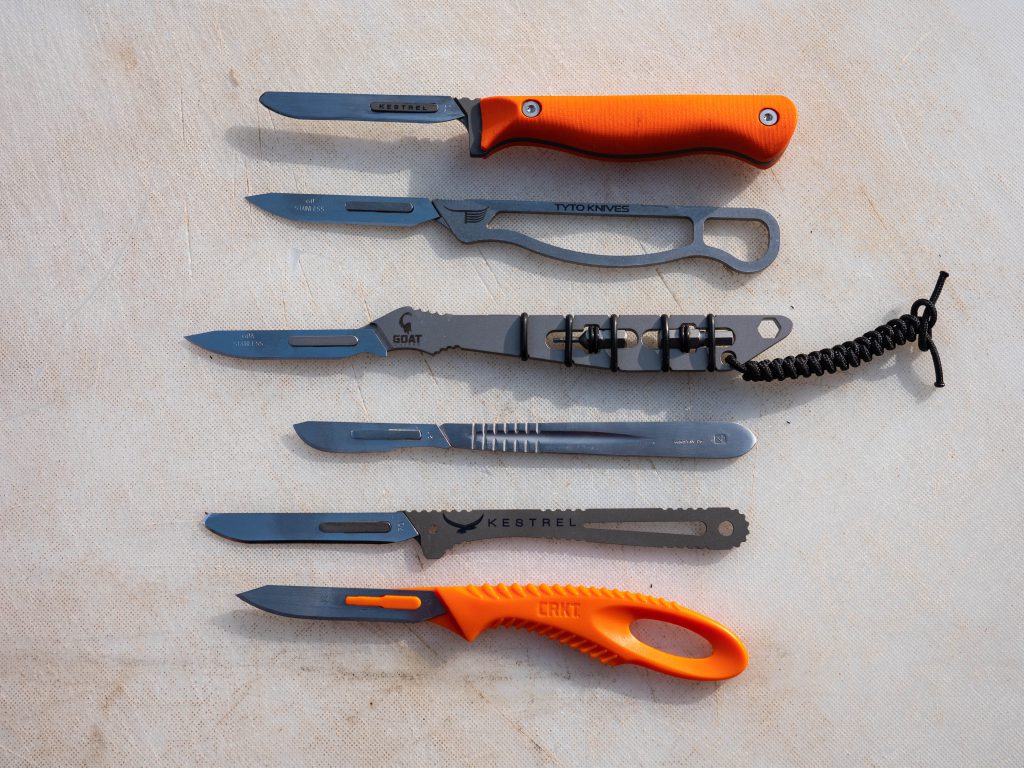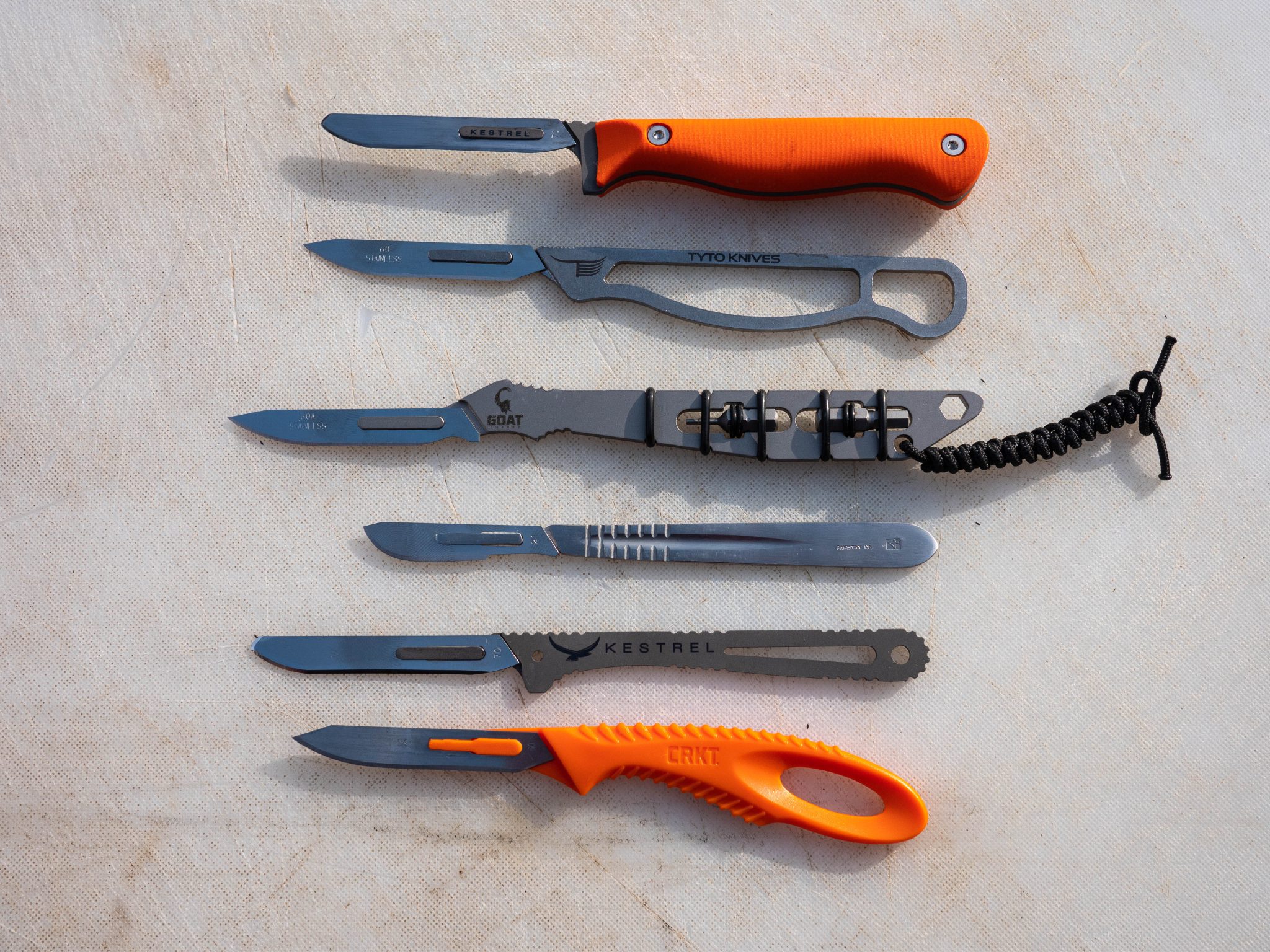 RESULTS: Fixed-Blade Scalpel Knives
Fixed-blade scalpel knives take inspiration from their surgical predecessors with designs and considerations for the ultralight mountain hunter. Generally, these knives are designed to be as lightweight and durable as possible — often featuring skeletonized handles and premium ultralight materials such as titanium. If you prefer a fixed-blade knife and will be living out of a tent at 12,000 feet chasing sheep around the mountains, or just want to minimize your kit throughout a season of brutal pack-outs, these are the kind of knives for you.


Kestrel Ovis Scalpel
Score: 84.9 ($135; kestrelknives.com)
Features: 6AL-4V aerospace grade titanium, textured Micarta handle
Warranty: Limited lifetime
Includes: Five blades, Kydex sheath, available in a variety of colors including blaze orange, blue, black, and more
Pros: Lightweight, very comfortable, nonslip, easy to clean, USA made
Cons: Expensive
The Kestrel Ovis Scalpel was by far the overall favorite knife among our testers. Everyone wanted to take it home. Like Tyto and Goat, Kestrel is a direct-to-consumer, USA-made knife producer that has earned some dedicated fanboys — and for good reason. The Ovis Scalpel combines Kestrel's popular Ovis Hunter fixed-blade handle with the ability to accept scalpel blades. Frankly, it's damn near perfect and strikes a balance between minimalism and comfort better than everyone else. The knife feels at home in your hand, and the blaze orange textured handle provides plenty of grip while still feeling smooth and comfortable on the skin. The Ovis Scalpel will be a bit heavier than skeletonized options like the Kestrel Mountain Scalpel or Goat Capra Hunter, but it's a worthy trade. Amazingly, the knife securely held every blade we threw on it without even the slightest wiggle. The Kestrel's components and hardware are all super high quality, and unlike the majority of the mass-produced models we tested, the Kestrel Ovis feels like a real knife worthy of pride. All of that quality and craftsmanship comes at a premium, and the Ovis Scalpel sells for around $135. That being said, even our price-conscious testers thought the Ovis was a worthy buy. If you're the type of person who is willing to pay more for a superior, USA-made product, take a good hard look here.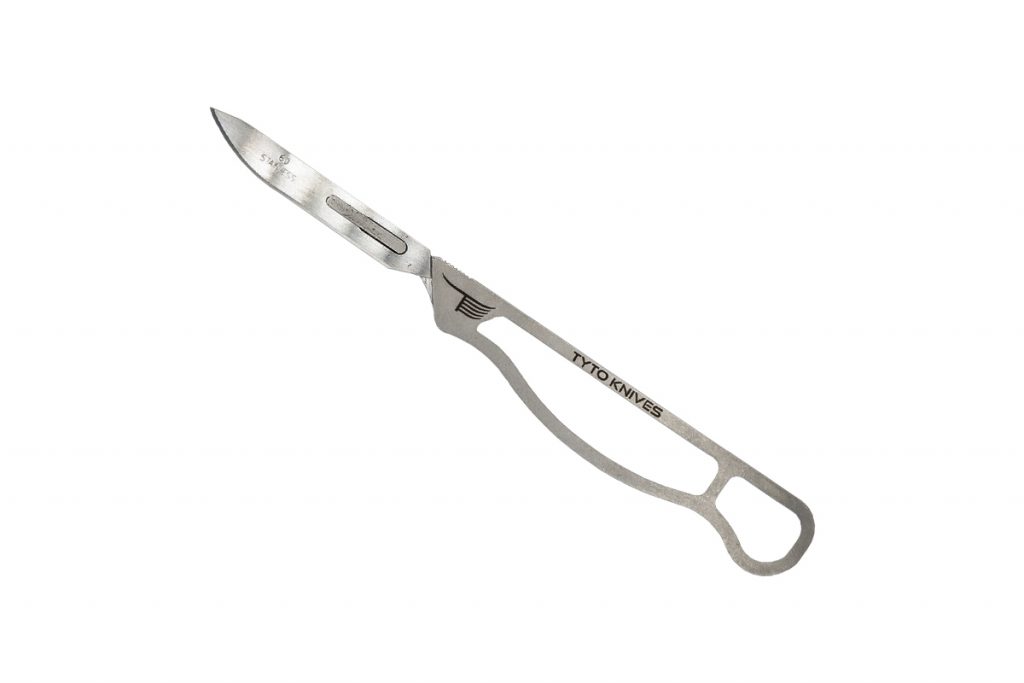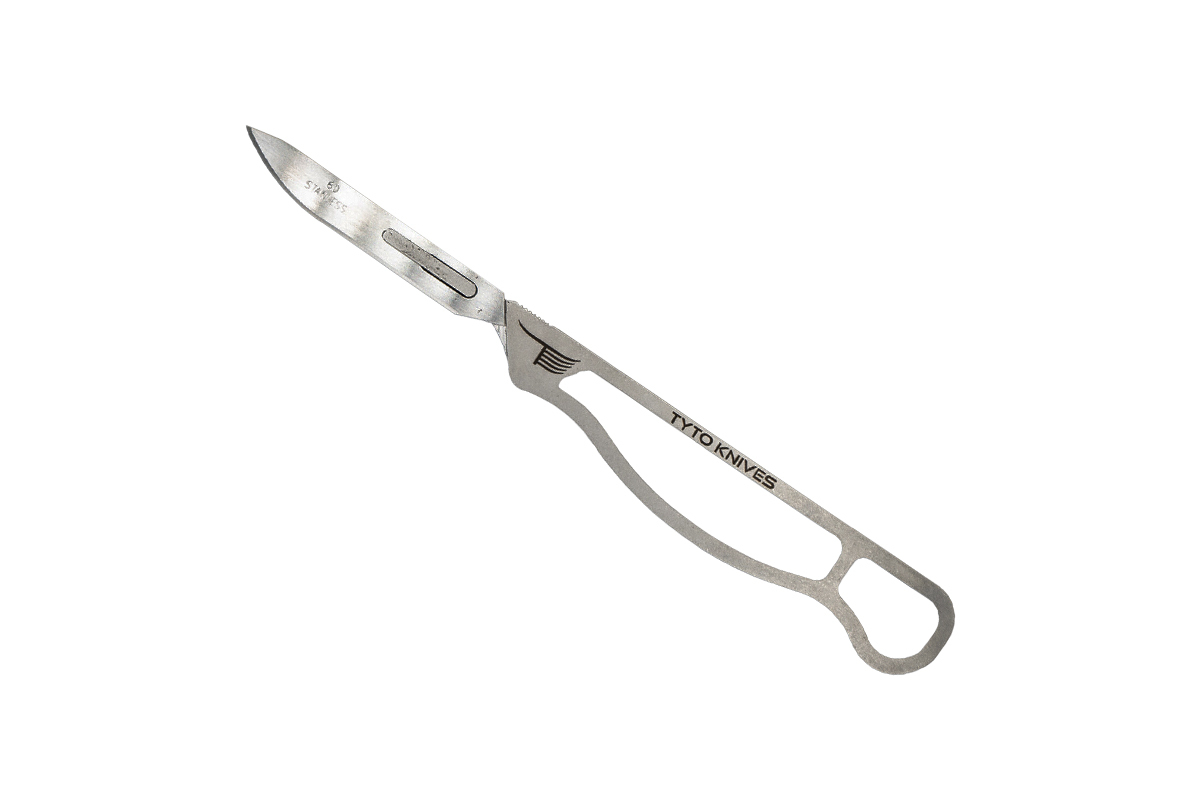 Tyto 1.1 Cerakote
Price: 82.5 ($88.00; tytoknives.com)
Features: 1.5 ounces total weight, 440 stainless-steel handle
Includes: Sheath, 10 size 60 replacement blades
Warranty: Limited lifetime
Pros: Lightweight, comfortable, ergonomic, easy cleaning, USA made
Cons: Expensive, slippery without modification, picky what blades it likes
Tyto has somewhat of a cult following for its backcountry knives and accessories. After spending time with the Tyto 1.1 Cerakote, we understand why. The 1.1's ultralight stainless-steel design is beautifully simple and was extremely well liked by all our testers. At a mere 1.5 ounces, including blade and sheath, there's a spot in even the heaviest pack for the tiny Tyto. The handle is contoured in all the right places and surprisingly comfortable for a hunk of steel. Testers noted the smooth steel handle could be a little slippery even with the Cerakote, but it wasn't a deal breaker. Tyto offers several grip options (which we did not test) if the bare metal handle isn't your thing, or a simple paracord wrap will also suffice. The Tyto 1.1 was a little picky about which blades it liked. The included blades actually fit rather poorly, but we mixed and matched until we found ones that fit well. It's clear that Tyto builds gear with the ultralight hunter in mind. It even designed a sold-separately spoon and spork attachment that clips right onto the knife handle. All in all, the Tyto 1.1 Cerakote was a top performer and one of the favorites in our test. It's also worth mentioning that Tyto is one of the few replaceable-blade knives made in the USA.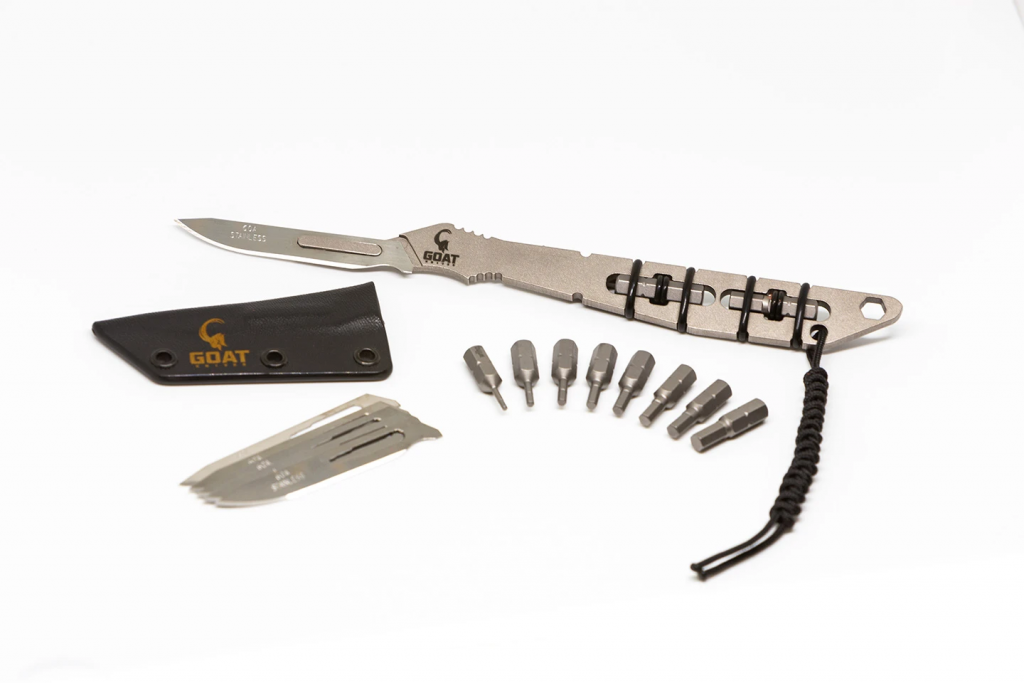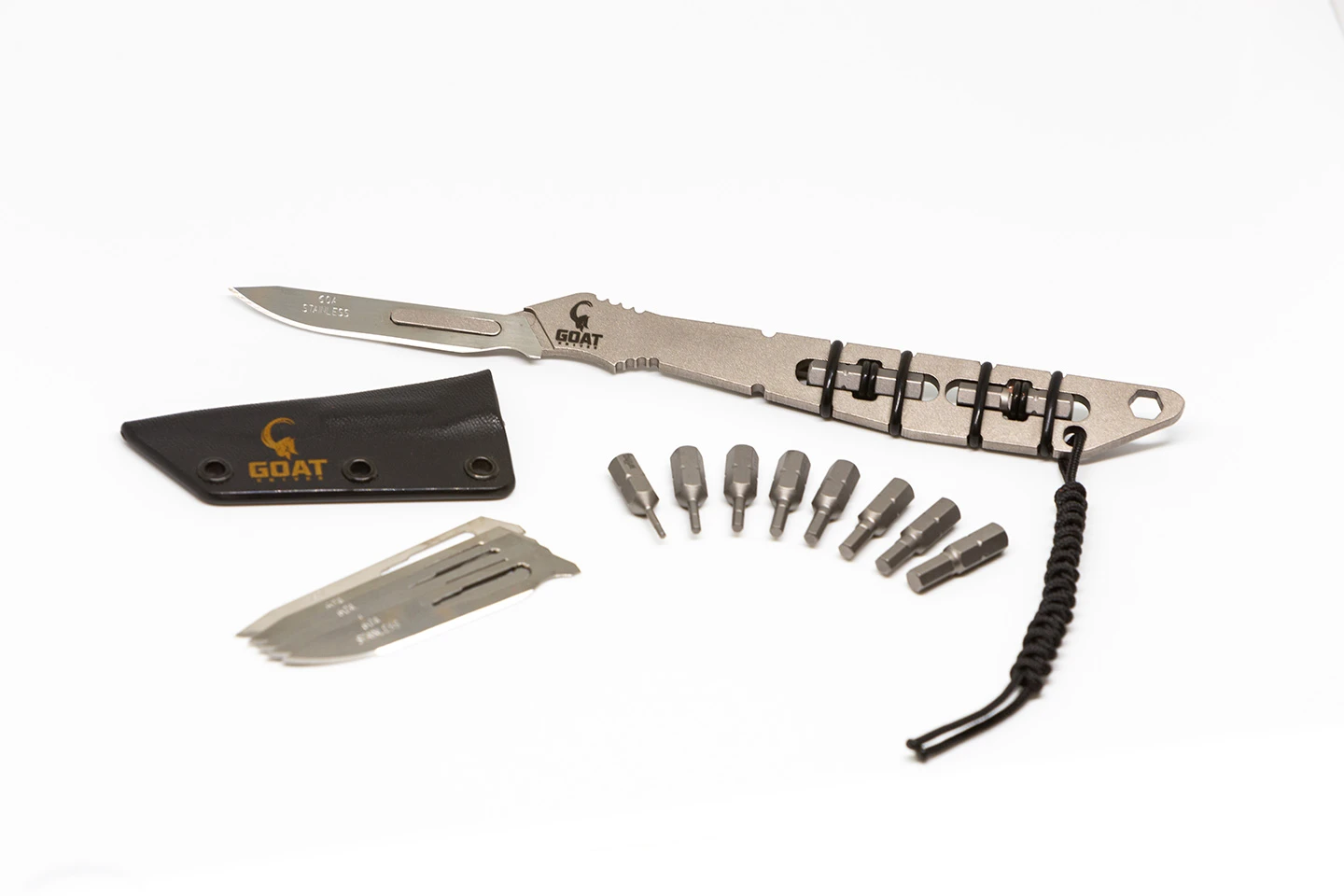 Goat Capra Hunter Ti
Score: 75.8 ($109; goatknives.com)
Features: 1.4 ounces total weight, grade 2 titanium handle, 1/4-inch drive cutout, multitool functionality
Warranty: Limited lifetime
Includes: Three blades, bit kit, D-loop material lanyard, O-rings, Kydex sheath; available in stainless, pink, orange
Pros: Lightweight, comfortable, secure blade, easy cleaning, multitool function, USA made
Cons: Expensive, multitool functionality questionable, edges wear on hands slightly
The Goat Capra Hunter Ti was designed as both a knife and a multitool. As an ultralight backcountry knife, the Capra Hunter excels and stands up alongside the Kestrel and Tyto. The whole thing only weighs around 1.4 ounces, and the long, tapered titanium handle fits the hand well and comfortably rests against the palm. The simple design is easy to clean and hard to break. Testers liked the knife and admitted that it was more comfortable than they thought it would be. Even though the edges are mostly rounded, testers still reported minor wear on their fingers after prolonged use. While the added O-rings, lanyard, and Allen bits are an excellent emergency fallback, we were indifferent about the knife's multitool aspect. The handle features a 1/4-inch drive cutout that can supposedly fit any 1/4-inch platform bit, but actually using it as a tool is very awkward. None of the testers could see themselves ditching a dedicated tool for this knife and some bits. While the Capra Hunter is a great backcountry knife, a redesign of the tool function would go a long way in fulfilling its multipurpose vision and justifying the steep price tag.
The Amazon Special
Score: 67 ($9; amazon.com)
Features: Surgical-grade stainless steel
Warranty: NA
Includes: Stainless-steel #4 handle, 100 #21 blades
Pros: Very cheap, lightweight, pretty comfortable, accepts most blades
Cons: You can't be an Instagram influencer for the #amazonspecial
After we bought all the fancy knives for the test, we thought it would help to find the most basic surgical scalpel out there and see how it stacked up. This generic stainless-steel handle bundled with 100 #21 blades for $9 fits the bill perfectly. The testers and I were honestly surprised by how well the knife performed. Coming in at .9 ounce for just the handle, what we're calling the Amazon Special is barely heavier than the Kestrel Mountain Scalpel for one-tenth of the price. It was pretty comfortable in hand for being just a straight, basic stick of metal. It had decent grip, too, despite its smooth metal finish. Some hockey tape or a tight serving wrap could take it to the next level if one were so inclined. As expected, the stainless-steel handle cleaned up quickly, and while the blades it came with were not great, they got the job done well enough and fit well. The handle also accepts various other blades, including the longer #60s, which it also held well. The incredible value of this Amazon Special threw a few testers for a loop, making them question their expectations of the other knives in the test. Even if you decide to go with one of the other awesome knives listed here, the $9 Amazon Special could make a great deer-camp or truck-cab backup.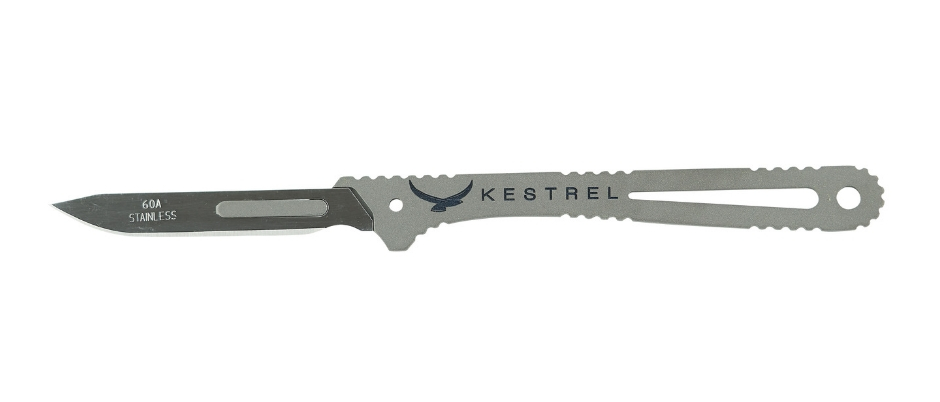 Kestrel Mountain Scalpel Cerakote
Score: 66.4 ($89.99; kestrelknives.com)
Features: Aerospace-grade titanium, Cerakote finish
Includes: Five blades, molded ultralight Kydex sheath
Warranty: Limited lifetime
Pros: Incredibly light, paper-thin, sturdy, excellent blade retention
Cons: Not comfortable, expensive for what it is, easy to lose
The Kestrel Mountain Scalpel aims to be the smallest and the lightest knife out there, coming in at a diminutive .9 ounce with blade and sheath. Designed for the extreme mountain hunter, the titanium frame is as bare-bones as you can get, barely thicker than the scalpel blade it holds. With this design philosophy, the Mountain Scalpel sheds everything that is not absolutely necessary, including comfort. The testers found the Mountain Scalpel to be rather rough on the hand and noted its small, thin profile would be easy to lose. While they mostly understood the reasoning behind the spartan design, our testers are not sheep hunters, and the Mountain Scalpel lost a few points for its somewhat steep price and inaccessibility to the average Joe. As cool as it might be, it's hard to shrug off a $90 price tag when a titanium spork goes for $10. While it fills a niche that might not be for everyone, the Kestrel is still a very high-quality knife that gets back to the roots of the surgical scalpels that inspired the whole replaceable-blade knife market in the first place.
CRKT P.D.K. Precision Disposable Kit
Score: 36.3 ($19.99; crkt.com)
Features: Disposable knives, ABS plastic handle
Warranty: One-time use
Pros: Handle shape and design
Cons: Inferior quality, could easily have been made replaceable, plastic waste
The CRKT P.D.K. is not a replaceable blade knife but rather a set of entirely disposable knives. The testers had a few good things to say about the shape and design of the P.D.K., but any goodwill quickly faded as they put blade to flesh. We broke two of the four handles almost immediately, and the knives that didn't break were dull and useless within a few minutes. This was surprising to those of us who have had good experiences with CRKT knives in the past. Looking beyond the obvious arguments about America's disposable culture and plastic problem, the testers agreed that these things just kind of suck. A similar design with a high-quality polymer or metal handle that could accept replaceable blades would have been a real contender, but for now, save your money — hard pass.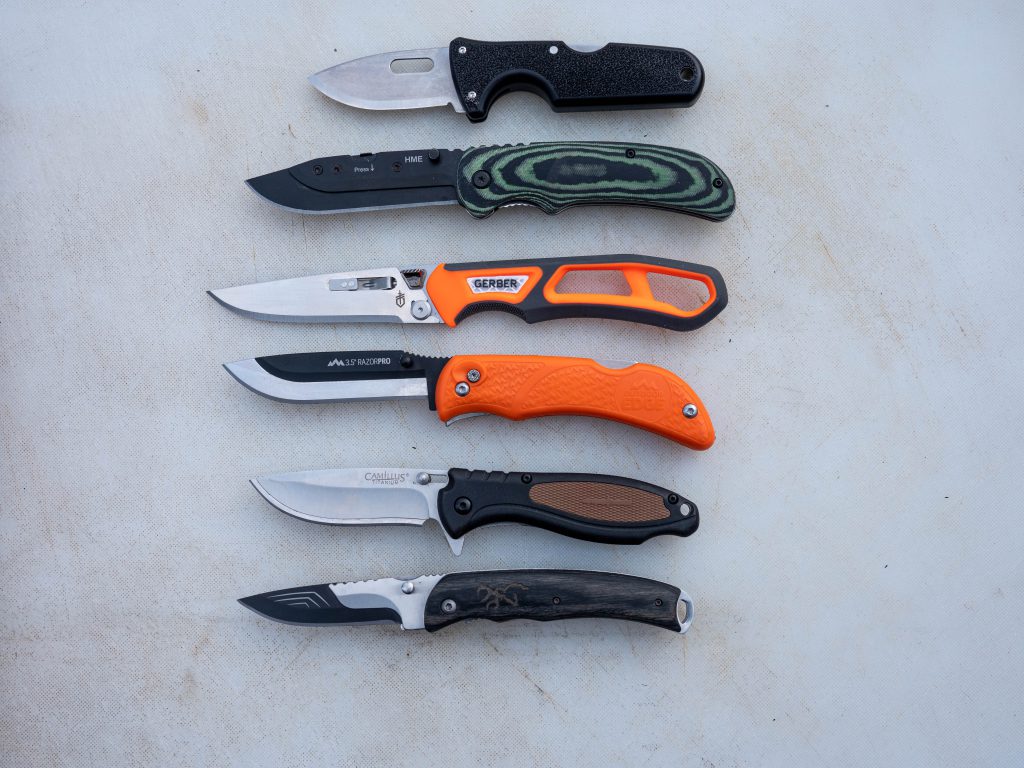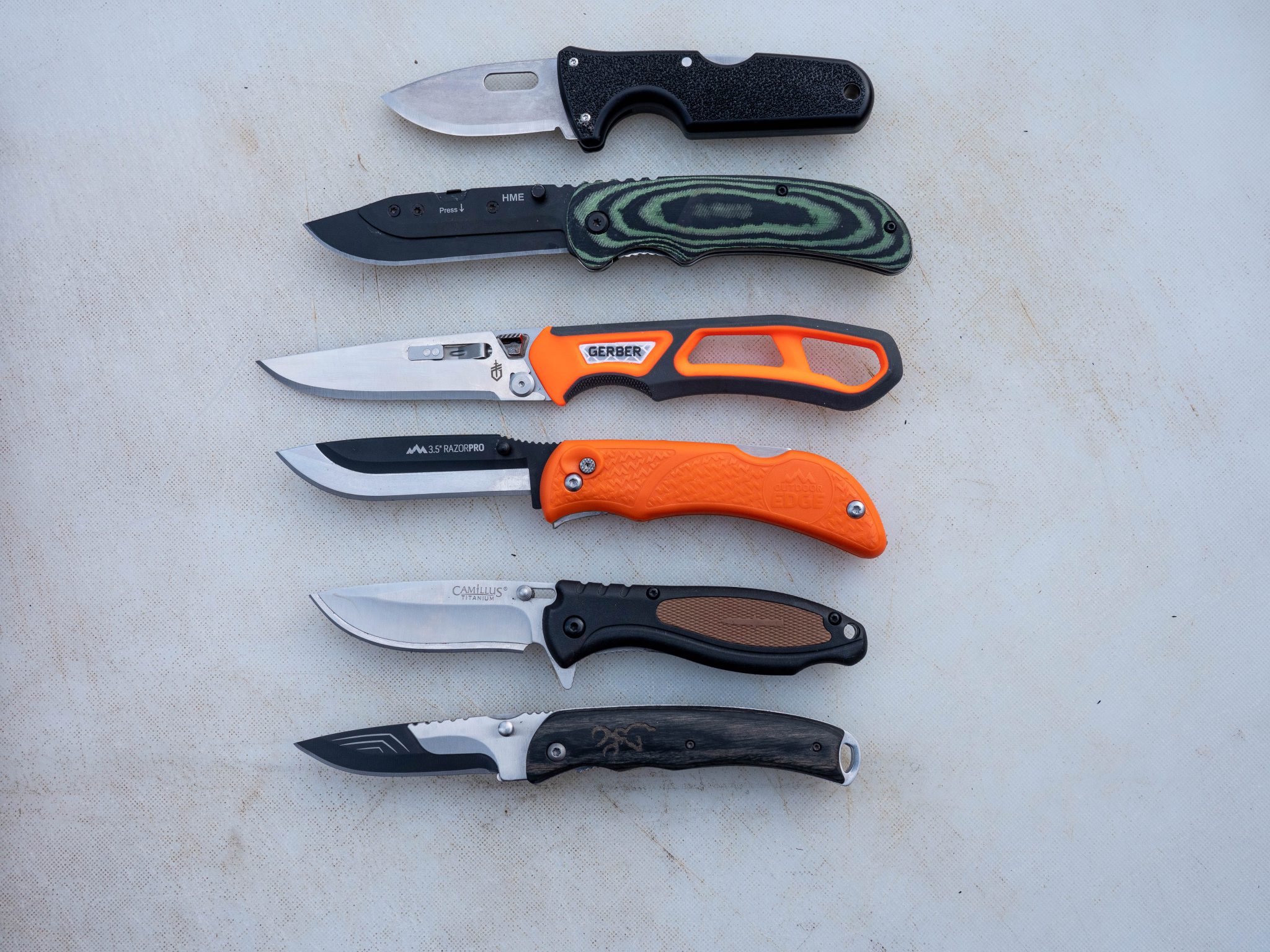 RESULTS: Knives With Proprietary Blade Designs
Many companies offer replaceable-blade knives with a proprietary design for times when a thin scalpel blade just won't cut it. These knives tend to feature heavy-duty blades and unique mechanisms for swapping them. They are typically bigger and heavier than other replaceable-blade knives, and their blades are not standardized and interchangeable between different companies' handles. Because of this, sourcing replacements may be more challenging than the homologous scalpel blades. Yet, unlike their scalpel-blade brethren, these blades are intended to last longer and be more robust when facing tough jobs. If you like the feel of a traditional knife design with the ability to swap out dull blades but still need some backbone, these are for you.
Cold Steel Click N Cut
Score: 78 ($28.99; coldsteel.com)
Features: Fixed-blade design, Tri-Ad lock, heavy-duty blades
Warranty: Limited lifetime
Includes: Three interchangeable blades: one each drop point, serrated, and plain-edged utility; plus a hard plastic belt sheath
Pros: Durable blades, comfortable handle, rock-solid blade retention, straightforward blade swap
Cons: Not designed for butchering, lack of blade options, handle feels fragile, the overall package is heavy and bulky
The Cold Steel Click N Cut is somewhat out of place in this test, but it has an intriguing design that's worth at least a mention. The Click N Cut is a utility blade — intended for gliding through cardboard and zip ties, not fur and flesh, but it could be competitive in the hunting market with a few more blade designs. While the included drop-point blade gets the job done, a longer blade would make the Click N Cut a viable butchering tool. Beyond lamenting the lack of blade options, the testers had many good things to say about it. They especially liked the simple top bar blade release, which works like a folding pocket knife. Press the release, and the blade slips out quickly, then just slide in a new blade, and it clicks into place. The Click N Cut might even have the best blade swapping mechanism of the test. Its only real downfall is its hollow, smooth plastic handle which doesn't offer the best grip and feels a little cheap and easy to break. The shape of the handle itself is fine, and testers liked the deep finger groove. With a few minor changes and a longer blade, the Click N Cut could be revolutionary — the platform expanded to include saws, gut hooks, and other accessories. This could be a real winning package for outdoorsmen everywhere.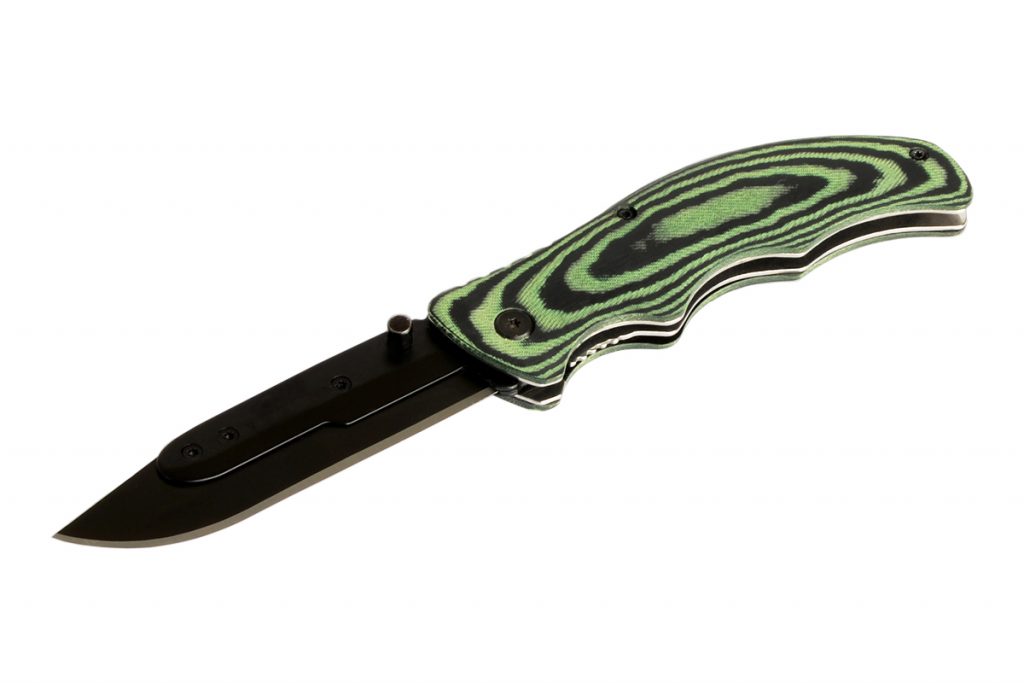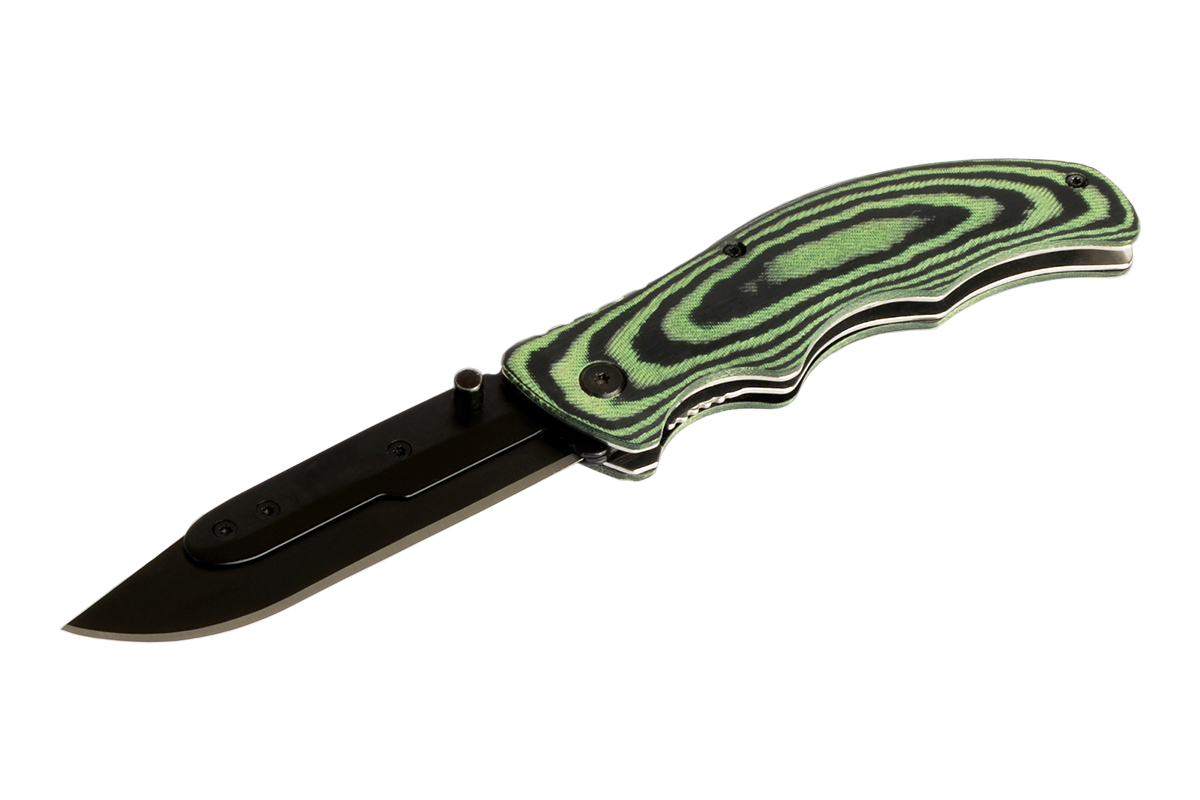 HME Scalpel Skinning Knife
Score: 77.5 ($29.99; hmeproducts.com)
Features: Black oxide blades, Micarta handle, ambidextrous thumb studs, holster clip
Warranty: 30-day limited
Includes: Six replacement blades total
Pros: Easy blade swap mechanism, good grip, good size/shape, comfortable, sharp blades, good pocket clip location/shape
Cons: Thick spine displaces/interferes with cutting motion/direction
The HME was well liked by the testers and had a surprisingly good blade swapping mechanism in terms of how easy it was to operate and how well it held the blade. The blades came sharp and maintained a decent edge under heavy use. The grip shape and Micarta handle were relatively comfortable and slip-resistant, and the pocket clip was well placed and didn't dig into your hand during use. For a company like HME, which tends to produce lower-cost items, the overall build quality felt pretty high. You can tell some thought went into the design. The main negatives about this knife are that replacement blades are relatively hard to source, and the transition between the blade and blade holder is not smooth. There is a small gap between the blade and spine which can cause meat to push the blade in different directions and interfere with the cutting motion. While it scored well and is a decent option if you want an affordable replaceable blade knife that feels like a familiar folder, the lack of smooth blade transition will undoubtedly turn some people away.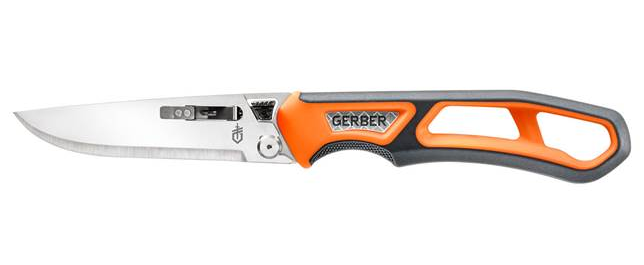 Gerber Randy Newberg EBS (Exchangeable Blade System)
Score: 74.4 ($60.00; gerbergear.com)
Features: Lightweight skeletonized design, 440C steel, hand-hugging ergonomics, knife nests to blade box for minimal footprint, high-vis orange and reflective patch
Warranty: Limited lifetime
Includes: One long blade, one short blade, one short serrated blade, Quiet Carry blade box
Pros: Very sharp, quality blades, grip, lightweight
Cons: Almost too easy to change blades, handle narrow for some, limited blade options
The Gerber EBS was designed in close collaboration with renowned hunter and conservationist Randy Newberg. Newberg poured years of experience into making this knife, and our testers loved it. One tester even remarked the EBS had the "best blade of the test." The skeletonized design provides a thin, lightweight package that fits the hand well and doesn't slip around. The handle offers plenty of grip and is very comfortable in hand, with no sharp metal edges. The EBS comes with three blades dubbed the "backstrap blade" (long blade), the "task blade" (short blade), and a serrated "breakdown blade." A dedicated saw blade would have been nice, but the breakdown blade gets the job done. All three blades were super sharp out of the box and maintained their edges through rounds of abuse. The blades should be thought of as exchangeable (hence EBS) and not necessarily disposable, and there's no reason you couldn't resharpen them to extend their life. As Gerber calls it, the Split Sec Tech, or push-button release, holds the blade rock solid and is easy and intuitive to use. The only issue we had with the knife was a large one and contributed to a big points loss in most testers' minds. The push-button blade release is easily triggered — releasing the blade — when striking tough meat or bone while cutting. Working fast, this can present a safety issue. Some testers felt all the moving parts in this system increased the chance of a malfunction. This all leads to the knife being outscored on paper, despite remaining a category favorite among some testers.
Outdoor Edge RazorPro
Score: 73.4 ($83.95; outdooredge.com)
Features: Japanese 420J2 stainless blades, integrated gut hook, nonslip rubberized TPR handle, top button
Warranty: Limited lifetime
Includes: Six blades, nylon sheath, orange or black options
Pros: Great edge retention, well built, rock-solid
Cons: Slippery handle, mixed reviews on blade swap
Outdoor Edge is one of the most well-known makers of replaceable blade knives, and for good reason. Its products are well designed, sturdy, and built with quality materials. While there are many flavors to choose from, we tested the RazorPro model. Our testers thought the blades were durable and super sharp, and held an edge under heavy use. The RazorPro holds its blades securely, with a perfectly smooth transition between spine and blade. While blades swap easily with just the push of a button, the blade holder inevitably collected meat and fat, making changing blades difficult if not cleaned first. This could be annoying in the field, but it's unlikely you'll dull a blade fast enough to warrant it. Testers thought the handle was a little slippery but not enough to cry over. As a bonus, the RazorPro comes with an integrated nonreplaceable gut hook. This makes the RazorPro a bit heavier and bulkier than other knives in the test.
Camillus Tigersharp 7.25″ Folding Knife
Score: 61.4 ($29.98; camillusknives.com)
Features: 420J2 steel blade, titanium bonded blade coating, pocket clip, glass-filled nylon with nonslip grip handle
Warranty: Lifetime
Includes: One regular blade, one serrated
Pros: Comfortable grip, easy to clean, smooth cutting
Cons: Mixed reviews on edge retention, hard-to-change blade, uncomfortable pocket clip
The TigerSharp folding knife from Camillus does a few things well. The blade design is excellent, with a smooth transition between the blade and the spine. But the blade change mechanism utilizes a small hand-screw to tighten and loosen, which can be difficult with cold fingers and when gunked up with fat and gristle. While the testers thought the overall design was relatively comfortable, the build quality was questionable. There is a lot of play in the blade, and the handle feels cheaply made compared with the other knives we tested at a similar price point.
Browning Speed Load All Season
Score: 60.3 ($39.99; browning.com)
Features: 420J2 stainless steel, black pakkawood handle, accepts steel and ceramic replacement blades
Warranty: Limited lifetime
Includes: Seven blades, nylon belt sheath, blade storage box
Pros: Comfortable handle, durable, feels quality, replacement blades are cheap and widely available
Cons: Blade swap mechanism is cumbersome, mixed reviews on blade quality and sharpness
Browning is known for its exceptional firearms, though it also has a deep lineup of clothing and accessories. The Speed Load series is its foray into the replaceable-blade knife market. We tested the All Season model, and there's a lot to like here. It's reasonably comfortable to wield, with a familiar grip design, a sturdy frame, and a versatile drop-point blade. The pocket clip digs into your hand while working, but not enough to call EMS. The body and blade of the knife are solidly constructed and fitted with very little play or movement. It feels like a high-quality knife, yet testers had mixed feelings about the blades' sharpness and the blade swap mechanism's function. The blades lost their edge pretty quickly, and to swap them required a somewhat awkward combination of pressing a side button and top tab that almost needed three hands. Not only would it be challenging to change blades with frozen hands, but the tolerances on the knife are so tight that any fat or meat that inevitably makes its way into the handle will cause big problems.
Meet the Test Team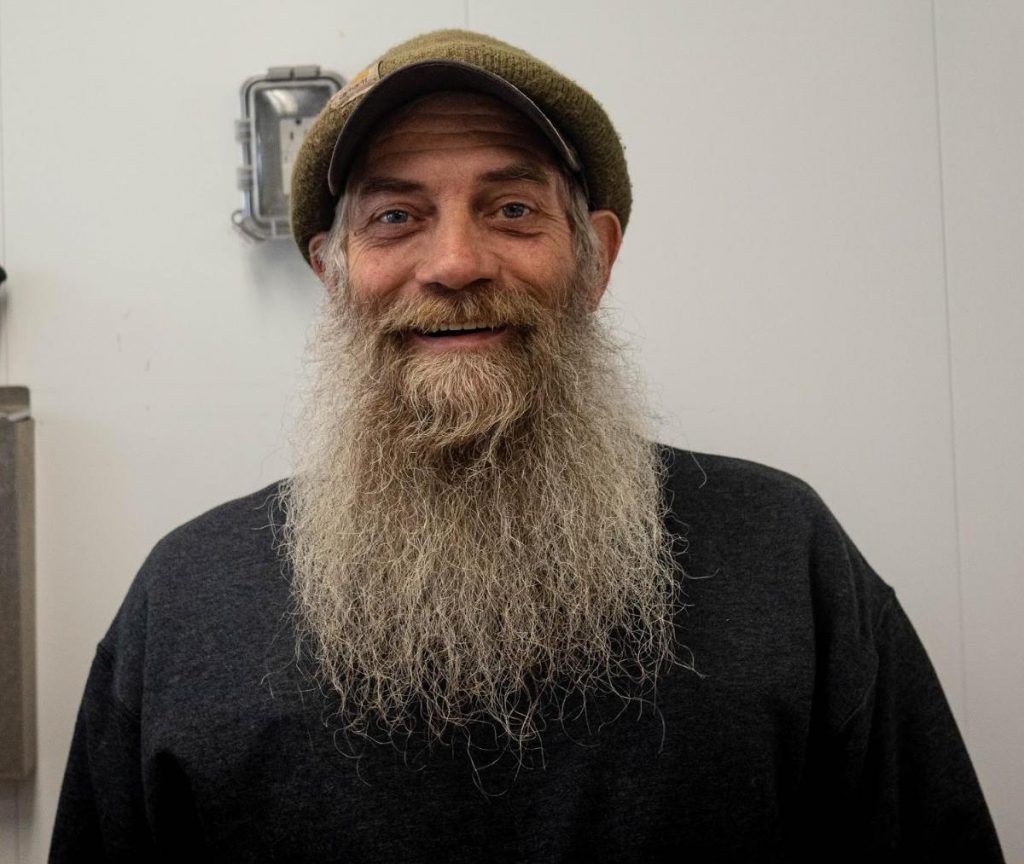 Chris Bowen is Van Galder Farm's most experienced butcher, with years of practice working with livestock and wild game.
Christian Maphis works as a contractor, but his real passion is for the outdoors. He is a scoutmaster, avid hiker, backpacker, and a part-time butcher at Van Galder Family Farms.
Matt McCulloch brought his knowledge and passion for knives to the test. A measurements technician by trade, he also works as a butcher, amateur bladesmith, and brewer.
Cody Bowen grew up in the country, hunting, fishing, and farming. He brings this experience to Van Galder Family Farms, where he works as a part-time butcher.
Read Next: GEAR TEST: The Ultimate Bino Harness Shootout