With binoculars ranging in price from $300 to $500 for entry-level glass to more than $3,000 on the high end, it only makes sense to protect them. Not long ago, that meant a harness of a few elastic straps that held exposed binoculars close to the chest. Just a few short years later, we have fully enclosed and semi-enclosed harness systems that protect our prized glass from the elements — and sometimes ourselves. The very best bino harnesses today are silent, durable, comfortable, and easy to use one-handed, and don't interfere with a bow at full draw or a rifle shot while lying prone. There are at least a dozen different modern bino harnesses on the market, with different pros and cons. So, how does a hunter choose the best one? That's where we come in. 
How We Test Bino Harnesses
We judged 10 of the most popular bino harnesses on eight criteria: comfort, shootability, durability, functionality, modularity, glass protection, weather protection, and service & support. Many harnesses come in different sizes for different binocular powers. To keep things simple, we stuck with the most common bino size for hunters, 10×42, and tested a variety of models — from Maven, Leupold, Vortex, and Bushnell.
To test comfort, our four testers hiked at least 1 mile in each harness with a variety of binos and a loaded pack. To gauge shootability, we grabbed our bows and shot arrows while standing, kneeling, and seated, then repeated the same positions plus prone supported with a bipod, shooting a Tikka T3x in 6.5 Creedmoor and a Thompson/Center Encore Pro Hunter in .22 LR.
Harnesses were then scored for modularity. Those that come standard with extras like rangefinder pouches earned more points than setups without. Companies that have expansion options for additional purchases earned more points than companies with fewer options. Then the fun began.
To get a feel for durability and functionality, we crawled, ran, and jumped in 100-meter sets in the July heat near Fort Knox, Kentucky. Exhausted and hot, elbows and knees sufficiently bloody from the crawl, we put an empty 1-liter Mason jar in each harness and dropped them on a gravel road from chest height, then off a 10-foot stepladder, and then pitched them down a steep wooded hill to ensure they'd protect our much more expensive glass. Spoiler alert: All of the harnesses passed the Mason jar test without issue. Not a single jar broke or cracked. 
To gauge weather protection, we blasted each harness and a pair of 10x42s with a hose for 20 seconds. We scored them based on whether or not water made it into the pouch and if the binos were still usable after the simulated squall. If the harness came with a rain fly, we used it. If the rain fly was an additional purchase, we did not. Finally, we handed out bonus points for service & support based on whether or not they were made in the USA and the strength of their warranty. 
Each category was scored from 1 to 10. Comfort and shootability were weighted by 25 percent each; functionality by 15 percent; durability and service & support by 10 percent; and modularity, weather protection, and glass protection were weighted 5 percent for a best possible score of 100 points.
The Results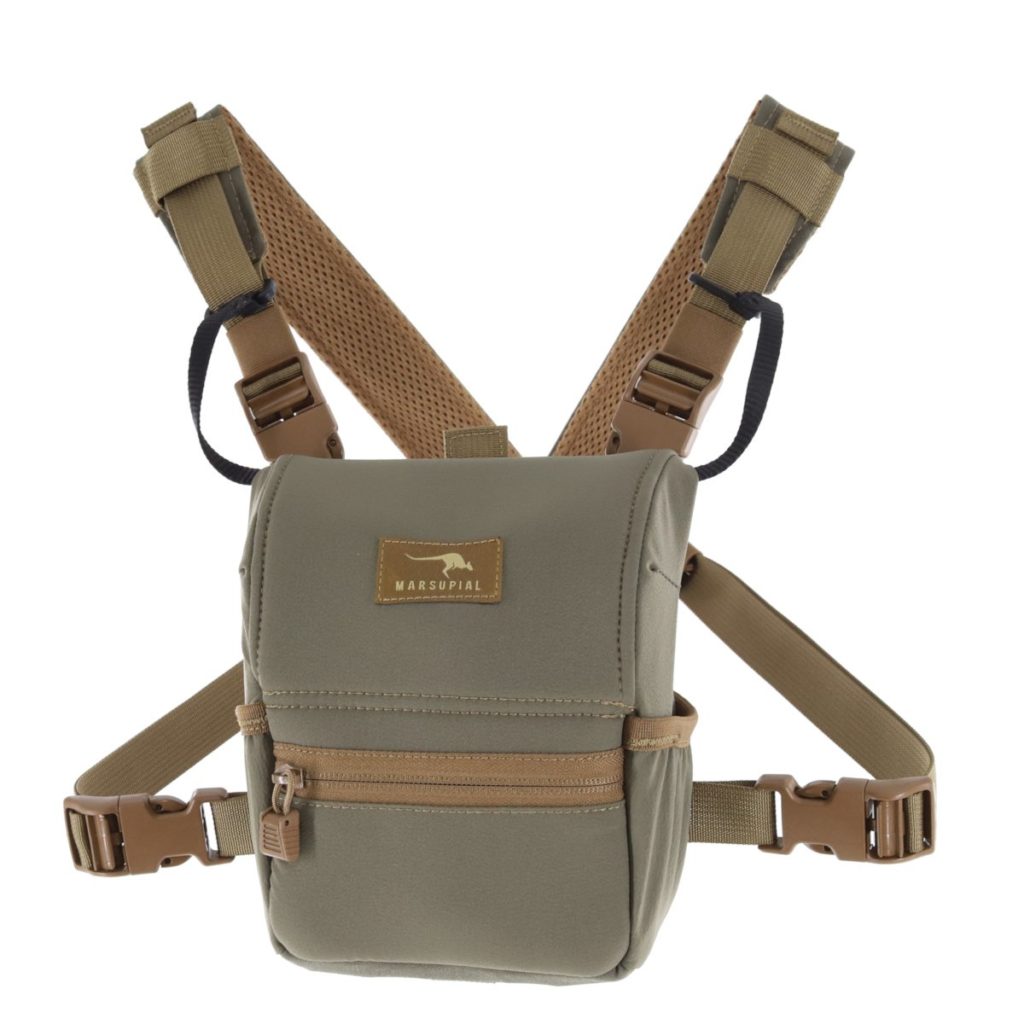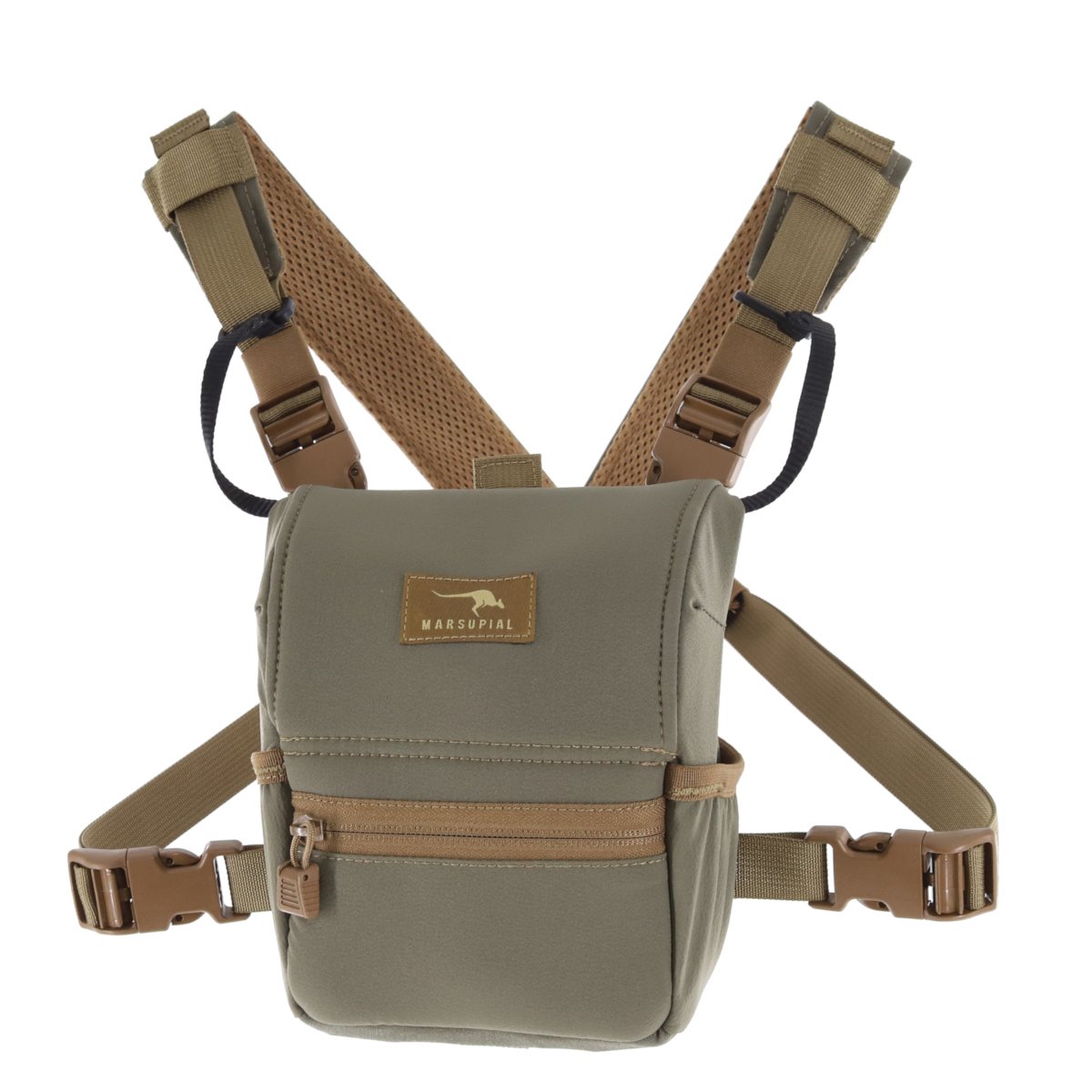 No. 1 (WINNER): Marsupial Gear Enclosed Binocular Pack
SCORE: 89.88 ($124.95; marsupialgear.com)
Specs: Made in the USA, limited lifetime warranty, full enclosure, Razco Holsters compatible, 14 oz.
Pro: Great quality at an easy to swallow price.
Con: The stretch material made it extremely functional, but we don't think it would keep your binos dry in a heavy downpour.
Marsupial Gear's brand-new enclosed bino pack was the overall winner. We tested the small with a lineup of 10x42s, but it's available in three sizes depending on the size of your binoculars. The testers were most impressed with the fit of the harness during the hike, and it showed with the highest comfort score. Thanks to Marsupial Gear's use of auto-locking buckles, the harness stayed in place and required no adjustment while hiking with a weighted pack. The padded shoulder straps and the angle at which they attached to the enclosure bolstered the comfort factor by keeping the system from riding on your neck. The forward-opening design and inclusion of magnets at the bottom of the harness to keep the flap from snapping shut made one-handed use a breeze for times when you may need to take a quick peek with your binos and put them right back. The fleece liner made removing and replacing the binos stone silent. Stretch side pockets were appropriately sized for small items like a wind checker or mouth calls. The rear cellphone pocket was a nice and functional touch. A MOLLE attachment on the pack's bottom opens up a world of aftermarket pouches and attachments, from a bear spray holster to a pistol holster. The harness was dinged in service & support. While it's made in the USA, the warranty isn't unlimited lifetime. One tester summed up the group opinion on this winning bino harness, saying, "This was by far my favorite overall. I loved the fit, function, and ease of use at a great price."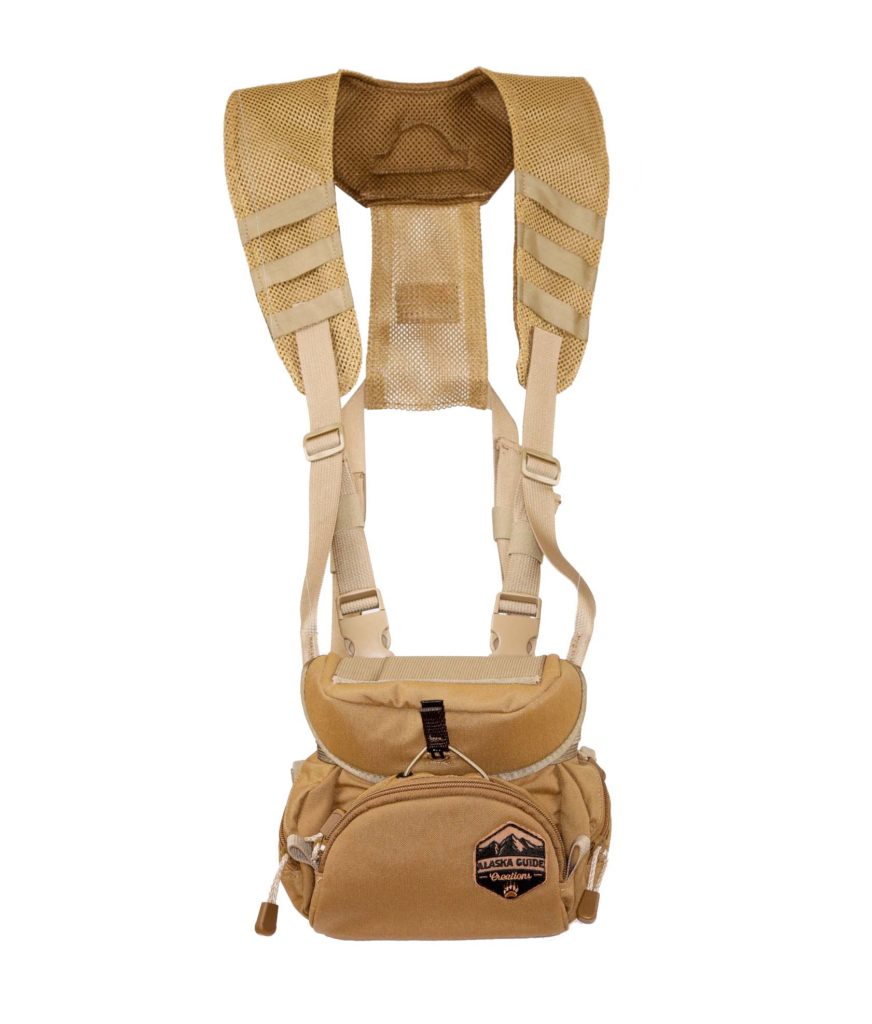 No. 2 (BEST BUY): Alaska Guide Creations Kodiak C.U.B. (Compact Utility Bag)
SCORE: 88.63 ($99.99; alaskaguidecreations.com)
Specs: Made in the USA, lifetime no-fault repair or replace warranty, full enclosure, Razco Holsters compatible, 15 oz. 
Pro: Most bang for your buck, this pack stores your essentials for less than $100.
Con: Zipper side pockets were too small to accommodate common items like wind checkers and mouth calls. 
At $99.99 the Alaska Guide Creations Kodiak C.U.B. takes the cake for the best value. This model is specifically designed to fit most 8×42 and 10×42 binos. AGC also offers models to fit a variety of binocular sizes, so pretty much whatever glass you run, AGC makes a size for it. The Kodiak C.U.B. features a front zipper pouch able to accommodate most rangefinders on the market today — many harnesses in the test require an additional purchase for a rangefinder pouch. The auto-locking buckles were great for keeping the harness in place with little or no adjustment needed while the testers hiked. During the hike, our testers found that the padded shoulder straps, though comfortable, rode up on their necks, which cost them some comfort points. One-handed use was a bit tougher than with some of the other harnesses due to the design of the lid, which wouldn't stay open while in use. The small zippered side pockets also caused the testers some trouble; the diagonal design of the zippers made retrieving items like mouth calls difficult, as well as fitting things such as wind checker bottles. The AGC shined in the weather protection test, keeping water out of the harness in our simulated squall. The rear zipper pocket worked for storing smaller objects, but larger items like phones may interfere with opening the harness. The elastic pouches on the top of the harness were nice for temporarily storing items like calls and a wind checker. Though this harness is built as a do-it-all, you can purchase multiple accessories for it as well, adding to its modularity score. After the score sheets were turned in, the testers unanimously agreed that this harness was the best value. One tester said, "At $99.99 this harness provides you with the essentials for storing your binos and your rangefinder." It's also worth noting that a slightly larger version of this same harness is sold by Vortex Optics as the Guide Binopack.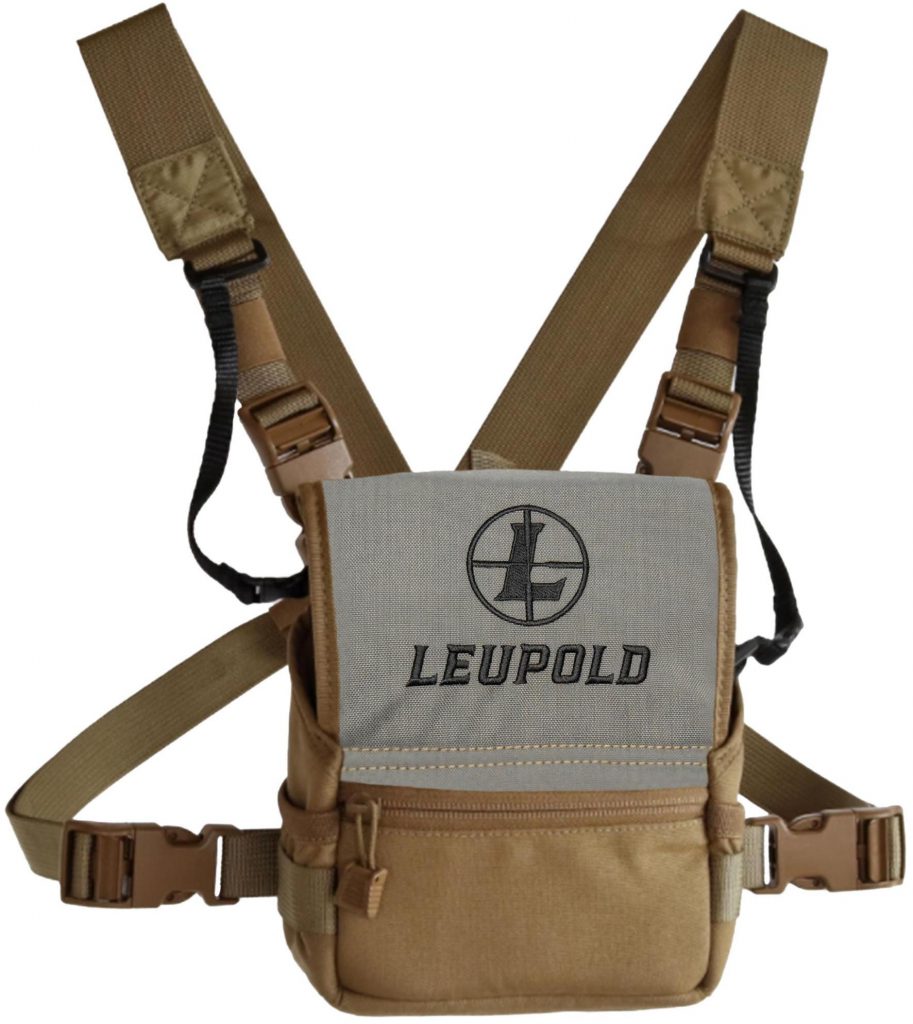 No. 3: Leupold Pro Guide Bino Harness
SCORE: 83.63 ($159.99; leupold.com)
Specs: Made in the USA, limited lifetime warranty, semi-enclosure, Razco Holsters compatible, 13.8 oz.
Pro: Extremely well-built, durable harness designed to fit most binos.
Con: Most expensive harness in the test. We would have liked to see a fully enclosed design with padded straps for the high price.
Leupold's new Pro Guide Bino Harness was a great performer during the test. It is designed to fit all Leupold binoculars (and fit all of ours) except the BX-5 Santiam HD 15x56mm. It received the highest overall shootability score, having no effect on any of the testers while shooting, thanks to how high and tight this harness rides on the chest. The unit also did well in comfort, though for the price we would have loved to see padded shoulder straps. For function, the stretch side pockets were hard to get in and out of because of webbing sewn over the pocket for the attachment of additional pouches. During the crawl the strong magnets kept the harness closed, but some dirt did get in due to the open sides at the top. The semi-enclosed design was Leupold's downfall. Those open sides that allowed dirt in during the crawl also allowed water in during our simulated squall. Though the binos were still usable after a 20-second blast with a hose, water collected inside the harness. One-handed usability was great thanks to a magnetic front-opening design with magnets at the bottom to keep the flap open while your binos are out. A fleece liner made glass removal and replacement quiet, and auto-locking buckles once again kept the harness in place, requiring no additional adjustment once the user fitted it. Savvy shoppers will want to know: this harness is manufactured for Leupold by Marsupial Gear, and the nearly identical MG Gen. 1 harness can be found online for less than $90. "Overall great harness but at a high price compared to others on the market," one tester noted. "Still, this harness will do well in almost any hunting situation."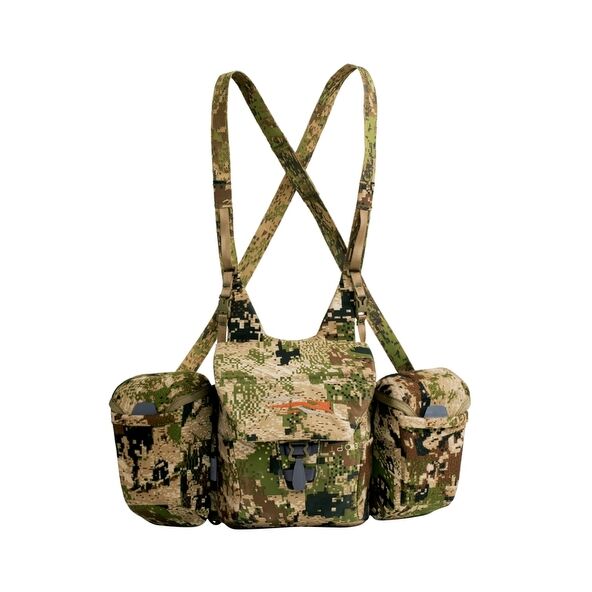 No. 4: Sitka Mountain Optics Harness
SCORE: 83.38  ($149.99; sitkagear.com)
Specs: Limited lifetime warranty, full enclosure, 16 oz. 
Pro: The most storage of all the harnesses we tested.
Con: Its robust pouch system made it one of the hotter harnesses to wear. 
Sitka's new Mountain Optics Harness is designed as a one-size-fits-all solution. This means binos smaller than a 10×42 may wobble in the pouch and larger ones like a 15×56 are a tight — but possible — fit. The strap design is different from the others in the test, with cross-style shoulder straps. This one is built and rides similar to low-profile chest rigs designed for warfighters. It comes with two accessory pouches that are easy to remove if needed. Rated the highest in modularity for the amount of storage that it comes with for the price, it suffered a little in the comfort category, as most of the testers felt it was relatively hot in the July heat. The cummerbund-style design covered considerably more of the torso than most of the harnesses in the test. Heat aside, the cross or "X" style straps were comfortable but take some practice to get on straight and untangled. The harness also came with a lens cloth, which is nice for cleaning lenses on the fly. The MOLLE compatible chassis lets the user remove and add mission-specific pouches like bear spray and pistol holsters. This was the only rear-opening harness where the lid remained open using magnets for easy replacement of the binos and great one-handed operation. One tester said, "Like most things from Sitka, it's a well-thought-out, purpose-built product best suited for Western big game hunting."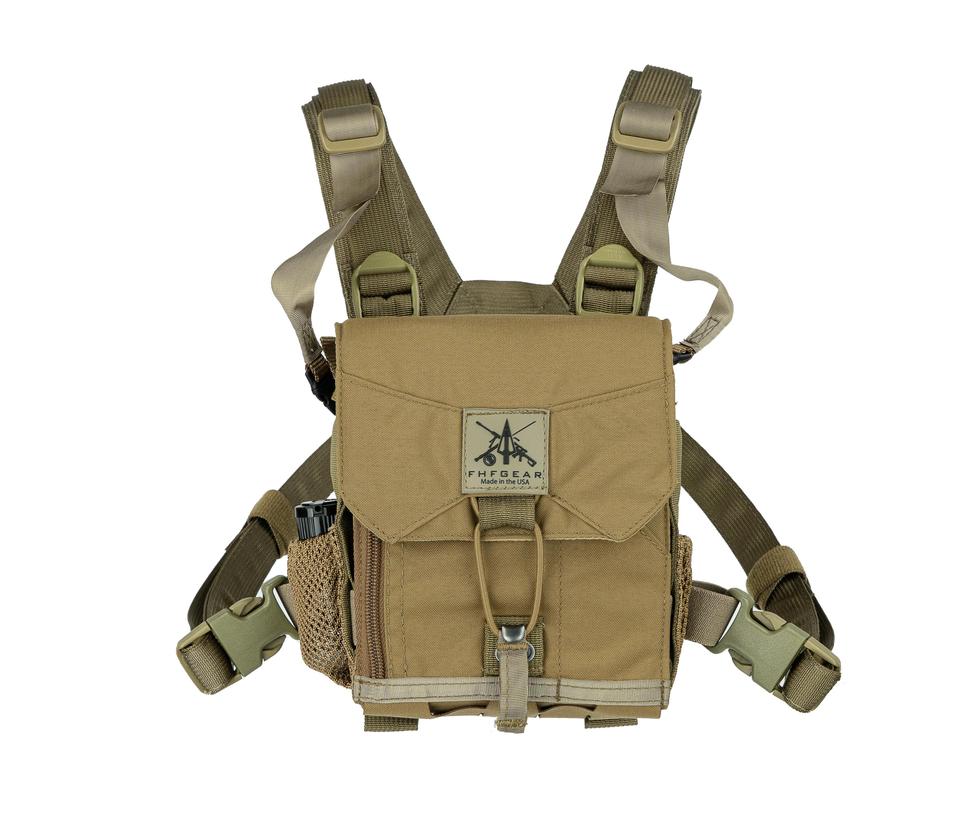 No. 5: FHF Gear Bino Harness Pro-M
SCORE: 83.25 ($110.00; fhfgear.com)
Specs: Made in the USA, limited lifetime, semi-enclosure, Razco Holsters compatible, 9.4 oz. 
Pro: The compact design was great; while crawling this harness stays close to your chest and out of the dirt.
Con: Shoulder straps were uncomfortable and the mesh side pockets were too small to fit common items like wind checker and mouth calls. 
FHF Gear's Pro-M comes in three sizes to accommodate different binoculars. The small harness we tested was highly regarded by the testers for its compact size and how high and tight it rides on the chest. Its compact size, plus the ability to move its friction buckles up or down out of the way of a buttstock, made it one of the highest scorers for shootability. FHF's use of 500D Cordura in the construction, coupled with its high and tight fit on the chest, made it score high for durability. Though its compact size made it ride in an ideal location for crawling and stalking big game, it comes with some downsides. The testers found the non-padded shoulder straps uncomfortable. There were some flaws with the functionality of the harness in terms of storage. Some of our wind checker bottles wouldn't fit into the side mesh pockets. (FHF tries to address this by shipping a wind checker bottle with each harness.) Wind checker aside, the testers had a hard time digging common hunting items like mouth calls out of the small side pockets. The semi-enclosed, rear-opening harness did not stay open for one-handed use, and it did allow water into the compartment during the weather protection test. The testers did, however, give it points for having the ability to adjust the bungee for different sized binos for a secure fit. FHF makes a long list of add-on items — a definite bonus — including padded shoulder straps, but we would have liked to see those included at this price. "Overall I really liked the compact design," one tested noted, "but the compact design comes with a lack of any meaningful storage."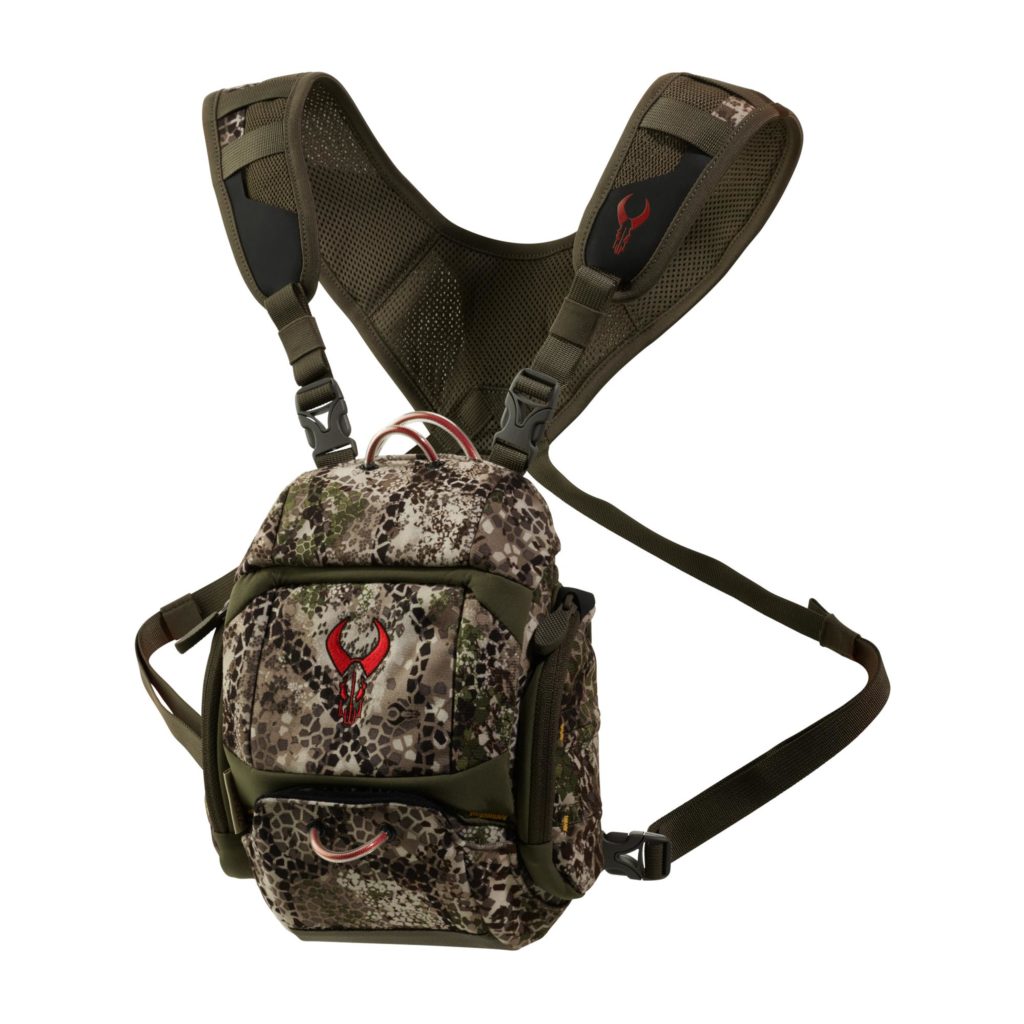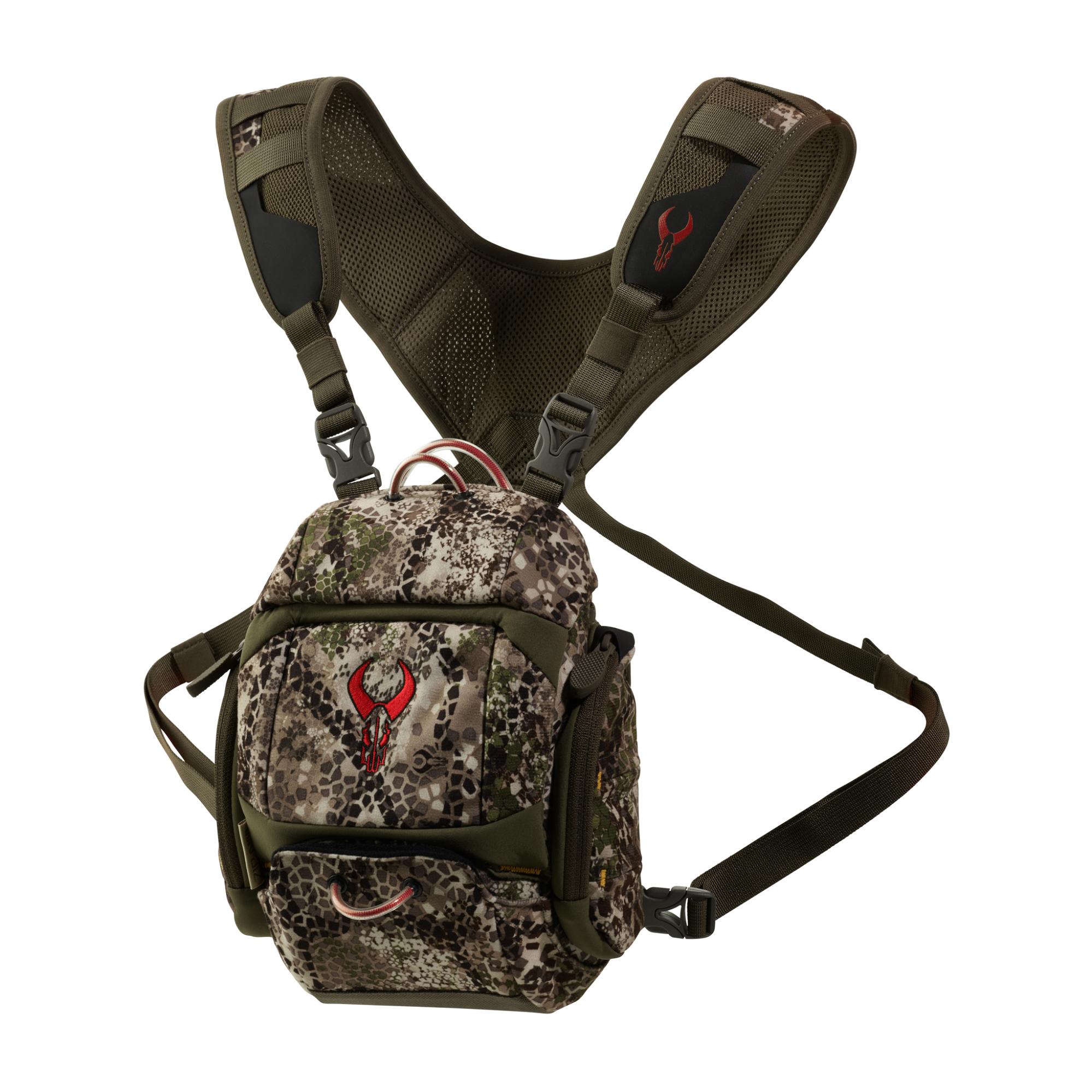 No. 6: Badlands Bino XR
Score: 82.37 ($149.99; badlandsgear.com)
Specs: Free repair for life, full enclosure, Razco Holsters compatible, 1 lb. 6 oz. 
Pro: Plenty of storage and superior weather protection with the included rain fly.
Con: The forward-opening rangefinder pouch didn't stay closed during the crawl.   
The Badlands Bino XR is designed to carry up to 10×42 binos plus a rangefinder. The adjustable shelf between the binocular and rangefinder compartment may allow it to accommodate larger binoculars, but we did not test this. The angle of the shoulder straps and buckle kept the straps off the testers necks while they hiked, ran, jumped, and crawled. The harness did lose some comfort points for its thin side straps that dug into some of the testers' sides. Like the Sitka, it was also among the hottest harnesses in the test. The included rain cover is a nice touch and did its job well. Though not modular in design, it has adequate storage to carry most items a hunter would stuff in a bino harness when heading afield — binos, rangefinder, mouth calls, wind check, lens cloth, etc. Our testers liked the magnetic forward-opening top for access, but the magnetic opening for the lower rangefinder pouch proved a liability. During each iteration of the 100m crawl, the lower rangefinder pouch came open and, if not caught by the tester, dumped the rangefinder. "This harness is great for hunting from a treestand or ground blind," one tester noted. "It would have fared much better if the rangefinder pouch closed with a hook and bungee. The magnets just weren't strong enough to keep it shut on a hard crawl."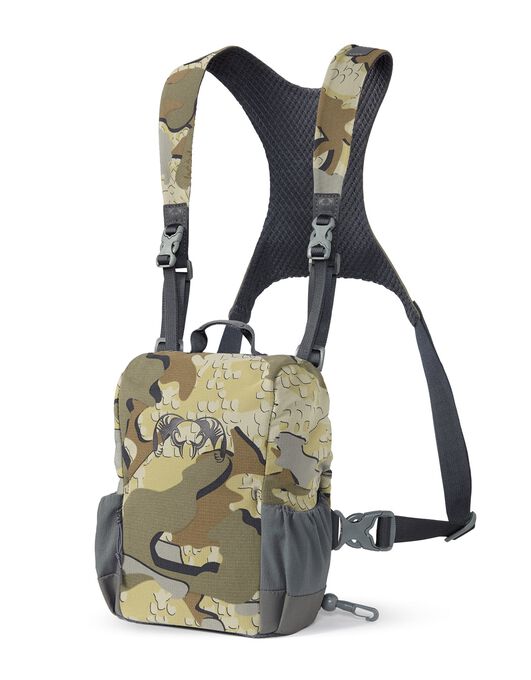 No. 7: Kuiu PRO Bino Harness
SCORE: 82.13 ($99.00; kuiu.com)
Specs: Limited lifetime, full enclosure, Razco Holsters compatible, 11.8 oz.
Pro: A comfortable pack that can take a beating.
Con: The hook-and-loop fasteners for attachments on the bottom of the pack were noisy and caught on the ground during crawls. 
Kuiu's Pro Bino Harness is available in two sizes: LG and XL. We tested the large, designed to fit most 10x42s. This was the runner-up in the test for modularity. It came complete with a foam shim system consisting of two 1cm pads and one .5cm pad for taking up space in your harness to keep smaller binos from bouncing around — a very smart design. Kuiu also offers a myriad of additional attachments including a hydration pouch that lets this kit work much like a small daypack. In our weather test, water beaded right off the DWR-coated harness, but the testers identified three major issues that really hurt its overall score. To adjust the shoulder straps, the harness uses a tri-glide buckle with the strap routed through the back side. It was a pain for each tester to adjust and would have been made easier with the use of auto-locking buckles. The front zipper pouch is extremely hard to access, and putting anything other than something paper thin didn't work well. Finally, the use of Velcro should be outlawed in all hunting clothing and accessories. During the crawl, the fasteners picked up dirt, burrs, and other debris and made noise. But it wasn't all bad. A moldable wire design with inserts provided a great bino fit. The moldable forward opening along with a fleece liner made one-handed use quiet and efficient. Being able to adjust the tension on the top flap using a bungee for different sized binos helped keep everything secure no matter how physical the activity. "There are tons of extras available to really tailor this harness to a specific hunt," one tester said. "That's a huge plus."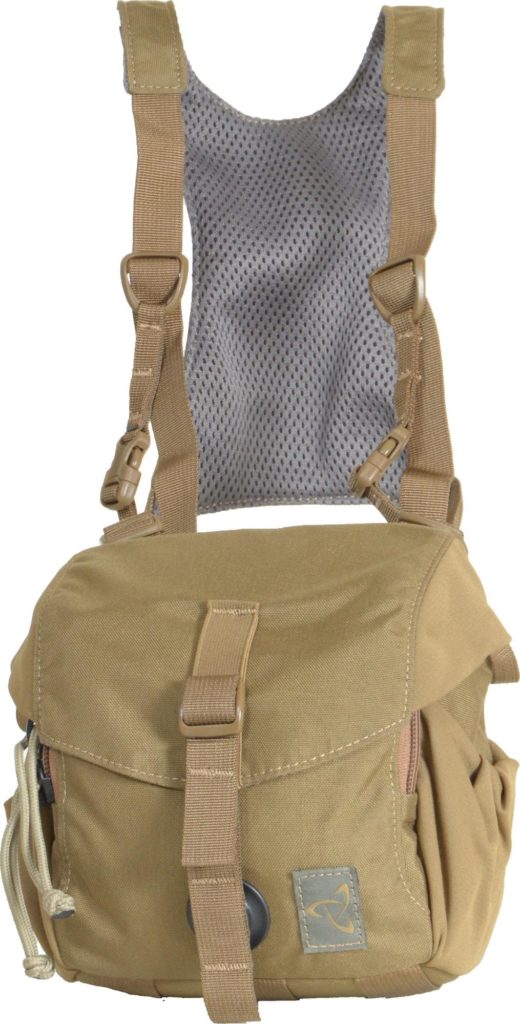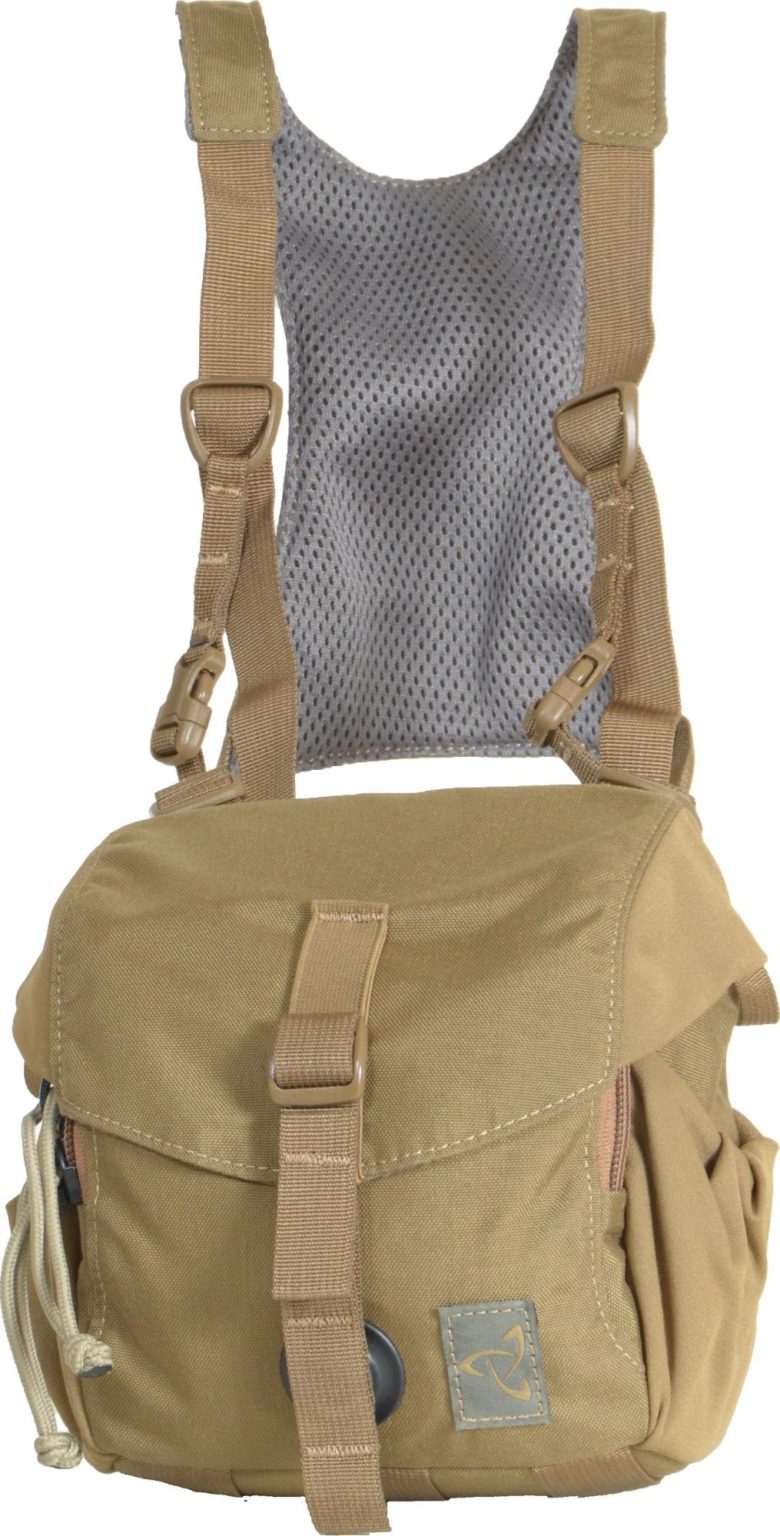 No. 8: Mystery Ranch Quick Draw Bino Harness
SCORE: 79.5 ($75.00; mysteryranch.com)
Specs: Limited lifetime, full enclosure, Razco Holsters compatible, 10 oz. 
Pro: Extremely lightweight harness, and the most affordable in the test.
Con: Comfort was a killer for this harness, mainly with the torso straps and the constant adjustment required to keep it tight.
Mystery Ranch's Quick Draw comes in two sizes and at a great price point. It earned the best score for weather protection and shootability, but lost big points for comfort due to the narrow, tight-fitting torso straps. Throughout the test, none of the testers felt they could make it fit or ride right. The harness required constant adjustment as the straps loosened regularly during the hike and in the 100m run, jump, and crawl test. We also found that though the user can tuck the front flap into the harness to keep it open for one-handed operation, the flap covering the fleece lining was noticeably louder compared with the others. The magnetic buckle requires the user to pull down and out to open the harness. This buckle opened during multiple iterations of the crawl yet — good news — the binos remained safe in the harness. There was ample storage with stretch pockets on the sides and a zipper pocket on the front. The side pockets had plenty of room for most anything a hunter would want to store in them. The harness included MOLLE webbing for additional attachments, but testers were skeptical of adding more weight due to the comfort and fit issues.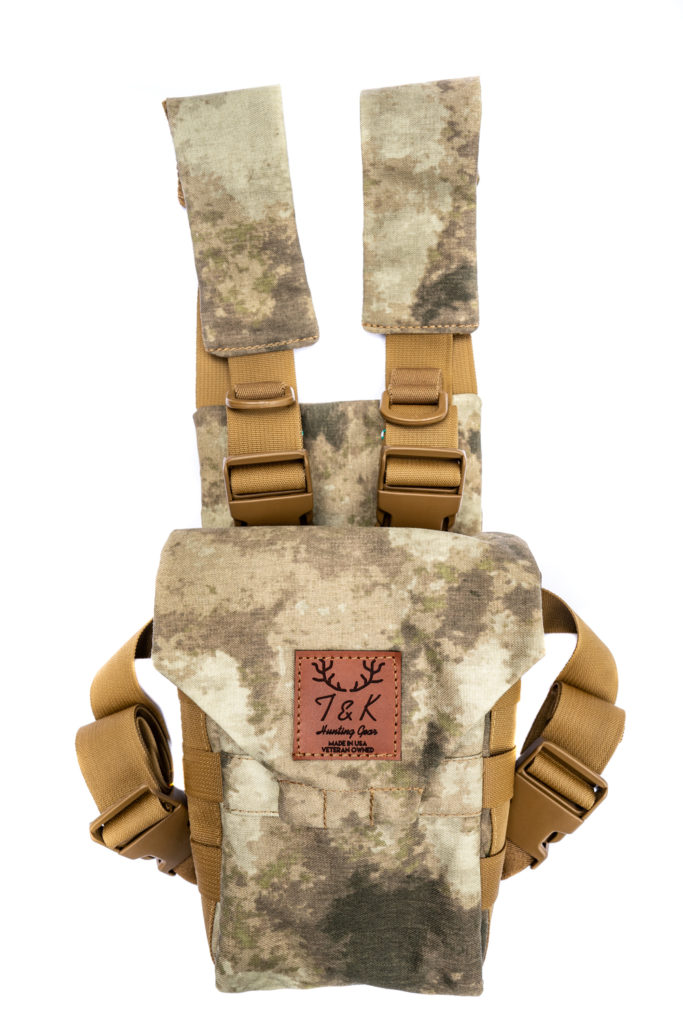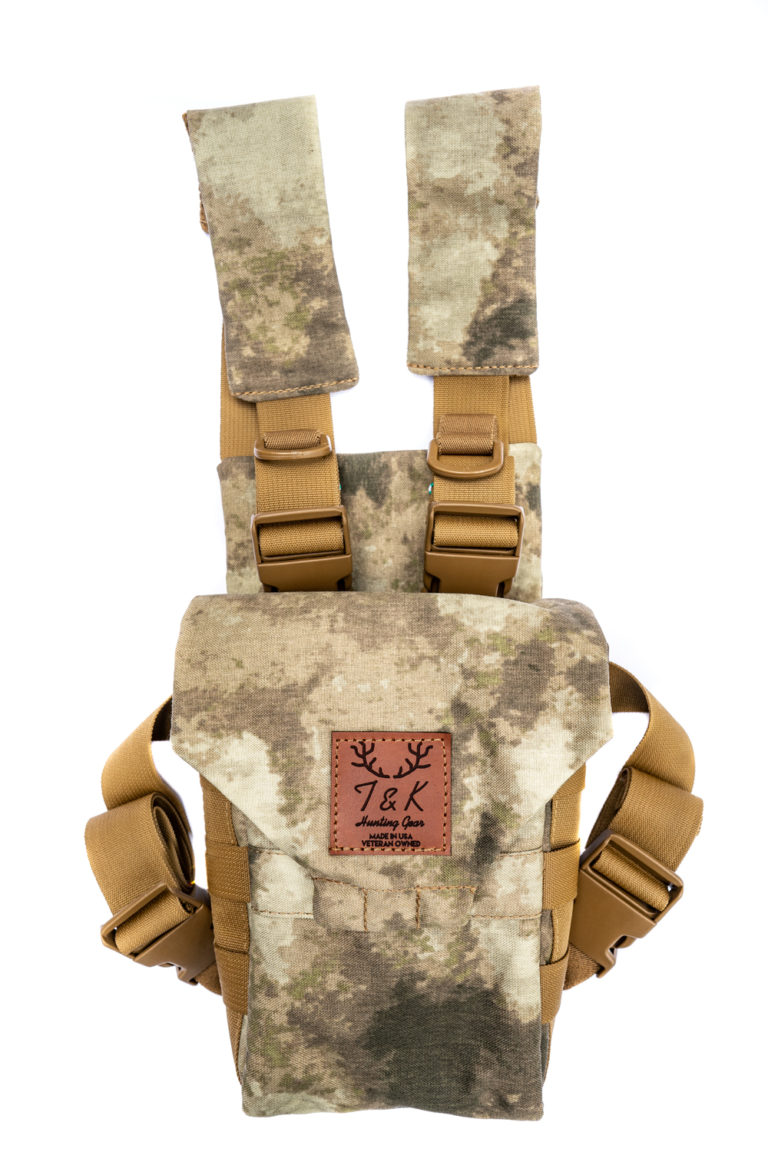 No. 9 T&K Hunting Gear Binocular Harness
SCORE: 78.38 ($139.99; tandkhunting.com)
Specs: Veteran-owned, made in the USA, lifetime no-fault repair or replace warranty, full enclosure, Razco Holsters compatible, 14 oz. 
Pro: Heavy duty with a rock-solid, no-bullshit warranty, made in the USA — and veteran-owned.
Con: Comfort was the killer for this harness, but those thick straps won't break any time soon.
You could tow a truck with this harness. Made with 1000D Cordura, this one is built to last and tied for first place in durability. It also earned a perfect score in service & support for being made in the USA with an unlimited lifetime warranty and veteran owner Tyler Kath's unapologetically American attitude and dedication to customer support. We wanted this harness to do well, but it performed the worst in the test for comfort. The oversized buckles caused the shoulder pads to ride high on the neck. Those same shoulder pads affected shootability, too, distracting our testers while at full draw. They all felt like something was in the way of their bowstring. Like Mystery Ranch, tucking the lid caused the fabric to make some noise when replacing the binos. Our testers also found the one-size-fits-all design (without a shim system like in the Kuiu) gave the harness a floppy feel when used with standard 10x42s. For a freshman attempt, it is not a bad harness, but there are several noticeable improvement points. We have it on good authority that T&K Hunting Gear is currently working up a new design that we're excited about. The owner — a former Marine infantryman and law enforcement officer — is passionate about giving back to the veteran community and has given over 200 pieces of gear to veterans since founding T&K in 2018 through the Gift a Warrior Program. One tester summed up the group's sentiment: "We really like this company's pro-American values. They're a young company and we'll be keeping an eye on them."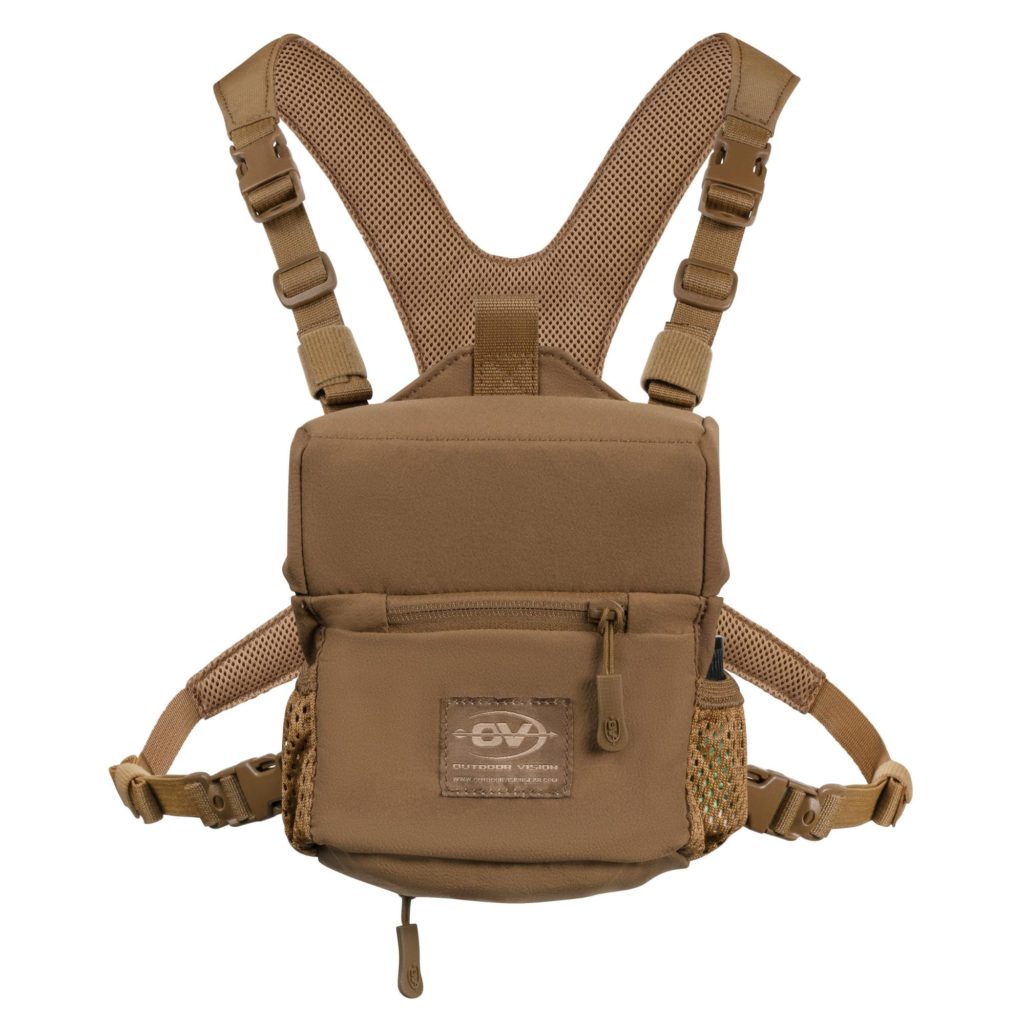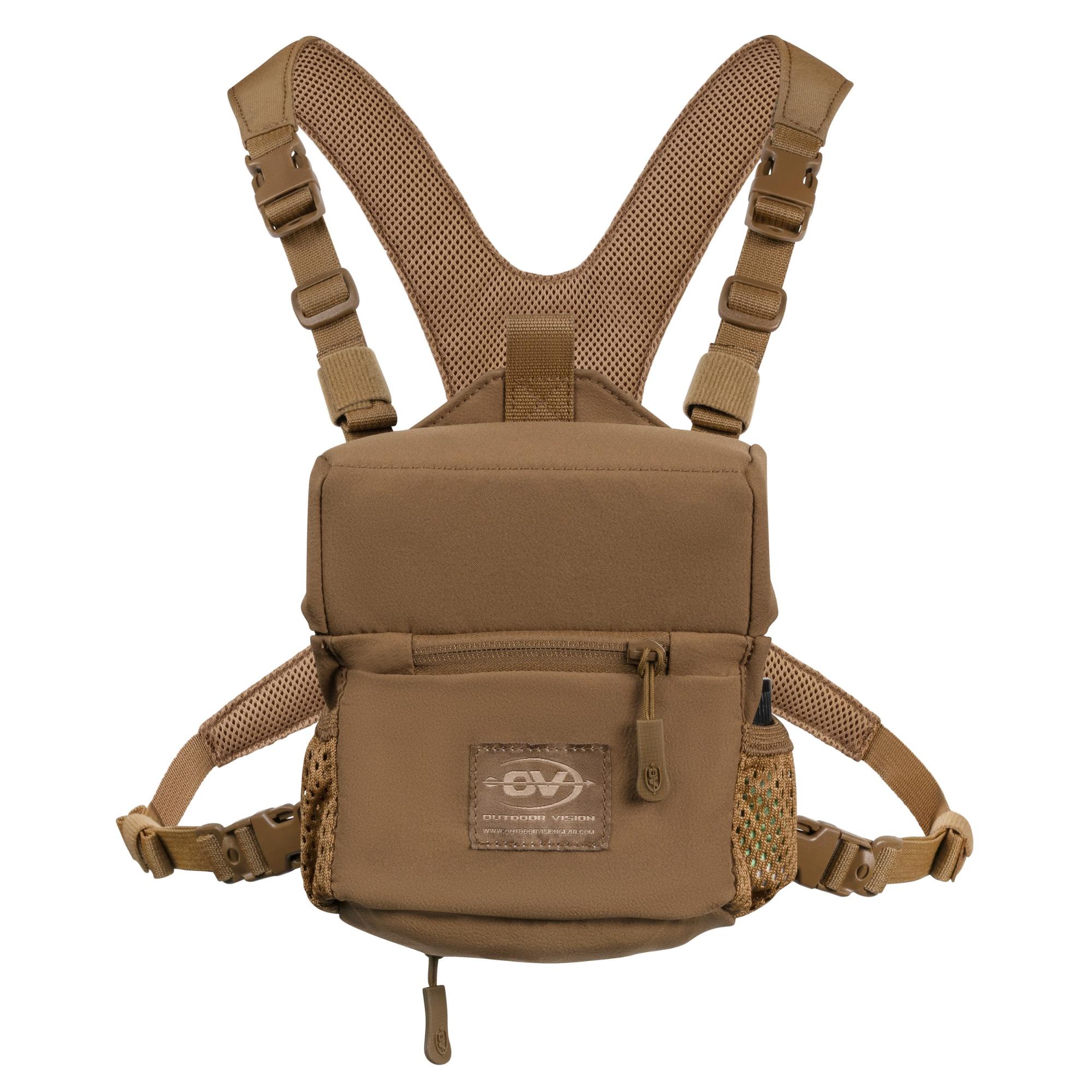 No. 10: Outdoor Vision Ridgetop Bino Harness
SCORE: 77.75 ($108.99; outdoorvisiongear.com)
Specs: Made in the USA, one-year warranty, full enclosure, Razco Holsters compatible, 10.1 oz. 
Pro: The harness is compact and rides great on the chest, with the quietest magnetic closures of all the harnesses we tested.
Con: The magnets are so quiet because they don't really work. The lid opened up while crawling or bending over. 
Outdoor Vision's Ridgetop comes in three sizes. The medium we tested was praised for its compact size and tied for first place in shootability. During the hike our testers noted some neck rub with their packs on and the need for some adjustment throughout the day. The built-in rain cover was essential to this harness earning a perfect score during the weather test. Function is where this harness fell down. The forward-opening box-style top that folds over the optical lenses of the binos and secures to the back of the harness with magnets did not keep our glasses in place. During the hike one tester bent over to adjust his back and almost lost his binos in the mud. Again, the top came open during every iteration of the crawl with all four brands of binos. The magnets were extremely quiet but not strong enough to hold our 10×42 and stay closed. In a limited-use case like sitting in a treestand or ground blind, it could be a very good choice. As one tester said, "It's quiet, small, compact, and has an easy one-handed operation." 
Meet the Test Team
Test Captain Michael Herne, an upstate New York native, is currently stationed at Fort Knox, Kentucky, serving as an infantry talent manager in the US Army Human Resources Command. He previously served as a scout sniper platoon sergeant in the 4th Infantry Division and in various roles with the 82nd Airborne Division and 173rd Airborne Brigade. He is an avid bowhunter with a passion for Western big game. He's a contributing writer for Coffee or Die Magazine and Free Range American. 
Tester Eric Cissell hails from Nelson County, Kentucky. He is the pro shop manager and bow technician for Bardstown Mills Archery Shop, a grain farmer, and a premiere big deer killer. He hunts big game all over the US, always with a bow.
Tester Tim Smoke was born and raised in southern Michigan, enlisted in the US Army right after high school, and spent 24 years in the service, with five combat deployments to Afghanistan and Iraq. After retiring as an intelligence officer, he settled down in Kentucky where his life revolves around hunting big, mature whitetails.
Tester Robbie Ammons, a Kentucky native and local legend around Fort Knox, has taken more than 50 Pope & Young whitetails, including five grossing more than 160 and two 200-inch-class deer. Ammons was featured in Field & Stream's 4th Annual Booner Awards with his 198-inch double-drop-tine buck sporting a 29-inch spread.