There is a rattlesnake somewhere near my left boot. I can hear it, but I can't see it. My dad is sitting on the ground 10 yards away with his back against a log, holding a sandwich in one hand and pointing frantically with the other toward a mess of basket grass and burnt timber from an old forest fire.
"It's right there, Ben! Don't move!" 
How he sees it while sitting on his ass with a mouthful of peanut butter and jelly is beyond me. I can't see the snake, but I can hear his rattle. All I can think is that there's no way I can get medical treatment out here, off the grid, a 45-minute bush plane ride from civilization, in the middle of the largest federally managed wilderness area in the lower 48.
My dad stands up slowly, but I stay stock-still, frozen in place. The rattle stops and the snake slides off, downstream thankfully — the opposite way from where we're heading.
"Well," my dad says while getting a head start. "Let's never do it again."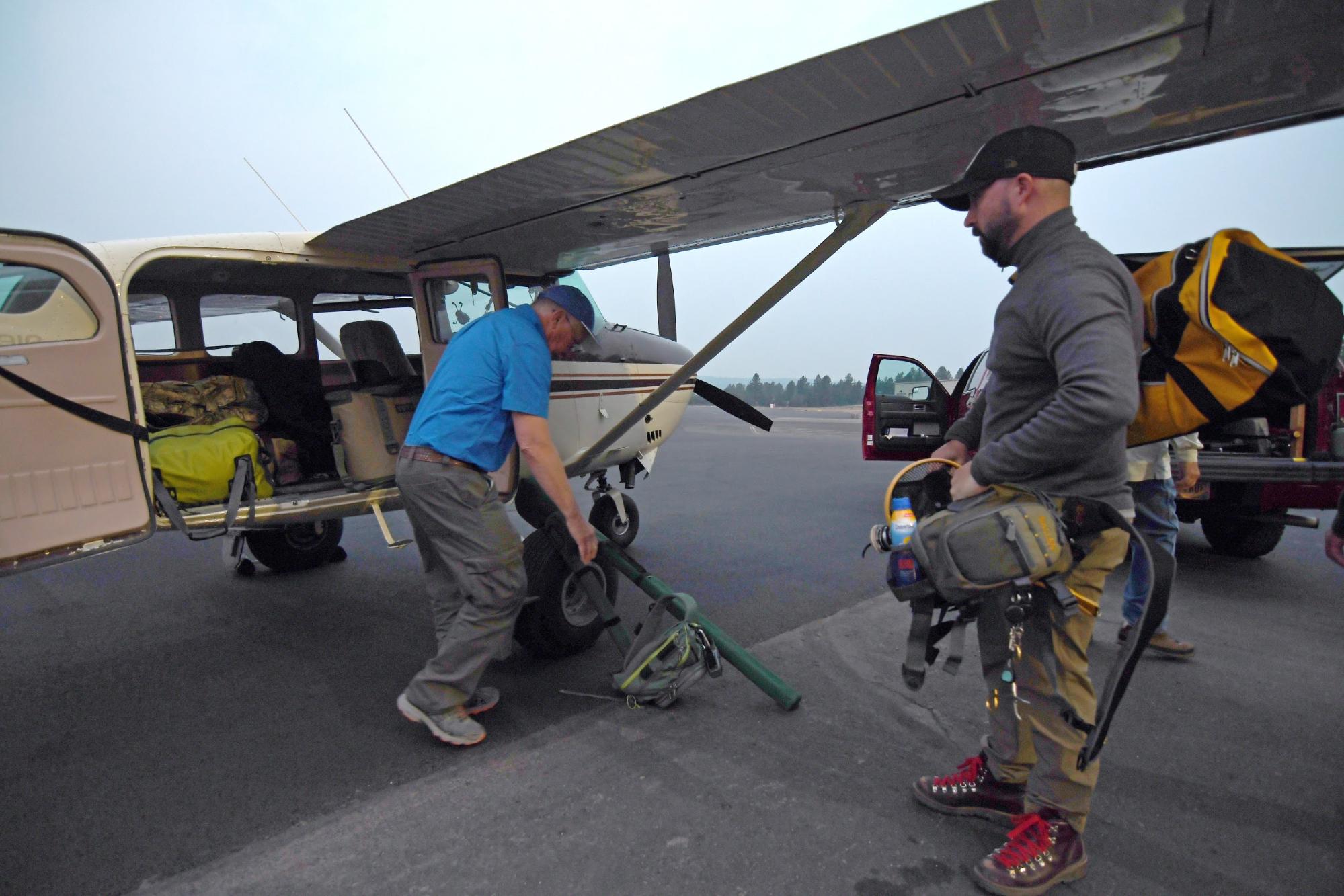 Forty-eight hours earlier, my dad, three friends, and I boarded two bush planes in McCall, Idaho, for a 45-minute flight into the unknown. We were winging it (pun intended), not even telling our friends visiting from Florida about our final destination: the Frank Church River of No Return Wilderness for 72 hours of wild-trout-fishing madness. 
When we told them what to pack the night before, they thought we were driving to an alpine lake, but we fed them some lines about getting stuck to make sure they packed a few days' kit. After we passed by the smokejumper training course, pulled into the little mountain airport, and explained our true intentions, they scrambled for their phones, leaving a flurry of voicemails and text messages: "Honey, I might not have cell reception for a few days."
The plan to fly into the Frank to fly fish for wild cutthroats and bull trout was designed months before we boarded the two Cessnas. Really, it was decades in the making. My father and uncle flew into the Frank Church wilderness to hunt bear more years ago than they remember. The early-season bear action was lackluster, but the saving grace for that trip was more ruffed grouse than they'd ever seen anywhere — and more wild trout in Big Creek, a tributary to the Middle Fork of the Salmon River, than they'd ever counted. Dad swore he'd someday return, and a visit from his friend, his friend's son, and his son's friend was the perfect excuse to make it happen.
Dad booked flights with two bush pilots and arranged for some cowboys already in the area to haul gear and provisions from their out-of-season hunt camp. All we would have to do is concern ourselves with the self-guided fishing.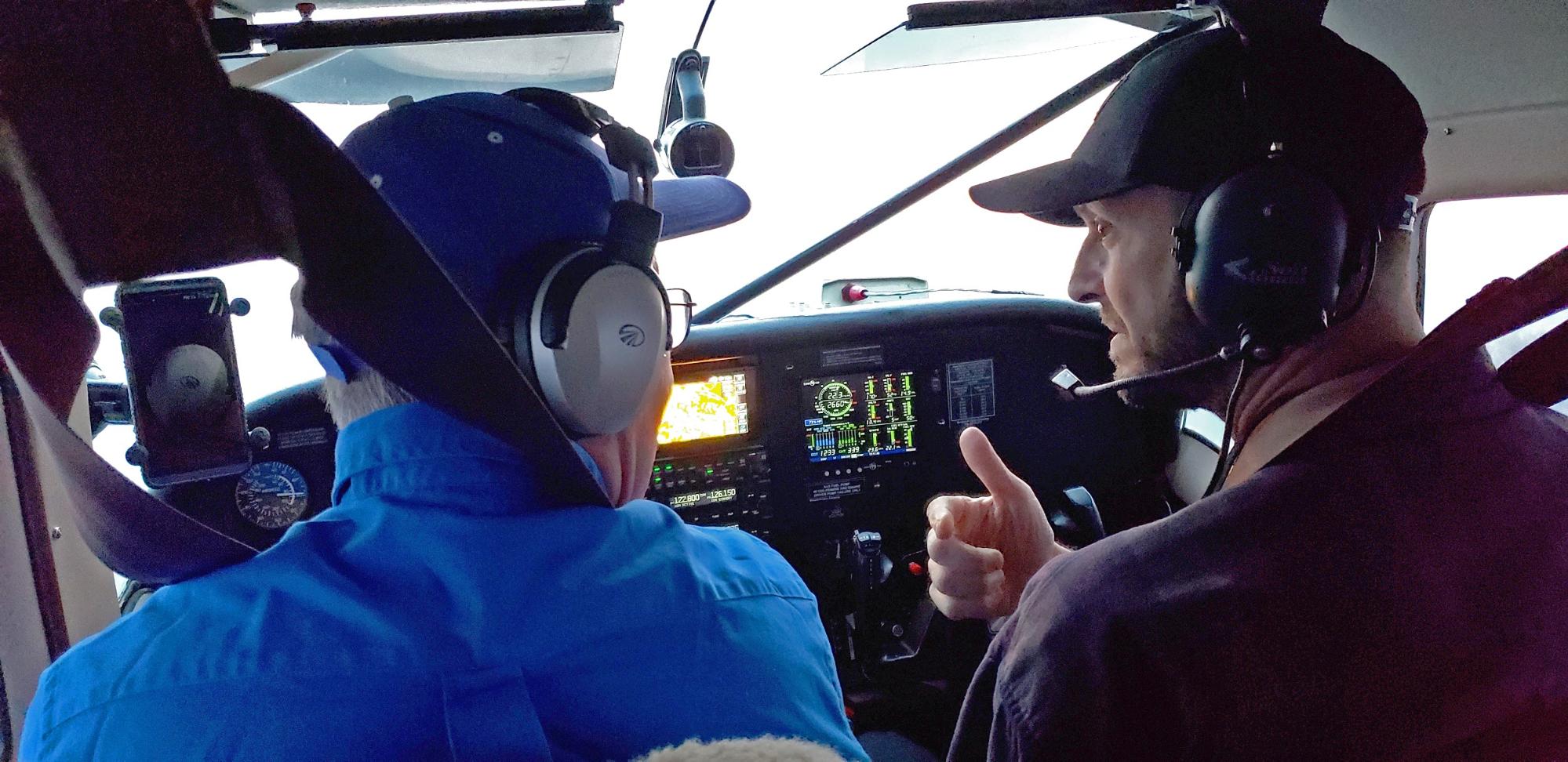 I've flown on commercial flights, in floatplanes, and even hitched a ride in a helicopter or two, but nothing was quite like riding shotgun in a fixed-winged craft through the Rocky Mountains. Just as the first hints of daylight appeared on the horizon, we pulled up next to the hangar and watched confused looks wash over our cohorts' faces. Dad and I acted like it was something we do all the time. "Well, we told you we were going fishing, but we didn't say how we were getting there!"
Speeding down the runway, far from the final threshold, the wheels left the ground, and I could feel the cushion of air sending us aloft as the pilot added more throttle and banked to the east over Long Valley. I was amazed by the number of dials, switches, sensors, and gauges in the cockpit. But the pilot wasn't paying attention to any of them. His eyes were out the windows or fixed on his smartphone mounted above the stick. It was running a GPS app showing him the way, along with other critical information such as speed, altitude, and heading. He pointed to the phone and said, "Even with all these gauges, I rely on this app more than anything else. And this is a good morning. We're flying east, and the rising sun would normally be blinding, but with all this smoke in the air, I can almost fly without sunglasses." 
Flying between the peaks, I felt like I could reach out and touch the ridgelines. We weren't skimming the treetops but weren't so high that everything looked like ants either. It was a landscape that would excite any experienced elk hunter. Wallows, springs, creeks, meadows, and high-mountain lakes dotted the terrain, and if we were to touch down at any instant, I wouldn't know whether to start bugling or string up a fly rod.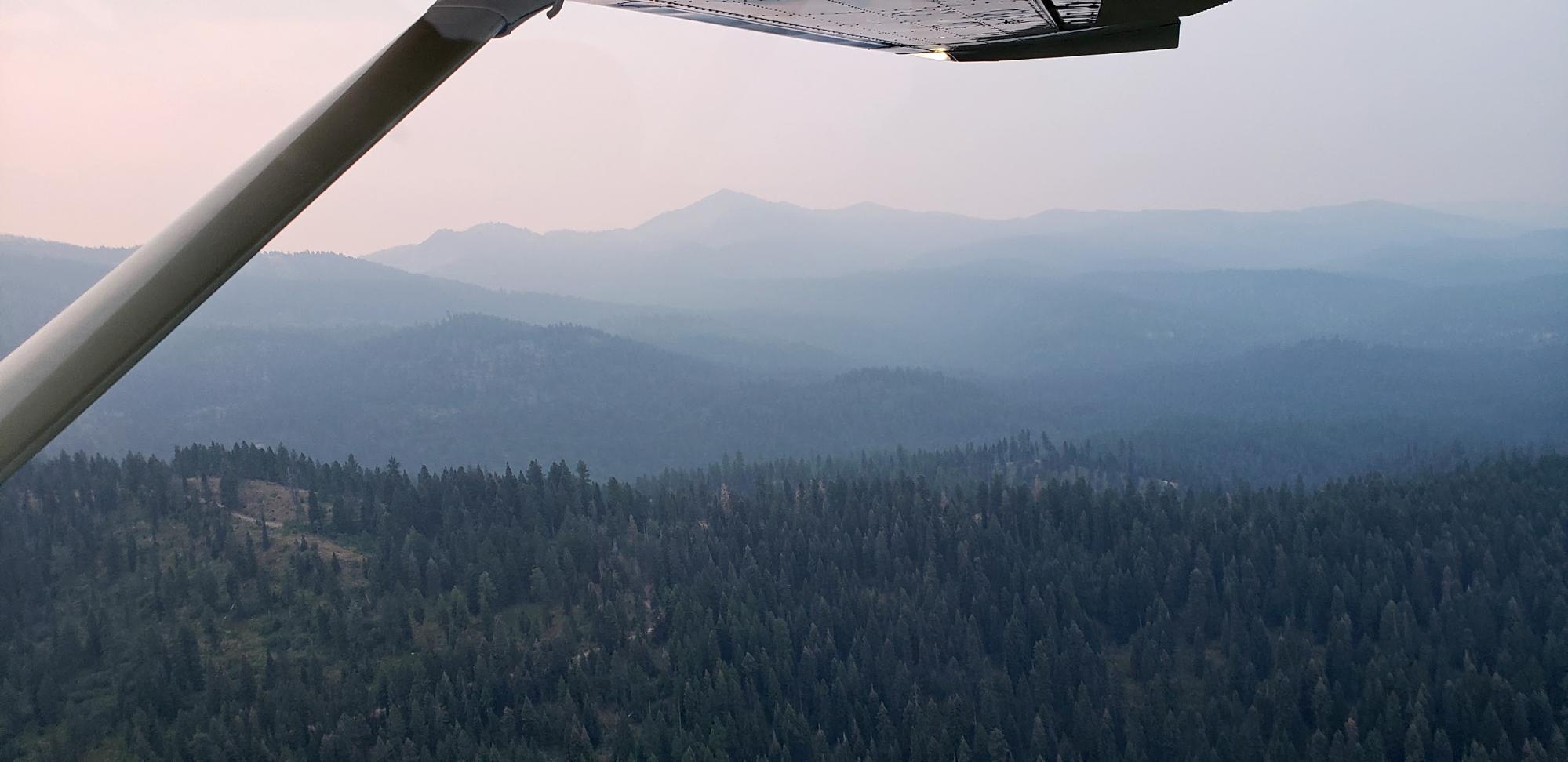 Eventually, we flew into the Big Creek drainage, and every once in a while I saw an outpost along the riverbank, another bush plane resting on the fringe of an airstrip, or, at one point, a string of hikers with brightly colored clothes and packs in single file amid a burnout. It was a peaceful, serene, smoke-filled scene, although spotting a yellow Piper Cub sprawled out in pieces at the end of one runway did give me pause.
Mile by mile, Big Creek's volume grew from a small trickle you could jump across to a river so wide and deep that it was uncrossable at points. After the river made its way through a small canyon, the distance between the mountains widened, a valley appeared, and the plane began to descend. Banking hard to the north, the pilot made a tight 180-degree turn while peering down at a cleared strip of dirt that certainly didn't look level and most definitely not straight. There were no radio control towers to relay approach instructions or "clear for landing" authorizations, so it was up to each pilot to assess the situation. Satisfied it was safe to drop, the pilot began his approach.
The more we dropped in elevation between the ridgelines, the more I became unsure this was all such a good idea. Skimming the treetops, we were flying low and slow, without a hint of turbulence. Still, it was hard to remain calm about what was happening — or what could happen at any moment. I used to have an "Oh, shit!" handle on the passenger side of my Jeep Wrangler that anyone riding shotgun could grab when things got hairy, but I couldn't find one on the plane.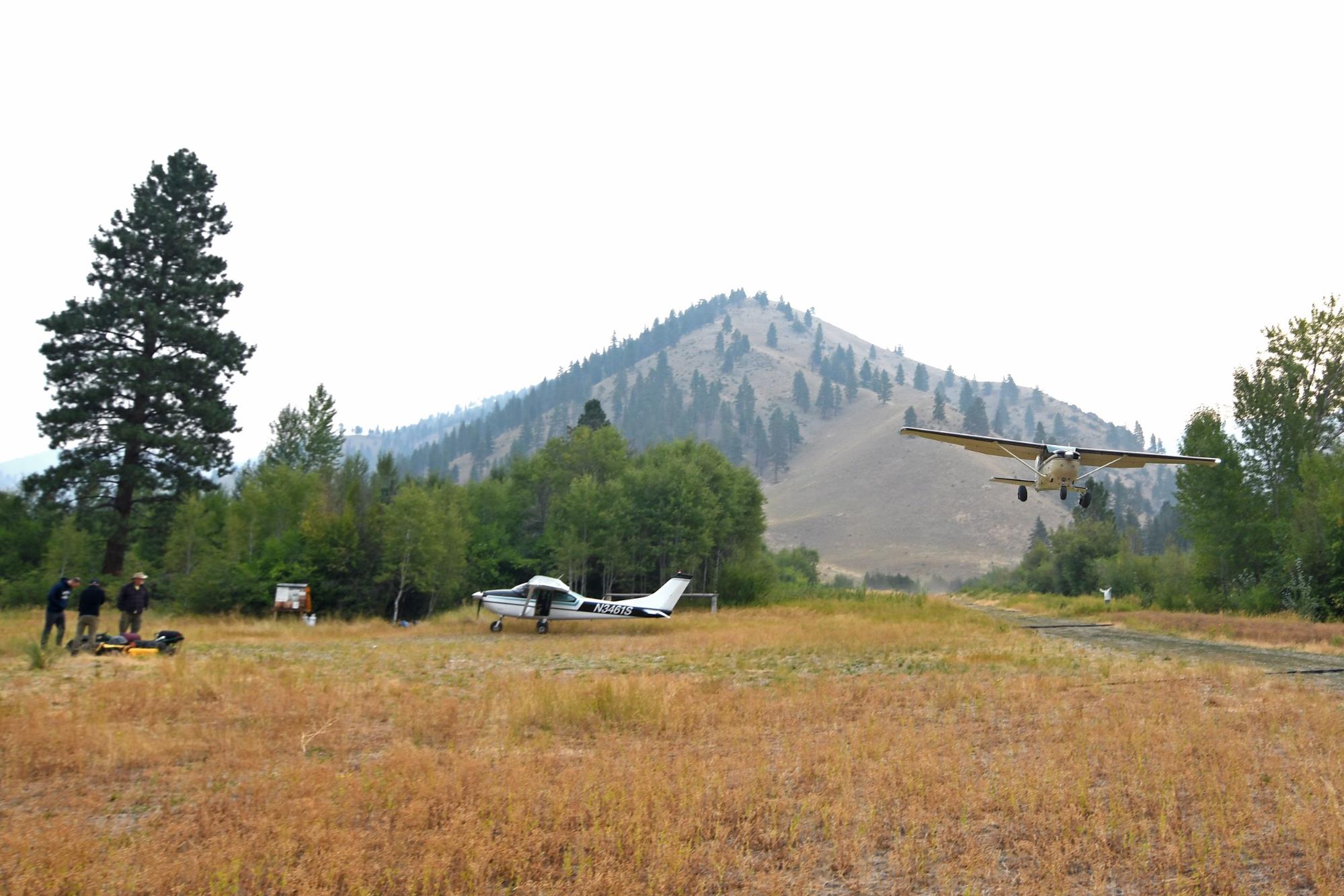 The wheels contacted the ground, and I was shocked by how smooth the touchdown and taxi to the end of the runway felt. If someone were to tell me we'd landed on pavement, I'd believe them. At the end of the strip, the plane turned into the grass to make room for our counterparts just minutes behind us, and as we deplaned and began throwing luggage from the cargo hold to the ground, two cowboys and a few pack mules headed our way.
Our Big Creek HQ is the quintessential wilderness outpost — replete with wall tents, cots, a separate camp kitchen, corrals, and a private privy. We snacked on bacon as we situated our gear in our temporary living quarters, soaked in the magnitude of the moment, and in keeping with the song Whiskey for Breakfast, popped open a bourbon bottle. Meanwhile, our wranglers saddled enough stock to get us down to Big Creek, which is about a mile down the drainage from our camp. So with camp settled and bacon and bourbon in our bellies, it was time to do what we came for. 
On the water, there are hundreds of caddisflies fluttering in the shadows between the surface and the overreaching brush. Every once in a while, one makes a haphazard course correction, lands on the water, and almost instantly disappears in the rise form of a trout's mouth. To the uninitiated, the scene is a fly fisherman's wet dream, but I don't say a word. Pointing it out would be like holding a treasure map and telling everyone where the "X" is without letting them decipher the puzzle on their own.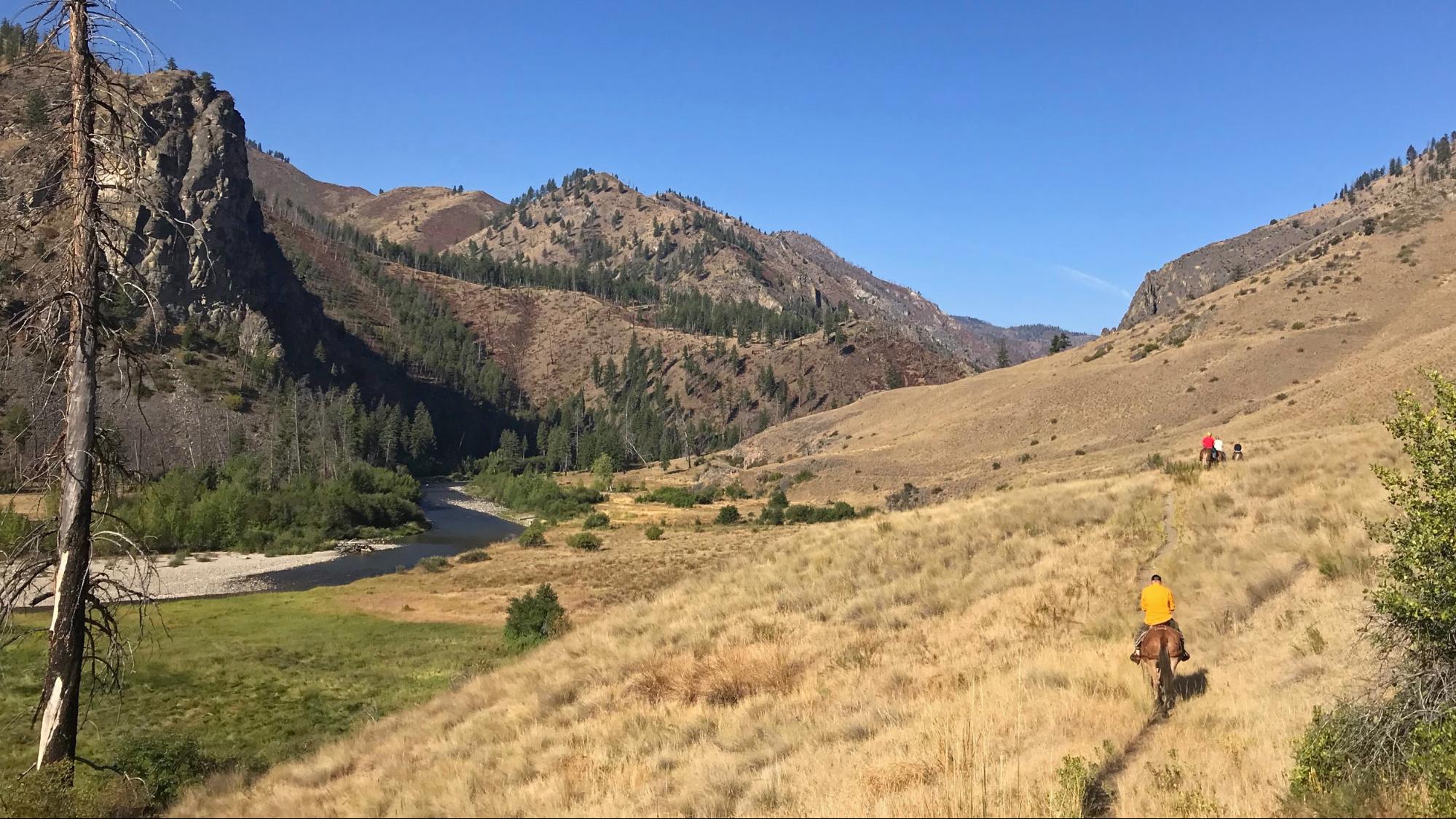 I'm the first one geared up. Locked and loaded, rod in hand, I slide into the water. The current is strong but not overpowering as I make my way across to the opposite shoreline. The fish are still feeding, so I stop just a few yards downstream, strip line from my reel, and false cast until I have the angle and distance to make a somewhat decent presentation. I power a cast forward, settle the fly on the water, and watch it drift on the surface for a few feet before disappearing with a single gulp from a wild cutthroat.
It's like that all day — the kind of fishing just not possible in most places close to a road. Cast, gulp, hook, release. Consecutive fish come to hand, each one seemingly easier to fool than the one before — the trademark of wilderness trout. The undisrupted nature of the water and country, and the lack of fishing pressure, makes wild cutthroats rather naive to the presence of some 6-foot-tall "things" walking in their river and the reality of artificial flies. 
There's enough water and space for each of us to fan out and explore on our own — which to most fly anglers is what the pursuit is all about in the first place. I travel down side channels, my dad moves slow in the main stem, and the other three leapfrog one another working upstream, plying every riffle, run, and tributary mouth, but every hour or so we reconvene to discuss successes, failures, and what flies are working best, as well as to place a few friendly wagers.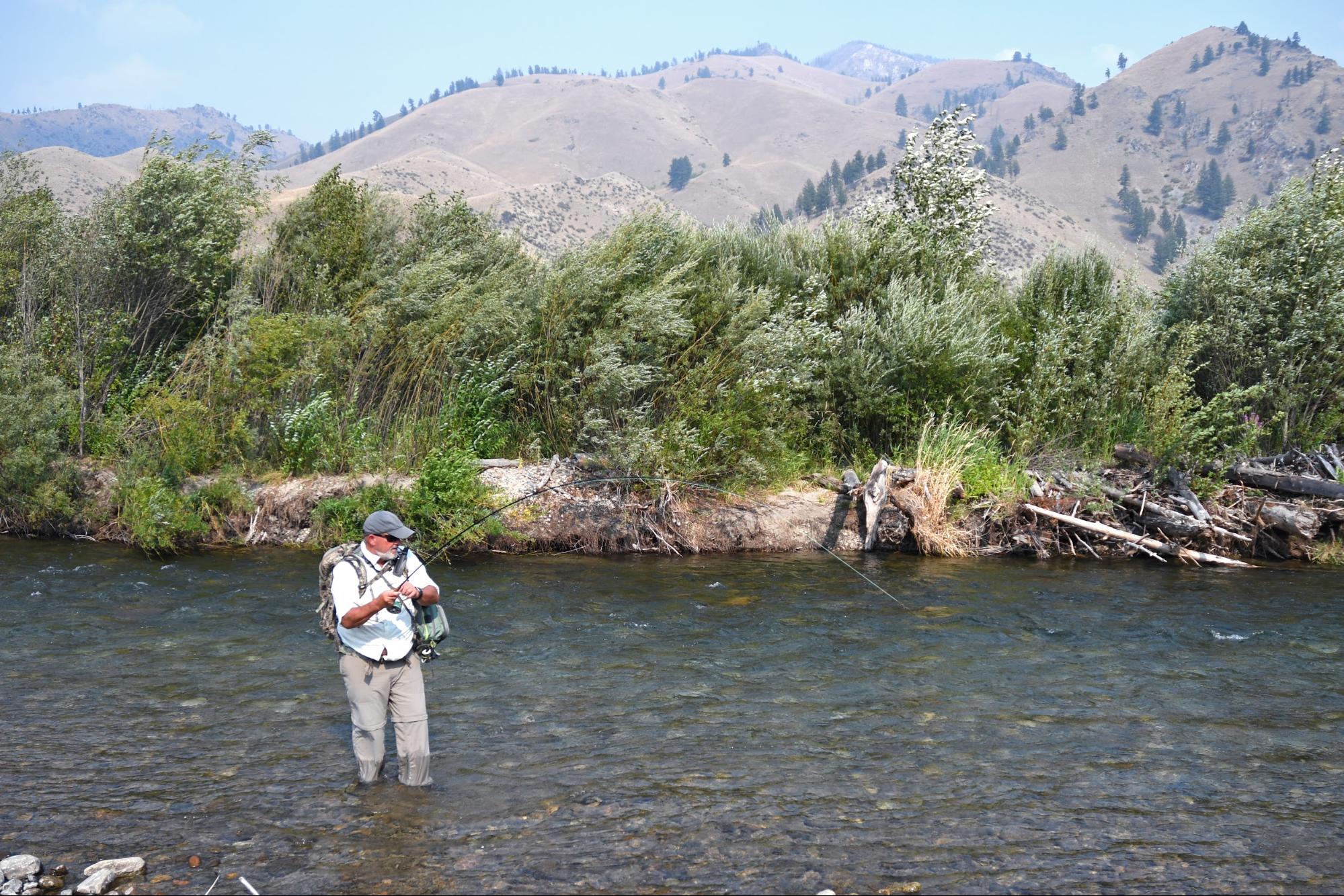 In some stretches we can actually see cutthroat finning in position. Fish like these make the toughest targets. Usually, we end up spooking them with our lines or making such a rancorous commotion in the water that I think we even spook a few rocks. But sometimes the trout stay put. In one particular run, a feisty cutty is taking particular pleasure in feeding on every natural food bit that comes its way but doesn't even give our flies a second look, no matter how many different patterns we try. We take turns; each angler gets six casts, and if he can't close the deal, the angler on deck gets the run of the hole. I lose count of how many flies we try, and in the end, my father hooks and lands the fish on a pattern I told him not to try because it was falling apart. He really enjoys reminding me of that fact in camp that night — as he will on many nights to come.
By the end of the first day, we have caught more fish than we can count.
One of the earmarks of any Western trout stream is its ability to allow native, wild fish to proliferate, and Big Creek does it better than most. In addition to holding westslope cutthroats, it's also home to one of the most iconic fish species in the Rocky Mountains, the bull trout, as well as a distant cradle for spawning chinook salmon and a handful of steelhead, which arrive after traveling upstream hundreds of miles from the Pacific Ocean.
The timing of our trip coincides with the arrival of salmon, and we see a few half-dead, freight-sized spawners continuing the journey upstream — an amazing sight that makes us sit back and wonder what it all "used to" look like. But we later learn the salmon are a blessing and a curse. We intersect with a group of hiking/camping anglers venturing up from downstream who say the presence of salmon makes things tough. With so many protein-rich salmon eggs dislodged and drifting downstream for the cutties and bull trout to eat, why would they ever want to eat a fly?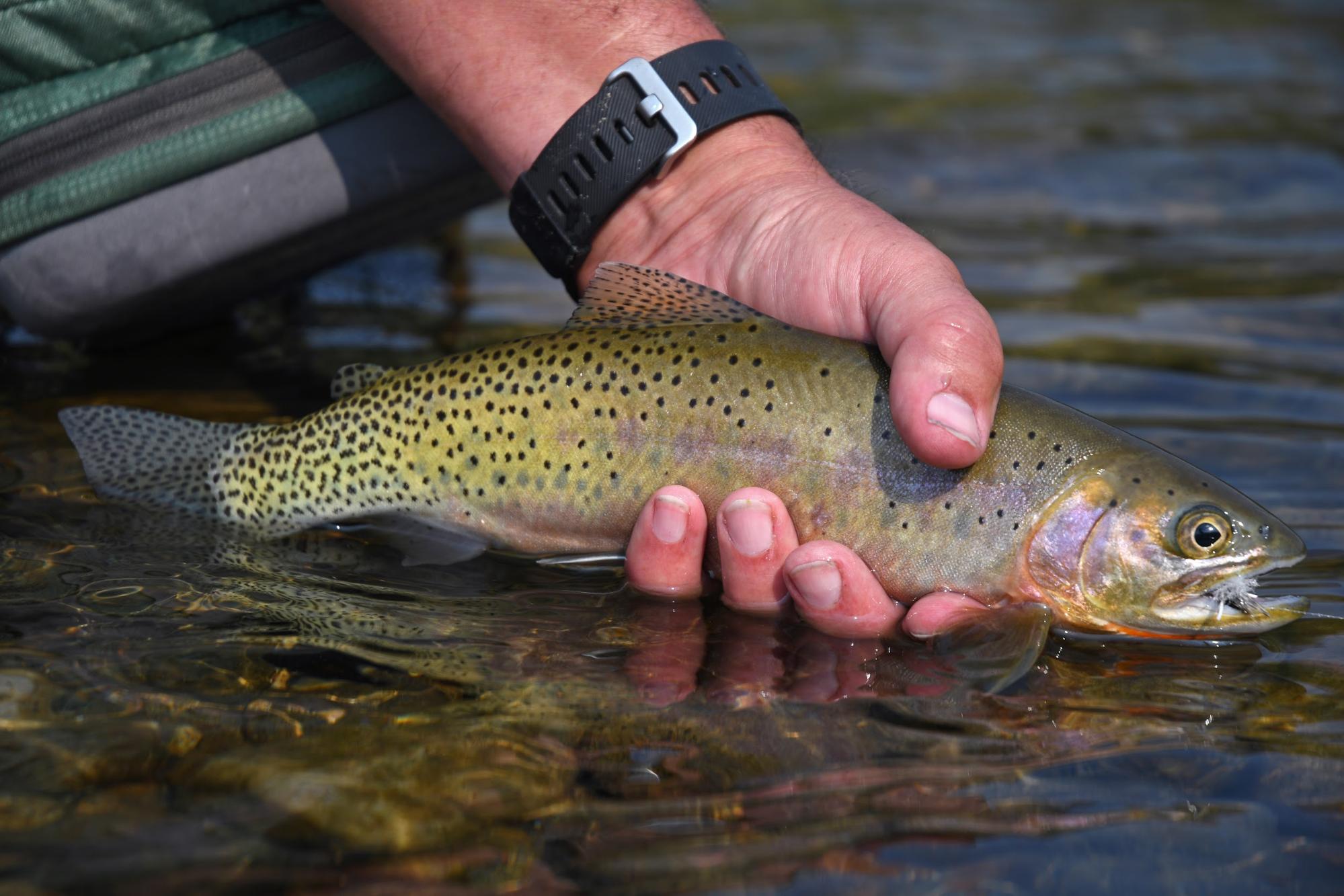 Known to eat other fish half their size, bull trout, or bullies, have the aggressive traits of something like a northern pike and the appetite of a lake trout. They can grow more than 40 inches long and live in only the coldest, cleanest fresh water, so to find the best specimens, I need to fish the deepest, coldest, bluest holes of the river and dredge with a sinking line and heavy flies — the larger and more lifelike, the better.
In the fading light of the second day, I wade downstream into a rolling series of pockets and pools, each trench not especially deep but secluded, terrific holding water for an ambush predator. Walking down the center of the river, I toss a streamer — a fly designed to resemble baitfish — into each pocket. After a few casts to my right, I step farther downstream and make a few casts to the left, but there's nothing in the first hole. Or the second. Or the third. I'm losing hope that bullies can be found here. Just before I cast into the fourth pocket, my father shouts down from a rock outcropping above me.
"I just saw two giant shapes move behind that rock to your right!" he says. "I don't know what they were, but they were bigger than anything I've seen!"
I cast the streamer into that little pocket of water and begin a slow, twitchy retrieve. Like a figment of my imagination, a figure shifts out from behind a rock and beelines toward my fly. I can't see the fish, just the black outline of its shadow on the cobble. It rockets within 10 feet of my fly, then five, then two. It's a false charge. Like a grizzly sow protecting her young, the fish bends back into the shadows behind the rock. I cast again. And again. I try coaxing it out but never see it again. It's my first and only encounter with what I'm convinced was a monster Big Creek bull.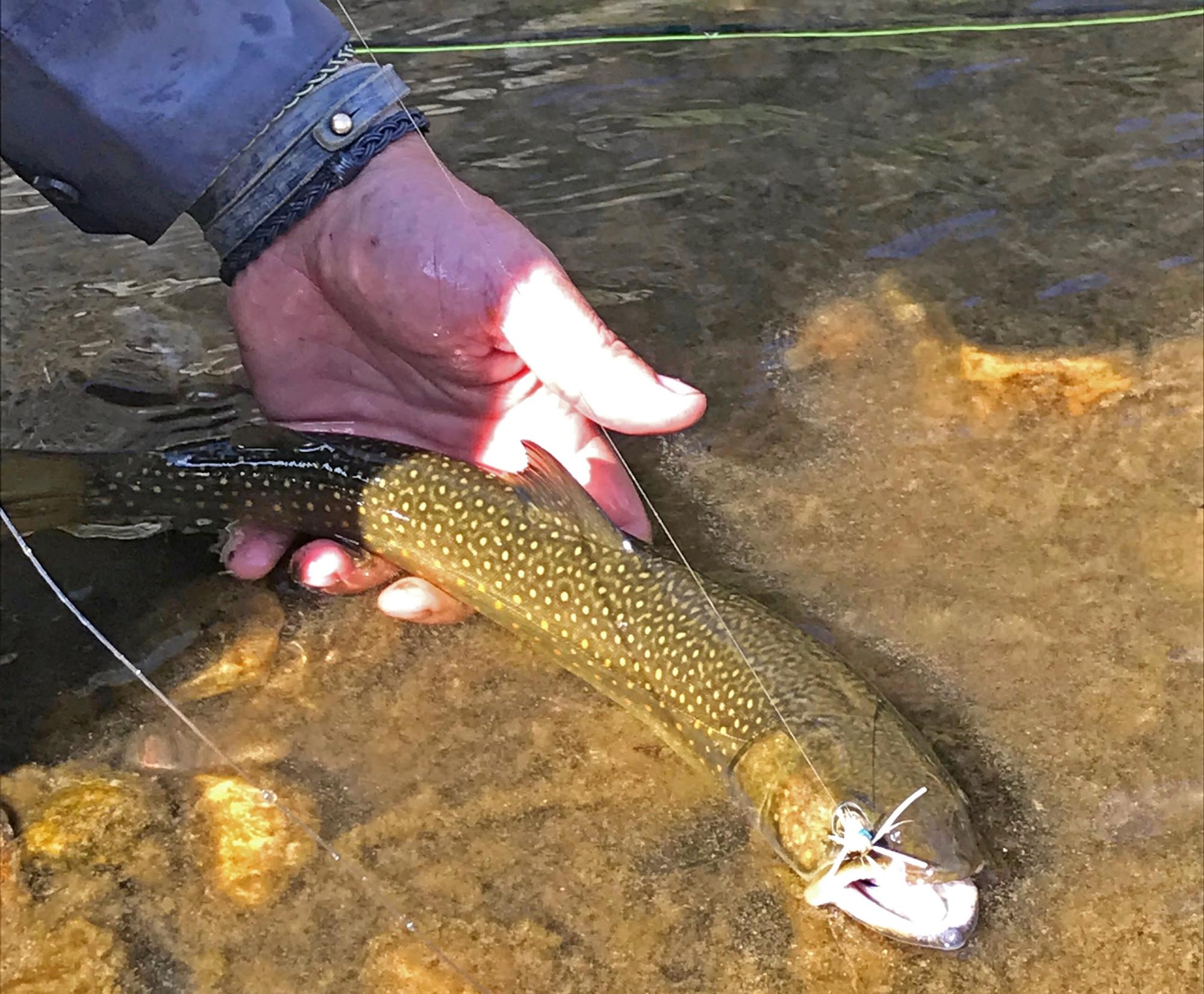 The only problem with a trip to Big Creek in the Frank Church is having to go home. It is a reality none of us wants to ponder on our last night in camp. But when the sun rises, we assemble our gear and make a crusade to the Cabin Creek runway.
Waiting on the tarmac in the first light of the day, we can hear a big bird in the sky long before we can see it, and when the first of our two rides banks hard between the mountains to inspect the airstrip before cutting 180 degrees again for the final approach, nobody says a word. We are tired, a little sunburned and dehydrated, and smell like trout and sweat-soaked saddle leather — but we are content.
Aboard the airplane, our pilot throttles up the engine and lifts just high enough that we can make out details like individual rocks and logs in the river — places where we caught so many fish — before crossing a distant ridge and aiming the nose homeward.
Flying into McCall, I catch a glimpse of our cabin roof far out on the edge of the tree line, just a stone's throw from the North Fork of the Payette River. An hour later, the five of us stand in the living room, decompressing and wondering what to do with the rest of our day, when my dad speaks up. He hasn't yet had enough.
"Want to go fish the Payette?" he asks.
"Yes," we all reply. "Yes, we do."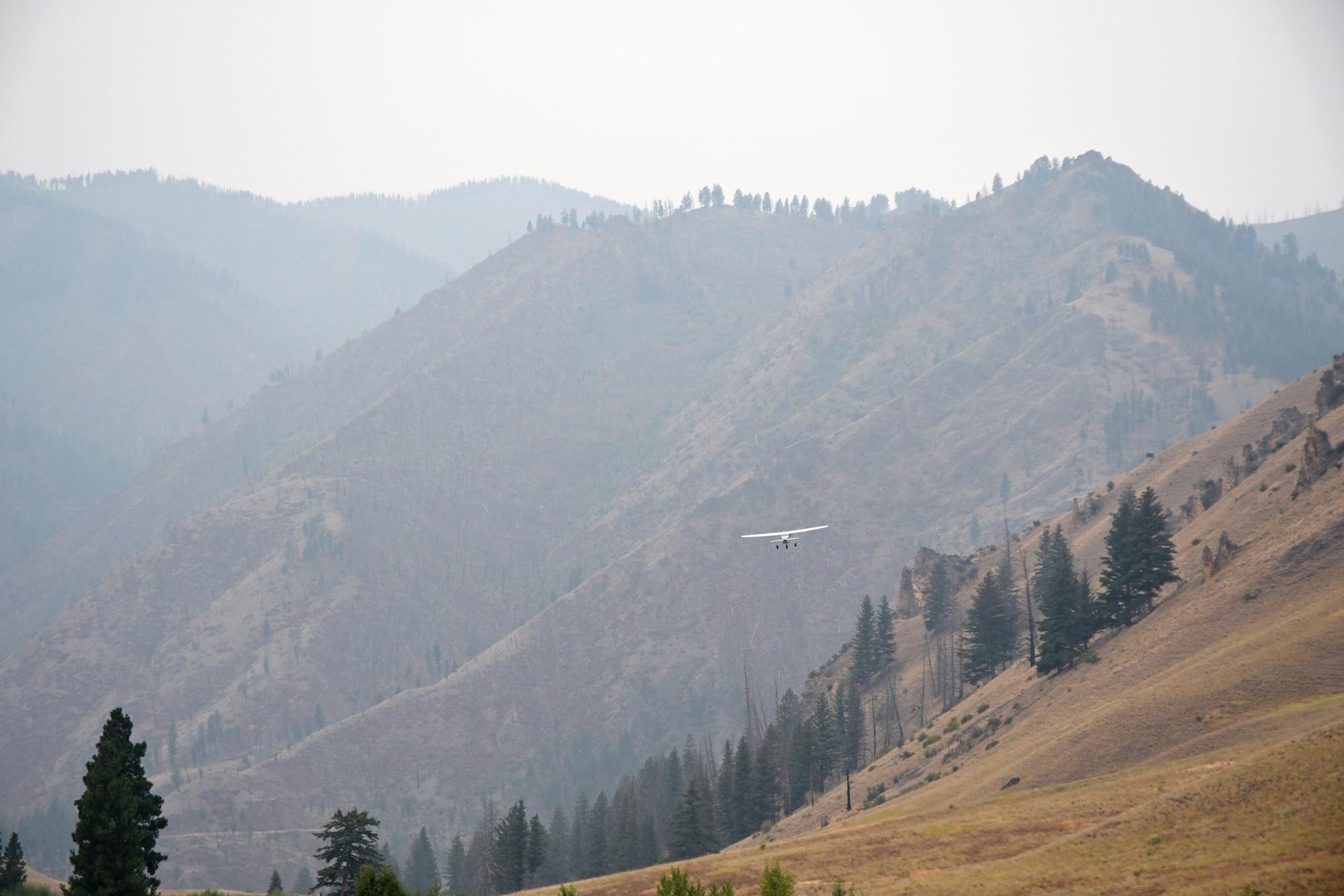 HOW TO DO THIS TRIP
McCall Aviation

makes daily excursions into the Frank Church from two different airports — McCall and Challis, Idaho. Big Creek is longer than you'd think, with several airstrips along its length, so even in the busy season of August and September, it's easy to feel like the only anglers on the river. Round-trip flights to Cabin Creek airstrip run around $920 to $1,050, minimum two people per flight.

Mile High Outfitters

has been guiding hunters and anglers in the Frank's Middle Fork Elk Zone for decades and offers guests a variety of hunting and fishing options, from fully guided trips to barebones tents-and-chow packages, like we did here. Camp, meals, and transportation to and from the river run around $200 per day, per person. 

Tackle: A simple 5-weight rod with a floating line is fine for the cutties, but bring a 7-weight with a sinking tip if you're targeting bull trout. Don't harass the salmon. General attractor and terrestrial patterns work for cutthroat, but you'll need heavy streamers, like an olive-and-white

Dalai Lama

or

Circus Peanut

,

for the bulls. A nonresident fishing license runs $15 the first day and $7 a day after that, or $98.25 for the year. 

You won't find a more DIY-friendly, cost-conscious fly-in adventure anywhere between Canada and Mexico, but if you want to tighten your budget further, it's possible to fly in with backpacking gear and freeze-dried food, then fish and camp from one airstrip to the next. 
Read Next: Alaskan Woman Shoots Record Caribou on Solo Hunt 4 Months After Bear Attack