The sun makes its ascent on the group's final day in Panama. With clear skies and great weather, they decide to make the most of it.
The day starts with fresh-caught early-morning tuna cut into strips and draped over an open campfire to smoke. With the tuna left smoking, it's time for the guys to get their asses back out on the water.
Kayaks are loaded up to do the mother-shipping thing, but shit happens, and there is at least one mechanical difficulty to overcome.
"We just left the beach, and the pull cord came out of the motor," Reeves says. "It is what it is. It looks like they're going to fix it, then we're going to try to crush some big fish."
With some on-the-fly tinkering, the motor is back up and running, and the group hits the 'yaks for some tropical ocean action.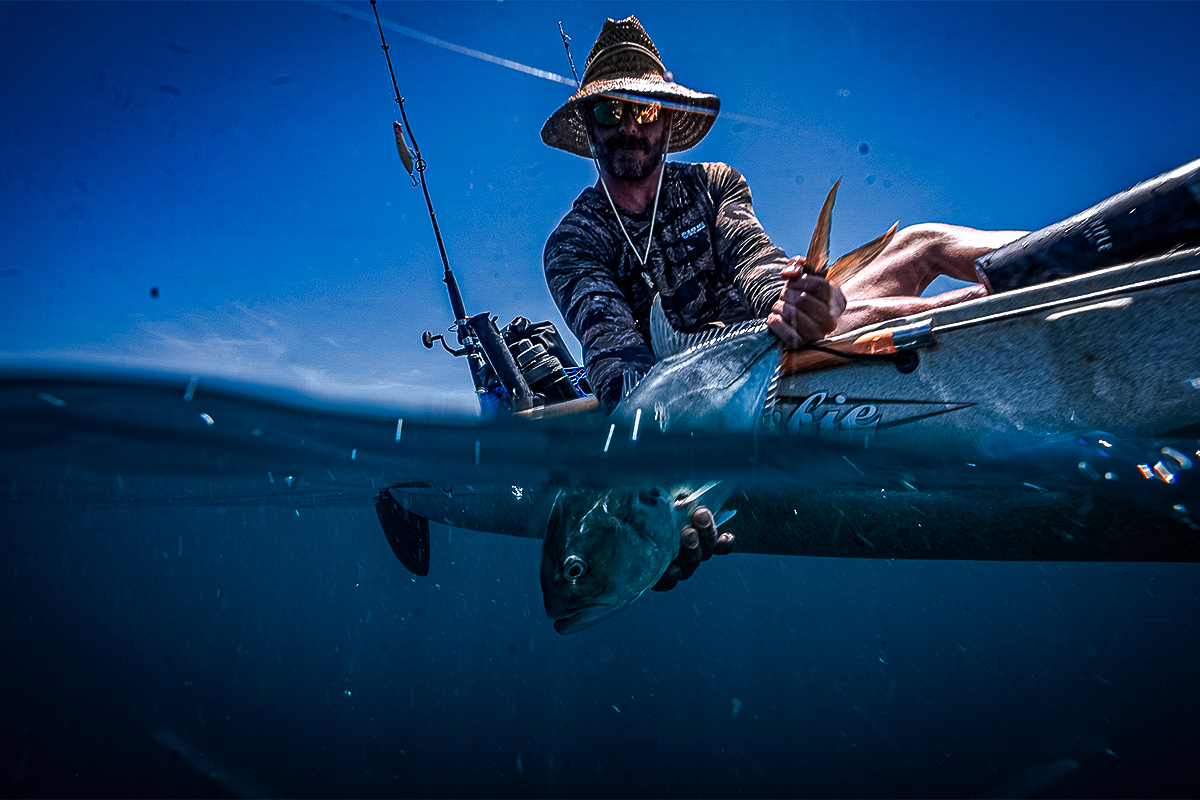 "On my first cast, I caught myself a nice little bonito fish for bait," Clancy says as he pedals his kayak. "I stuck him on the big rod with a circle hook, and now he's out about a couple of hundred feet. Hopefully, we can get some nice cubera, or, I don't want to jinx myself, but maybe a marlin."
Fisk also explains the finer points of hooking up bait fish.
"This is what they call a white tuna here," Fisk says, holding up a bait fish big enough to feed a family of four a pretty nice dinner. "The real name for it is a Pacific bonito. You can tell they have some pretty gnarly teeth, but they are really good bait. This is one of the cubera's favorite things to eat.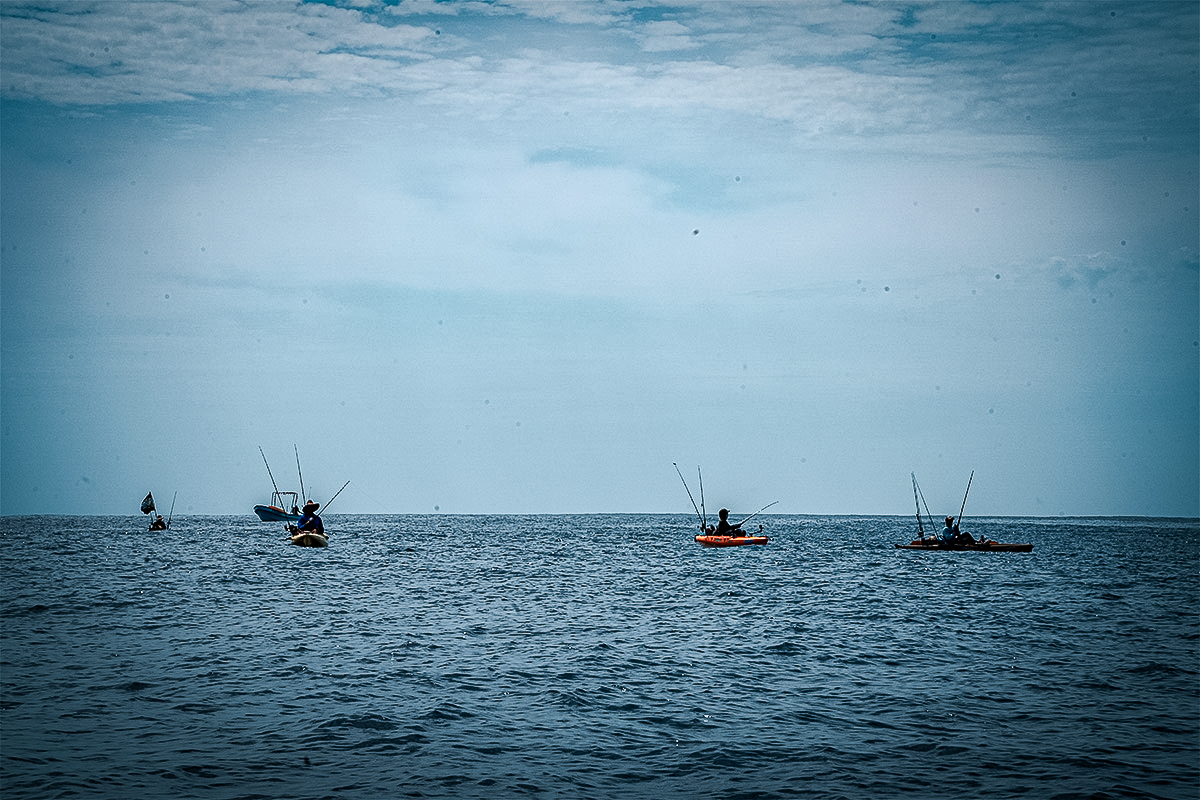 "I'm going to take the tail off and get a nice juicy chunk. They are super meaty. I like to hook them through the meat at the top and out through the skin so you can hide the hook a little bit. Sometimes these cubera are pretty smart.
"Then we're going to drop it down. I like to freeline them sometimes without a weight. That way, they sink slowly."
After the first fish of the day makes it into one of the 'yaks, the group continues to fish for a while in hopes of hooking a 500-pound marlin. But when that doesn't happen, they trade their pedal power for good old-fashioned gasoline, hop in the pangas, and head out to chase more tuna.
At about 4 p.m., on the last cast of the trip, Clancy hooks up with what seems to be a whale-of-a-fish. He fights it for over 20 minutes, which is unusual for the 40-pound tuna they've been landing in five.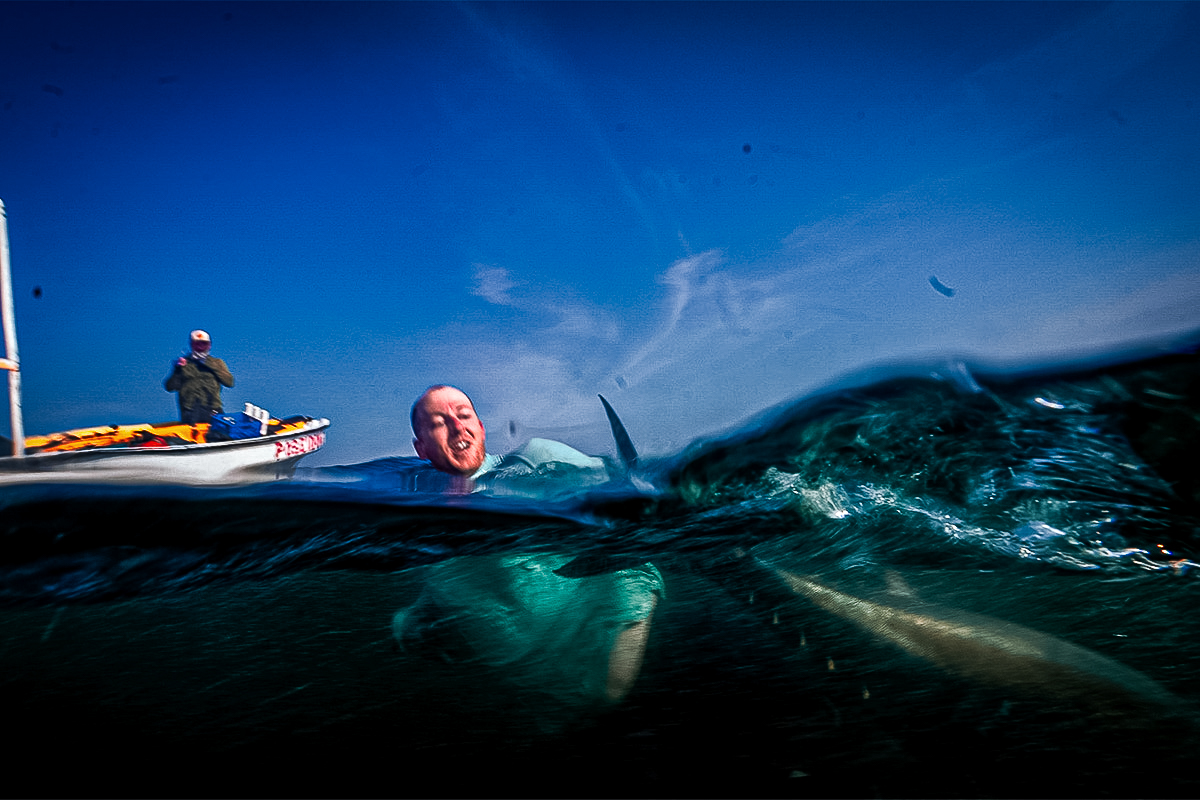 But it is a yellowfin, just one with a ton of grit. When Clancy finally manages to wrestle the fish up alongside the boat, Fisk attempts to close the deal. He thrusts the gaff at the tuna, but the gaff doesn't stick. To make matters worse, the line snaps in the process.
As the guys watch the stunned and exhausted fish slowly sink out of sight, Fisk jumps feet first into the water, then swims Aquaman-style down at least 20 feet, grabs the fucker by the tail, and hauls it back to the surface.
"We couldn't let that sucker get away," Fisk says casually once both he and the tuna are in the boat.
It makes for an epic final hour on the last day of the BRCC trip to Panama. It's also proof that Fisk is one badass fishing guide.
---
Fishing Panama, Part 1: Tuna Meat and Money Shots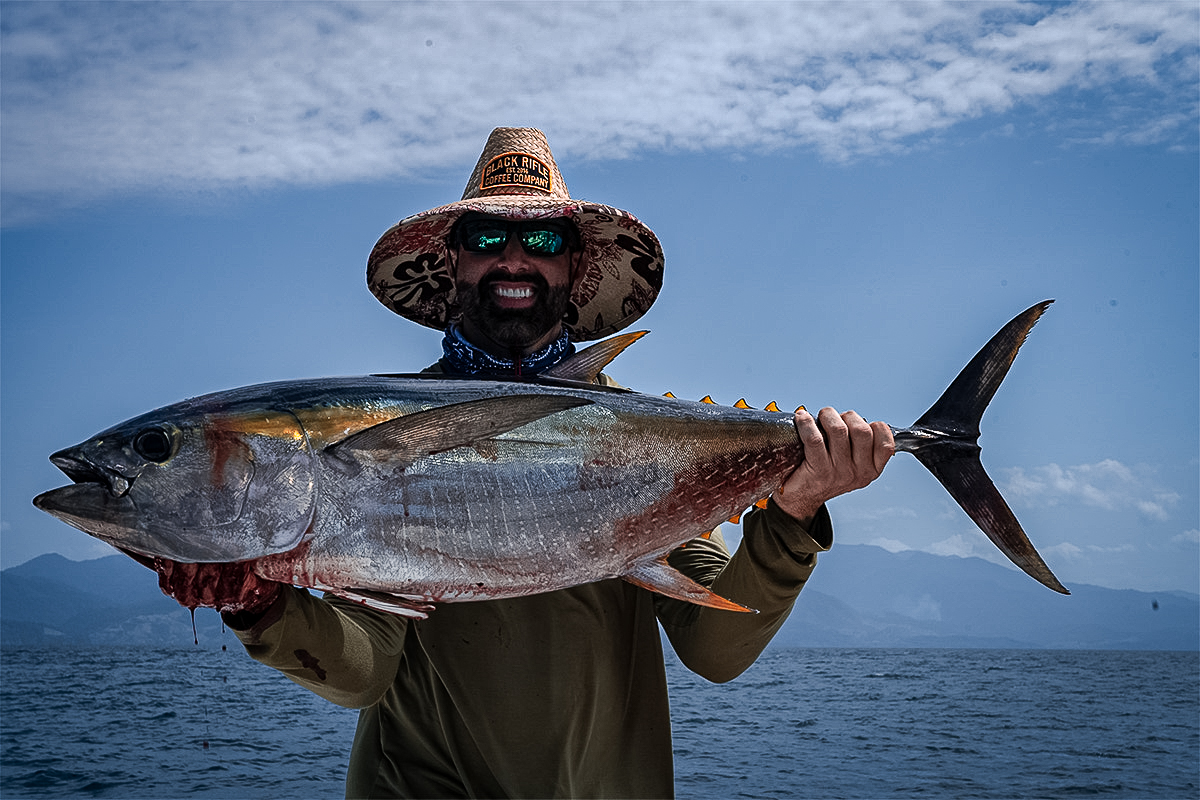 Panama may be home to the best coffee in the world, a whorish, wild nightlife, and one big-ass canal, but it's also renowned for giant, world record, snap-the-rod monster fish.
In this new video series, a motley gang from Black Rifle Coffee Company led by Free Range American's Michael Shea heads south after pelagic fish, namely massive marlin, tuna, giant cubera snapper, and anything else willing to take a hook.
The pelagic zone is a colossal column of open water well offshore where fish and other marine life swim freely, unhindered by land masses. Of all the inhabited environments on Earth, the pelagic zone is the largest, encompassing some 330 million cubic miles. It is home to thousands of species, and its wide-open waters grow them big.
The group sets up its first home base in Los Buzos and meets up with saltwater fishing guide Adam Fisk. To say Fisk is a bit of a fishing legend is an understatement. He's famous for landing a 500-pound marlin, one of the fastest fish on Earth, from a freakin' kayak Old Man and the Sea-style.
That trophy billfish dragged him 15 miles off the coast during a 6-hour fight. It is the unofficial world record for a marlin caught from a kayak, breaking Fisk's previous record for the 450-pound black marlin he caught in 2019.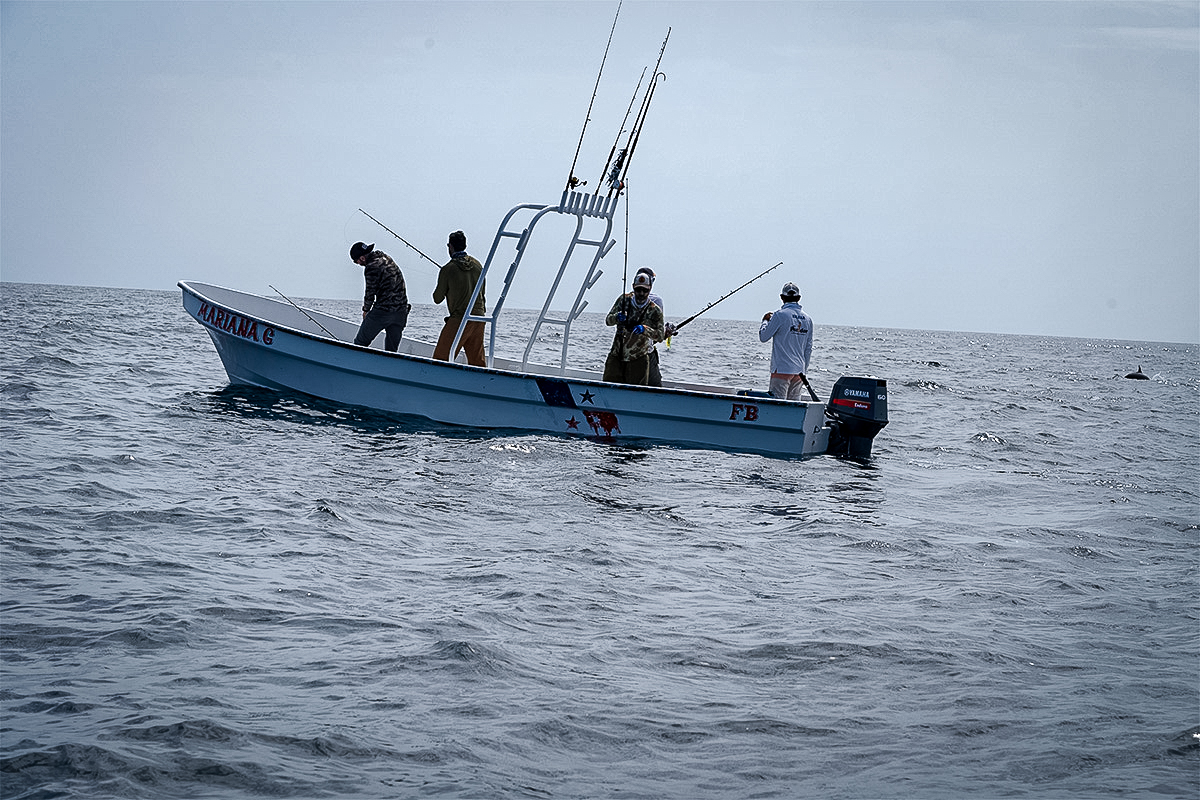 On the first day of their fishing adventure, the guys head offshore to Hannibal Bank, a large seamount that rises from the ocean floor at the southern edge of the Gulf of Chiriquí that hardcore saltwater guys call "Marlin Alley." It is one of the world's major hot spots for marlin and tuna.
Tuna fishing involves a ton of glassing for birds and dolphins, followed by a boat race to get to where the action is popping, then a sprint to get ahead of the action to cast big lures and poppers into a surging school of fish.
If you miss, you might get a second cast. But more often than not, it's a hectic boat race to get ahead of them, reposition, and cast again.
"We're looking for yellowfin tuna. The big telltale signs are big schools of dolphins. Sometimes there are thousands of dolphins altogether. They'll be shoulder-to-shoulder jumping," Fisk says. "That's a telltale sign that they are chasing bait, and those tuna are going to be up chasing bait with them."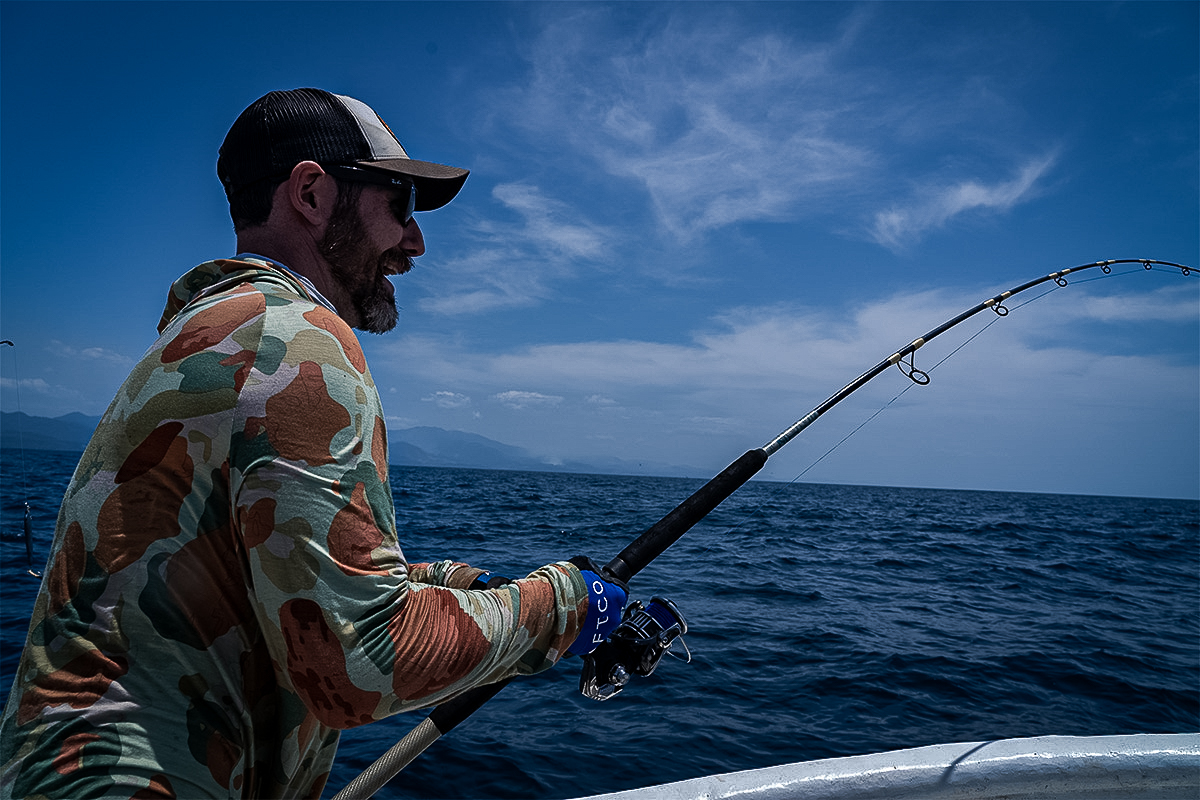 It can take weeks to get on a hot tuna bite. But the stars align perfectly with a healthy dose of dumb luck, and the group finds themselves in the middle of a mob of ravenous fish. The tuna action is hot, and the soundtrack of their afternoon is nothing but screaming reels and flopping fish on bloody decks.
"It was pretty amazing. It was giving me some PT, which I enjoy," BRCC's Kevin Reeves says after landing his first-ever tuna.
When a tuna hits, it's the start of something like a fistfight or maybe an arm wrestling match. These fish can burst to 30 mph — and tuna run hot, literally. They have a high body temperature that feeds an all-muscle body.
Tuna can run so hot that some tuna captains say the meat actually cooks itself right on the fish and that the meat can have a different color after a long fight.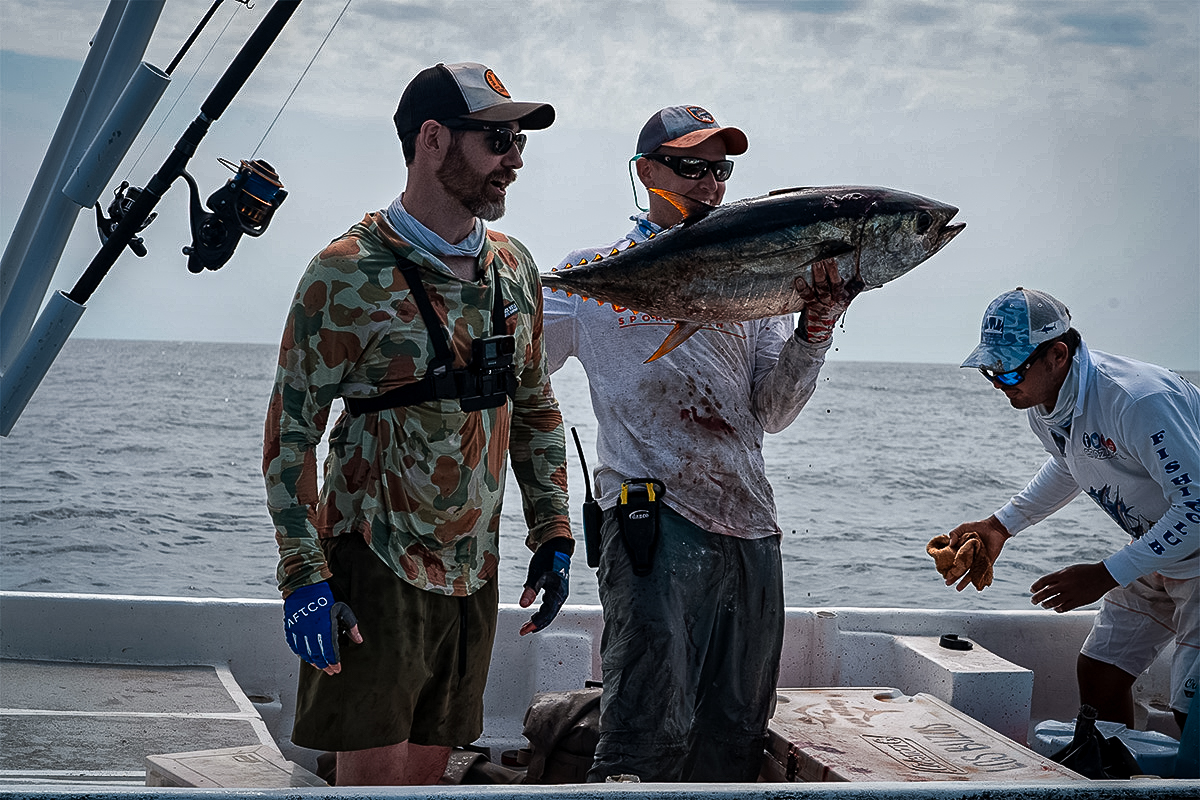 Of course, fishing Panama isn't always this fast-paced. Searching for a tuna run can easily turn an angler to religion. There must be a god, or gods, or the universe at hand, they think to collide them with a biomass of fish that could be anywhere in the 330 cubic miles of pelagic waters.
Like most prayers, fishing prayers largely go unanswered. As the old saw goes, "That's why they call it fishing and not catching." But if you stack your odds like pooled coins in a collection basket — like traveling to Panama, timing the season, timing the bite, working with guides like Fisk — sometimes those prayers get answered.
Then, the chapel of Poseidon seems to morph into something like a porn set. It's physical, wet, bloody. That is tuna fishing at its best. Church-pew boredom that sometimes pays off with tuna meat and money shots.
RELATED – How to Choose the Best Fish Cleaning Table
---
Fishing Panama, Part 2: Swim Out and Spear Your Dinner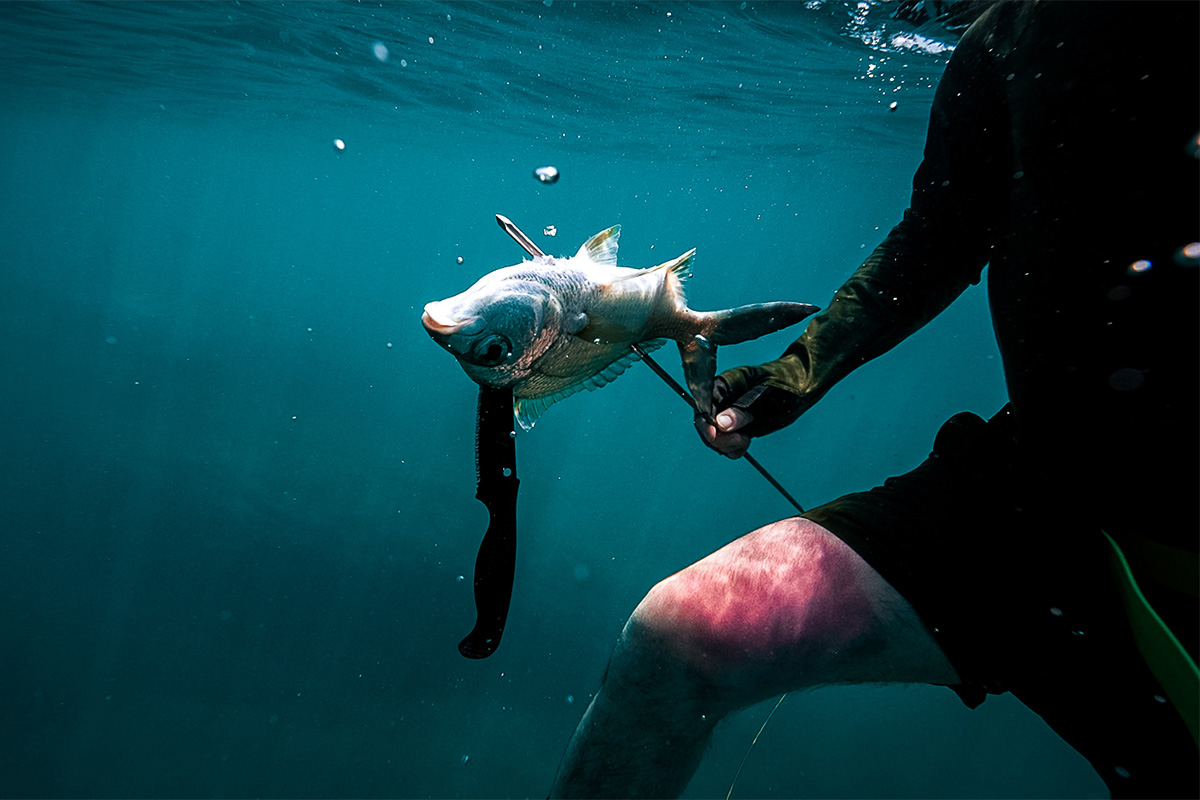 The second installment of FRA's Panama fishing adventure sees the group from BRCC go into stealth mode in pedal-powered kayaks. Fiberglass pangas and big outboards are cool and all, but light, narrow, low-to-the-water, non-motorized vessels allow the team to fish like ninjas.
Before they hit the water, everyone gets a crash course on kayak fishing, including a complete rundown of the boats and how to wrangle whatever takes the hook.
"We like to grab the gill plate and just bring them in," Fisk says when describing the SOP for taking roosterfish and cubera snapper. "Just make sure you don't grab the red part of their actual gills because if you grab that and then they thrash, they're going to rip their gills, and then they're going to die. We don't ever want to kill any roosters or cuberas.
"If you guys get a grouper, they're a little bit dangerous to handle because they have spines on the top and spines on their anal fin. The outside of their gills have a really sharp piece on them, and they have crazy teeth. If you get one of those, try to stick them in the head. Get a good shot, and we'll help you bring them in."
The plan is to take the pangas out for some "mother shipping." That's when the guides toss a bunch of kayaks in a big boat, cruise down the beach, and drop the anglers in a little cove where the wind is nice and calm, and there isn't too much thrash.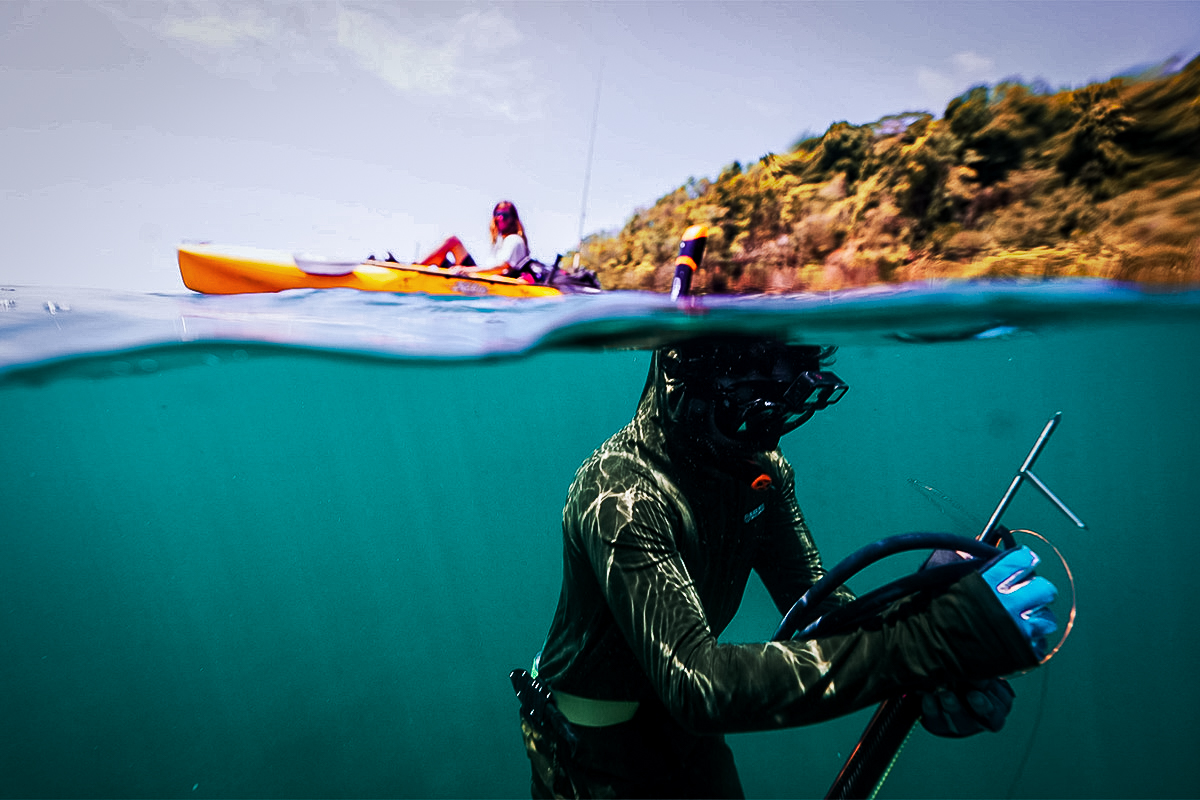 "We're going to be doing some kayak fishing. I've never done it before, and I've been fishing my whole life," BRCC's Mike Clancy says. "We'll see how this goes. There's a lot of coordination with these kayaks, but I'll hopefully catch a big roosterfish soon."
Kayak fishing is a special kind of peaceful. You are, for the most part, alone, pedaling in a half-day Zone 2 cardio push. Landing fish, of course, breaks up all this zen, but the morning is slow for the gang.
Fisk makes the call to pick up and move further down the coast to an even more remote location, where they set up a jungle campsite and prepare to sleep on the beach for a few nights, hopeful they'll get into a tuna boil or hookup with some giant reef fish.
On Day 3, they trade kayaks and rods for fins and spearguns.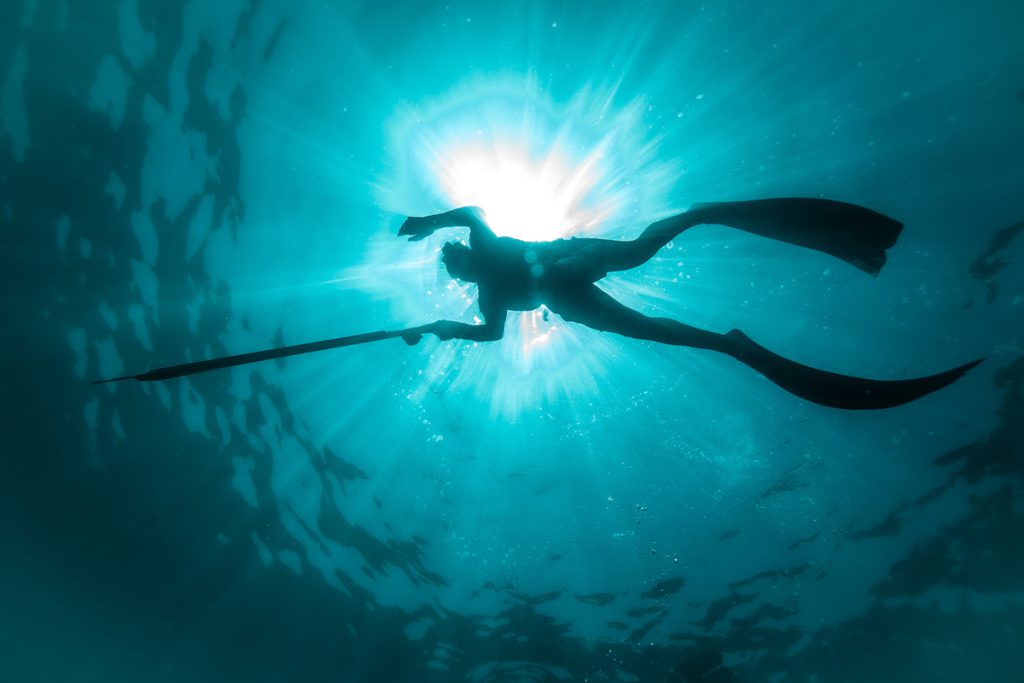 "I'm going to jump in this bay and do a little spearfishing," Michael Shea says. "Clancy said parrotfish ceviche is one of his favorite things to make, and there are apparently some giants out here. Hopefully, it's easy pickings on some parrotfish, and then we've got grouper, snapper, and all the great game fish, so we'll see what we can do."
In this tropical wonderland, you can just swim out into the ocean and earn your dinner with a spear and a knife. There isn't any ambling down grocery store aisles to grab a bag of frozen filets from who knows where. Instead, dinner is as fresh and natural as it gets.
Spending time underwater in this gorgeous place is downright hypnotic — plus, you get to shoot fish with spears. And parrotfish ceviche is definitely on the menu.
---
Fishing Panama, Part 3: Kayaks, Prawns, and Protecting Your Holes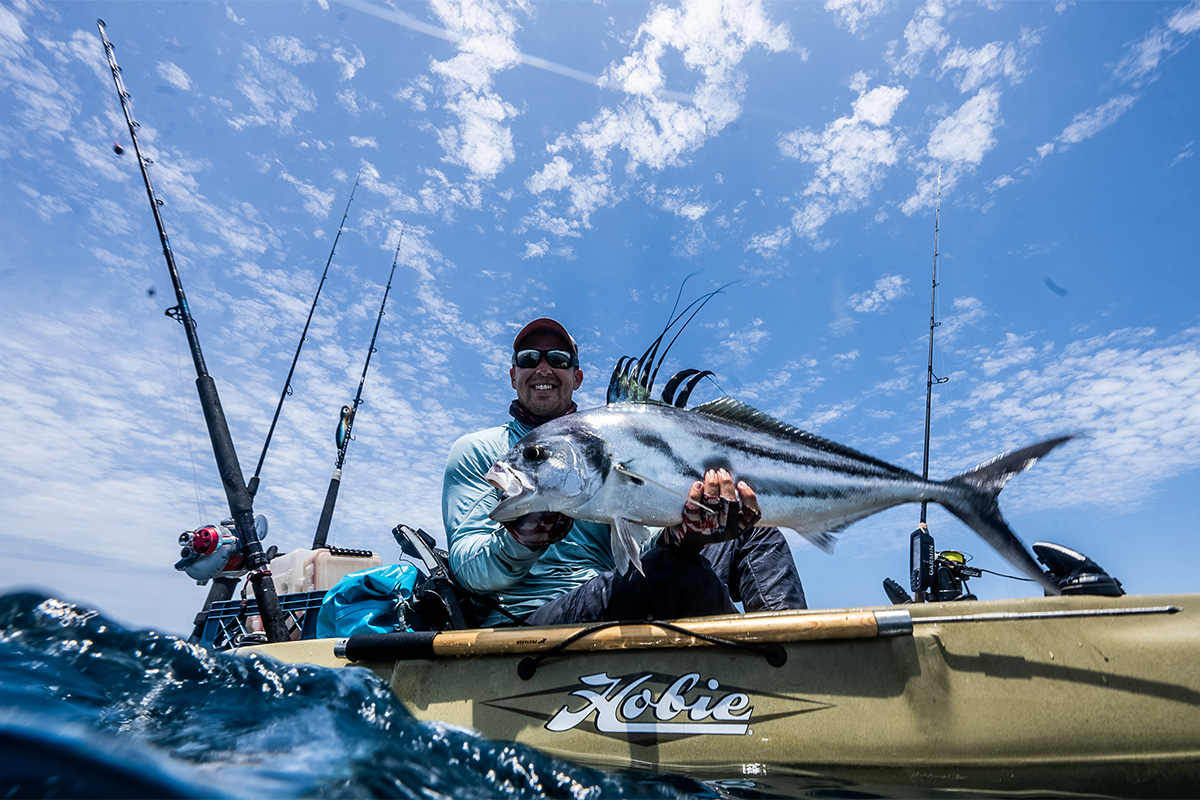 In the third episode of BRCC's Fishing Panama chronicles, the crew explores thick tropical jungles from their remote base camp.
"We've got some good cover here to keep us out of the sun. We've got a bay 100 meters away with all the fish you can catch, an awesome campsite, good people, and a fire. Things are good," Mike Clancy says.
At camp, head guide Dakota Dunmire fills the guys in on one of the more unexpected dangers of fishing the open waters around Panama: dolphin rape.
"They are the only other animals in the world that have sex for pleasure, so apparently, a hole is a hole in their world," Dunmire says.
"Are we in a danger zone here?" Jayme Pastoric asks.
"Not as long as you keep your swim trunks on. If you're skinny dipping, that's on you."
"Dolphin tries to fuck me, I'm fuckin' it back," Pastoric answers. "An eye for an eye."
Those are ground rules that must be established in dolphin country — apparently.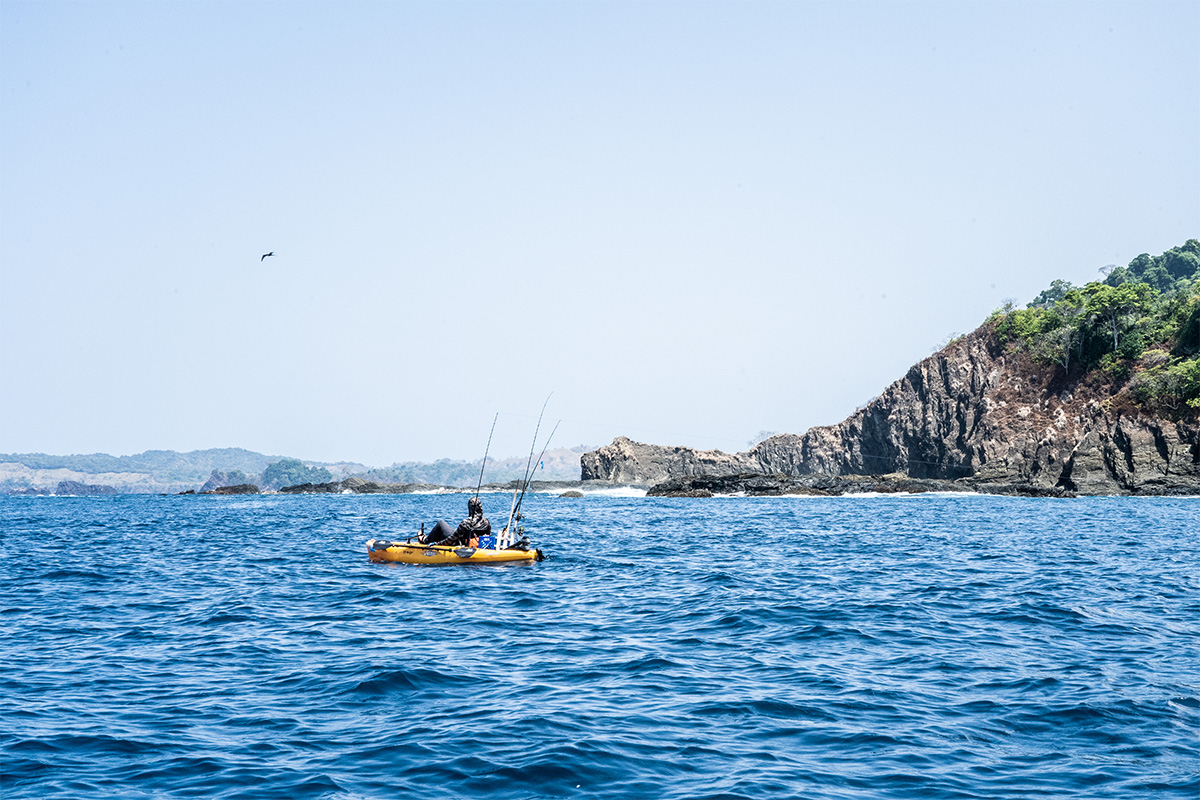 RELATED — Mahi-Mahi: So Strong They Say It Twice
---
We Go Into The Jungle
Before the campers head back into the water — where the dolphins are waiting — they trek deeper inland for some tropical exploration.
"There's an endangered monkey with a white face and really long arms. It's up here in these rivers," Shea explains. "We're going to snake our way up and see what kind of wildlife we can see. One of the locals here found a tomahawk head, so we're also looking for artifacts."
The jungle is dense, and finding the Panamanian white-faced capuchin is like looking for a needle in a haystack. They push further up the river, but with no monkeys in sight, they wonder if Kevin Reeves is the white-faced long-armed creature the locals have been talking about.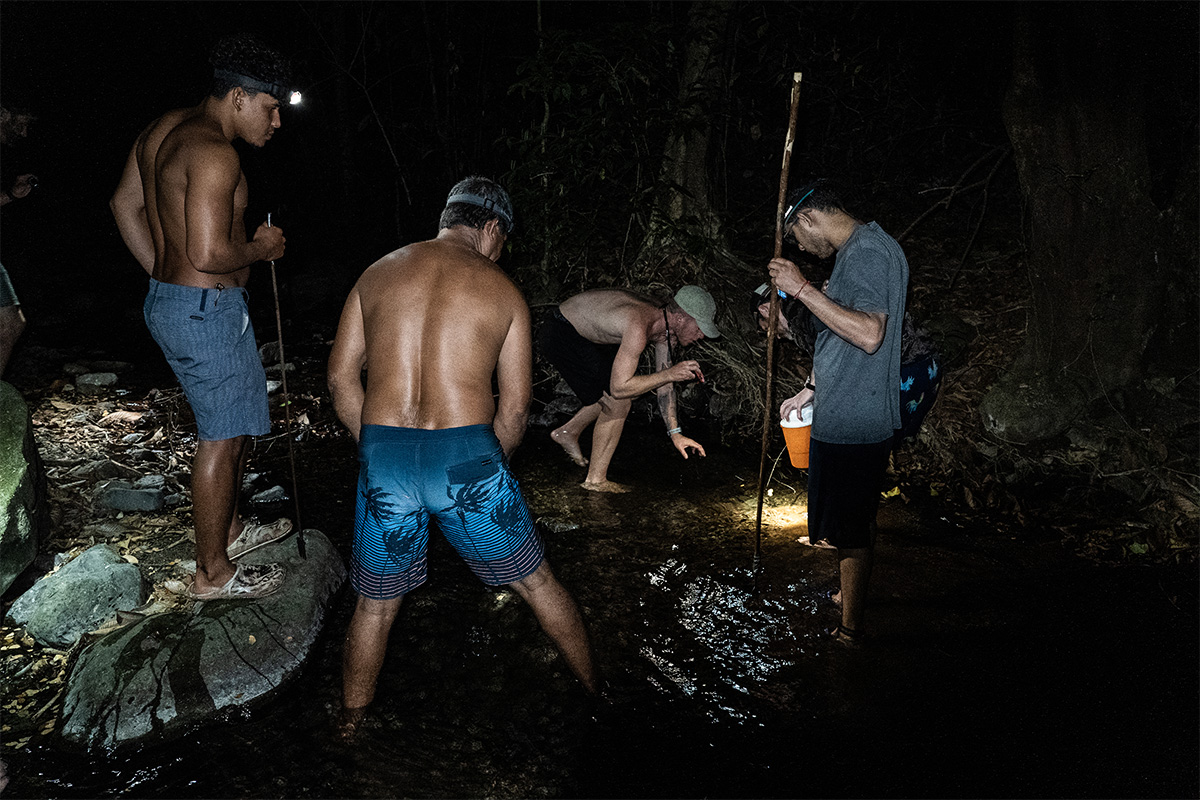 After sunset, the group decides to grab a little midnight snack. The section of the river near their camp is loaded with delicious freshwater shrimp, and you would only know it if someone local showed you. Consider this one more solid reason to meet local people wherever you travel. They've got secrets.
It doesn't take long for the guys to catch enough decent-sized prawns to satisfy their big American appetites.
"It tastes way better than what we have in the States, whether fresh or frozen," Reeves says after they cook the shellfish over a fire. "This is ridiculous."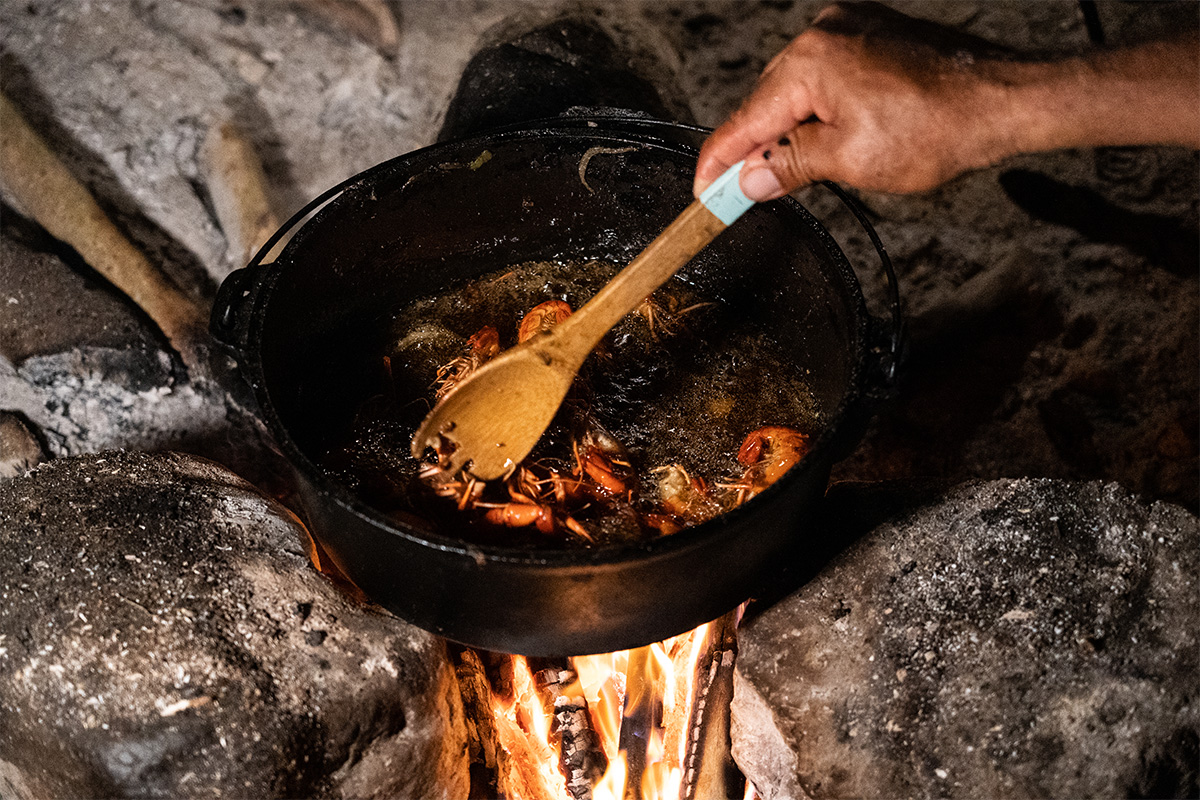 GOOD GEAR – Keep Your Coffee Hot or Cold With the BRCC YETI Reticle Rambler Mug
---
Back to Yaks and Rods
The following day, it's back to kayaks and fishing rods. It's pretty slow going at first, but as they look around and soak it in, it's easy to think of much worse places to be than sitting in a kayak fishing off some remote Panamanian beach.
The guys eventually see some action and pull up roosterfish and yellow snapper against a gorgeous tropical backdrop.
They also get some critical kayak fishing pointers from Fisk.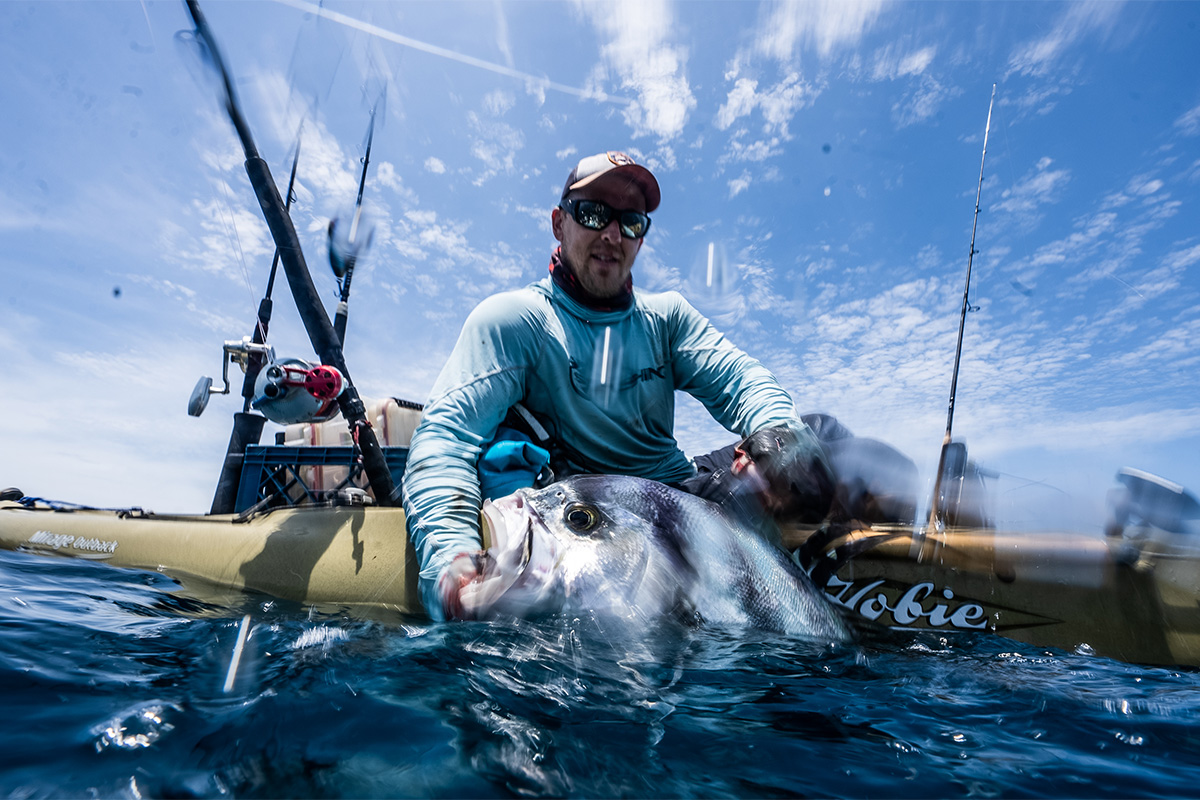 "When you're fishing in an area like this where there are rocks or a dangerous area where some waves are crashing, it's always really important to keep your bow facing offshore," Fisk says. "That way, you can keep an eye on when the swells are coming."
"If you hook a fish, generally you're going to hook a fish close to the rock. If you're pointed at it, that fish will pull you right into that whitewater, right where those waves are breaking. If you're facing offshore, you can hook that fish and just tow him offshore."
---
READ NEXT — Rooster Fish: Get Tropical and Be Ready for a Fight