The mood hits and you want to run. There's a race your friends are doing that you want to sign up for. Or maybe you just want to get back into shape. Problem is, it's been a while since you and your sneakers took a lap around the block. You could just go pound some pavement, but that's likely to lead to an injury or to you calling it quits because it sucked more than you thought it would. Instead, follow this advice and set yourself up for early running success.
Running Is a Skill
Since you have a body and legs to go with it, it seems as if you should be able to gallop to your heart's content. That's not how it works. Running is a skill. Now, consider any skill you've learned throughout your life: shooting, throwing a baseball, fly-casting. To learn it well, you break the skill down into the microskills that compose it while also prepping your body to do the work. Running, especially for folks who are middle-aged or approaching it, puts a lot of stress on the body. If that stress isn't managed well and isn't preceded by the right physical prerequisites, bad things happen. Even if you have solid endurance with other activities, that doesn't mean there will be a one-to-one translation to running. So play it cool, hotshot.
The best way to start running is by walking. Can you walk 1.3 miles on flat ground in 20 minutes? That's the prerequisite we use at my gym before we program running into a client's routine. We've borrowed it from the folks at Strength Matters. If you can't cover ground at that clip, your body isn't ready to run. Your aerobic system isn't generating the necessary power. Your muscles and joints aren't generating and redirecting force efficiently enough for you to run without smashing the absolute crap out of yourself. Set aside 20 minutes and test yourself before going all knees-to-chest.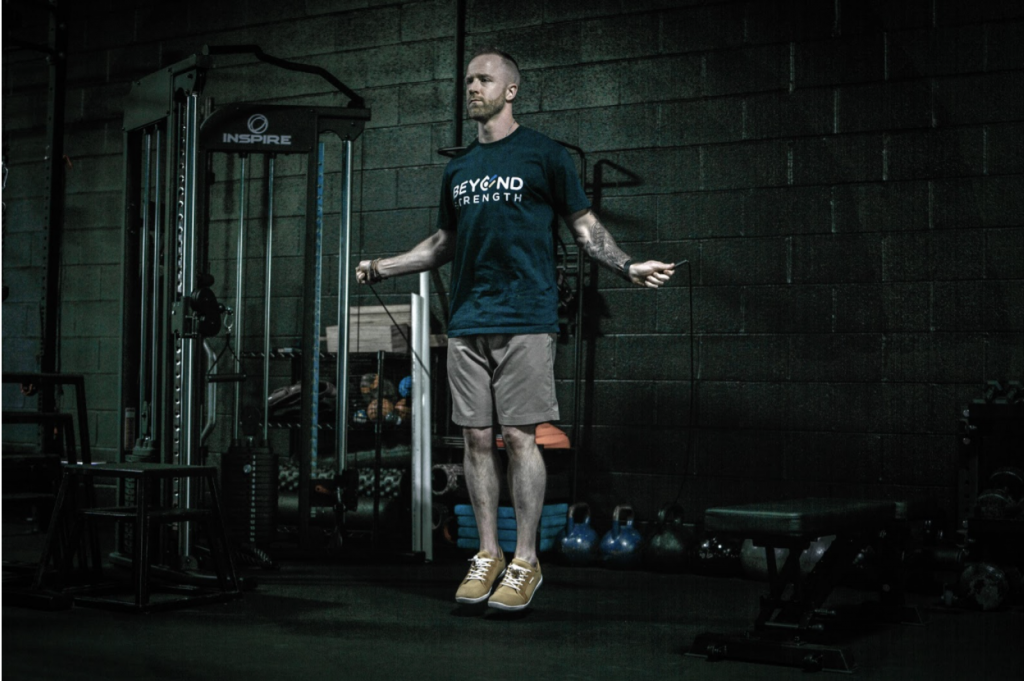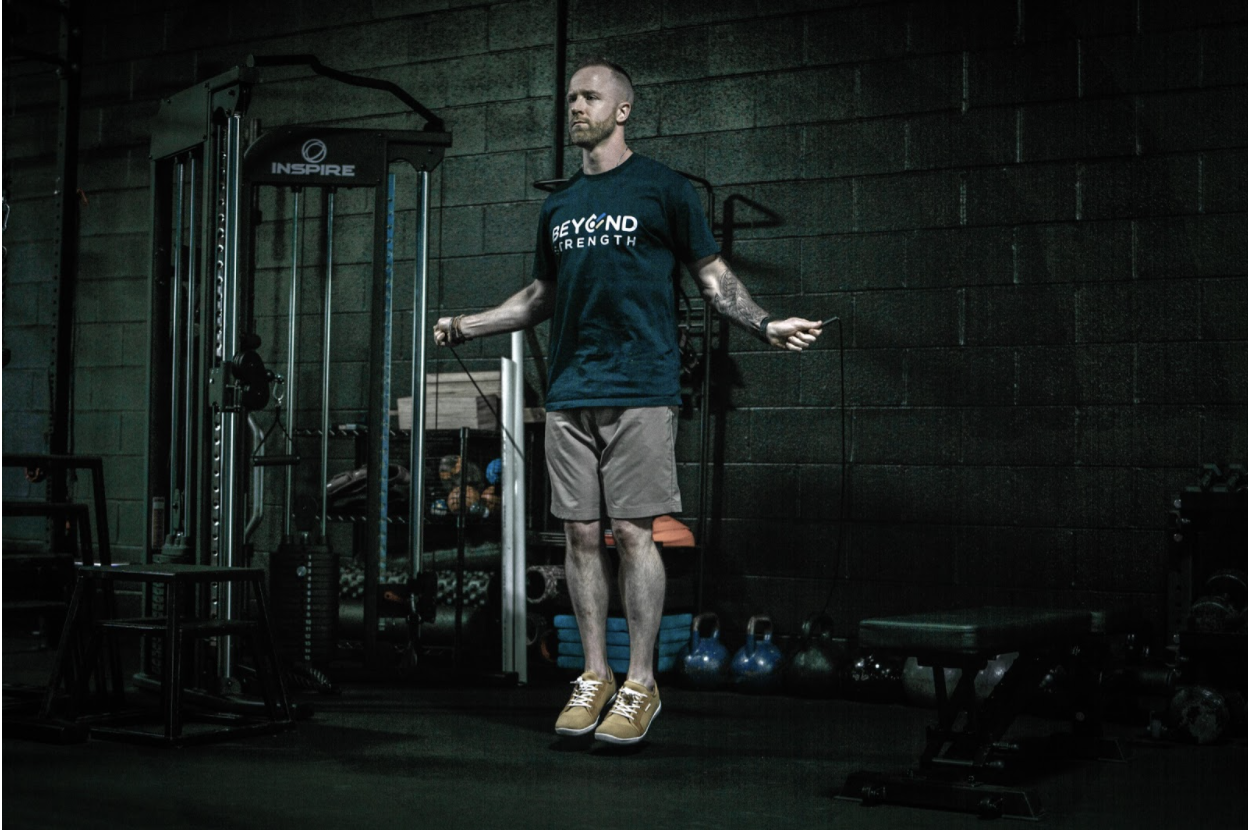 Jump-Rope and Aerobic Plyometrics
We have to make sure that your body is ready to meet the demands of running. That means having an aerobic system that's efficient enough to keep you moving and legs and hips that can handle the pounding. Two ways to test and train that are by jumping rope and doing aerobic plyometrics.
The force of each foot strike when running is up to eight times your body weight. That means you need some solid shock absorbers before you start accumulating miles. If your lower-leg tissues aren't fit to handle the volume of foot strikes in a run, you'll increase the likelihood of a lower-leg, knee, hip, or back issue. And you'll suck more when you run.
Jumping rope and doing aerobic plyometrics builds tissue tolerance — the ability of your muscles, joints, tendons, and ligaments to withstand force.
Build up to 20 minutes of jumping rope with work-to-rest intervals — 10 to 30 seconds of work and 30 to 50 seconds of rest. Here's a sample progression:
Week One: 10 seconds work / 50 seconds rest x 12:00-15:00 minutes
Week Two: 15 seconds work / 45 seconds rest x 12:00-15:00 minutes
Week Three: 20 seconds work / 40 seconds rest x 15:00 minutes
Week Four: 15 seconds work / 45 seconds rest x 20:00 minutes
On another training day in the week, one a few days removed from jumping rope, do aerobic plyometrics. They're low-intensity plyometric exercises that are done as you propel yourself forward.
For an example, check out the above video from my friends at Resilient Performance Physical Therapy.
Start by doing each movement for 10 yards, walking back to the starting line, and immediately beginning the next movement. Circuit the movements in this way continuously for five minutes. Then perform active rest for two minutes — you can walk or do mobility exercises — before doing another set of five minutes. After a couple of weeks, progress to doing the circuit continuously without the walk back for rest.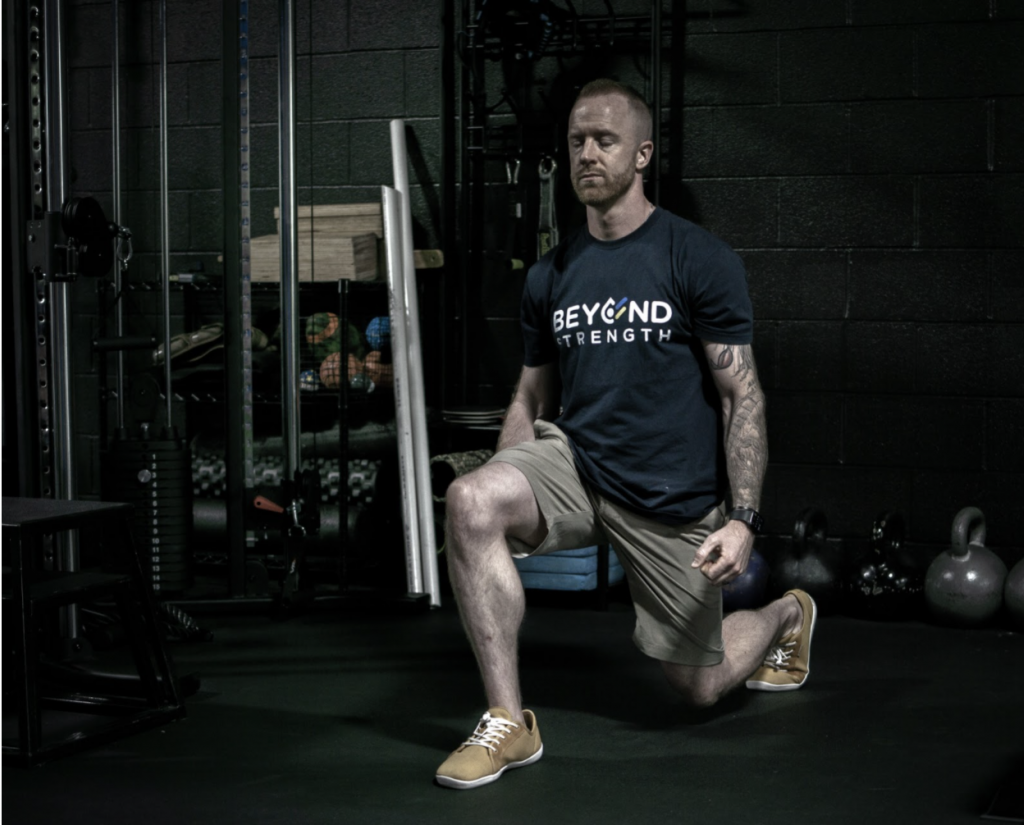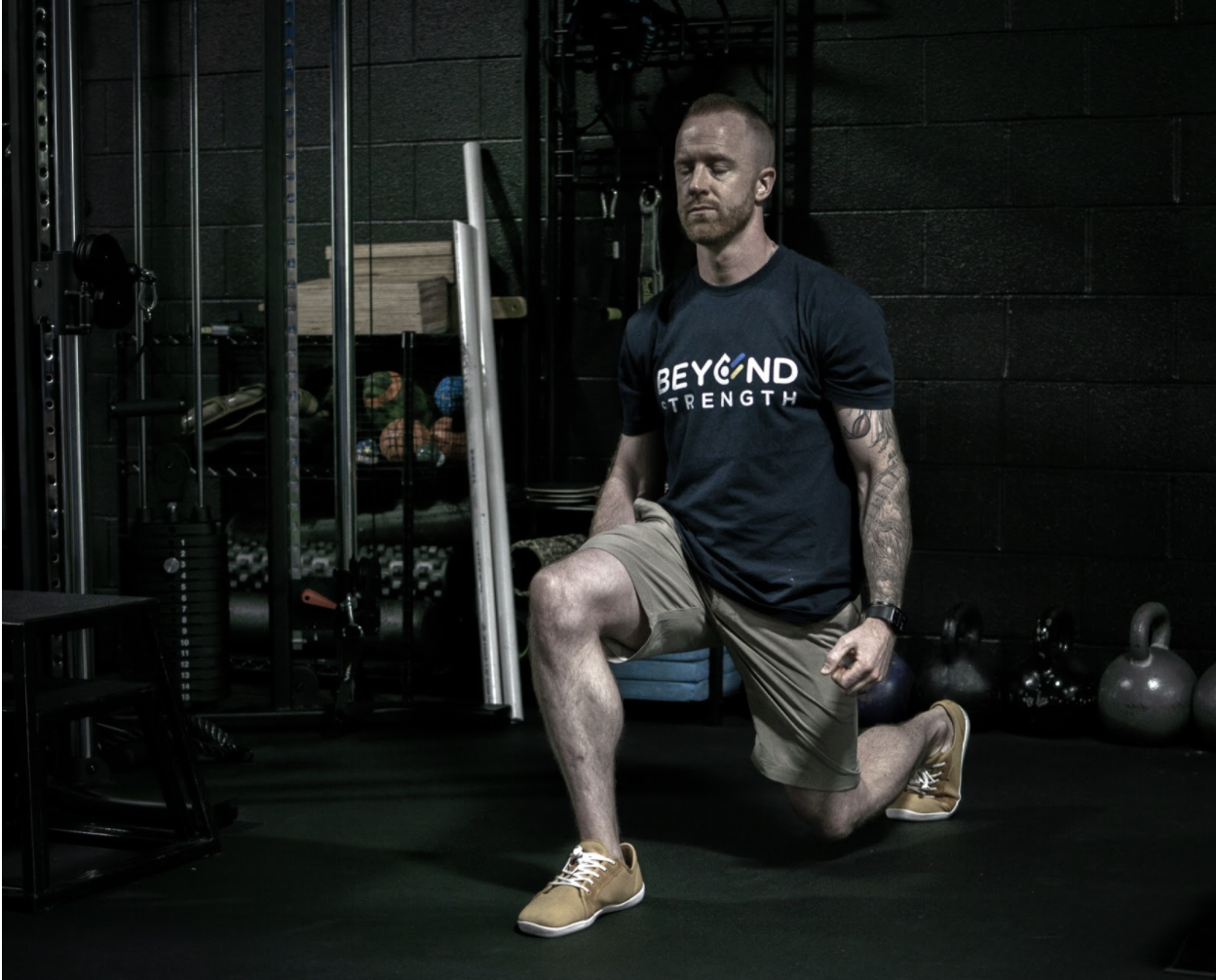 Isometrics for Hip Health
Just like your lower legs, your hips and core must be prepped to handle running's volume. Isometrics work great for this because they keep muscles under continuous tension and can be done for relatively high levels of work without negative consequences. The two most useful isometric exercises are isometric lunges and hip-flexor isometrics.
I'll level with you: Isometric lunges suck, like, a lot. They are super burn-y, but they are worth it. Along with building up stress tolerance in your hips and low back, they train your body to produce power.
To do isometric lunges, start in the half-kneeling position with one knee down, then lift that bottom knee so it's hovering just off of the floor. Hold this position between 15 seconds and one minute. Rest for the amount of time that you worked, then switch sides. Repeat this process three to 10 times. To fit isometric lunges into your training, cut some of your normal lower-body assistance exercises during your strength training days and replace them with the lunges.
Hip-flexor isometrics are done two ways — on your back and on your feet. Start by doing them on your back with a band so that you get used to locking your core in by "tilting your belt buckle toward your chin." Once you spend a few weeks dialing in that skill, take it to your feet.
During your warmup, before strength training, do three to eight sets of five to 15 seconds. Rest two to three times as long as you work.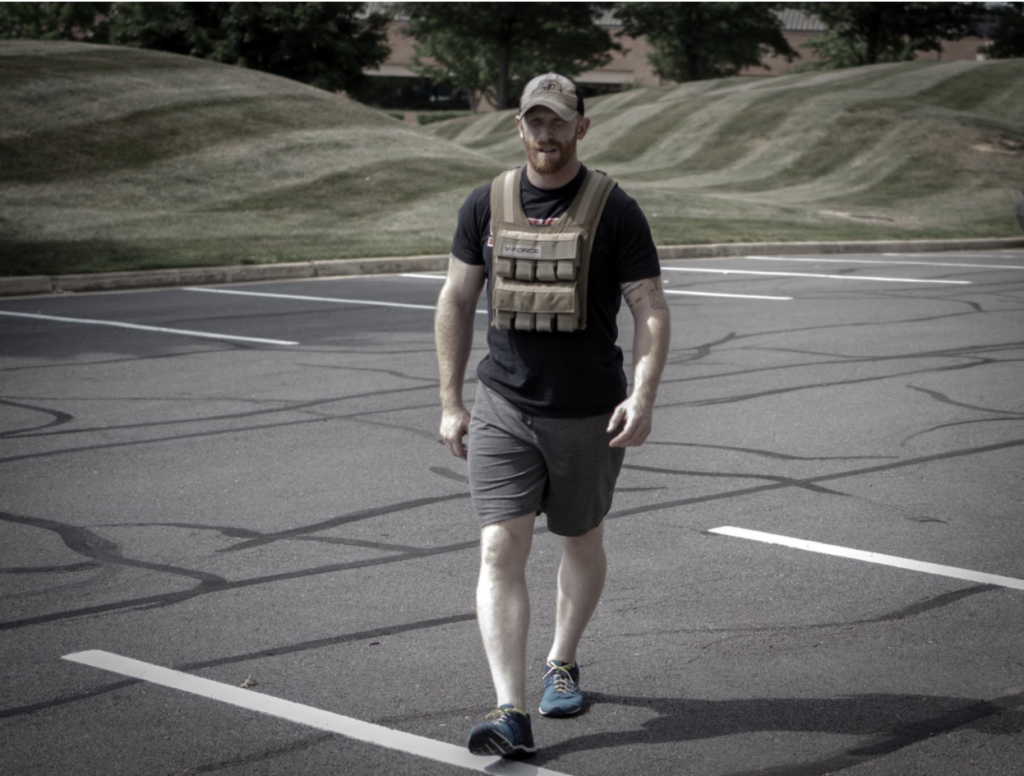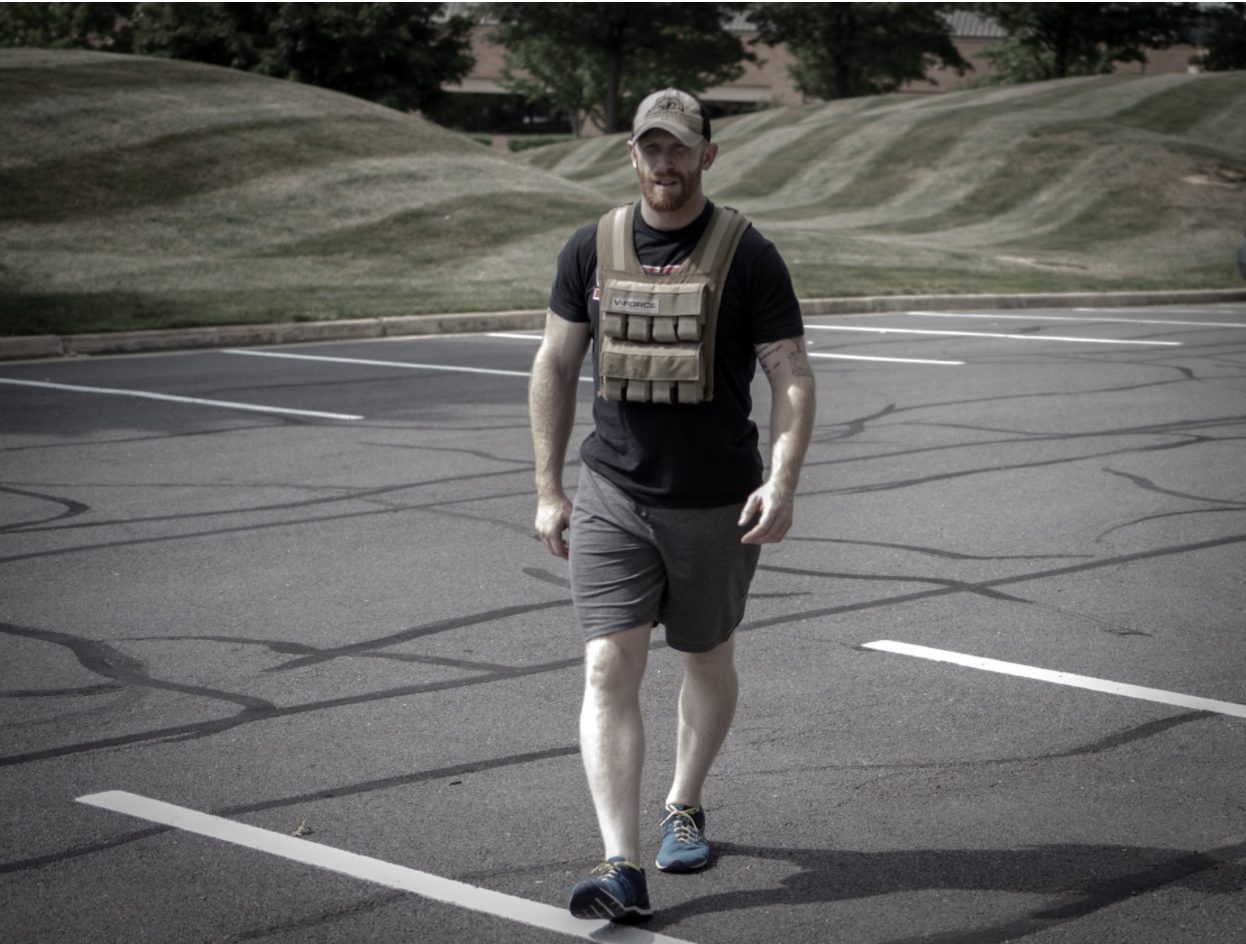 Aerobic Development
If you don't have a base level of aerobic training, your heart rate is going to skyrocket as soon as you set out on that first jog. That's no bueno. A high heart rate equals quick fatigue. Quick fatigue equals slow progress or, worse, "Screw this, running is for crazy assholes and punishment." Low-level aerobic work trains your body to handle lots of work while keeping your heart rate down.
What you're going to do is a bunch of hiking, biking, or rucking with your heart rate in zone 2, which is between 60% and 70% of your heart rate max. For most folks, that's somewhere between 100 and 140 beats per minute. Spend a few hours per week in zone 2.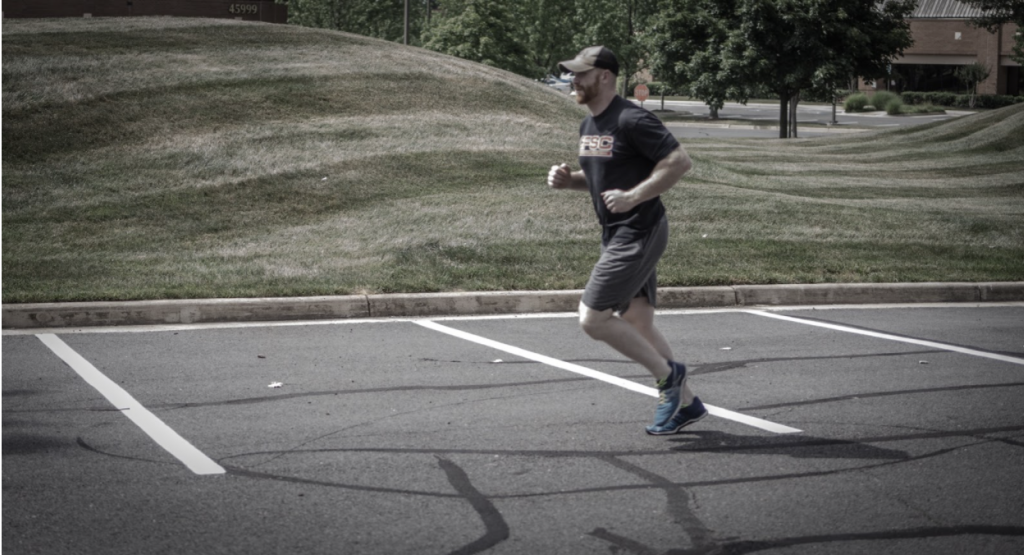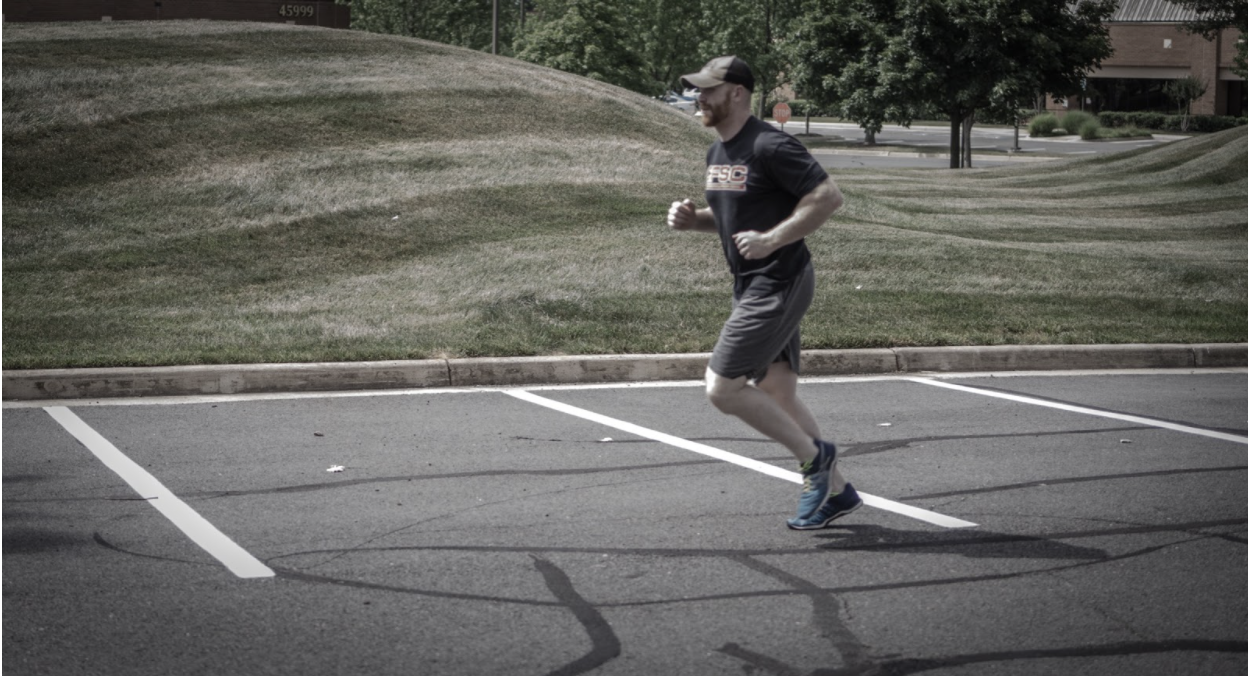 Running Progression
Now, how about the actual running part?
Well, this is going to look too easy on paper, but trust me. If you haven't run in a while, you will progress faster into covering miles if you follow this progression instead of deciding that you're Tommy Toughnuts and you're just going to hammer.
Run for one minute, then walk for four minutes, until you can do it for an hour while keeping your heart rate under maximum aerobic function. You find your maximum aerobic function by subtracting your age from 180. So, if you're 35, your heart rate for maximum aerobic function is around 145.
Once you can do one minute on and four minutes off for an hour, bump it up to two minutes on and three minutes off. Keep progressing in that way, adding a minute and subtracting another, until you can run continuously while keeping your heart rate under maximum aerobic function. When you can do that, you're cleared hot to start working at higher intensities.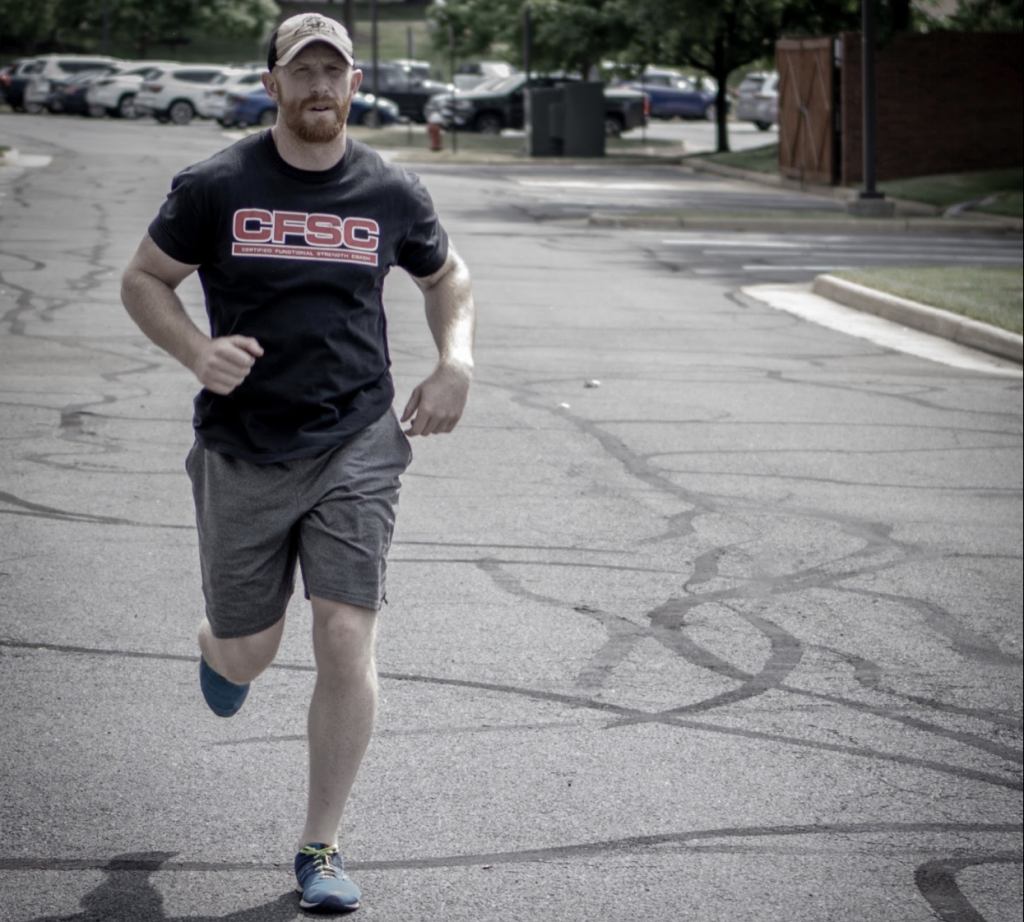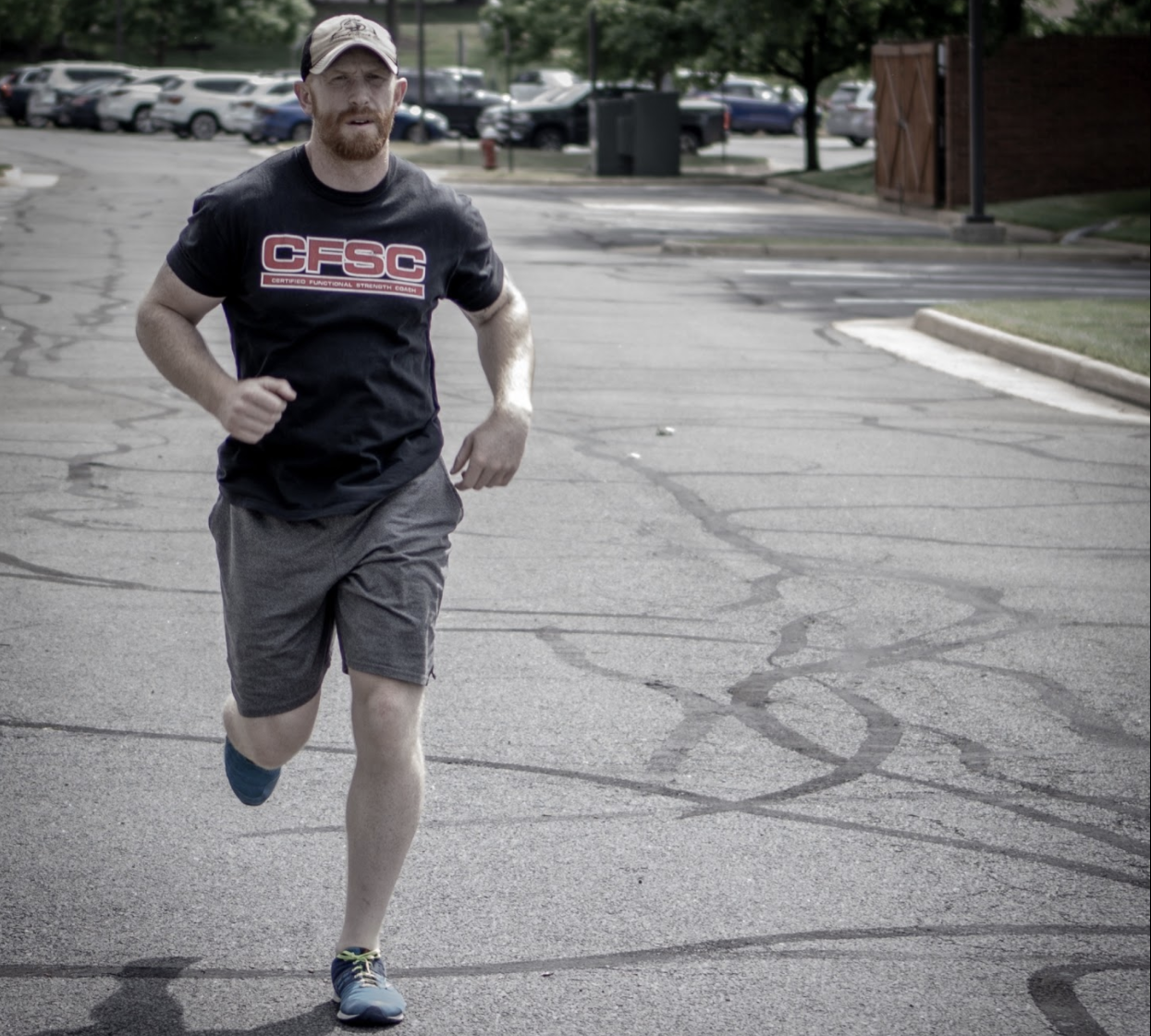 Three Tips
Get a decent pair of running shoes. Go see the folks at your local running store, try some shoes on, and have the employees fit you. It's worth it.

If you're adding in this work volume to train for running, you have to remove other training volume from your regimen. Unless you're undertraining right now and not pushing yourself at all, then every time you add something, you have to remove something else.

Work on landing each foot strike in your midfoot and forward, not on your heel. You'll run more efficiently and better absorb the forces from the ground. Following Tip 1 and getting properly fitted for running shoes will help with this.
Read Next: 6 Basic Tips To Train Like a Trail Runner