We all know that bears are extraordinary animals — ancient apex predators that dominate their respective food chains, but one Canadian bear takes badassery to a new level. His official name is Bear 122, but he's better known as "The Boss." He's considered the biggest, toughest, and most dominant grizzly in Banff National Park.
Approximately 70 big grizzly bears call Banff home, with The Boss Bear 122 seated firmly at the top of the park's grizzly hierarchy.
"He's the boss of this landscape," says Dan Rafla, a human-wildlife coexistence specialist with Parks Canada. "He's the most dominant male grizzly in the Bow Valley…and there's nothing else in the food chain that could push him off."
Banff was established in 1887 and is Canada's oldest national park. It's located in southwestern Alberta and encompasses 2,564 square miles of eastern Rocky Mountain slopes.  
The massive grizzly tips the scales at well over 600 pounds and Bear 122 is also estimated to be well past his 20th birthday, so he's practically ancient by wild grizzly standards. But The Boss has achieved his legendary status for more than his age and size. He has quite a lengthy list on his resume of domination. 
RELATED – Man Kills Kodiak Bear Inside Neighbor's House With a 12-Gauge
---
Boss Bear Eats Other Bears for Lunch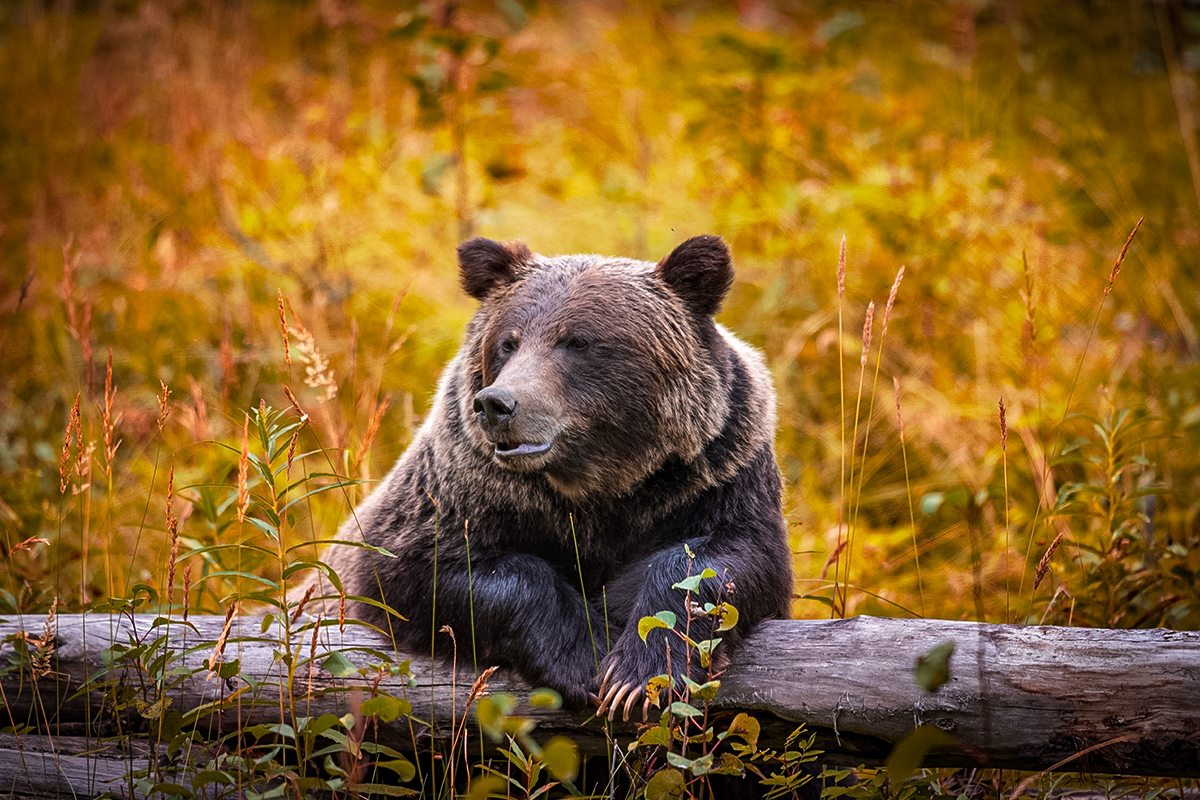 In August 2013, The Boss shut down the Sundance Canyon area of Banff National Park after a group of hikers found him feeding on the remains of a black bear.
"It had been completely consumed," said Steve Michel, a human-wildlife conflict specialist with Banff National Park. "There was nothing remaining other than a skull, a hide, the four paws, and some bones."
Dining on a random black bear carcass isn't completely unheard of for a grizzly since they are opportunistic feeders. However, scavenging dead adversaries isn't The Boss's style. Evidence at the scene seemed to point to Bear 122 as the cause of the black bear's untimely demise.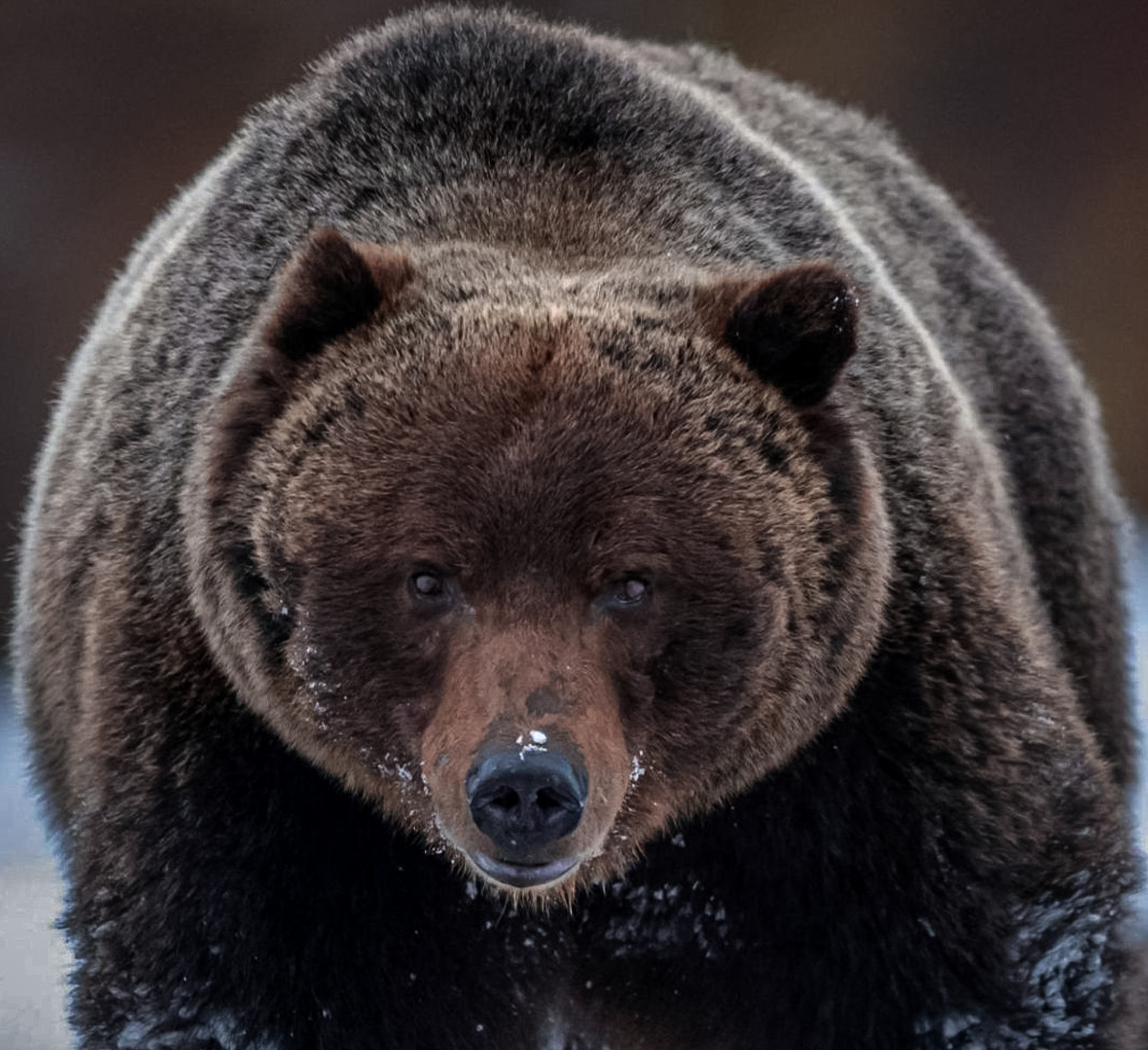 "There were indications the black bear was foraging on the trail at the time," Michel said. "It looks like that black bear just happened to find himself in the wrong place at the wrong time.
"This is grizzly bear No. 122, so he's a very large grizzly bear. I don't think there would have been much of a brawl that took place. It would have been fairly quick."
The Boss has apparently developed a taste for bear meat. This absolute unit-of-a-bear was caught chowing down on another small black bear in 2012.
GOOD GEAR – Embody the Ethos of the Quiet Professional With the BRCC Silencer Smooth Roast
---
Boss Bear Eats Where and What He Wants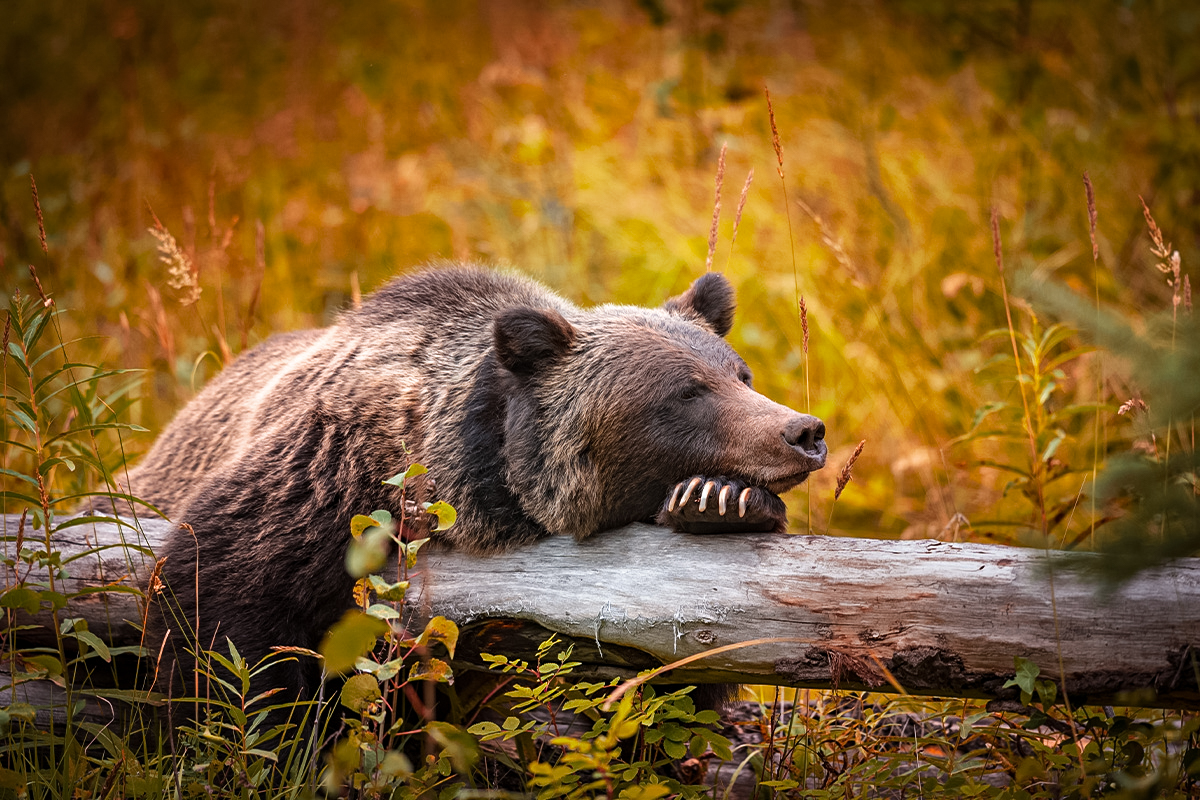 Bear 122 waltzes around Banff with zero fucks to give about parkgoers' plans.
Shortly after his epic 2013 black bear picnic, The Boss made a major flex by dining on what must have been a bussin' elk carcass along the Marble Canyon Trail, a busy, high-visibility area of Kootenay National Park. 
Parks Canada closed the area, and 12 backcountry hikers had to be evacuated by helicopter for their safety.
RELATED – Polar Bear Attacks Remote Alaskan Village — Kills Woman, Toddler
---
Boss Bear Battles Trains
As part of a bear-tracking study sponsored by Parks Canada and Canada Pacific, Bear 122 donned a GPS collar to help researchers understand why area grizzlies were being killed by trains.
During the study, this gangsta dropped gloves with a passing train on a remote set of tracks and swaggered away, living to tell the tale.
The Boss still regularly travels the tracks, munching on spilled grain and the remains of other animals that didn't fare as well against passing trains.
With this level of badassery, we're pretty sure Chuck Norris has a poster of Boss Bear hanging next to his Total Gym.
GOOD GEAR – Only You Can Prevent Terrorism With the BRCC A.T.A. Bear Coffee Mug
---
The Boss Is a Babe Magnet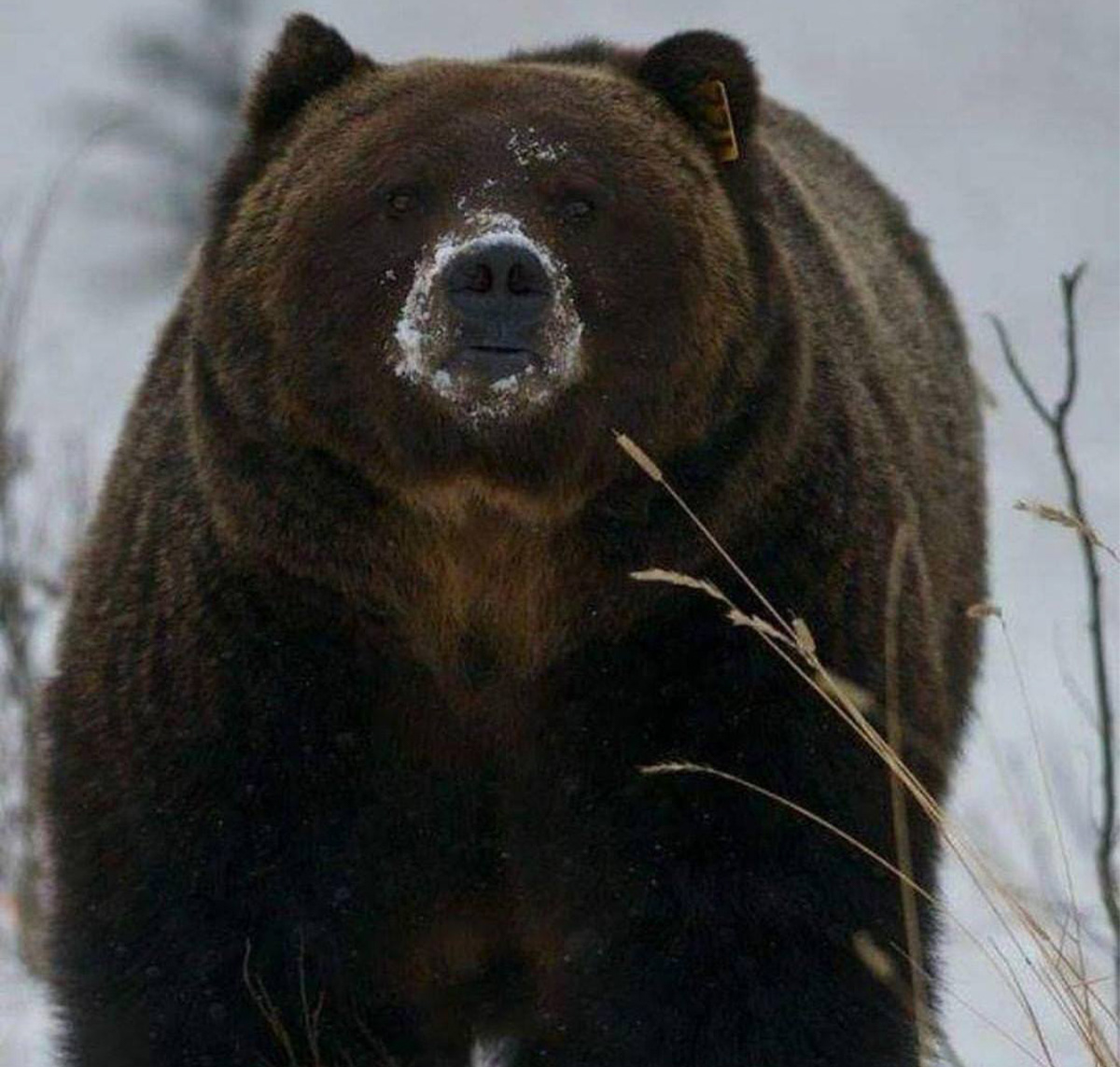 The Boss doesn't spend all his time devouring bears and facing down speeding trains. He's also quite the ladies' man. 
With an estimated home range of 965 square miles, Bear 122 has sown his wild oats far and wide. Experts believe he's sired at least 70% of cubs born in the park in recent years.  
With that kind of procreative power, The Boss could single-handedly bring back the Canadian Ursus arctos horribilis population from its threatened status.
Of course, he probably reached his Nick Cannon levels of fathering because he just eats the competition, but damn, this bear is high-key impressive.
---
The Boss is the bear for his time and place. He's got a swagger unmatched by any in the wild, and some seriously brash cojones, even for a predator his size. Here's to you, Boss Bear. Keep doing your thing for years to come. Just… don't go an eat any tourists. But hey, even if you do, I'm sure they'll get you a top-notch taxidermist and set you up in a nice welcome center somewhere.
---
READ NEXT – Grizzly Bear Attack: Wrestler Fights Grizzly To Save Teammate