The Marlin Dark Series has finally been reintroduced to the gun world under Ruger's banner for the first time in three years. The rifle line was the first lever gun from a major manufacturer to include modern features from the factory, like a unique polymer stock and — as the name suggests — a blacked-out look, whereas most lever guns at the time were blued or Parkerized with walnut furniture — or something even more old school. 

A lot has changed in the gun world since the old Marlin first dropped the Dark Series when it was owned by Remington in April 2019 with Model 336 and Model 1985 offerings. They had a lot of the features you see on the Henry Model X rifles — a threaded barrel, large lever loop, and a standard optics rail from XS Sights with a ghost ring peep.
The Dark Series was discontinued in 2020 with the rest of the Marlin catalog when Remington was broken up and sold to different parties. The Marlin brand ended up with Ruger, which has been slowly reintroducing the storied brand's most popular firearms. 
---
Marlin Dark Series Returns
The new Dark Series kicks off, somewhat predictably, with a Model 1895 chambered in .45-70 Govt. According to Marlin site, two additional Dark Series models in .30-30 and, interestingly, in .45 Rem Mag/.44 Special are on the way.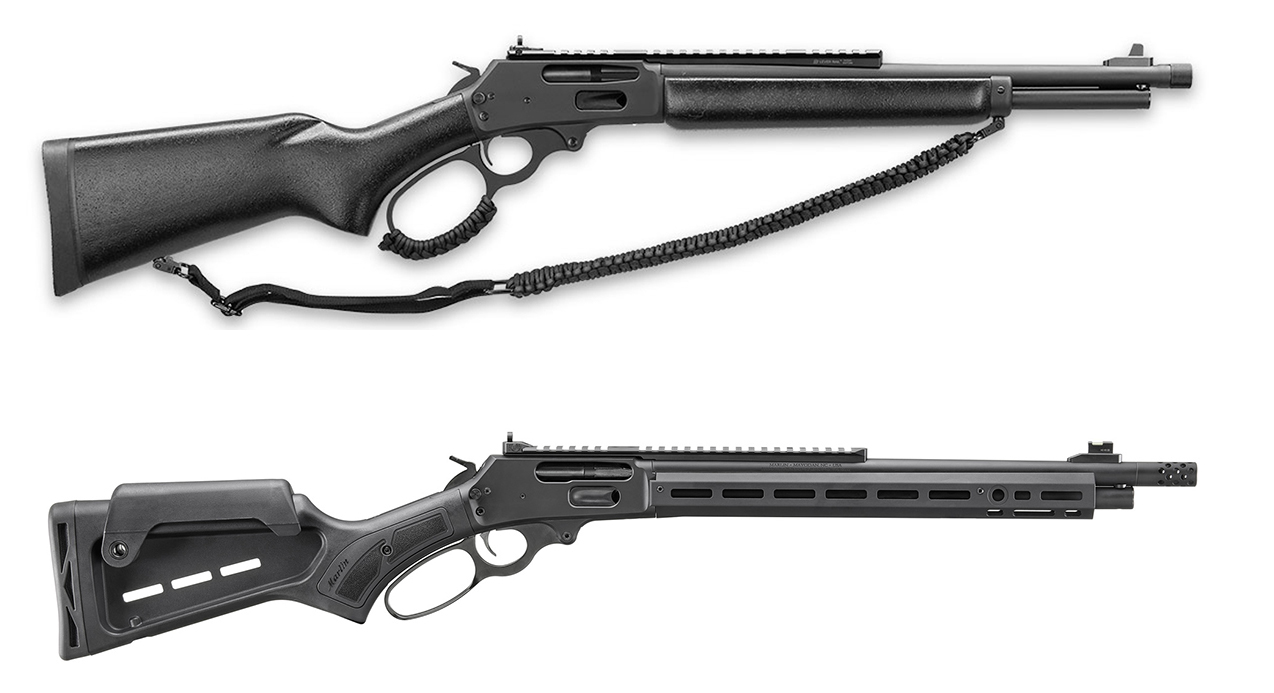 This new Dark Series rifle sports a nylon-reinforced polymer stock with M-LOK attachment slots for various accessories and an anodized aluminum handguard with more M-LOK slots. It seems Marlin doesn't want customers going elsewhere for aftermarket handguards and stocks like the ones made by Chisel Machining, which have become extremely popular among lever gun lovers in the past couple of years. 
It swaps the old Dark Series' large lever loop for a medium loop, the same kind Henry has on it X Model rifles.
The lever gun comes with a factor-threaded barrel with a match polished radial muzzle brake with an 11/16" – 24 pattern to accommodate other muzzle attachments, like a suppressor. You also get a thread protector if you don't want to use the brake.  

For sights, the new Dark Series has a familiar arrangement with a large top rail for optics that incorporates a ghost right rear sight paired with a fiber-optic front sight with a tritium ring. 
The buttstock, which is more skeletonized than the old Dark stocks, comes with a "generous recoil pad" and — amazingly — a cheek riser, so you can actually mount an optic on the gun and potentially get a good cheek weld. I say potentially because it doesn't look like the cheekpiece is adjustable for height at all. It also has attachment points on both sides for QD sling cups.

A lot of people are going to be psyched for this release, especially since the new Marlin has garnered an excellent reputation so far under Ruger for solid quality control and general quality as well. The Marlin brand is back in full force, and now, so is the Dark Series. 
Hopefully, for their sake, Henry has something cool and new to show off in the following weeks leading up to SHOT Show 2024.
---
New Marlin Dark Series Rifle Specs

MSRP: $1,379
Caliber: .45-70 Govt
Capacity: 5+1
Barrel Length: 16.17 inches
Overall Length: 35.50 inches
Weight: 7 pounds
Length of Pull: 13.50 inches
Stock: Nylon Reinforced Polymer
Material: Alloy Steel
Finish: Satin Black
Front Sight: Fiber Optic with Tritium Ring
Rear Sight: Adjustable Ghost Ring
Thread Pattern: 11/16″ – 24
---
FEATURES

Receiver, lever, and trigger guard plate are CNC machined from alloy steel.
Barrel is cold hammer-forged, which results in ultra-precise rifling that provides exceptional accuracy and longevity.
Threaded barrel, with factory-installed match polished radial muzzle brake, has an 11/16″-24 pattern to accommodate other barrel accessories. A thread protector is also included.
Major components feature enhanced durability due to the Graphite Black Cerakote® finish.
The bolt and lever feature a nitride finish for superior wear protection.
Five-round, tubular magazine with a loading gate located on the receiver.
Nylon-reinforced polymer stock with M-LOK attachment slots for mounting of accessories.
A cheek riser is included for an optimum sight picture when using an optic.
Generous recoil pad that effectively absorbs recoil.
Picatinny rail provides a stable mounting surface for scope rings and a variety of optics.
Fiber optic front sight with a tritium ring for improved visibility in low light conditions.
Anodized aluminum handguard features M-LOK attachment slots for accessories.
Flush cup sockets for Quick Detach (QD) sling swivels located on the buttstock, and the muzzle end of the handguard allows for comfortable carry with a two-point sling.
Mid-sized finger lever has a unique flare on the bottom for more comfortable cycling.
Reliably feeds a wide range of .45-70 Govt factory ammunition and bullet types.
Positive, push-button, cross-bolt manual safety, and traditional half-cock hammer.
---
READ NEXT – Did the 'Steven Seagal' Press Check Come From Col. Jeff Cooper?