In late September, Hurricane Ian slammed into the southwest coast of Florida as a Category 4 storm with 155 mph winds and cut a swath of devastation through the region. Weeks later, many are still without power or internet, flood waters have yet to subside in many places, and the death toll, so far, stands at more than 100. The destruction of property and infrastructure caused by the storm isn't yet fully known, but it will be in the billions. Cameron Bissell calls this region of Florida home, and he was on the ground during the aftermath and recovery, speaking to hunters and anglers about how they were stepping up to help their communities and neighbors in the days after the storm swept through. — FRA Editors
---
As I write this — during the first week of October — residents of Florida from southwest Naples to New Smyrna Beach on the Atlantic coast have water in their homes, and many are still without power. Hurricane Ian came ashore Wednesday, Sept. 28, as one of the largest and most powerful storms to ever hit the state.
Linemen, first responders, and the National Guard sprang into action after the damage was done. Storm surge and record rainfall pushed the Caloosahatchee, Myakka, and Peace rivers over their banks. As highways became canals, those who had not already evacuated desperately needed help. Law enforcement agencies put out a call for anyone able to bring supplies or provide additional vessels for rescues. Many hunters and anglers answered the call; these are some of their stories.
---
Brad and Jared Phares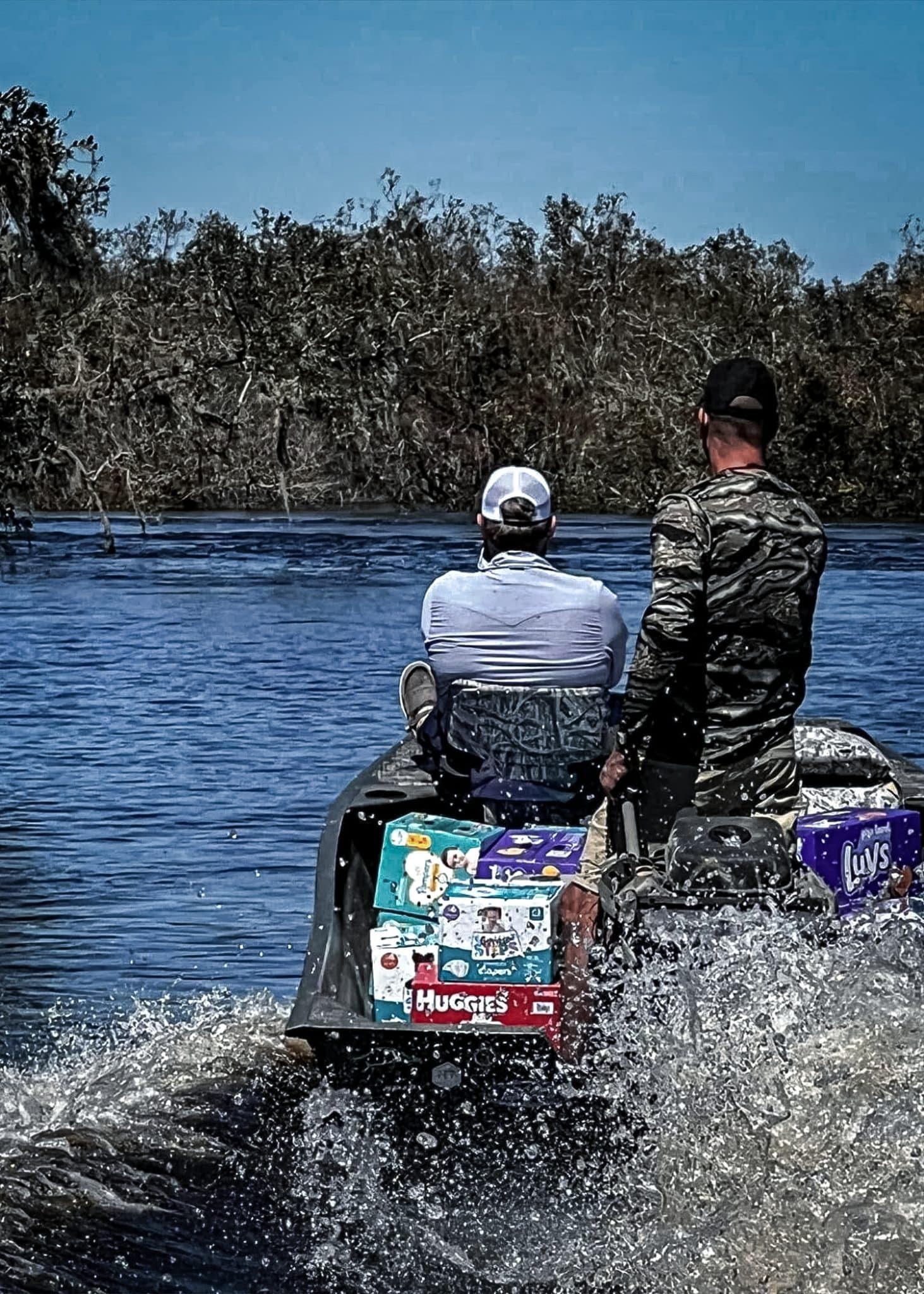 Brad Phares, an eighth-generation cattle rancher, left his ranch on the shores of Lake Okeechobee to help where he could.
He loaded his friend's duck boat with several hundred dollars worth of water, ice, and a few cases of beer and drove west. After an unsuccessful day navigating the flooded and stoplight-free roads, he headed back home to contact others. 
Phares is a volunteer police deputy in Okeechobee County, and his department and other neighboring precincts were organizing outreach. With the help of the Arcadia County Sheriff's Office, the officers in Phares' department put together a plan to distribute supplies throughout Arcadia, a town flooded by the rising Peace River. 
The plan consisted of running shallow-water boats between three staging areas that were otherwise inaccessible. Residents would travel to one of the checkpoints and replenish supplies and get assistance if needed. With his son Jared as his navigator, Phares spent four days delivering supplies to residents who, in some cases, had not eaten or had fresh water since the storm began nearly a week earlier.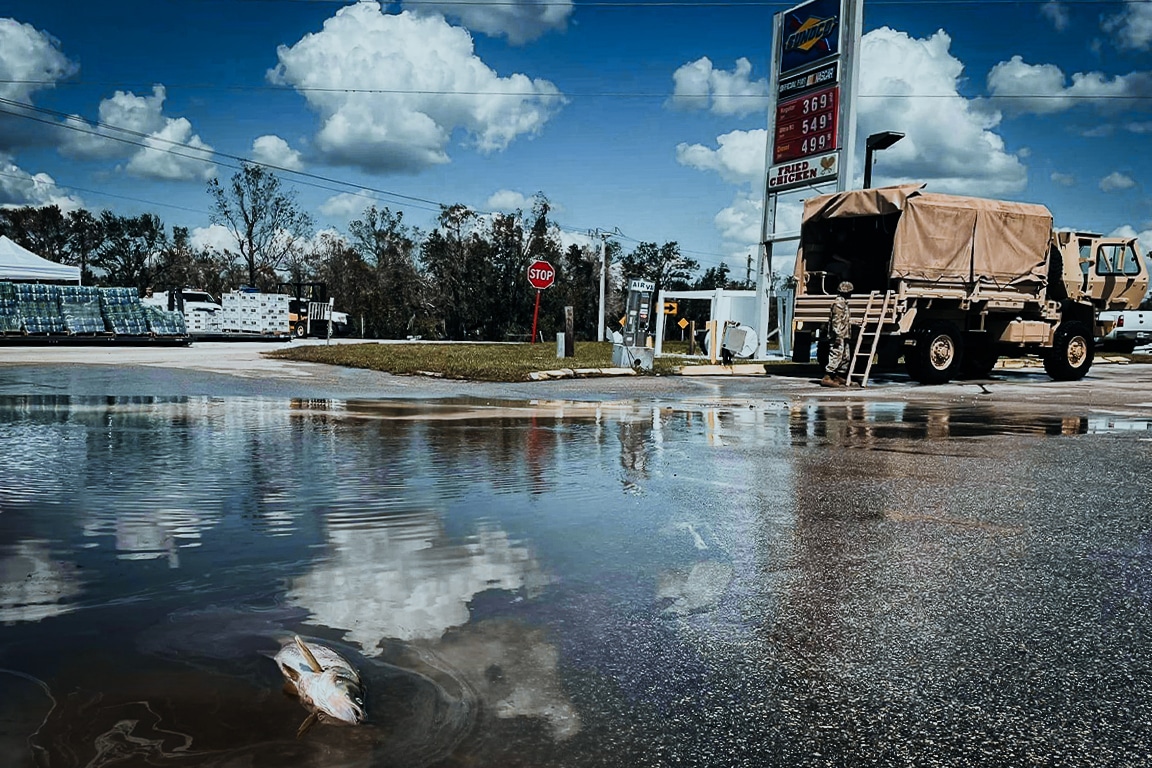 While Phares' mission didn't involve many rescues, he saw the destruction and hazards created by the mammoth storm first-hand. He said that navigational obstacles were everywhere, including tree stumps and low branches, sunken RVs, and powerlines that were now at neck level. 
Phares took a remarkable photo during his four days of volunteering of a slot-sized snook lying dead in a drying puddle in the lot of a local gas station. Under no circumstances short of sitting in a cooler would this fish have been found so far inland. Online, people began calling it the "Sunoco Snook."
The sheer ridiculousness of the photo highlights the impact this storm had on the wildlife of Southwest Florida.
GEAR – The Best Way to Make Coffee in the Backcountry: The BRCC ESPRO French Press
---
Steve, Clayton, Patrick, and the Neighborhood Duck Hunters
Steve Whittum, a lifetime Floridian, and resident of Brooksville, felt he had to do something in Ian's wake; and he knew his trusty 18-foot SeaArk with a gator tail (surface drive motor) was the right boat for rescuing people stranded by the flooding.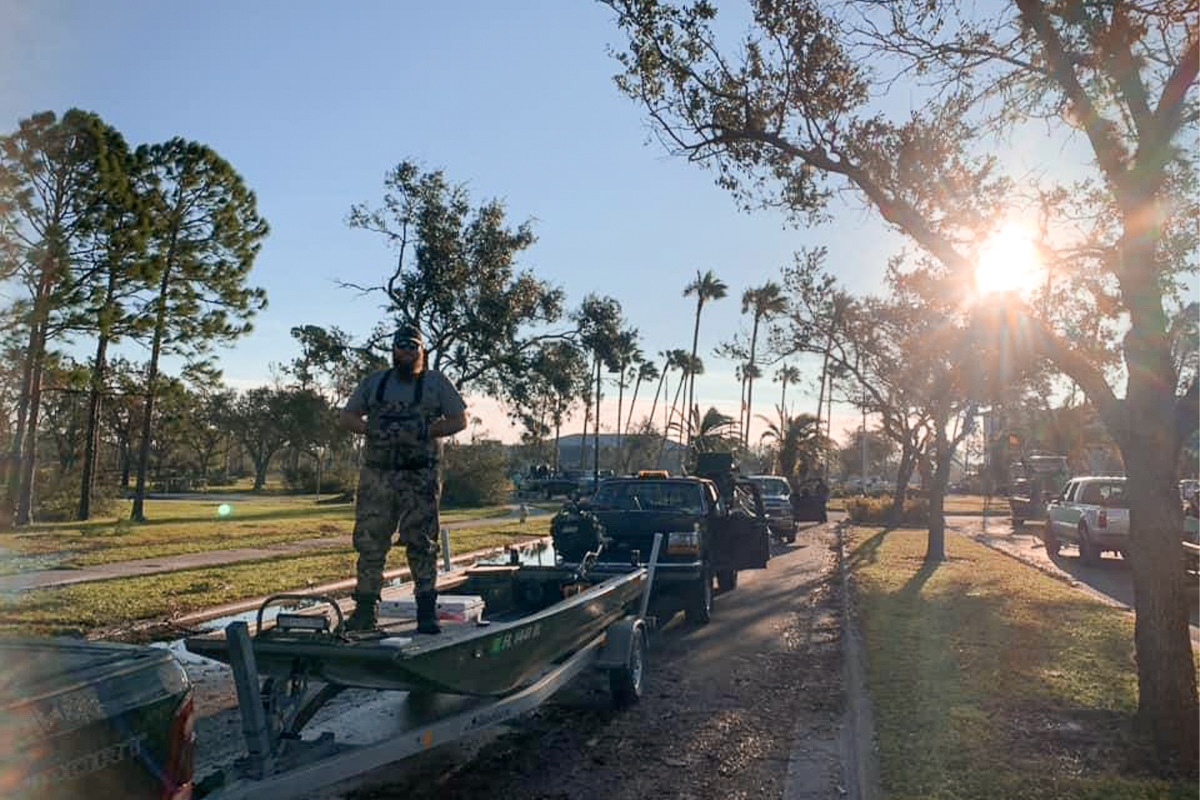 He and several of his duck-hunting buddies from a neighboring area knew that one of their fellow duck hunters, Patrick, was in the thick of it. Communications were spotty, and the normally two-hour drive south took almost three. 
Their attempts to head farther south to Sanibel Island were called off, and they decided to refuel and wait for better intel. Everyone was eager to assist and agreed that all they needed was "a pin and a plan."
On Friday morning, as the river swelled, Steve made solid contact with Patrick and let him know North Port needed help.
Patrick wrote a succinct post on local hunting groups on Facebook: "North Port: MUD BOATS NEEDED."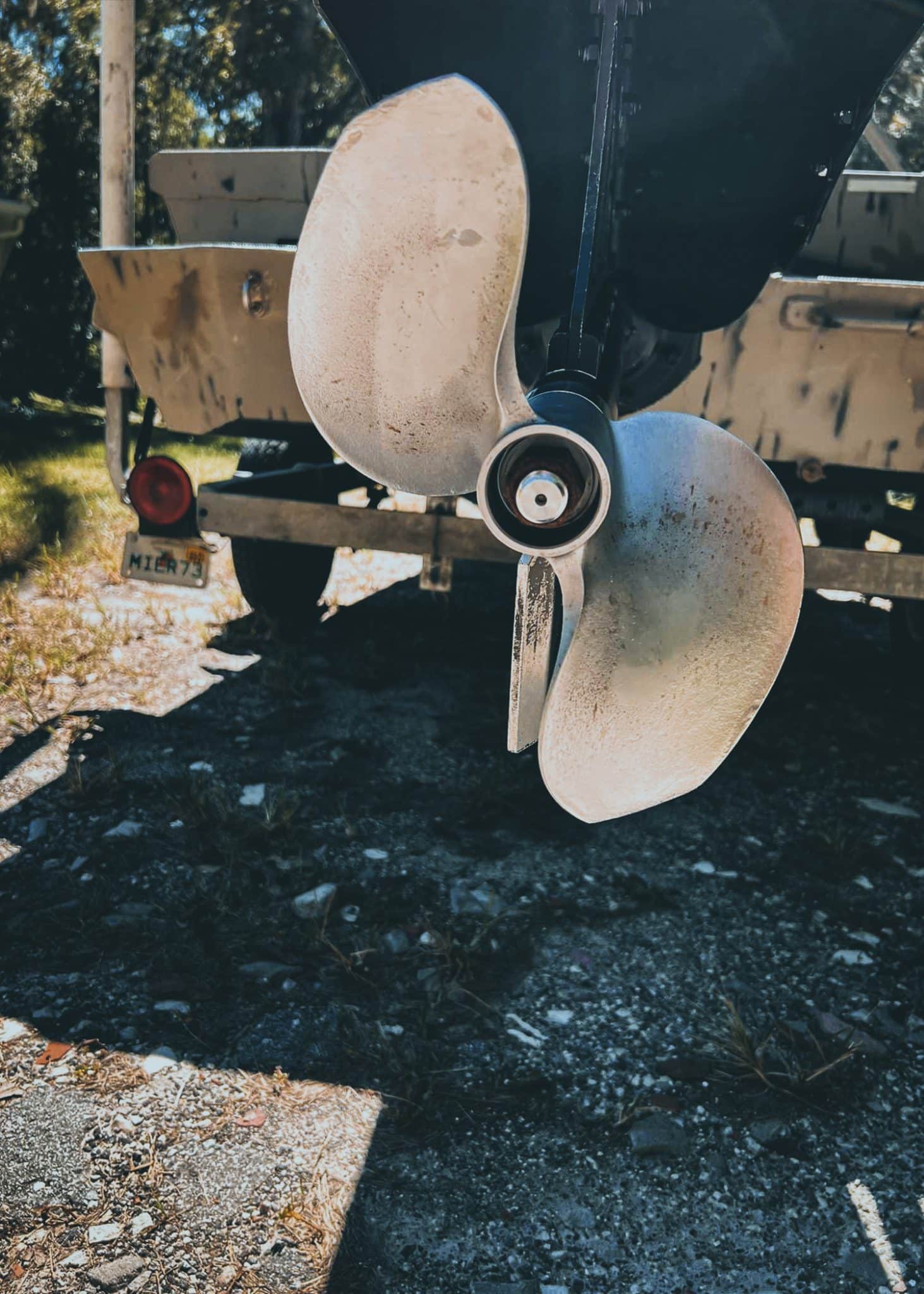 Steve and fellow hunter Clayton headed to Fire Station 81 in North Port, which is situated between the Myakka and Peace rivers. Between the extensive wind damage and the destruction caused by the storm surge and overflowing rivers, the town needed help.
In an attempt to lower the chance of levees and locks failing on the rivers, water was being released, causing overall water levels to rise even after the storm had passed. 
At the staging area, Steve and Clayton were assigned to work with a county fireman and assisted with rescues. Each boat was given an area to cover in which they knocked on doors and gave aid or helped with evacuation if needed.
Navigation was difficult, as many street signs that survived the storm were nearly underwater. Steve pushed the nose of his boat up to the front door of some homes to evacuate their inhabitants. By Saturday, Steve needed to replace the prop of his gator tail after hitting stone pavers while transporting a family of five and their dog.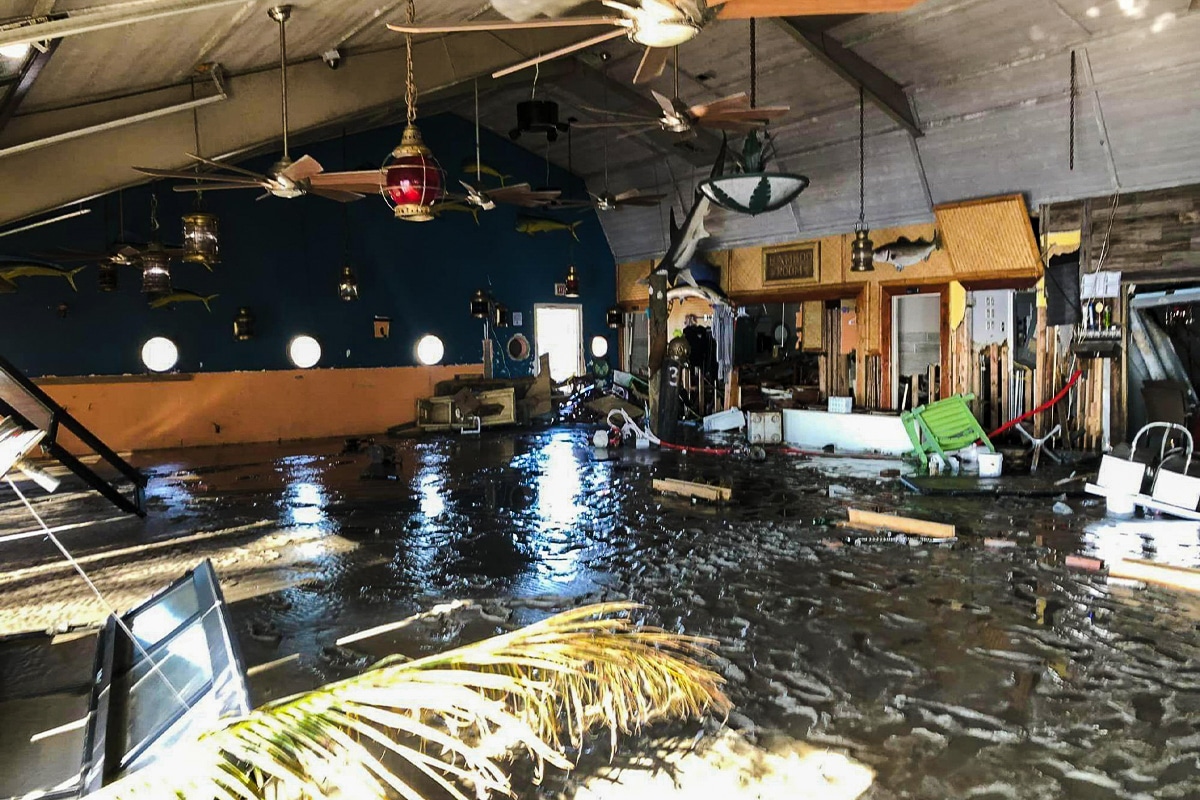 On the second day, Steve and Clayton assisted the fire department in answering the 300-plus backlogged calls from the storm. Instead of the grid search from the prior day, they were given a list of addresses and another fireman to help conduct checks and answer calls.
---
Dan Daniels – Elk Hunter
Dan Daniels of Merritt Island returned home from a Colorado elk hunting trip just two days before the storm was supposed to hit the other coast. He worked Monday and Tuesday but said he couldn't shake the feeling that he needed to lend a hand.
On Wednesday evening, after ensuring his family was safe on the east coast, he said he drove west. On Thursday morning, he was alerted that the Kissimmee Fire Department needed help and additional rescue boats.
He and his brother hitched up a boat and drove to the fire department. With the storm over, city officials were unsure of how much more flooding would take place in the aftermath.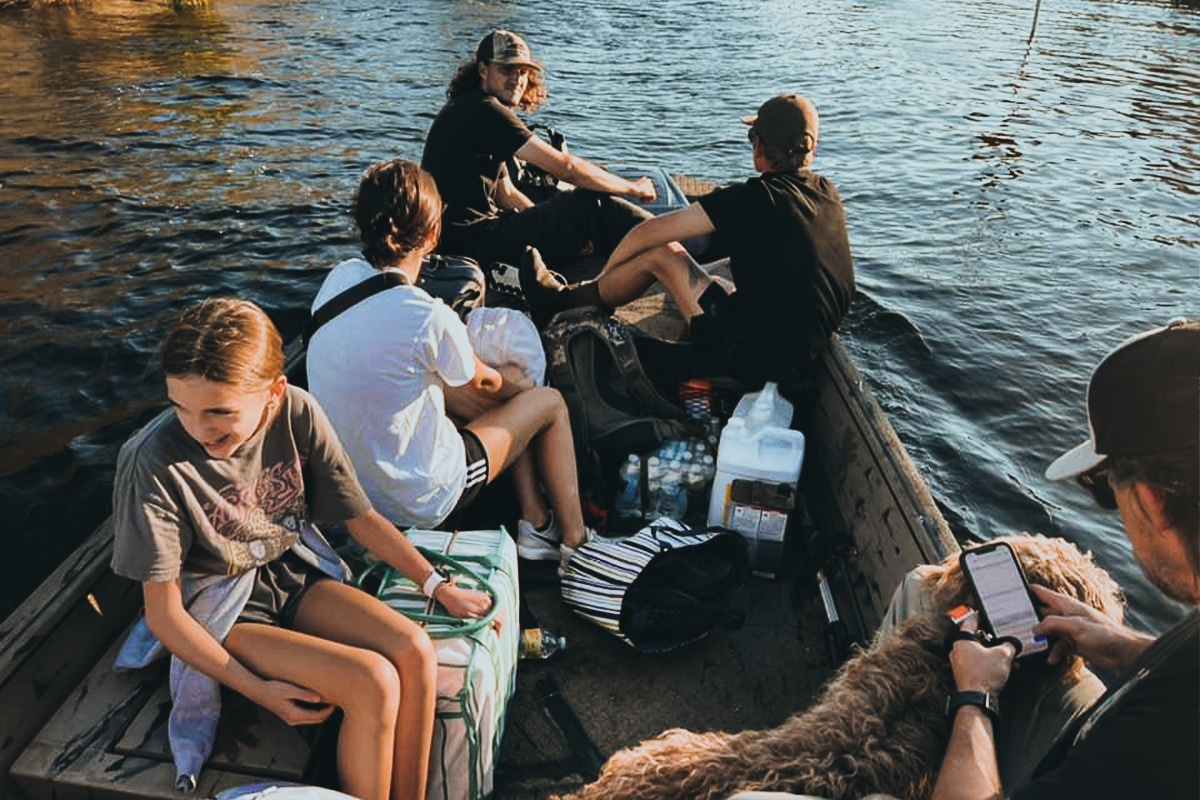 Dan and his brother spent Thursday piloting their duck boat from house to house, asking homeowners and tenants if they needed help evacuating. Dan said one of the most memorable evacuees was a young mother with an infant less than a week old. Through her broken English and Dan's broken Spanish, he learned that she had recently undergone a cesarean delivery and needed to be lifted into his boat. 
As the sun began to set and navigation became hazardous, Dan called it a night. The fire department felt confident that the flooding would subside, and he was no longer needed for rescues on Friday. 
Rather than driving back to the comfort of his house, Dan drove south. He arrived Friday morning at Matlacha, a small island community situated between Pine Island and Cape Coral. Falling in with a fleet of other vessels, he was asked to ferry officers to and from the island.
Law enforcement personnel had been active on the island for the past 48 hours and were desperately in need of rest. The county's first priority was to allow new first responders to reach the island before the organized evacuation and rescue missions could begin.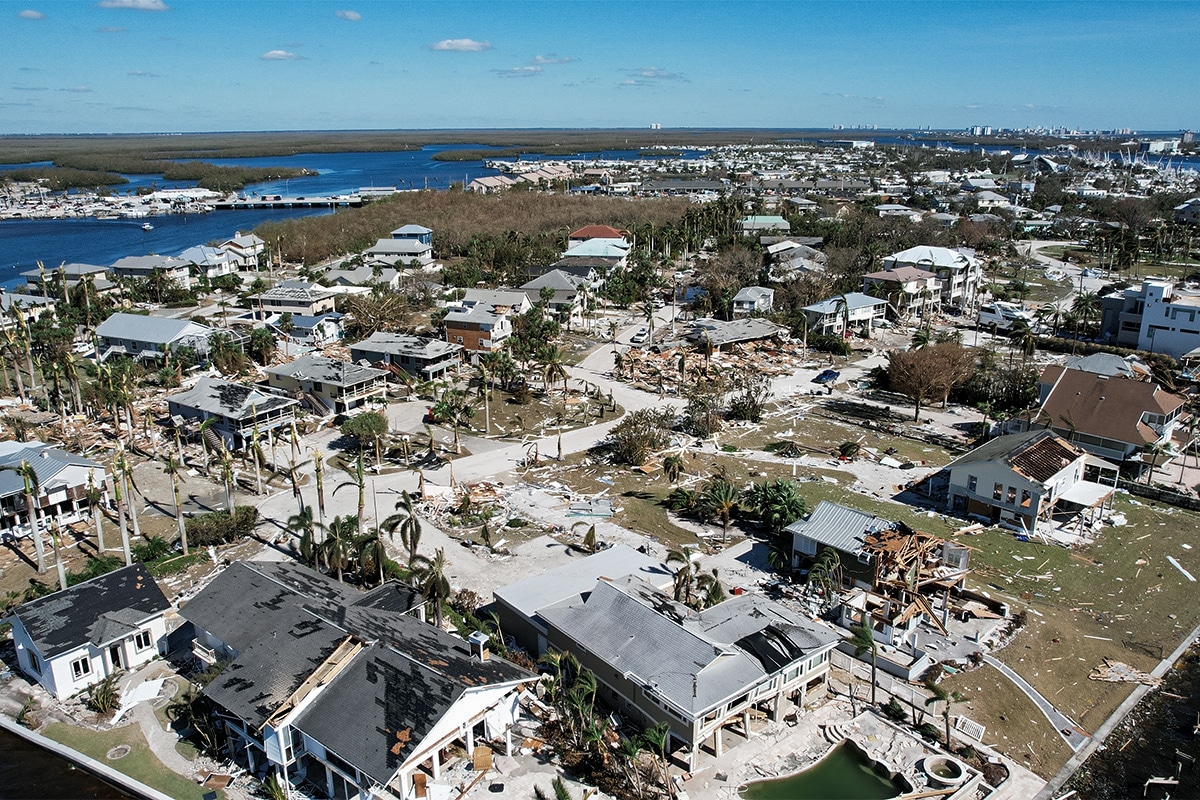 After the sheriff's department had been rotated, Dan and the other boaters began bringing supplies to the island. Water was still high enough that the ground floors of many buildings and homes were still flooded. 
Dan began delivering water and supplies to those who were stranded; he also ferried residents back to the island. Some left in such a hurry that they had no spare clothes or documents.
Dan said that seeing the pain of people returning to the destruction was most jarring. Those who had stayed, while distressed from the events, often had a positive outlook as they had "beaten the storm," he said. People returning to the island in the hopes that their homes would still be standing were often confronted with astonishing damage and, in some cases, a vacant lot where their lives once stood.
While the storm and the damage it caused to Florida and its residents was horrible, I saw a ray of hope and the embodiment of a phrase I said more than once while talking to these volunteers: "Floridians are a different breed."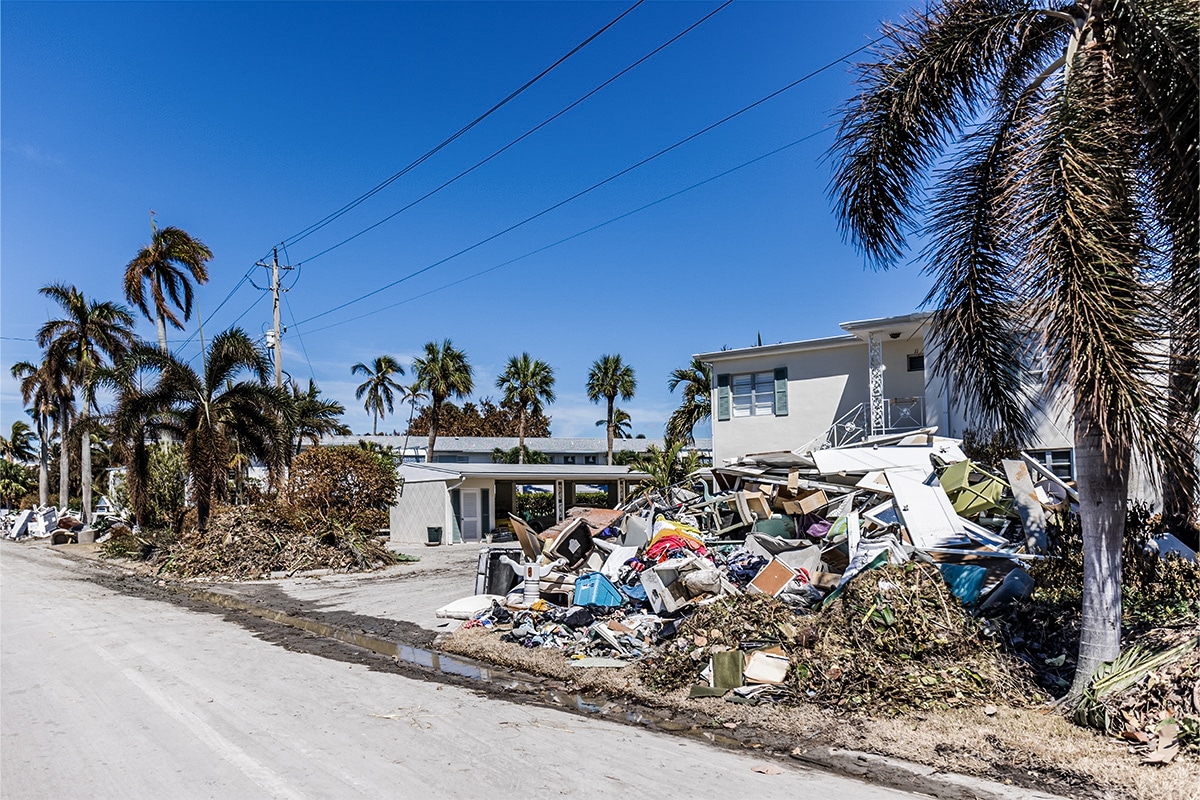 That breed includes people who refused to leave their homes, even as flood waters washed through their neighborhoods, and also the regular men and women who took their boats, trucks, and personal finances and went toward the overflowing rivers and waterlogged streets.
Ordinary sportsmen took the "toys" they used to hunt, and fish answered the call and did what needed to be done after Hurricane Ian swept through. Every single responder I spoke with said they had "the tools to help," so they helped. 
While bass fishermen or birders consider surface drives and airboats to be redneck toys, they were tools in the aftermath of Hurricane Ian, the right tools for the job. On Friday, more than 200 civilians in North Port were evacuated by boat. Officials said civilian boats conducted twice as many rescues as official rescue vessels.
Those quick stats aren't meant to discredit the dangerous and selfless work of first responders in any way. Instead, they highlight the positive impact that the three individuals I met and countless others had. Many were Florida sportsmen who couldn't sit by and watch — folks who represent the best that a community has to offer.
---
READ NEXT – How To Survive an Earthquake: Inside or Outside Every Second Counts