Shooting a gun off a fast horse is every kid's dream. At least, it was mine. As a young boy, I wanted to be two things in life: a soldier and a cowboy. I spent most of my 20s deployed to Iraq and Afghanistan, serving with the 75th Ranger Regiment, among other groups. It was after I returned home that I discovered the sport of cowboy mounted shooting.
By chance, I found the sport at Mike Raahauge's Shooting Range in Corona, California. Plinking targets with my AR, I looked behind me and saw people on horses shooting guns. I thought to myself, What the hell is this? So I walked over, introduced myself, and just a couple of months later, I was breaking my horse to gunfire.
Finding some form of passion or thrill post-military service is important. It keeps you focused and provides a form of release from day-to-day monotony. Cowboy mounted shooting has quickly become that for me. Here's how it works: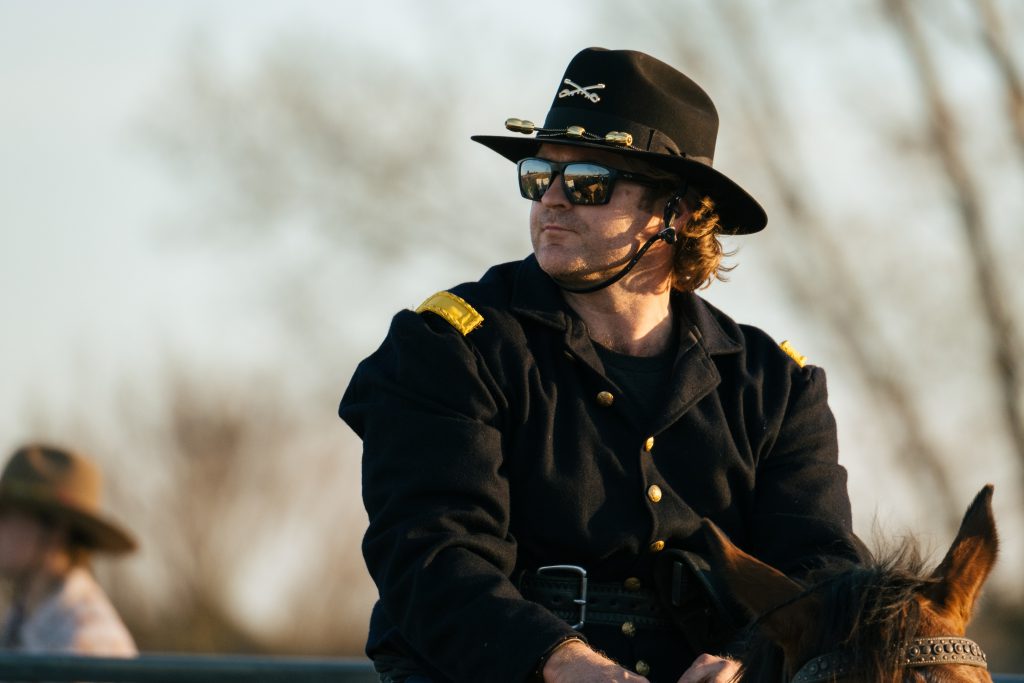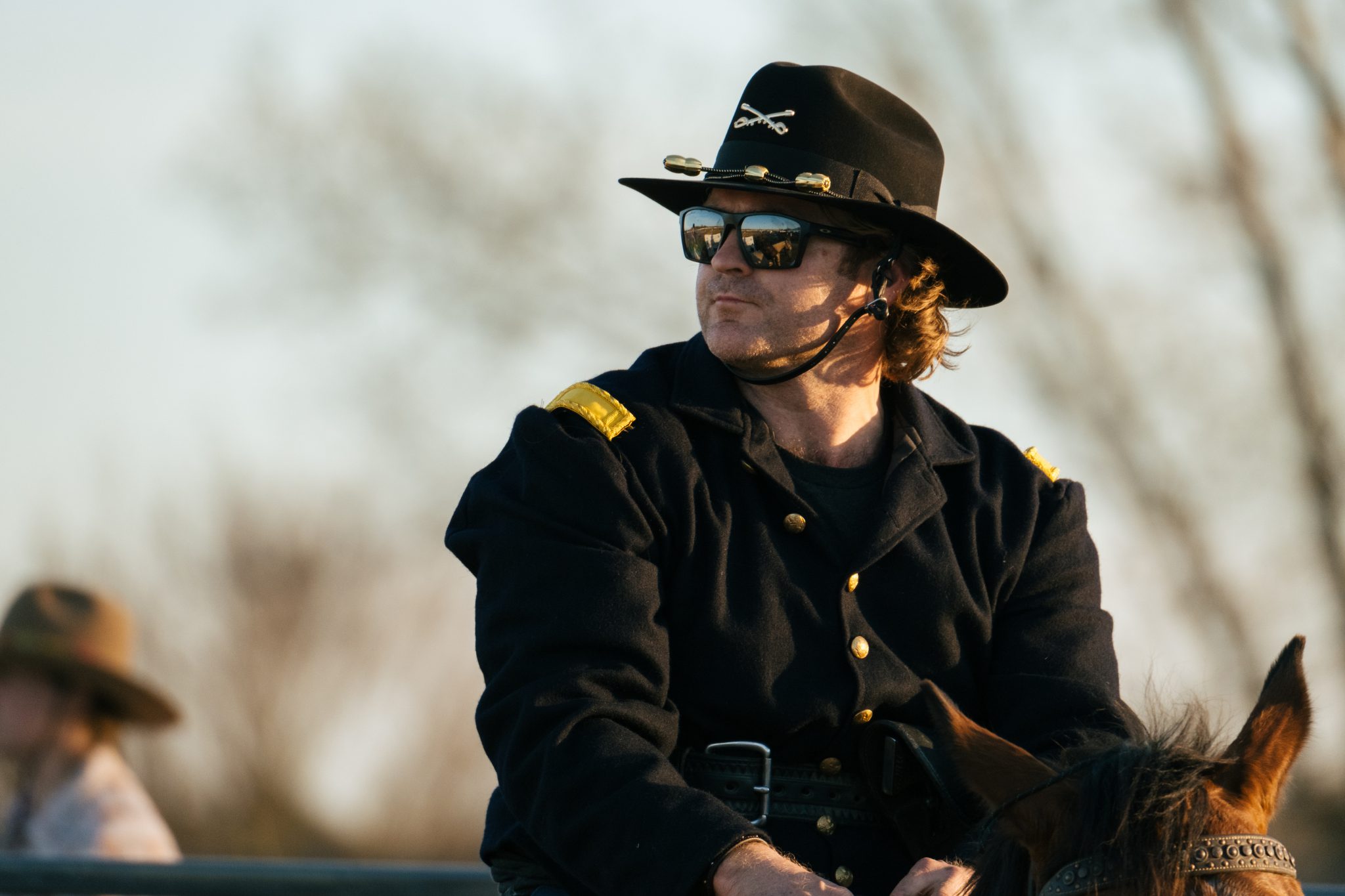 Cowboy Mounted Shooting
Cowboy mounted shooting is a timed sport in the Western equestrian world that is a test of both horsemanship and marksmanship. The rider faces a course of fire that includes gates and barrels, and he must successfully shoot and hit 10 targets as quickly as possible. The rider crosses an electronic timer, navigates the course, and shoots, and his score is determined by overall time and accuracy.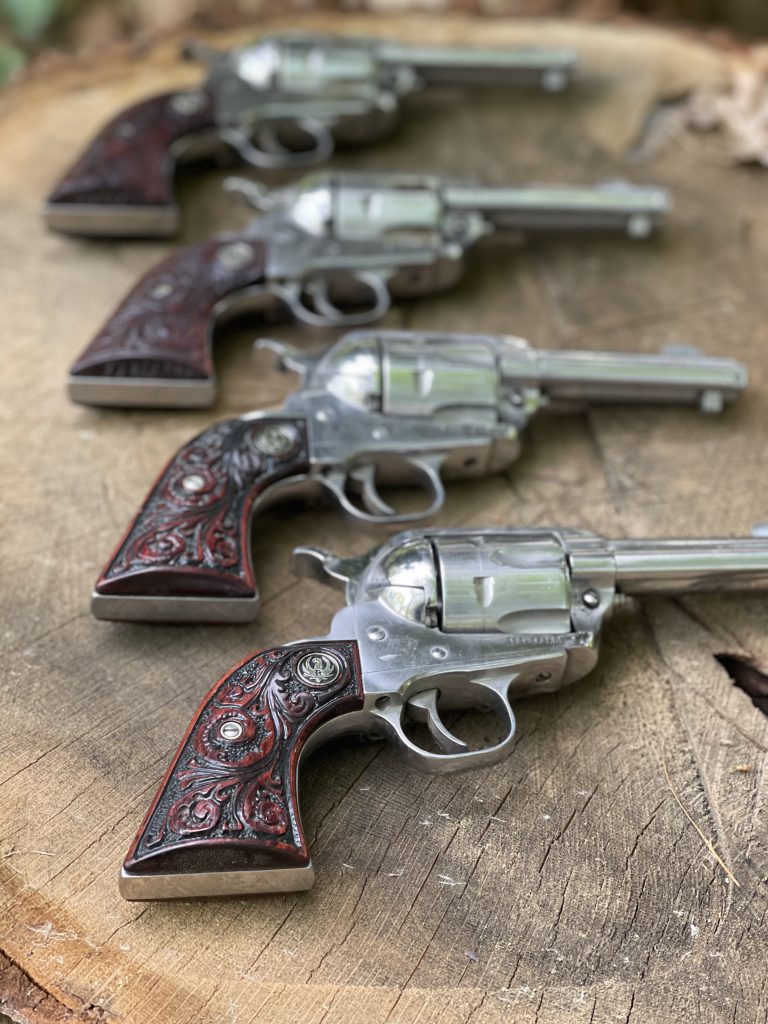 The Guns
In cowboy mounted shooting, the primary event is revolver, done with two .45 single-actions. Competitors use a wide variety of brands and designs, including the Ruger Vaquero, Ruger Vaquero Montado, Taylor's Runnin' Irons, and Uberti Short Strokes. Each gun is loaded with five rounds, and the competitor is expected to shoot the first five targets, holster while riding, and then draw the second gun to shoot the remaining five targets.
The ammunition: black powder. The targets: balloons. We would love to be shooting a true projectile, but obviously, that would make the sport extremely unsafe for both the animals and the spectators. When fired, the black powder exits the barrel and ignites, creating a spark that pops the balloon. There is no bullet. Maximum effective range can depend on several factors, including wind, temperature, and humidity. For the most part, 10 feet is the sweet spot, although we have seen plenty of 20-foot shots, too.
In addition to the revolver event, there are shotgun, rifle, and cavalry-class events. The shotgun of choice is usually a Stoeger or Yildiz .410 coach gun. In this event, the competitor shoots five targets with the revolver, holsters the gun, and then draws the shotgun to engage two clusters of balloons. The rifle event is similar, except to operate a lever-action rifle, the competitor must drop the reins and still guide the horse in a straight line to shoot five balloons. The cavalry-class event pays homage to the Army of the 1800s. To compete, the rider must dress in period-accurate costume and use flap holsters, which require the rider to lift a leather flap to retrieve the pistol. While a bit of a production, it is a very competitive class and a good reminder of how challenging it was for those Union and Confederate soldiers to duke it out on horseback.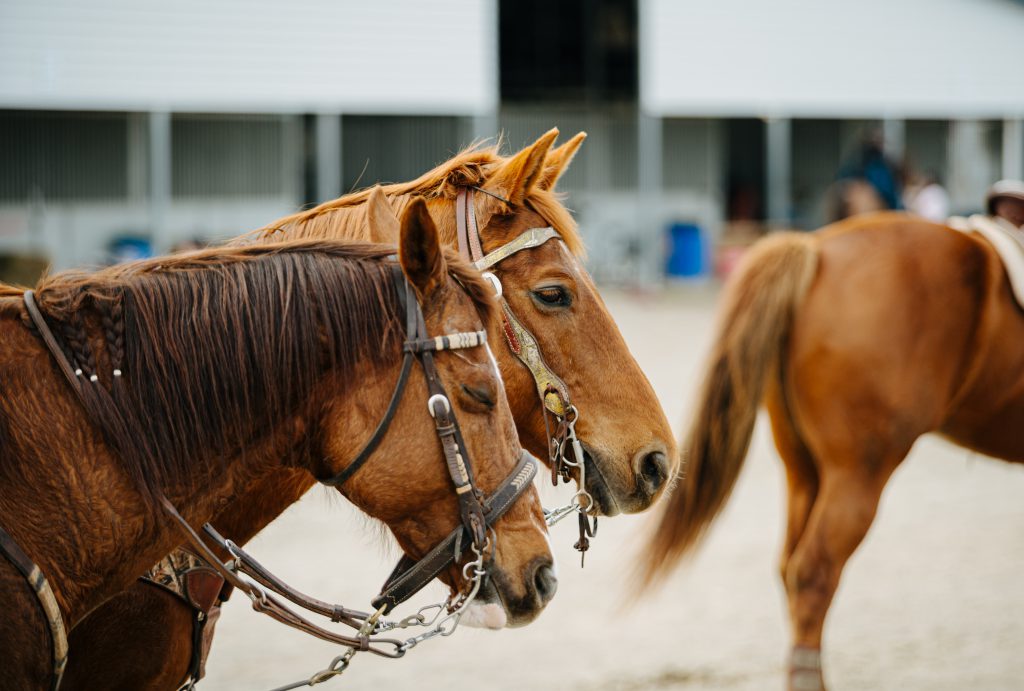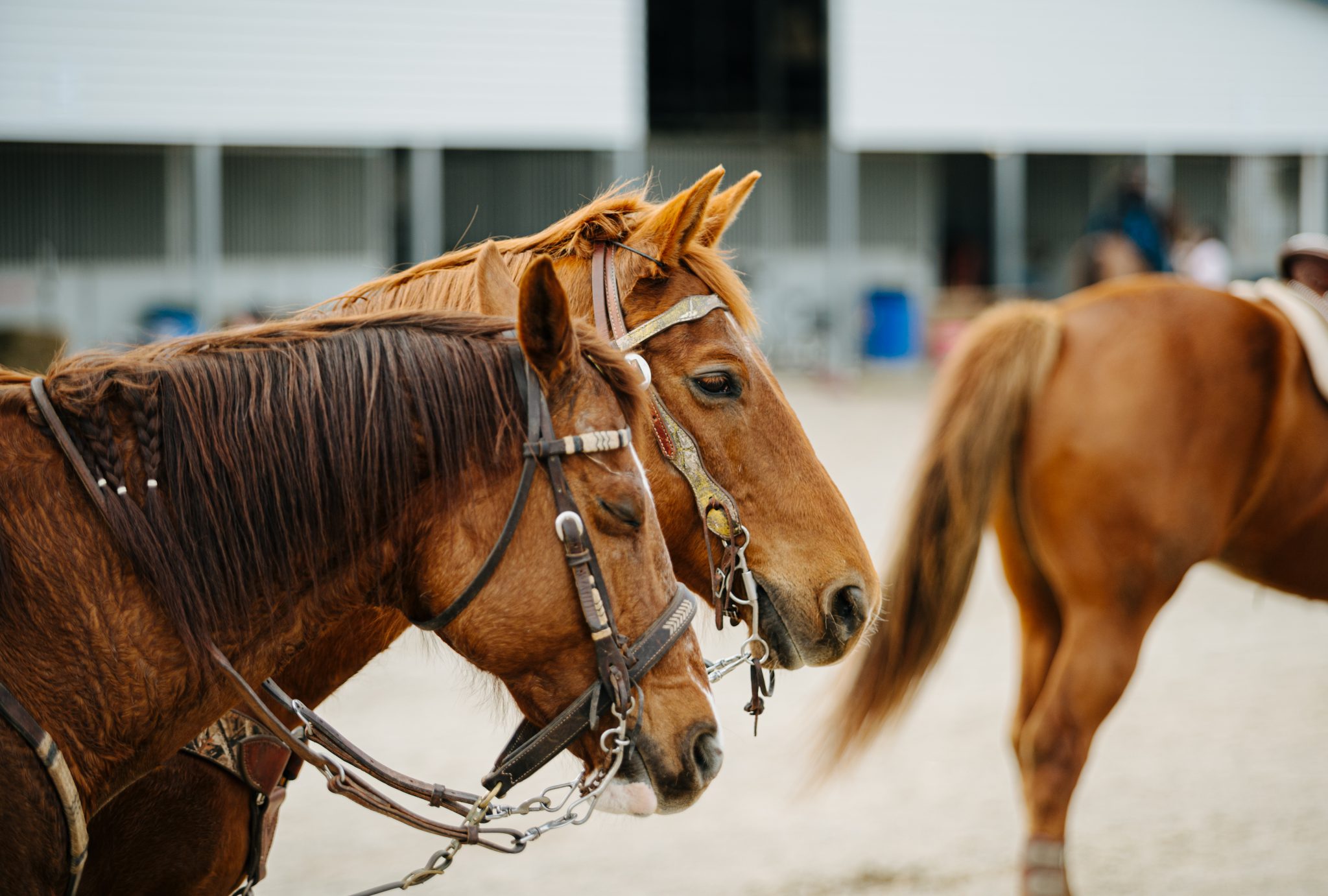 The Horses
This is a sport won by a tenth, sometimes a hundredth, of a second. These horses are athletes, and if you wish to remain competitive in the sport, you need a high-quality horse. The most popular horse is the American quarter horse. The compact body of the American quarter horse is perfect for the intricate, quick maneuvering required in the sport. It's also the preferred horse in reining, cutting, working cow horse, barrel racing, and calf roping.
There are competitors who use other types of horses, such as Thoroughbreds and Arabians. Naturally, you want to use the breed that has the physical characteristics most advantageous to the sport. Case in point: You don't see Michael Phelps winning any gold medals on the jiujitsu mat.
Horses need to be conditioned to gunfire, and the horse and rider must trust each other. As in most relationships, trust is only accomplished through extended time spent together. Equine care should consistently include supplements, massage, electric muscle stimulation, and chiropractic care. If you had a 200-pound dude on your back racing around, you'd want some TLC too.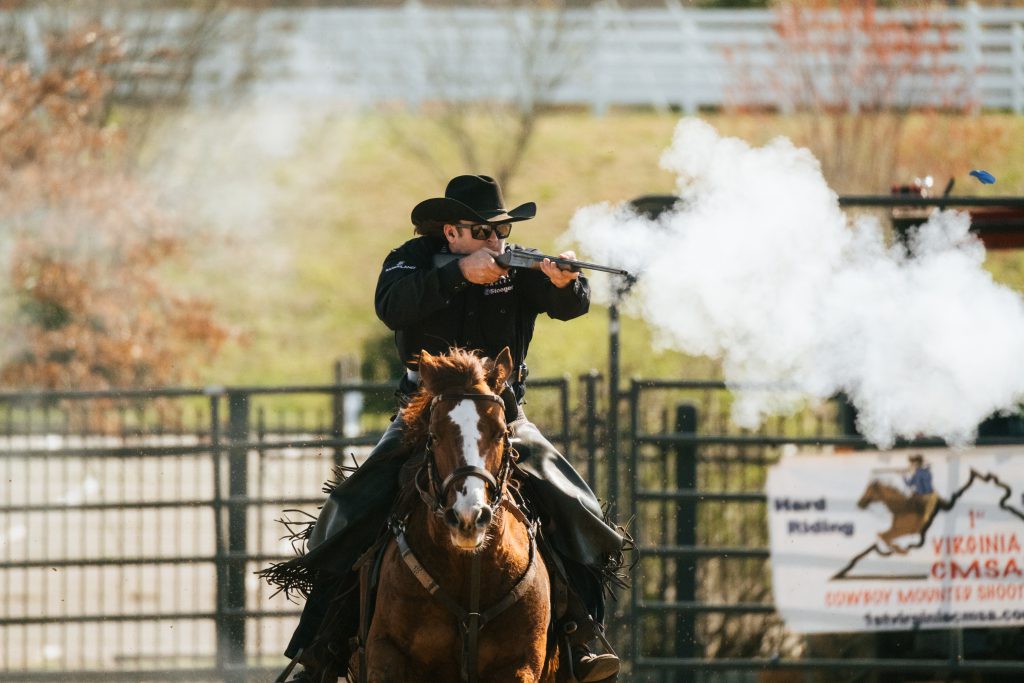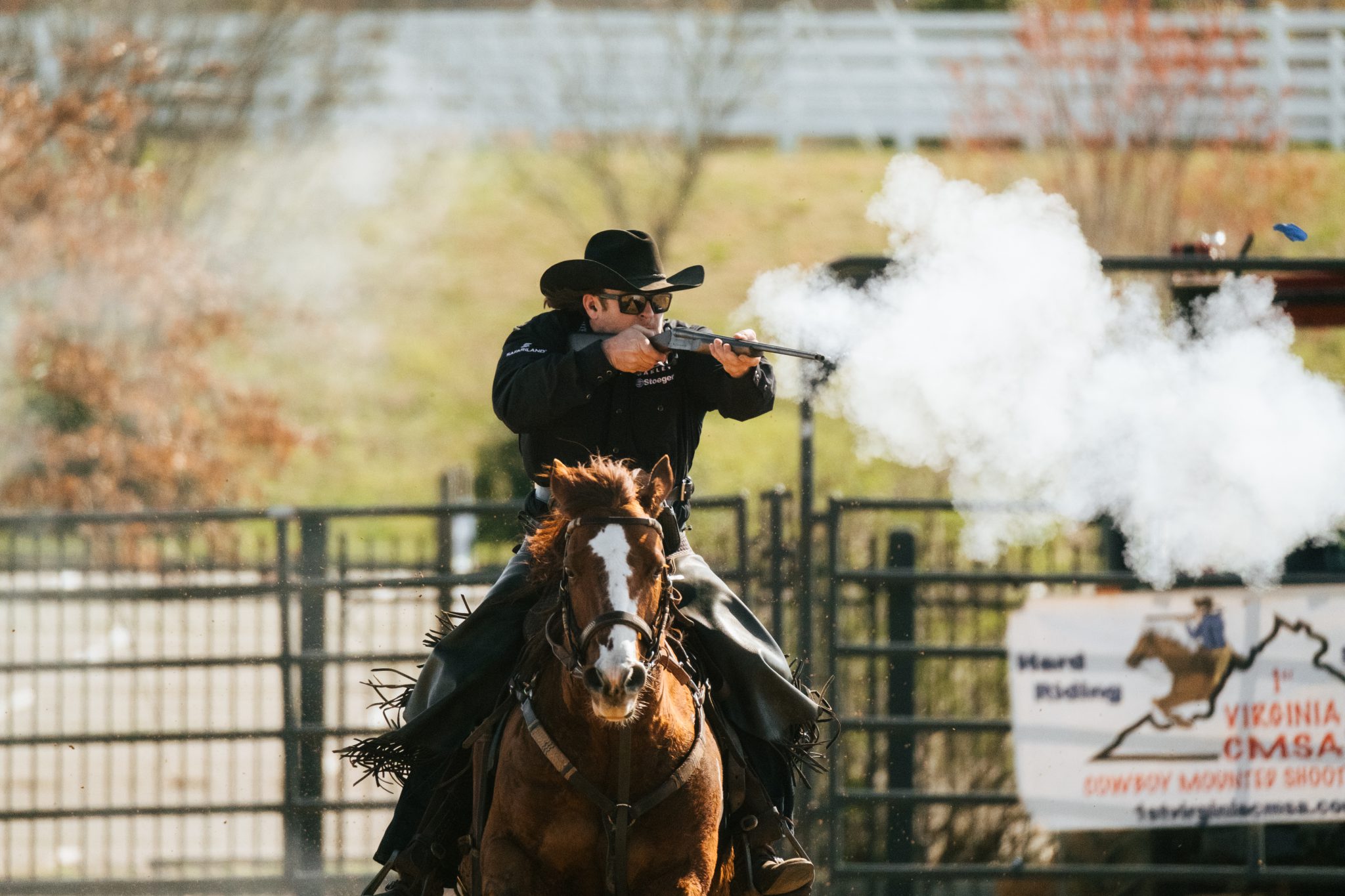 The Course of Fire
There are more than 60 different courses of fire in cowboy mounted shooting. They include barrels and gates you must run through, tight turns, and fast rundowns. Each one is different, and sometimes there are multiple ways to run a course. Regardless of the course, the rider must engage each target and complete the course as quickly as possible. Any missed target is a five-second penalty. If you knock over a barrel, that's a penalty as well. In short, there is little margin for error.
Finding cowboy mounted shooting has changed my adult life. Working with horses is a test of patience, instills focus, and brings escape to any busy week. And the people who compete in this sport are the most down-to-earth, America-loving folks you will ever meet.
It still feels good to be a cowboy.
Read Next: The Many Guns of John Wayne on the Big Screen