If you are a Yellowstone fan and you aren't watching 1923 during the YS mid-season hiatus, what the hell are you even doing with your life? Seriously, this new limited prequel series streaming on Paramount+ is legit, like pretty much everything Taylor Sheridan does. A new episode drops every week, and we're only two in — and a whole lot of people caught the premiere, which destroyed a Paramount+ record by about 80% with 7.4 million multi-platform views.
The show better do well, considering it costs a whopping $22 million per episode to produce. "It's the Lawrence of Arabia [of limited series]," Sheridan said in an interview with Deadline. "In other words, you saw six thousand sheep, three thousand cattle, and as this show keeps going, you're in Africa. All real. You know how hard it is to move a crew around in Africa in 2022 with Covid, and all the rules and all the politics? We were in four countries in Africa. It's not like we went to one little preserve in South Africa."
Word is this initial eight-episode run will be followed by a second eight-ep series to conclude the story. Let's take a quick look at the first two episodes and why this series is a must-watch.
POTENTIAL SPOILERS AHEAD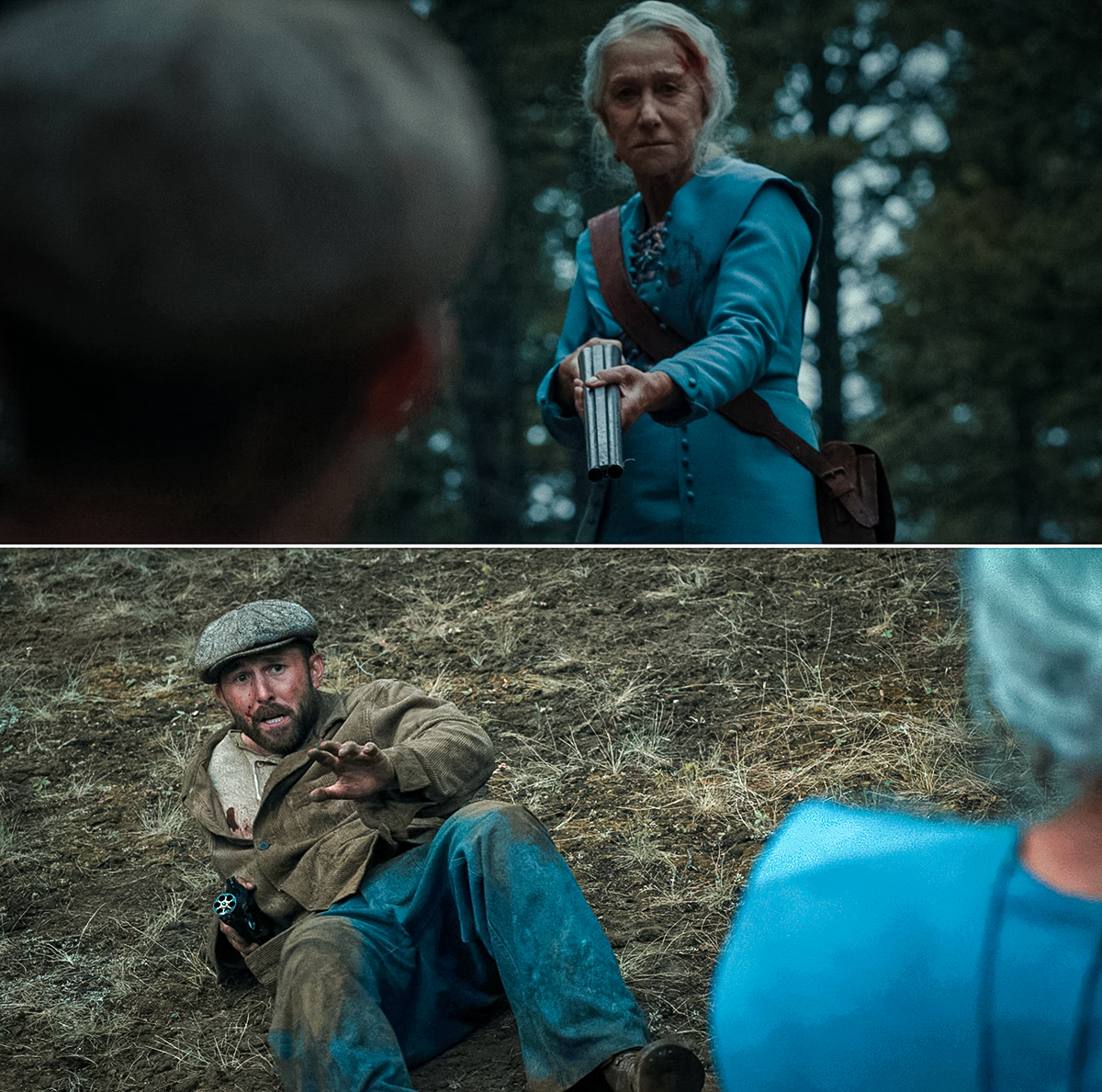 The first ep opens in media res with the current matriarch of the ranching family, Cara Dutton (Helen Mirren), firing a side-by-side shotgun at a scrambling man struggling to reload a top-break Webley Mark VI revolver. She has blood dripping from a wound on her head, and a leather hunting satchel slung across her body full of brass shotgun shells.
As she comes up on him, the wounded man begins to plead with her frantically in a thick Irish accent, telling her that if she kills him, her soul will be barred from Heaven.
"What do you know about Heaven?" she asks before pulling the trigger — on an empty chamber. At the click, he frantically resumes reloading his pistol while she breaks her shotgun and does the same. Cara is faster; she fires a barrel, ending the confrontation, and lets out an anguished cry to the empty forest.
"Violence has always haunted this family," the narration begins in the familiar voice of Elsa Dutton (Isabel May), the protagonist and narrator of the prequel series 1883: A Yellowstone Origin Story that aired last year. "It followed us from the Scottish highlands and the slums of Dublin. It ravaged us on the coffin ships of Ireland. Stranded us on the beaches of New Jersey. Devoured us upon the battlefields of Shiloh and Antietam. And it followed us here. Lurking beneath the pines and in the rivers. And where it doesn't follow, we hunt it down. We seek it."
The narration continues, and we learn what happened to the Duttons from 1883. It also provides some grim prognostication for the present-day Duttons. In fact, several things in the first two eps of 1923 echo events and moments from the current season of YS, and it most assuredly isn't an accident.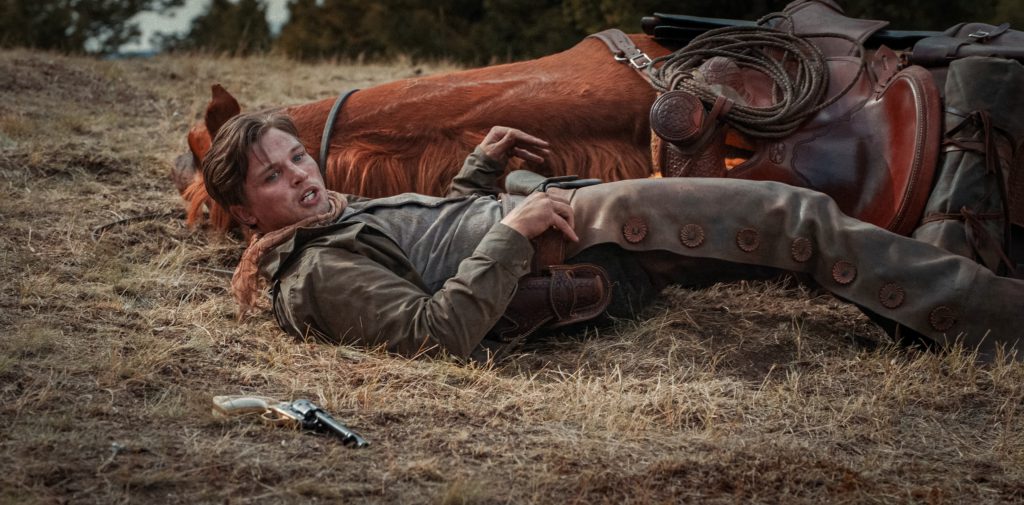 Jake Dutton (Tim McGraw) apparently died from the gunshot wound he received in a flashback on YS while running down some cattle thieves. His death left Margaret Dutton (Faith Hill), Elsa's mother, alone with her two sons in a harsh wilderness.
"My father had three children," the late Elsa says in her voiceover. "Only one would live to see their own children grow. Only one would carry the fate of this family through the Depression and every other hell the 20th century hurled at them.
"Upon my father's death, my mother wrote to my father's brother, begging that he bring his family to these wild lands and save hers. A year later, he arrived to find my mother frozen in a snow drift; her two boys half-starved and barely able to speak. He raised them as his own and took my father's dream – and made it into an empire.
Then the empire crumbled."
That's just the opening! Then, we meet Spencer Dutton, a hunter in Africa running from the trauma he absorbed fighting in the trenches of WWI. He hasn't returned home to Montana, instead traveling all over the Dark Continent as a hired gun who specializes in killing man-eating predators.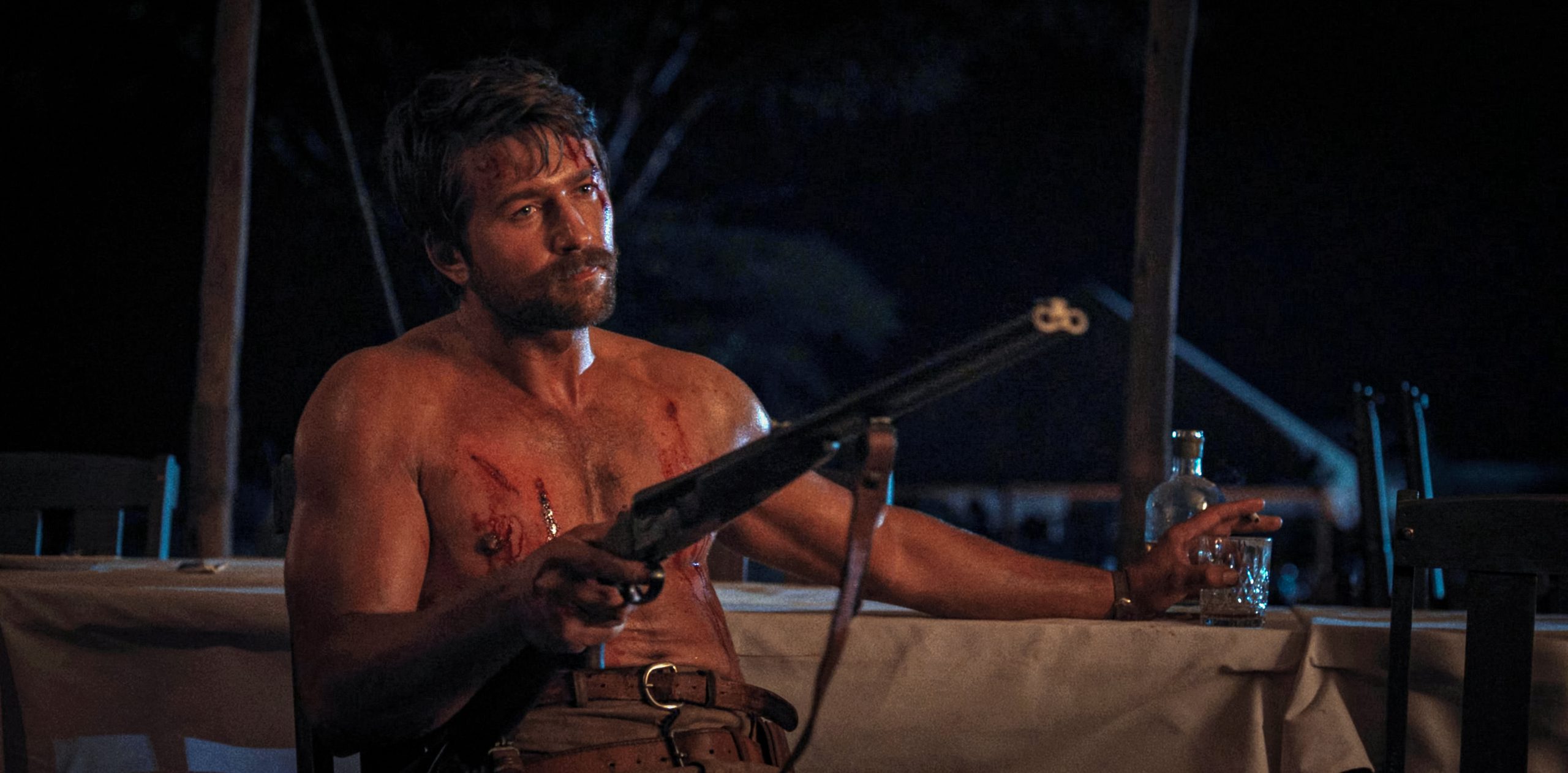 In his first scene, he stands his ground against a charging male lion, calmly takes aim with what looks like a Holland & Holland double rifle, and fires at the last moment; the lion dies atop him. Spencer is like a mix of the characters Michael Douglas and Val Kilmer played in The Ghost and the Darkness, who looks like the quintessential mustached hero from the early 1900s.
That's about the tone of this current iteration of the Dutton family — and we haven't even gotten to the steel-willed Jacob Dutton, played by Harrison Ford, who assumes the duty of spouting cowboy wisdom in a rough growl at every opportune moment, as the eldest Dutton must always do, regardless of the generation.
The show has already proven to be a bit more deliberate than 1883 with a tighter cast, but that doesn't mean it's boring by any means. And whenever there isn't something happening, viewers are treated to the high-def Montana vistas they're used to seeing on Yellowstone, plus the varied landscapes of central Africa, which the show displays with equal splendor.
There's all kinds of shit going on around this generation of Duttons, perhaps to illustrate that the struggles faced by John Dutton (Kevin Costner) and his family in the 21st century aren't new, just a little different and, in many ways, continuations of problems from the century before.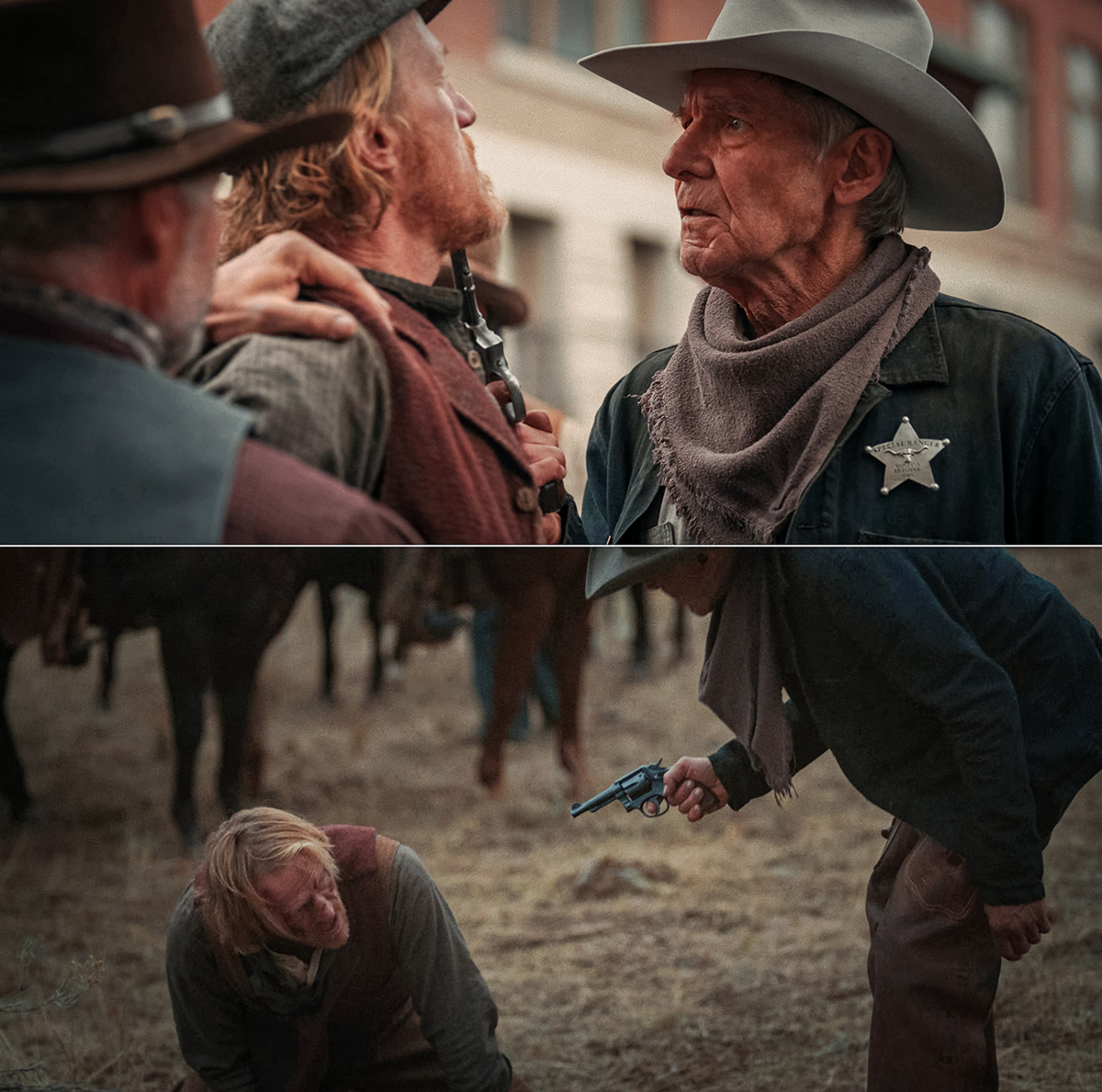 Prohibition is in full swing, and so are the Great Depression and the droughts of the Dust Bowl era. Tensions are high while high grass is hard to find, and conditions are ripe for a range war. At the end of the second episode, it looks like that's exactly what's going to happen after Jacob doles out some old-school range justice, which is likely a precursor to the scrap Cara Dutton finds herself in during the show's opening scene.
"You're going to hang us? Eh?! Hang me?! It's the fucking 20th century, and you're gonna hang us for keeping my sheep from starving?" Banner Creighton (Jerome Flynn) asks Jacob after the ranchers find him and his men grazing their sheep on Yellowstone land. They took an unprovoked shot at Jack, killing his horse, before being overrun by Dutton's men. "Cattle don't graze up here. Nothing grazes up here! Go ahead, hang us. Fuckin' hang us. And see how long it takes the state of Montana to fuckin' hang you."
"What did I tell you I'd do if I found your sheep grazing another man's land?" Jacob growls, seemingly not very worried about repercussions from the state of Montana. "Jake! Take eight cowboys and round up these sheep. Start pushing 'em toward the res. They're starving on the res. Starving. We'll fix that."
It gets worse for Banner and his men from there.
Interestingly, Jacob doesn't carry an old-school, single-action "cowboy revolver" as one might expect. It looks like he keeps an early Smith & Wesson Military & Police revolver (aka S&W Model 10) in his cross-draw holster. The double-action wheelgun was a six-shooter chambered in .38 Special. While it may seem modern for the setting, the Model 10 was introduced in 1899, so Jacob could have been carrying the revolver for two decades when we meet him.
Several other ranch hands, including John Dutton Sr. (James Badge Dale of The Pacific) and Jack Dutton (Darren Mann) carry Colt Single-Action Army revolvers.
The struggle of Native Americans in Montana is also acutely highlighted by a storyline that has yet to fully reveal itself about a young girl who was taken from her home on the reservation and put in a re-education school where she is severely abused by the nuns and priests who run the place; one is more sadistic than the other.
A particularly poignant moment comes when Teonna (Aminah Nieves) can hear her classmates singing "America (Tis of Thee)" as she mops up her own blood from the classroom floor. She shed it during a weird group bathing instructional session from wounds received from the head priest's beating.
In the second episode, we meet her grandmother, who is wading through the muck of American bureaucracy to get a piece of her family back.
As compelling as all this is, I can't help but be mesmerized by Spencer Dutton's storyline in Africa. He and his two hunting partners are hired to take out a leopard that has been stalking a camp. I'm not going to blow it for you, but the hunt doesn't go as planned; Spencer takes some solid wounds and moves on to his next job defending engineers building a railroad. Yeah, this may sound familiar — a side character even mentions the Lions of Tsavo and mistakenly credits the surly Spencer with killing those famous man-eaters.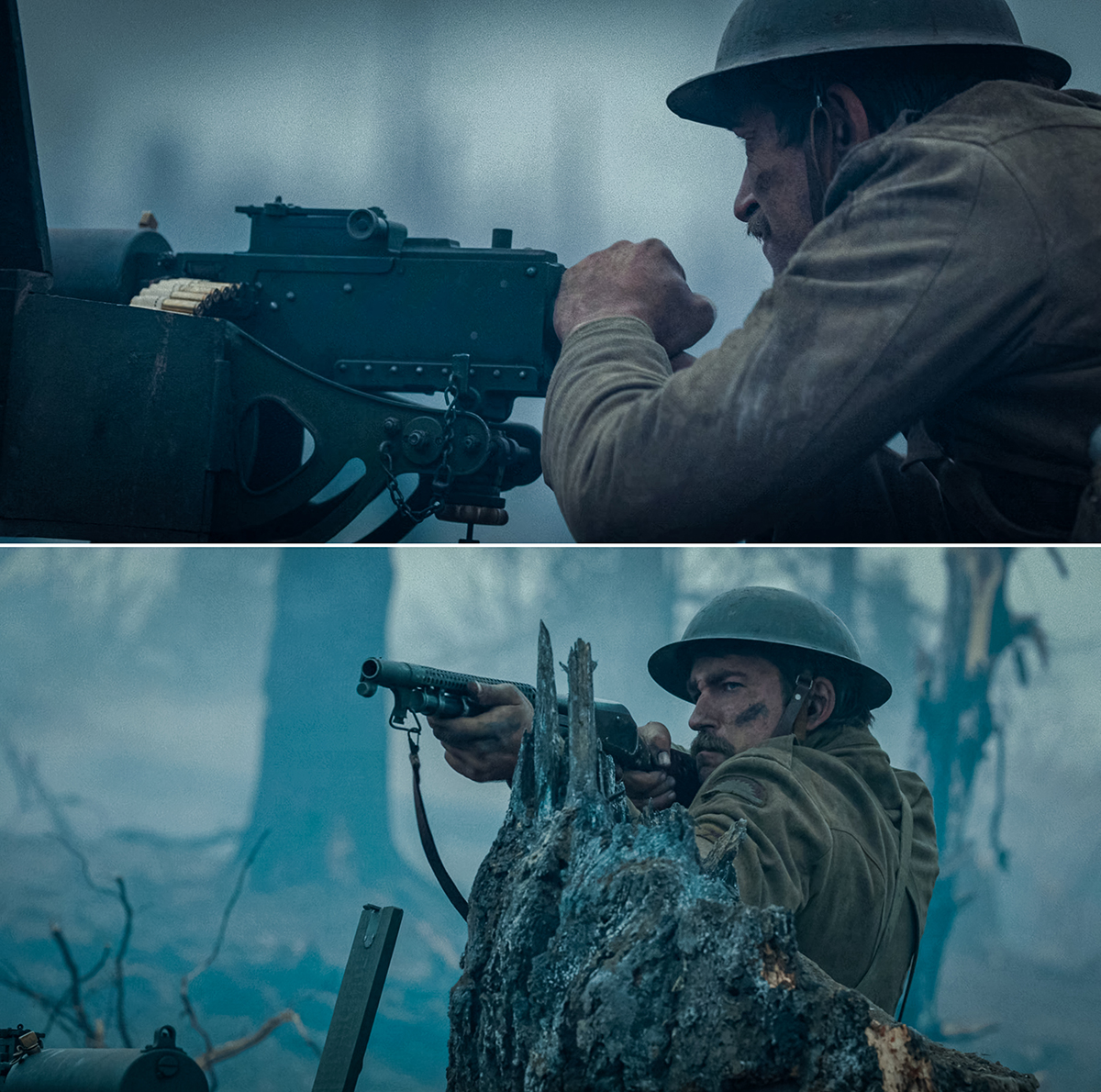 Plus, we get snippets of his time in the army seen through nightmares. In the first episode, Spencer falls asleep on a train. In his dream, he's younger — a doughboy fighting from bad cover, raking waves of charging German soldiers with bursts from a Browning M1917A1 machine gun. A fellow soldier joins him and yells that they have to fall back. Spencer tells him his leg is broken and he can't run; the other soldier leaves him. The machine gun runs dry, and Spencer begins taking out the enemy at spitting distance one by one with a Winchester Model 1897 trench gun.
When the shotgun runs dry, he gets into a hand-to-hand fight with an enemy soldier and kills him with his helmet before taking a bayonet to the back. He grapples with his new attacker, deflecting the next bayonet thrust. As the German pulls a knife, Spencer pulls his M1911 pistol. As he fires a shot, a train conductor awakens him from his dream, and Spencer pulls the same pistol and puts the muzzle in the conductor's face (with excellent trigger discipline).
"Apologies for the scare. I don't wake well," Spencer says after gathering his gear and tipping the man.
"No, sir. I would say that you don't."
Great scene.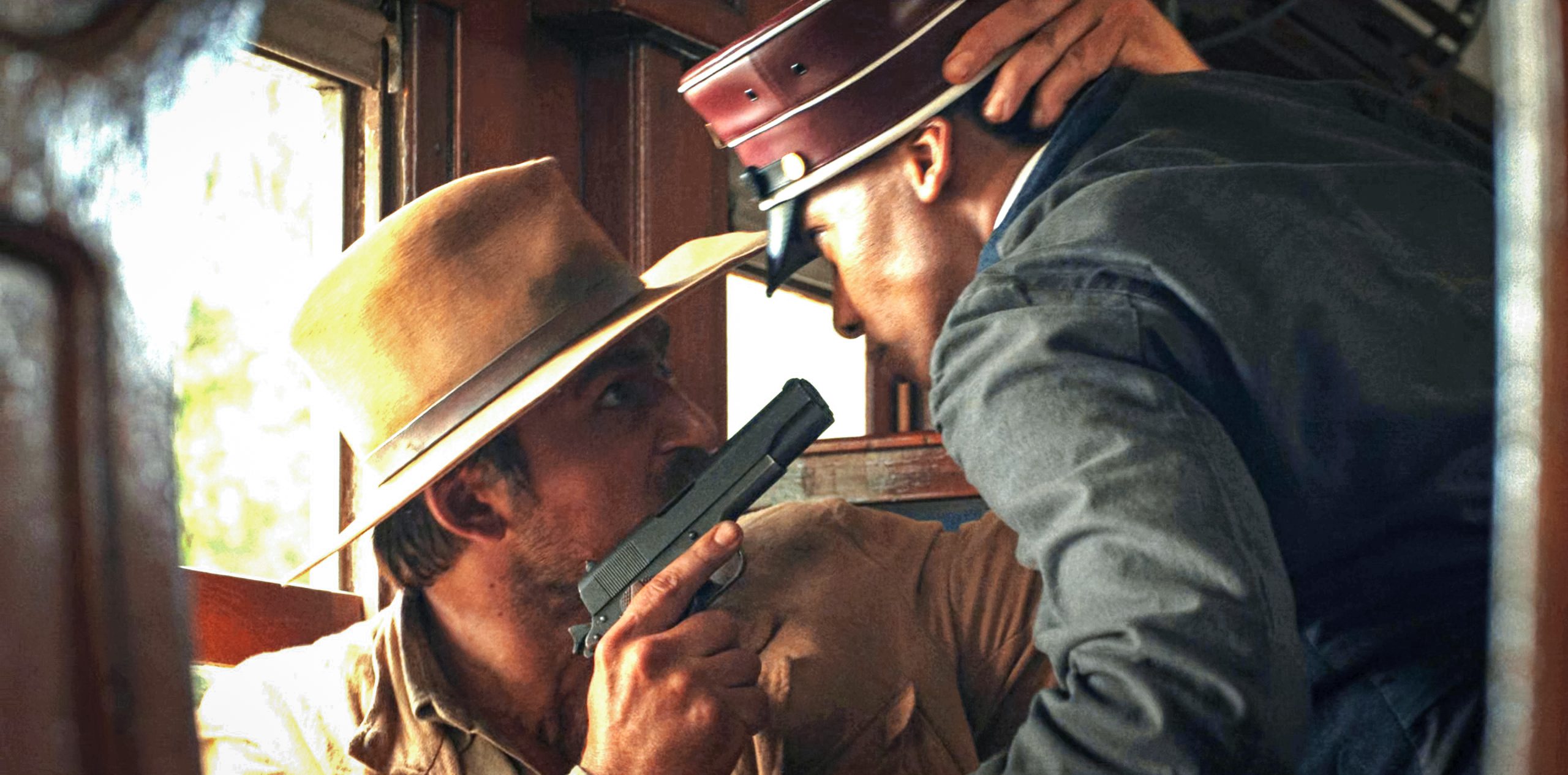 In a given episode, you'll find yourself alternatively daydreaming about life on the range and life on the move as a professional hunter in 1920s Africa, stomping the same terra as Teddy Roosevelt.
In short, so far, 1923 more than measures up to the original YS and to its companion prequel series, 1883.
We will check back in when this limited series has come to a close with a full and thorough review.
RELATED – Why the Hell Are There No Movies About Daniel Boone?!
---
THE FOLLOWING WAS ORIGINALLY POSTED ON DEC. 15, 2022:
Yellowstone is a television juggernaut, a throwback to the days when it felt like the entire country tuned in on the same night of the week at the same time to catch the new episode of the latest national obsession — an increasing rarity in the streaming age. This weekend, the show's many fans will get another glimpse into how the present-day Dutton ranching family, who we know and love, came to be with the newest prequel limited series, 1923, starring Harrison Ford and Helen Mirren.
The passion fans have for Yellowstone reminds me of how adults freaked out about Dynasty when I was a kid (fuck I'm old). But Yellowstone is way cooler than freakin' Dynasty — and it has way more shootings. Like, a lot more.
The modern cowboy anthology that some have called a high-budget, high-production-value soap opera (and they might have a small point) from creator Taylor Sheridan drew more than 12 million viewers for its recent Season 5 premiere, breaking same-day streaming records. It's no wonder there's a second prequel inbound as well as a spin-off series about a Texas ranch that's tangentially related to the Dutton Ranch with the forthcoming 6666 (that's pronounced "The Four Sixes"), which is set to premiere in 2023.
That's not all. Another spin-off series was announced in May 2022: 1883: The Bass Reeves Story, which will apparently delve into biopic, or at least historical fiction, territory since Reeves was a very real and super interesting person who has deserved at least a movie for a long time — a whole series is bound to be awesome.
He was the first black U.S. Marshal west of the Mississippi and has some astonishing stories attached to his reputation. It's said that he arrested 3,000 dangerous fugitives in his career — he shot and killed 14 of them out of necessity.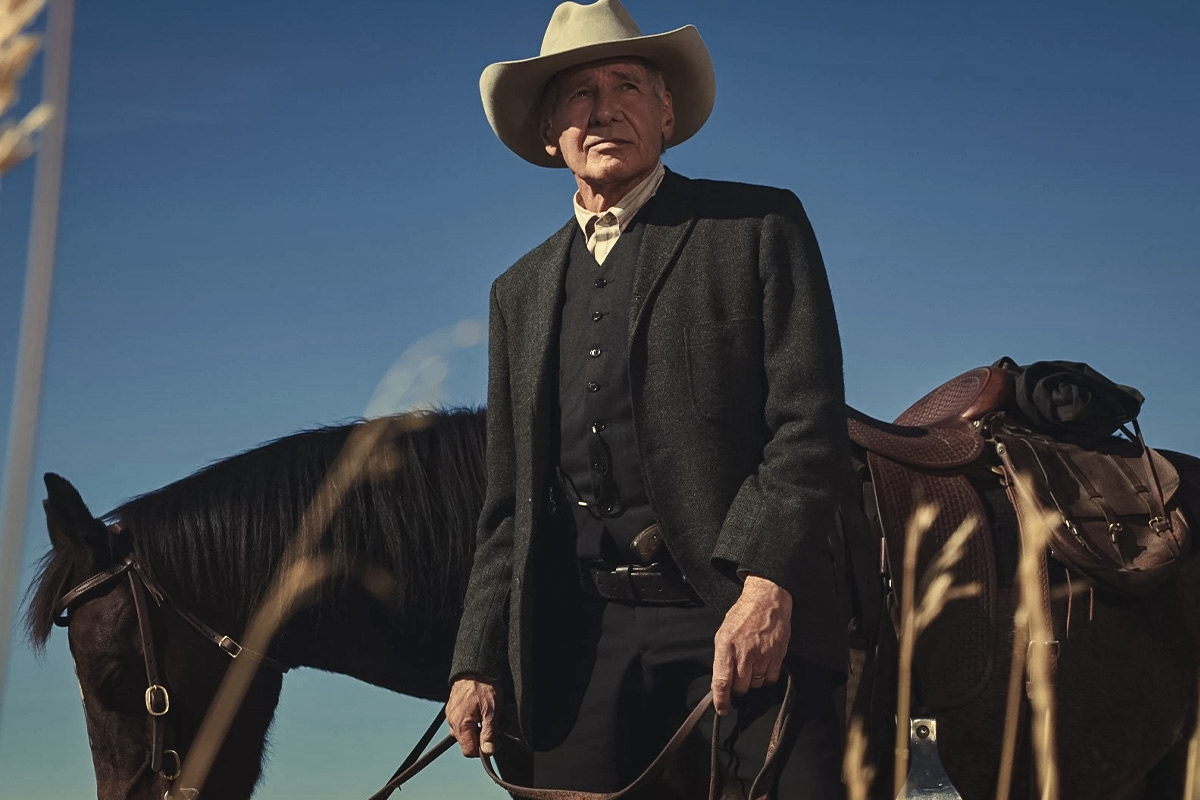 The new prequel series follows the successful 1883: A Yellowstone Origin Story, which told the story of the first Duttons to head West on the Oregon Trail in the titular year. 1923 will focus on the Dutton family 40 years later on the now-established ranch.
Ford plays Jacob Dutton, the brother of 1883's James Dutton (Tim McGraw). Jacob is now the patriarch of the Yellowstone ranch and runs it with his wife, Cara Dutton (Mirren), during a time of Western expansion, Prohibition, and the Great Depression, which came early to Montana.
From what we see in the teaser trailer, one of Jacob's sons is a World War I veteran, and one spends some time as a hunter in Africa. While details are sparse, it looks to be full of action, drama, and beautiful Montana landscapes.
GOOD GEAR – Show Off Your American Identity With the BRCC x Dixxon Death Pot Flannel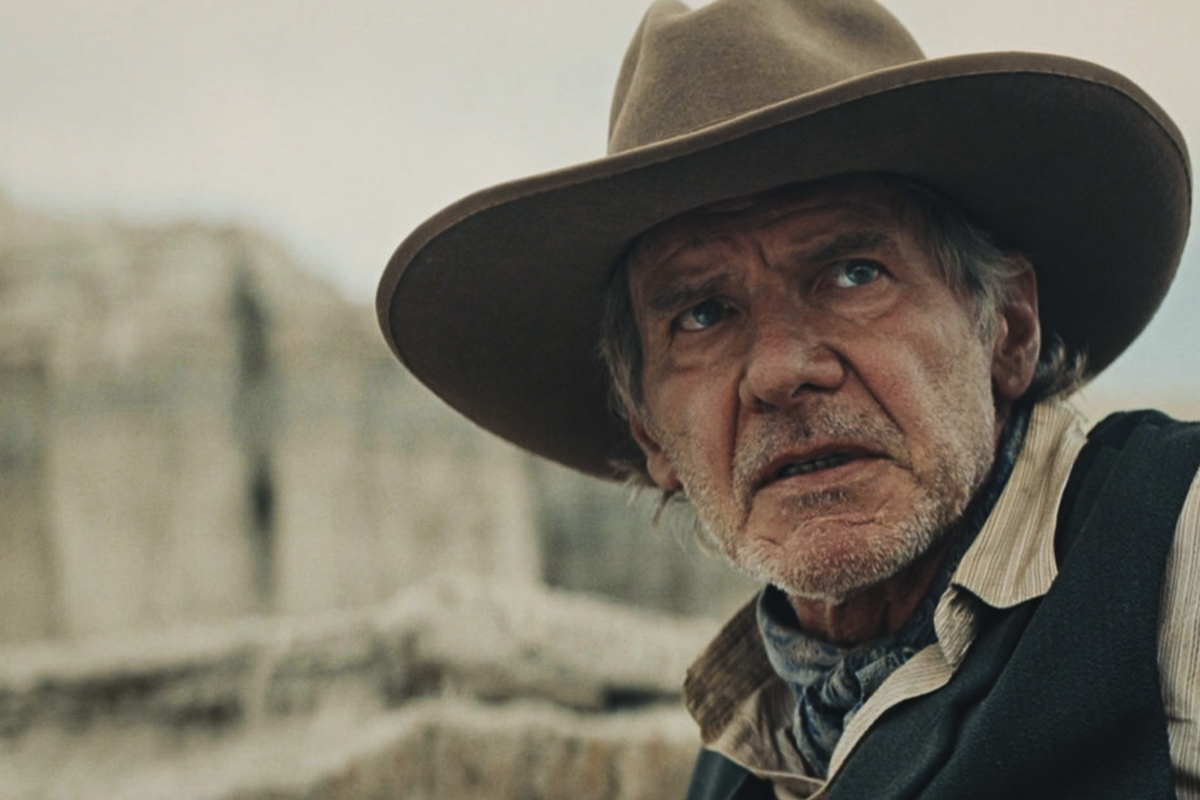 I mean, come on: Ford as the elder Dutton of the day, Mirren as his badass, no-bullshit Irish wife, Timothy Dalton as Donald Whitfield, who appears to be the prick antagonist of the series. Tommy guns and 1911s on horseback Wild Bunch-style, but in Montana — how can this not be awesome?
Apparently, the show was originally titled 1932, indicating it was to be set almost a decade later, just before the end of Prohibition, as the world was teetering on the brink of World War II, but the title and time period were changed before production began.
The cast is rounded out by James Badge Dale (The Pacific) as John Dutton Sr., Marley Shelton as Emma Dutton, plus Michelle Randolph and Julia Schlaepfer, Darren Mann, and Jerome Flynn.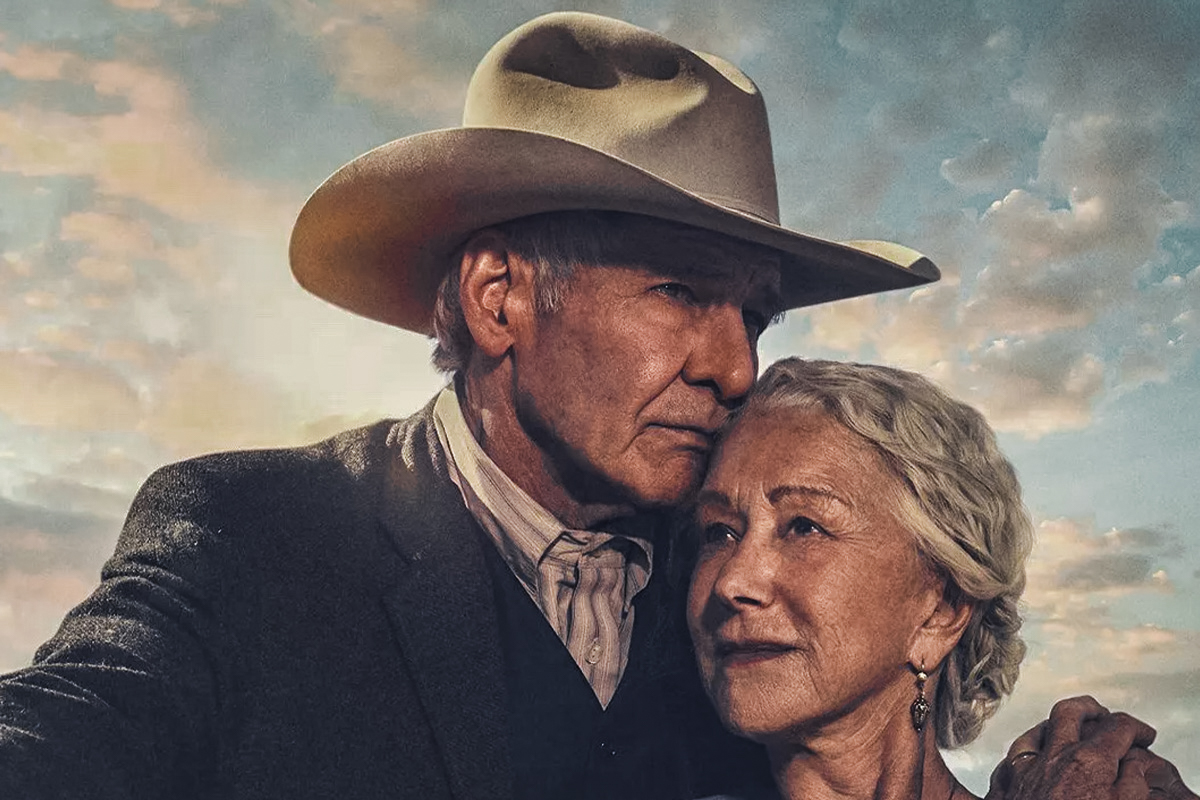 The first episode of 1923 will premiere on Paramount+ on Dec. 18, in the midst of Yellowstone's fifth season.
The parent show, Yellowstone, stars Kevin Costner as John Dutton, the fifth-generation Montana rancher paterfamilias fighting to hold on to the land that his family has bled for generations to keep against a world that is moving on. Nobody thought the show would make a blip — a sprawling modern cowboy show set in the middle of nowhere — some kind of modernized Little House on the Prairie. But anyone familiar with Sheridan's films and other work, like the excellent film Wind River, should have known better. The 12 million-plus people who watched the premier would likely agree that it has achieved that, at least.
---
READ NEXT – 'Cocaine Bear': The Kinda True Story of a Bear Eating Tons of Blow