Canadian distance runner Corey Bellemore just beat his own world record by 5 seconds at the 2021 Beer Mile World Classic, held in Leigh, England. He finished in 4 minutes, 28 seconds, providing proof that elite athletes are just as human as the rest of us shmucks.
For comparison, the world record for the fastest-ever mile — without chugging four beers — was set in 1999 by retired Moroccan speedster Hicham El Guerrouj with a ridiculous time of 3:43.13.
What the hell is a beer mile, you ask? The rules are simple:
Runners toe the starting line with an unopened bottle of beer that's 5.0% or higher ABV, chug the entire thing when the gun goes off, and run the first of four laps around a 1/4-mile track. Each time they finish a lap they chug another beer. Run four laps, drink four beers.
Related: Improve Run Times: This 2-Step Training Program Will Make You Faster
Bellemore, who is sponsored by Flying Monkey Beer, has actually set the record four times in his beer-mile career, so he's really only competing against himself, in spite of the dozen other drinkers-turned-track-stars that line up against him. 
Regardless, beating his own record was a sweet victory.
"I knew the potential was there, and I'm finally happy to go sub-4:30," Bellemore said in a post-race interview. "There's still room for improvement, but overall, good quality field, everyone ran really fast, so it was an awesome day."
The quest for the fastest mile has been around since the first accurately-measured running tracks were built in 1850. The sport was primarily English lords placing bets on their carriage attendants, or footmen.
Related: How to Get Back Into Running After Time Off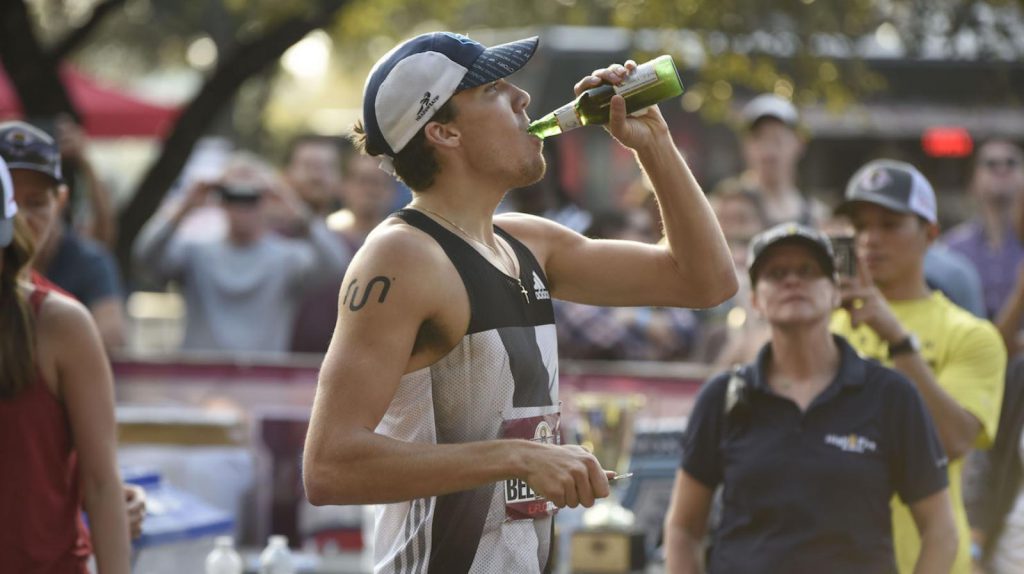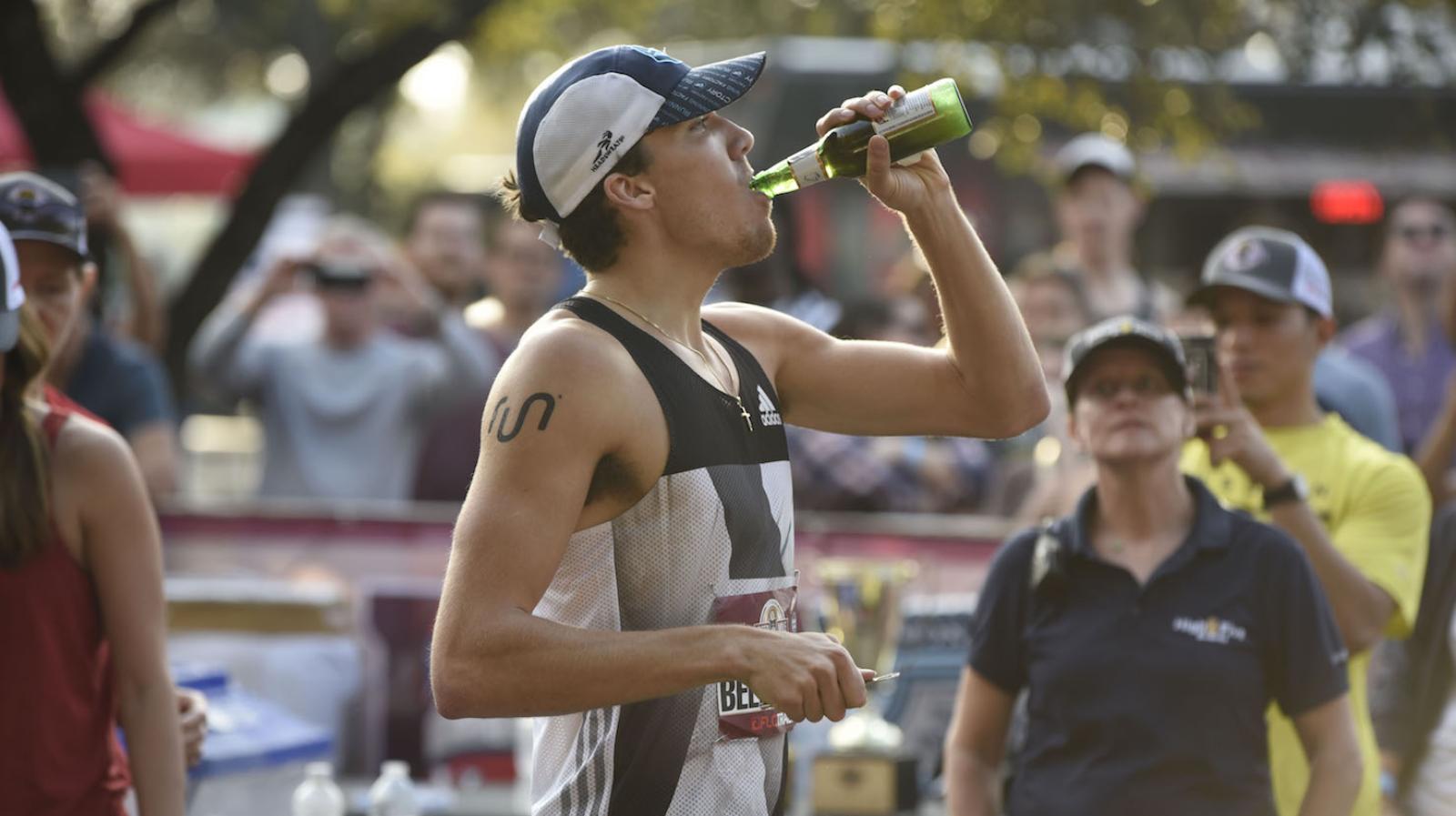 The first fastest officially recorded time by a professional runner was set in 1886 by Walter George, with a blistering 4:12:45 finish. Supposedly, that record fell to an amateur in 1915.
The 1940s saw the mile time drop to 4:01:04 and then Roger Bannister famously broke the 4-minute barrier in 1954, posting a 3:59:04. John Landy bested that 46 days later with a 3:41:08. 
The average mile time for a non-beer-swilling 20- to 35-year-old elite runner is 5 minutes, 11 seconds, which, let's be real, is hauling ass. 
Imagine cracking open a nice cold brew, pounding it, and then taking off for a quarter-mile sprint, only to do it again, and again, and again. Then imagine finishing 43-seconds faster than half the elite runners in the world who refuse to pollute their bodies with even one more calorie than their training allows.
Plus, the dude doesn't do any special training for these world-class performances, aside from putting in his regular 85 miles a week on the track.
Related: Winning the Half-Marathon Mind Game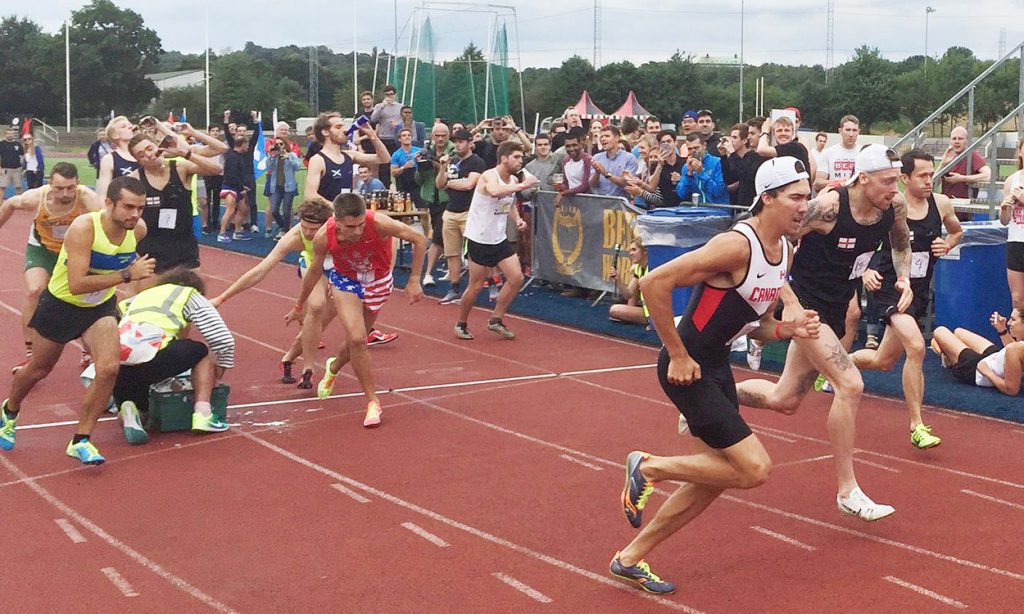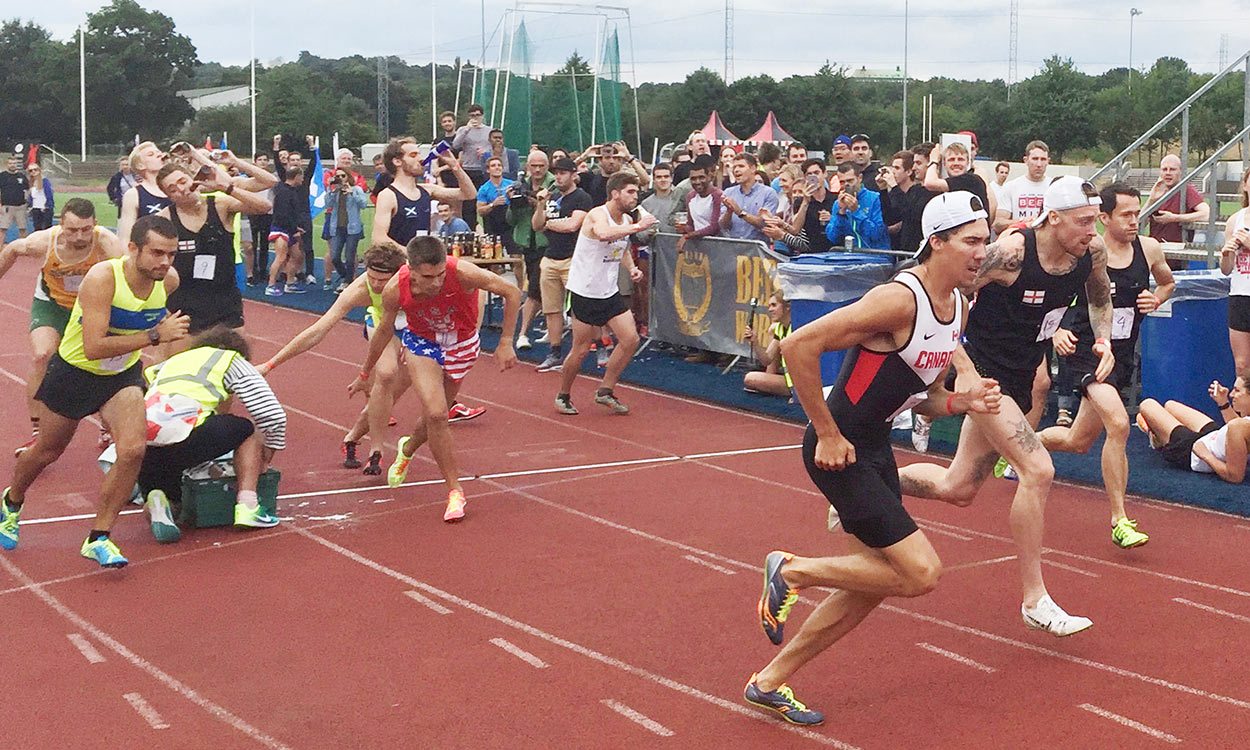 "I just show up on race day and hope my stomach can handle it all," he told Men's Health.
All you mile fanatics who can't seem to break into the 4-minute club should take note: there's no excuse for your lacking pace.
Who knows how much faster mile times will be in the future, but if beer alone gets boring, adding chicken wings to the race seems like a perfect evolution to the contest. Or maybe the cigarette mile. Talk about redefining what it means to be a "professional" athlete. 
Read Next: Trail Running: 6 Basic Tips to Train Successfully