With smartphones in everybody's pockets, some people might find it redundant to wear a watch these days, especially if it's not a smartwatch of any kind. But solid timepieces still have a place in the outdoors. 
Whether you're wearing an analog watch or smartwatch, it helps to have information ready at a glance when hunting, fishing, on the range, or just going for a hike. An outdoor watch should be rugged enough to put up with some abuse, lightweight and unobtrusive, and give you a few style points to boot.
There are lots of watch options for outdoors people of all stripes to choose from. We tested six that should have you covered for just about any outdoor adventure. And if those six don't trip your trigger, we've added four more recommendations below in every budget.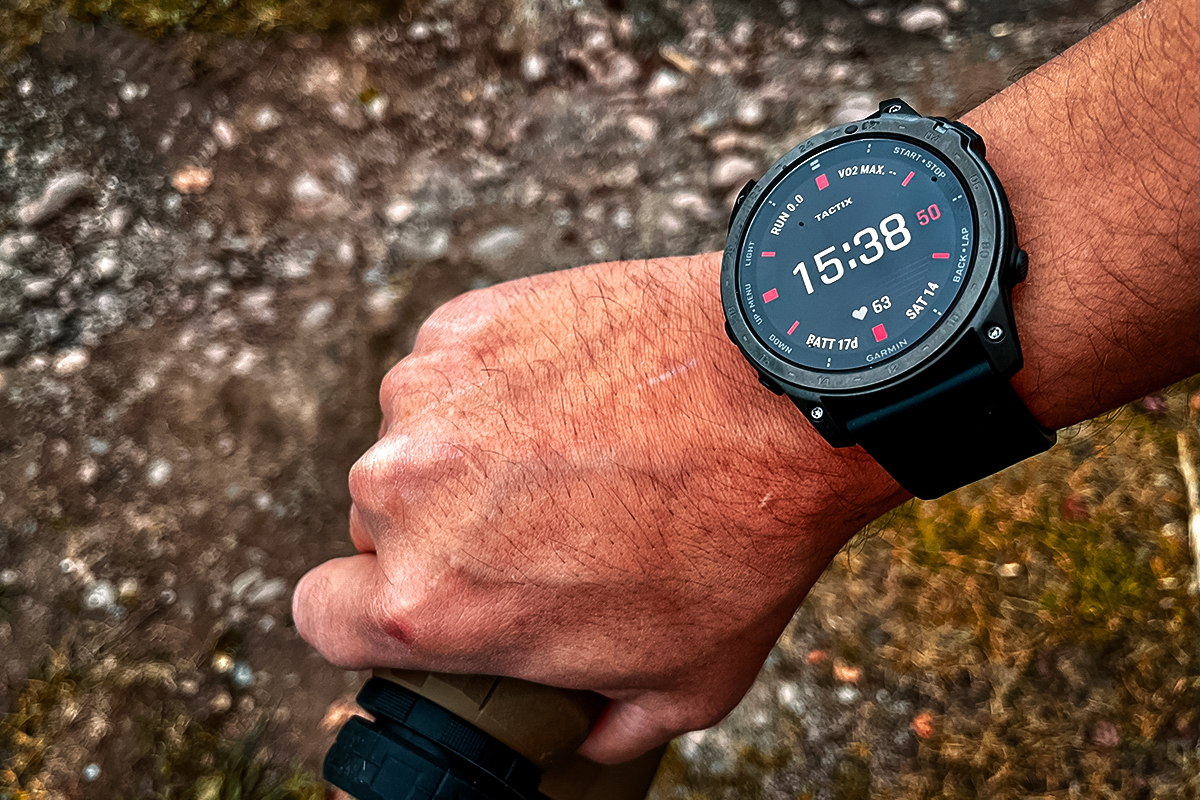 ---
Why Carry a Watch in the Outdoors
It's smart to practice redundancy with certain pieces of gear when you're headed to the woods. For example, I'll bring waterproof matches, a lighter, a ferro rod, and a wax fire starter in case one of my fire-making tools doesn't work. The same can be said for keeping time—and the other functions a watch can perform.
They're a great analog back-up to technology like phones and GPS units. They can help you find your way around or rendezvous with someone at a specific time. You can even break a watch apart to make a knife with the crystal or use it as a mirror to signal for help. 
Any watch can aid in navigation. If you know how fast you can walk, you can time your hikes and compare to a map to check in on where you're at.
An analog watch can also be used as a compass by comparing the hands to the sun, and a lot of digital watches have compass functions. Watches also let you leave your smartphone in your pack and unplug from all of the screens in your life. 
---
Our Favorite Outdoor Watches
---
Price: $169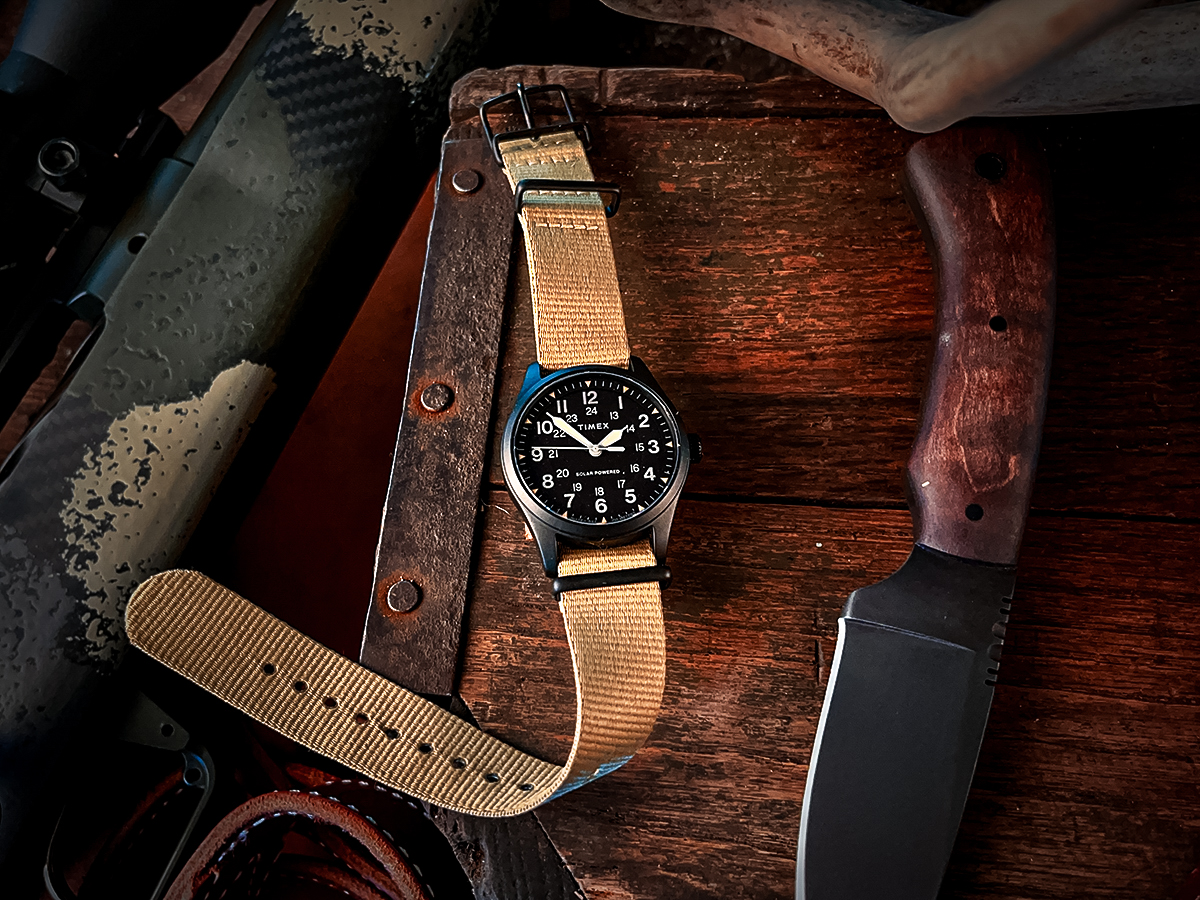 SPECS:
Movement: Solar Powered Quartz 
Case Size: 36 mm
Crystal: Sapphire
Thickness: 12 mm
Lug Width: 18 mm 
Water Resistance: 100 meters
Power Reserve: 4-months
At well under $200, the solar-powered Field Post 36 is a solid choice for anyone looking to get their first wristwatch. Its small 36mm case size has a retro appeal and reminds me of the field watches soldiers wore in WWII and Vietnam. It has a simple, easy-to-read dial that's perfect for keeping track of the time, the distance you've walked, or checking legal shooting times during hunting season. 
I wore the Field Post 36 on a few hikes and took it fishing for brook trout. I found the lightweight NATO strap to be comfortable and even forgot the watch was on my wrist at times. The Expedition North features a screw-down crown and case back, giving it 100 meters of water resistance—which is plenty for most outdoor activities. 
The best thing about the Field Post 36 is the solar-powered movement. When fully charged, it offers a 4-month power reserve. This is great for not having to worry about changing watch batteries or getting caught off-guard with a dead battery while on a backcountry trip. The all-black version of the Field Post 36 we tested is non-reflective and perfect for use in a duck blind or while bow hunting. All said, it's a solid field-style watch for the money. 
---
Price: $1,295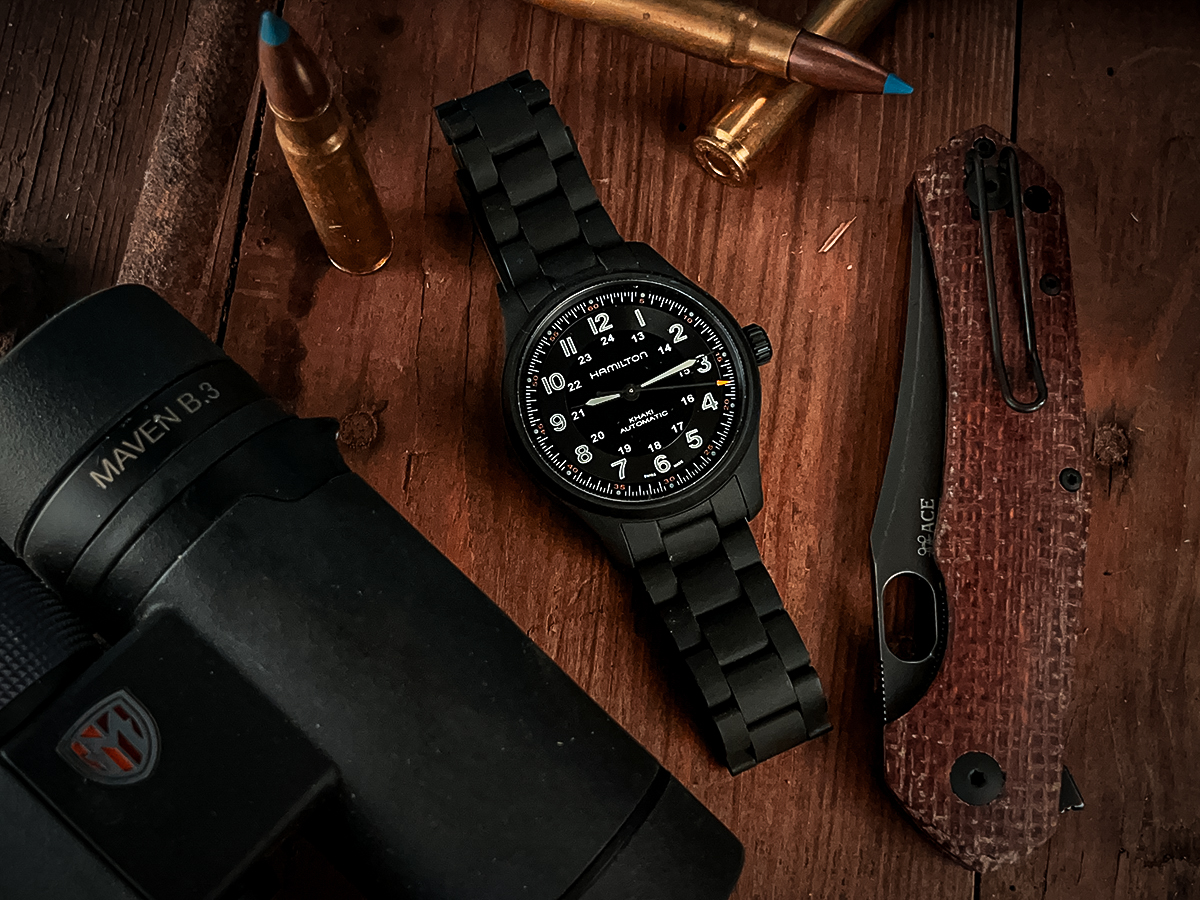 SPECS:
Movement: H-10 Automatic
Case Size: 42mm
Crystal: Sapphire
Thickness: 11.45mm
Lug Width: 20mm
Water Resistance: 100 meters
Power Reserve: 80 hours
Hamilton has been making watches for over 130 years, starting in Lancaster, PA. They are a staple field-watch brand that helped U.S. soldiers and sailors in both WWI and WWII keep time. Today, they're owned and operated by the Swatch Group, the brand behind Longines, Mido, and Omega. Because of their Swiss parent company, Hamilton can blend timeless field watch styles with rugged Swiss movements.  
The Khaki Titanium Auto is a variation on Hamilton's classic Khaki field watch. It's lightweight but doesn't feel cheap or tinny. I tested the all-black 42mm version for this story. I had the watch for about a week and wore it almost every day. I took it hiking in a rainstorm and wore it while hanging tree stands and prepping for bow season.
To test the H-10 movement's 80-hour power reserve, I left it alone for a few days on my nightstand, and it kept on ticking. Its larger case size makes it easy to read, but it isn't excessively big on the wrist. 
If you don't have the money for the Titanium Auto, you can still have a solid Hamilton Khaki timepiece. The manual-wind Khaki and Khaki Automatic come in around $450 and $600, respectively. They're all simple, rugged watches you'll likely pass down to your kids. 
---
Price: $380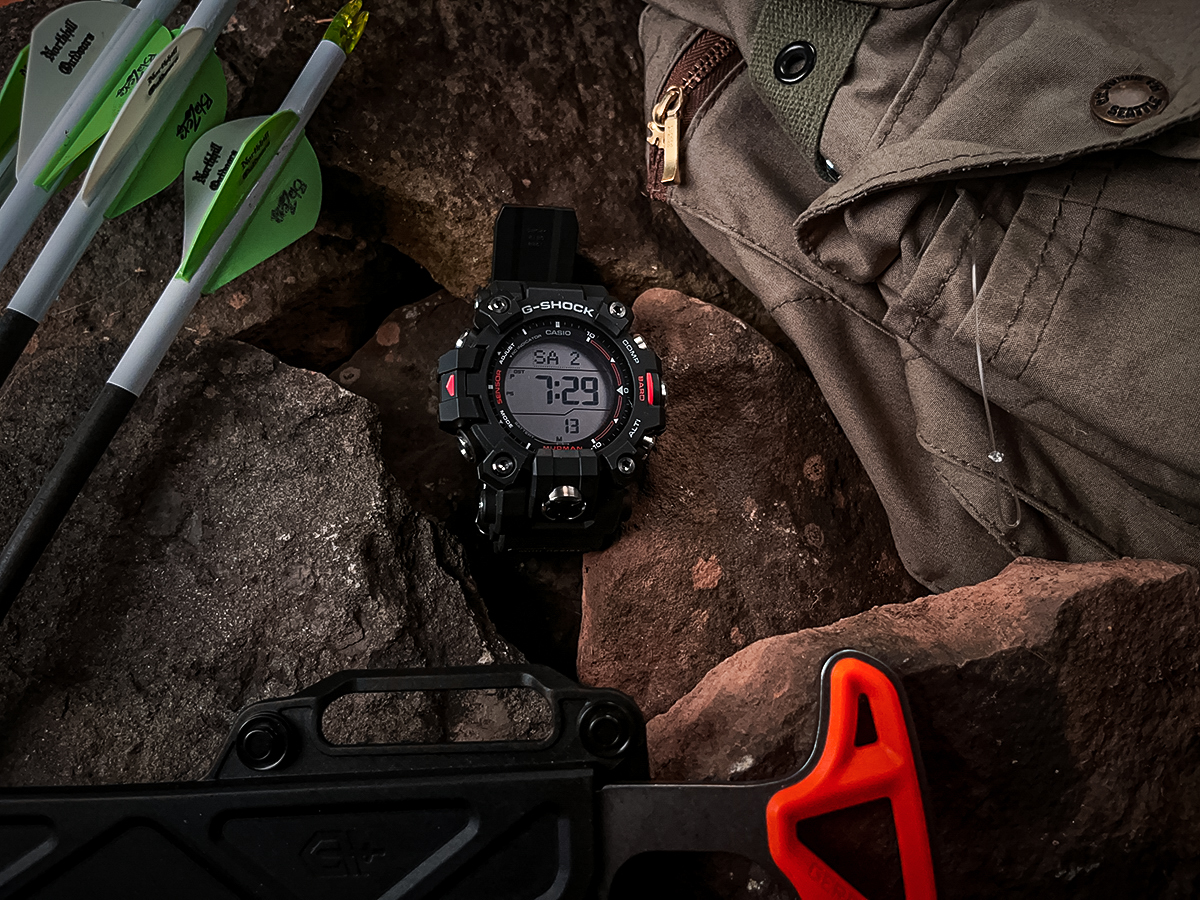 SPECS:
Movement: Solar Powered Digital
Case Size: 56.7mm
Thickness: 14.8 mm
Water Resistance: 200 meters
Power Reserve: 26 months
There is a pile of G-SHOCKs out there, and it was hard to pick just one to test. Ever since Kikuo Ibe created his virtually indestructible model DW-5000C, people who work in tough environments trust G-SHOCKs to deliver. 
Special Forces troops and Astronauts have worn them. Hunters and anglers have, too. And before GPS-enabled smart watches, GSHOCKS packed the most features onto a wrist for those in the outdoors. 
We tested the GW9500-1 Mudman, one of the latest iterations of the G-SHOCK. Casio has packed the Mudman with too many features to list here. Some include solar-powered radio-controlled timekeeping with a 26-month power reserve, a compass with hands that turn on the watch face when enabled, and an accurate altimeter, which comes in handy for navigation with a topo map.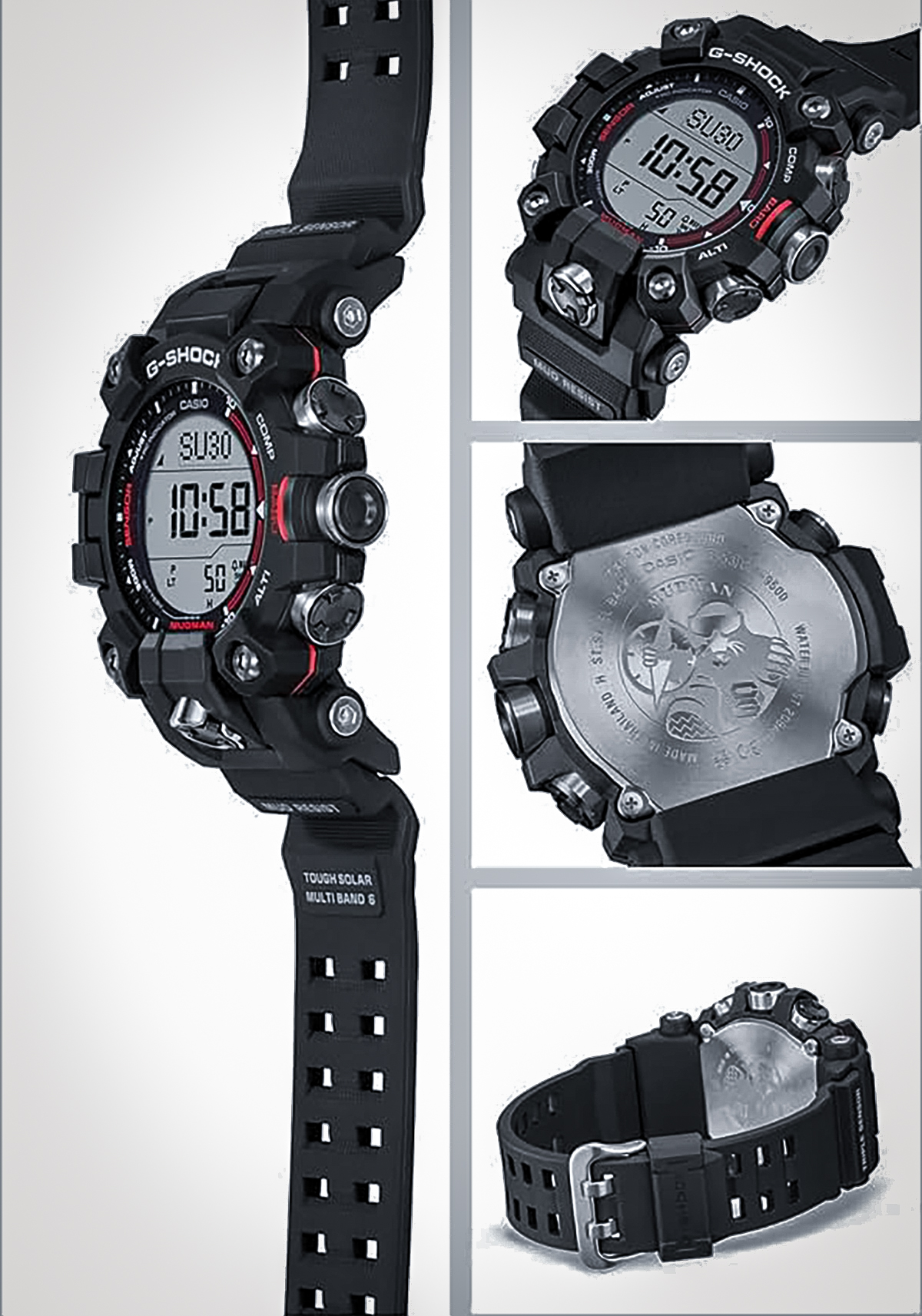 The ability to set five alarms is nice, too, especially if you're sleeping in a tent, trying to wake up before dawn to go hunting. A seasoned outdoorsman could leave their phone at home and take this watch off-grid for a week without an issue. 
Fans of classic GSHOCKS should also consider some throwback options like the original DW-5000C and DW6900. They may not have the features of the Mudman, but they're still indestructible and almost too cheap not to buy. 
The Mudman is hefty, so those with small wrists might want to look elsewhere. On my 7-inch wrist,  the watch fit well but was a little bulky. Once it's on, though, it's light enough that you forget about it. 
---
Price: $1,310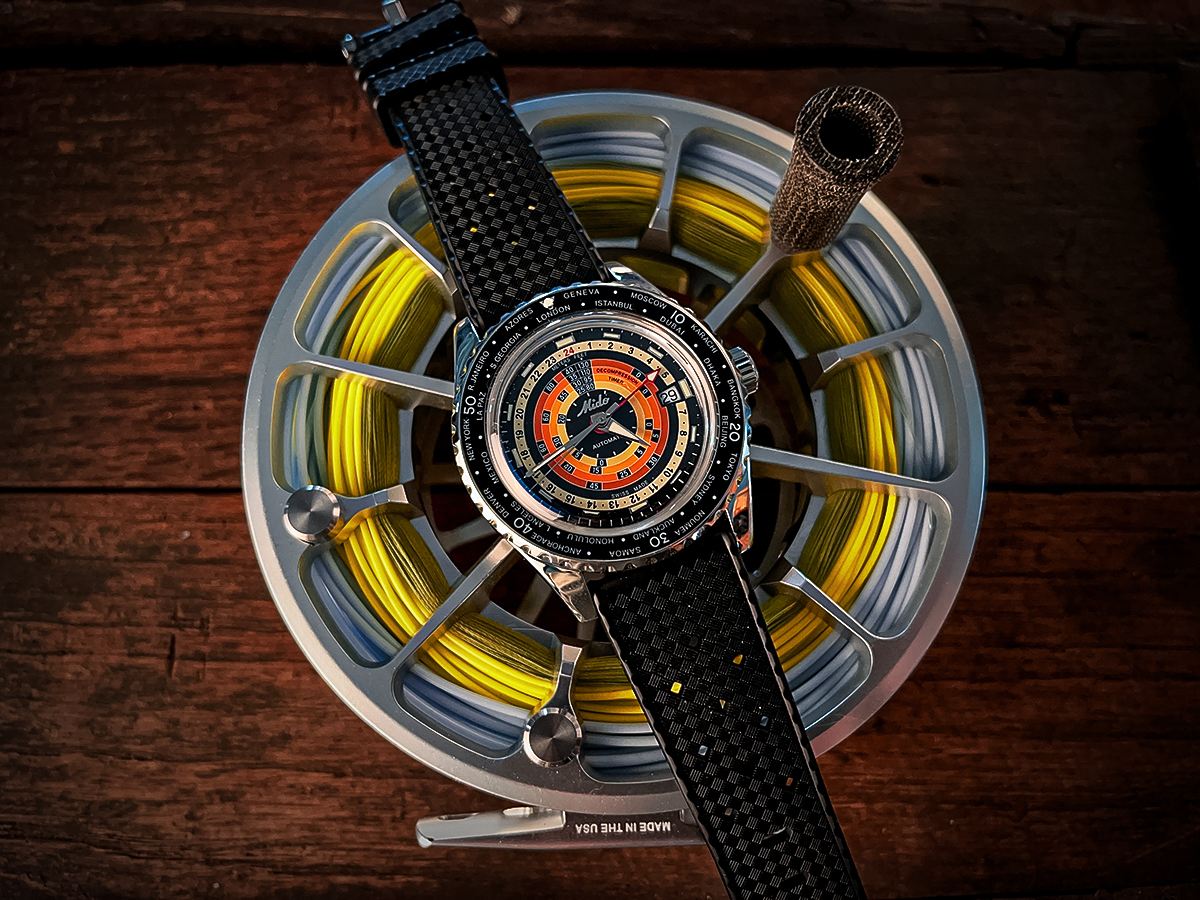 SPECS:
Movement: Mido Automatic ETA
Case Size: 40.5mm
Crystal: Sapphire
Thickness: 13.4mm
Lug Width: 21mm
Water Resistance: 200 meters
Power Reserve: 80 hours
Mido re-released this latest version of the Decompression Worldtimer as an homage to the classic version of the watch from the 1960s. The colorful and busy face is actually functional for diving, though Mido suggests not relying on it as your only diving instrument.
Each colored bar gives the necessary decompression time for divers returning to the surface so they can avoid getting the bends. While there are more advanced decompression timers today, this is still a neat complication and would fit right in on the wrist of a spearfisherman or anyone else who spends most of their time on the water.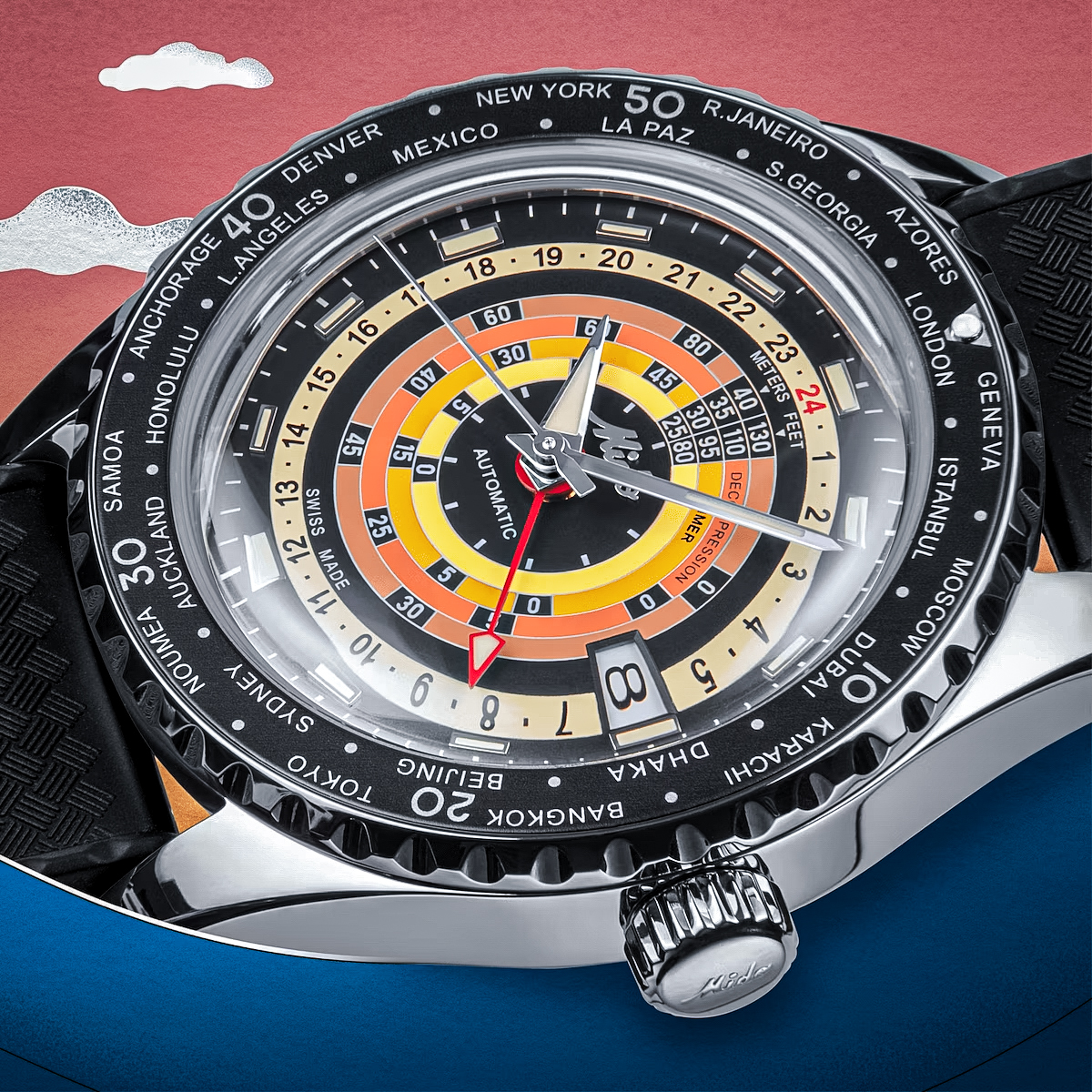 At $1,310, the Decompression Worldtimer was the pricest mechanical watch in our test. But for the money, it boasts some impressive features. First is the caliber 80 movement's 80-hour power reserve. Over a few weeks of use, I found it to keep perfect time. The watch is also a true GMT, allowing you to track multiple time zones and adjust the hour hand independently. For the traveling hunter or angler, this is a nice feature. 
The rotating bezel also allows you to check the time in multiple world time zones. Simply line up your current time zone with the red 24-hour hand, and you'll be able to see what time it is around the world at a glance. The watch has a strange lug dimension at 21mm, but it comes with two straps: A high-quality rubber strap and a stainless-steel bracelet. 
---
Price: Starts at $845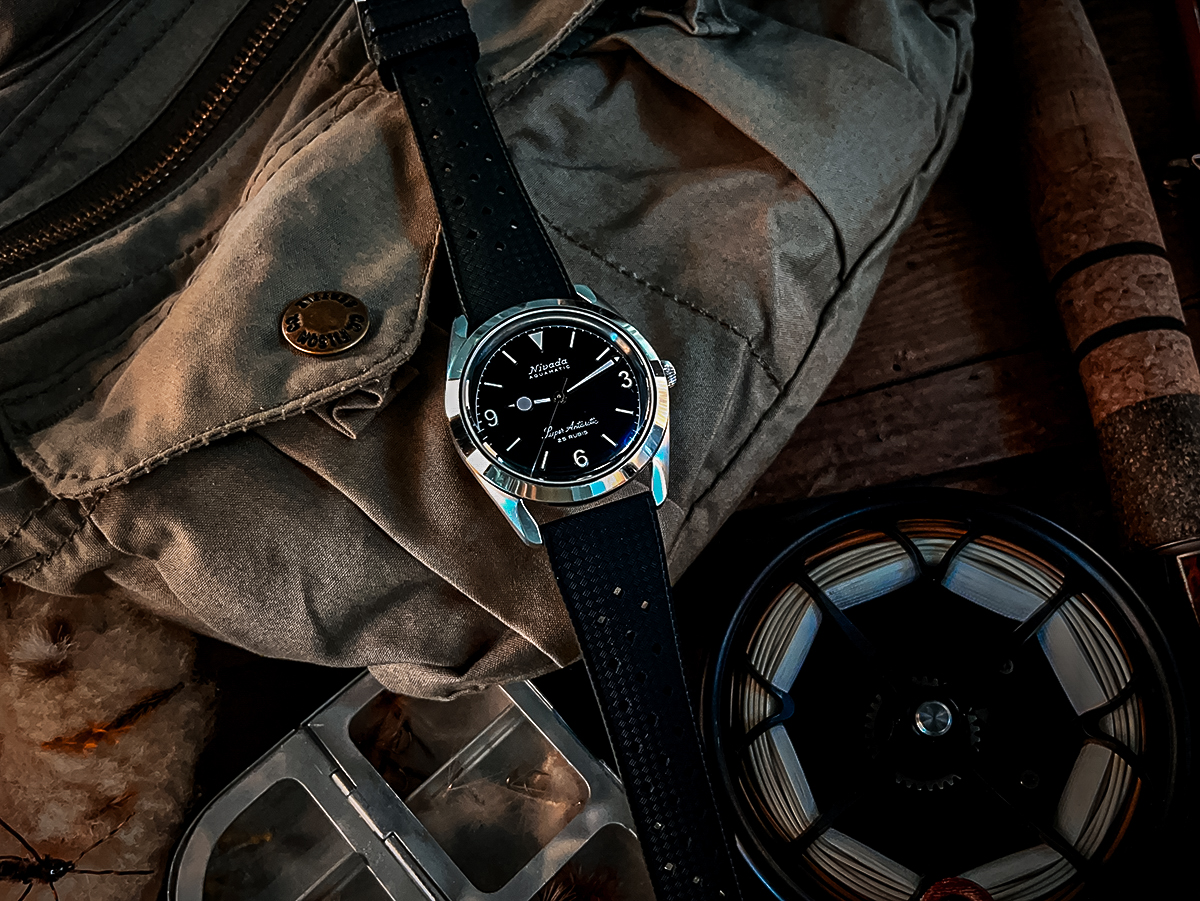 SPECS:
Movement: Soprod P024 Automatic
Case Size: 38 mm
Crystal: Sapphire with Ar coating
Thickness: 12 mm
Lug Width: 20 mm
Water Resistance: 100 meters
Power Reserve: 38 hours
I may be a little biased here because the Super Antarctic is my personal go-to field watch. I like its 38mm case size, robust Soprod P024 automatic movement, and easy-to-read face. I also like the story behind the company.
In the mid-20th century, Nivada was known for making solid field watches and sent their Super Antarctic model to the Arctic Circle. With the advent of quartz, the brand fell out of favor and closed its doors. But in 2020, cofounders Guillaume Laidet and Remi Chabrat bought Nivada and brought it back to life.
Nivada offers multiple versions of the Superantartic—some with a distressed "tropical" dial that looks like they've been in use for years. All models use the 25-jewel automatic movement. I've found that I can leave the watch for about a day and still have it powered up, but any longer, and it will stop ticking.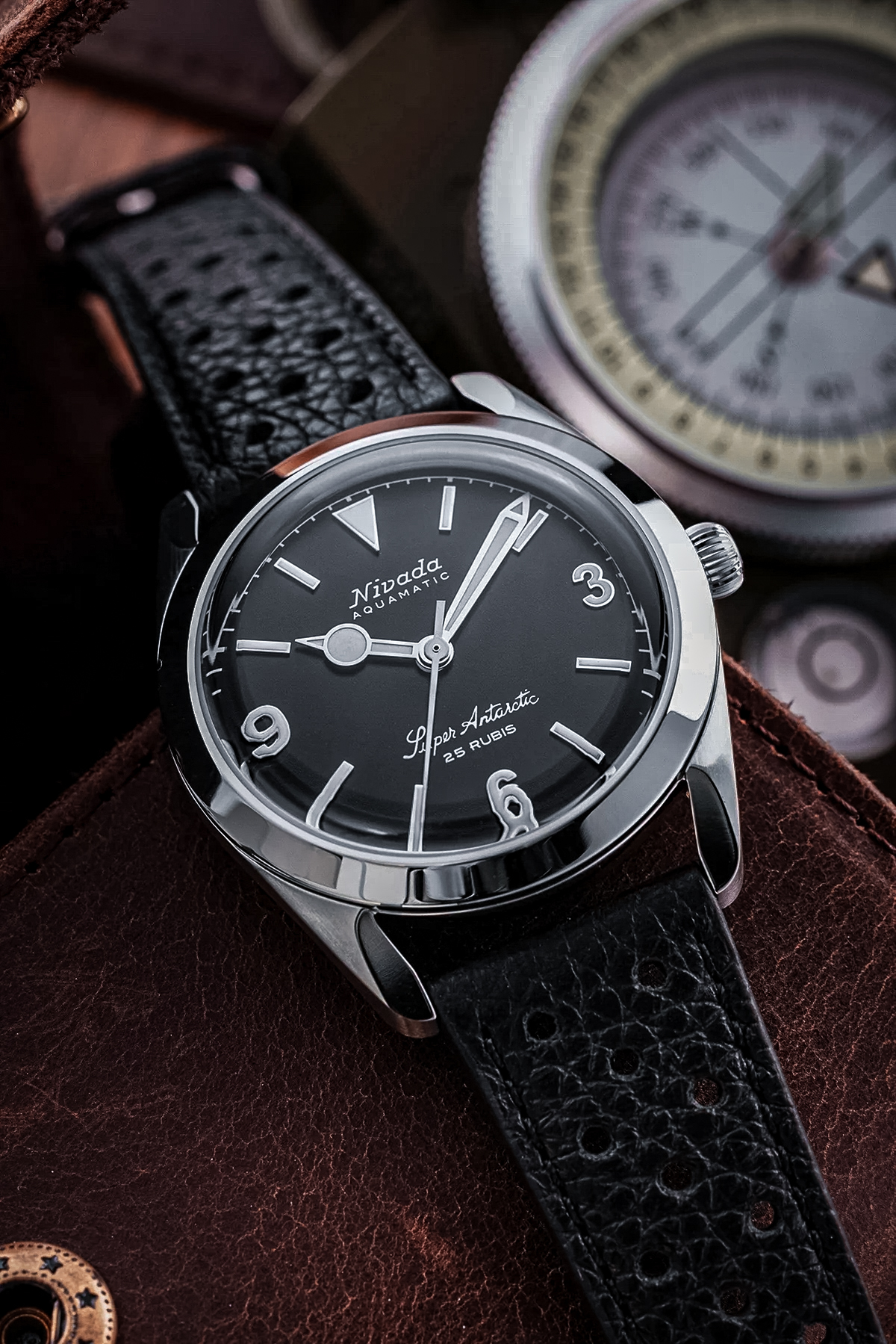 That's okay, though, because there aren't a lot of days that I don't have my Super Antarctic on my wrist. Its classic lines and dial face look just as great in town as they do in the field. With a screw-down crown and 100 meters of water resistance, it can also put up with some weather and surface swimming.  
The 3.6.9 version of the Super Antarctic reminds a lot of people of the Rolex Explorer. But I like that the watch isn't just an homage to the Rolex but has its own history as an adventurer's timepiece. I've worn my Super Antarctic for about three months now, and it continues to keep perfect time. 
I've done everything from fishing to duck hunting and worn it in boats, treestands, and on a number of hikes. I haven't babied it, and it's held up just fine. Nivada backs their watches up with a two-year warranty if you buy from them or an authorized dealer. 
---
Price: $229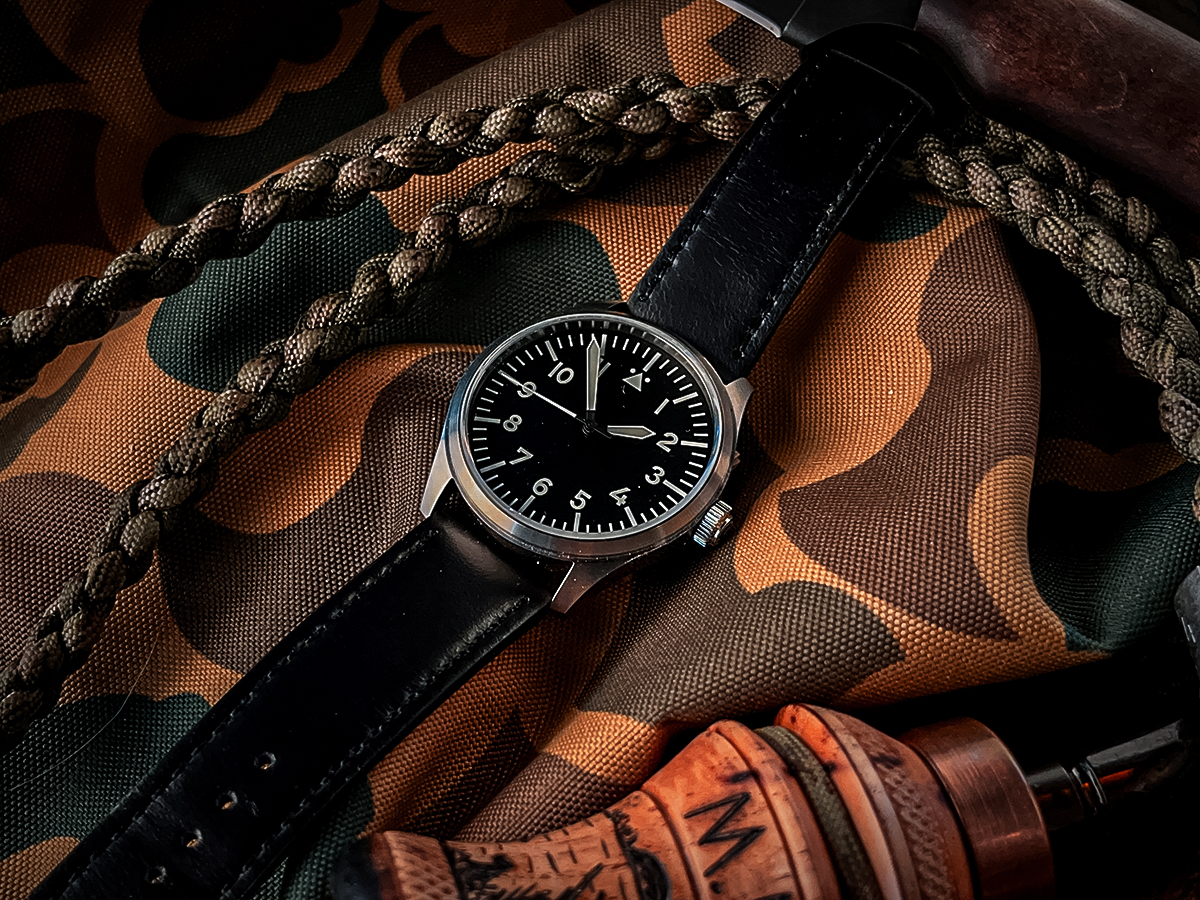 SPECS:
Movement: SII NH36 Automatic
Case Size: 42mm
Crystal: Anti-reflective sapphire
Thickness: 12mm
Lug Width: 22mm
Water Resistance: 100 Meters
Power Reserve: 41 hours
If you're looking for an automatic pilot-style watch and you're on a budget, the microbrand Islander has what you desire. Started by Long Island Watch founder Marc Frankel, Islander has been around for about five years. They're easy to contact should you have an issue and offer great customer service. 
The Aviator is a robust, no-nonsense pilot watch with a proven NH36, 24-jewel automatic movement. At 42mm it's easy to see and read. With SuperLuminova on the hands and numbers, it shows up well in the dark after being charged up with a light source. 
Its unbranded face gives it the looks of a classic military pilot watch, and it has an engraved case back with an F-14 fighter jet in homage to the Grumman factory that produced them on Long Island. 
The best thing about the Aviator is the quality and classic looks for the money. The leather strap was one of the best in the test, and its stainless case is well-finished. I took the Aviator out duck hunting for a weekend and really appreciated its SuperLuminova hands and numbers. I was able to check the time before first light without lighting up the whole blind with my iPhone. 
The screw-down crown and 100 meters of water resistance also gave me some confidence when picking up decoys and retrieving ducks. One morning it rained on us for 4 hours straight, and the Aviator didn't miss a beat.
---
Price: $1,399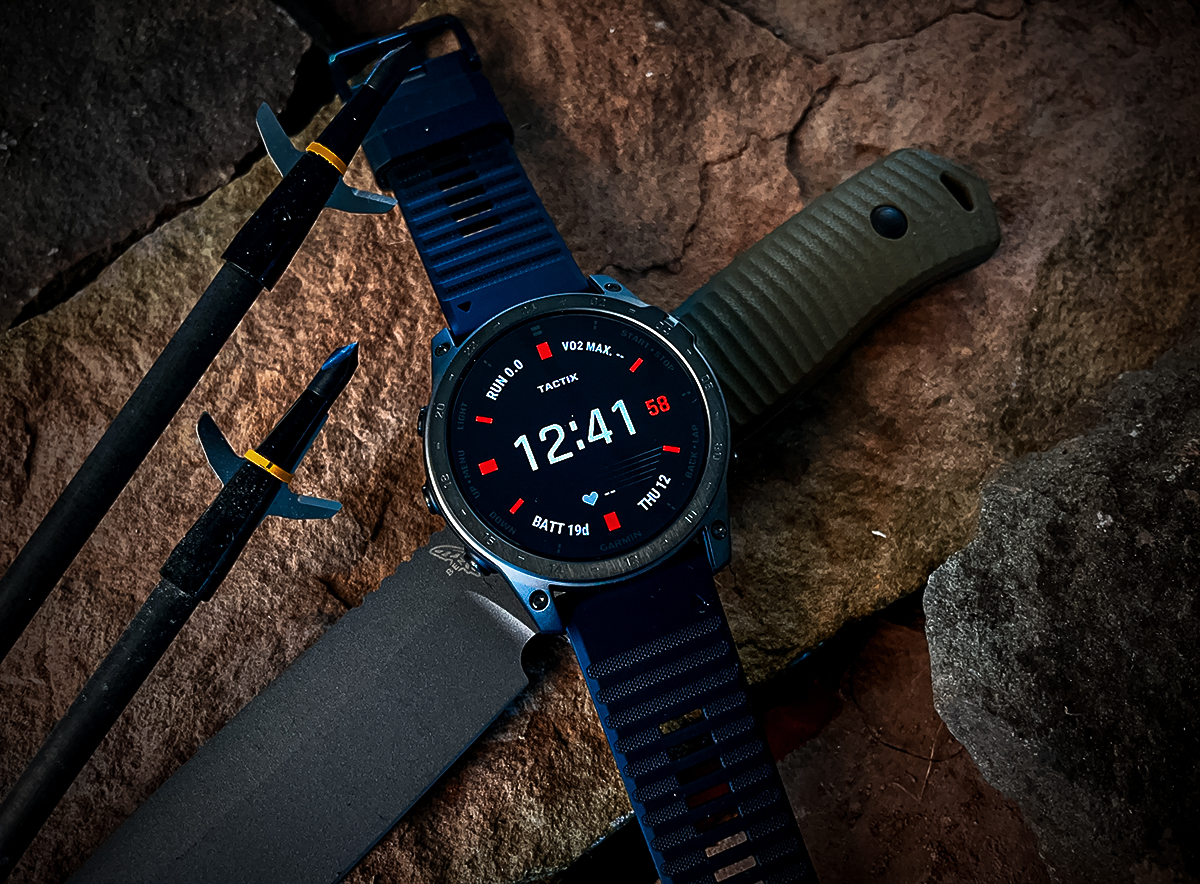 SPECS:
Movement: Smartwatch 
Case Size: 51mm
Crystal: Sapphire 
Thickness: 16.4mm
Lug Width: 26mm
Water Resistance: 100 Meters
Power Reserve: 41 days (varies depending on function)
Garmin has been putting their satellite GPS navigation technology in smartwatches for the past few years now, and the Tatix 7 AMOLED is one of the latest in their lineup. It's jam-packed with features that will keep you in shape, up-to-date, and on the right track in the field. 
The GPS function is the first selling point of this watch. It offers true off-grid navigation with a ton of map layers with everything from public and private land boundaries to satellite imagery. Its large bright face is easy to use, and the touch screen function is very responsive. 
For the hunter and shooter, the Tactix 7 AMOLED can also be used with Applied Ballistics, giving you a ballistic calculator at a glance. Whether you're shooting a match or hunting, this feature is incredibly handy.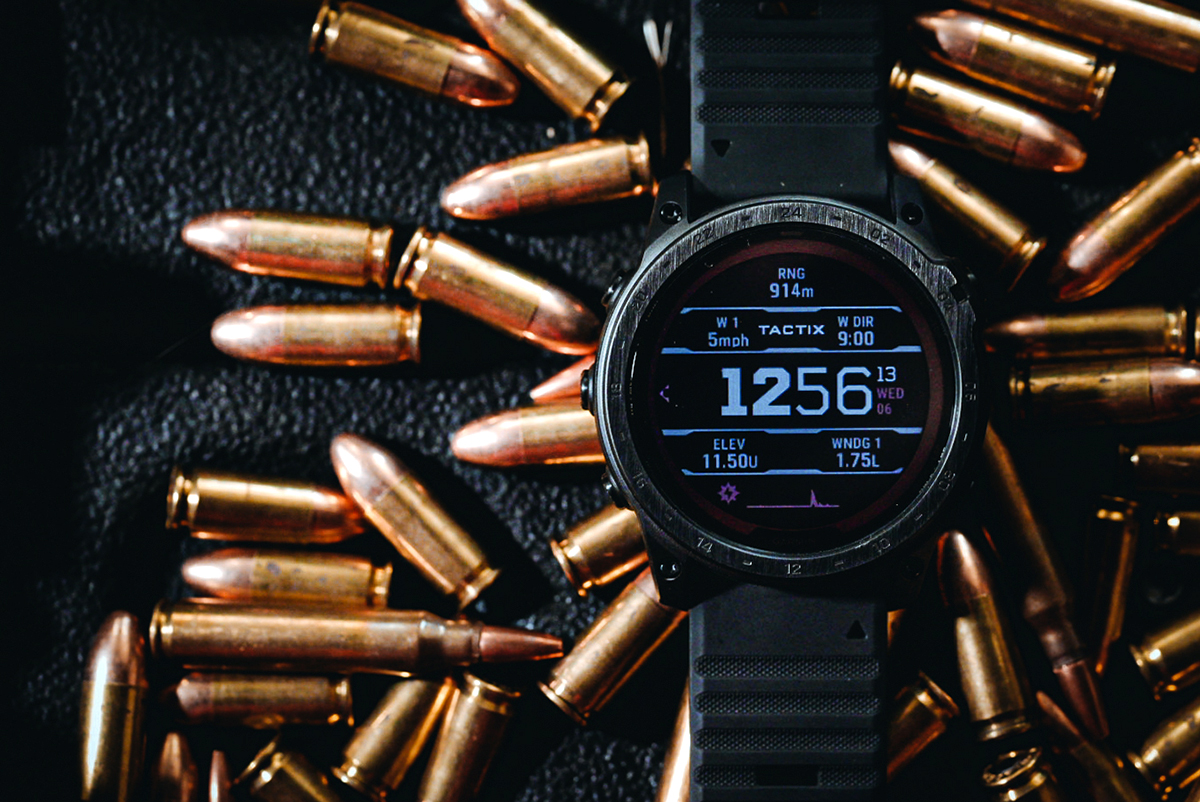 Previously, I've used dope cards or grease pens to have my data at a glance during a long-range match. But I'm looking forward to trying out the Tactix 7 instead. 
The Tactix 7 also has a number of fitness tracking apps and can monitor your heart rate during workouts and while you're sleeping. This is an asset for anyone training for an elk hunt or for those who just want to get the most out of their time in the gym. 
Finally, the Tactix 7 has an onboard flashlight. It's a pricey watch, but you easily replace many tools in your arsenal with it. Any serious backcountry hunter or long-range shooter should consider buying this watch. 
---
Four More Great Outdoor Watches We Didn't Test
---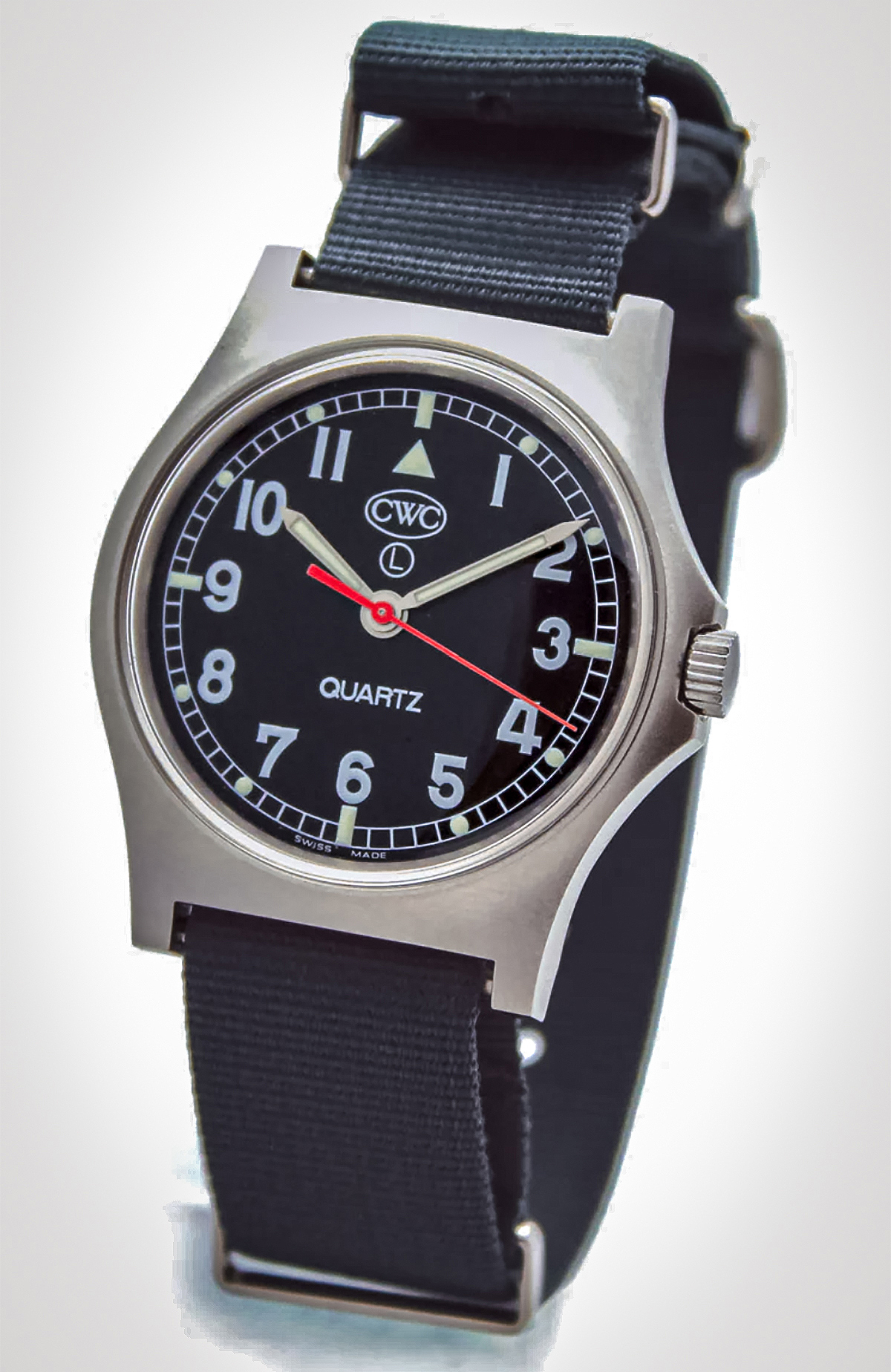 In the 1980s, the British military put out a contract for a quartz watch to issue to their soldiers. The Cabot Watch Company answered with the G10, a 36.5mm case field watch with quartz ETA Swiss movement. Over 200,000 G10 watches have been produced for the British military over the years, with thousands still in use today. 
With a track record like that, the G10 may be the ultimate quartz field watch. On CWC's website, you can buy case covers, have a custom laser-etched insignia put in the case back, and purchase different straps. CWC also offers a number of other quartz and mechanical watches, each with a history of serving the armed forces. This watch starts at around $338. 
---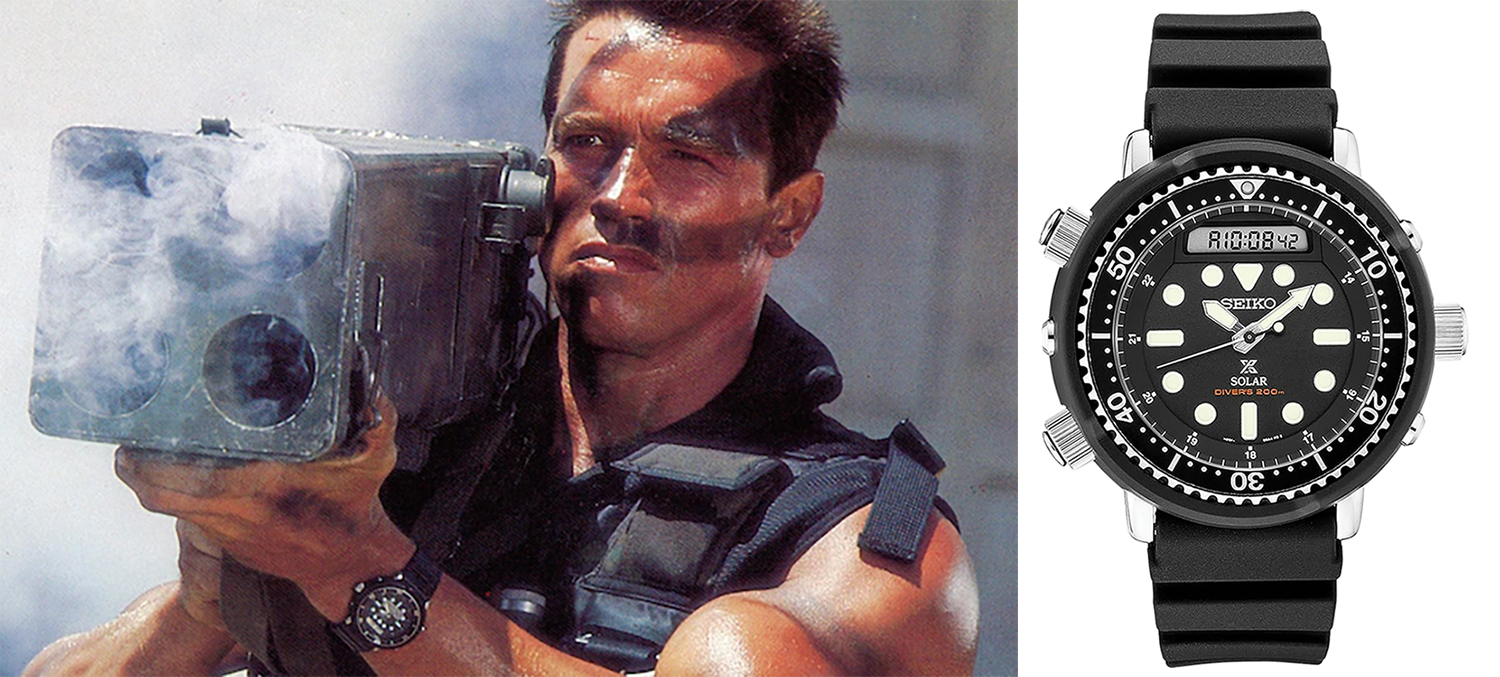 The SNJ025 is a big watch for a big man. This watch was a favorite of Arnold Schwarzenegger back in the 1980s; he wore it in Predator, Commando, and a few other movies. It was the first-ever analog/digital hybrid dive watch with an alarm and chronograph. Along with action movie fame, the watch has accompanied explorers on several expeditions to Mount Everest. 
Today Seiko makes a modern interpretation of the original 1982 Hybrid Diver's Watch. With a screw-down crown, pushers, and case back, a durable silicone strap, and 200m of water resistance, it follows ISO standards for scuba diving. 
If you need to know what time you need to get to the choppa, the SNJ025 will have you covered. You can find an SNJ025 for around $525.
---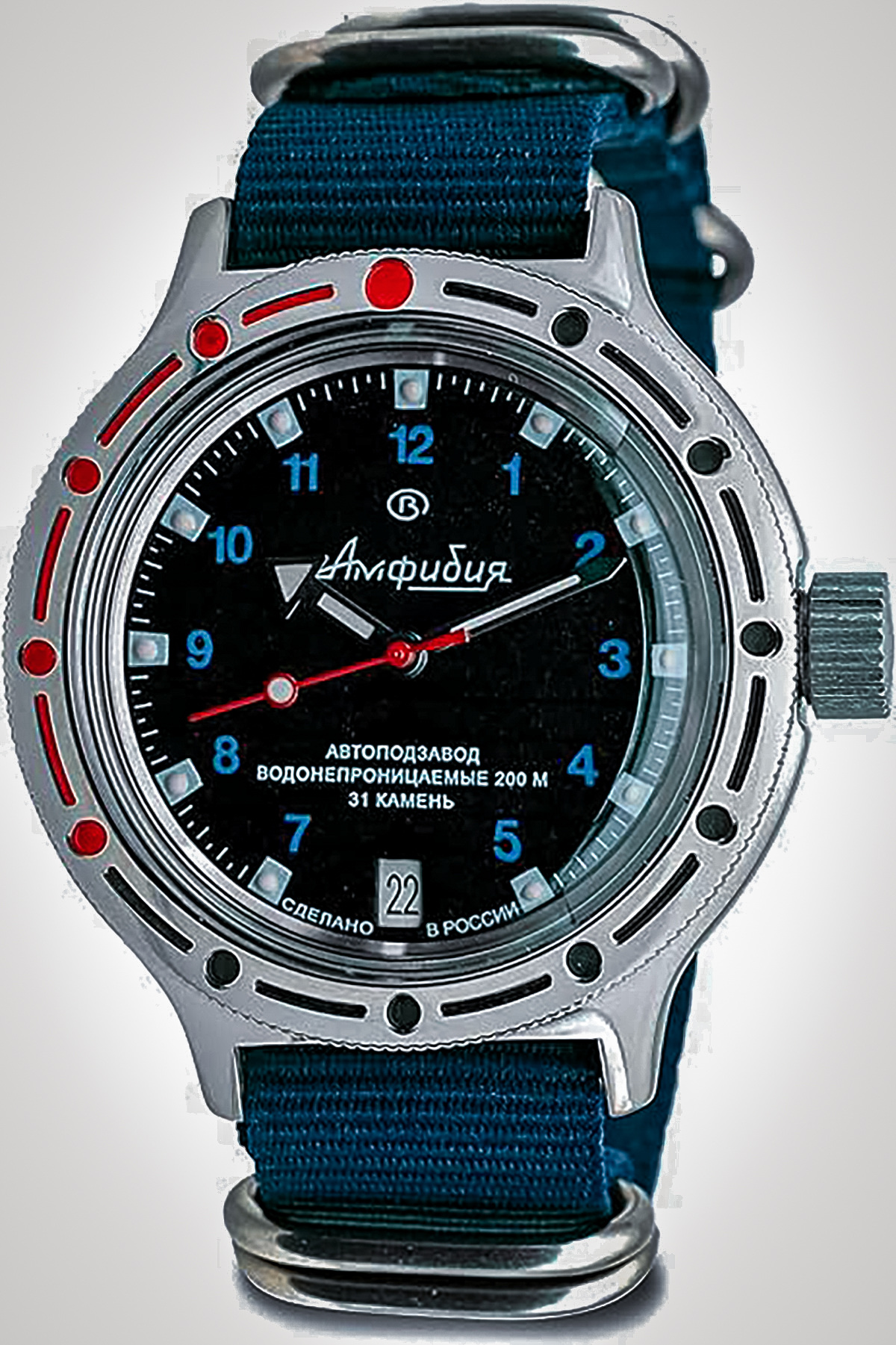 Those looking for a quality automatic dive watch are usually met with some outrageous prices. A Rolex Submariner will set you back $TK, and an Omega Seamaster can hit your wallet for $TK. But at $TK the Vostok Amphibia delivers, with a bit of history to back it up. The Soviet-era brand Vostok released the watch in the 1960s. 
Their goal was to produce a dive-capable watch that matched the quality of a Swiss timepiece. They succeeded, making a 200m water-resistant watch and even ran a car over it to show how much pressure it could take. Today the Amphibia has a cult-like following. It was worn by Bill Murray in The Life Aquatic With Steve Zissou (2004) and has garnered Internet fame on the wrists of many die-hard watch collectors. 
Though it may be seen more as a hip accessory, the Amphibia is still a rugged utility watch for use in the field.
---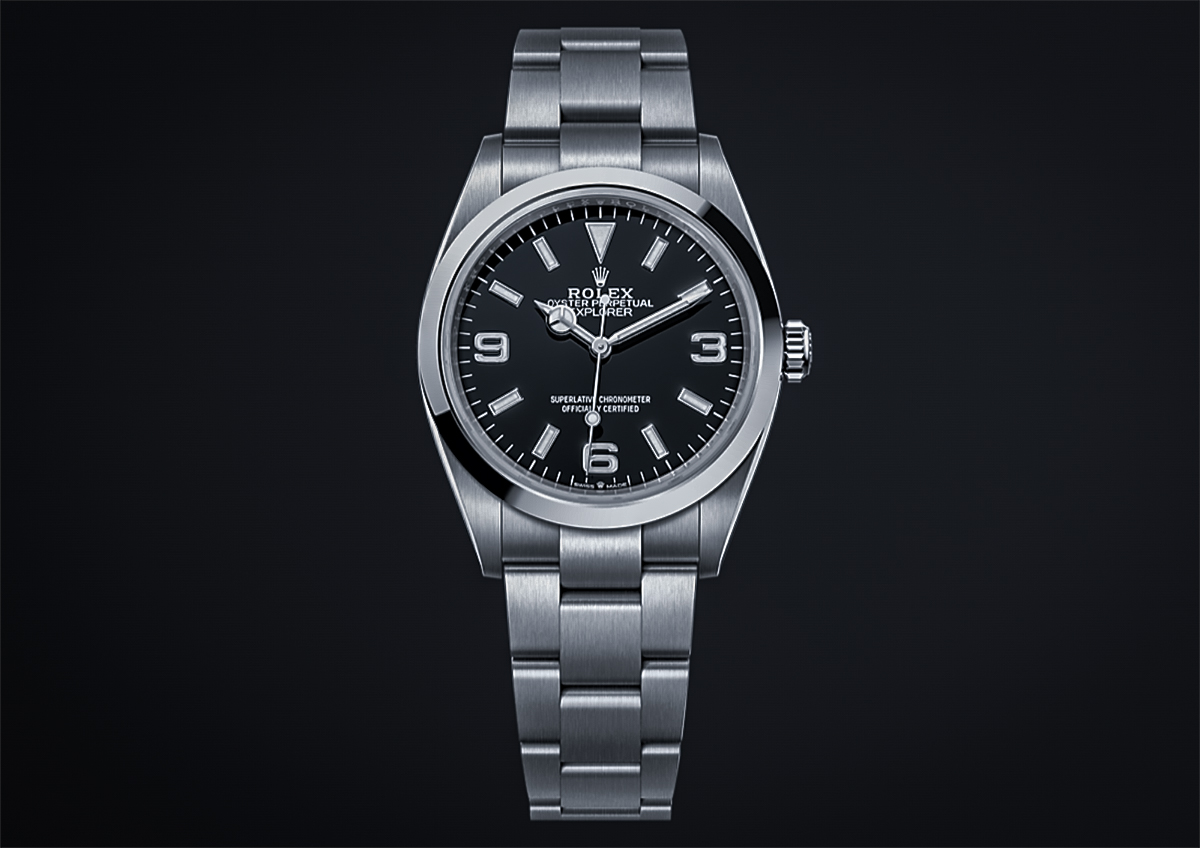 The Explorer was one of Rolex's first tool watches, and it has accompanied many an explorer in all kinds of conditions. With that mystique comes a hefty price tag, but if you were going to buy one field watch for the rest of your life, this is it. The Explorer was designed after the historic first ascent of Everest in 1953 by Sir Edmund Hillary. 
Since then, Rolex has improved on the design, making a rugged, simple, legible watch with no complications. It's available in two versions with a 36 mm and 40 mm case in a variety of finishes. It has a Calibre 3230 perpetual automatic movement with a 70-hour power reserve, features 100m of water resistance, and is made with Rolex's Oystersteel for superior corrosion resistance. Prices start at just over $7,000.
---
READ NEXT – Gear Test: The Ultimate Replaceable Blade Knife Test