Daniel Defense is well known for its quality AR-15 rifles. The company's MK18 is still in service in some of the US Military's elite special operations units and other clandestine government organizations. The Battle Creek, Georgia–based rifle manufacturer just announced the launch of its all-new SoundGuard Daniel Defense suppressors.
DD partnered with KGM Technologies to build its suppressor line with a focus on backpressure reduction. The new line offers three direct-thread options, the SG-556 (.223 Rem/5.56 NATO), the SG-30 (.223 Rem or .300 PRC), and the SG-30TI (.223 Rem or .300 PRC). The SG-556 and SG-30 are made from stainless steel, and the SG-30TI is made from lighter, more expensive titanium. The MSRP for the SG-556 and SG-30 is $750, and the SG-30TI is $1,000.

"Daniel SoundGuard Powered by KGM Suppressors utilizes cutting-edge gas-flow dynamics that eliminate over-gassing and direct gas forward, substantially decreasing the blowback. So, you can concentrate on putting shots on target instead of annoying gas in your face," the company said in a release.
Suppressing ARs, especially short-barreled models, has become increasingly popular. One of the drawbacks of suppressing gas-operated direct impingement rifles is that the can forces more gas into the action. This can cause increased fouling, higher heat, and gas hitting the shooter in the face.
DD's new SoundGuard series is specifically designed to combat blowback and direct gas forward while lowering impulse noise levels and muzzle flash.
RELATED – The Best Coffee for Range Days is Absolutely BRCC's Ready-to-Drink Varieties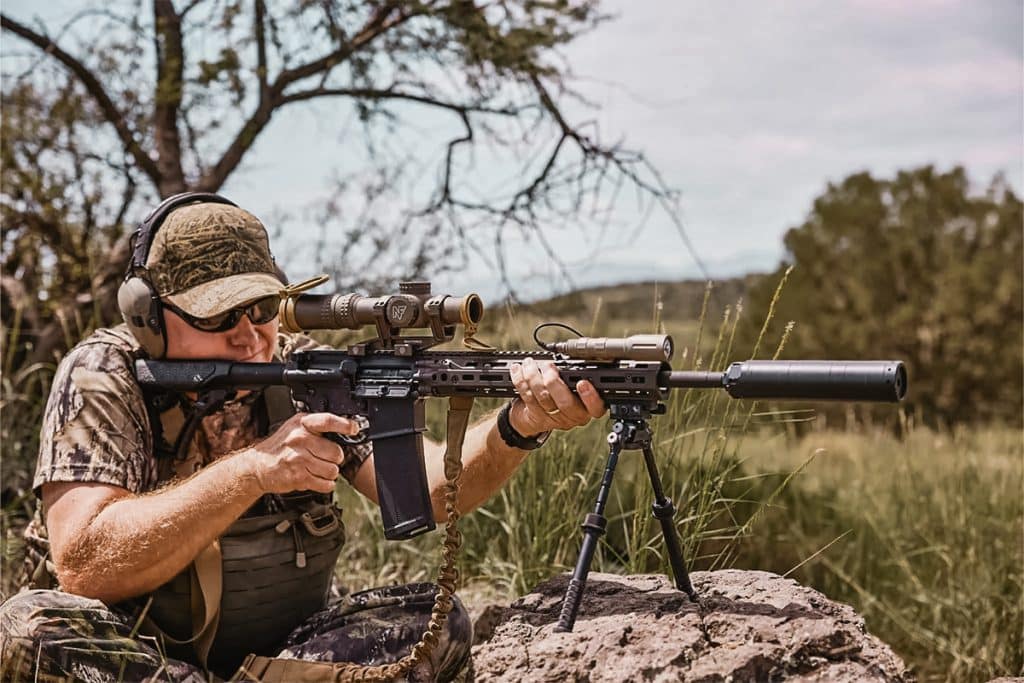 "Through years of working with multiple military/law enforcement agencies — as well as consumers — our team pinpointed specific criteria for this family of suppressors," said Marty Daniel, president and CEO of Daniel Defense. "In addition to the obvious — sound reduction — limiting the amount of toxic gasses, reducing muzzle flash, and accuracy were all critical."
The internal KGM suppressor tech boasts a patent-pending baffle stack with a proprietary courting on the internals to lower noise levels and reduce the flash signature to "virtually zero." With the prices on par with the competition, the new SoundGuard series is a can that black rifle lovers should take a close look at.

---
Daniel Defense SoundGuard Suppressor Specs
Weight (with mount): 15 – 22.5 ounces
Length: 7 – 7.75 inches
Tube Diameter: 1.75 inches
Compatible Calibers: .223 or .300 PRC
Material Construction: Stainless Steel Baffle Stack and Tube, Titanium Baffle Stack and Tube
Mounting: 1/2 x 28" TPI – 5/8 x 24" TPI
---
READ NEXT – The History of the Recce Rifle and How To Build Your Own