This post contains affiliate links. We may earn a commission if you buy through these links.
Military conflicts in the 21st century have shown us just how quickly civilians can become conscripted combatants. The most recent example is, of course, the Russian invasion of Ukraine. When the shit has hit the fan, and it's time to hit the wilderness Red Dawn style, you'll want a rifle in your hand that is ready for anything. You'll need one that can fill multiple roles and provide the ability to effectively engage hostiles from a reasonable distance (400 to 500 yards) while retaining mobility for close-quarters combat. No other rifle meets this need for versatility like the Recce rifle.

The Recce rifle is not a specific model or formally designated rifle platform but, rather, a colloquial term given to the concept of an accurized carbine with a magnified optic made popular by US Navy SEALs in the 1990s and later during the Global War on Terror (GWOT). It's a highly mobile weapon that's good in close and can also serve as a light sniper rifle: a do-it-all AR.
The flexibility of the format means there are a lot of decisions to make when it comes to building one. You'll have to choose an upper, lower, stock, barrel, trigger, muzzle device, bipod, optic, and weapon light. You can add a few other accessories based on personal preference, but keep in mind that recon means moving fast and traveling light, so don't go overboard.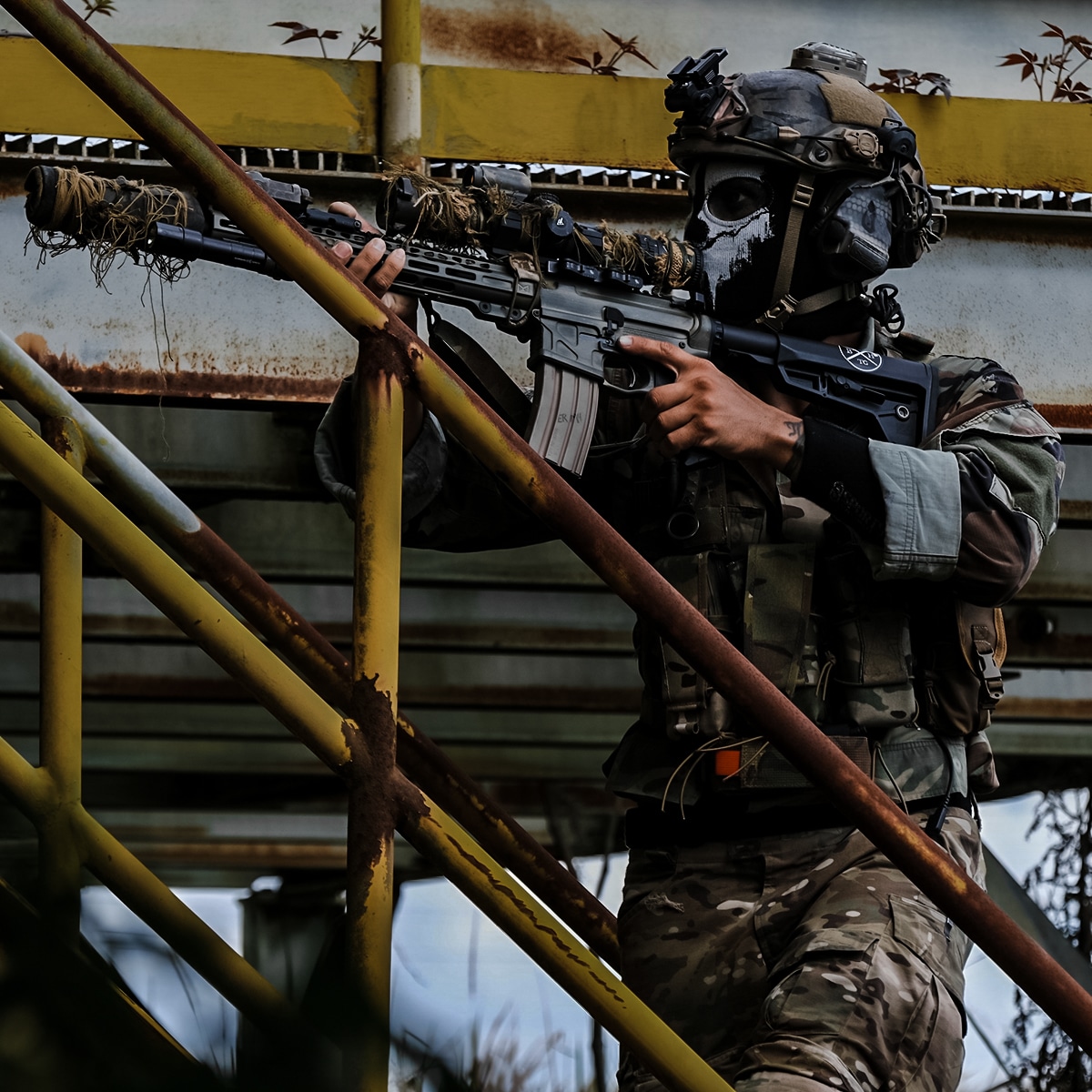 To run ultralight, you can ditch certain accessories, like the bipod and the light. Adding a bit to the standard build — an offset red dot, for example — is fine, but watch the extra weight. In fact, a lot of people who build their own ARs end up creating something close to a Recce rifle without even knowing it because they are choosing components and accessories for the most versatile rifle or carbine possible without being too heavy.

Following are some of the best options available for building your own Recce rifle and why they stand above the rest. But first, we'll run through some of the relevant history and get two unique perspectives on the Recce from guys who built and used them: former members of The Naval Special Warfare Development Group (aka SEAL Team Six or DEVGRU).
RELATED – Springfield Armory Prodigy: New Double-Stack 1911 With a 26-Round Mag
---
Crash Course on the History of the Recce Rifle
The term "recce," pronounced wreck-ee, comes from the British military slang for "reconnaissance." Although it's not certain when this label was attached to the rifle format, we do know the original concept began to take shape in 1993 — weapon techs within the SEAL teams began experimenting with what they had available in their command inventory.
Their goal was to accurize a battle rifle with a magnified optic. It had to be easy to carry and equally capable for close engagements and light sniper duty — what the military today refers to as a designated marksman rifle.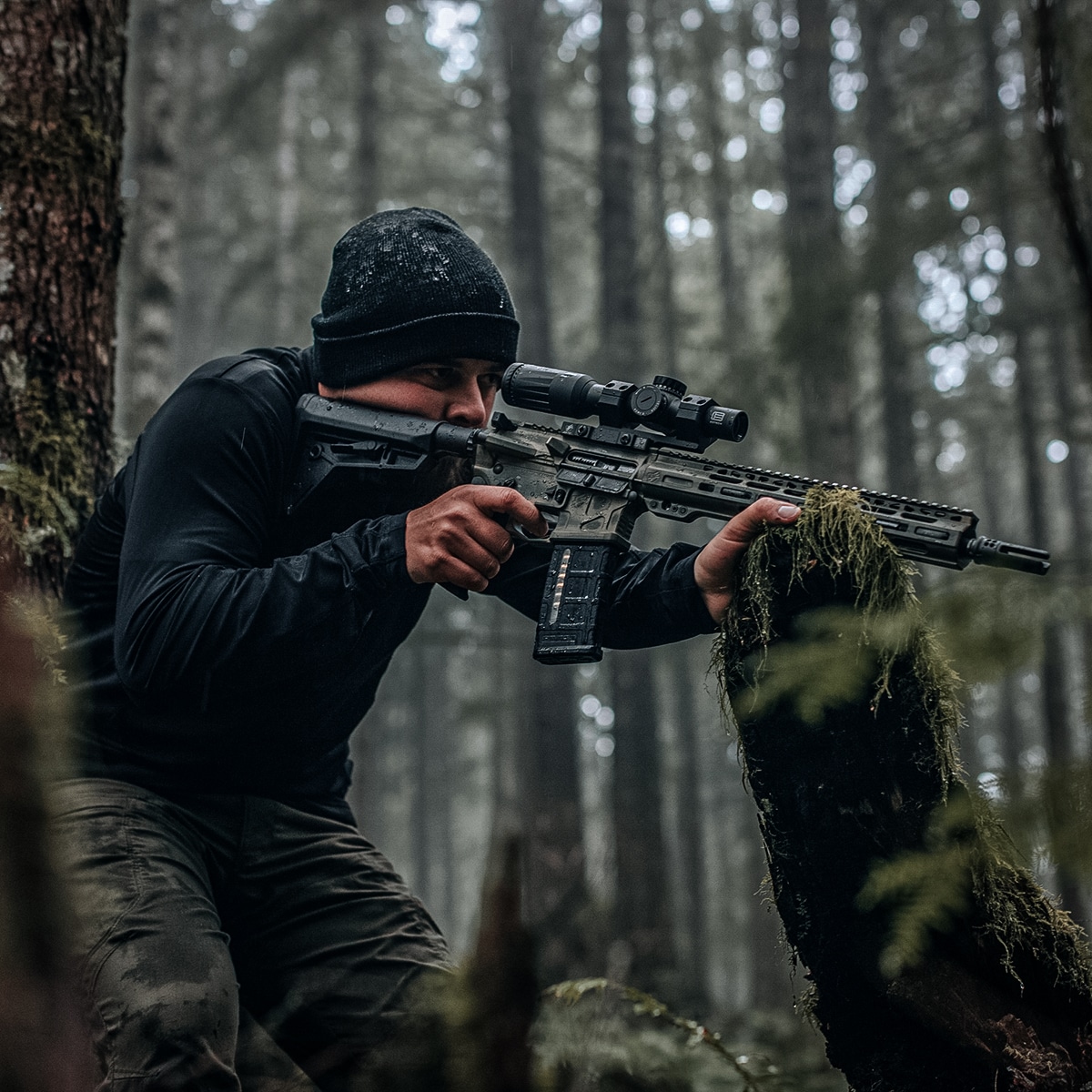 The Recce rifle had to be able to run any 5.56×45mm cartridges available and have the ability to engage targets with greater lethality through accuracy than the M4 carbine while still being able to do what the M4 can do in close-quarters combat.

To get the builders' perspective on these early Recces, Free Range American spoke to John Clements, a former member of the Naval Surface Warfare Center Crane Division (or just "Crane"). Clements built these modified M4s for DEVGRU in 1995 and 1996 and advised on the further development of the concept. To call him an expert on the subject would be an understatement.
---
Recce Rifle: The OG Specs
The early Recce rifles all had something in common. "Originally, they had a 16-inch, improved medium-contour Lilja stainless-steel match-grade barrel with a 1:8" rifling twist ratio," Clements said.
The most common modification was the addition of KAC 2-stage match triggers, Clements said. For accuracy's sake, the barrel had to be free-floating, which meant no M4-style handguards with a delta ring.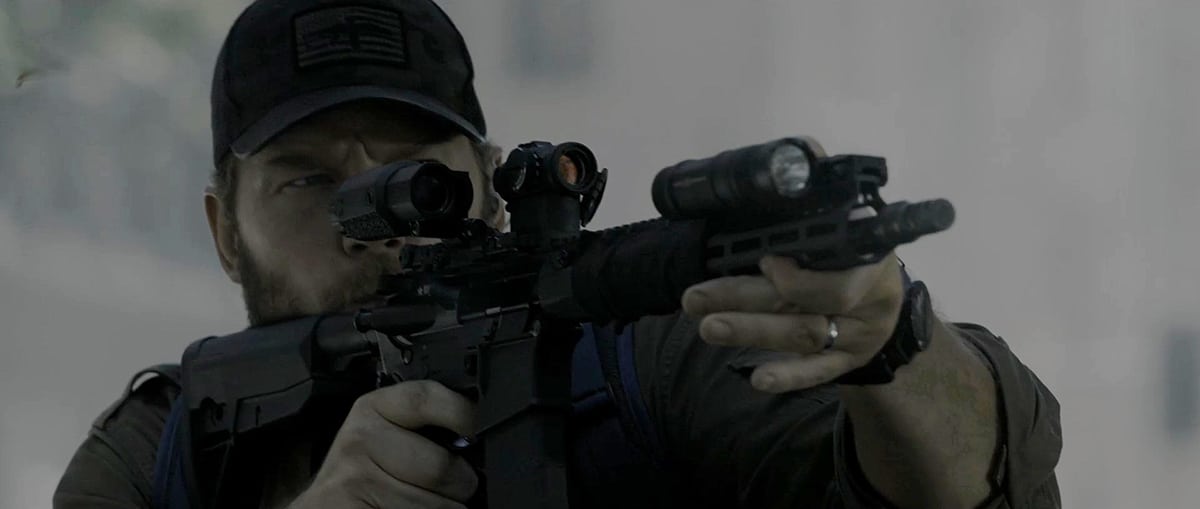 "Full-floated KAC tube handguards from Knight's Armament [were used]. As the gun industry continued to evolve and advanced handguard systems became available, we did update that component to the KAC quad rail from the early slick tube option," Clements said, adding that this was in the days before the Picatinny rail became standardized.
As far as muzzle devices went, SEALs ran their Recce rifles suppressed most of the time.
"Suppressor options didn't change for that platform through its life cycle," he said. "The direct thread Ops Inc. reflex suppressor was the standard. The two flexible components were optics and ammo."
To achieve the range and accuracy desired, a magnified optic of some kind was chosen to top early Recce rifles.
"The Nightforce NXS 2.5-10×24 was the optic of choice 99% of the time," Clements said. "Red dots were not considered an option for an intermediate-range Recce. This system was effective with sub-MOA performance to 500 yards."

While the rifle was optimized to cycle pretty much any kind of 5.56, the SEALs did settle on an ideal cartridge.
"The original Recce version from DEVGRU was optimized for the PRL 87-grain tungsten-cored projectile. This ammo option was depleted in late 2002, and the MK 262 77-grain was the standard for the Recce thereafter," Clements said.
The 77-grain Sierra Match King projectile was ultimately chosen for the ammo contract. The high-grade frangible round was then sold to Dynamic Research Technologies, which discontinued the bullet with the tungsten-tin core and opted for a copper-tin core in its place.
RELATED – The Best Home Defense Gun: Shotgun, Carbine, and Handgun Guide
---
How the Recce Rifle Led to the Mk 12 Special Purpose Rifle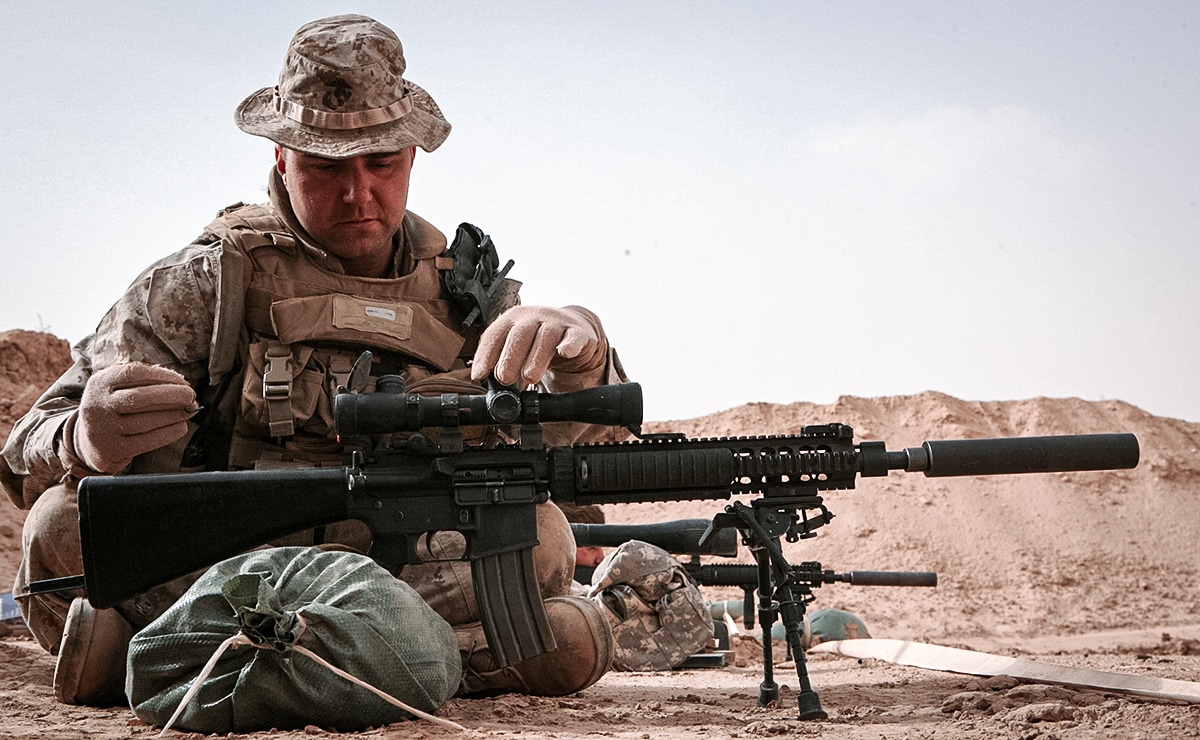 Crane took notice of the effectiveness of these early Recce rifles and teamed up with the US Army to further develop the concept. Along with input from SOCOM, the Mk 12 Special Purpose Rifle (SPR) was developed. Initially, SPR stood for "special purpose receiver," as it only referred to the Mk 12 upper receivers that would be added to the standard M16/M4 lower receivers already in the pipeline.
These flat-topped accurized uppers were designed to be paired with a heavy barrel and were originally supplied by Colt and Colt Canada (known as Diemaco at the time). As the SPR became popular and was recognized as its own weapons classification, the R came to stand for "rifle" instead.
The action on the Mk 12 is a gas-operated rotating bolt with a rifle-length gas tube and a low-profile gas block made by Daniel Defense and built to SOCOM specifications.
RELATED – No, the AR-15 Was Not Designed to 'Blow Targets Apart' or Cut off Heads
The Mk 12 was first designed with a 20-inch barrel, but the specs were later changed to call for an 18-inch barrel. Ironically, most SEALs later opted to install 16-inch barrels, as they saw no difference in accuracy from the extra 2 inches of barrel length, and the shorter overall length provided better mobility. But the barrel wasn't the only thing SEALs tweaked on the Mk 12 to make it more of a Recce.
The Mk 12 originally came with either an M16A1 or M16A2 fixed buttstock. Most SEALs immediately tossed these in favor of adjustable stocks, like the LMT SOPMOD. Also, the Mk 12's trigger was most commonly swapped out for a Geissele Super Select-Fire trigger.
So it could function as a stationary sniper rifle, Recce rifles and Mk 12s were often fitted with a 6-9 inch swivel Harris Bipod.
Eventually, there were three main variants of the Mk 12: the Mod 0, Mod 1, and Mod H, each with fairly minor differences like barrel length (the Mod H came with a 16-inch barrel) and handguards.
---
Real-World Recce Rifle Use: The Operator's Perspective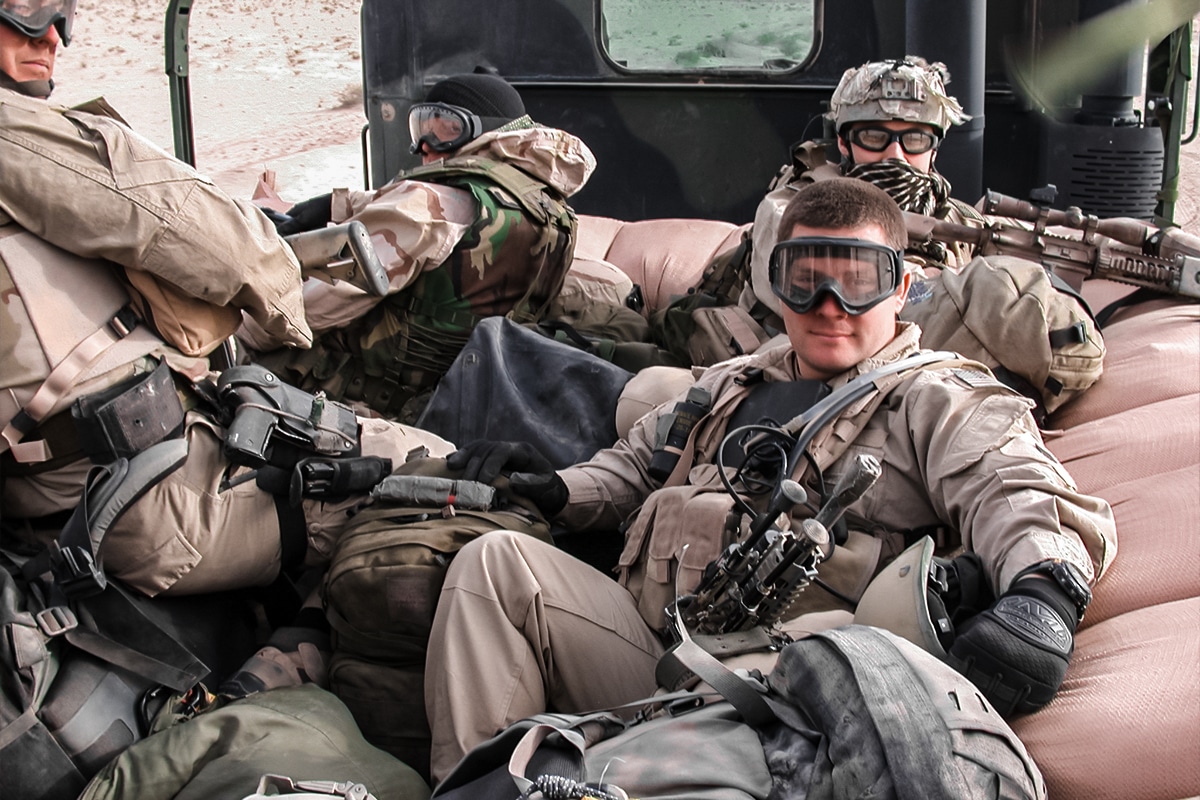 With the R&D out of the way, let's get some info from someone who actually used a Recce rifle in the field way before it was cool: retired Navy SEAL Terry Houin.
Master Chief Houin retired in 2018 after 26 years of service. He operated with a Recce rifle set up across the globe while he was on the frontlines of the GWOT. From engaging the Taliban in the Helmand Province of Afghanistan to high-profile missions in Nasiriyah, Iraq, and on the coast of Somalia, Houin absolutely has garnered the real-world experience to be an authority on all things Recce.
With the modularity of the platform and the endless number of component options, it's pretty easy to let a rifle build get away from you. You run the risk of "turning it into something it's not," Houin said. "Yes, I'll throw a bigger power scope on it and shoot 1,000-plus yards for fun, but that's not really its job."
He said he often ran a red-dot optic with a magnifier on his Recce rifle, adding that he never had an electronic optic fail him on a mission during 26 years as an operator but also used a magnified optic.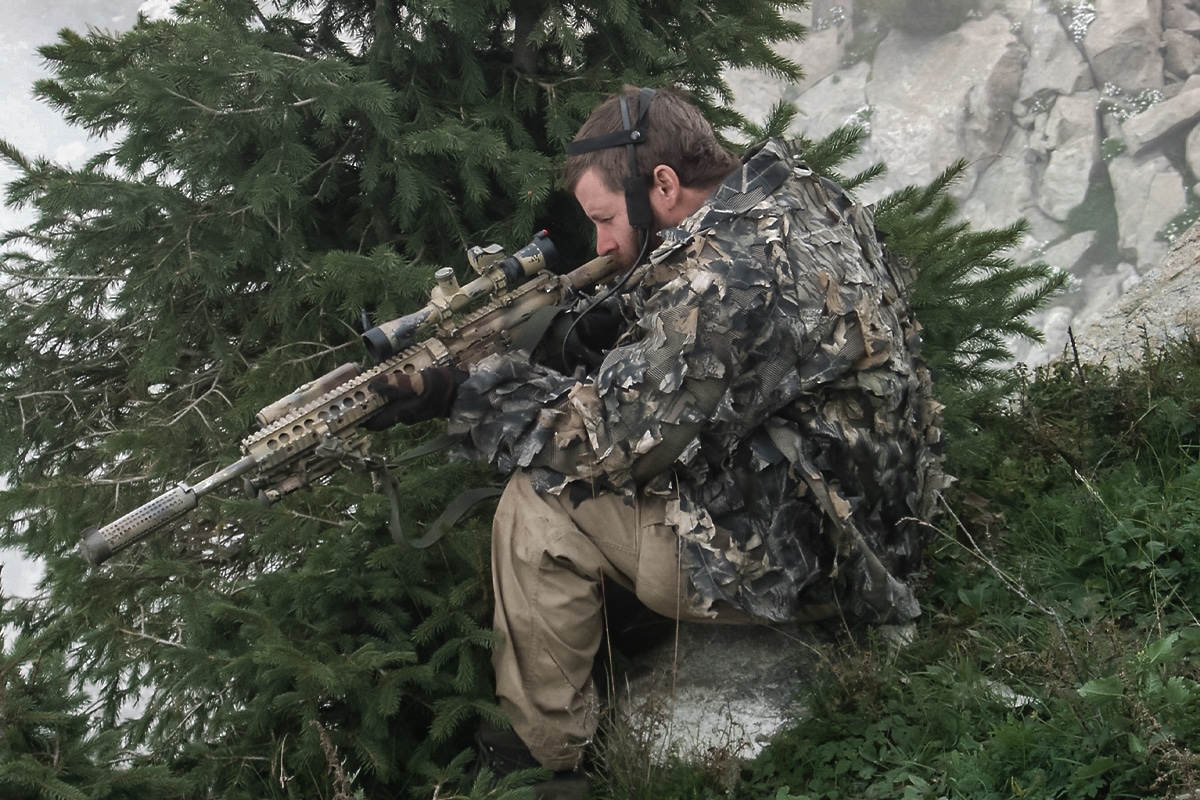 "Eventually, I had so much confidence in the weapon platform that it became my primary weapon," Houin said.
Unless a specific scenario called for a long-range weapon with less mobility, like the SR-25, Houin was grabbing his Recce. Despite the various enemies he's faced, terrain he's traversed, and other variables he has encountered in his career, his thoughts regarding the Recce rifle never wavered — it is, simply, "the rifle that does it all."
---
Recce Rifle: The Build
For your build, always keep in mind the minimum standards of a Recce rifle; don't add too much or strip it down too far.
First and foremost, a Recce rifle requires an accurized, heavy, free-floating barrel that is 16 to 18 inches long.
Next, you'll want a durable two-stage trigger, which will be helpful for accurate, long-range shooting.
When selecting the buttstock, go with an adjustable model with a tight lockup.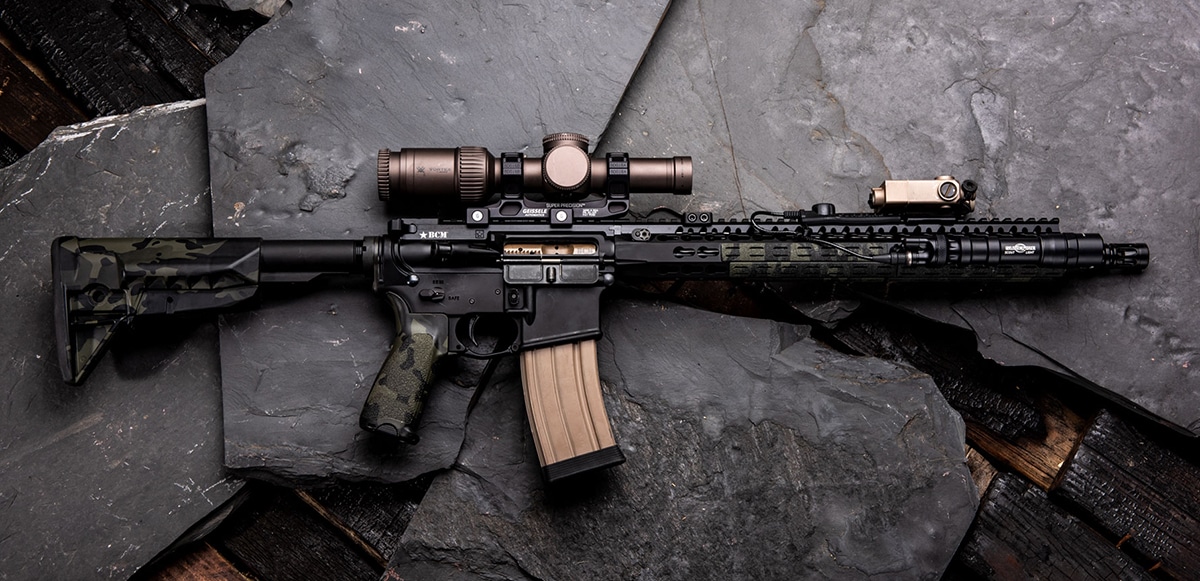 A muzzle device can either be a simple flash hider or a flash hider/suppressor mount combo or even just a suppressor mount, depending on your setup — but it's always good to have options.
A 5.56 chambering is the standard for a Recce and how it was originally conceived, but if you want to get outside of that, you can — but keep in mind that using a larger round will increase recoil in a lightweight rifle, reduce magazine capacity, and reduce the number of mags that can be carried for the same weight, which limits the rifle's CQC and recon capabilities. But, if the "mission" requires more long-range shooting than anything else, other chamberings might be worth exploring.
The most important part of the Recce rifle is, hands-down, the optic and the barrel. Make sure to select something that allows for quick target acquisition, ideally with some sort of magnification. All that said, Let's dive into some of the best options available for your Recce build.
RELATED – Teddy Roosevelt Ran a Suppressor on Three of His Hunting Rifles
---
Receiver Options
---
2A Armament Balios Lite Gen 2 Receiver Set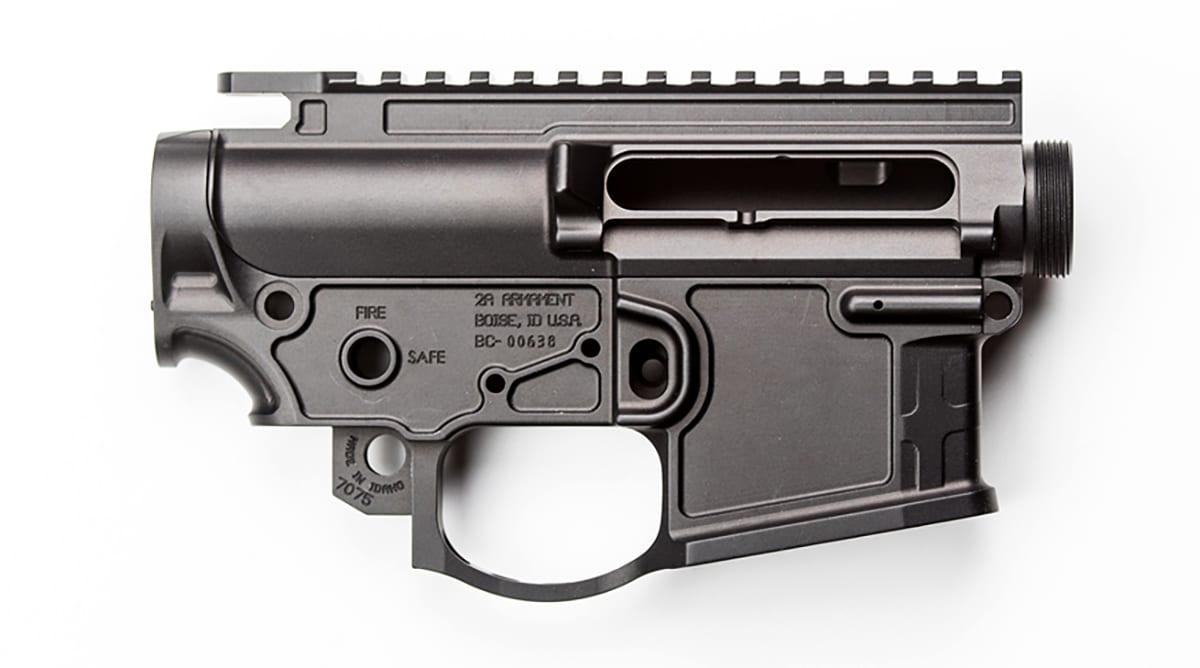 You may want to go with a receiver set to get the best fit possible between the upper and lower. The Balios Lite Gen 2 set is lightweight, like the Gen 1 model, but with a newly designed integral trigger guard, new Picatinny rail pockets for greater durability, a flared mag well, threaded bolt catch pin, set screw captive detent springs, and a rear tensioning screw, which guarantees a tight fit if running a third-party upper with the lower. Plus, of course, they match perfectly.
Material: Aluminum
Weight: 12.3 ounces
Feed Ramp: m4 style
Compatibility: Mil-Spec
MSRP: $559
---
Aero Precision M4E1 AR-15 Upper Receiver (Budget Option)

This single-piece design combines the handguard mounting platform with the upper itself,. This makes for a stronger system that has additional lightening cuts to save weight and allow for efficient cooling.
Material: Aluminum
Weight: 12.4 ounces
Feed Ramp: M4 style
Compatibility: .250 takedown pin holes/barrels with a diameter up to 1 inch/not piston-kit compatible
MSRP: $174.99
---
Aero Precision M4E1 Stripped Lower Receiver (Budget Option)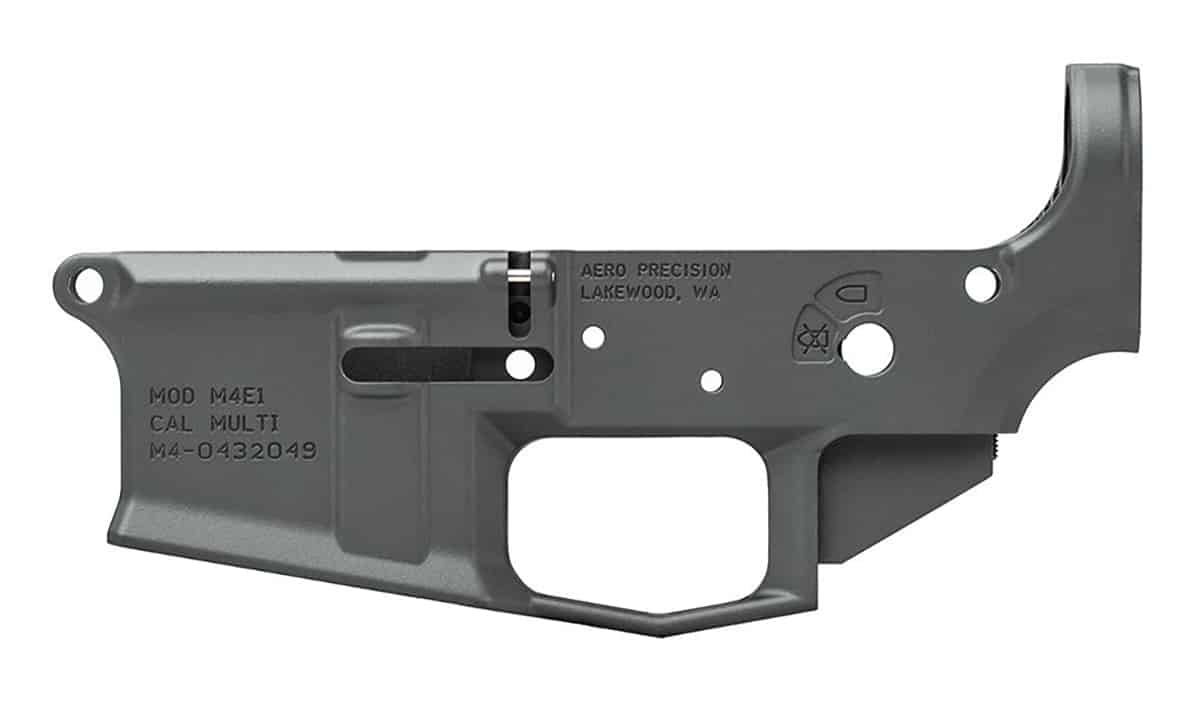 If you decide to go with the M4E1 upper receiver, then there is no better lower to go with the companion upper from Aero above. It's everything you need and ready for whatever components you choose to add.
Material: Aluminum
Weight: 8.61 ounces
Compatibility: Standard AR-15 components and magazines; rear takedown pin detent hole is threaded for a 4-40 set screw; threaded bolt catch roll pin
MSRP: $144.99
---
LMT Defense MARS-L DMR Complete Lower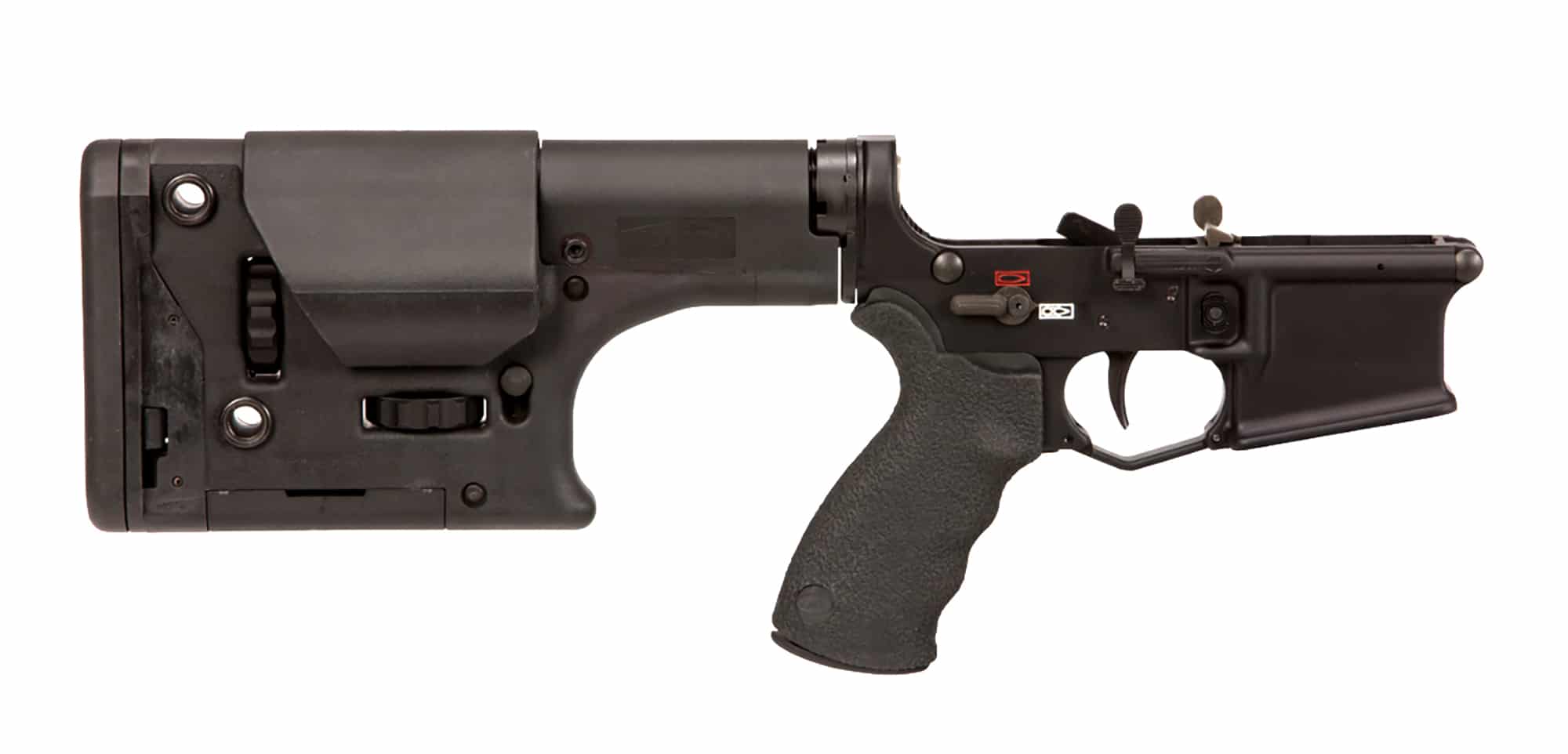 For anyone who doesn't feel like putting together a stripped lower and parts kit from scratch, this complete lower from LMT is high-quality, and ready to go. It comes complete with 2-stage trigger and an adjustable telescopic buttstock — in other words, components you should already be adding to your Recce rifle.
Material: Aluminum
Weight: 1.71 lb
FeedRamp: m4 style
Dimensions: 15.75 × 2.75 inches
Operating Method: Direct Impingement, Piston
Trigger: two-stage
MSRP: $1,009
---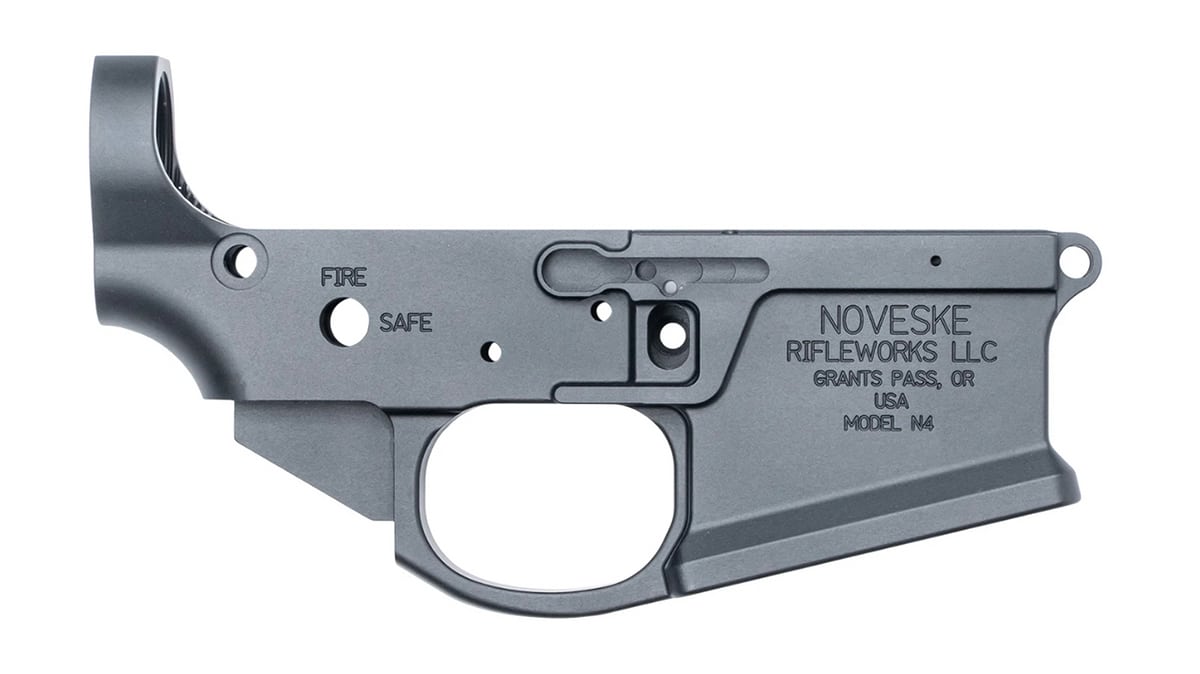 Noveske designed this lower with an oversized, flared mag well, making it effortless to find the mark when swapping mags. In true operator fashion, the trigger guard has been expanded to allow for comfortable use with gloves.
Material: Aluminum
Weight: 10.2 ounces
Compatibility: Mil-Spec
MSRP: $415
---
Vltor MUR: Modular Upper Receiver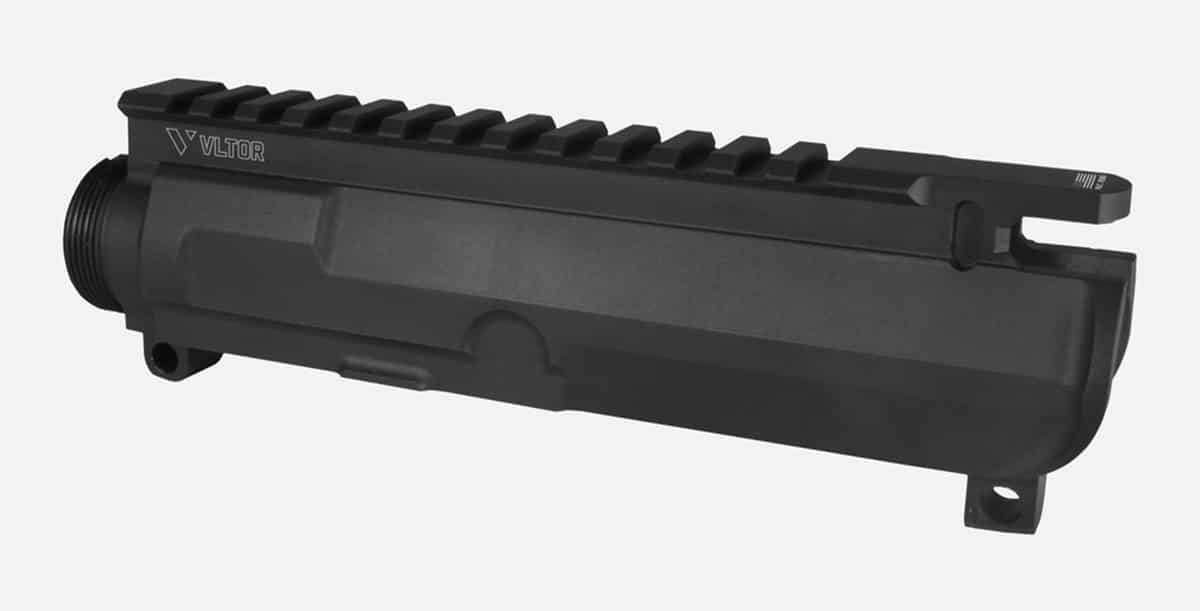 With a thicker wall, the MUR upper receiver is stronger than your average AR upper and perfect for your choice of heavy barrel. The rigid upper receiver increases accuracy and reliability while at the same time extending the life of the internal components. It's a mil-spec flat-top upper made to fit all AR15/M16 M4 lowers, making for easy installation.
Material: Aluminum
Weight: MUR-1A- 9.80 ounces , MUR-1S- 8.70 ounces
Length: 7.65 inches
Feed Ramp: M4
Compatibility: Mil-spec
MSRP: $188.95
---
Barrel Options
---
Ballistic Advantage 16" 5.56 Mid-Length HBar Barrel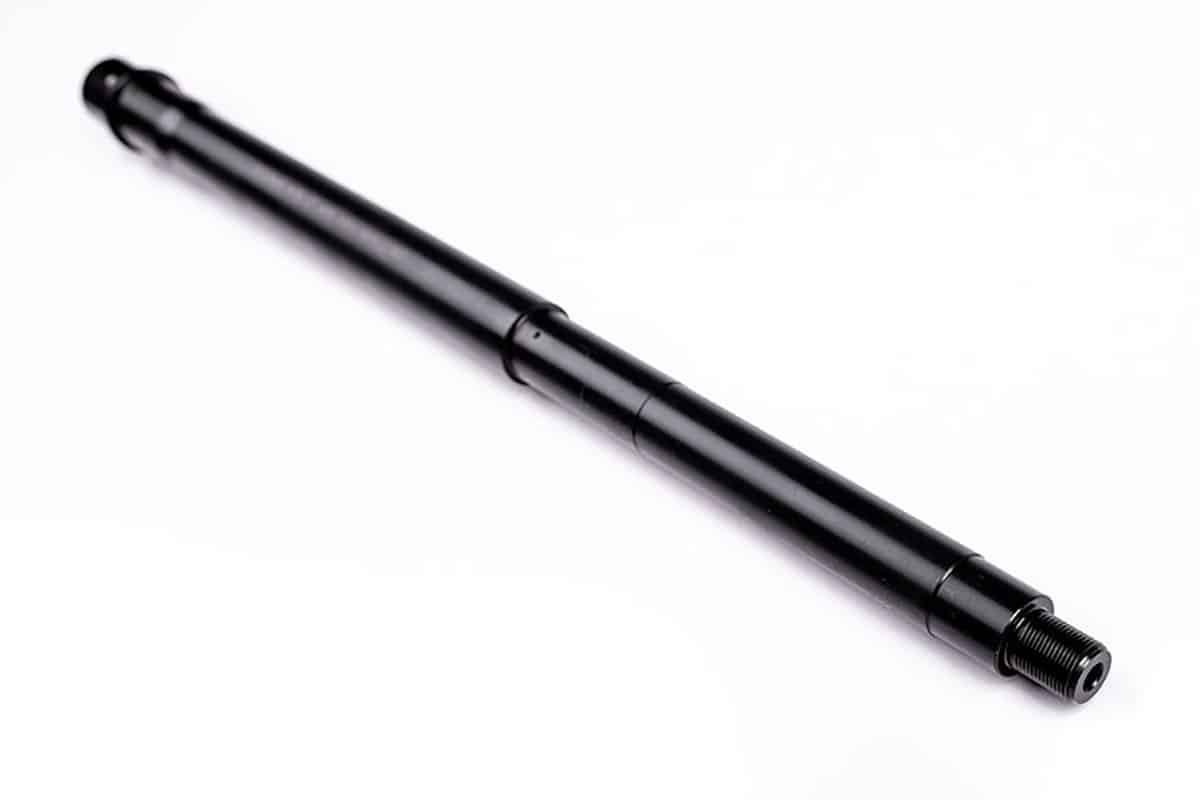 This government-profile mid-length modern series barrel is machined from 4150 chromoly vanadium steel with a QPQ corrosion-resistant finish and QPQ-coated M4 feed-ramp extension.
Material: Steel
Length: 16 inches
Gas tube length: Medium
Weight: 28 ounces
Rifle Twist: 1:7"
Finish: Corrosion-resistant QPQ
MSRP: $165
---
Criterion Barrels Inc ADM .223 Wylde Barrel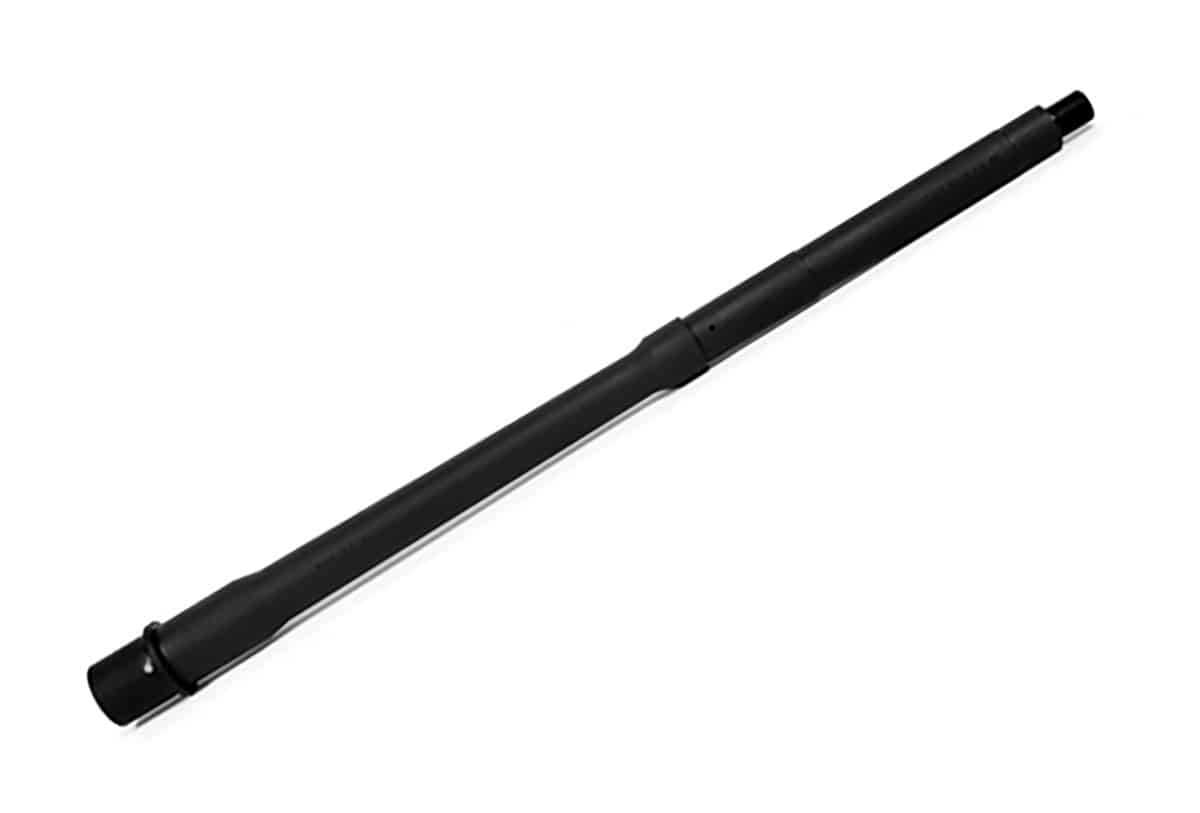 This barrel is made with ordnance-grade steel and has a nitride finish, making it very durable and corrosion resistant: perfect for field use. The .223 Wylde chambering means it will handle any 5.56 or .223 ammo you feed it, in true Recce fashion.
Material: Steel
Length: 16 inches
Gas tube length: Medium
Weight: 2 pounds
Rifle twist: 1:8"
Finish: Chromoly vanadium, steel, nitride finish
MSRP: $270
---
Krieger Barrels Inc AR15 Mid Weight 16.5"

If you are looking for more of a tailor-made feel for your rifle, you might want to go the custom route. Krieger Barrels has been making match-grade rifle barrels for more than 30 years. Starting with the AR15 mid-weight 16.5-inch profile, you will be able to customize the barrel with options like fluting and your desired contour.
Material: Steel
Length: 16.5 inches
Gas tube length: Mid-length
Rifle Twist: 1:6.5, 1:7, 1:7.7, or 1:9
Finish: chrome moly or stainless steel
MSRP: $500 plus (depending on modifications)
---

An exact copy of the barrel Lilja made for the Navy SEALs, the .223-8 M4 barrel comes with an M4-style, pinned barrel extension with proper headspace a pre-drilled gas port hole. The muzzle features an 11-degree target crown. These barrels come ready for a gas block and tube and to be dropped into an upper.
Material: Steel
Length: 17 inches
Gas tube length: carbine-length
Weight: 2.18 pounds
Rifle twist: 1:8 inch
Finish: Stainless steel
MSRP: $525
---
Trigger Options
---
Geissele Super Semi-Automatic SSA Trigger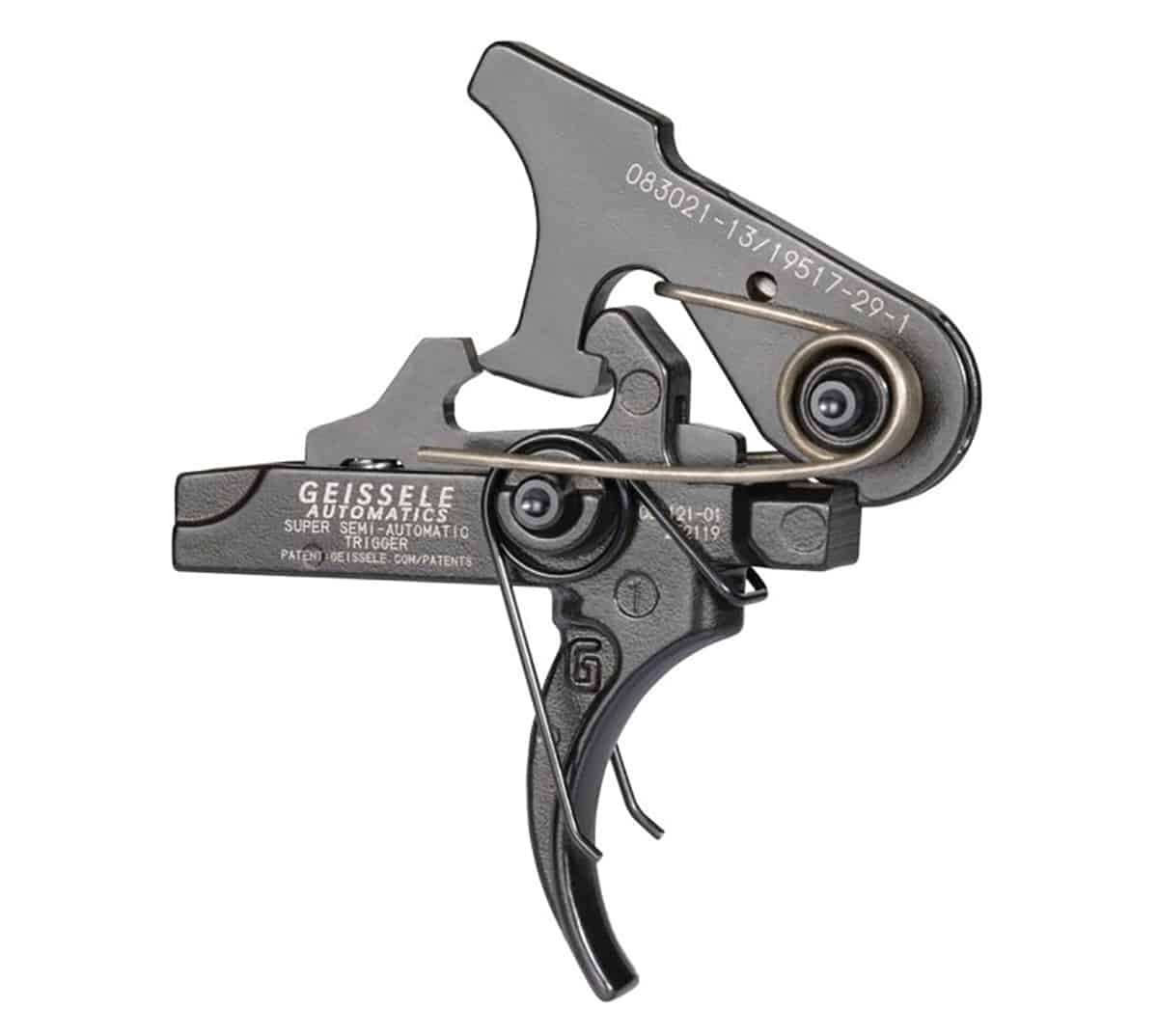 A semi-automatic-only version of Geissele's Super Select-Fire trigger, this two-stage design is light enough for accurate and precise shots but fast enough for CQC.
Type: 2-stage
1st stage pull weight: 2.75 – 3 pounds
2nd stage pull weight: 1.5 – 1.75 pounds
Total pull weight: 4.25 – 4.75 pounds
Pin size: Mil-spec
Trigger bow type: M4 Curved
MSRP: $240
---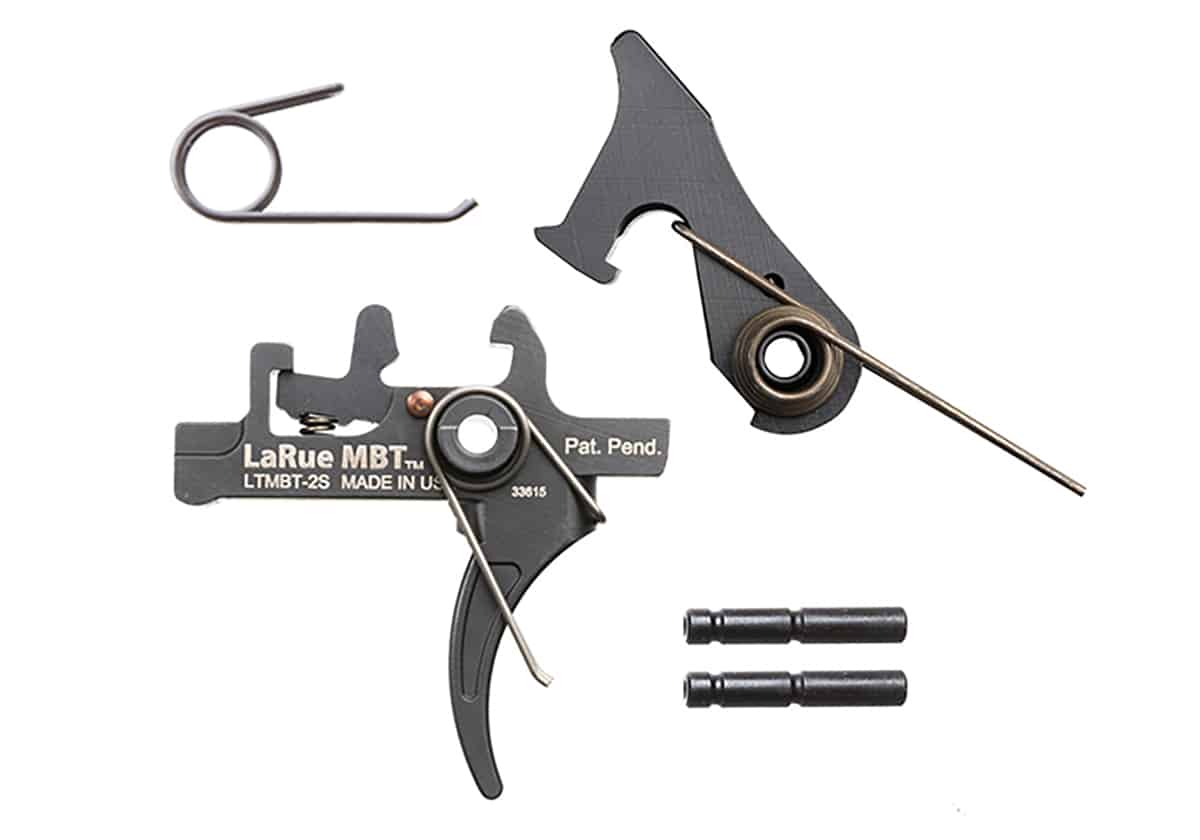 This field-tough trigger is definitely friendly on the wallet, but the folks at LaRue Tactical didn't cut any corners when it comes to durability and precision.
Type: 2-stage
1st stage pull weight: 2.5 pounds
2nd stage pull weight: 2 pounds
Total pull weight: 4.5 pounds
Pin size: Mil-spec
Trigger bow type: M4 Curved
MSRP: $99
---
Timney Triggers AR-15 Competition Trigger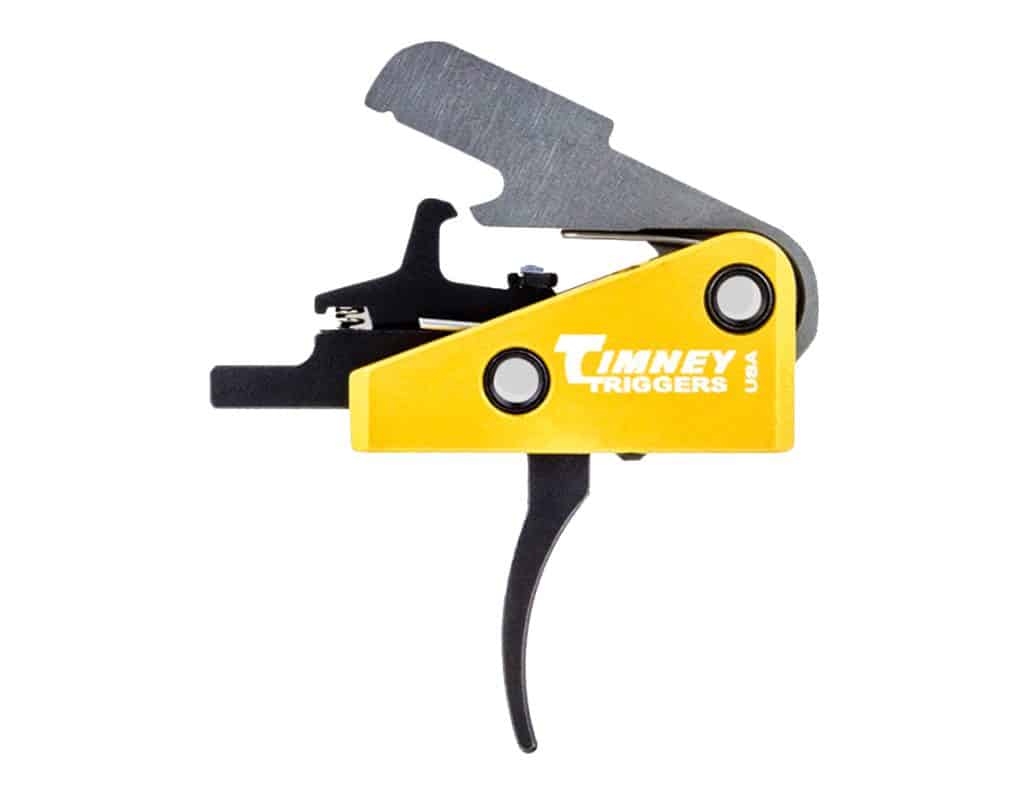 Every shooter is different; some feel more comfortable with a consistent trigger pull weight and wouldn't get much use out of a two-stage trigger. The hammer is machined from S7 tool steel, making it extremely resistant to chipping and ideal for heavy use. Everything is contained in an aluminum alloy housing and ready to be dropped into a lower receiver.

Trigger Pull weight: 3 lb, 4 lb, or 4.5 lb
Compatibility: Small or large pin
Trigger bow type: Straight, curved, or skeletonized
Pin type: Small pin or large pin
MSRP: $210.99
---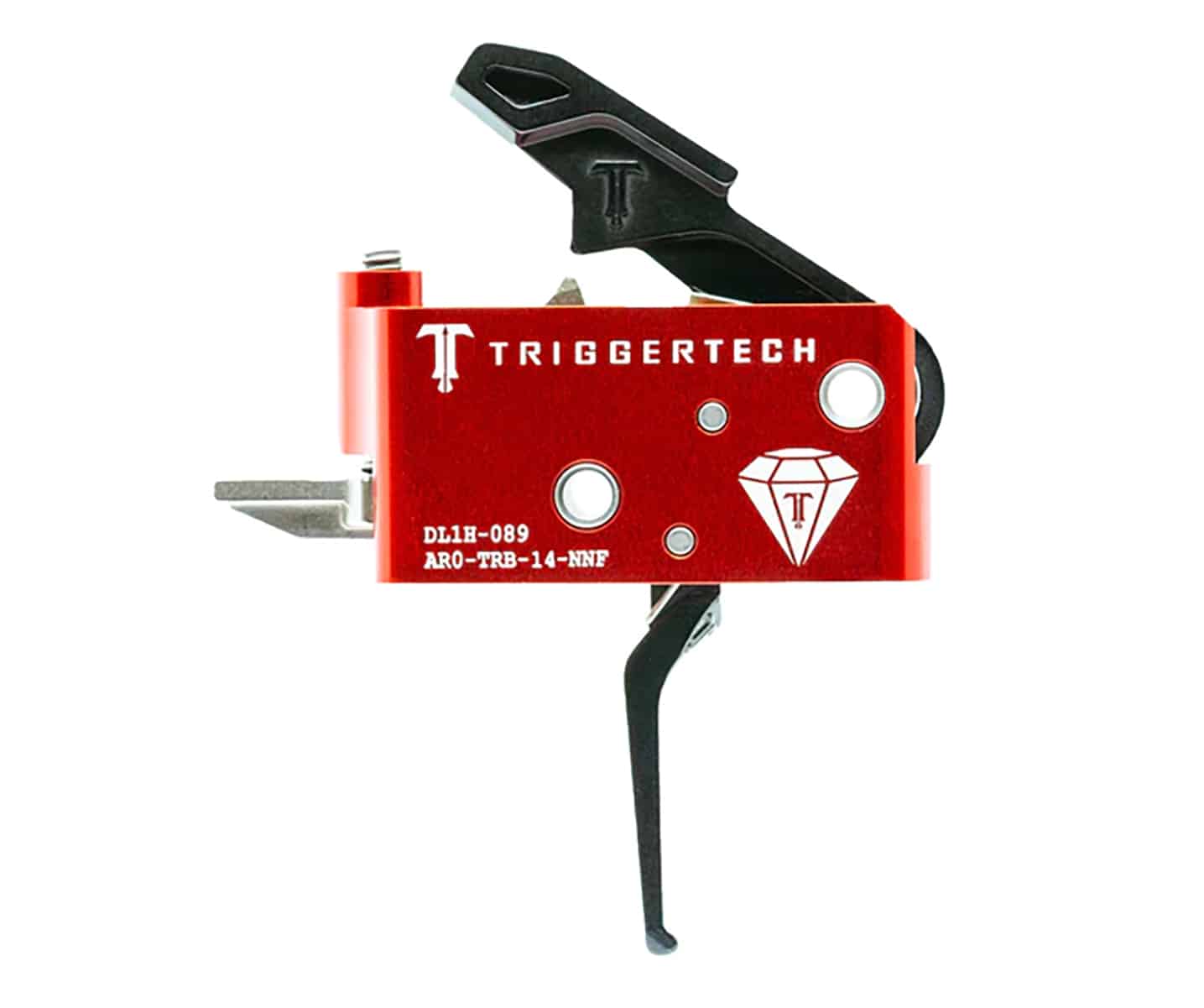 This two-stage trigger features "Frictionless Release Technology," making the pull weights feel a half-pound lighter than a friction-based trigger with the same pull weight. A sub-0.030-inch reset and the ability to adjust the pull weight in 2-ounce increments make this a competition-level trigger fit for any environment or situation.
Stage one trigger pull weight: .25 pounds, .75 pounds, or 1.5 pounds
Second stage trigger pull weight: 1.25 – 3.75 pounds, 1.75 – 4.25 pounds, 2.75 pounds, or 4 pounds
Total pull trigger weight: 1.5 – 4 pounds, 2.5 – 5 pounds, 3.5 pounds, or 5.5 pounds
Trigger bow type: straight, curved, or pro curved (diamond variant only)
Pin type: Mil-spec
MSRP: $219.99- $299.99
---
Stock Options
---
LaRue Tactical RISR (Reciprocating Inline Stock Riser)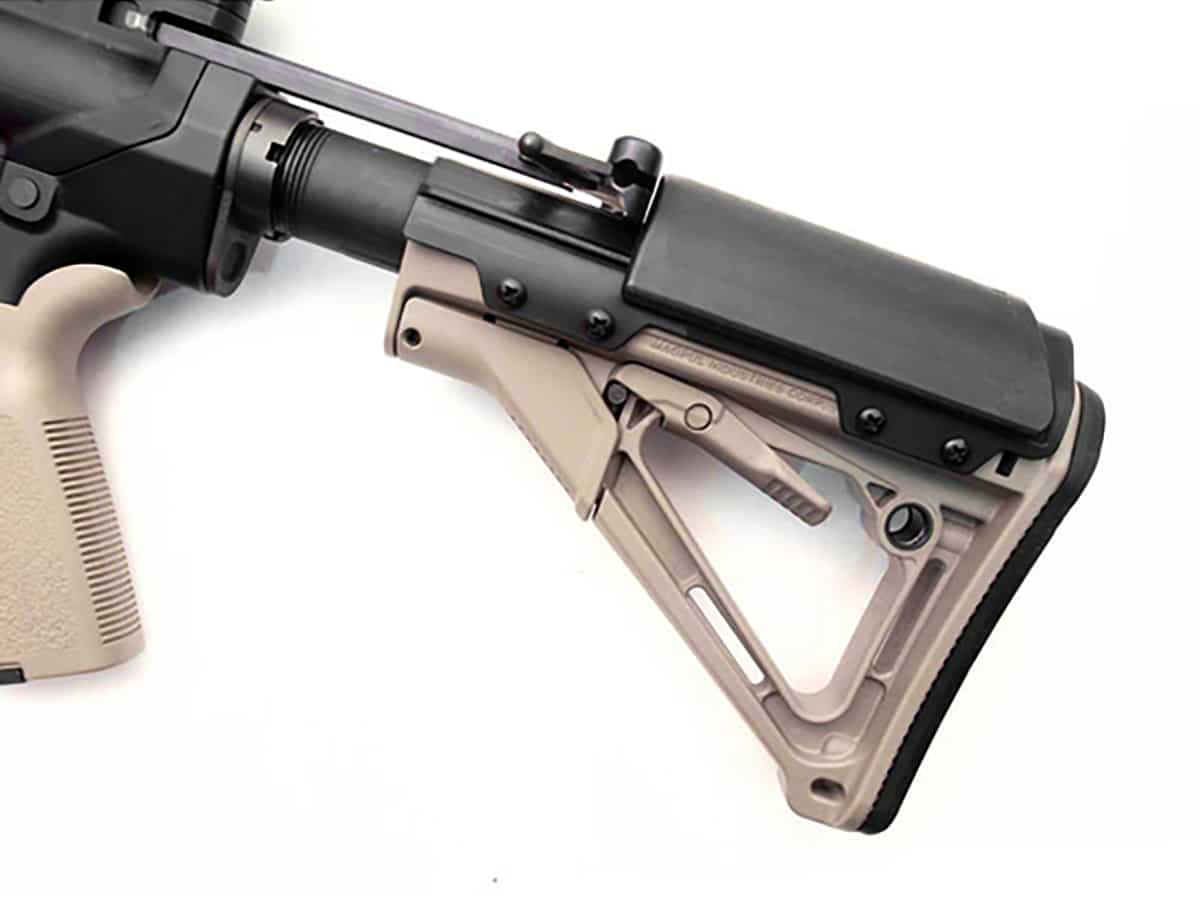 A cheek riser is a great addition to any build that chooses a scope or any kind of raised optic. Some charging handles require the collapsible stock to be moved all the way into the rear position to charge the rifle, which is no bueno. The RISR is spring-loaded, and moves to the rear with the charging handle. When the charging handle is released, the RISR moves forward back into place.
Material: Glass-reinforced polymer
MSRP: $49
---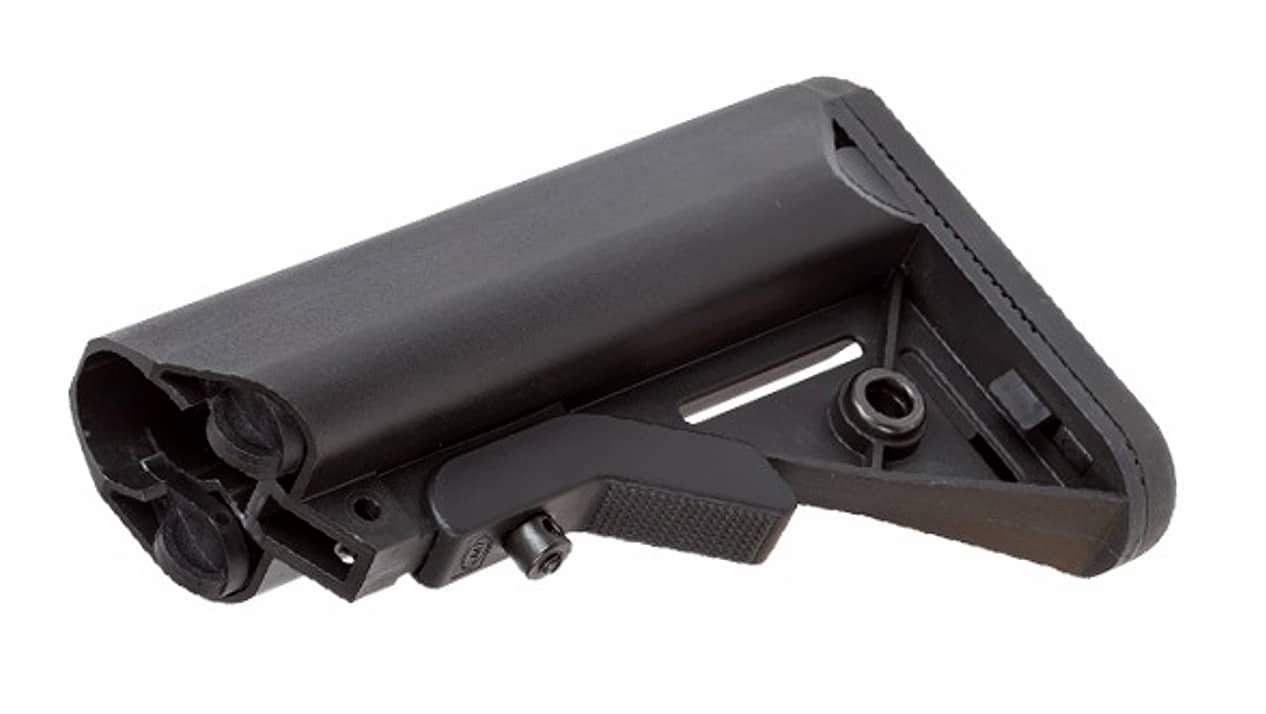 As mentioned earlier, the SOPMOD buttstock is the preferred stock for USSOCOM. A rubberized buttpad makes for a comfortable and nonslip surface. The improved cheek weld provides a more natural and comfortable cheek-to-stock fit. And it comes complete with QD swivel inserts on both sides and two watertight storage compartments.
Weight: 0.778 pounds
Compatibility: Mil-spec
MSRP: $209
---
Magpul MOE SL-S Adjustable Carbine Stock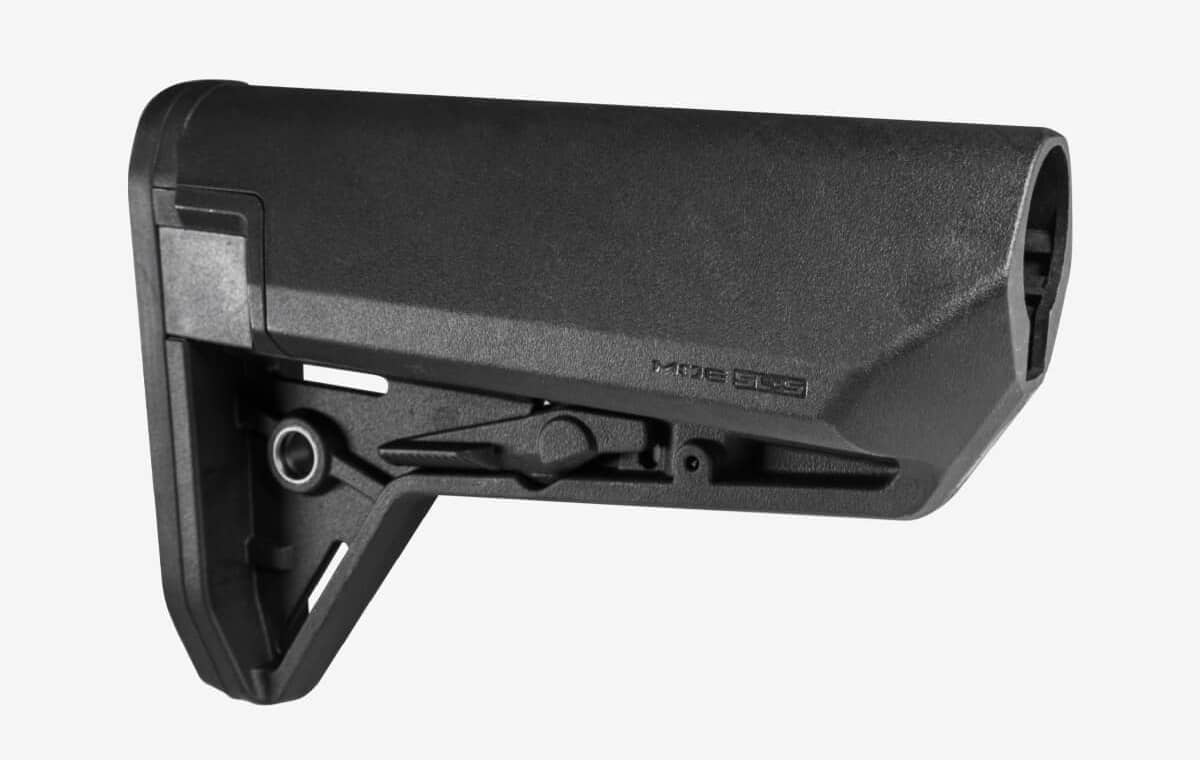 This stock comes complete with dual-side release latches and waterproof compartments. The SL-S provides an enhanced cheek weld and a rolled-toe and angled rubber buttpad optimized for use with body armor. An ambidextrous QD sling swivel socket is included.
Weight: 12.8 ounces
Compatibility: Mil-Spec
MSRP: $84.95
---
Muzzle Device
---
Otter Creek Labs OCM5 Suppressor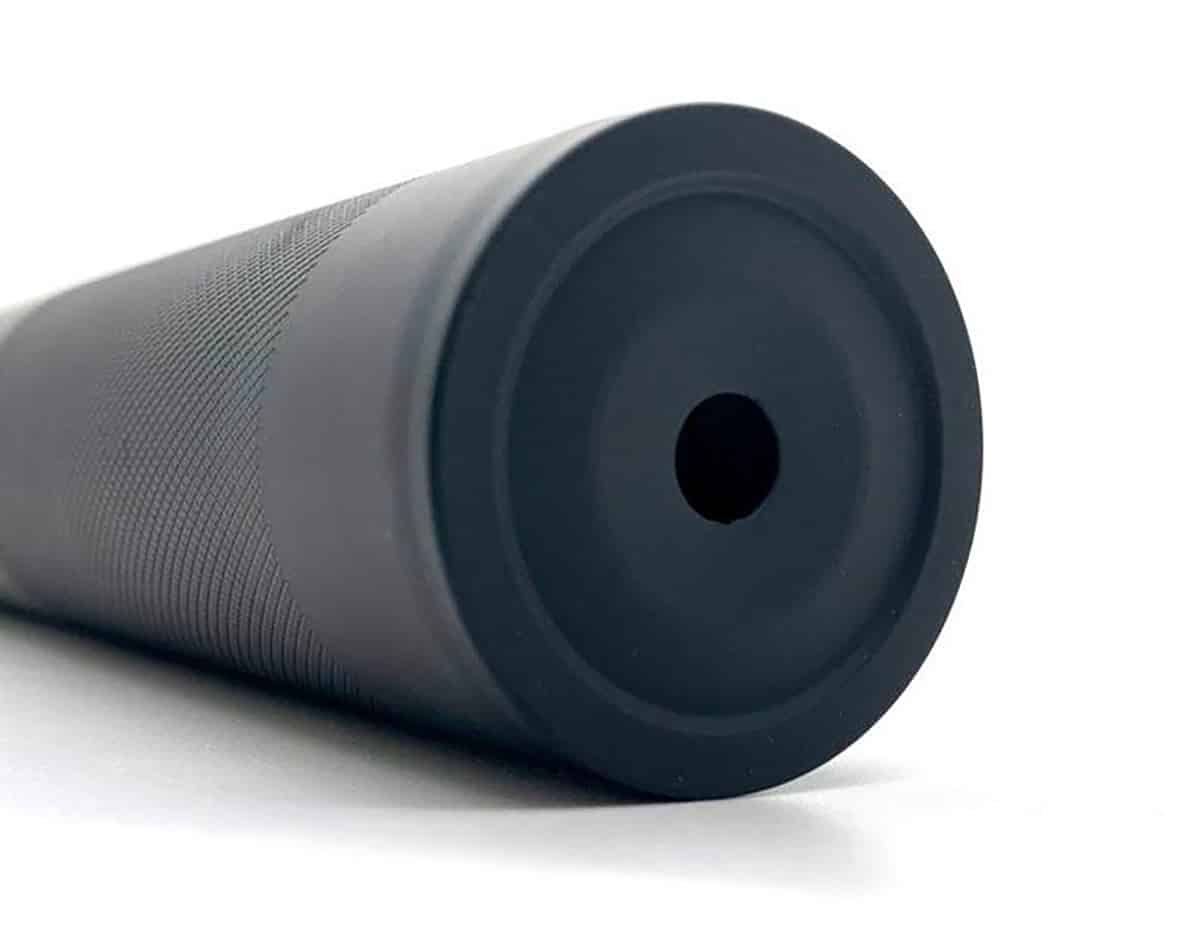 Otter Creek is new to the suppressor world but has produced several high-performing precision bolt-gun suppressors. The company cloned its Ops Inc #12 suppressor, which was commonly used on the Mk 12 SPR, for the civilian market as the OCM5. With a titanium tube to lower the overweight and 17-4 stainless baffles, the OCM5 suppressor works and feels very much like the Ops Inc. #12
Length: 8.8 inches
Weight: 16.02 ounces
Diameter: 1.5 inches
Material: Titanium tube with 17-4 internals
MSRP: $829.95
---
SureFire SOCOM 5.56MM 4-Prong Flash Hider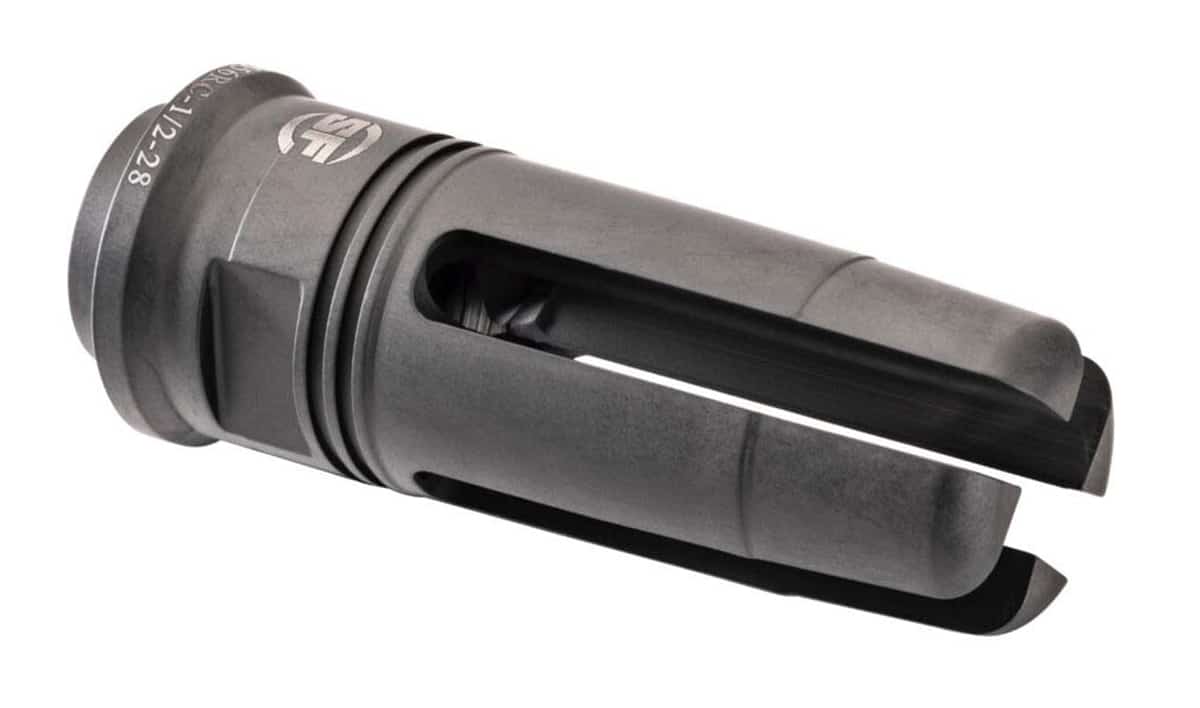 The FH556RC-1/2-28 flash hider is the same efficient and durable model that won SureFire the SOCOM suppressor contract. Its four-tine design greatly reduces muzzle flash more than most on the market.
Thread Pitch: 1/2-28
Length: 2.6 inches
Material: Heat-treated stainless steel
MSRP: $152
---
Optics
---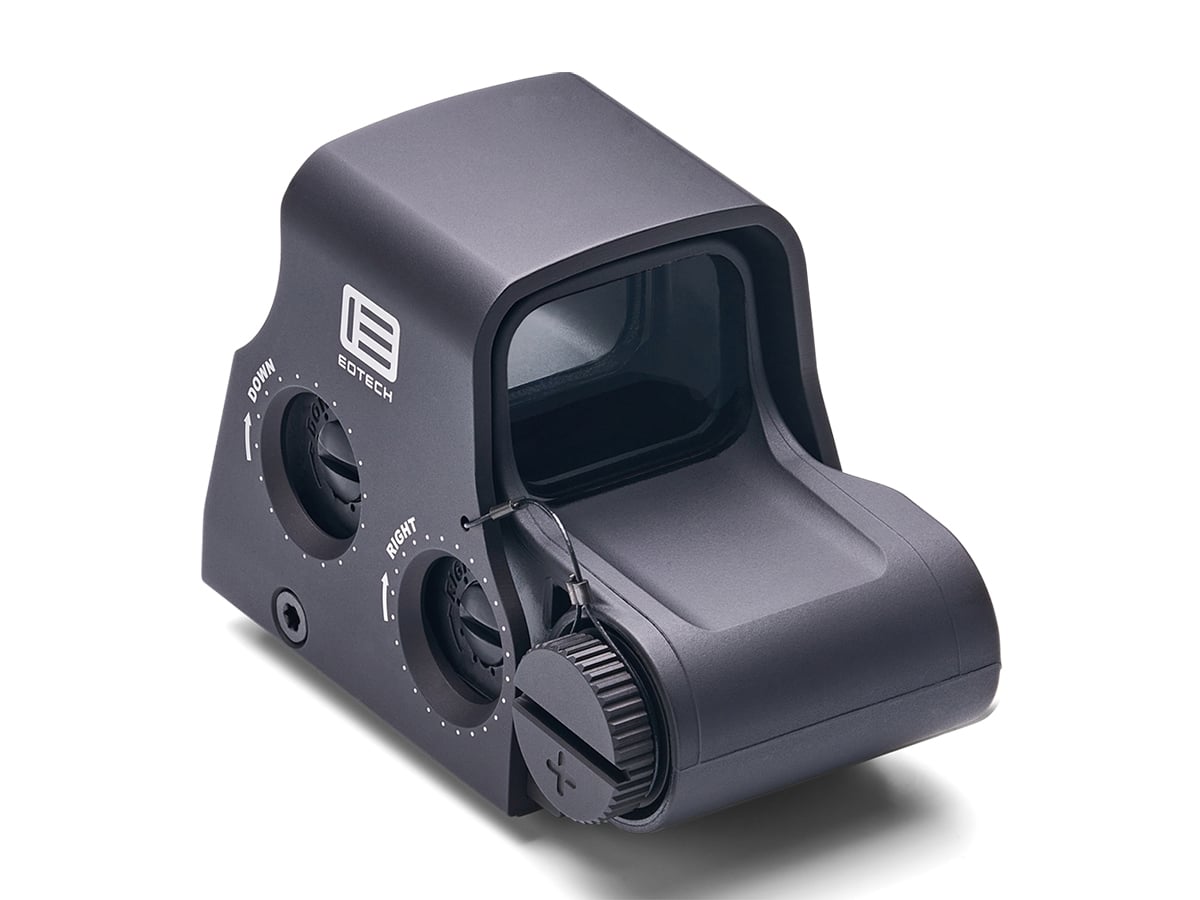 This top-quality holographic sight is one of the shortest and lightest night-vision compatible optics around. The unique reticle pattern allows for fast target acquisition and MOA accuracy at almost any range. The optic features a 68 MOA ring surrounding a 1 MOA center dot. With so much additional rail space, you might be tempted to add those backup iron sights or pair this sight with a magnifier of your choice.
Weight: 9 ounces
Dimensions: 3.8 x 2.1 x 2.5 inches
Mount: 1-inch Weaver or Mil-std-1913 rail
Adjustments: 0.5 MOA per click
Power source: 1 CR123 battery
Battery life: 1,000 continuous hours at nominal setting
MSRP: $719
---

This optic's tactile power selector identifies your magnification in an instant without the shooter coming off the scope, allowing them to make adjustments without taking their reticle off the target. Plus, it has just the right magnification range for a Recce rifle.
Weight: 17.6 ounces
Magnification range: 6x: 1-6, 2-12, 3-18, or 4-24
Body tube diameter: 34mm
Overall length: 10.3 inches
Mounting Length: 5 inches
Adjustments: 0.1 MOA, or 0.2 MOA per click
MSRP: $2,199.99
---
NightForce NXS – 2.5-10x42mm Scope

The successor to the NXS 2.5-10×26, this scope is greatly improved from its battle-proven counterpart. One such improvement is the increased size of the objective lens to 42mm, making it even more effective in low light. This scope offers quick magnification changes. It will arrive with a flush insert, which you can easily replace with the threaded PTL knob.
Weight: 20.5 ounces
Magnification Range: 2.5-10x
Body tube diameter: 30mm
Overall length: 11.9 inches
Mounting length: 5.1 inches
Adjustments: .250 MOA or .1 MRAD
MSRP: $1,726
---
Offset Red Dot
---
American Defense Manufacturing 45-Degree Offset Mount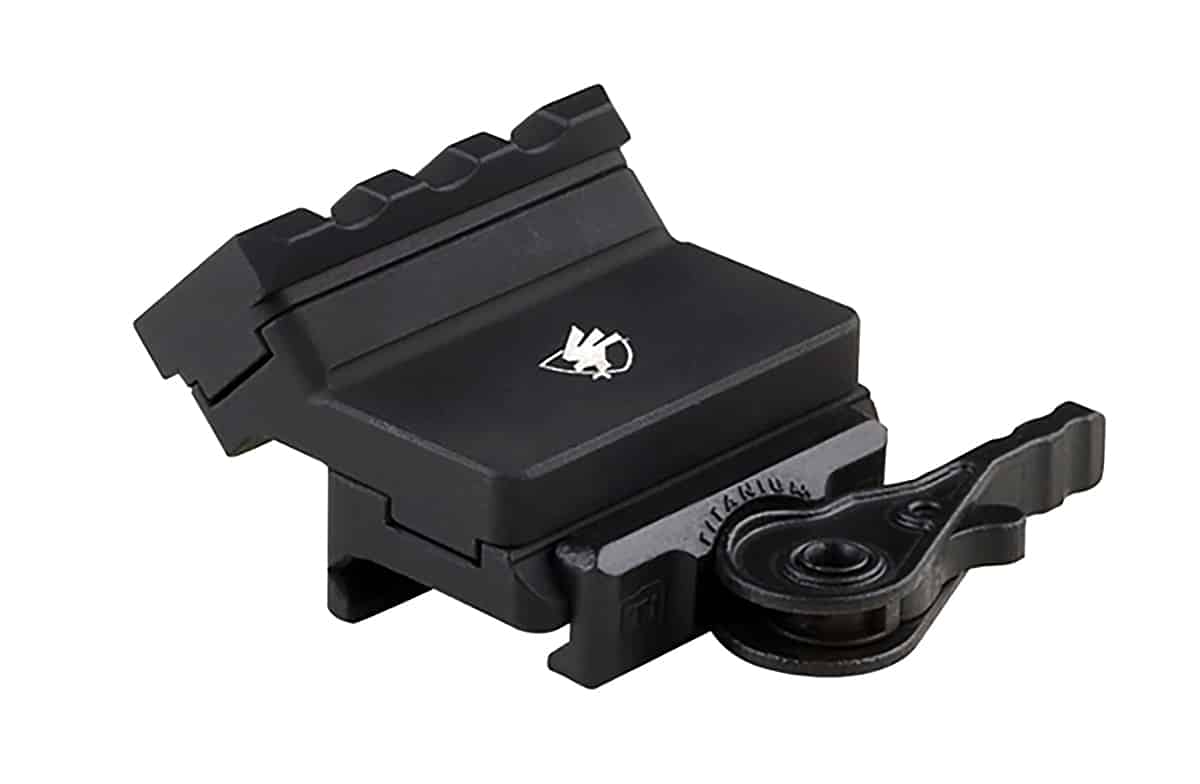 If you want to run an offset red dot, you need a high-quality offset mount. Machined from 6061 T6 aluminum and finished in hard coat T3 Mil-Spec anodize, this mount comes equipped with a titanium QD Auto Lock lever system to fit both in-spec and out-of-spec rail systems.
Material: Aluminum
Rail length: 2-inch, 3-inch, or 6-inch
MSRP: $135
---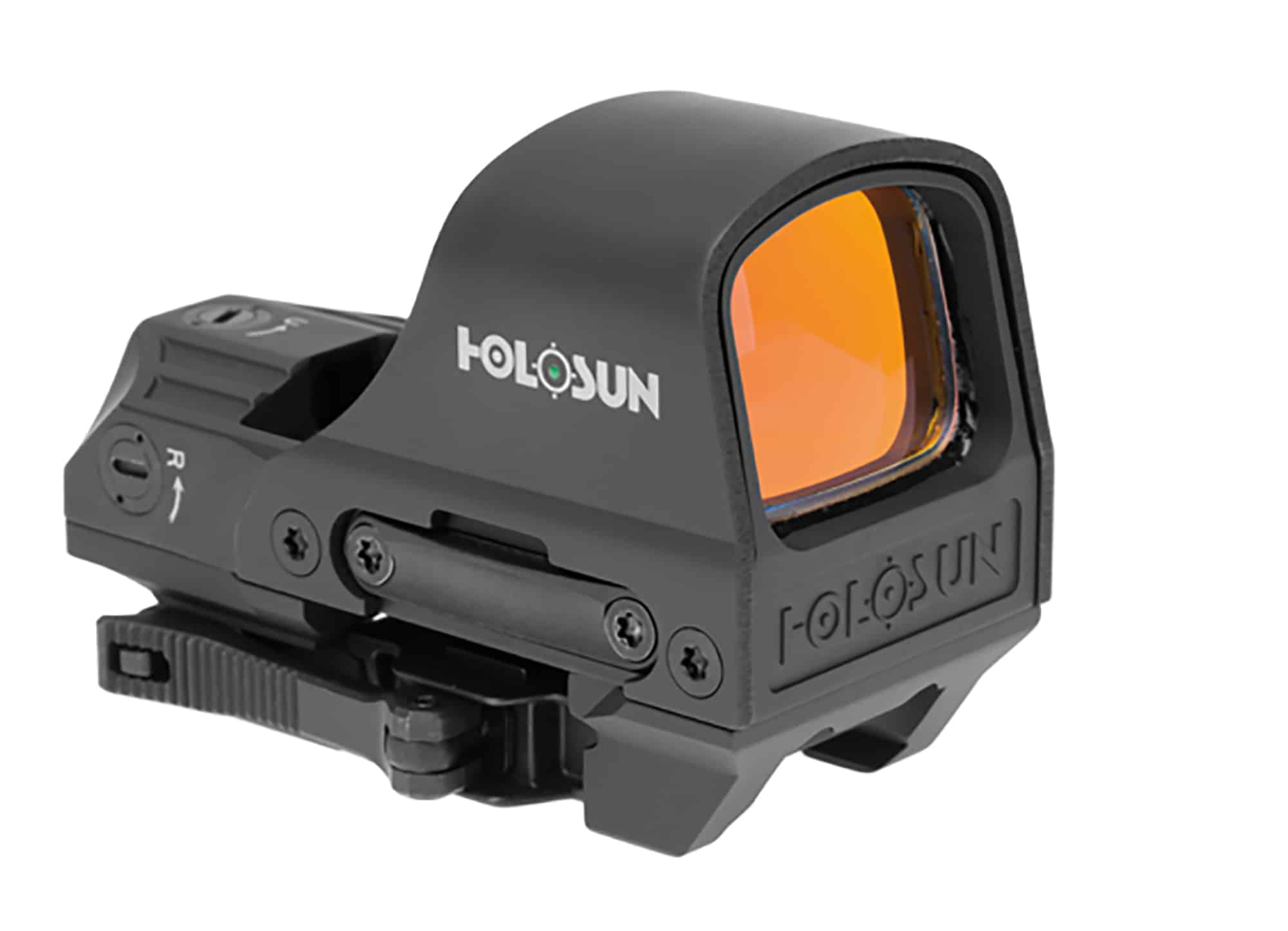 This reflex optic is designed for rifles and carbines, specifically. The HE510C-GR features a Green Super LED that has up to 50,000 hours battery life, perfect for an extended stay in the field. The optic is parallax free, meaning the dot remains parallel to the bore of your rifle no matter the angle your eye is in relation to the sight. That further means you won't have to worry about centering the dot inside the optic window.
Weight: 4.94 ounces
Dimensions: 3.3 x 1.68 x 1.78 inches
Adjustments: 0.5 MOA per click
Power Source: 1 CR2032
Battery life: 50,000 hours
---
Lights and Lasers
---
Streamlight TLR-2 HL Gun Light and Laser Sight Combo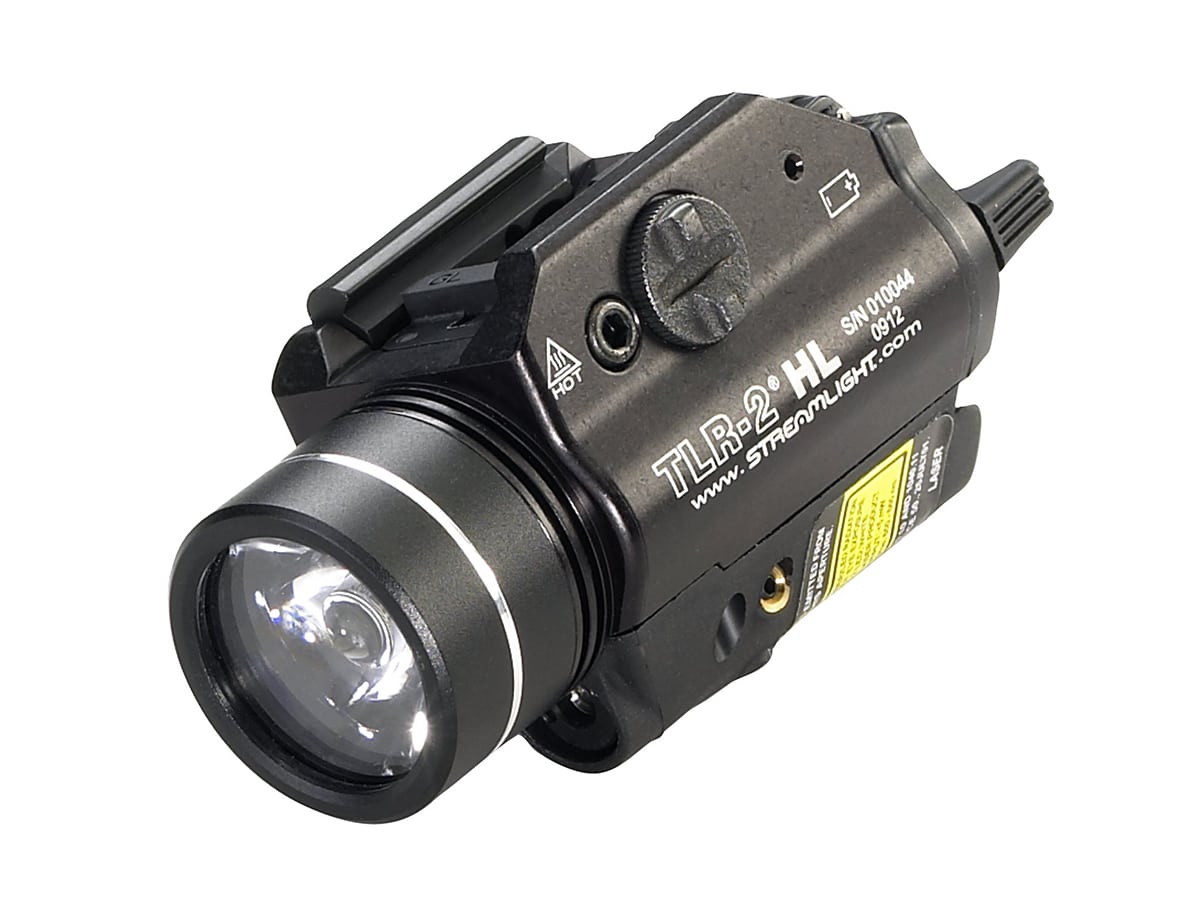 This light and laser combo is constructed with 6000 series aircraft-grade aluminum, which makes for an ultra-light accessory without sacrificing durability.
Weight: 4.88 ounces
Output: 1,000 lumens
Bulb Type: LED
Power source: 2 CR123A lithium batteries
Length: 3.39 inches
Battery life: 1.5 hours
MSRP: $359.99
---
SureFire M600U Scout Light Weapon Light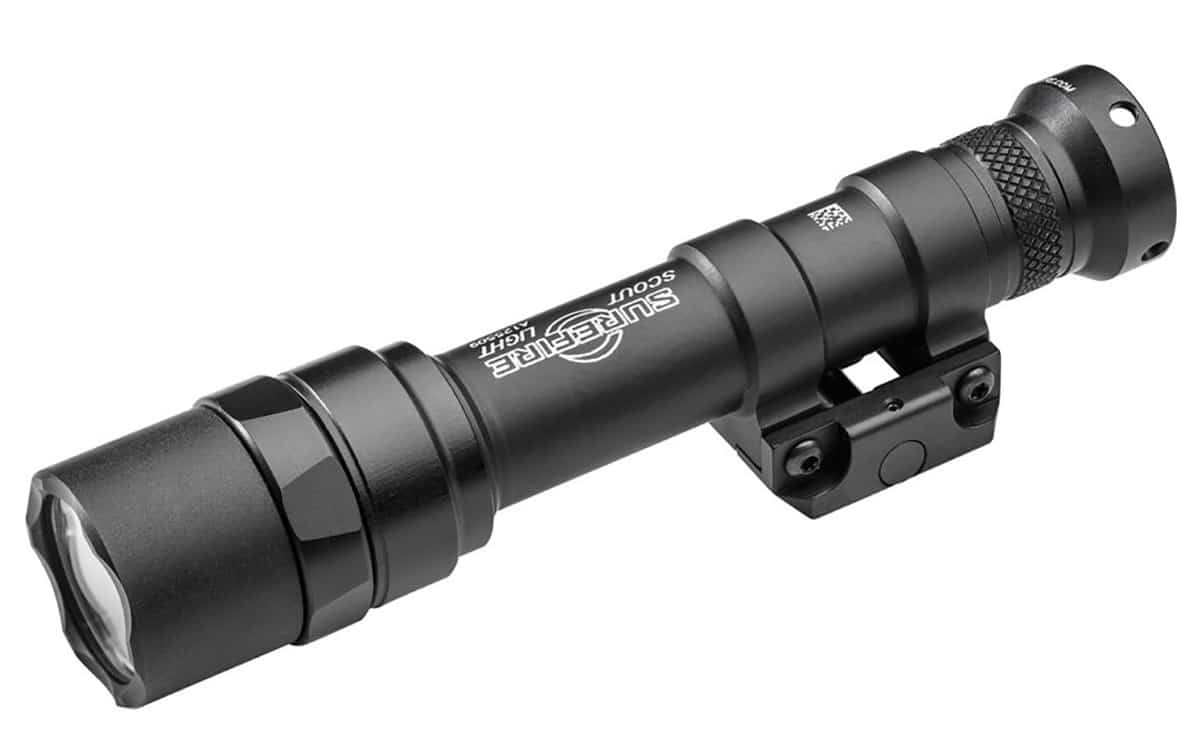 If lasers aren't your thing and you prefer a side-mounted weapon light, the M600U will feel right at home on your Recce rifle. This high-grade light is recoil-proof, so you can be confident your light won't turn into a strobe when it's time to lay down heavy fire.
Weight: 4.8 ounces
Output: 1,000 lumens
Bulb type: LED
Power source: 2 123A lithium batteries
Length: 5.5 inches
Battery Life: 1.25 hours
MSRP: $369
---
Bipod Options
---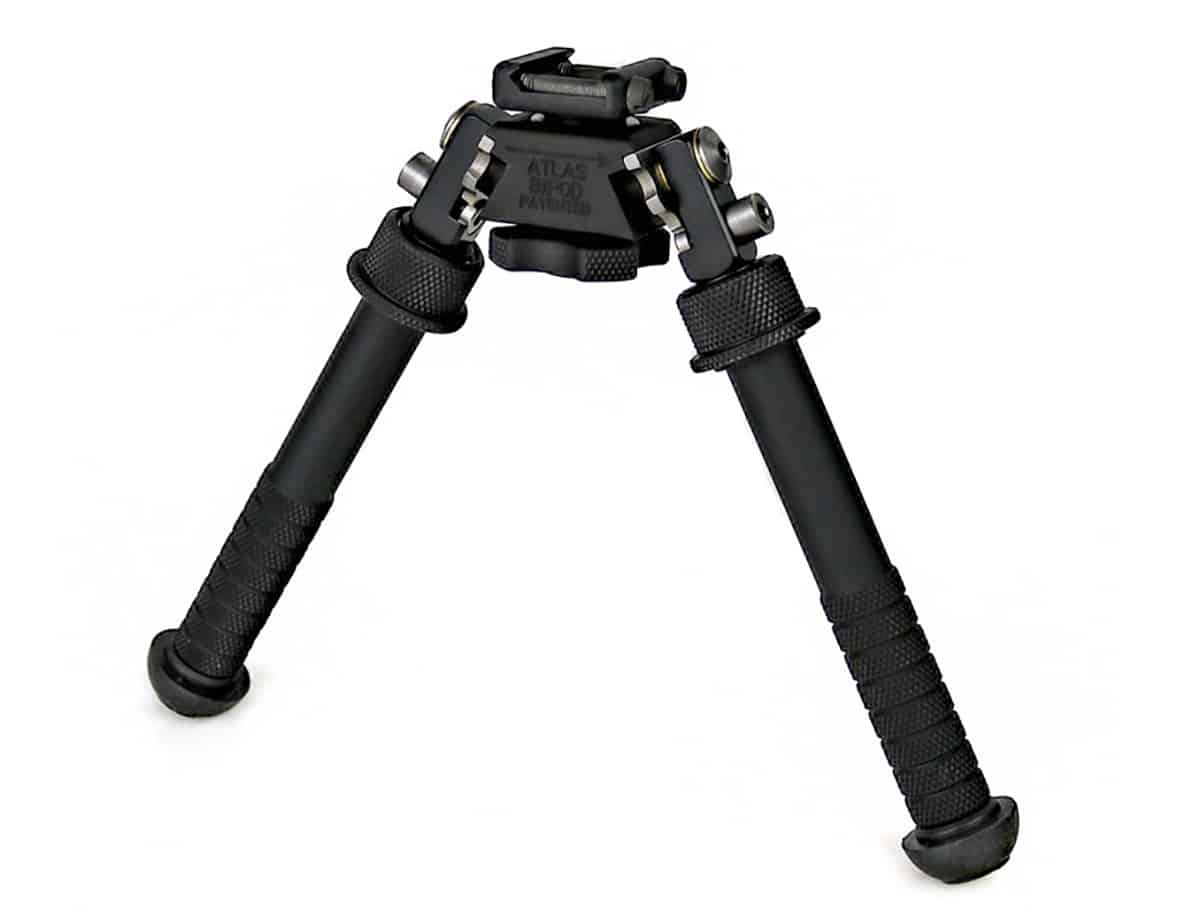 The use of 6061-T6 aluminum makes this bipod a lighter weight choice compared to the Harris bipod above, coming in at just 11 ounces. It uses heat-treated steel parts for its inner components, so you don't have to worry about points of failure.
Weight: 11 ounces
Material: Aluminum with steel inner components
Height: Adjustable from 4.8 to 9.1 inches
MSRP: $219.95
---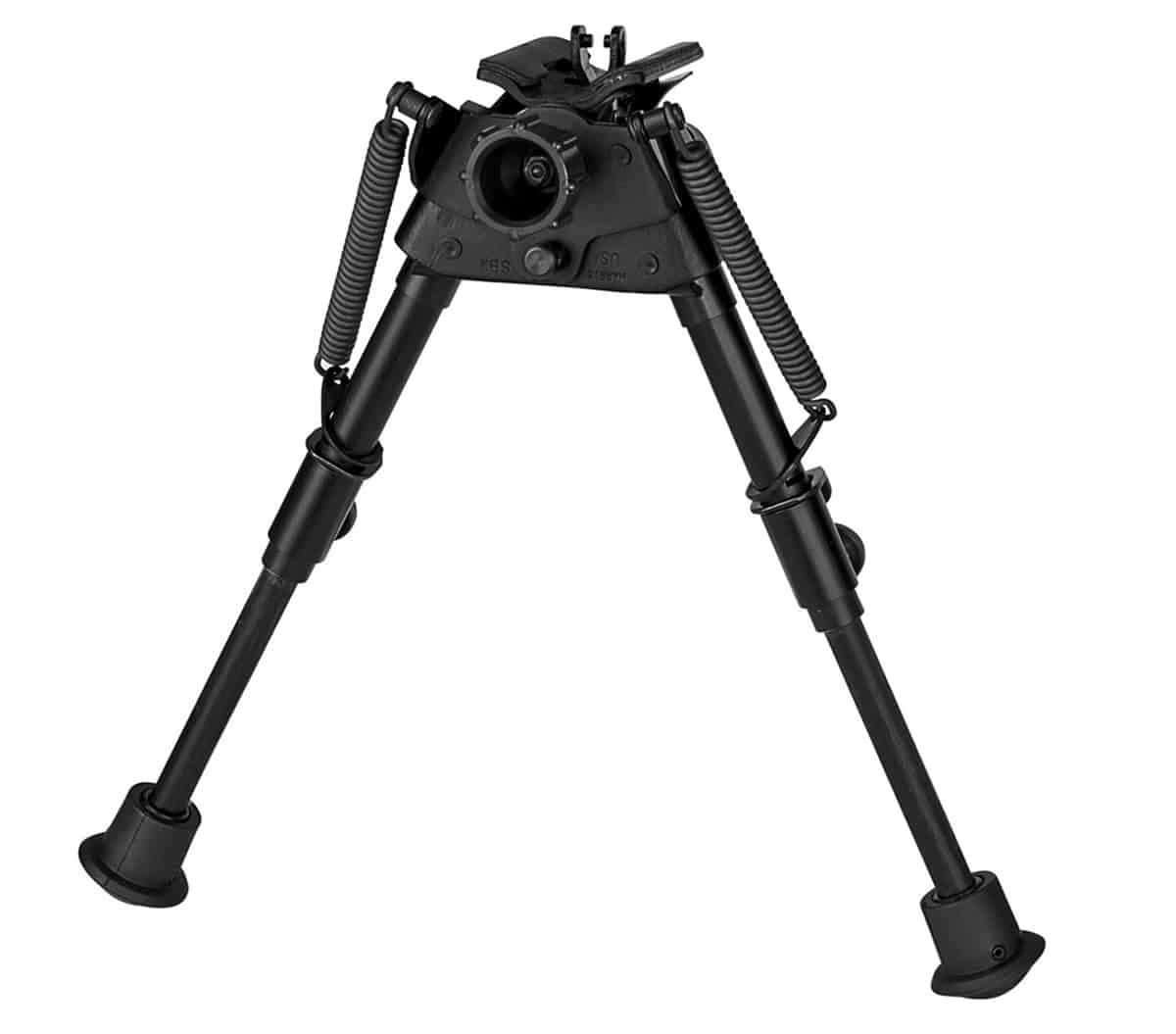 When you have to stay put and shoot from a fixed position, you'll be happy you have a quality bipod. The Harris S-BR Bipod adjusts on both arms and allows the user to swivel and tilt the rifle while the bipod remains fixed. This bipod will keep you steady in the most uneven of terrain.
Weight: 14 ounces
Material: Steel
Height: adjustable from 6 to 9 inches
MSRP: $171.44
---
Recce Rifle: Pre-Built Options
You may not have the time, money, or experience to start with a scratch Recce build, and there's nothing wrong with that. There are plenty of pre-built options out there from quality firearms manufacturers. Here are a few.
---

Both the upper and lower on this rifle are machined from Aluminum Forgings 7075-T6 and are hardcoat anodized. The Reccee 16 MCMR comes with a BCM 16-inch standard government profile barrel with a 1:7" riflling twist. The bore and chamber are chrome lined, which makes for smooth chambering and long operational life. The rifle also features a mid-length gas system, a tool-steel extractor, and a staked M4 lock nut.
Caliber: 5.56mm NATO
Barrel Length: 16 inches
Overall Length: 35.5 inches
Collapsed Length: 32.5 inches
Weight: 6.1 pounds
Muzzle device: BCM Gunfighter compensator
Stock: BCM Gunfighter Buttstock
Trigger: BCM Gunfighter PNT trigger
Gas System: Mid-length
MSRP: $1,499.99
---

This pre-built option comes with the company's Improved Flash Suppressor on the muzzle, making it ideal for recon use at night. Utilizing M-LOK attachment points at seven different positions and a Picatinny rail on top, the DDM4 V7 comes with lots of rail space out of the box, making it compatible with almost any optic or accessories. The ambidextrous GRIP-N-RIP charging handle also makes this a great choice for lefties or righties without modifications.
Caliber: 5.56mm NATO
Barrel length: 16 inches
Overall length: 32 1/4 inches – 35 7/8 inches
Weight: 6.2 pounds
Muzzle Device: Daniel Defense improved Flash Suppressor
Stock: Daniel Defense Buttstock and Pistol Grip
Gas system: Mid-length
MSRP: $2,098
---

This rifle features a Noveske Gen 4 precision machined billet upper receiver matched with the company's Gen 4 lower for an excellent and tight fit. The free-floating 16-inch barrel is 416R stainless steel with a 1:7" twist. Surrounding this highly accurized barrel is a GEN 4 NSR-15 (M-LOK) 15-inch free-floating handguard that will accommodate any weapon light or other accessories.
Caibler: 5.56mm NATO
Barrel length: 16 inches
Overall length: 33 inches
Weight: 7.25 pounds
Muzzle device: Q Cherry Bomb muzzle brake
Stock: Magpul MOE SL
Trigger: ALG Defense ACT Trigger
Gas system: Mid-length
MSRP: $3,100 to $3,300
---
Radical Firearms 5.56 NATO AR-15 Rifle (Budget Option)

Some of us may be on a tighter budget and are looking for a ready-built Recce rifle that's on the inexpensive side. This rifle has you covered with a 16-inch SOCOM profile barrel (made by Radical Firearms) of 4140 steel surrounded by a 6063-T6 aluminum, free-floating M-LOK handguard. This firearm meets the bare minimum standards of a Recce rifle at the lowest price possible — and you can always swap out parts and add to it later.
Caliber: 5.56mm NATO
Barrel length: 16 inches
Muzzle Device: 1/2 x 28 A2 flash hider
Stock: Mission First tactical minimalist stock and pistol grip
Trigger: Mil-spec single-stage trigger
Gas system: Mid-length
MSRP: $429.99
---
READ NEXT – Meet the New SIG Sauer MCX Spear LT Firearm Family