Dick Hoyt, the man who inspired a worldwide running community by pushing his wheelchair-bound son, Rick, across more than 1,000 finish lines, died peacefully in his sleep this week at his home in Holland, Massachusetts.
Rick Hoyt was born with cerebral palsy and was unable to control his limbs or speak. In 1972, engineers at Tufts University built a computer that gave him the ability to type by moving his head.
In 1977 he told his dad through the computer that he wanted to participate in a benefit run for a paralyzed lacrosse player. Dick ran the 5 miles, pushing his son ahead of him. They came in next to last, but that race sparked almost four decades of road races for the father and son, including 70-plus marathons (32 Boston Marathons) and 257 triathlons, including half a dozen Ironmans. Their fastest marathon finish ever came at the 1992 Marine Corps Marathon: a blazing 2 hours, 40 minutes, 47 seconds.
Tom Grilk, the CEO of the Boston Athletic Association, told Runners World, "As a gentleman, he was quiet. He never sought out opportunities to talk about himself. He was there to be with his son, do something good with him and for him."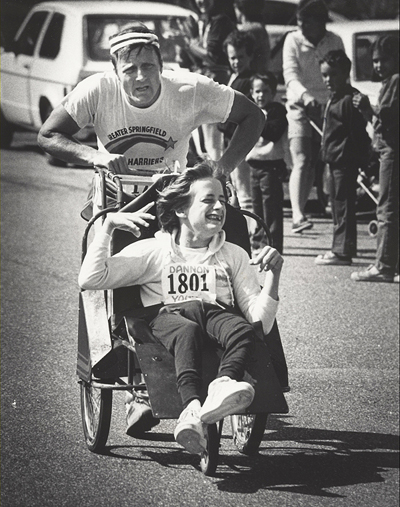 Triathlon magazine included a quote from Ironman Hall of Fame member Bob Babbit's book, 25 Years of the Ironman World Championship: "Dick Hoyt showed the American public what a father will do for his son when he not only refused to institutionalize Rick, but made the decision to include him in his racing and training."
Dave McGillivray, head of the DMSE Children's Fitness Fund, Jimmy Award winner, and close family friend of the Hoyts, wrote, "Dick and Rick were studs; amazing athletes, both of them. What they both endured together is a story of legend. I witnessed so much of it personally. Imagine pushing your son in a wheelchair in the Boston Marathon and going under three hours! Dick wasn't a slouch. He was fast, even pushing a chair. […] He will never be forgotten. God bless Team Hoyt."
In 1992 the pair also biked and ran across the country, following the route that McGillivray had originally run in 1978. In a New York Times article in 2009, Rick said, "When my dad and I are out there on a run, a special bond forms between us, and it feels like there is nothing dad and I cannot do."
Read Next: Why Running Still Matters