While most Americans remained glued to the news, watching the presidential election results slowly roll in during the wee hours of Nov. 4, American climber Emily Harrington was hard at work adding her own personal mark to a historic week, becoming the fourth woman to free climb the fabled rock face of Yosemite National Park's El Capitan in less than 24 hours.
"I knew I was in for a big day — but that's exactly why I was there. I wanted to find my limit and exist in it and fight beyond it," Harrington wrote on Instagram following her momentous ascent of the sheer, 3,000-foot rock face.
Harrington, 34, scaled El Capitan's Golden Gate route in a little over 21 hours and 13 minutes. She is now one of about 25 people who have free climbed the legendary rock face — which was featured in the Oscar-winning 2018 documentary Free Solo — by any route, in less than a day.
Although Harrington has ascended El Capitan many times, this was reportedly her fourth attempt at a sub-24-hour free climb.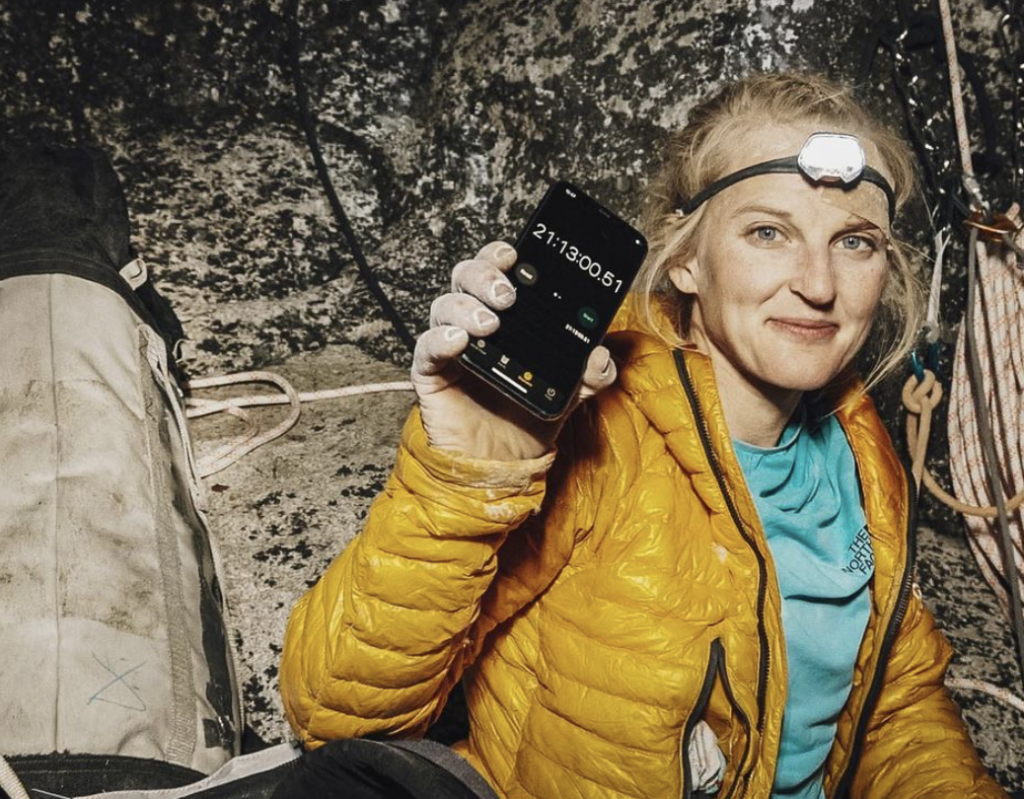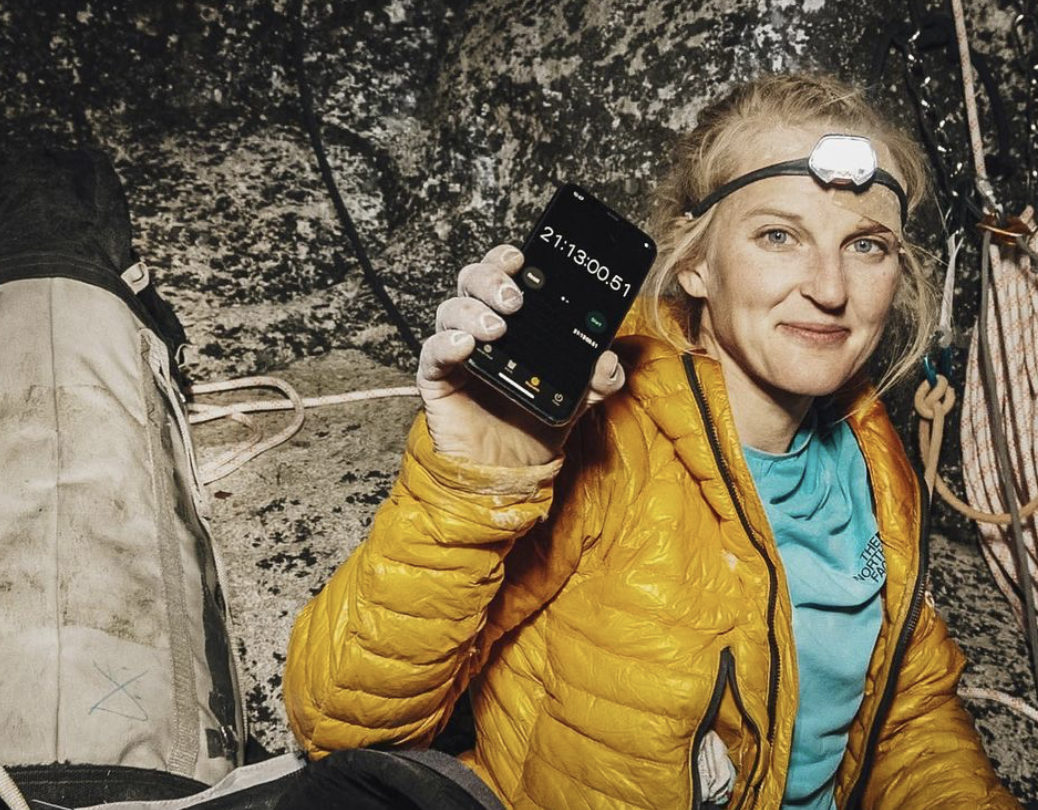 First climbed in 1958, El Capitan is the mecca of rock climbing, drawing the world's best to its granite walls. There are multiple routes up the face, some more difficult than others. Some faces, like the Dawn Wall (first climbed by Tommy Caldwell and Kevin Jorgeson in 2015) seem practically impossible to the uninitiated observer.
German brothers Alexander and Thomas Huber were the first to free climb the 41-pitch Golden Gate route in 2000. When Harrington free climbed the route for the first time in 2015, it took her six days to top out. Harrington is now the first woman, and only the fourth person, to free climb the Golden Gate route in a day.
"I never believed I could actually free climb El Cap in a day when I first set the goal for myself. It didn't seem like a realistic objective for me," Harrington wrote in an Instagram post. "I didn't have the skills, fitness, or risk profile to move so quickly over such a large piece of stone. But I chose it exactly for that reason. Impossible dreams challenge us to rise above who we are now to see if we can become better versions of ourselves."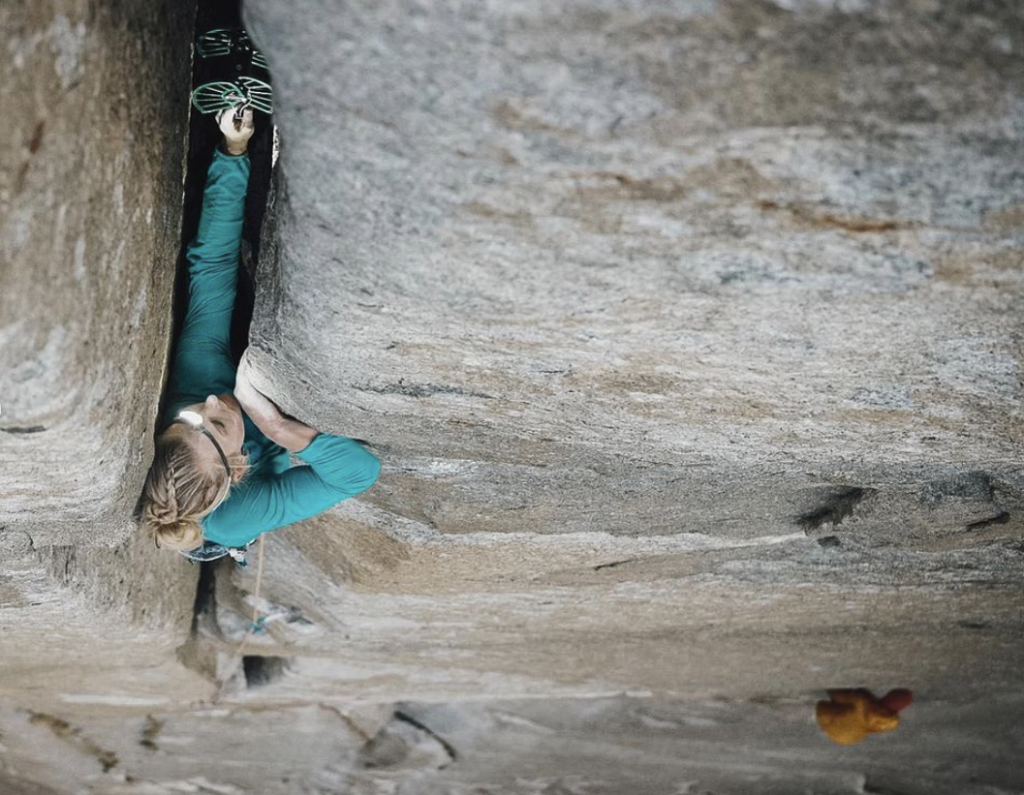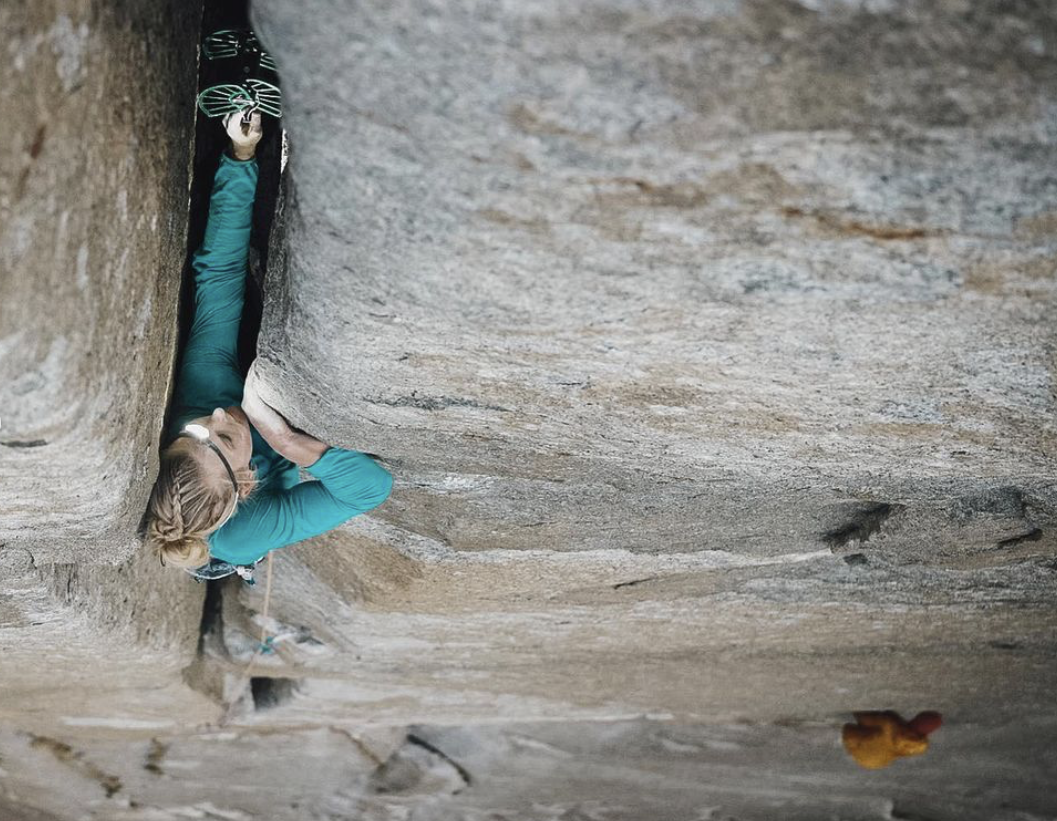 Many news outlets falsely reported that Harrington was the first woman to ever free climb El Capitan in less than 24 hours. After ascending a route called the Nose in 1994, American Lynn Hill became the first woman to accomplish the feat. Thus, following her own historic climb on Nov. 4, Harrington set the record straight, giving proper credit to Hill for her groundbreaking achievement more than a quarter century earlier.
She wrote on Instagram: "It's pretty hard to talk about free climbing on El Capitan without mentioning perhaps THE most astonishing ascents of all time — Lynn Hill's (@_linacolina_) one day free ascent of The Nose in 1994. Her ascent made her the very first human to achieve such a feat, and it was far and beyond what anyone could conceive of at the time."
Two other women have free climbed El Capitan via the Free Rider route, which Alex Honnold famously climbed without a rope in 2017 — the nerve-wracking exploit featured in Free Solo.
"I wanted to celebrate the women who paved the way in our sport and those who continue to push forward today. You all inspired me as a tiny 10 year old girl in the gym and continue to do so today," Harrington wrote on Nov. 9.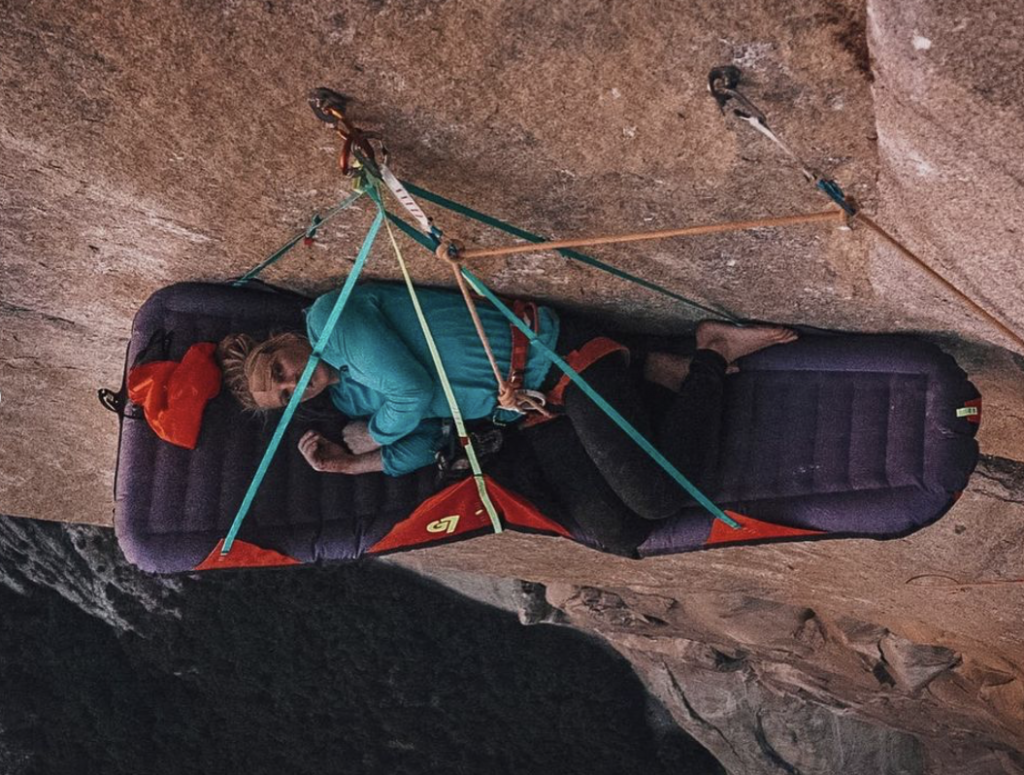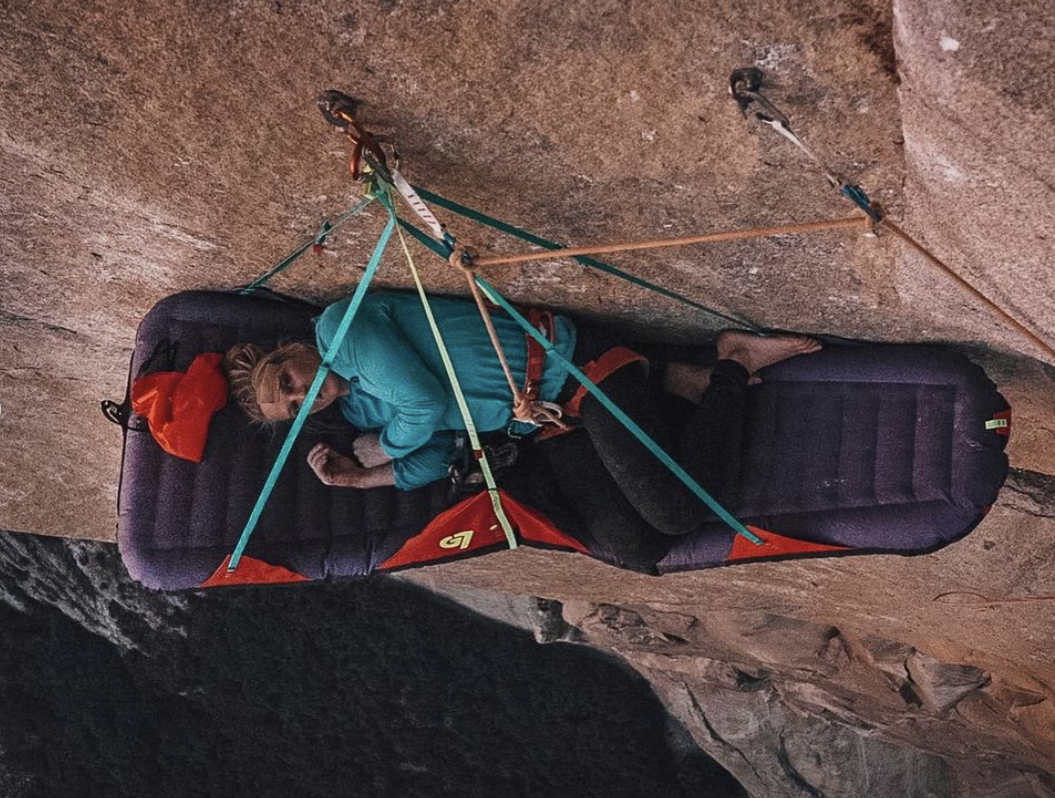 According to the Yosemite Decimal System, rock climbs are rated numerically from 5.0 to 5.15, with 5.0 being the easiest. The hardest climb in the world is rated 5.15d. With a rating of 5.13, the Golden Gate route is considered more difficult than Free Rider, which is rated at 5.12d.
The Nose, the route free climbed by Hill in 1994, is rated 5.14a for free climbers.
Free climbing means that a climber can only use a rope for protection against falls. The free-climber's weight must, at all times, be supported on the rock by his or her hands and feet. Aid climbing, on the other hand, allows a climber to use artificial assistance on the rock, such as ropes and metal pegs, for upward progress.
When Honnold climbed El Capitan without a rope in 2017, he used a technique known as free soloing. One mistake and he would have likely fallen to his death.
While a fall during free climbing is usually survivable, it's not without risk. The ropes used during free climbing cannot be held taut at all times as in aid climbing — doing so would inevitably support some of a climber's weight. Thus, if a free-climber falls, the rope may need to unravel for many feet before going tight and catching the climber's weight. For her part, Harrington went to the hospital in 2019 after a nasty fall while free climbing on El Capitan.
According to Harrington's own account of her record-setting Nov. 4 climb, she began at 1:34 a.m. on Nov. 4. Her climbing partner? None other than Alex Honnold of Free Solo fame.
A fall early on left Harrington with a gash on her forehead. Yet, she rallied and pressed on, succeeding on a difficult traverse where she had failed a year earlier.
"This time it was not my limit. I fought hard but with flawless movements in the dark," Harrington wrote.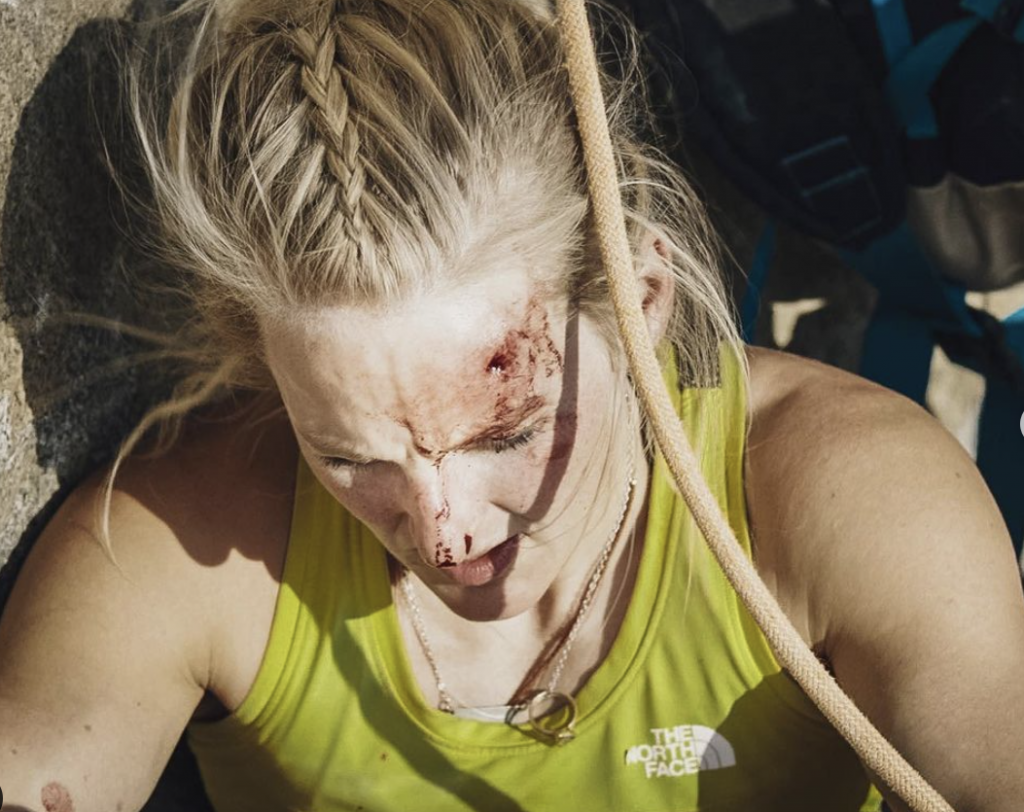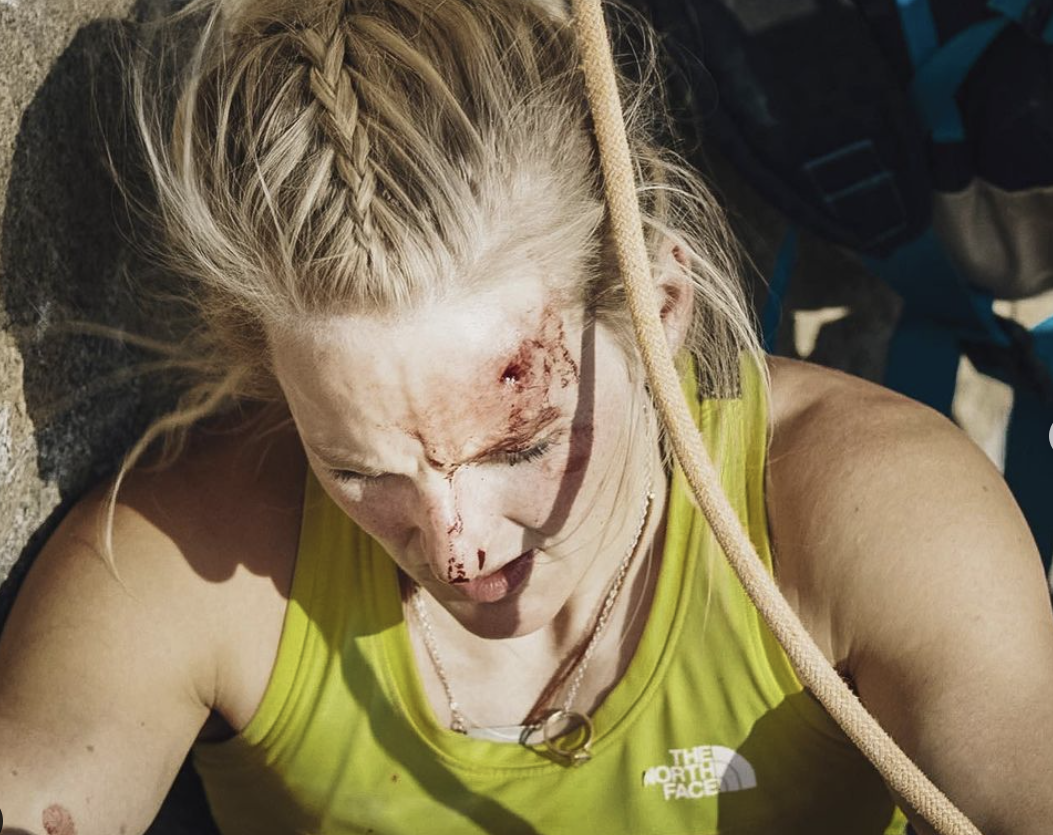 On one particularly treacherous part of the climb called the "Monster Offwidth," Harrington wore Honnold's climbing shoes over her own to provide more purchase on the rock. In 2015, the pitch took her two and a half hours and left her feeling like she'd been "attacked by a shark."
On Nov. 4, bedecked with Honnold's oversized footwear, Harrington reached the top of the Monster Offwidth pitch in 30 minutes — "barely breathing, unscathed and smiling," she recounted on Instagram. At 10:30 p.m. on Nov. 4, Harrington pulled herself over the final lip of the rock wall "in disbelief."
Harrington's home gym is in Tahoe City, California, but her adventurous exploits extend far beyond rock climbing in the American West. She's also scaled some famous Himalayan peaks, including Mount Everest, Cho Oyu, and Ama Dablam.
In the days following her historic free climb, Harrington said that as a girl she was inspired to pursue her own lofty dreams by Hill's legendary accomplishments on El Capitan's granite crags in the 1990s.
"As a little girl I was introduced to climbing knowing that it was a space for women and that we had the potential to excel just as much as men did," Harrington wrote on Nov. 9.