Recently, we published a story about the most expensive firearms ever sold at a gun auction. With a staggering total price of more than $14 million, the guns on that list are incredible, but they all had one thing in common: They were all handguns. There was not a rifle or shotgun among them. In fact, there weren't even any semi-autos on the list — just revolvers and single-shots.
So, in the interest of fairness, here's a rundown of the five most expensive rifles ever sold at a firearms auction, which is the only way you sell guns at these prices.
All told, these five rifles have a combined sales total in excess of $5.1 million. Winchester rifles have long been a staple in the high-roller gun collector community. They've been solid investments for decades, and so it comes as no real surprise that every single one of the guns on this list is a Winchester.
---
Sale Price: $805,000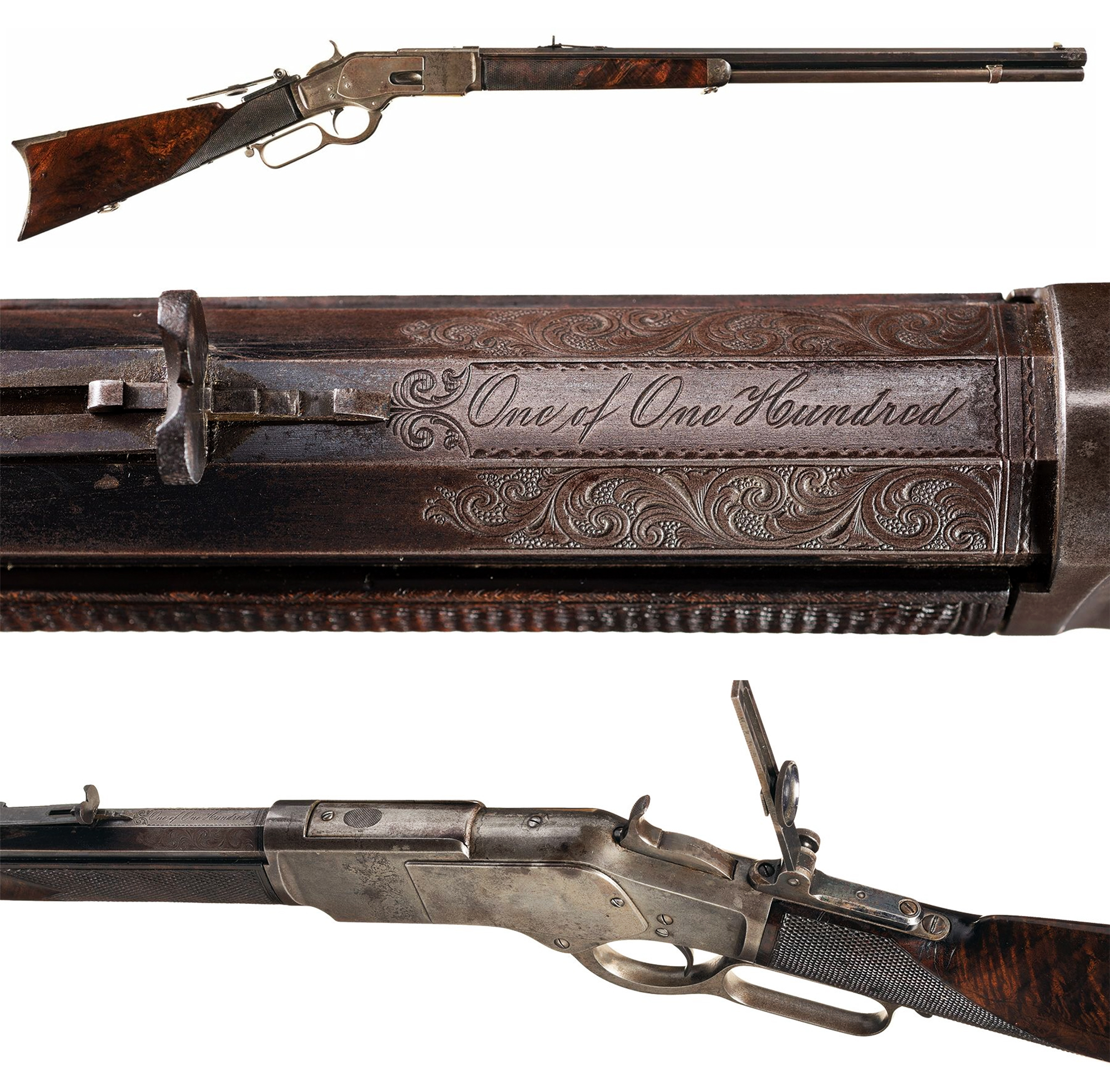 Serial numbers can play a big role in gun values and can jack up the price of a gun far higher than other makes and models of the same quality. This is an extremely rare example of an all-original Winchester "One of One Hundred" Model 1873 rifle. It's given that designation because it outperformed factory expectations in a batch of 100 given guns.
Winchester manufactured a total of eight "One of One Hundred" Model 1873 rifles, only six of which are reportedly known to collectors. The company announced the Model 1873 "One of One Hundred" in 1875, and they were all shipped between April 1876 and April 1878.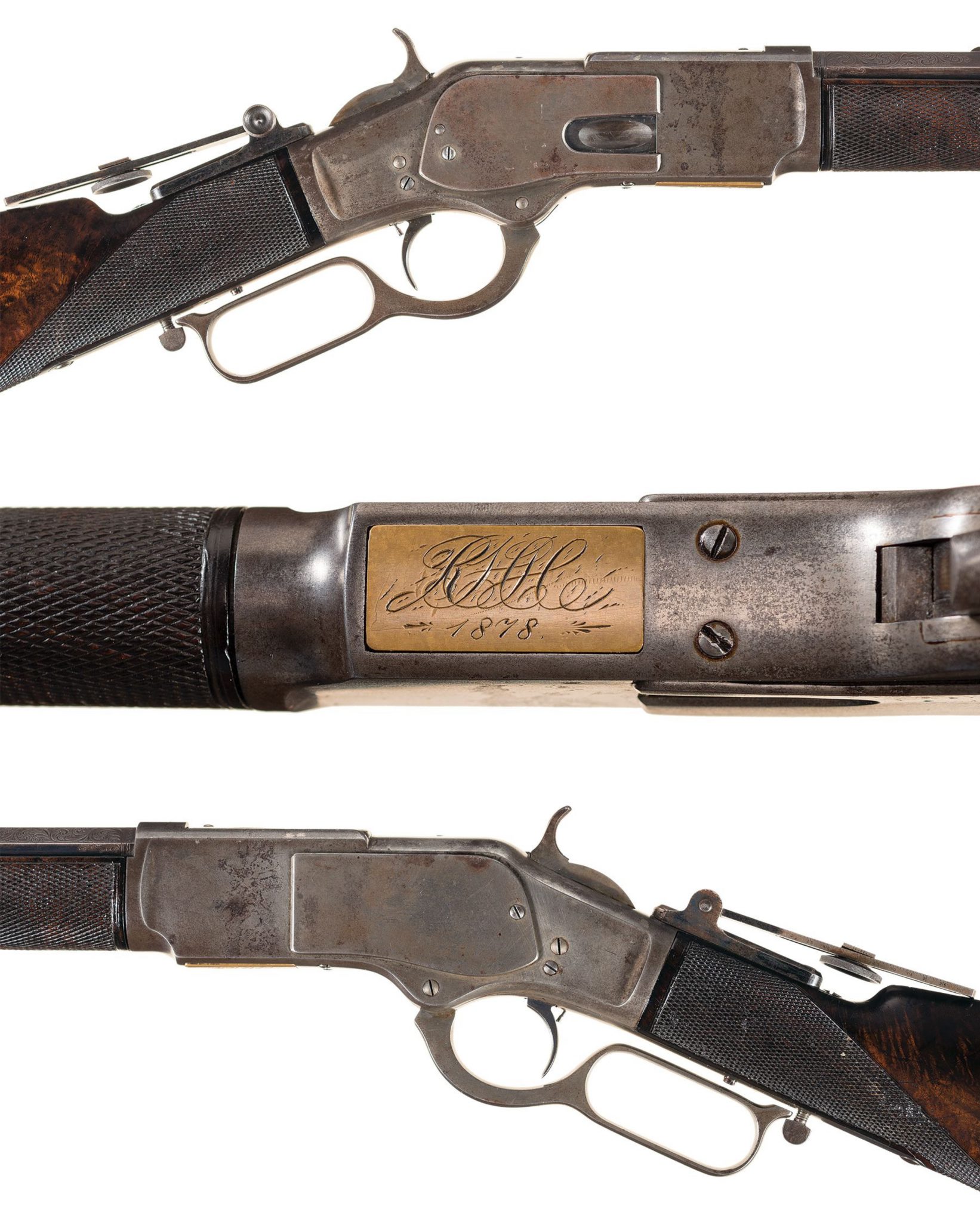 This rifle, with serial number 27179, was the last "One of One Hundred" Model 1873 ever shipped from Winchester. It was boxed up on April 16, 1878.
That serial number and the fact that it was the last one ever made with its designation helped drive the price up to $805,000 when it was sold in 2018 by the Rock Island Auction Company, more than doubling the high estimate of $375,000.
RELATED – Most Expensive Guns: The 6 Priciest Firearms Ever Sold at Auction
---
Sale Price: $891,250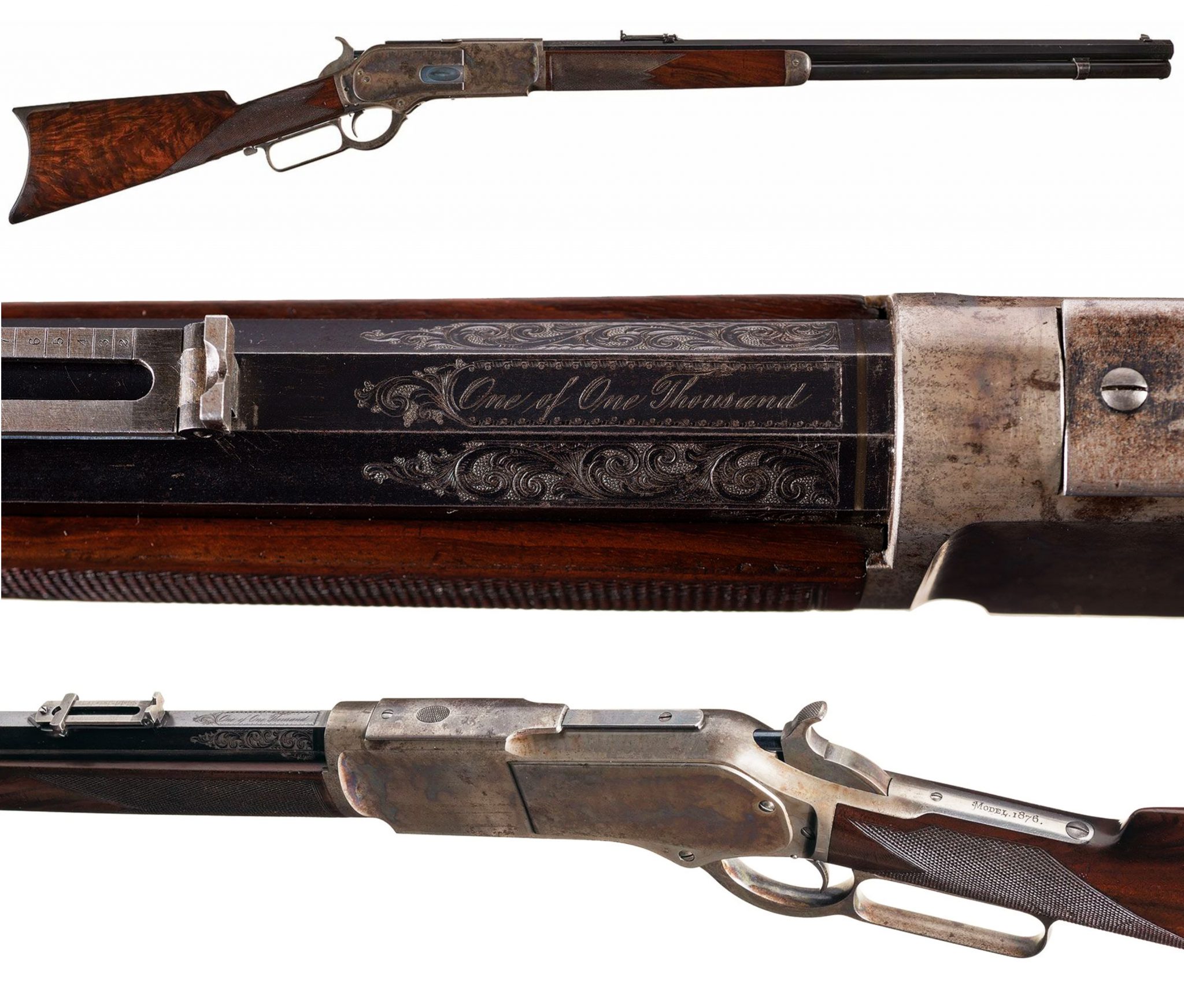 "One of One Thousand" (OOT) rifles are the best of the best, chosen for their absolute perfection in factory craftsmanship. This example is one of only 54 Model 1876 OOT rifles ever made. By the numbers, the Model 1876 OOT rifles are significantly rarer than the 136 Model 1873 OOT rifles.
This gorgeous example chambered in .45-60 Winchester features the "Fourth Style" engraving, and the top barrel flat of this rifle is engraved "One of One Thousand" to set it apart from the pack.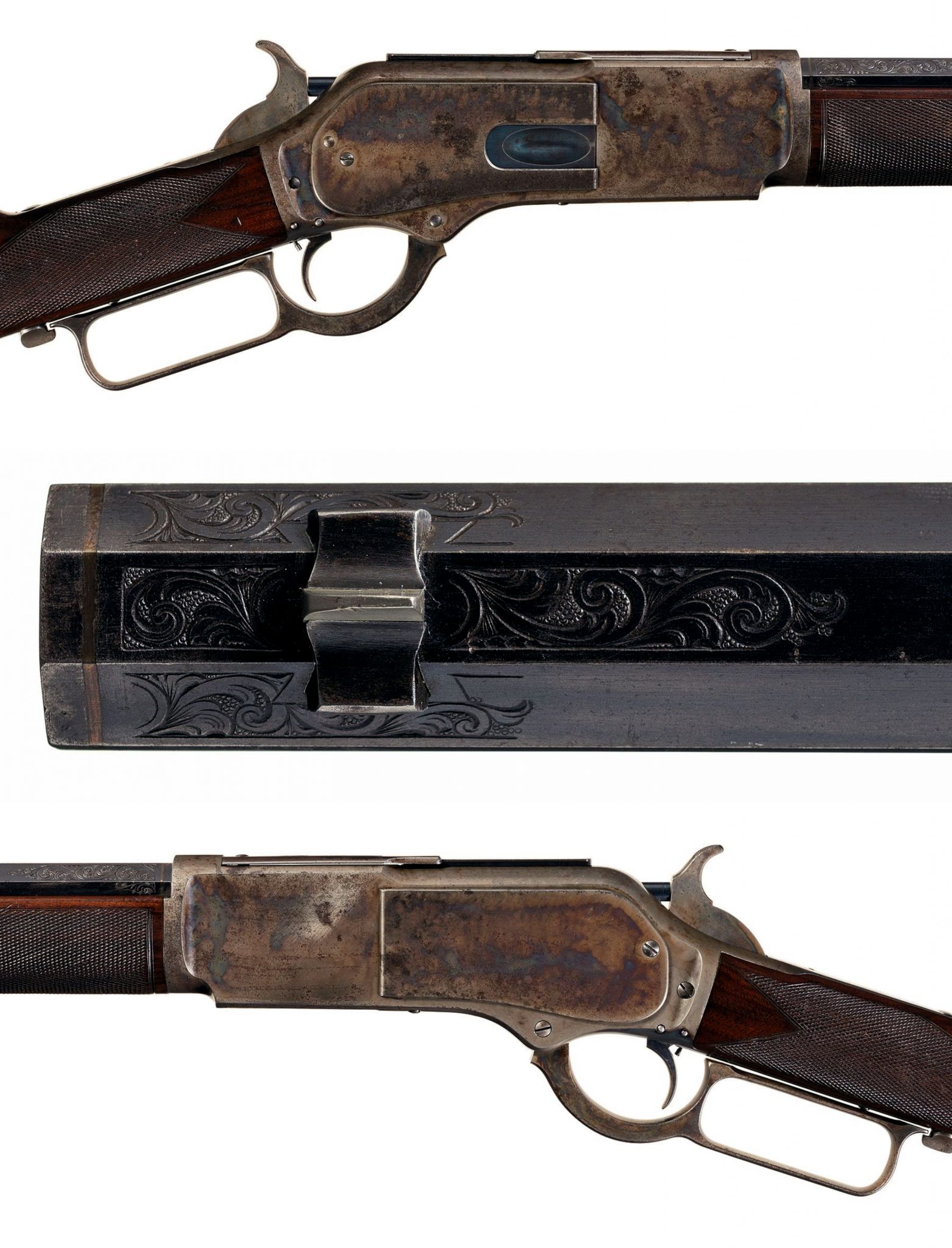 Originally sold in 1879, the gun remained in the same family for more than a century.
In 2018, an auction house sold this singular example for $891,250 against a presale estimate ranging from $350,000 to $550,000.
RELATED – How the Winchester Model 70 Nearly Made Lever-Actions Obsolete
---
Sale Price: $977,500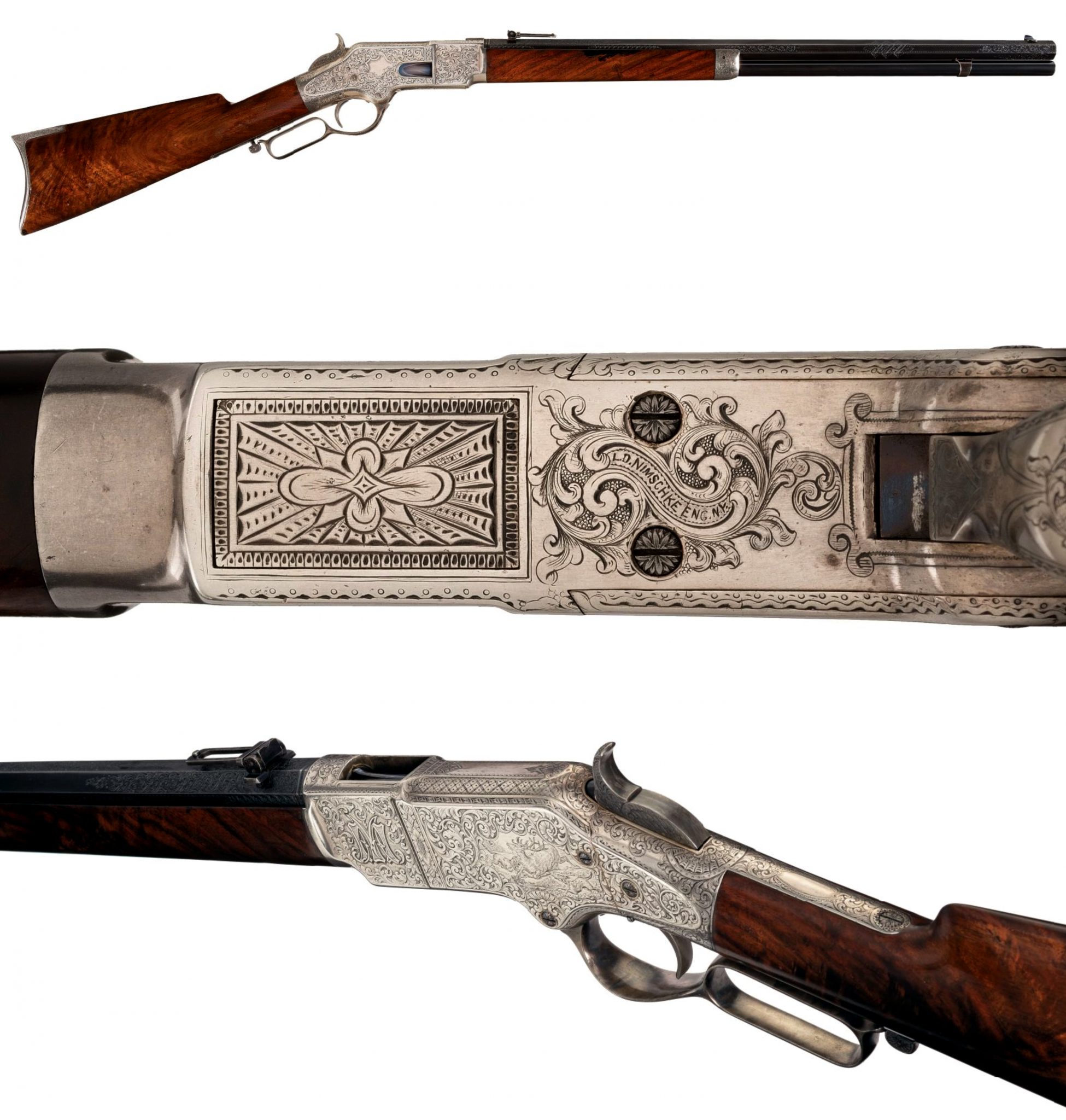 The work of German-American master engraver L.D. Nimschke is arguably the benchmark against which all other firearms engraving is held. Period.
This Winchester Model 1866, engraved by Nimschke, is truly over the top. It features solid silver bands, solid silver mounts, and most extraordinarily, a cast solid silver frame, carrier block, butt plate, and end cap.
The incredible engraving patterns from this rifle are immortalized forever in the form of smoke pulls made by the master himself and then placed in his iconic pull book, which serves as a study aid for all engravers.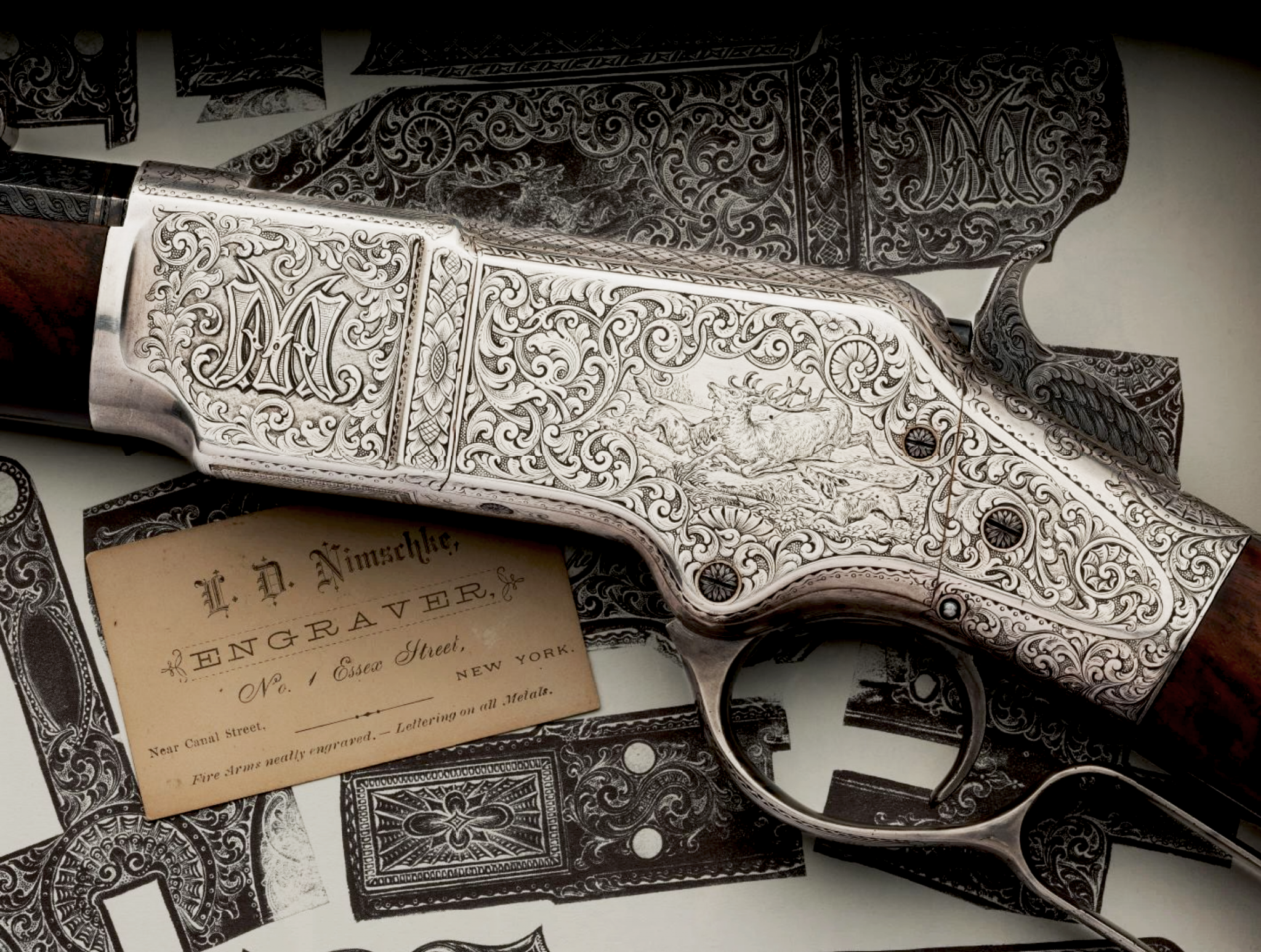 The pulls are dated 1868, and Nimschke's notes state "PERU. Engraved on solid Silver frame Henry's Patent Rifle." Nimschke also recorded the silver bands on the barrel and made smaller notes detailing his work on the rifle. Under meticulous magnified study and comparison of the rifle and smoke pulls, every minute detail is identical, including the placement of several conspicuous and inconspicuous signatures, with seven in total observed on the rifle.
The gun sold for $977,500 in 2021, eclipsing the presale estimate of $400,000 to $650,000, which is really no surprise given all the exceptional qualities and unique features of this gun.
RELATED – Cabot Guns Paves the Way for Firearm NFT Sales With Its Moonshot 1911
---
Sale Price: $1,178,750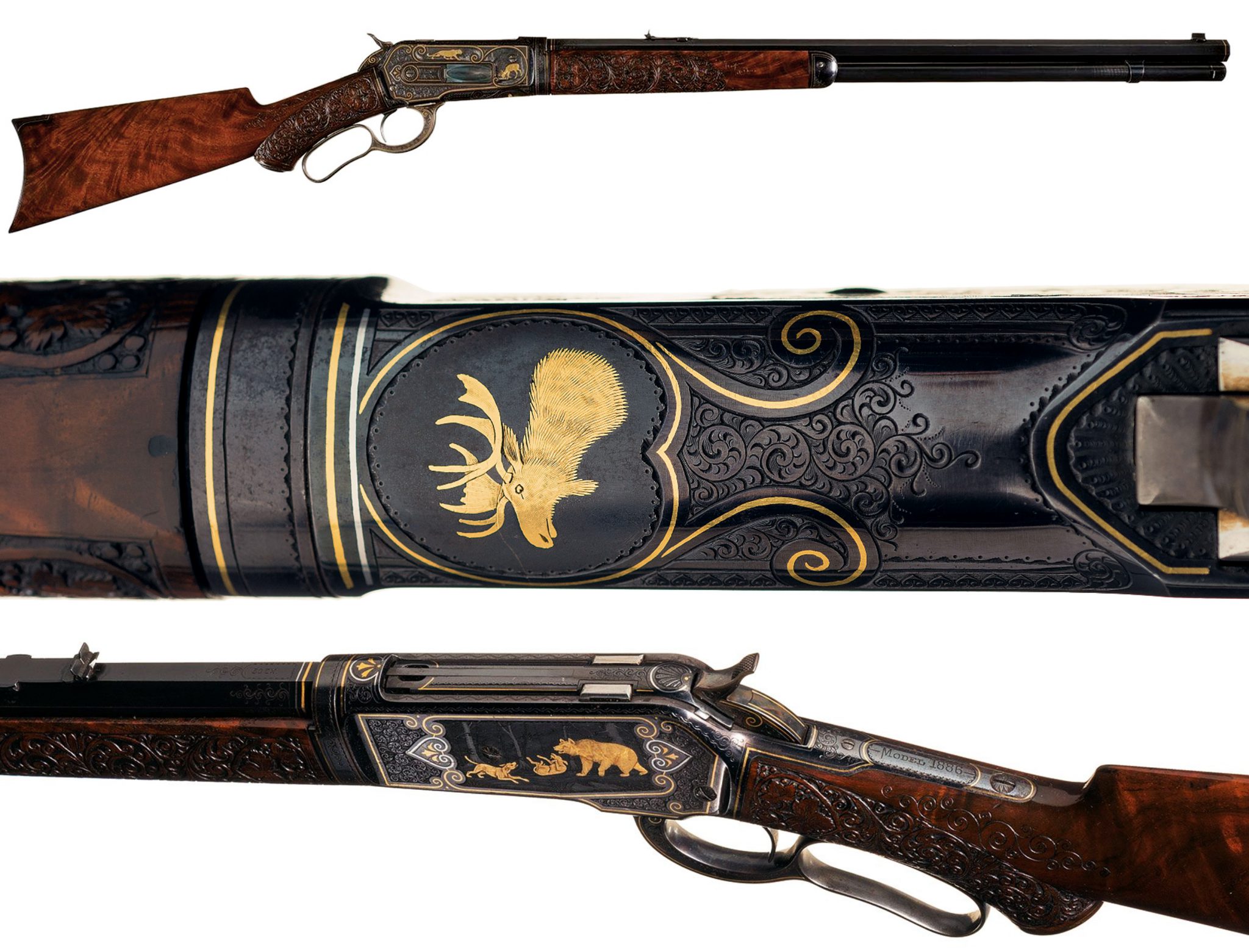 There are a lot of gorgeous Winchester rifles in collections all across the world, but this one really takes the cake. Engraved and signed by the legendary John Ulrich and then inlaid with gold and platinum accents, this Model 1886 is stocked with the fanciest piece of walnut available at the time, creating a truly stunning work of art in both metalwork and woodcraft.
Chambered in .50 Express and set up in a takedown configuration, the gun was impressive enough to have been featured in R. L. Wilson's Winchester Engraving book, where it sits among other exceptional Winchester rifles of all kinds.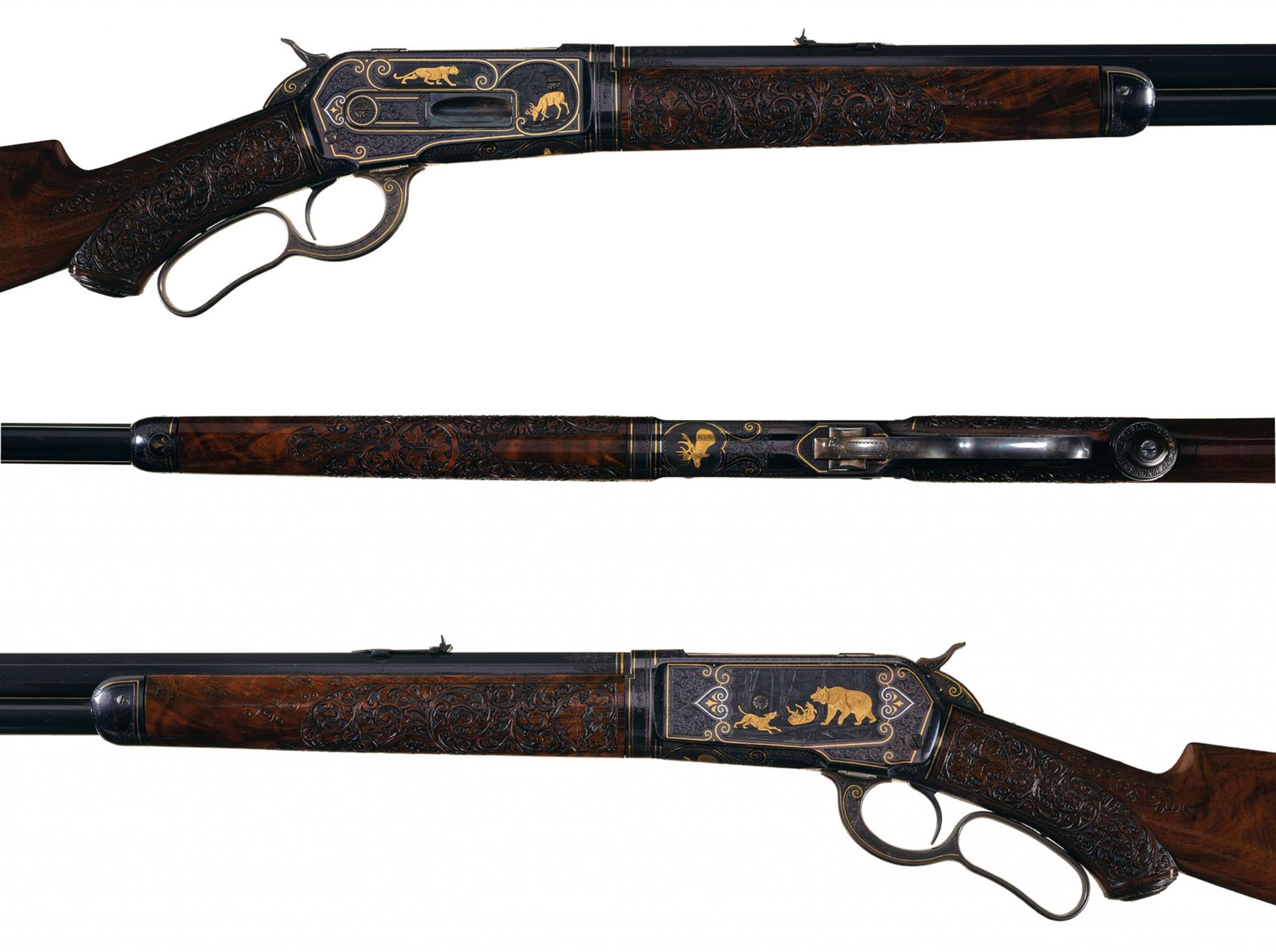 This spectacular rifle is the finest known example of Winchester No. 1 factory engraving and Style A stock carving and represents the absolute peak of 19th- and early 20th-century factory craftsmanship that will never again be duplicated.
The gun sold for $1,178,750 in 2018, blowing past the presale estimate of $500,000 to $750,000.
RELATED – Browning Hi-Power Reborn: How 3 New, Updated Versions Stack Up
---
Sale Price: $1,265,000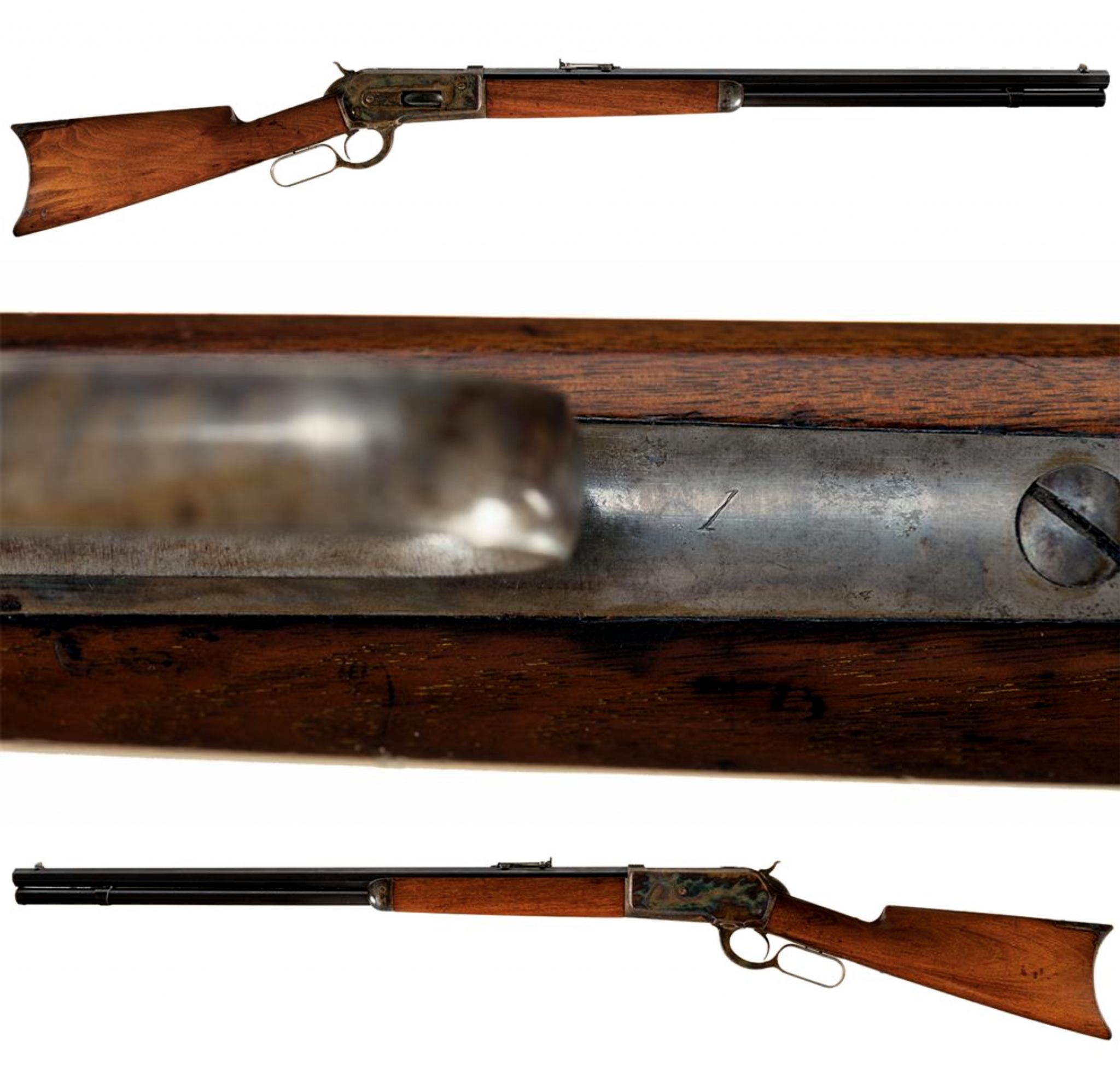 Any time a gun bearing serial number: "001" comes up for sale, it's sure to fetch a handsome sum. However, the provenance that goes with this gun only made it more alluring for collectors.
This Winchester Model 1886 Sporting Rifle was presented to Congressional Medal of Honor recipient Capt. Henry W. Lawton by fellow Congressional Medal of Honor recipient, influential firearms designer, and noted friend of the Browning family, Lieut. George E. Albee.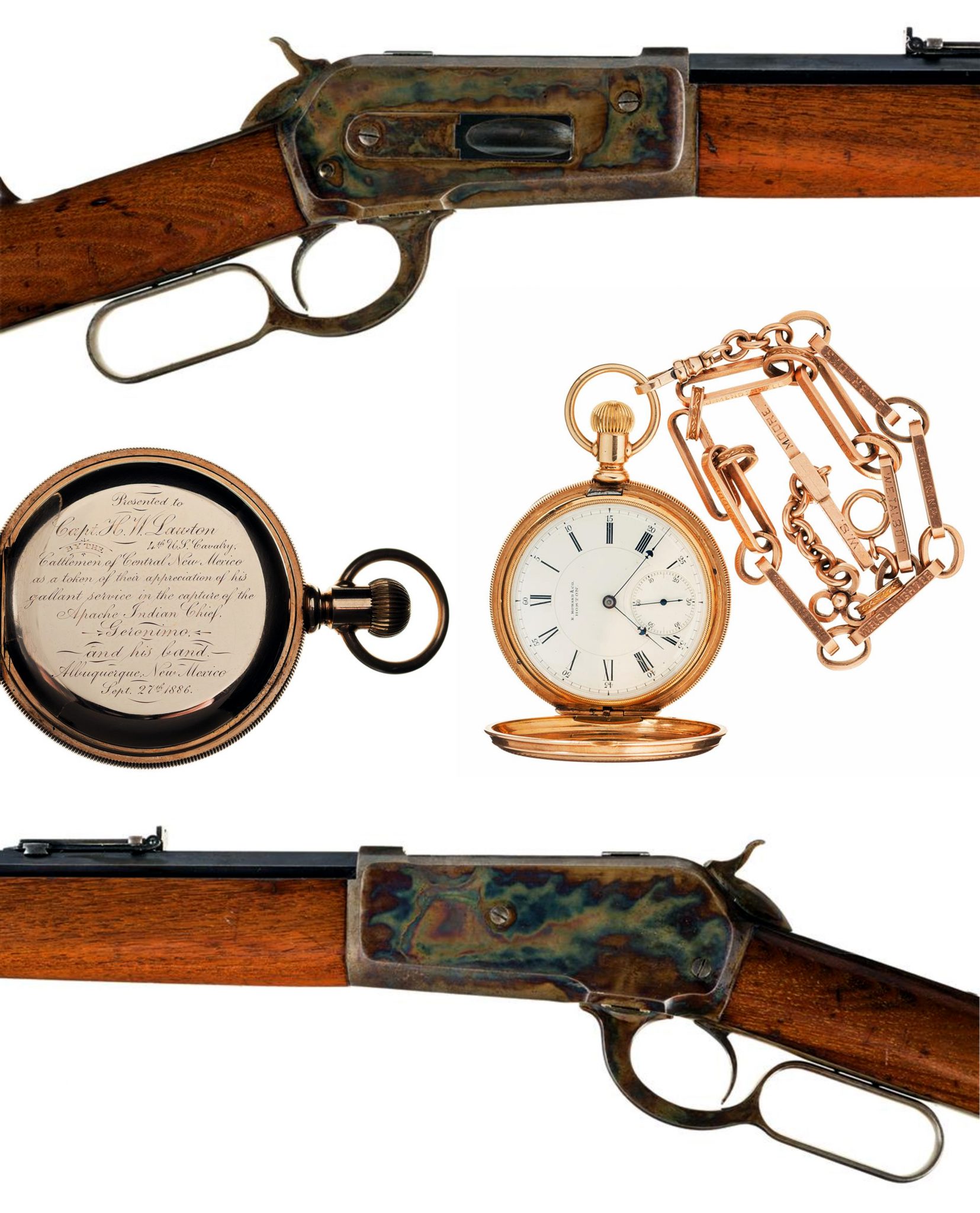 As if the serial number and association with two Medal of Honor recipients weren't enough, the occasion of the gifting of the gun is the icing on the cake. Lawton received the gun as a thank you for his role in the capture of Geronimo, the iconic Native American chief, in 1886.
The highest bidder for this rifle put up a stunning $1,265,000 in 2016 — a sum that far surpassed the presale estimate of $500,000 to $750,000.
---
READ NEXT – What's Behind the Supposed 'Magic' of the 28-Gauge