Most of us don't buy guns to save or make money — it's usually quite the opposite. However, if you have the financial means, firearms can be a really great investment, and that's been true for quite some time.
For most of the 20th century, Colt revolvers and Winchester lever-action rifles led the pack as blue-chip investments. These models are still good bets for a solid return, but as you'll see from this list, the guns that fetch the highest prices aren't all Colts and Winchesters.
In recent years, the internet and online auctions have allowed people to bid on rare items, including guns, from anywhere in the world. This has led to an unprecedented explosion in the high-value gun market. Their potential for future income generation has really ramped up with some amazing, record-setting auction prices since about 2000. Every gun on this list sold within the past two decades.
This list of the most expensive guns ever sold is impressive; it includes guns that were owned by historical figures and involved in historical events and works of art adorned with fine engraving and precious metals. These guns are each in a class of their own. Coincidentally, they're all handguns — while there are plenty of long guns that pull large prices, none of them are at the tippy-top of the list.
All told, the six firearms on this list have a combined sales total of $14.45 million. Technically, some of the entries are pairs of guns, but since they are sets that should never be separated, they're counted together.
RELATED: Muzzlelaoder Hunter – How to Remove a Stuck Projectile
Presentation Colt 1849 Revolver
Sale Price: $1.14 million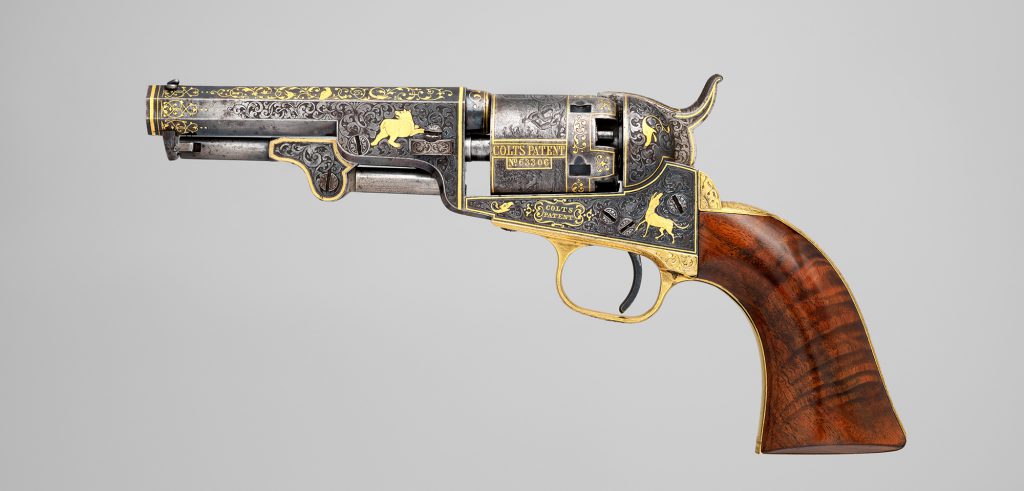 This heavily embellished cap-and-ball Colt revolver was sold in 2012 at Sotheby's for a cool $1.14 million.
This revolver, which features deep-relief engraving and gold inlay, is one of six Model 1849s to be embellished in this style. Most of them were given to important politicians. One was gifted to Russia's Czar Nicholas I. Two others were given to the kings of Sweden and Denmark.
These six presentation guns are so impressive and visually stunning that four of them are held in museum collections. This particular gun is currently housed at The Metropolitan Museum of Art in New York City.
Millikin Colt Dragoon Revolver
Sale Price: $1.66 million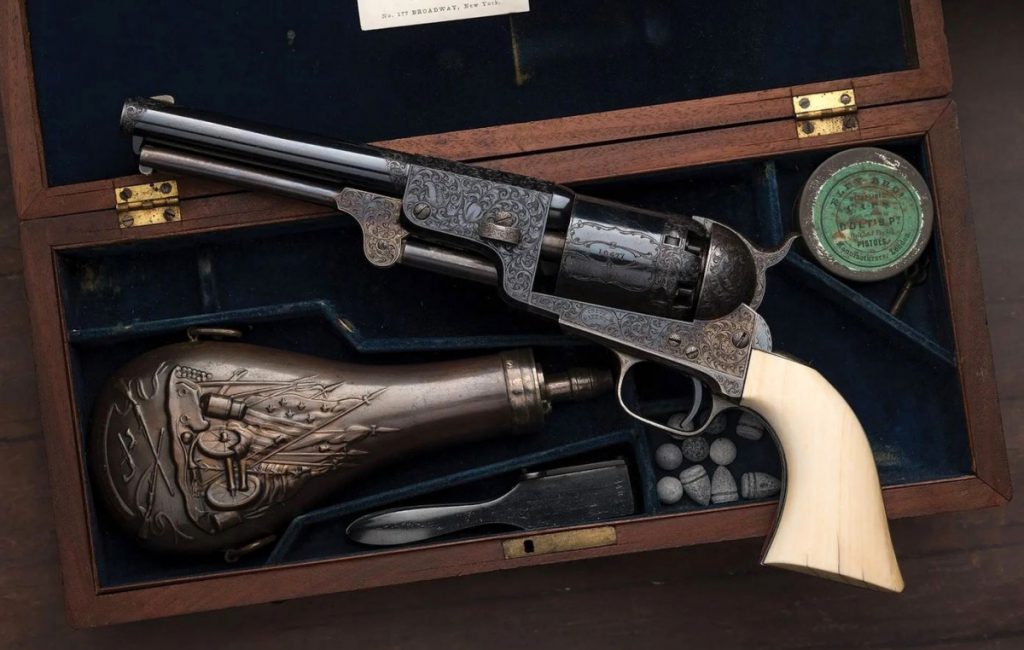 Profusely engraved by master engraver Gustave Young, this Colt Third Model Dragoon cap-and-ball revolver falls within the serial-number range for a variety of other special presentation guns given out by the factory.
This gun was originally owned by Col. John Millikin, who was killed in 1862 during the American Civil War. His son, Paul, who was a colonel in the Spanish-American War and World War I, inherited the gun after his father's death. Paul's name and rank are engraved on the gun's backstrap.
It sold at auction by Rock Island Auction Company for $1.66 million in 2019 against a pre-sale estimate of $1.2 to $2 million and is now in a private collection.
RELATED: Hunting History – How Firearm Tech Changed the way Americans Hunt
Simon Bolivar Pistols
Sale Price: $1.8 million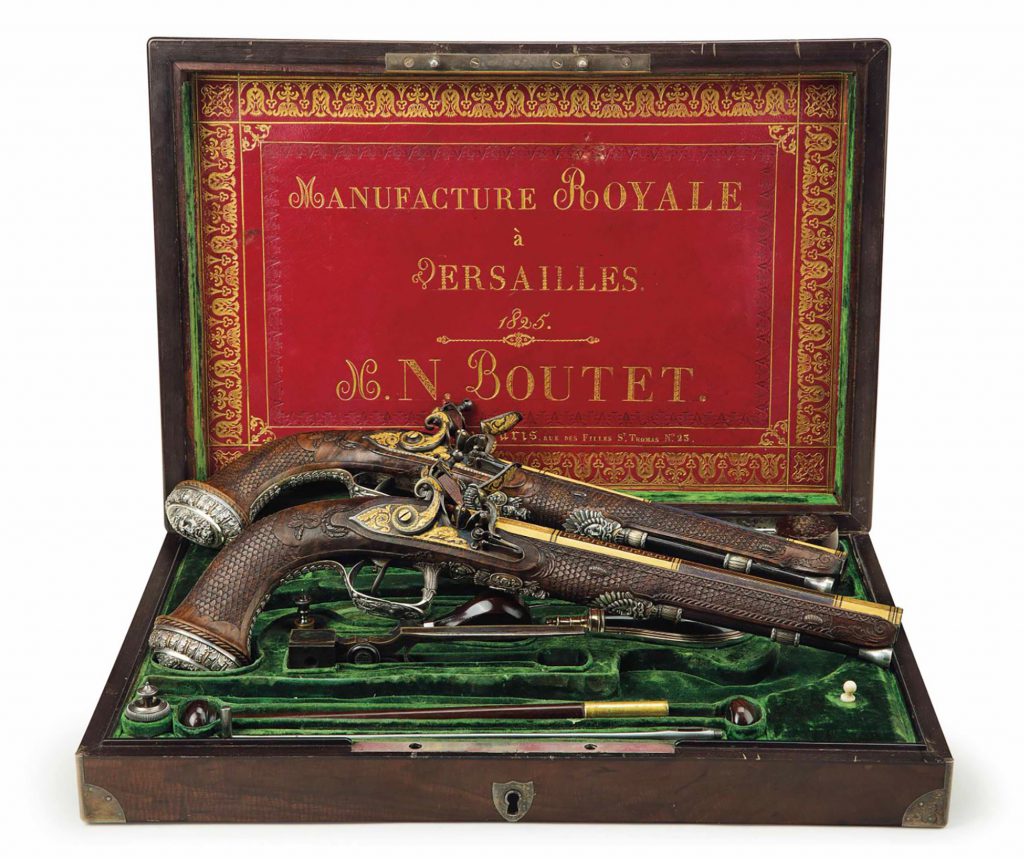 These twin pistols were made by Nicolas-Noël Boutet, the personal gunsmith to Napoleon Bonaparte. He is regarded as one of the finest gunmakers to have ever lived anywhere in the world. The Marquis de Lafayette (Gilbert du Motier), always a friend to revolutionaries, gave the pistols to Simón Bolívar in 1825. Bolívar dedicated his life to liberating six South American nations and was known as "the George Washington of Latin America."
This pair of flintlock pistols bear exquisite carving, gilding, engraving, and precious metal inlay. Put simply, they are two excellent examples of Boutet's unrivaled talent. They were sold at auction by Christie's for $1.8 million in 2016 against a pre-sale estimate of $1.5 to $2.5 million, and are now in a private collection.
Danish Sea Captain Colt Walker
Sale Price: $1.84 million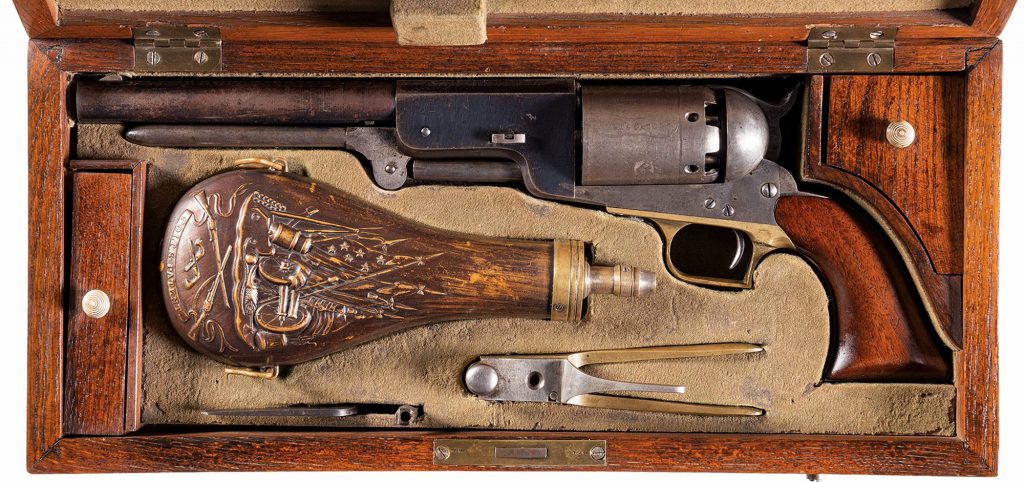 There's a lot that makes this gun rare. For starters, it's a civilian Colt Walker, of which only 100 were made; far fewer are still known to exist. Then, it is the only known cased civilian Colt Walker revolver from the factory. It's essentially new in its packaging.
To top it off, it's the only known Colt to include maintained documentation, in Sam Colt's own handwriting, from the date of its original sale after criss-crossing the Atlantic a couple times and surviving a world war.
The gun gained its nickname when it was purchased by a Danish sea captain named Neils Hanson when he visited New York City in 1847. He took it back to Denmark, where, a century later, the gun survived the Nazi occupation by being buried in a garden. It was subsequently sold back stateside after the war.
It sold at auction by Rock Island Auction Company for $1.84 million in 2018 against a pre-sale estimate of $800,000 to $1.3 million and is now in a private collection.
RELATED: The Remington 870 Shotgun – 5 Most Badass Movie Moments
Lafayette-Washington-Jackson Pistols
Sale Price: $1.98 million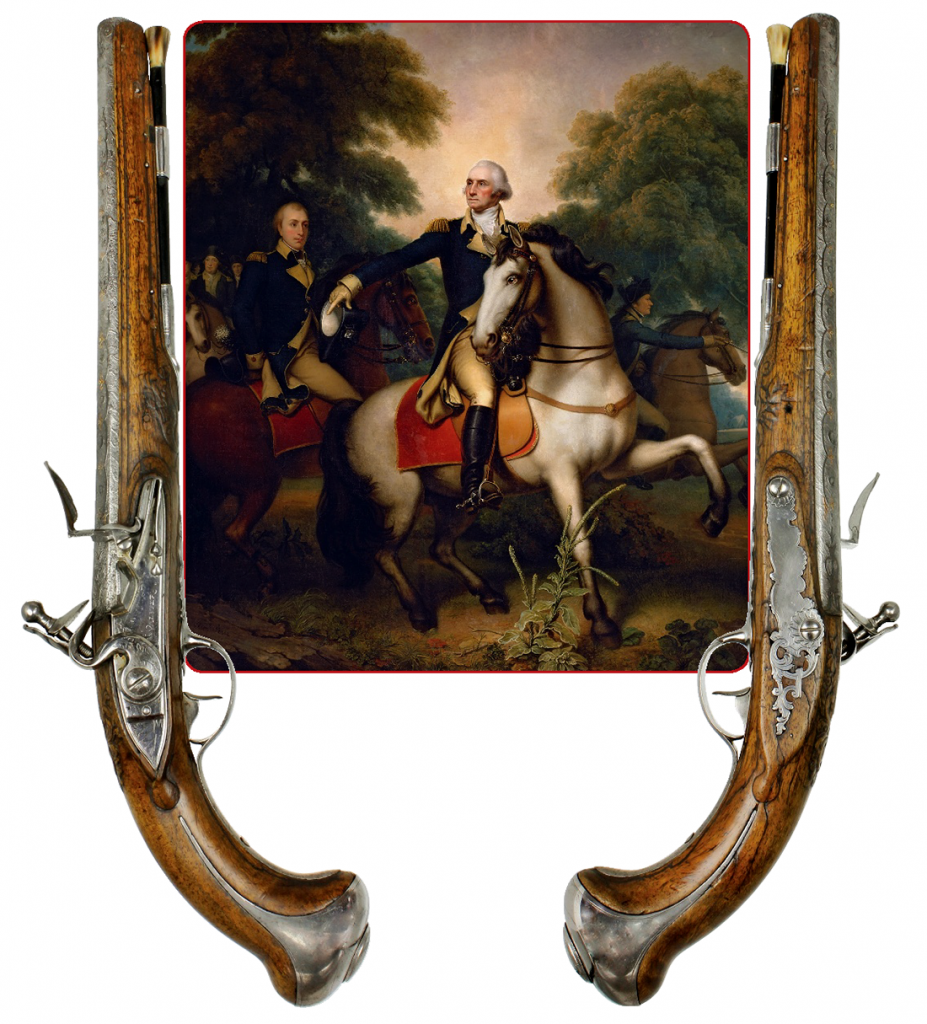 This is the second time the Marquis de Lafayette makes an appearance on this list. He presented these pistols earlier than the Bolívar guns and their history is far more striking.
Lafayette gave these pistols, made by Jacob Walster in France, to George Washington during the American Revolution. Washington actually carried the pistols, and it's believed he had the guns on him at Valley Forge, Monmouth, and the Battle of Yorktown. He also carried them later, when he was president, during the Whiskey Rebellion.
After Washington's death, the pistols were one of the many items in his estate that were divided up among a host of tertiary relatives since he had no direct heirs.
The pistols eventually found their way into the possession of Andrew Jackson. When the Marquis visited Jackson in 1826 (before he became president), he verified that they were, indeed, the pistols he gave to Washington during the revolution. He hadn't seen them since the war. After Jackson's death, the pistols were bequeathed to Lafayette's son, George Washington Lafayette.
They were sold at auction by Christie's for $1.98 million in 2002 against a pre-sale estimate of $1.5 million and are now in the collection of Fort Ligonier in Pennsylvania.
Pat Garrett's Colt Single Action Army Used to Kill Billy the Kid
Sale Price: $6.03 million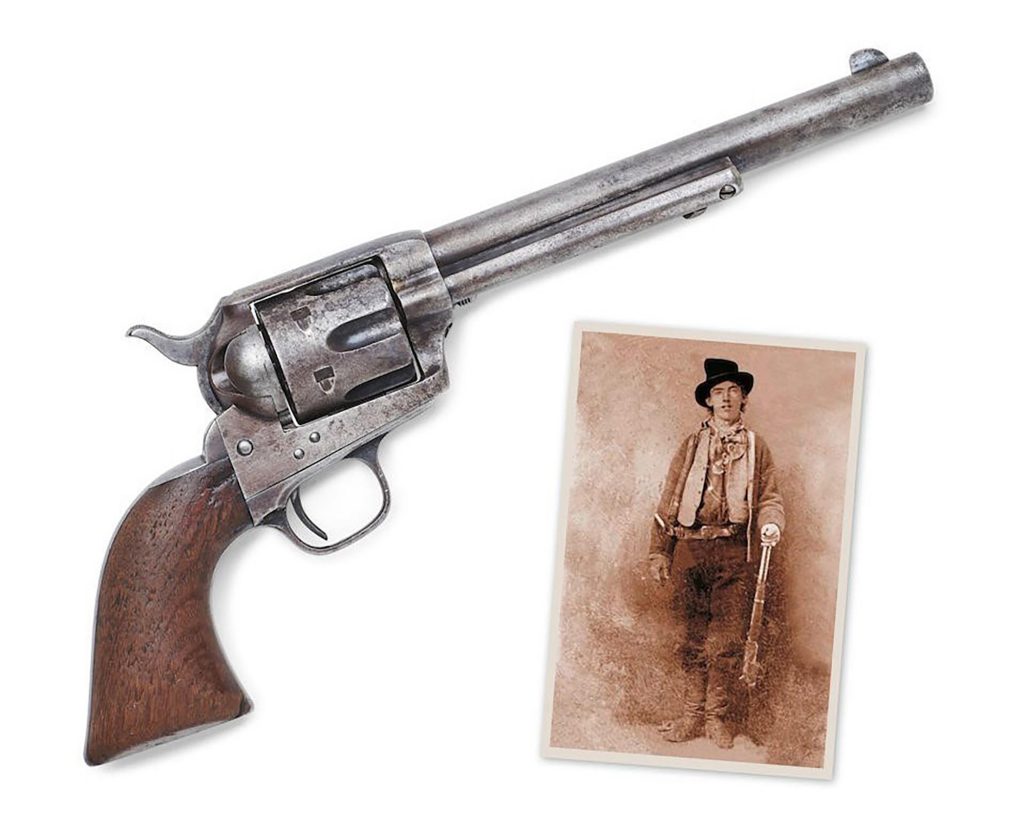 Billy the Kid is probably the most famous Wild West outlaw of all time. In the same vein, Pat Garrett is one of the most famous lawmen of the era because he killed Billy the Kid (aka William H. Bonney). That's also why this fairly pedestrian revolver is at the top of the Most Expensive Guns of All Time list.
The gun itself is an unremarkable Colt Single Action Army revolver. It isn't engraved, nor does it wear ivory or mother of pearl grips. In fact, it doesn't have any distinctive attributes that would hint at its value. Instead, the rather extreme value of this gun lies solely in its provenance.
In what is either a loan document or bill of sale from 1906, Garrett states that this is the gun he took off of Billy Wilson, one of Bonney's gang members, when he arrested the young man. Garrett began carrying Wilson's gun as his own, and it just so happened to be the one he had on him when he punched Billy the Kid's ticket in July 1881.
RELATED: Teddy Roosevelt Ran a Suppressor on Three of his Hunting Rifles
The "gun that killed Billy the Kid" was in the same collection for 38 years. After that, every time it changed hands, it did so through private sales directly from one party to another.
In August 2021, the Colt came to a public auction block for the first time. Thanks to the two famous men who found themselves on either end of its barrel one fateful summer day back in 1881, the revolver received a pre-sale estimate of $2 million to $3 million.
It was sold at auction by Bonham's for an astonishing $6.03 million, becoming the most expensive gun ever sold. It now resides in a private collection.
Read Next: Behind the Scenes of the Black Rifle Coffee Tesla Model XR556