I'm behind the big fence at a NASCAR race at the Glen, and all the cars are corralled in the south paddock behind the garages like nervous stallions with every team's slick trailer circled like wagons around them. The crews triple-check every last detail as they wait for the call to slow roll to pit road. It's fucking gritty, loud, and unflinching. 
Stacks of fresh tires, full refueling tanks, spare body sections, fire extinguishers, mobile engine diagnostic units, and portable generators — it all flows in a perfectly choreographed dance with chaos as the concussion from 40 idling 358-cubic-foot engines beats the breath from my chest.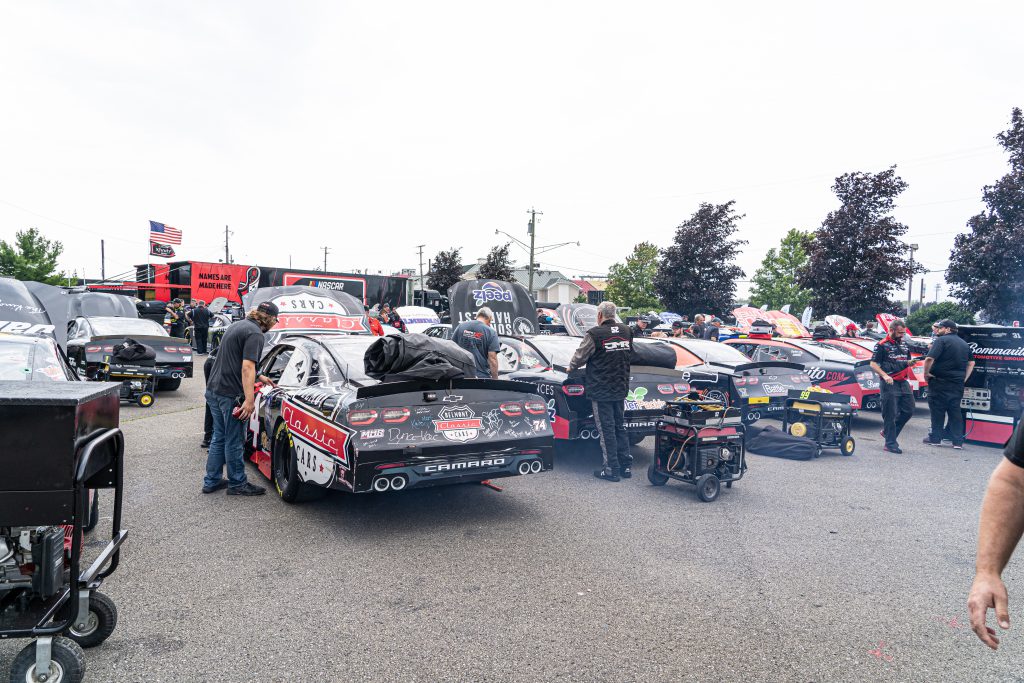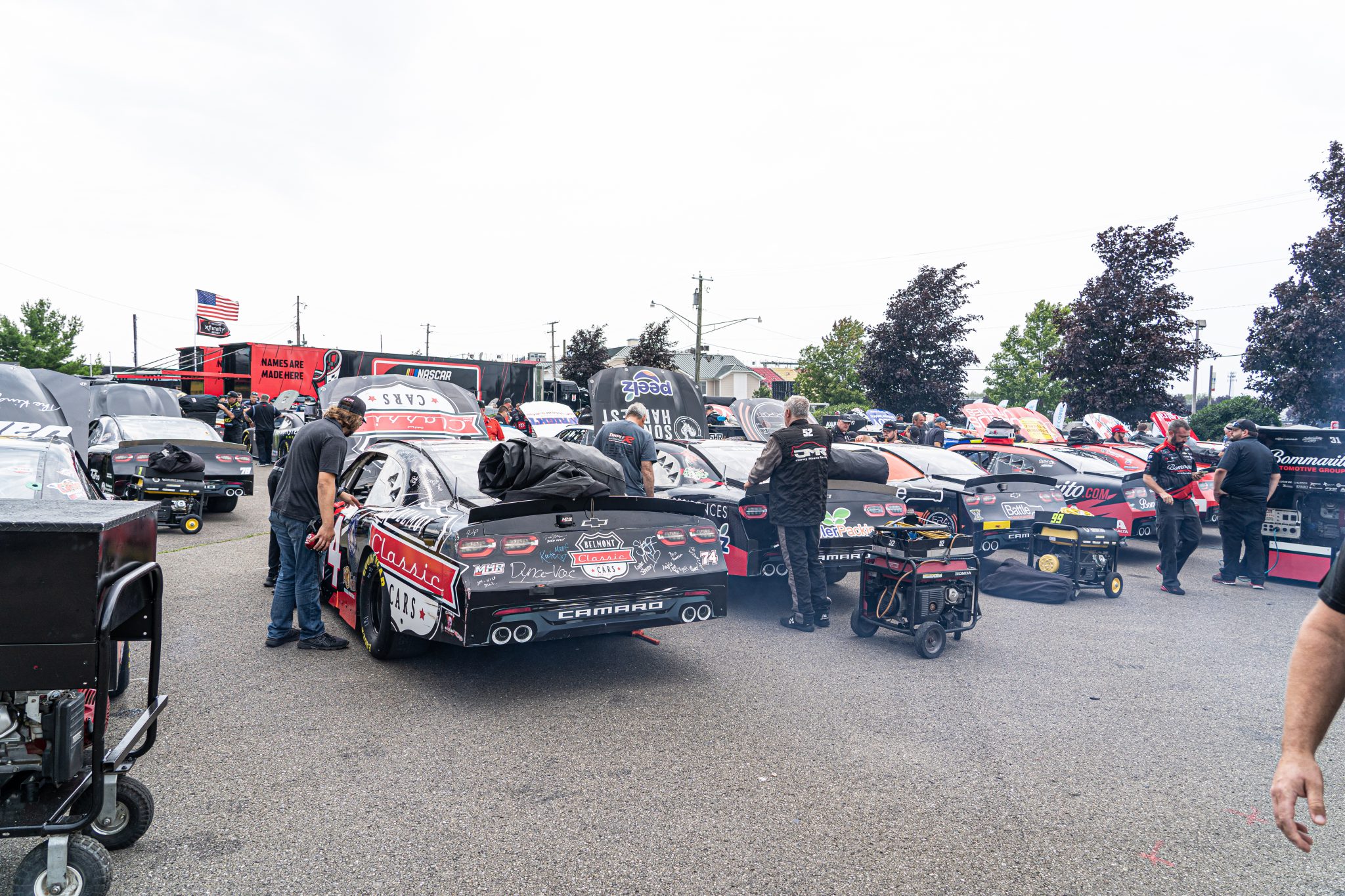 At every checkpoint we passed I said, "There's no way we're getting past the next one," positive we were going to be escorted out at any time. After we wandered through the garage area, we suddenly found ourselves on the live side of the pit road wall looking down the entire lineup of NASCAR Xfinity Series drivers and their cars.
"Just act like you're supposed to be here," I told myself.
NASCAR at The Glen
Races have been held at Watkins Glen International racetrack since 1948 when it was called the Watkins Glen Grand Prix. The course has changed configurations a few times since, with the current 2.45-mile NASCAR Short Course officially opening in 1992. Drivers love it because it's one of seven road courses in the 33-race series, which gives them a chance to do something other than turn left for 200 miles.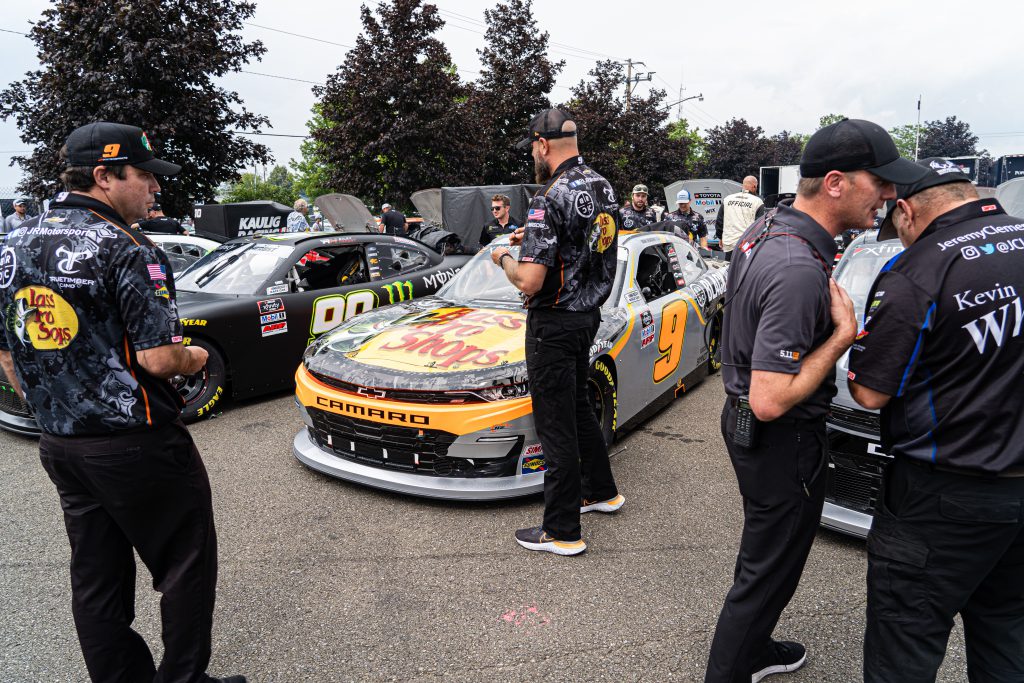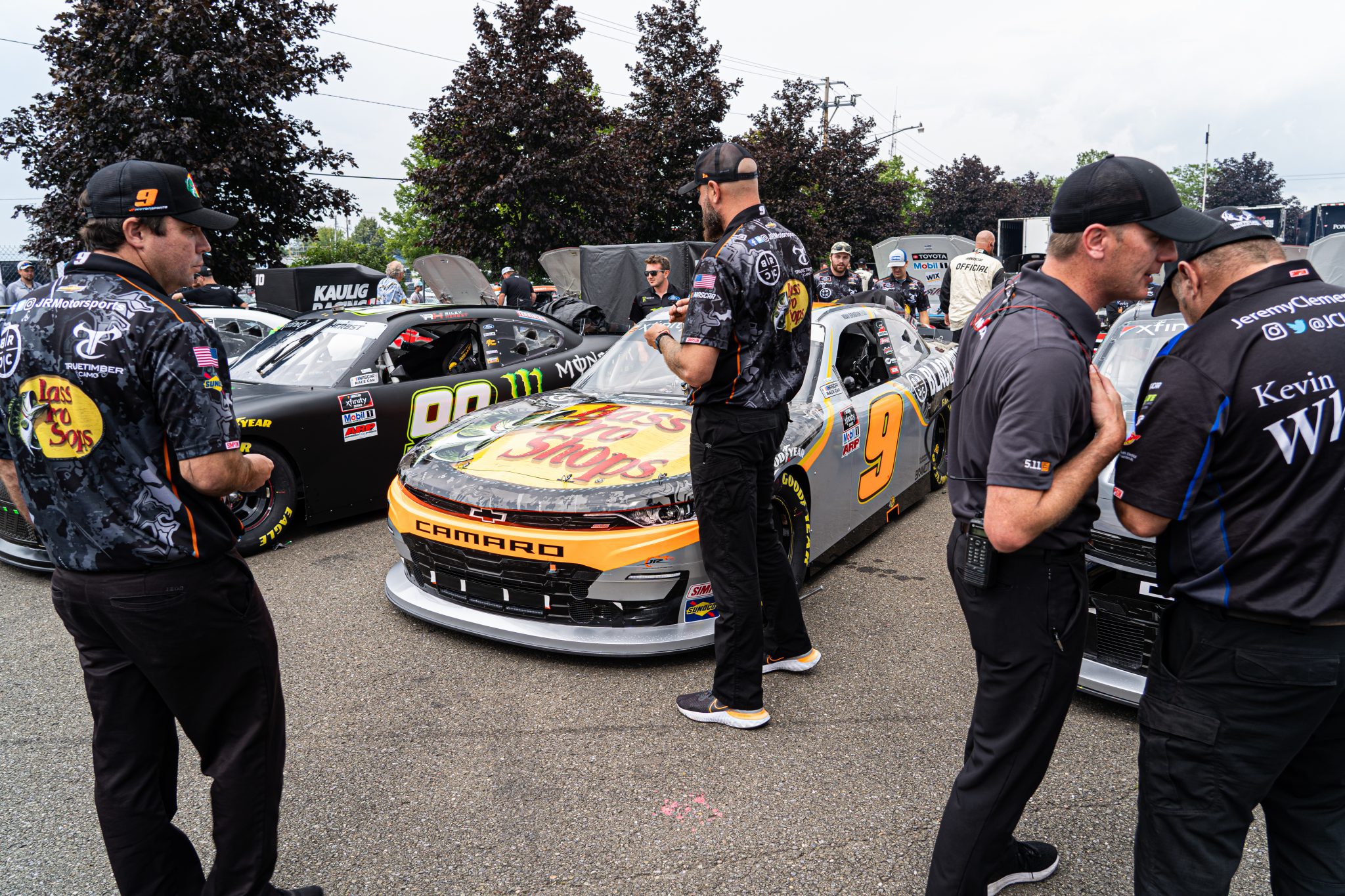 My buddy Jason had joined me to watch Noah Gragson, the young gun behind the wheel of the No. 9 Bass Pro Shops/TrueTimber Camo/Black Rifle Coffee Camaro.
I had interviewed Gragson for a profile piece back in February at the start of the season. He was coming in hot off a 2020 season with wins at Homestead-Miami Speedway and Daytona and was ready to roll. Even with the obligatory, but gracious invite to catch a race, I knew I likely wouldn't get the chance, since they were all a flight or a long road trip away.
Truth be told, I'm not a die-hard race fan. Aside from a handful of local dirt-track races and some demolition derbies and tractor-pulls at small-town fairs, the closest I'd been to a NASCAR race was driving through Bristol, Tennessee, home of the legendary Bristol Motor Speedway, on a road trip to Memphis to visit Graceland.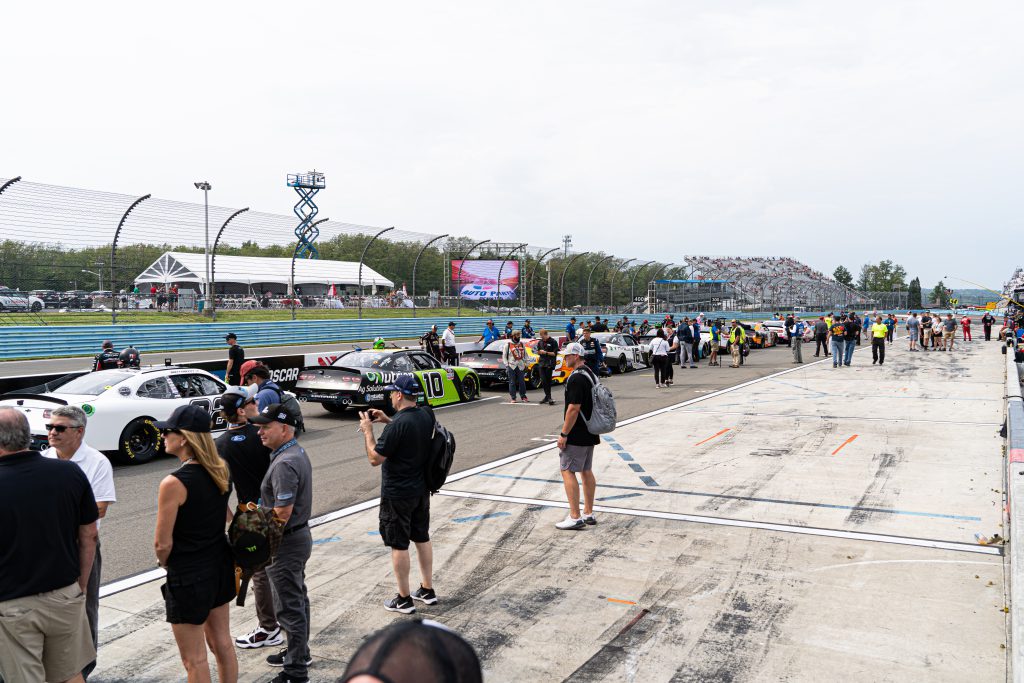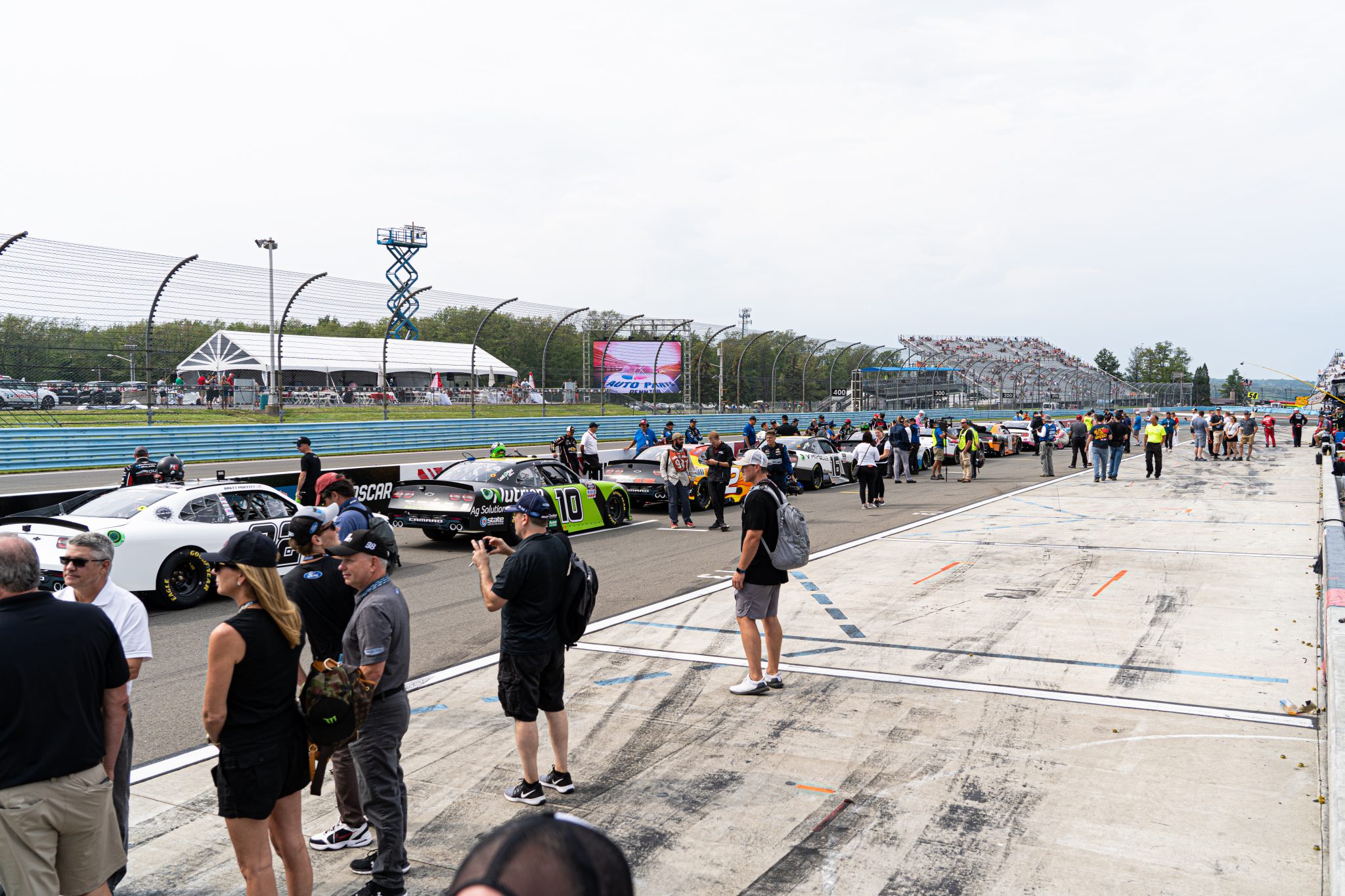 Fast forward seven months to a commercial I caught on the radio (yes, those still exist) announcing over background sound effects of roaring cars that the Xfinity Series was making a stop at The Glen.
I had totally forgotten that The Glen is part of the NASCAR Nation's seasonal pilgrimage, and it's a mere hour away from my house, 50 minutes if you drive like I do. I'm not sure what marketing voodoo came over me, but I had to go. Like, I've-been-a-rabid-fan-my-whole-life-and-never-knew-it had to go.
I got in touch with Gragson's team to see if I could score a couple of tickets and was told they'd be waiting for me at will call.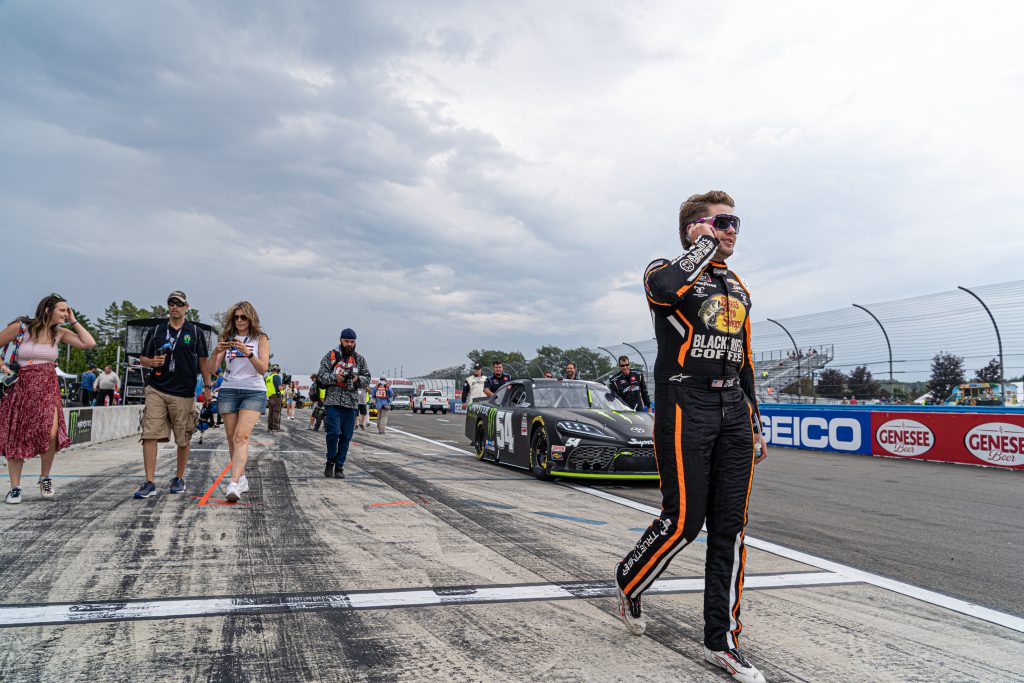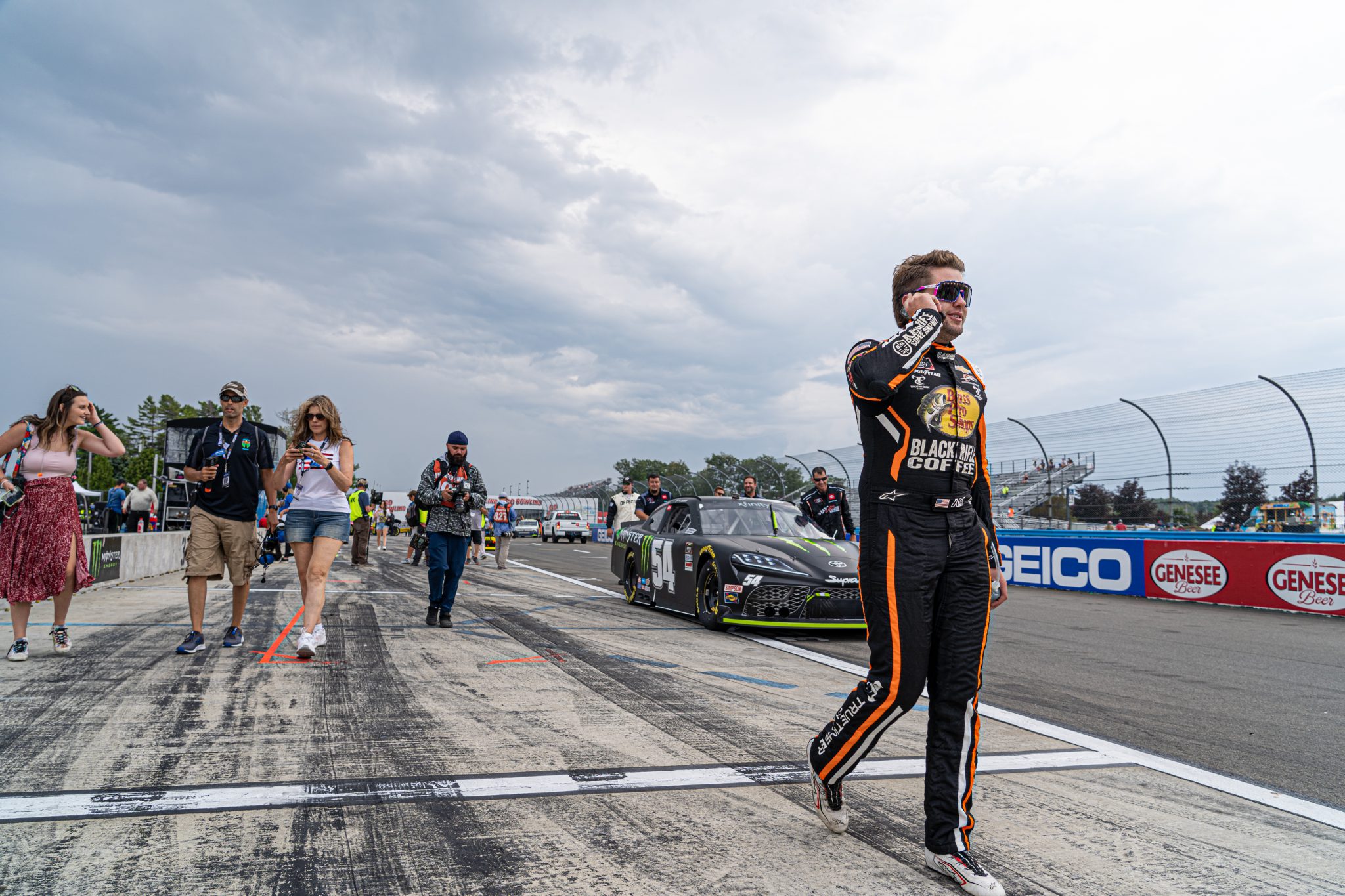 Race Day
When we arrived, I expected general admission tickets for bleacher seats, possibly at the start/finish line, maybe in the infield if we were lucky.
Even when the nice woman at will call issued my buddy and me VIP credentials, a media parking pass, and grid passes, I couldn't believe we were walking in with essentially the holy grail of backstage passes for race fans hanging on lanyards around our necks. If I let myself believe it, something would go sideways.
Kristen Bauer handles Gragson's pre- and post-race schedule, making sure he's where he's supposed to be for interviews, photos, and other NASCAR and sponsorship requirements. She's also the rock star that got us our credentials.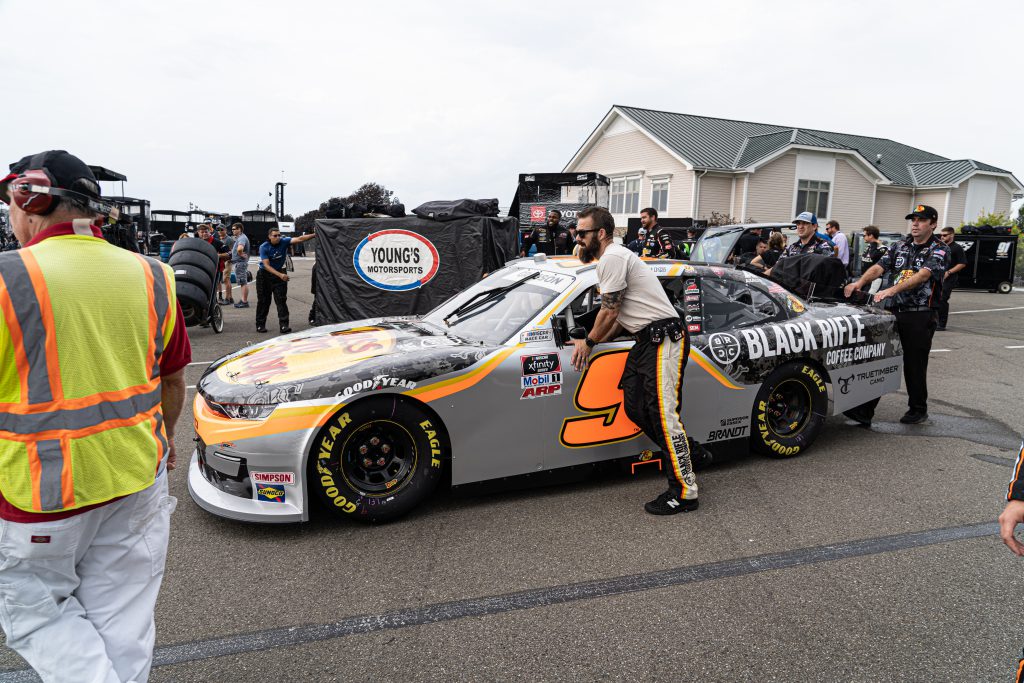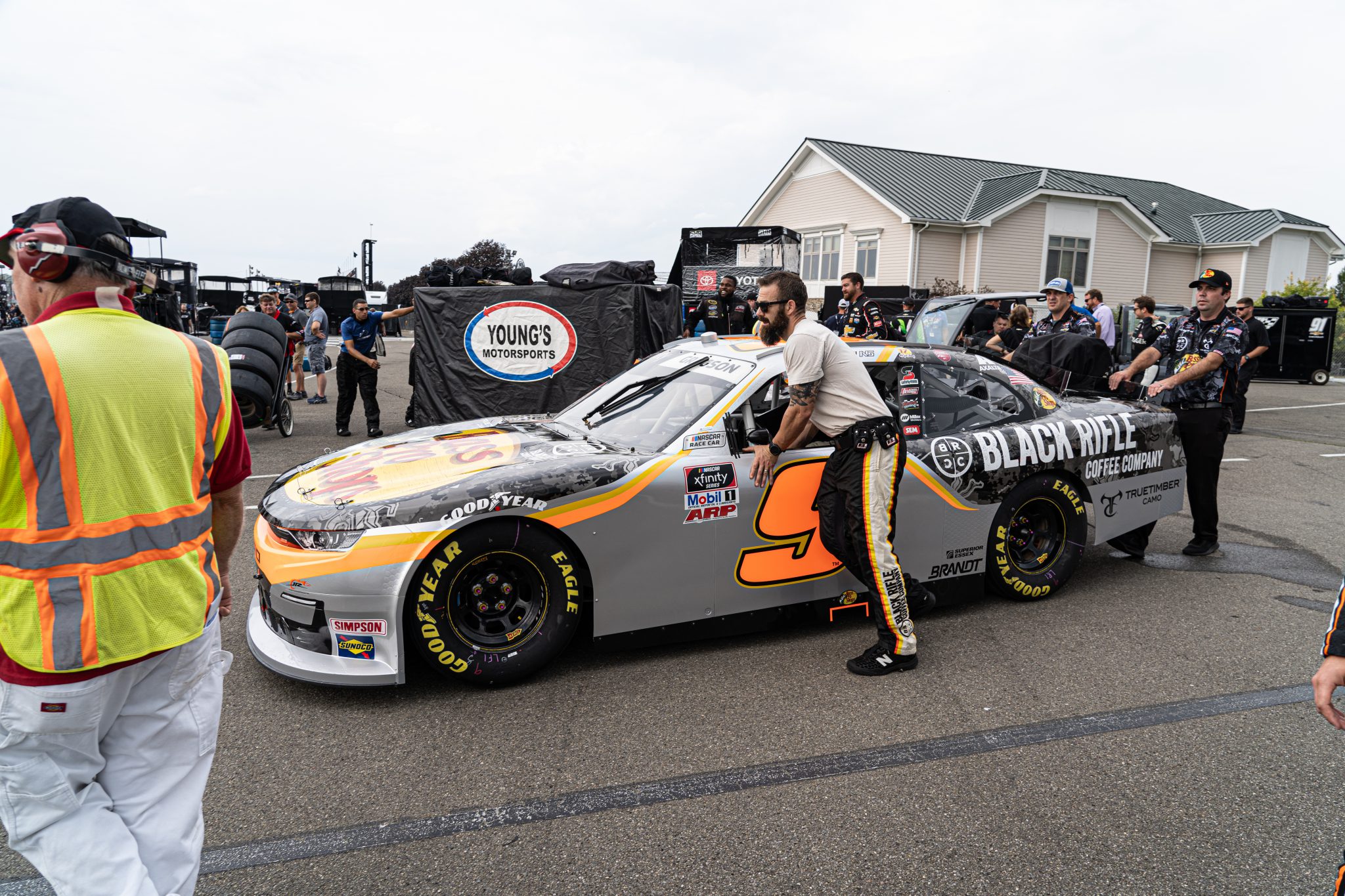 Kristen found us wide-eyed and slack-jawed as we arrived at pit road, introduced us to Gragson, and then walked with us down the lineup to Gragson's car as he walked and talked on the phone with a reporter back in his home state of Nevada.
At the team's pit tower, every crew member moved with zero wasted energy organizing and prepping tires, fuel, hoses, impact drills, gloves, helmets, facemasks, fire suppression elements, and even more last-minute items like air pressure gauges, flame guns, tire scrapers, oil markers, and lengths of colored electrical tape.
I stood in awe just outside the universe of action, like that kid who gave the bottle of Coca-Cola to Mean Joe Green.
Then the track announcer called, "Drivers start your engines!" The already noisy scene exploded into a bottomless, crackling roar and I started looking for the exit to get to the bleachers.
Instead, Kristen handed us headphones with radio hook-ups so we could listen in on the team's comms and pointed to seats in the tower behind the chief and the two other crew members. They were posted in front of mission control and gave us a welcoming nod and smile as we took our seats.
We watched the race through a combination of jumbo screen, NBC news coverage in the tower, and then live when the field roared past us as we also listened to spotter calls and strategy on the radio.
Since we seemed to have full access to this party, when the chief said that pit road was open, I climbed back down just before Gragson's came in to see if I could get some pictures or video. Since I didn't get tossed out of the way, I eased up to the wall as close as I could get without going over and watched the crew work: Fucking barbarians in battle.
The main race might be drivers against drivers on the track, but holy shit is there an intense race between teams in the pits as well.
I'm still not a die-hard fan, but my first race pretty much ruined me for watching any more dirt-track laps at the county fair. NASCAR is truly awesome. I might just need to plan a road trip to Bristol Motor Speedway to see if my luck holds.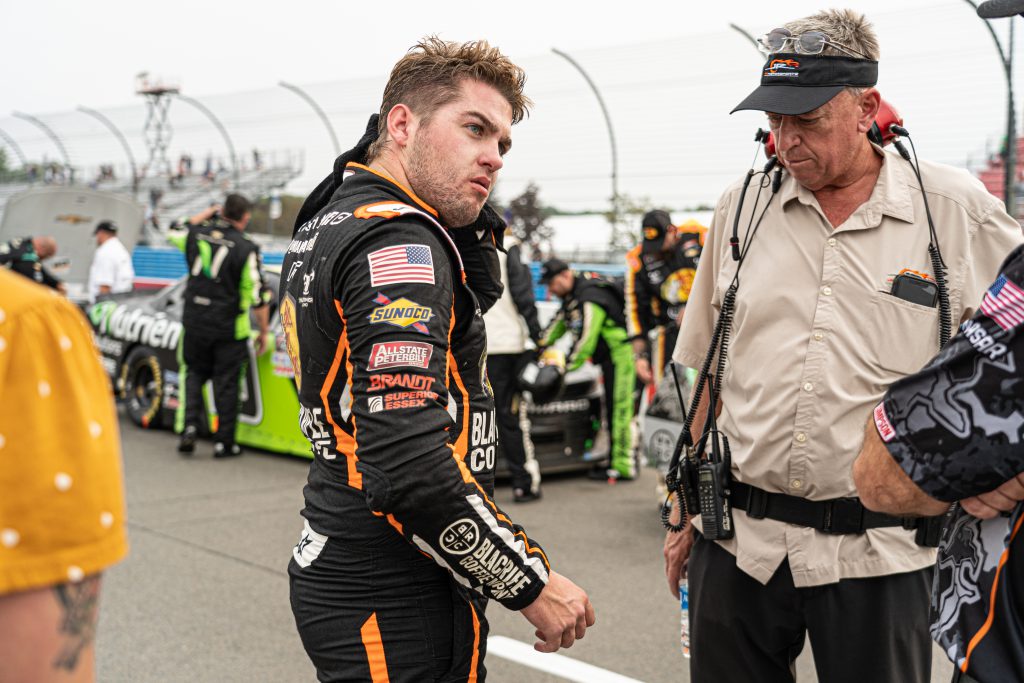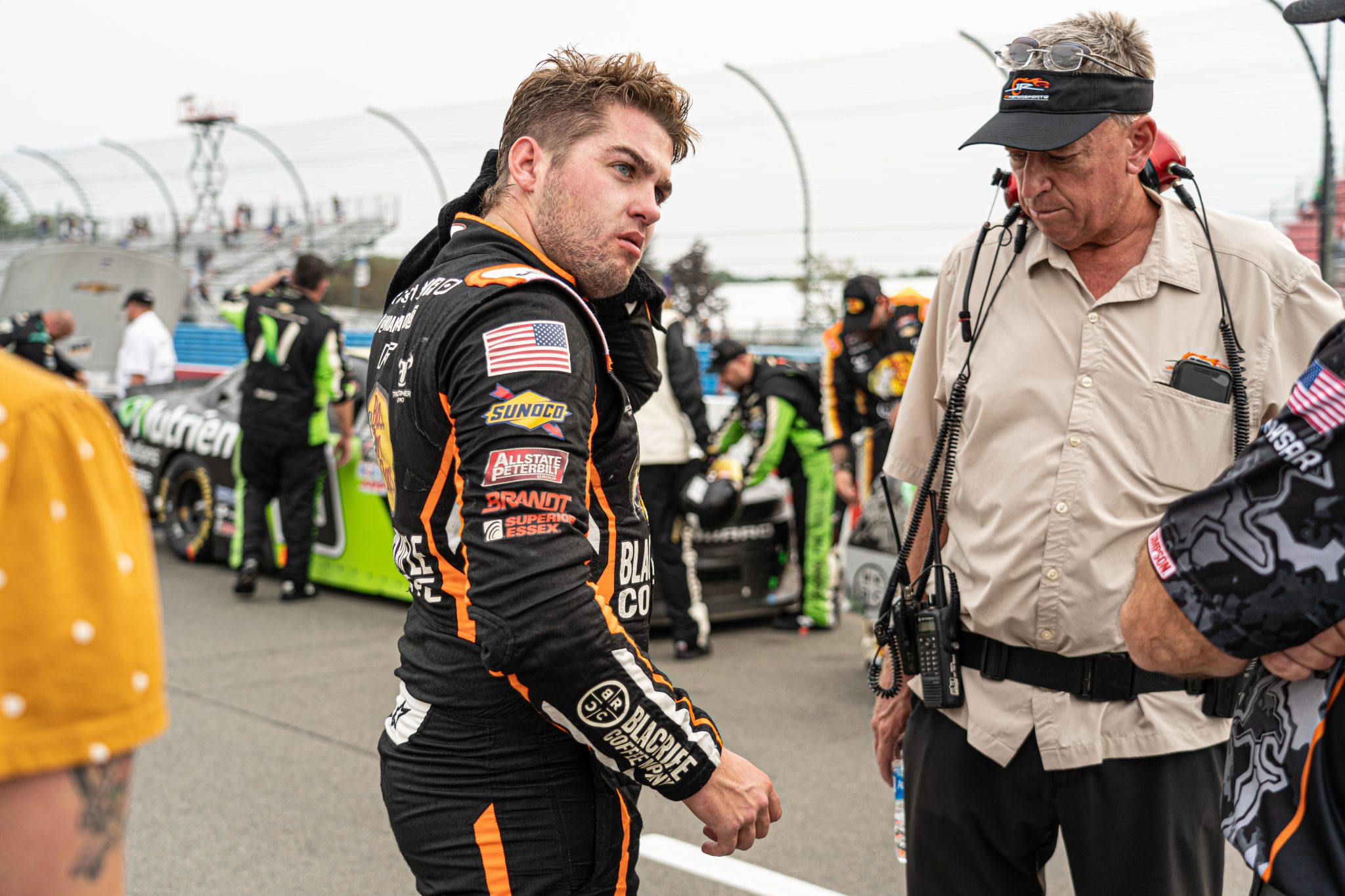 For the record, Gragson, who just signed on to drive the No. 9 Camaro again for the 2022 season, battled in the top 10 for the entire race. He took 7th place that day, his 11th top-10 finish in the Xfinity Series, which includes 20 races. He has finished in the top 10 three more times since, and is 8th in total points with 10 races left.
Read Next: Full Throttle: BRCC Driver Noah Gragson Returns to Daytona