Model: FN 509 CC Edge
Features barrel-mounted threaded compensator
Comp design requires no tools for removal, no timing shims for reinstalling
Easy field stripping
Self-locking lugs prevent comp from loosening over time
12- or 15-round capacity
MSRP: $1,569

Now that every gun company has introduced a high-capacity, ultra compact carry pistol — it seems many are extending their lines with models that include compensators of some kind from the factor to tame the snappy recoil of the tiny 9mm pistols. You can head to any of the socials and argue endlessly about what kind of compensator works best, if they work at all, and if they belong on a carry gun. Whatever. We're just here for the cool new hardware, and FN America just released a sweet-looking carry pistol in the new FN 509 Compact Compensated CC Edge handgun — and yes, the name is too long. The CC stands for Compact Compensated, so we can just call it the FN 509 CC Edge.
The signature feature of this new extension of the popular FN 509 line is its auto-indexing proprietary FN compensator, which the manufacturer says cuts muzzle flip by 25%, allowing for faster and more accurate follow-up shots, even with hot 9mm self-defense loads.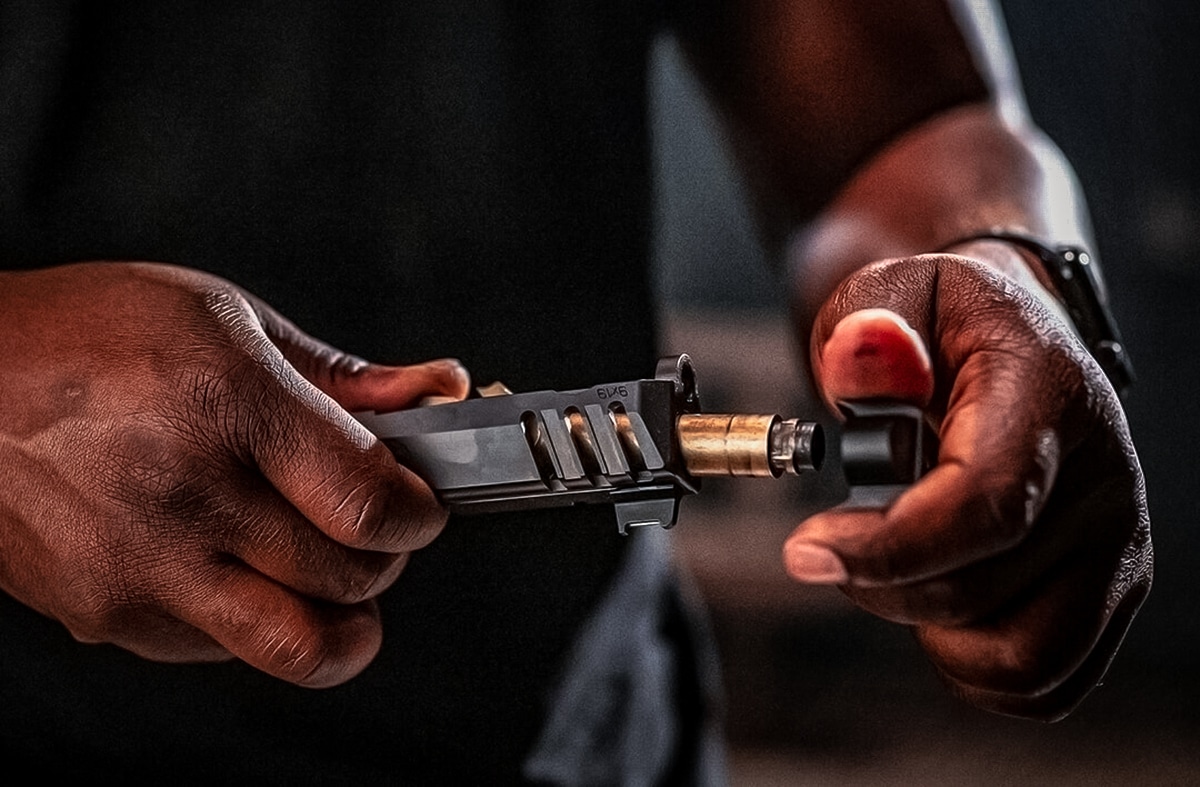 The comp also decreases felt recoil while being small enough to preserve the handgun's concealability. It features V-style ports on either side to vent gases and flash out of the user's field of view, while also combating recoil and flip for flatter, more controlled shooting with a consistent sight picture, according to FN.
The compensator itself is machined from stainless steel and coated with a graphite-colored PVD finish for durability.
"With the FN Edge Series of products, our team of engineers addresses the challenges facing today's gun enthusiasts in a unique and no-holds-barred way. It's a combination of aesthetics and performance that have been fine-tuned to perfection directly from the factory and delivered against the promise of FN innovation," said Mark Cherpes, president and CEO of FN America LLC in a release. "The FN 509 CC Edge is a high-performance, premium 9mm carry gun that offers improved sight recovery, shootability, and more, all without sacrificing on overall size for concealed carry."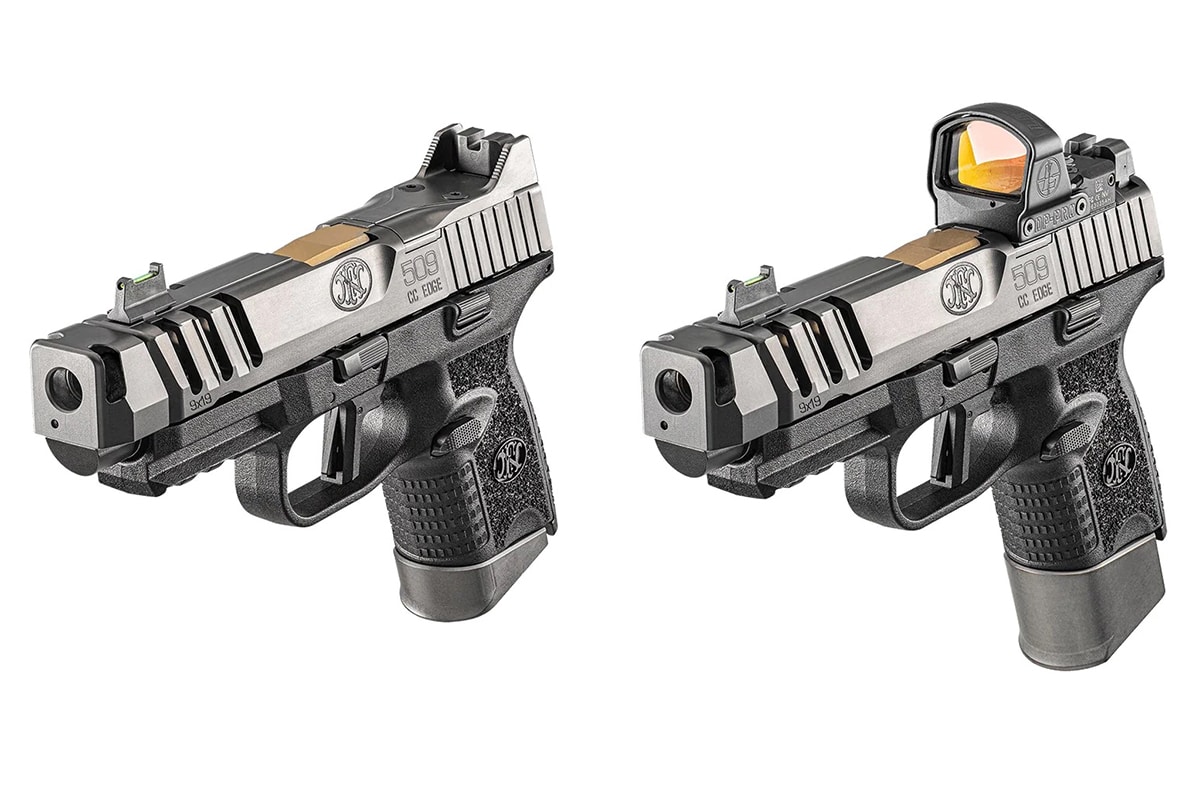 The big pain in the ass with compensated handguns is usually that they require at least one or two extra steps to field strip the gun, and then many have to be timed exactly when reattaching so they index in the proper position — FN says they designed the new CC Edge to be easier and "faster than any other compensated pistol" to disassemble for maintenance, and no tools are required. Simply push in and twist the comp 90 degrees and remove — it's that easy. Reattaching it is just as easy — no tools, no shims.
The handgun features FN's patented Low-Profile Optics Mounting System, so it's ready out-of-the-box to accept micro red-dot sights, which is practically becoming a standard feature for carry guns these days.
The slide features three lightening cuts on either side to ensure the pistol cycles reliably with the compensator and to show off that TiN barrel finish.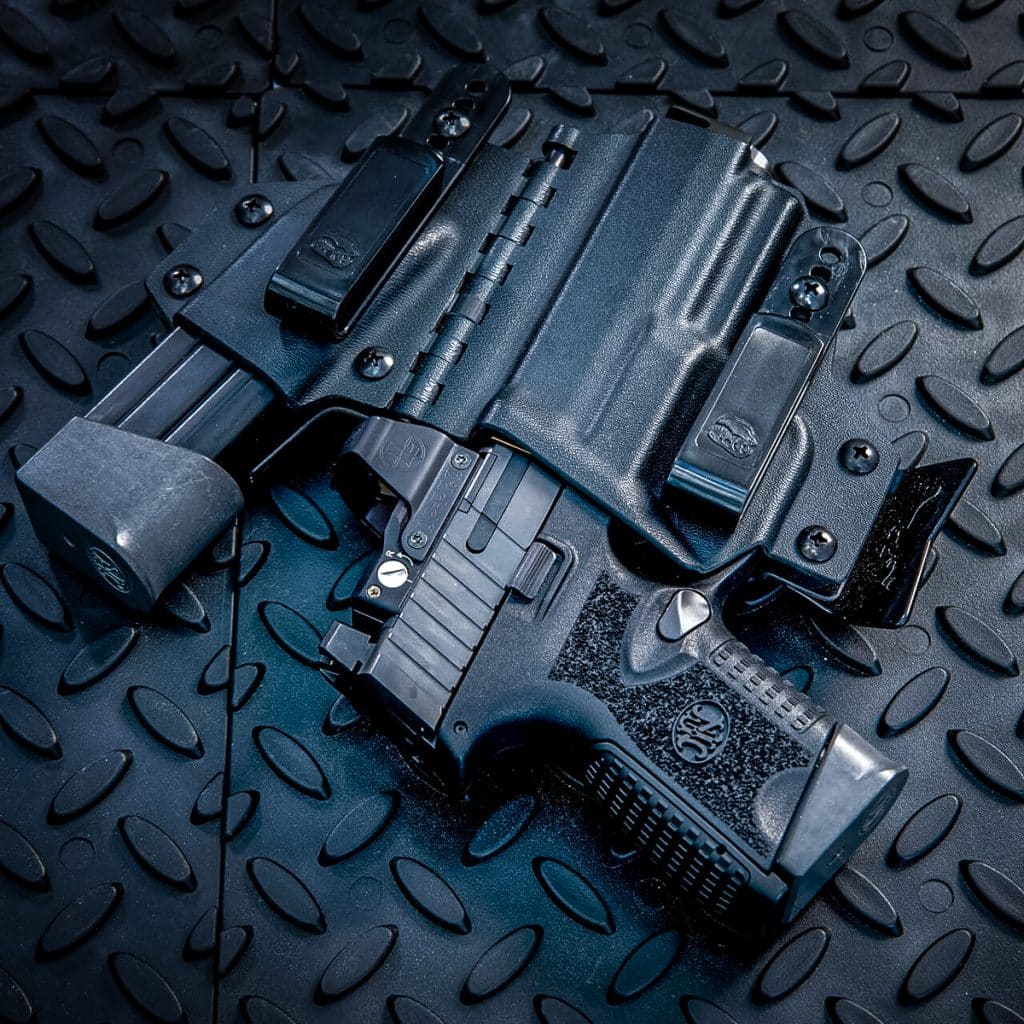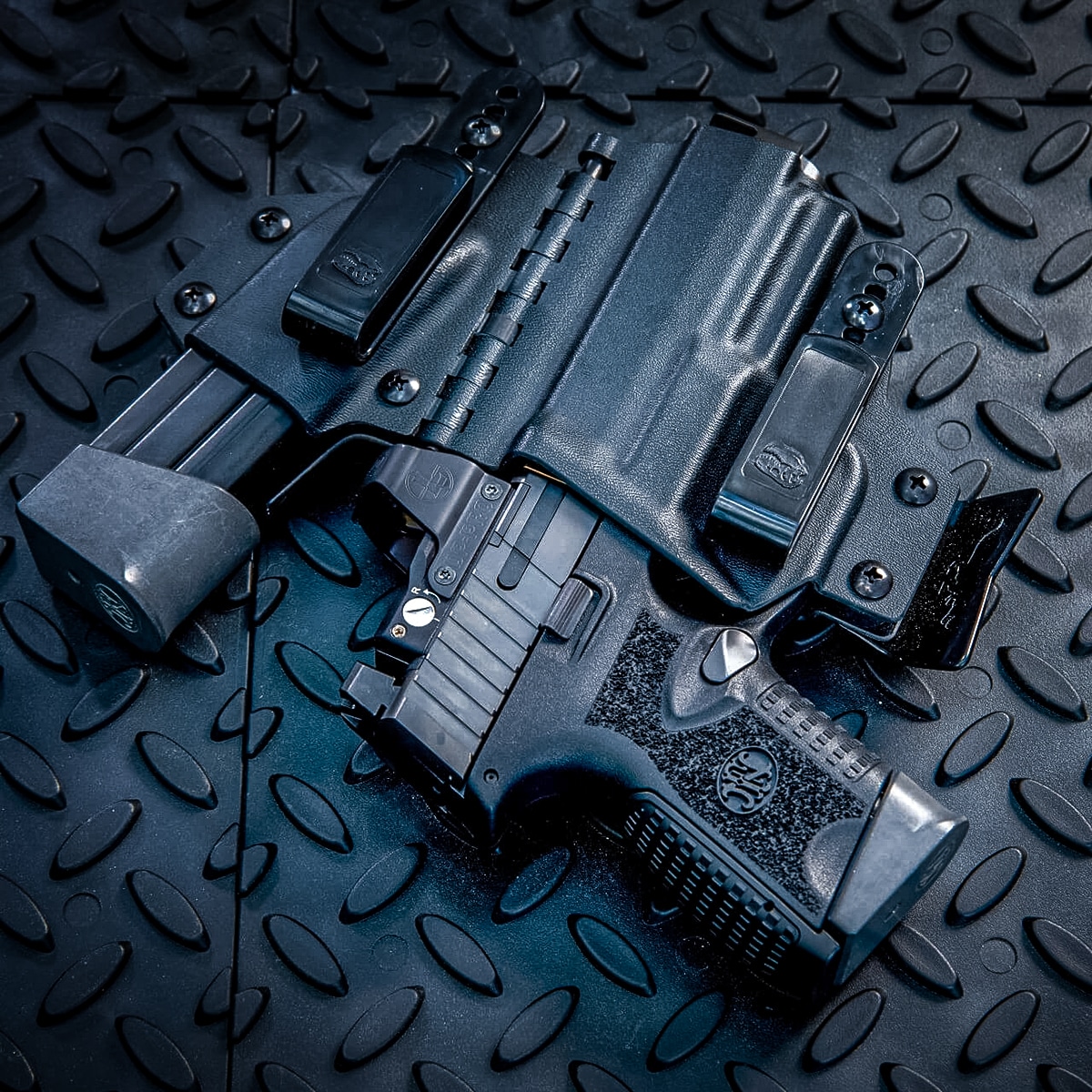 Other popular features on the FN 509 CC Edge include a flat-faced trigger, a co-witnessing height fiber-optic front sight, a stippled frame texture for a solid grip, and two interchangeable backstraps for a more custom fit.
It also features a Picatinny rail for a weapon light or other accessories, an ambidextrous slide stop, a long-wearing TiN barrel finish for enhanced lubricity, a polished chamber and feed ramp, an oversized, knurled mag release (reversible), and weighted magazine base pads for faster reloads.
The FN 509 CC Edge ships with two 15-round magazines and one 12-round mag (or three 10-rounders for those in restricted states).
At first blush, this handgun looks awesome, and the FN 509 pistol line has proven to be an extremely durable and reliable 9mm pistol platform — but there are a few features that might give concealed carriers pause. A compensator is great and objectively useful, but they have gaps and holes where junk and crud can get stuck, even when an EDC pistol is pretty much always in a holster.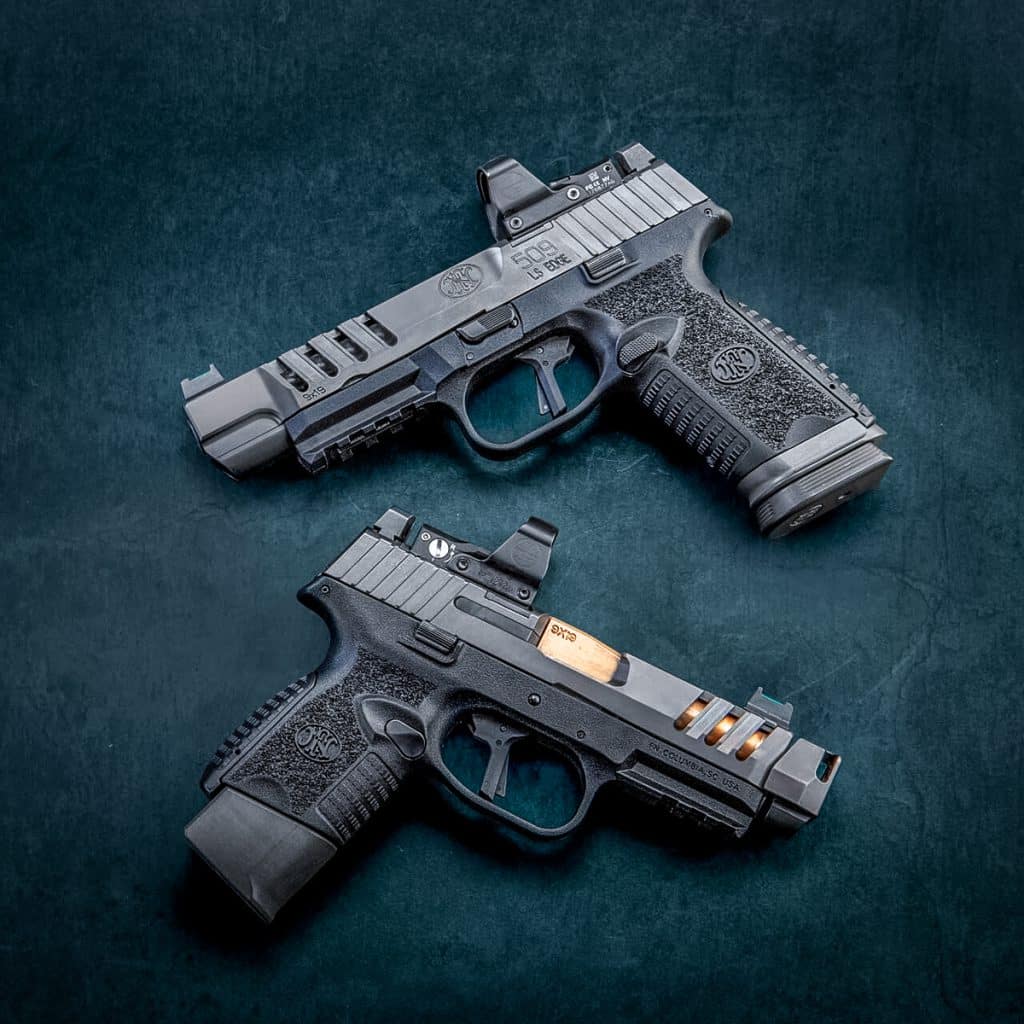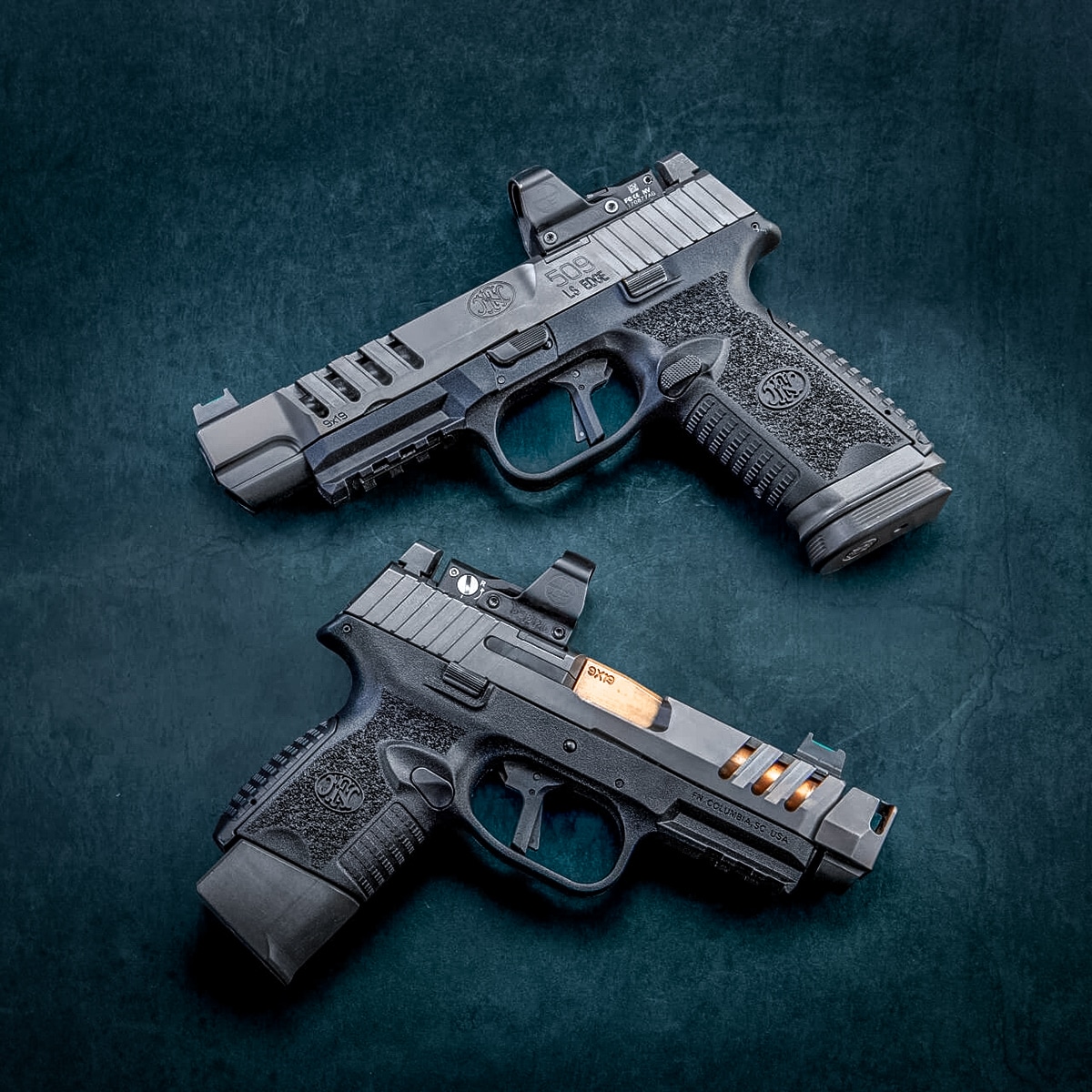 The addition of a compensator resulting in less felt recoil in a semi-auto pistol also means there's less force being exerted on the slide for each shot — which is why FN removed material from the slide body with the lightening cuts on each side. This makes it lighter and allows it to cycle fully under less force.
There are a lot of people who flat out refuse to carry a gun with any lightening cuts in the slide thanks to horror stories about foreign objects getting wedged between the slide and the barrel and causing serious malfunctions. But, that's a risk each concealed carrier has to weigh. If the gun is truly as flat-shooting and light kicking as FN says it is, the concessions and extra steps in the daily EDC check might be worth it for improved accuracy and faster shooting.
---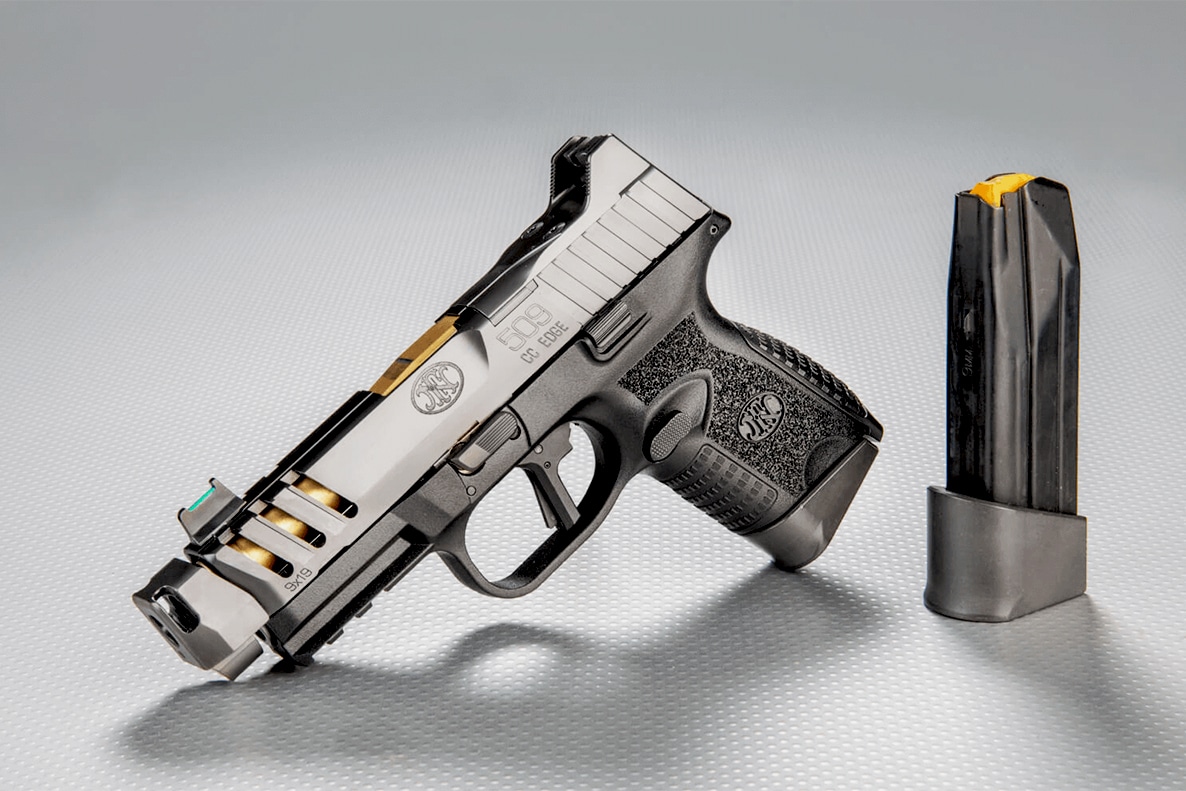 FN 509 CC Edge Specs
Chambering: 9mm
Action: Double-action striker fired (high endurance striker)
Capacity: 12+1 or 15+1 (10+1 available)
Weight: 25.5 ounces
Barrel length: 4.2 inches
Overall length: 7.5 inches
Twist rate: 1:10″ RH
Height: 4.8 inches
Width: 1.35 inches
Trigger pull weight: 4.5 to 6.7 pounds
Sight radius: 5.41 inches
MSRP: $1,569
---
READ NEXT – Springfield Armory Prodigy: New Double-Stack 1911 With a 26-Round Mag