Model: Springfield Armory 1911 DS Prodigy AOS
Chambered in 9mm
Up to 26-round capacity
Polymer grip module
Cerakote finish
Optics ready
Bushingless bull barrel
MSRP for base model: $1,499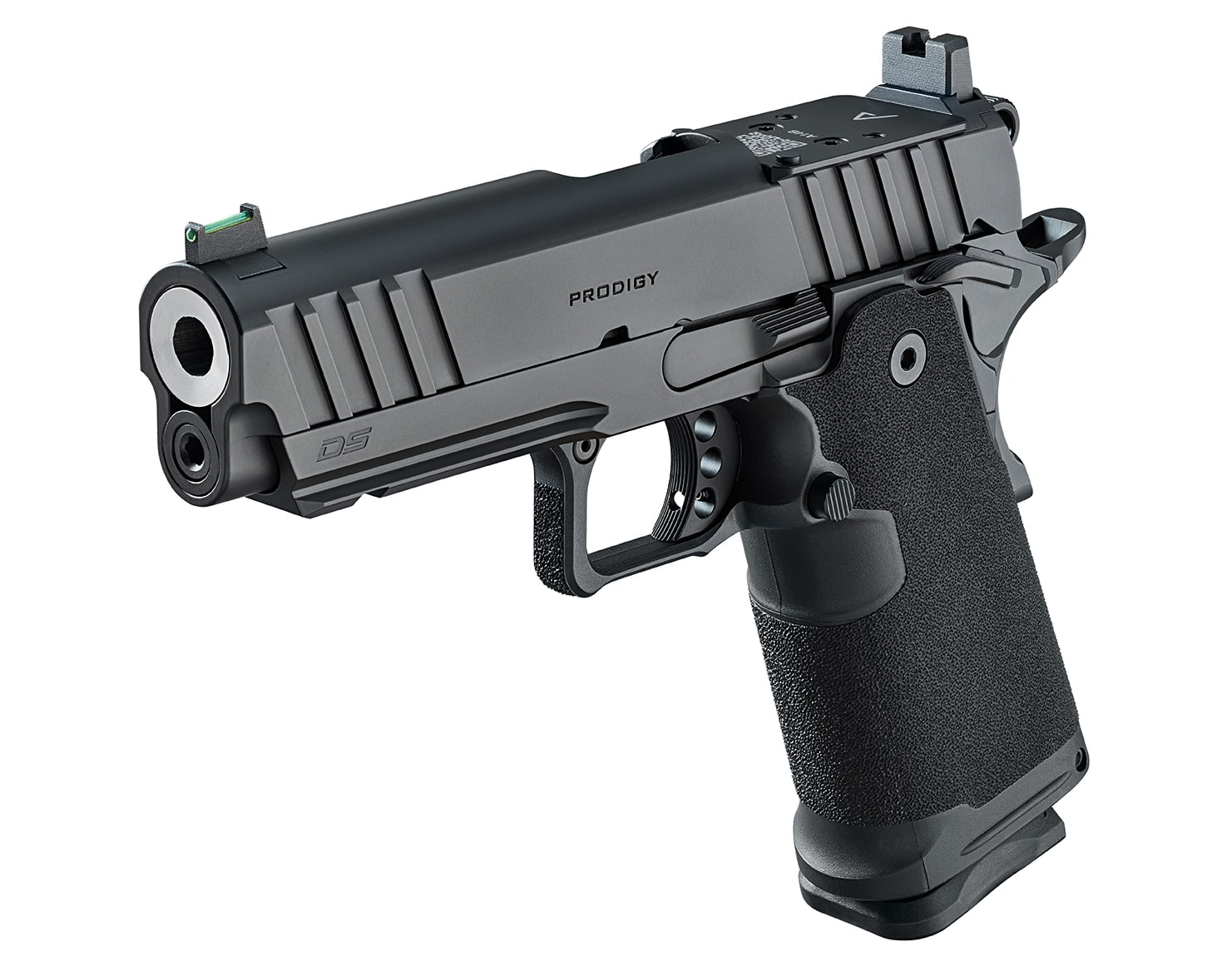 An internet leak gave people an early look at the new Springfield Armory Prodigy pistol, but it did little to damper the release of this handgun, which might be the most interesting take on a 1911 produced by a major gun manufacturer in quite some time. The two models that dropped today represent the launch of a new double-stack 1911 product line for Springfield that's likely to expand in the future.
A lot of 1911s, good and shitty, have claimed to be a "modernized" version of John Browning's seemingly immortal semi-auto pistol design because they are made from state-of-the-art materials with advanced coatings or all the extended and ambidextrous controls possible have been added along with night sights and a Picatinny rail on the frame. But they're mostly single-stack designs from well over a century ago.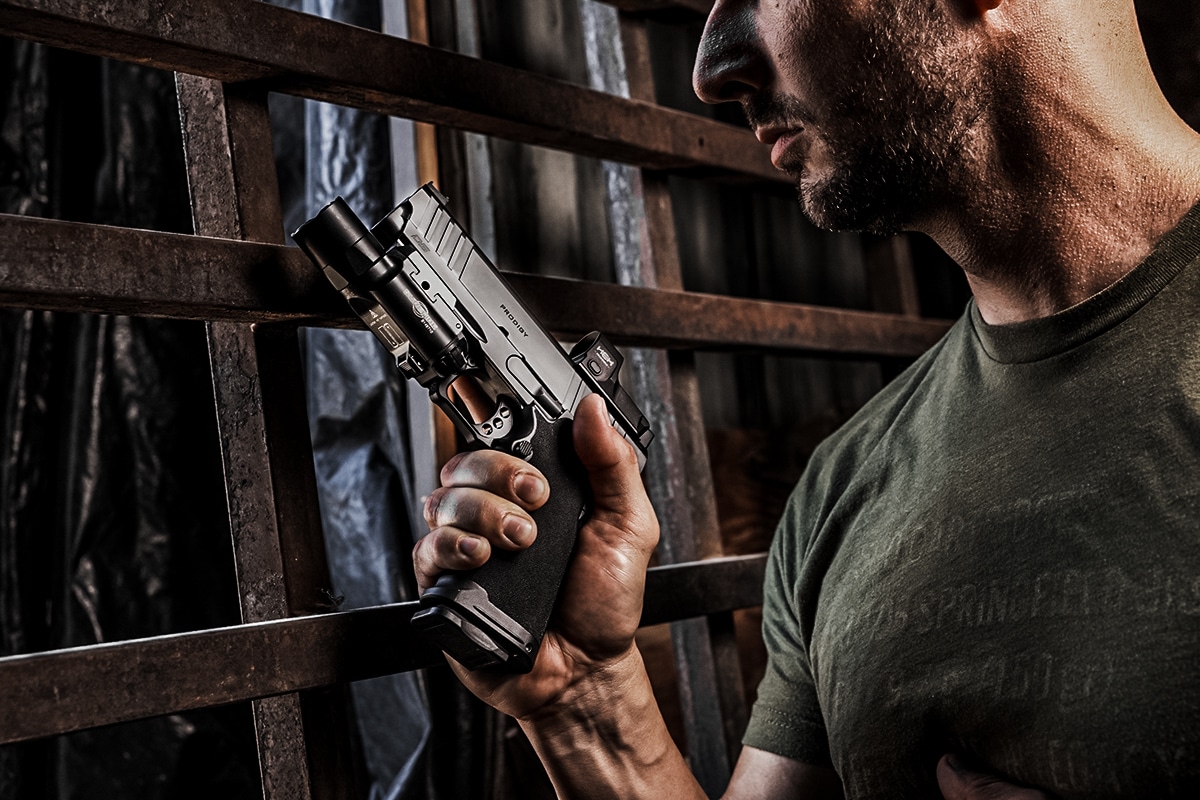 The Prodigy has all that with a bushingless barrel, but it also addresses the biggest tradeoff when people choose a 1911 for concealed-carry or home defense: capacity. Oh, and it has a polymer grip — so this is truly an updated and modernized 1911. (Some might call it a take on a 2011 pistol, but that's a longer article.)
First off, the Prodigy comes chambered in 9mm and 9mm only. All you purists who can't abide a 1911 in anything but .45 ACP, go scream into a pillow real quick, get it out of your system, come back, and read about this cool 9mm 1911 that focuses on accuracy and boasts a 17+1 capacity with its flush-fit double-stack magazine and 20+1 in the extended mag while retaining all the best qualities of the platform. Both mags come with the gun, and an even larger 26-round magazine is also available separately.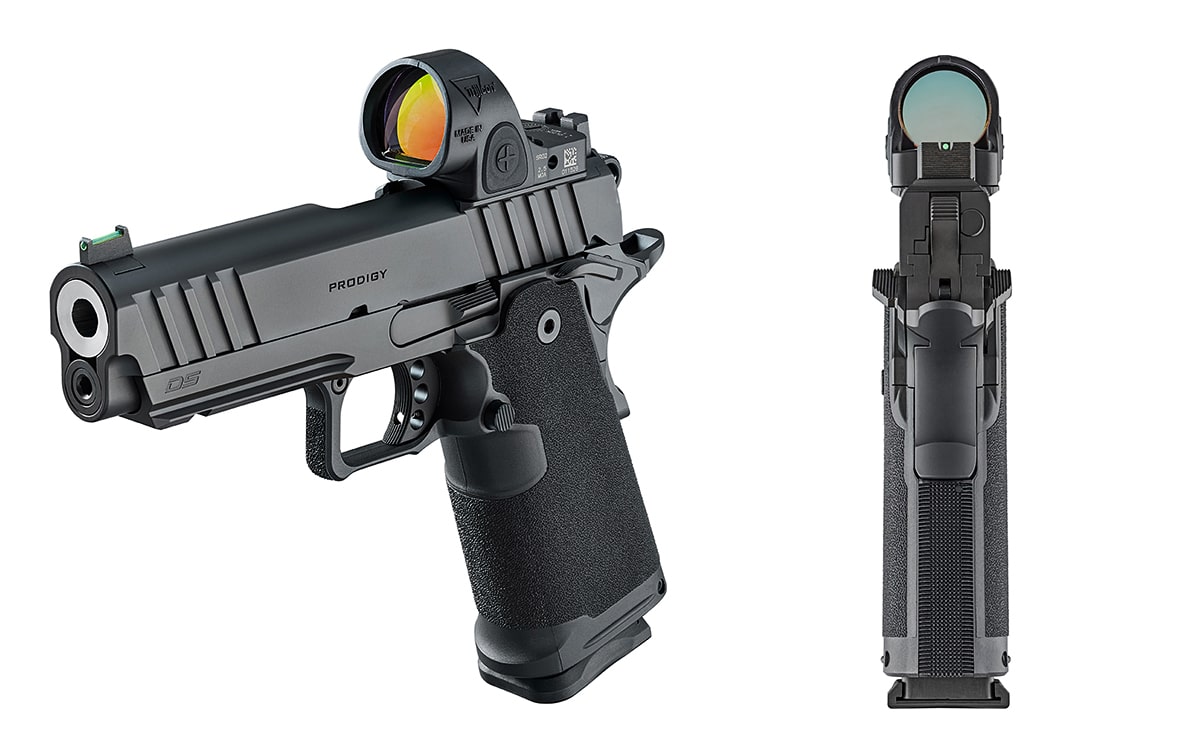 That is a truly impressive max capacity, considering .45 ACP 1911s max out at 8 rounds with a flush mag, and Springfield's single-stack 9mm 1911s only hold 9 rounds.
"The new Prodigy 9mm, the first in our new family of 1911 double-stack pistols, takes everything that shooters love about the 1911 platform and enhances it with increased capacity and a host of performance features," says Steve Kramer, Springfield's vice president of marketing, adding that it combines "cutting-edge capabilities with the proven benefits of the 1911."
Of course, the double-stack mag means sacrificing the slim grip that many 1911 fans love, but the Prodigy's grip, by the specs, is no larger or less ergonomic than popular double-stack duty guns and compact carry guns.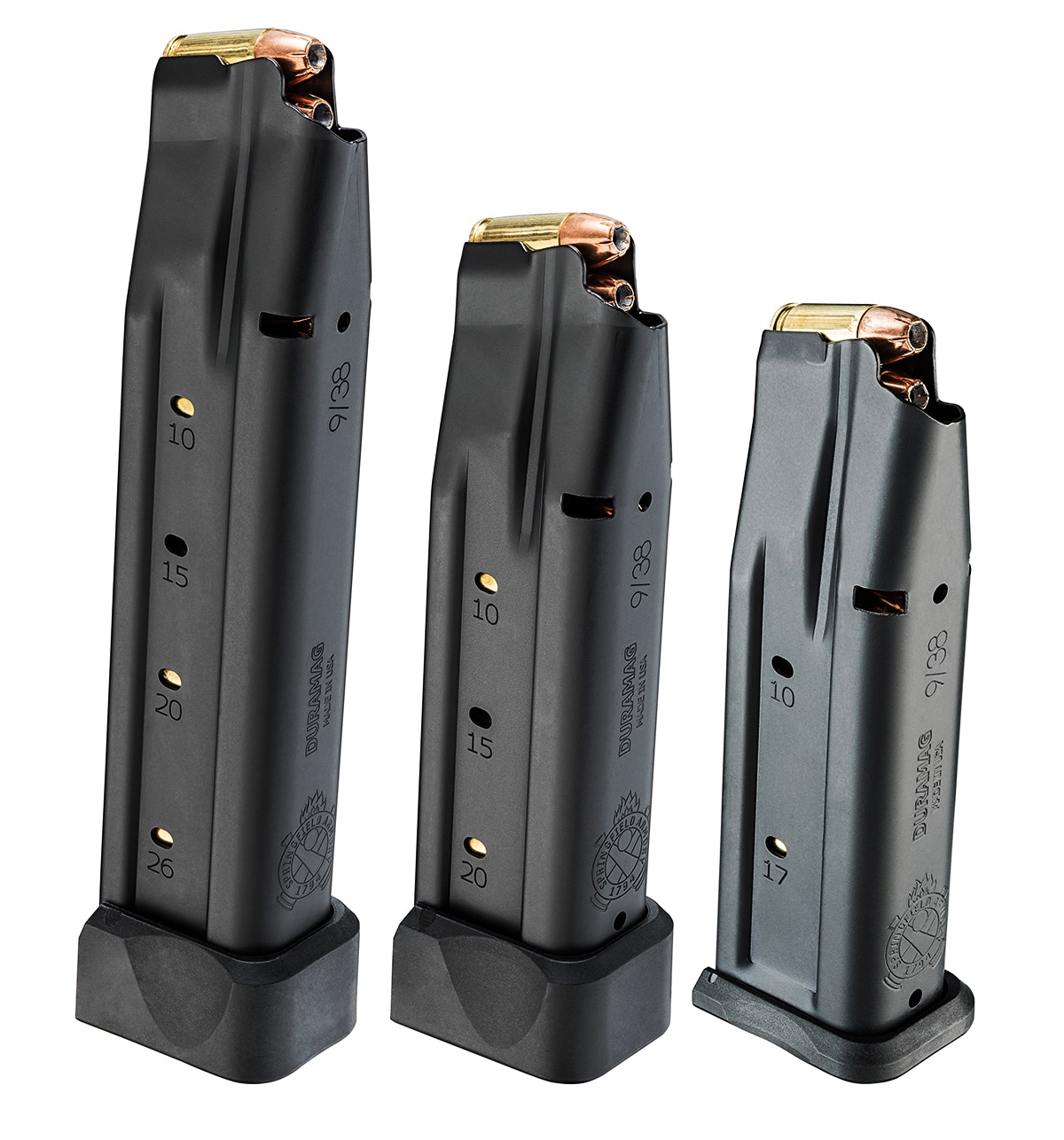 Let's talk about that grip first. While the entire frame isn't polymer, the grip module is, and it features "a wraparound Adaptive Grip Texture treatment" like the texture on the gunmaker's popular ultra-compact Hellcat pistol line. The actual frame, or receiver, is forged steel paired with a forged steel slide, which includes wide forward slide serrations for easy press checks. Both steel components come with a black Cerakote finish.
There's no word on whether or not different grip modules will be available for DS pistols in the future, but the grip that comes with it has an undercut trigger guard and is shaped for a modern, high two-handed grip; it also features a Pic rail for accessories.
The slide houses a match-grade bushingless forged stainless steel bull barrel that not only looks amazing but also offers increased accuracy, which is why so many target guns have bull barrels.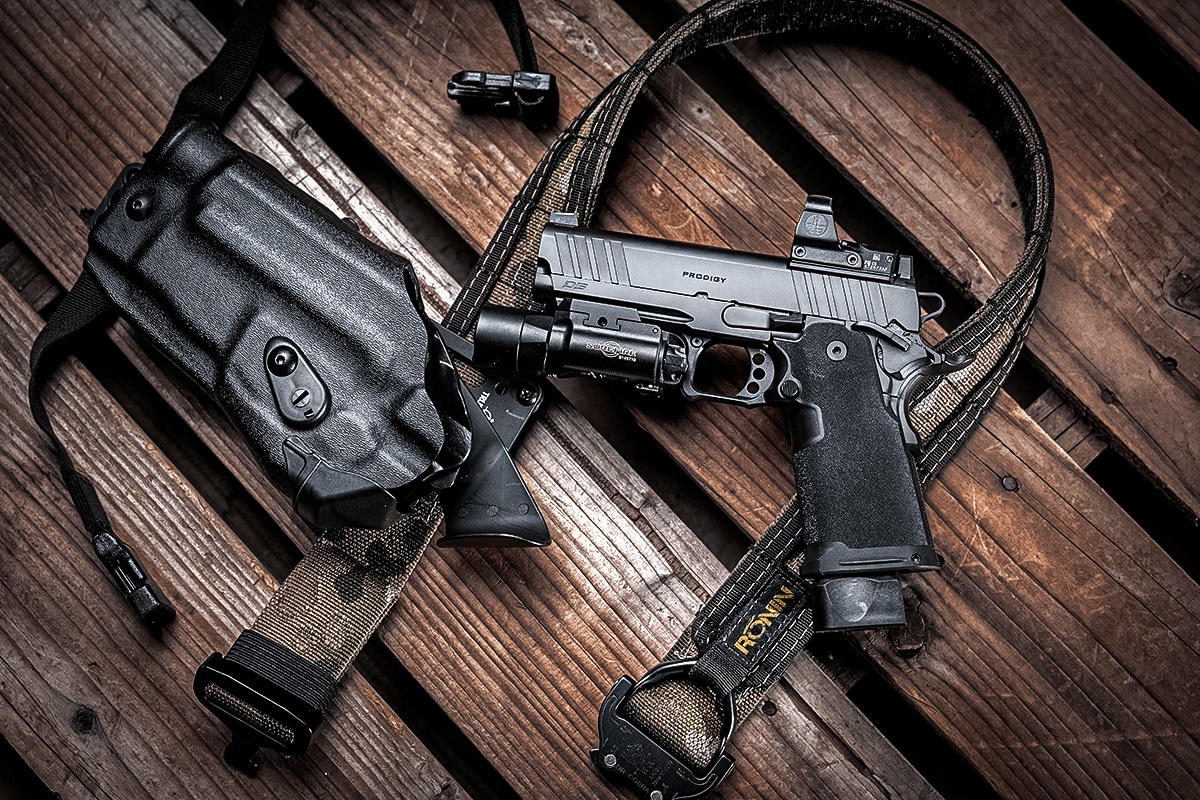 The top of the slide is cut to accept most popular handgun optics. The gun was developed in collaboration with Agency Arms, and the Prodigy uses the company's Agency Optic System (AOS) plates designed specifically for the new handgun. The AOS plates are machined from billet 17-4 stainless steel and come with an integrated rear sight for the best possible sight picture. Each pistol comes with one AOS plate and a cover that also includes an integrated rear sight.
Additional AOS plates for the Springfield Armory Prodigy can be purchased directly from the Springfield web store; you can use this compatibility chart to find out which plate fits your favorite optic.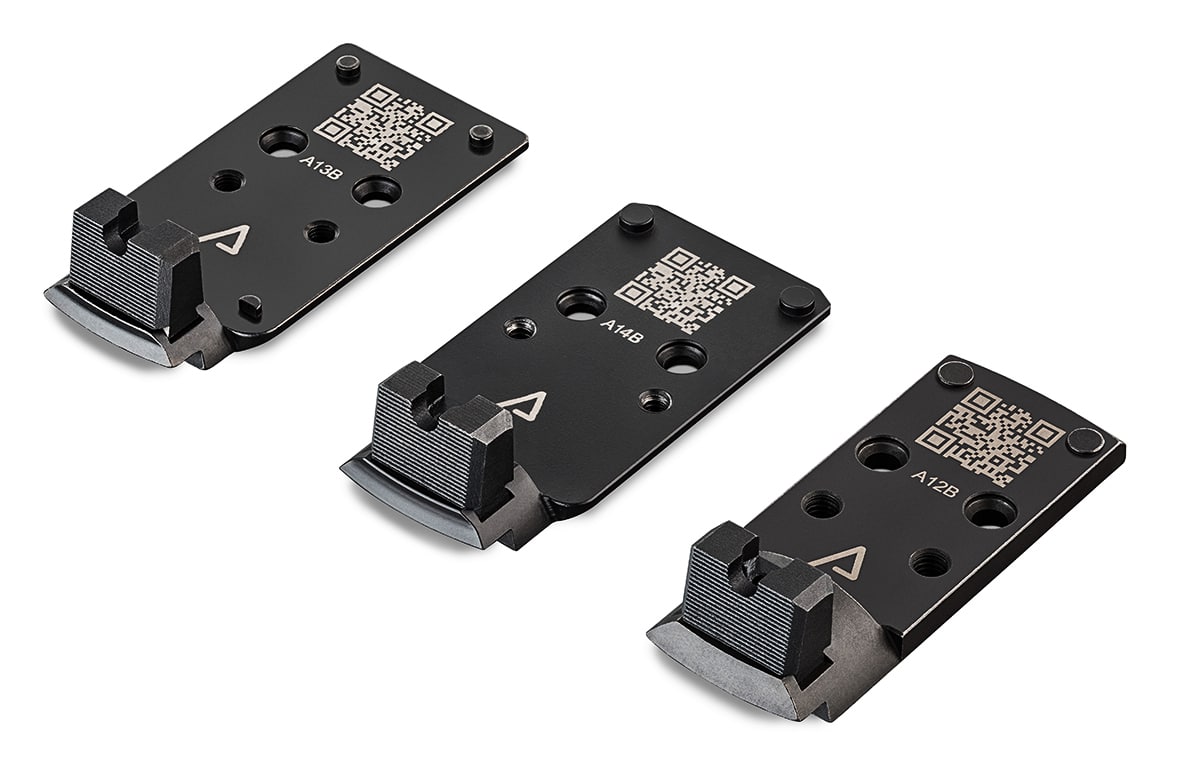 The full-size version of the new pistol, the 1911 DS Prodigy AOS, has a 5-inch bull barrel; the more compact DS Prodigy 4.25" AOS has a — you guessed it — 4.25-inch barrel. Each model is also available with Springfield's HEX Dragonfly red-dot sight included.
At this pistol's heart, it's still a 1911. It's single-action and designed to be carried cocked and locked by the ambidextrous frame-mounted thumb safety, it has a beavertail grip safety, and internally, it's all John Browning, except for the lack of a barrel bushing. If this proves to be a reliable handgun, and only time and a lot of rounds sent downrange will tell, it could be the next big thing for Springfield.
---
Springfield Armory 1911 DS Prodigy AOS: Full Specs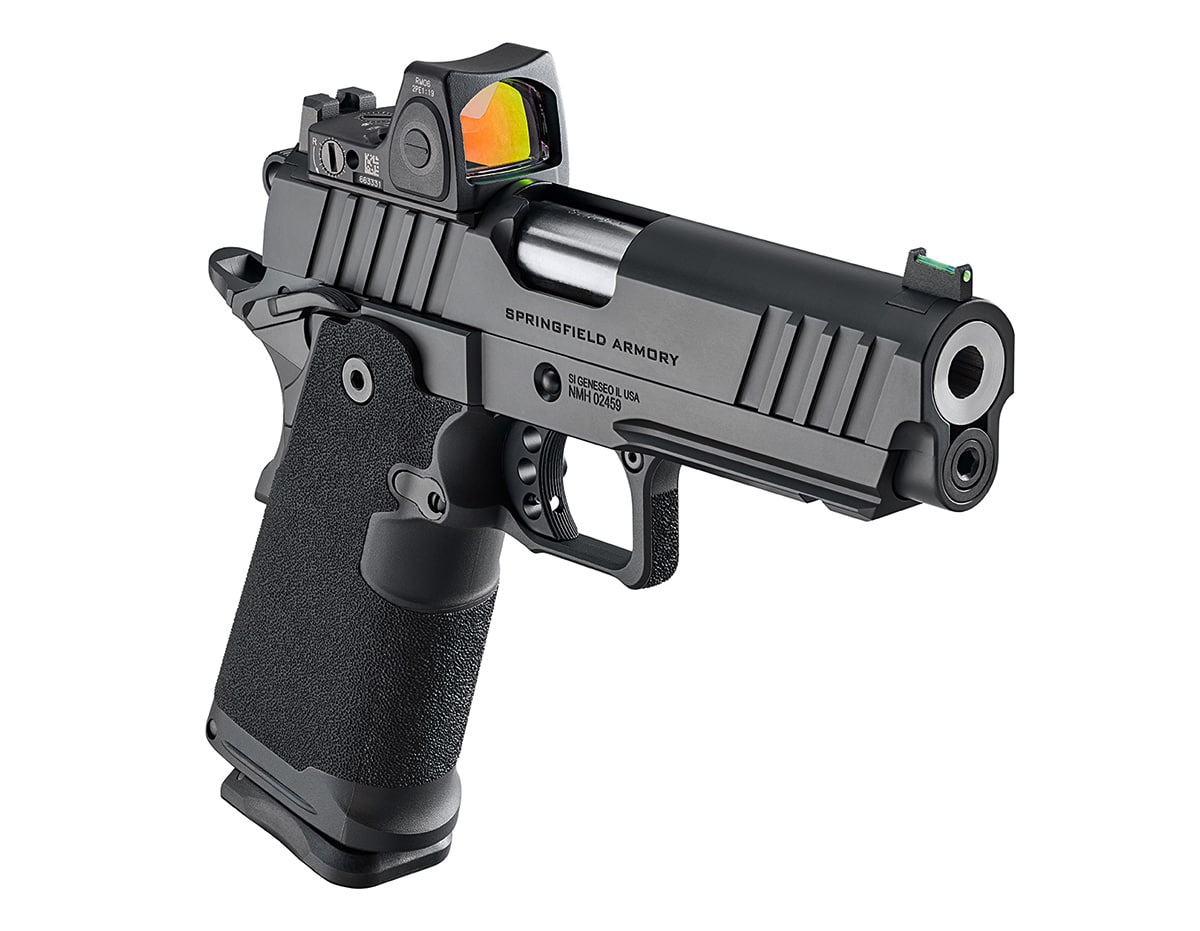 Caliber: 9mm
Action: Single-action
Safety: Manual thumb safety, grip safety
Capacity: 17+1 and 20+1; optional 26-round magazine available
Sights: Optics-ready, one AOS baseplate included plus cover with integrated rear sight, fixed fiber-optic front sight
Barrel: Match grade bull barrel with 1:6 rifling
Barrel Length: 5-inches or 4.25 inches
Overall Length: 8.5 inches
Height: 5.5 inches
Weight: 33 ounces
Grip: Polymer grip module
Frame: Forged carbon steel with black Cerakote finish
Slide: Forged carbon steel with black Cerakote finish
MSRP: $1,499 for standard models, $1,699 for models including HEX Dragonfly red dots.
---
READ NEXT – Smith & Wesson Introduces New 350 Legend Revolver for Hunters