My fingertips have just regained feeling. The screaming nerves claw at my skin and burn the last half-hour of ice climbing into my brain. 
Below the belay I hear THWACK, THWACK — each placement of a tool cutting and holding ice 200 feet up this frozen waterfall. Then, CHUNK, CHUNK. The secondary points of my cramponed boots kick into the ice. THWACK, THWACK. CHUNK, CHUNK. I get to where I need to be — the last screw. 
With both tools in the ice above my right shoulder, matching holds, and my hips pushed into the frozen mass of water, heels exposed and shivering, I grab the screw's hanger head and twist it out with my numb right hand. Snow sluff lands around me from high above like someone is shaking an evil snow globe. Me, just holding on. With the screw out of the ice, I tap it against the frozen water, press it firmly to my lips, and blow, sending the ice core falling. I need to ensure the handoff is clean.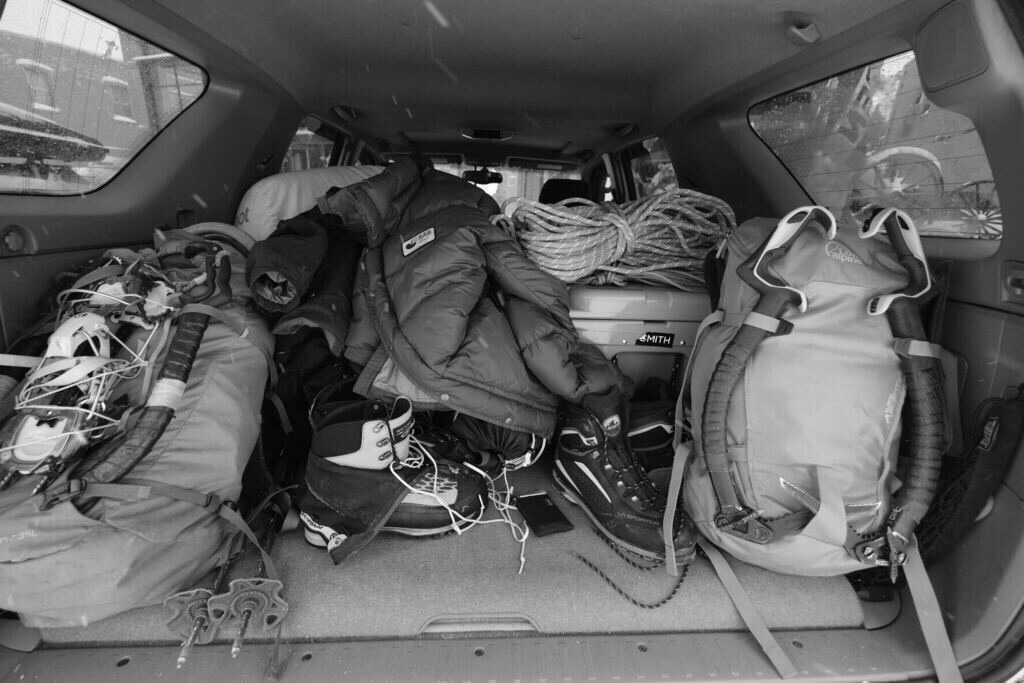 THWACK, THWACK. CHUNK, CHUNK. THWACK, THWACK. CHUNK, CHUNK. 
Hands against my thighs, frozen now. Fuck, they're numb. I crane my neck to see how Glen is doing above me, on my belay. We're run out now. Only one ice screw is placed. 
We're getting showered with sluff and debris, and the wind is picking up. Glen throws his tools and crampons, a distant THWACK, THWACK. CHUNK, CHUNK. Ice and snow rain down around me.
"FUCK!" 
I twist my neck, brace my shoulders against my ears for the fall. My helmet slams into the ice and belay. A disgusted shriek of horror and pain and fear escapes me. The belay pulls tight in my hands, twisting my body into the protection, as his dead weight whips me into the ice. 
I want to throw up. Blood trickles down from above me, coagulating already in the 18-degree air. I need to see what happened. I twist more. One run-out screw above him (he had climbed far above his last protection), a taut rope, and Glen, hanging unresponsive.
I'm 200 feet up this frozen wall and terrified. My partner is out cold, with all our screws, tied in, snow and ice falling around us. Glen is out and bleeding. What the fuck were we thinking? How the fuck am I going to get down?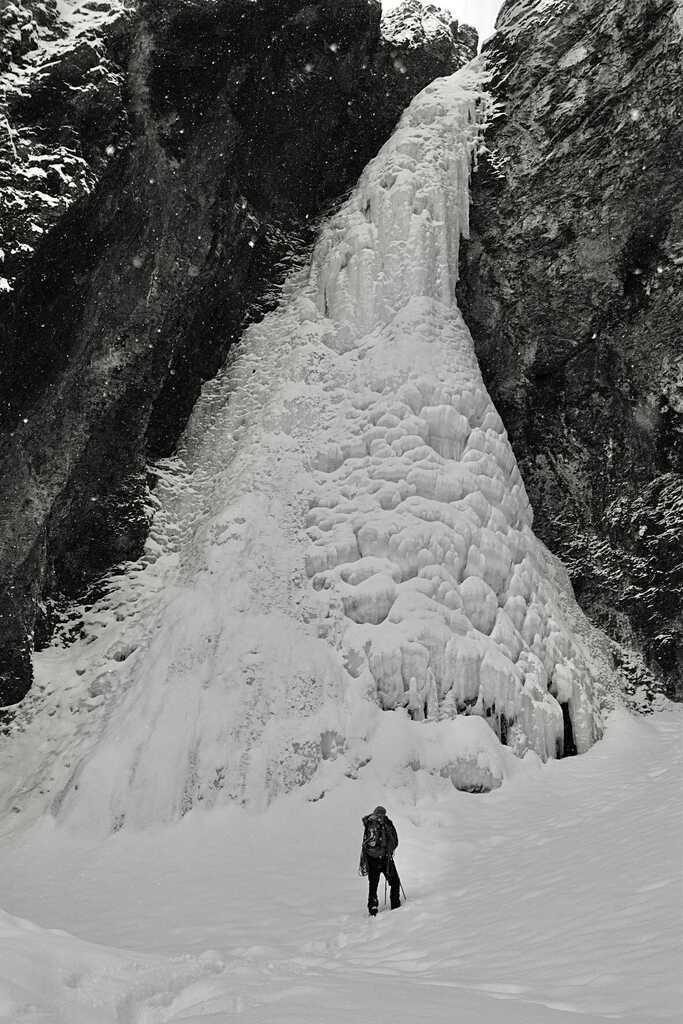 This is not how the last ice climbing trip into the backcountry went with my partner Glen Maxson, but it easily could have been. 
Forming habits, through trial, error, and experience, being able to use that experience and those habits in order to "predict" the future — that is a very peculiar human skill, and that is what made our outing so very different from how it could have played out. 
Glen and I had spent an hour just getting to the start of the hike for our planned morning climb. It had snowed 15 inches — double what we'd anticipated. We said, "Let's just get there and see."
After 45 minutes of a post-holing slog up to the face of the waterfall, showered with sluff, we were seeing. 
The snow shower picked up, so we hunkered in a cave beside the waterfall to discuss our plan. More than 600 feet of ice. Three belay points. Hours of climbing. 
Skirting snow ramps and dodging debris from ice and rock. Unstable faces.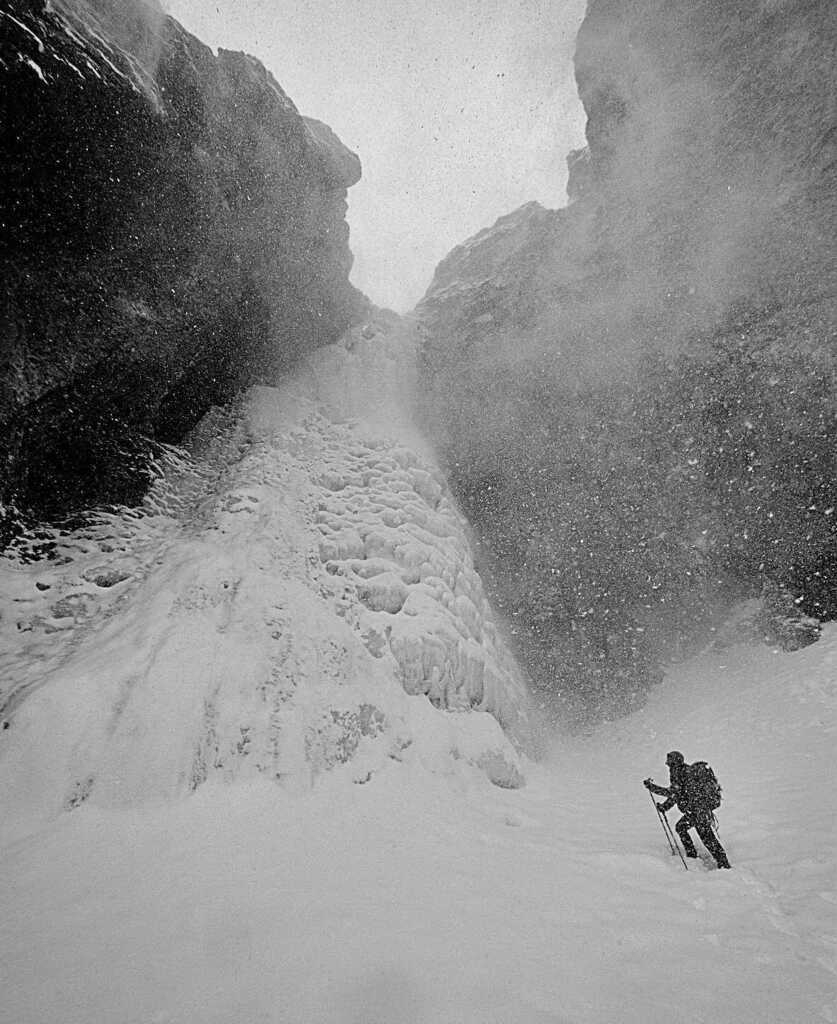 "We could get buried." 
"Probably not, there just isn't enough snow loaded." 
"Debris could come down and hurt."
"It's really very possible." 
Back and forth. We had trekked all this way to climb, not to turn around and go home. Decisions, decisions. Listening to your spidey sense is essential in dynamic and dangerous environments. 
We saw. We debated. We started down the chute and back toward home. Then we heard it. We felt it. A deep rumbling. A crunching. A large cornice at the top of the waterfall broke free, an avalanche of ice. 
"Jesus Christ."
"Can you imagine what would have happened if we were up there?" 
Read Next: Rick Wilcox: The Most Accomplished American Mountaineer You've Never Heard Of