Shotguns were the first small arms. The fairly ancient blunderbuss was a smoothbore, muzzleloading firearm that fired little pieces of pretty much anything — rocks, nails, arrows, bits of iron, and, yes, shot. Muskets mostly morphed into rifles as the United States expanded west, but there were still many uses for smoothbores in the field and in war. This wasn't missed by Hollywood.
Much as the six-gun and the lever-action rifle are symbolic of the Wild West, the stalwart double-barreled shotgun has been on screen, too, in the background and doing the dirty work of up-close and catastrophic violence. Hollywood gunslingers don't generally name their coach guns or treat them with reverence, but every once in a while, a scattergun steals the show.
---
Unforgiven (1992) — "Who's the fella who owns this shithole?"
Directed by: Clint Eastwood
Starring: Clint Eastwood, Gene Hackman, Morgan Freeman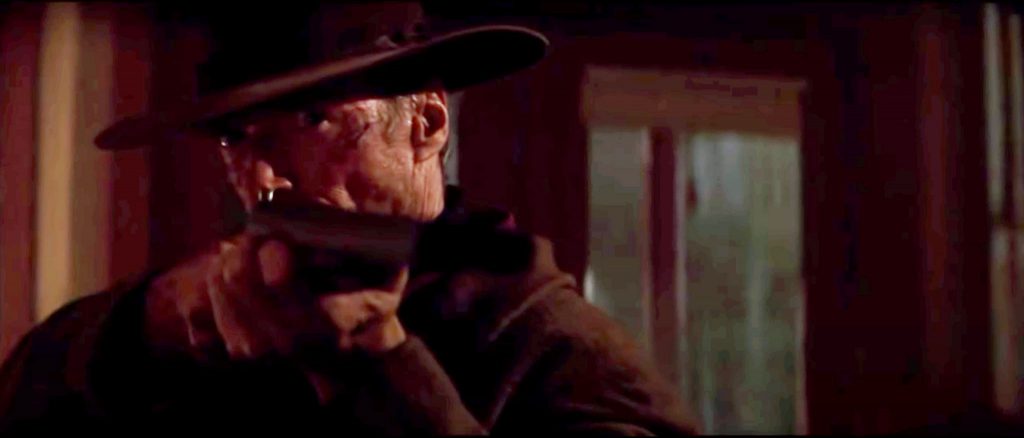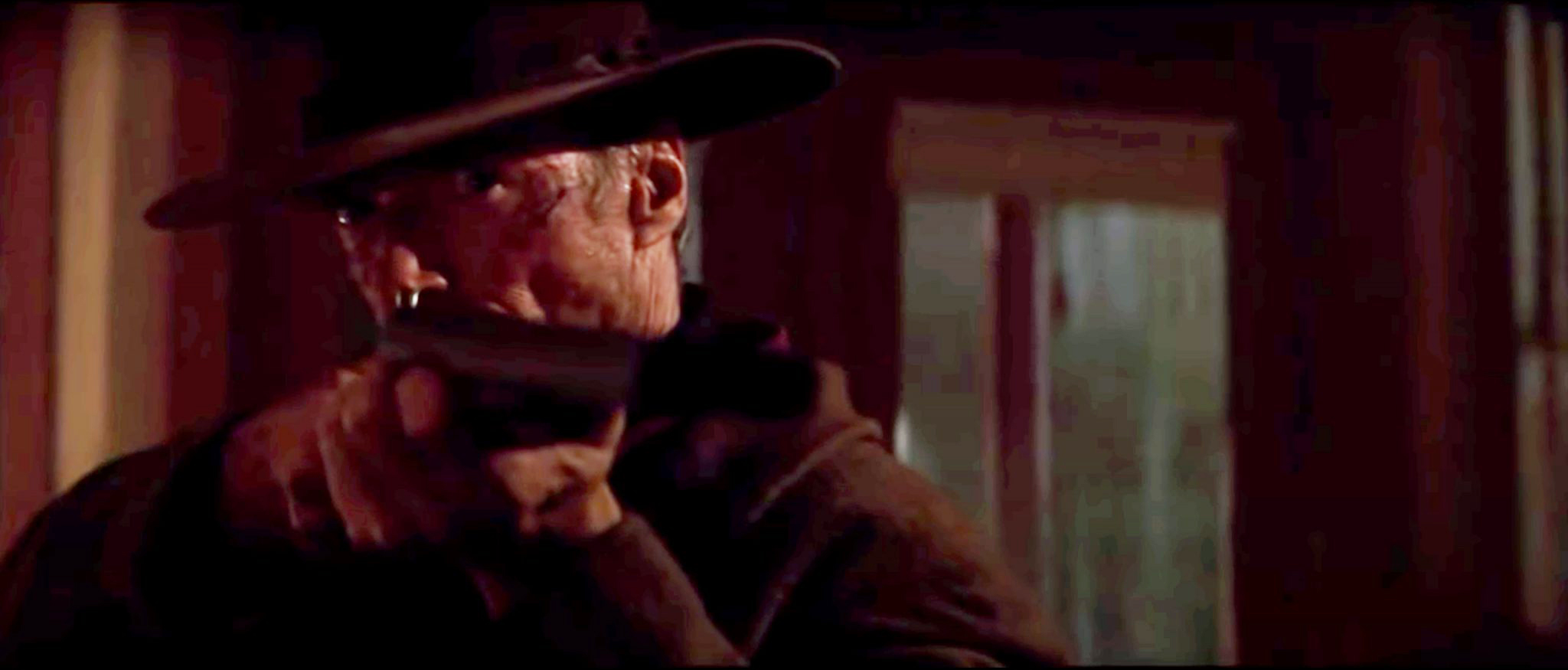 While he used a fair number of scatterguns throughout his long film career, Eastwood didn't use many in his Westerns. In fact, I could only find two such instances out of his whole portfolio of Westerns, one being perhaps the coolest Western shotgun scene ever.
At the end of Unforgiven, William Munny (Eastwood) rides back into the town of Big Whiskey to get revenge for the murder of his friend Ned (Freeman). He passes Ned's body on display in front of a saloon. His intentions are set.
As he rides down the street, the camera switches to Munny's POV for the first and only time as he strides into a room full of men discussing how to hunt him down in the morning, the barrels of the simple 10-gauge coach gun he's carried since leaving his farm rise slowly into the shot, full of menace and impending violence. As the assembly slowly notices him, conversation halts.
Munny calls out the bar owner and promptly cuts him down for decorating the saloon with Munny's friend.
He cocks the second hammer and aims his nemesis, Sherriff Little Bill Daggett (Hackman), before delivering one of the most badass speeches of all time.
Bill tells his men that Munny has one barrel left, and after he fires it, to shoot Munny down like the scoundrel he is. Munny pulls the trigger, the hammer falls, and … nothing. He'd been riding in the rain, and shotgun shells of the time had paper hulls. The misfire surprises everyone more than a shot would have.
Munny throws his now-useless big-bore shotgun at Bill's face, crouches, draws his partner's S&W Schofield revolver, and puts down all who face him.
---
Appaloosa (2008) — "Eight Gauge…"
Directed by: Ed Harris
Starring: Ed Harris, Viggo Mortensen, Renée Zellweger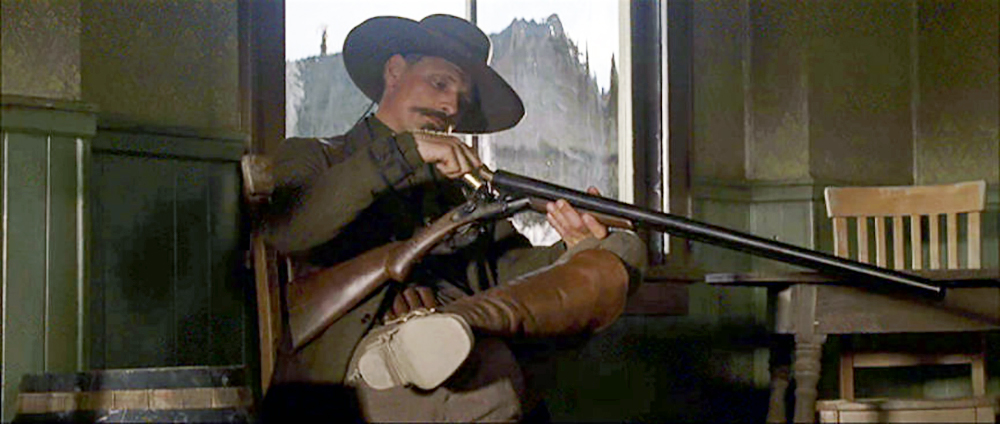 This criminally underrated Western is about a pair of experienced gunmen who travel to isolated towns, plying their trade as problem solvers. If a town has an issue enforcing law and order, Everett (Mortensen) and Virgil (Harris) take care of it. Virgil has a reputation as a horrifyingly deadly shot, while Everett relies on a massive side-by-side shotgun to get his point across.
Referred to in dialogue only as "the Eight Gauge," the big gun is practically a character itself, full of silent menace. Its cavernous black bores, paired with a few growled words from Virgil, are usually enough to fully intimidate most people the duo encounter.
But it's not all bluster: Everett is quite skilled with his grandfather's shotgun. Understandably, he has a leather recoil pad sewn into the shoulder of his coat so that firing the second barrel is within the realm of possibility. This movie also has at its end one of the best movie gunfights ever. If anyone in the Old West ever called someone out, and they stood in the street to shoot each other, this is how it would have really gone down (SPOILERS).
Smoothbore 8-gauge guns were used in the 1800s by commercial duck and upland bird hunters, before and after the advent of paper shotgun shells. In Africa, rifled 8-bore guns were used for dangerous game, firing massive conical or round projectiles from paper-hulled cartridges.
Everett's is intended to be the former. I'm not sure how many pellets of 00 Buck one could fit in a black-powder 8-gauge shell, but it's got to be a lot.
Today, 8-gauges are pretty much obsolete, except for one specialized use: blasting deposits off industrial kilns. For the movie, gunsmith Steve Karnes created three prop 8-gauges by modifying reproduction 12-gauge Colt 1878 shotguns. Two of the guns had barrels made to fire 12-gauge blanks with 8-gauge-sized sleeves over them to make the bores look bigger. The third had actual 8-gauge barrels, but it was nonfunctioning and was only used for shots where the gun was being loaded — because there's no way a 12-gauge shell can pass for an 8-gauge shell. Here's Larry Zanoff of Independent Studio Services talking about building the fake 8-gauges and showing off one of the prop guns.
---
Tombstone (1993) — "He's down by the creek, walkin' on water…"

Directed by: George P. Cosmatos
Starring: Kurt Russell, Val Kilmer, Sam Elliot, Bill Paxton, Powers Booth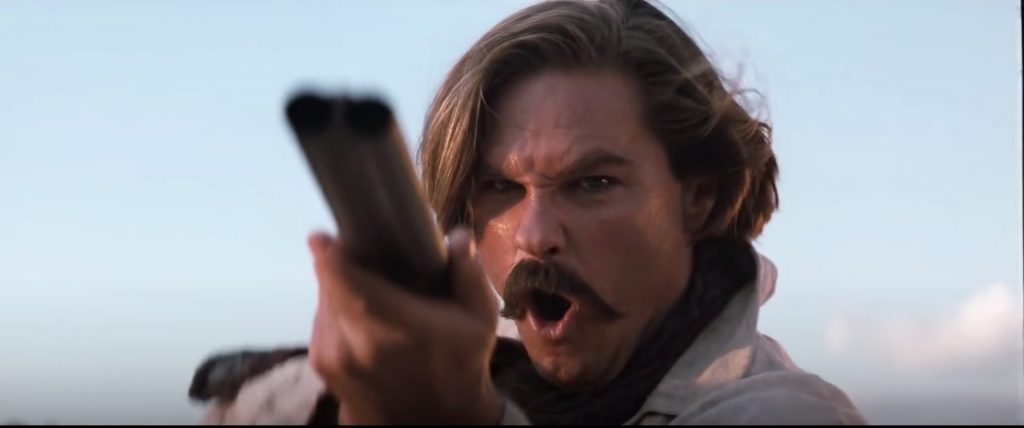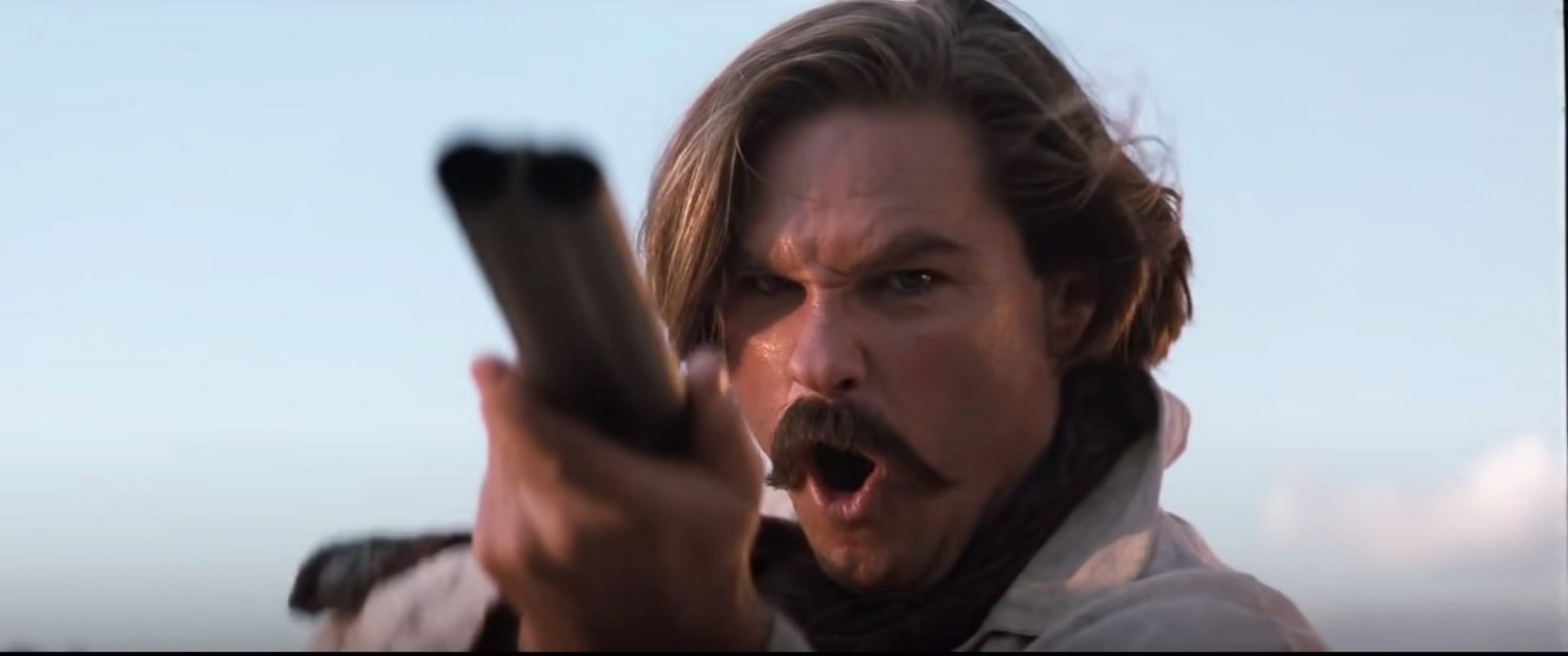 The scene where Doc Holliday (Kilmer) carries the street howitzer and uses it to great effect in the famous gunfight at the OK Corral is pretty cool, but I think the best shotgun scene in this movie goes to Wyatt Earp (Russell) and his 10-gauge at Iron Springs.
During Earp's Vendetta Ride, he carries a large Stevens 10-gauge three-triggered side-by-side. Why three triggers, you ask? The front trigger was in a separate trigger guard and it actually released the action so it could be opened — an alternative design to the more common top-tang lever.
When his gang walks up on Curly Bill Brocius (Boothe) and a large group of cowboys at the stream, things don't look too good for Earp's men. Caught in an ambush, Earp decides to turn the tide by sheer will. He strides from cover into the line of fire, repeating one word: "No."
He walks right in front of Curly Bill, who fires numerous shots but can't seem to hit Earp. Earp blasts him with one barrel, then the other, leaving the gang's leader dead in the water. The tide indeed turns, and Earp's men run off the remaining cowboys. The story has become part of the lore of Wyatt Earp, but is the scene a lot of Hollywood puffery? Yeah, pretty much.
If you want to be a sourpuss, go ahead and check out this InRange TV video explaining how it really went down — but one thing is true: Earp most certainly did kill Curly Bill with a shotgun. Reportedly, he fired both barrels at once and "nearly cut him in half."
---
News of the World (2020) — "Ha, ha. All he's got is birdshot …"

Directed by: Paul Greengrass
Starring: Tom Hanks, Helena Zengel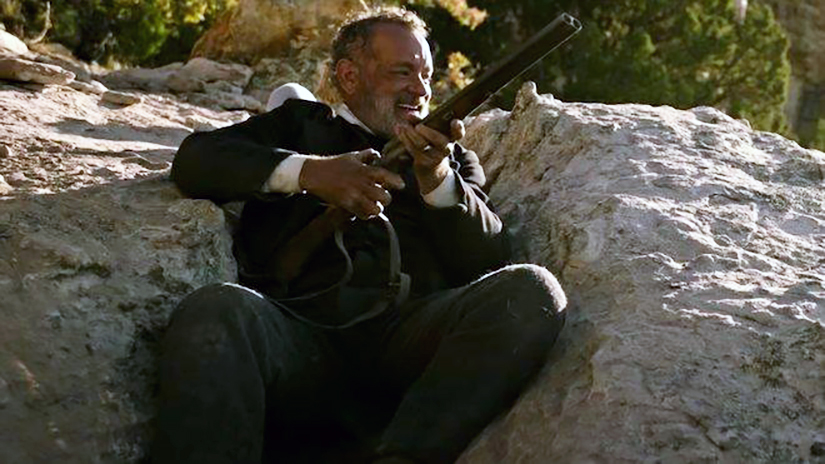 This is a newer one, and if you haven't caught it, you should. Especially because there's a really neat shotgun scene that was kind of ruined by one of the trailers.
The plot is simple, but the story is meaningful: Capt. Jefferson Kyle Kidd (Hanks) is a Confederate Army veteran who's traveling the South just after the Civil War. He makes a living by gathering newspapers from as many places as he can and then reading select stories to townspeople who have no practical way of getting news from far-flung places. During his travels, he comes across a young girl who has twice been orphaned in her short life — once when her family was killed in an attack by Native Americans, and then again more recently when the Kiowa family who took her in was killed and their village burned by US soldiers.
After some deliberation, he agrees to take the girl to her surviving family members. Along the way, they run into some nasty dudes who want to buy Johanna from Kidd. He refuses, so the men follow them into the hills the next day and attempt to take Johanna by force. Kidd is armed with just an old revolver with 20 rounds a friend in town gave him and a short-barreled coach gun with only birdshot rounds.
When his revolver ammo is expended, he fires a couple rounds of birdshot at the men, and they can hear the little pellets pepper the rocks around them. Everyone knows Kidd and Johanna are screwed. The leader pretends to want to come to an agreement as his other man sneaks up on them.
Kidd shows Johanna, who doesn't speak English, that the shells are useless by dumping the tiny pellets from one of them into her hand. The young girl thinks fast. She retrieves a bag of coins from their wagon and loads several into the brass shotgun shell Kidd had emptied and covers them with a cork wad. Kidd's eyes widen, and he tells her to make more.
As the bad guy sneaks up on them, expecting Kidd to be unable to defend himself, Kidd fires a fatal load of metal coins into the villain's chest at close range, and the duo makes their escape. It's extremely realistic violence and extremely awesome.
In case you're wondering, yes, this should work. The coins fit easily in the brass shotshell hulls, so they're clearly smaller in diameter than the bore. Since he has a coach gun, it's likely an open or cylinder choke, so they should make it out of the muzzle no problem. Additionally, coins are almost always made from a metal much softer than steel. At the time, dimes would have been made of silver, which is almost as dense as lead. It's also a bit harder than lead but not nearly as hard as steel, so they wouldn't damage the barrel or blow up the gun.
A typical black-powder load for birdshot should provide enough muzzle velocity for a few coins to do some serious damage, even though they would tumble like crazy and accuracy would be nonexistent beyond a few yards — but there's a flaw in the overall logic of the scene.
The birdshot can't hurt the bad guys where they are because they're too far away. The shot is light, so it loses velocity fast, and the spread is huge by the time it gets to them. They take this as a cue to move in, but that doesn't make any sense. The closer they get, the deadlier the birdshot becomes. At the distances he engages the bad guys with the coins, birdshot would almost certainly have been as deadly, or at least effective enough to put them down with a center-mass shot. The movie makes it seem like birdshot is no more harmful than rock salt.
---
Read Next: How 'Dances With Wolves' Changed Westerns Forever