Smith & Wesson is becoming a gun company of surprises and odd left turns. When you expect a new wheelgun line, the company drops a bullpup high-capacity pump shotgun. S&W adds to the M&P line, which is expected, but the additions have been a 5.7mm pistol and a cool-ass folding pistol caliber carbine with the FPC. Now, out of nowhere, the storied American gunmaker has released the M&P22 Magnum, which is exactly what it sounds like, a semi-auto pistol that holds 30 rounds of .22 WMR. 
If you think it looks a lot like S&W's 5.7 pistol, it does — because that's what it was built on. And this model is even more affordable, with an MSRP that's just under $650.
It's become popular again to call the .22LR underpowered, especially in the context of self-defense. However, it still has many uses, and a lot of shooters would argue that the .22 magnum does everything the .22LR does but better. Usually, those people hang out in the Ruger revolver section or, if they're on a budget, the Taurus aisle. But this pistol appears to be a different animal.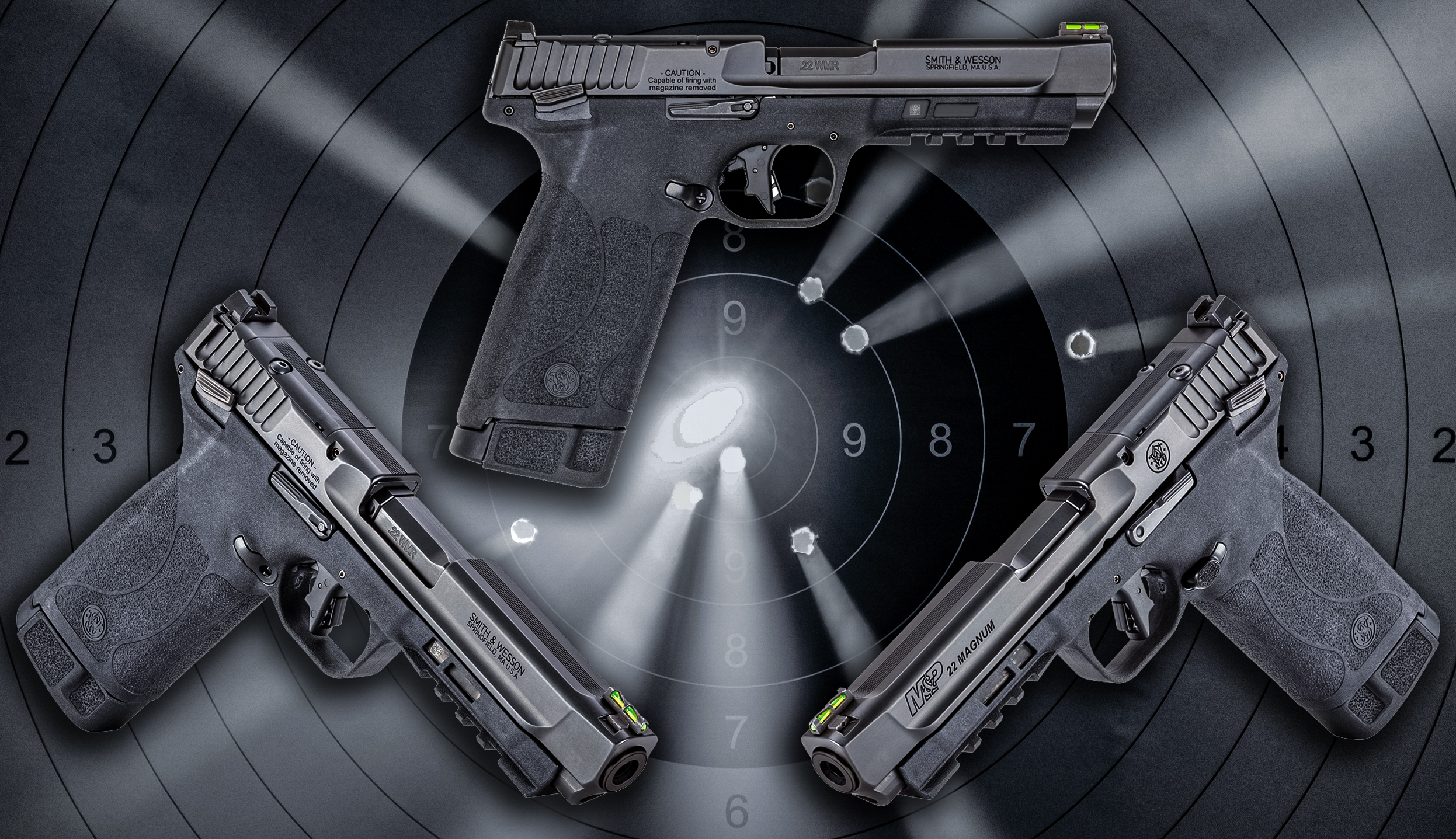 Will a lot of people often need 30 rounds of .22 WMR in the field? Probably not. Will it be a hell of a lot of fun to plink the twilight away with 60 rounds of near-uninterrupted shooting with the M&P22 Magnum's included extra magazine? Yeah, there's little doubt it will. 
You could also look at the new M&P22 Magnum as a great training gun for the world of polymer pistols with a bit more ass and more reliable cycling than a .22LR semi-auto. Let's face it, the most reliable .22 semi-autos are guns like the Ruger Mark series, which don't really function like most other modern handguns. Yeah, I know about the Glock 44. I also haven't personally seen one make it through an entire magazine without a hiccup. 
The new M&P22 Magnum is an internal hammer-fired pistol that includes S&W's "TEMPO gas-operated barrel system" that, according to Smith & Wesson, keeps the pistol's components locked in place until the bullet passes the gas port. That means the gun squeezes the most velocity and power out of the .22 Magnum round as possible and should cycle more reliably than many other designs.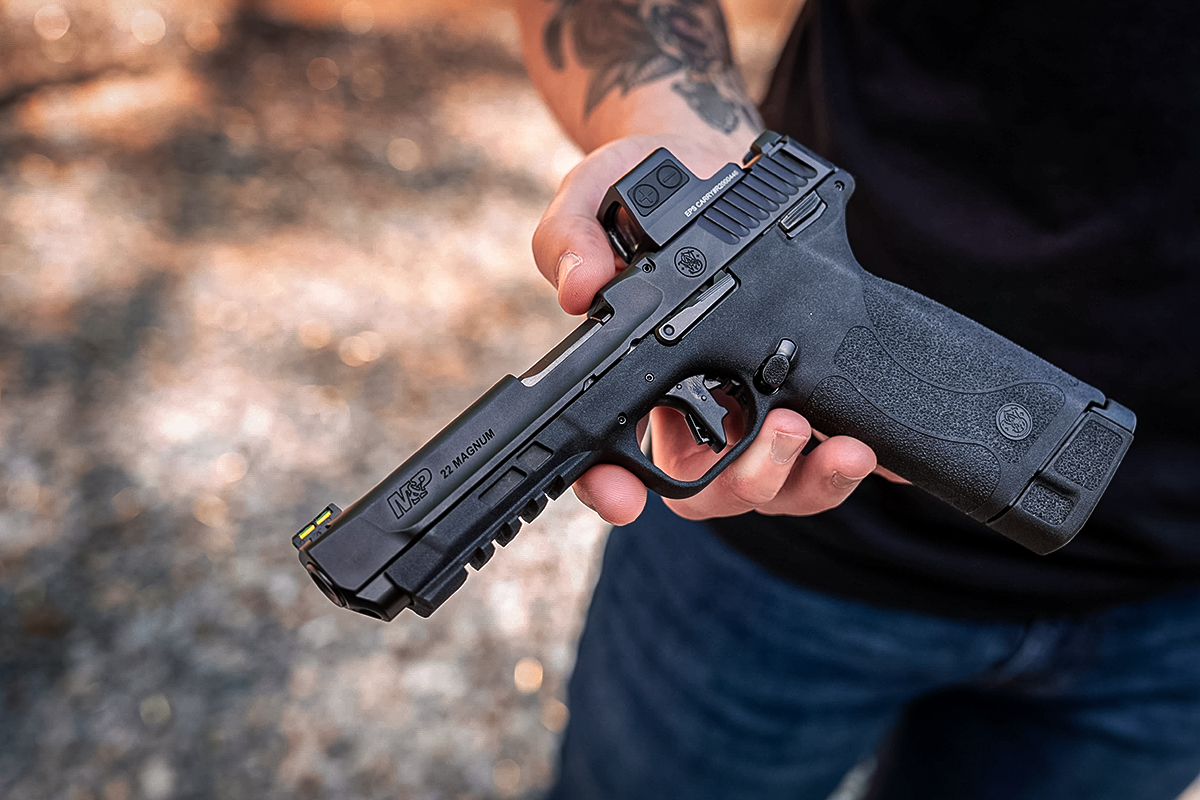 With a 30-round mag, this isn't a compact pistol — it's definitely a full-sized handgun. And get this, it comes with a fiber-optic front sight and a black notched rear sight, as expected, plus the slide is optics-ready, allowing shooters to direct-mount most popular pistol micro red dots.  
The controls on the new pistol are fully ambidextrous. It comes with a 4.35-inch stainless steel barrel finished with Armornite, a flat-faced trigger, and a Pic accessory rail for a gun light or other accessories. Currently, the only model listed on the S&W site includes a manual thumb safety (an option on many M&P pistols), but like the 5.7, there's likely a model without it on the way. 
And considering the updated S&W website now includes an entire M&P22 Magnum Series page, it's fair to assume more .22 WMR models are in the works — hopefully one with a threaded barrel.
"The M&P22 MAGNUM combines the best features of our internal hammer fire control system with the patented TEMPO barrel design, creating a smooth operating experience for the shooter," said John Myles, S&W's senior manager of new products, in the press release announcing the new pistol.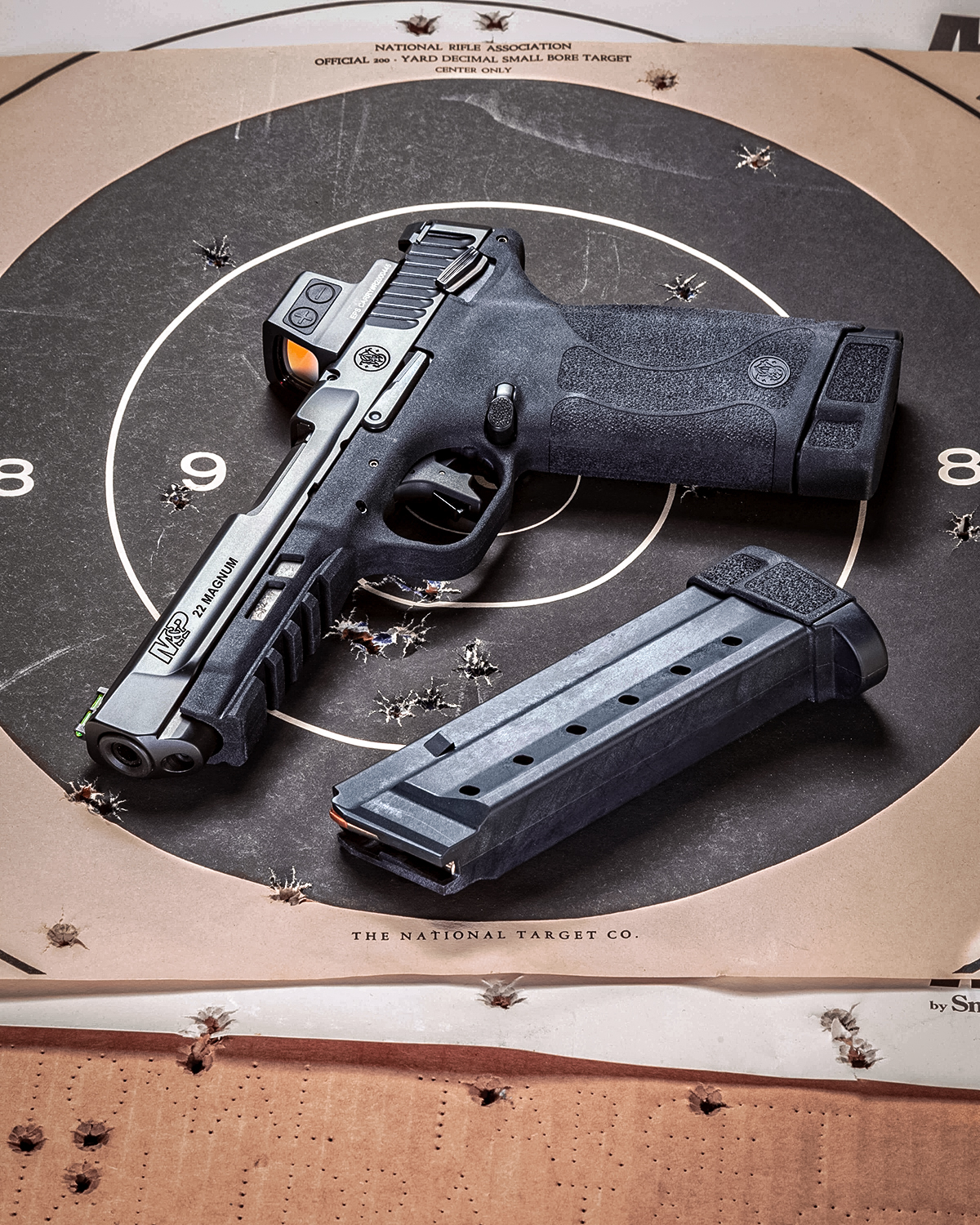 "The 22 WMR is a versatile and field-savvy cartridge that has been a legacy among American shooters, hunters, and trappers for decades," he added. "Smith & Wesson is proud to offer a new pistol that further supports the use of this cartridge outdoors or on the range."
Indeed, if the Smith & Wesson M&P 22 Magnum turns out to be as rugged and reliable as the rest of the M&P pistol line, then this high-capacity rimfire will not only be a great plinker and trainer but also a stalwart and lightweight companion for people who spend a lot of time putting miles on their boots trapping and hunting small game. It will also make a hell of a pest gun. 
Some long-term testing is required to see if the gas system functions as advertised, and — the Achilles heel of most rimfire semi-autos — to see if that big, honkin' 30-round magazine design works. Considering S&W has had a good amount of practice making mags for its M&P 22 Compact line, chances are good that it will. 
Currently, there is no 10-round compliant version available. 
RELATED – Smith & Wesson Drops $699 M&P 5.7 Pistol With 22-Round Mags
---
Smith & Wesson M&P22 Magnum Full Specs: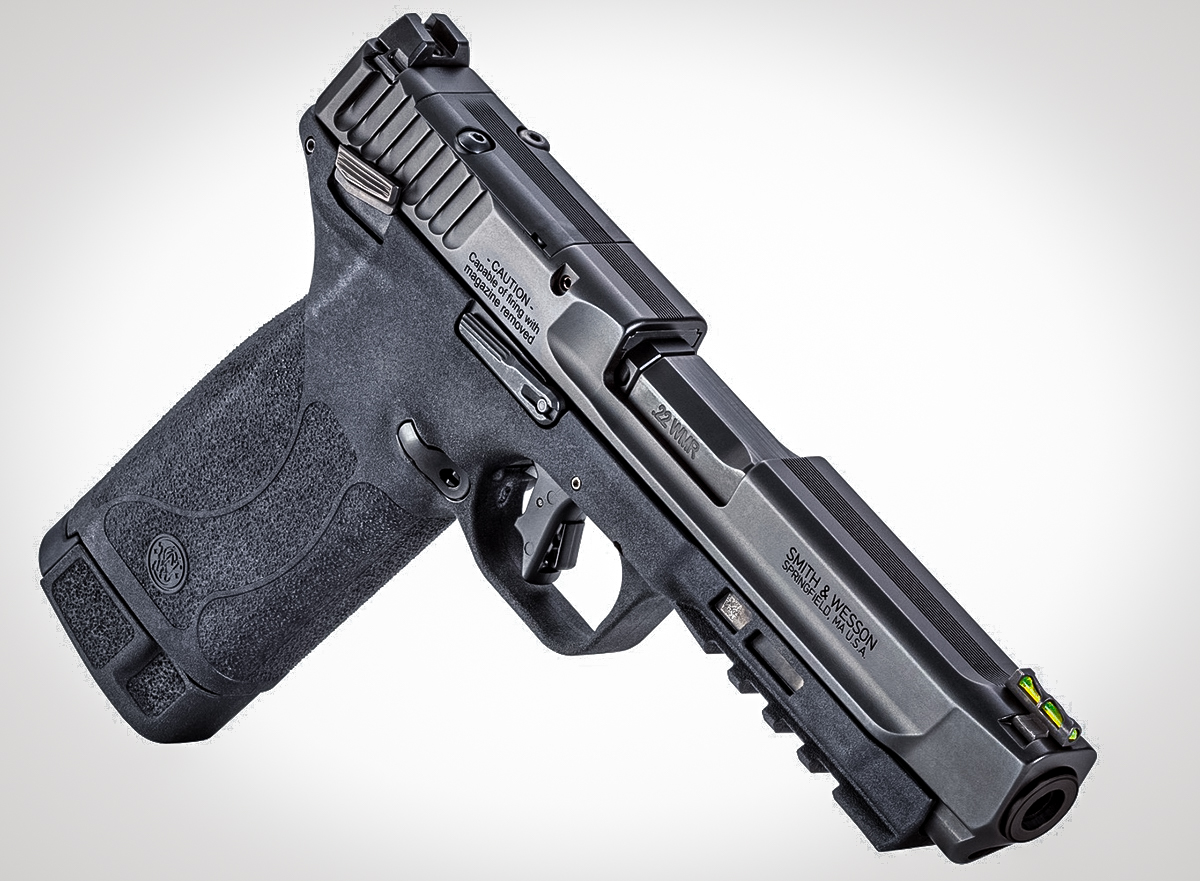 Width: 1.1 inches
Length: 8 inches
Height: 5.6 inches
Weight: 22 ounces
Caliber: 22 WMR
Capacity: 30 rounds
Action: Internal Hammer Fired
Barrel Length: 4.35 inches
Grip: Polymer
Sights: Fiber Optic
Optic Ready: Yes
Safety: Manual Thumb Safety, trigger safety
Color/Finish: Black
Threaded Barrel: No
Frame: Polymer
FEATURES:
Internal hammer-fired, gas-operated, locked-breech TEMPO™ barrel system (barrel doesn't cam open until bullet passes gas port).
Fiber optic (green) front sight with black notched rear sight
Slim, textured grip.
Ambidextrous Slide Stop and Manual Thumb Safety
Flat-face trigger for consistent finger placement allows for more accurate and repeatable shooting.
Picatinny-style rails
---
READ NEXT – New Ruger LC Carbine Uses Same Mags as Popular 5.7mm Pistol