Smith & Wesson has officially jumped on the 5.7 train with its newly released M&P 5.7 pistol. This super slim, wide-but-thin handgun uses a new rotary-locked barrel system and was launched today at the 2023 SHOT Show in Las Vegas.
It's the storied gunmaker's first firearm chambered in 5.7x28mm, aka 5.7 NATO, known for being tiny, but ultra-speedy and flat-shooting — and for a somewhat erroneous reputation for being able to punch holes in body armor.
"In an effort to enhance the performance of the increasingly popular 5.7x28mm rounds in a polymer handgun platform, Smith & Wesson set out to deliver a new and innovative design that will offer a more reliable, accurate, and consistent shooting experience," the company said in a release.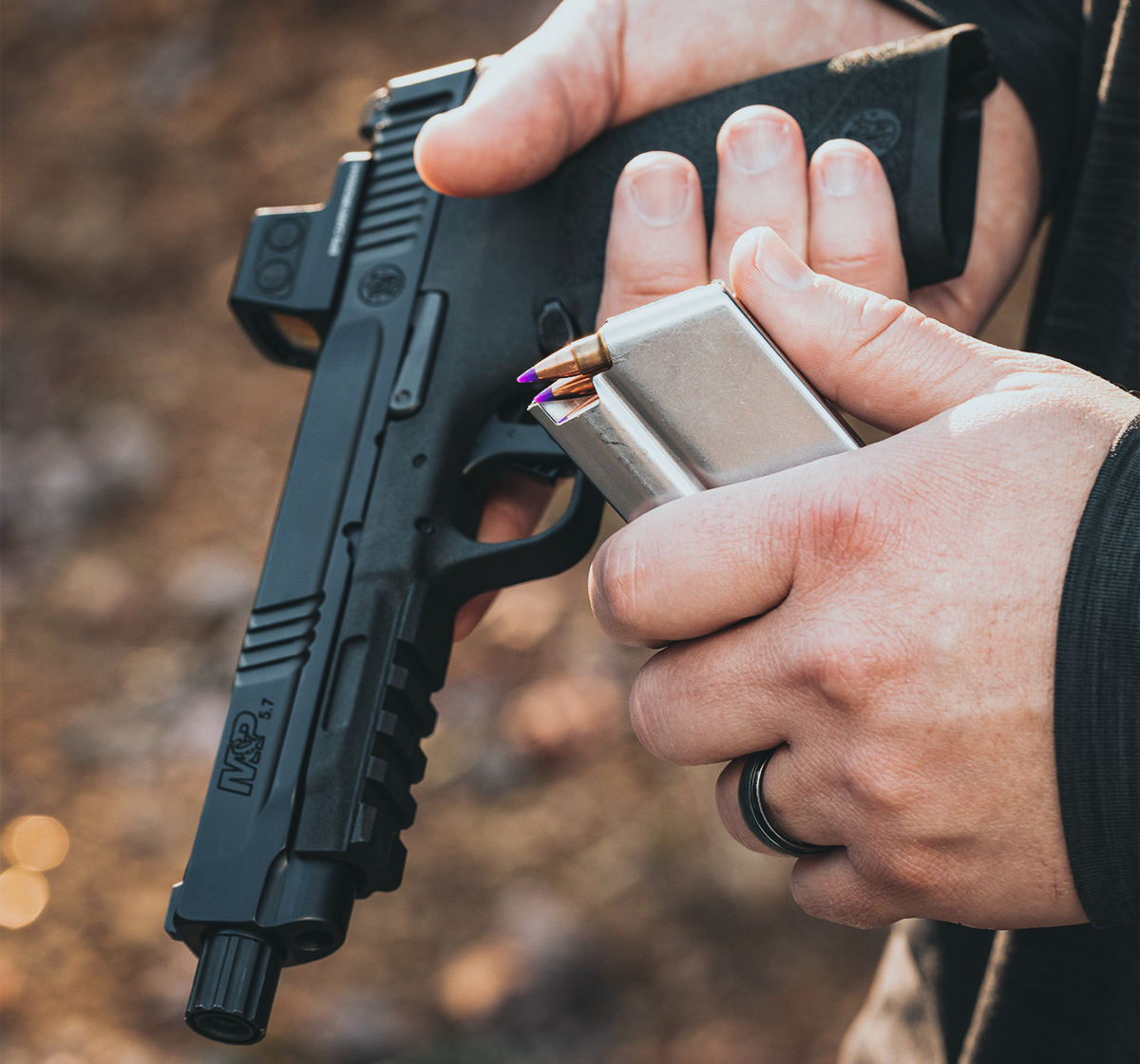 The new M&P 5.7 has a 5-inch barrel and uses the company's new rotary-locked Tempo barrel system, which consists of a lock-breech, two-part barrel with a proprietary gas system. The Smith ships with flush magazines that hold 22 rounds — two rounds more than its main competitor, the Ruger 5.7, with a 20+1 capacity, which is the same as the FN Five-seveN.
S&W says the new Tempo system is designed to "harness the speed of the round" while the 5-inch barrel allows for quicker extraction once the bullet passes the gas port, which the company says created "a more secured fireform effect."
"This key feature allows for increased precision following the first trigger pull and works to utilize the ballistic advantages of the 5.7x28mm round," S&W says.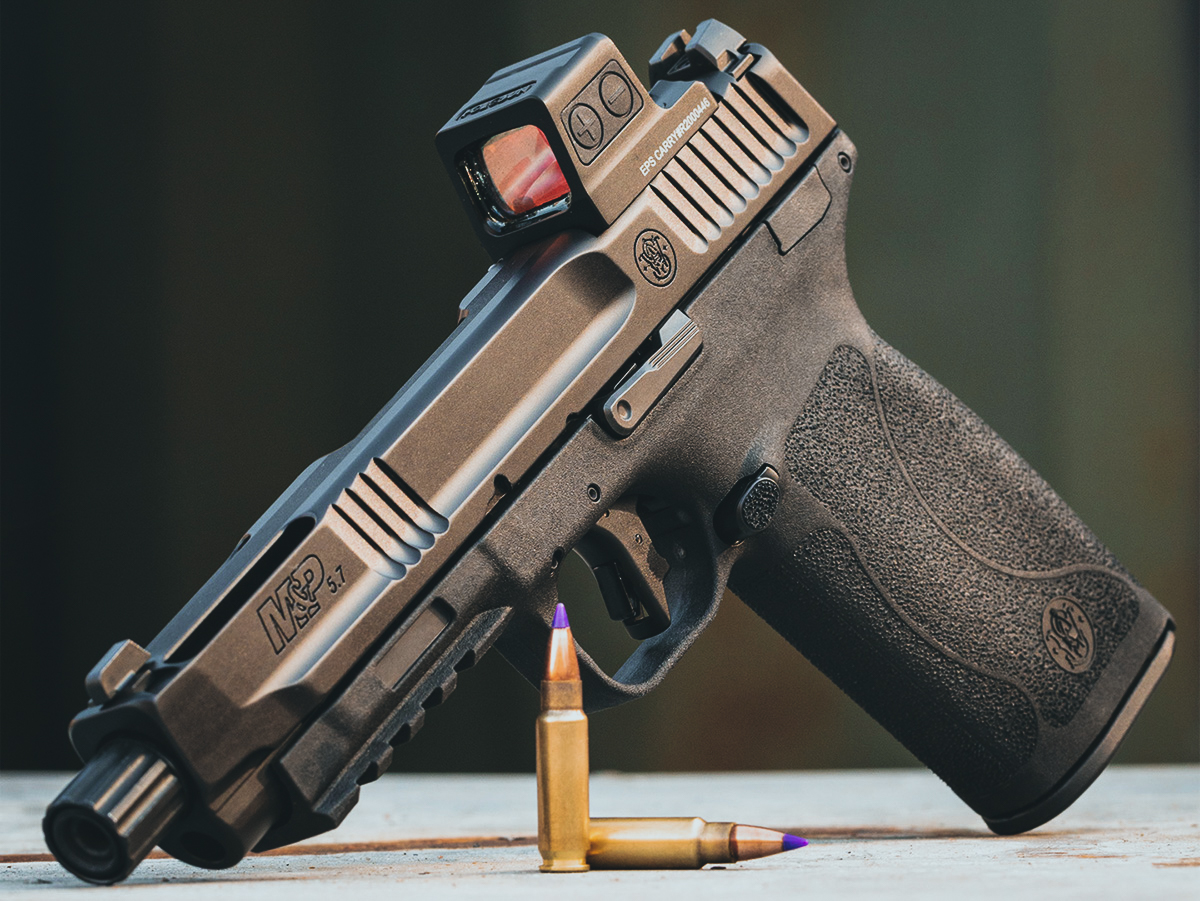 It's being billed as a versatile and fun gun, yet due to its size, it's certainly not ideal for carry — for anyone who carries a 5.7 — but the slide is optics-ready, so this pistol has the potential to be a handy varmint or squirrel gun, if that's your pleasure. Or just a fun range gun like the Ruger 5.7. But here's the rub: The Ruger has an MSRP of $899, and the FN is breathtakingly expensive at $1,400. The new S&W M&P 5.7 has an asking price of just $699.
With that price tag, if this new pistol is a shooter, it could potentially price out any would-be Ruger buyers — they can save that extra $200 for a couple of boxes of ammo.
The M&P 5.7 isn't a striker gun. It has an internal hammer along with an ambidextrous slide stop, an optional manual frame-mounted thumb safety, and a reversible magazine release button. It also sports a flat-faced, single-action trigger, an accessory rail, and forward serrations on the slide. The pistol comes with two 22-round mags. Currently, a compliant model is not available for restricted states.
GOOD GEAR – Spartan Kick Your Tastebuds With the BRCC Ready To Drink 300 Vanilla Bomb
---
Smith & Wesson M&P 5.7 Pistol Full Specs: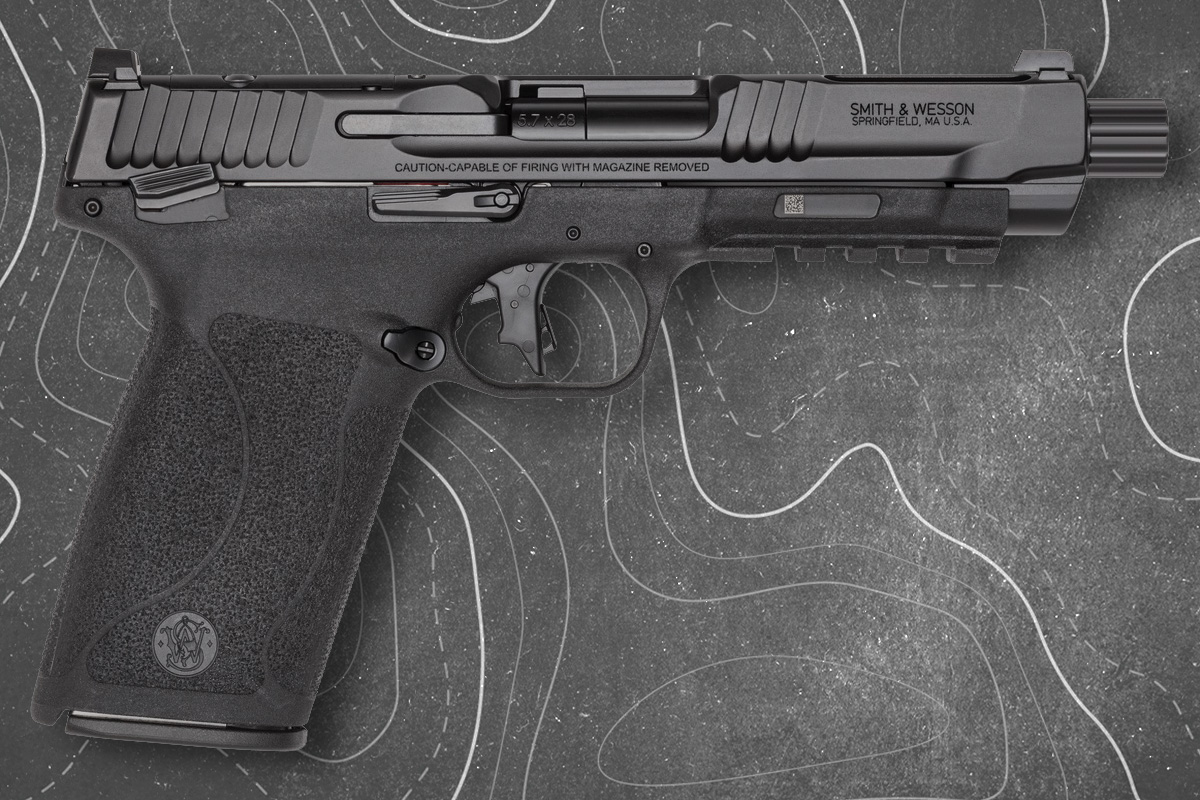 Caliber: 5.7×28
Capacity: 22+1
Action: Internal Hammer Fired
Barrel Length: 5 inches, threaded
Grip: Polymer
Sights: White Dot
Optic Ready: Yes
Safety: Optional Thumb Safety
Frame: Polymer
Price: $699
---
READ NEXT – Hottest New Guns From the 2023 Shot Show!