While mainstream sports like swimming, track, and gymnastics often steal the spotlight at the Summer Olympic Games, shooting events hold plenty of excitement for spectators. Historically, the US is the most successful nation in Olympic shooting, earning a total of 110 medals, including 54 golds. China comes in a distant second with 56 total medals and 22 golds.
Since Team USA has a reputation for shooting dominance to maintain, there is serious motivation to cheer on our home-team athletes as they compete in Tokyo. Here's everything you need to know about this year's Summer Olympic shooting.
Olympic Shooting Overview
There are 300 shooting athletes taking part in the 2020 Tokyo Olympics, which runs from July 23 through Aug. 8, 2021. There are 15 shooting events in the program across three shooting disciplines — pistol, rifle, and shotgun. Three mixed-gender team events are making their debuts in this year's Games.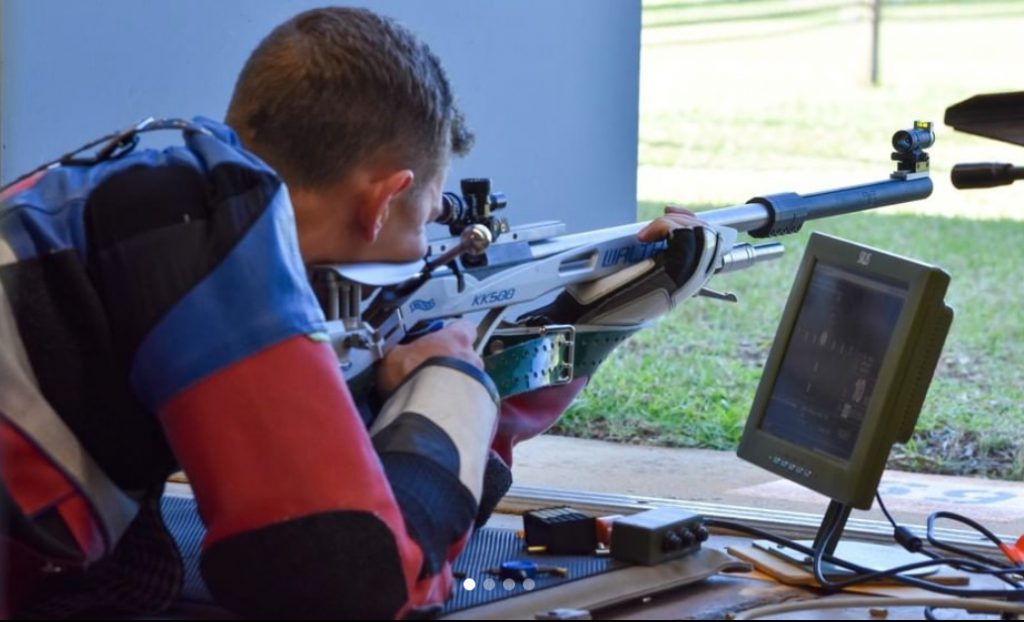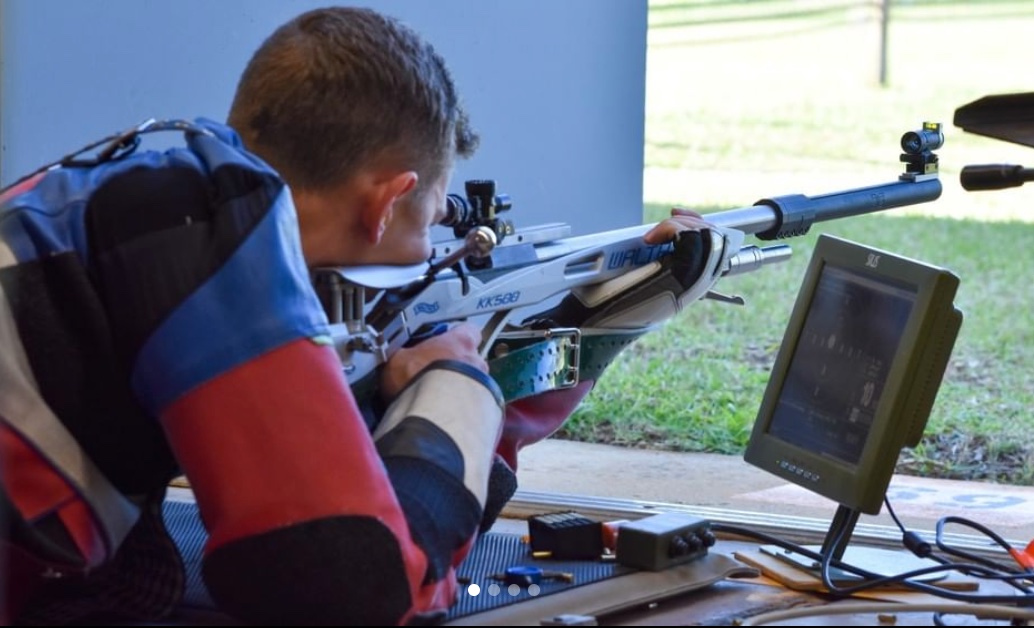 Pistol Events
Air pistol events will take place indoors at the Asaka Shooting Range. Competitors shoot from a standing position with one unsupported hand, using smallbore, .22-caliber pistols to fire pellets at set-distance, stationary targets in three events: 10-meter, 25-meter, and 25-meter rapid fire. The targets consist of concentric rings. Points are scored according to where the projectile punches the target. Shots closer to the center of the target score more points.
Each event begins with a qualification phase. The highest-scoring athletes advance to the finals to compete for gold, silver, and bronze medals in an elimination-style format. Qualification scores do not carry over into the finals.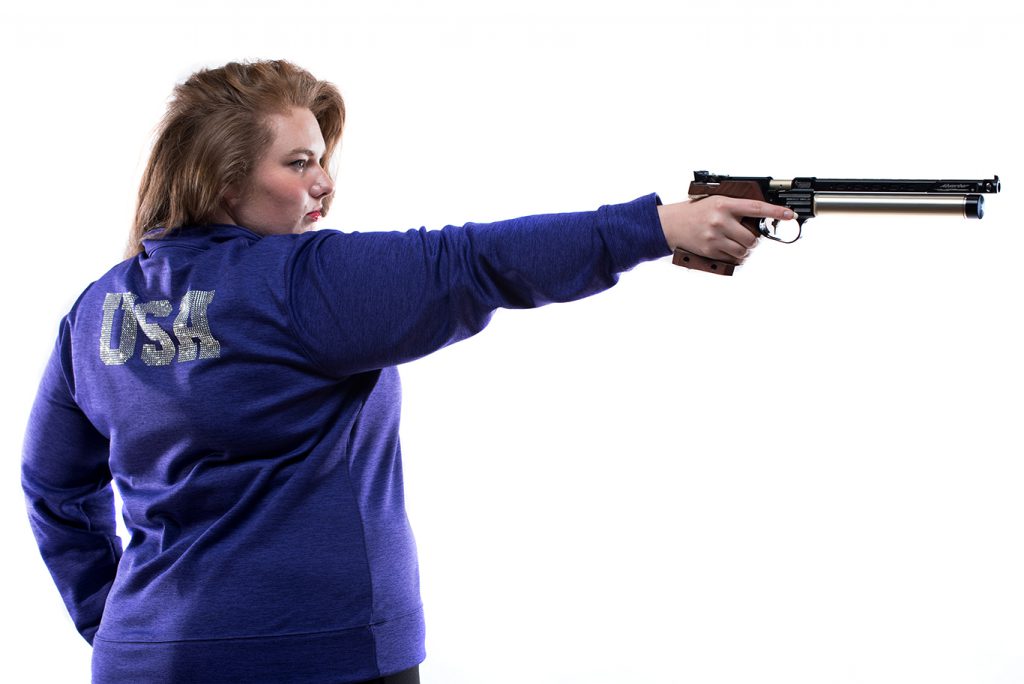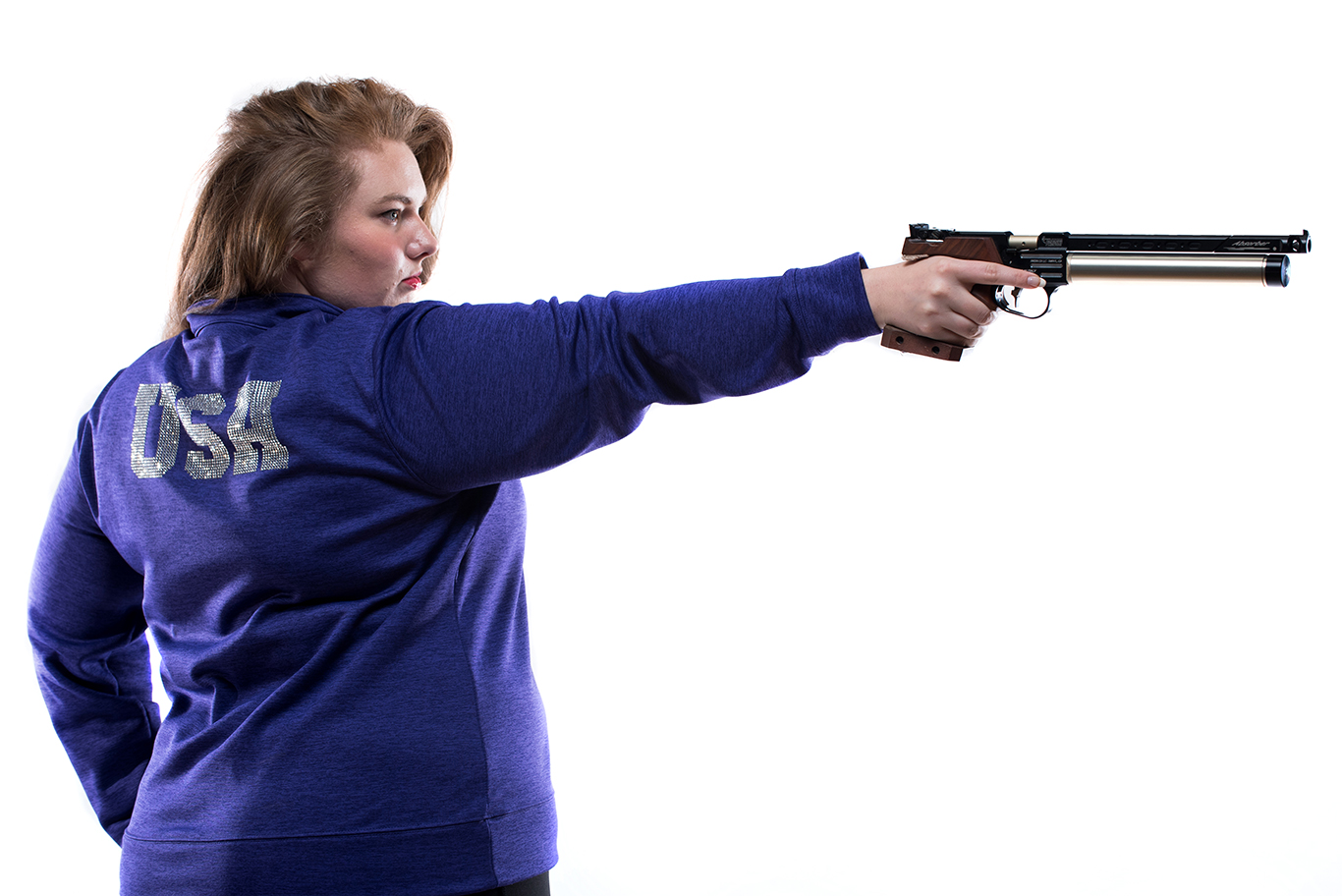 Americans To Watch
Alexis "Lexi" Lagan is a relative newcomer to competitive shooting sports, but she's setting the pistol range on fire. Lagan took up shooting while pursuing a bachelor's degree in prelaw physics at the University of Utah. After winning a handful of collegiate national titles, Lagan secured the Olympic alternate seat in women's air pistol in 2016. Although she narrowly missed a spot on Team USA in Rio, Lagan solidly secured her place in Tokyo with her record-setting score at the Championship of the Americas.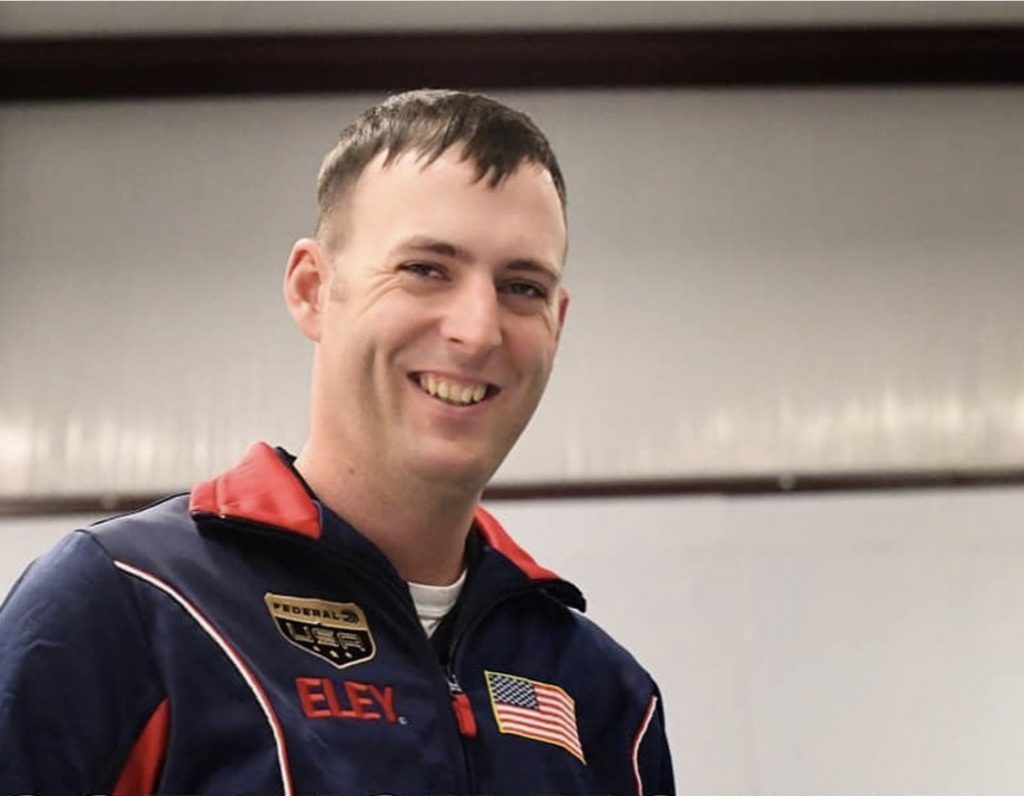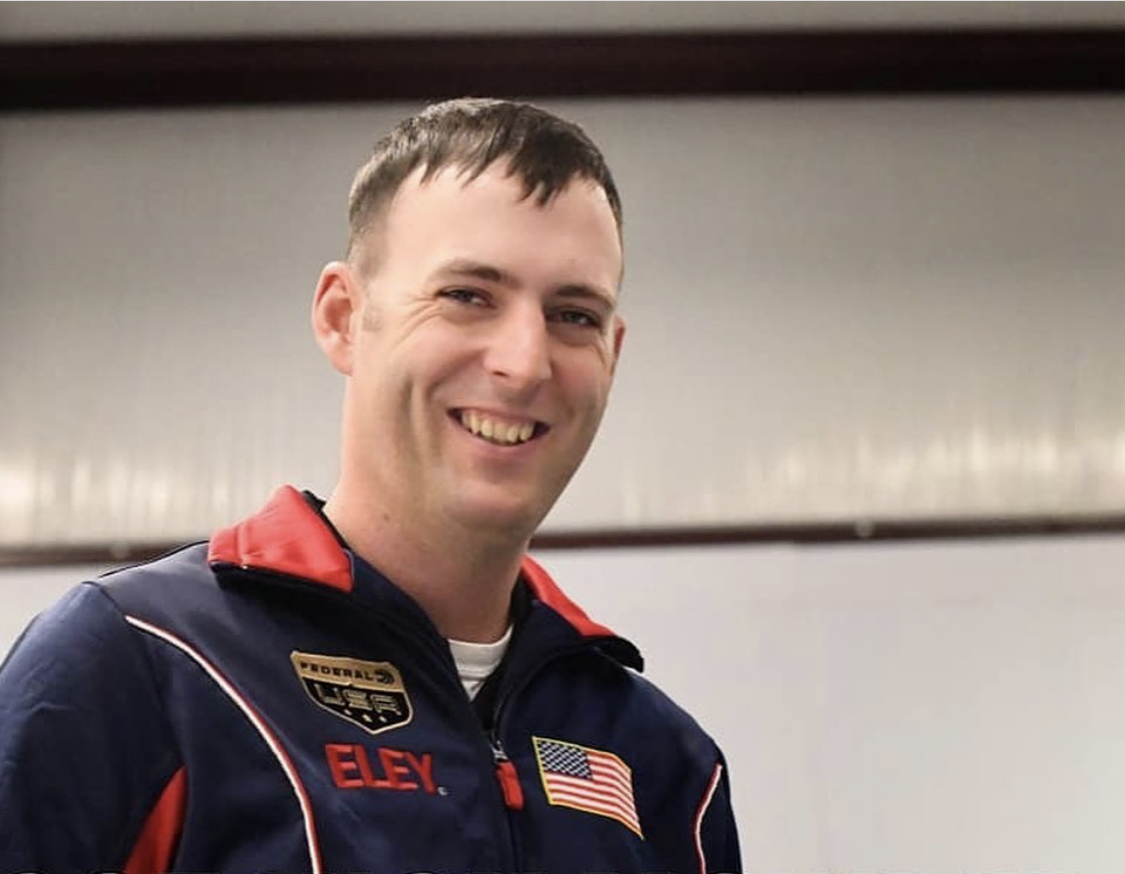 Nick Mowrer, a sergeant in the US Army Reserve, returns to the Olympic competition in Tokyo after missing Rio 2016. Mowrer competed in the 10-meter air pistol in the 2012 Olympics in London, where he placed 15th. An accomplished rifle shooter, Mowrer is the only American to stand on the World Cup podium in both pistol and rifle events. He will also represent Team USA in the 50-meter three-position rifle event, making history as the first US athlete to compete in both disciplines at the Olympic Games.
Rifle Events
There are two rifle events — 10-meter air rifle and 50-meter three-position. Rifle competitions will also take place indoors at the Asaka Shooting Range.
In the 10-meter air rifle events, competitors shoot a 0.177-caliber projectile from a standing position. Targets are stationary and set at 10 meters. Shooters reload after each shot.
In the three-position events, athletes shoot .22 LR rimfire rifles at stationary bull's-eye targets set at 50 meters. Each competitor must fire 40 shots each from the kneeling, prone, and standing positions for a total of 120 shots. Note: Free Range American senior editor Michael R. Shea just wrote a book about rimfire that includes tons of information about these rifles and this style of shooting. As in the air pistol events, all rifle events consist of a qualification phase and an elimination-style final round.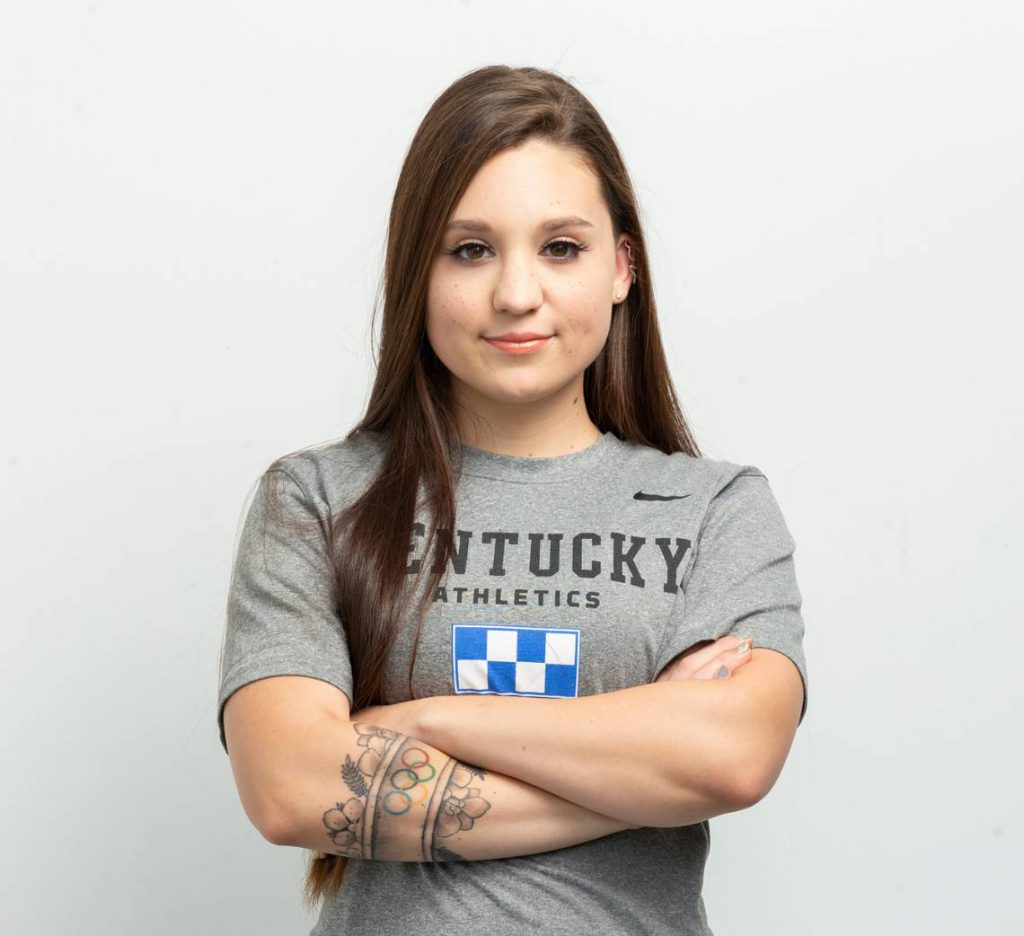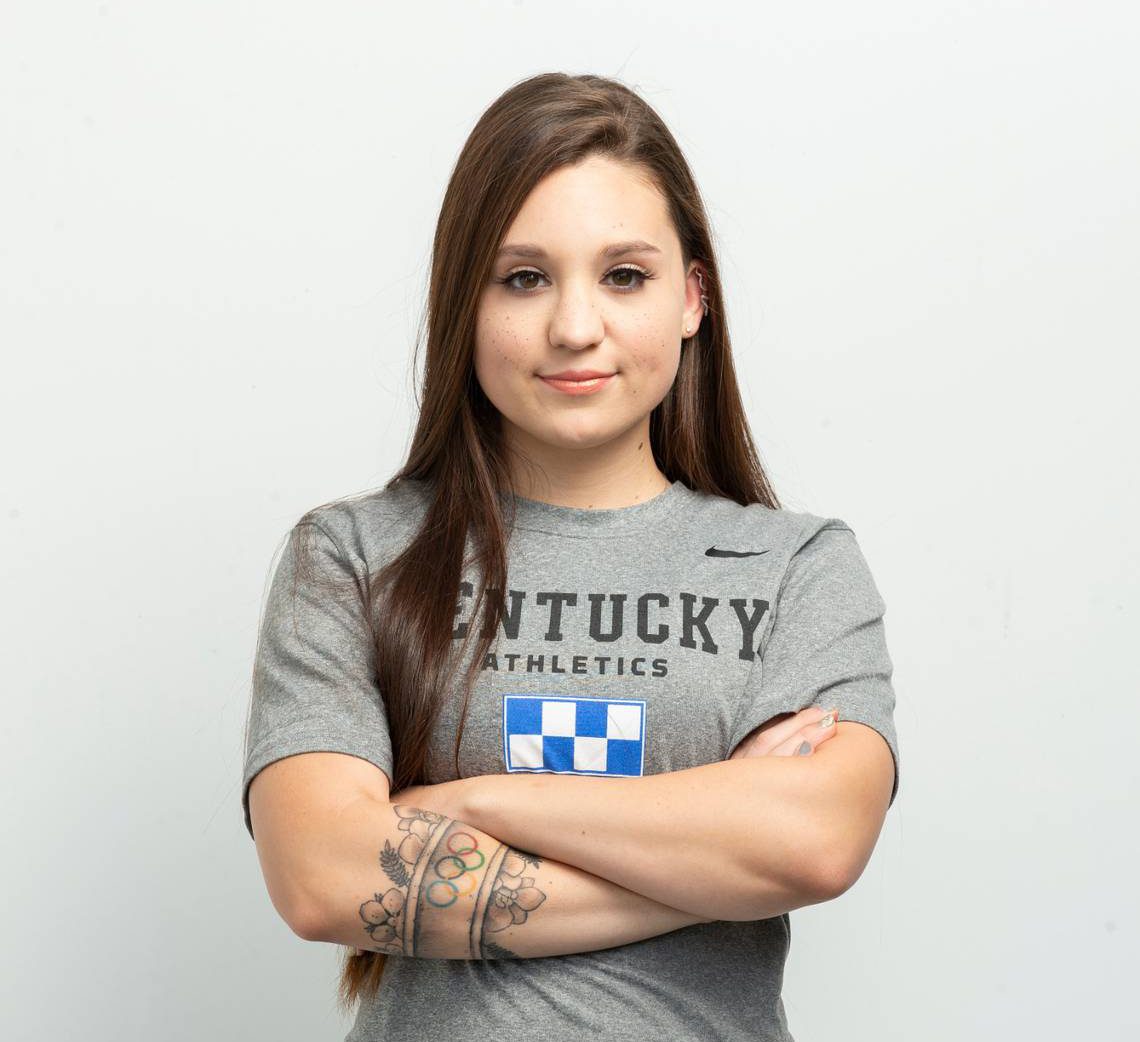 Americans To Watch
Mary Tucker is currently a sophomore at the University of Kentucky and is majoring in equine science. Earlier this year, Tucker helped the UK Wildcats earn their third NCAA Rifle Championship, where the team posted a record-breaking score. In April, Tucker earned gold in the International Shooting Sport Federation women's air rifle 10-meter competition. She was also named the Collegiate Rifle Coaches Association athlete of the year two years in a row. Tucker is representing Team USA in both the 10-meter air rifle and three-position events. She is currently the top-ranked air rifle athlete in the world and may be the USA's best hope for rifle-shooting gold.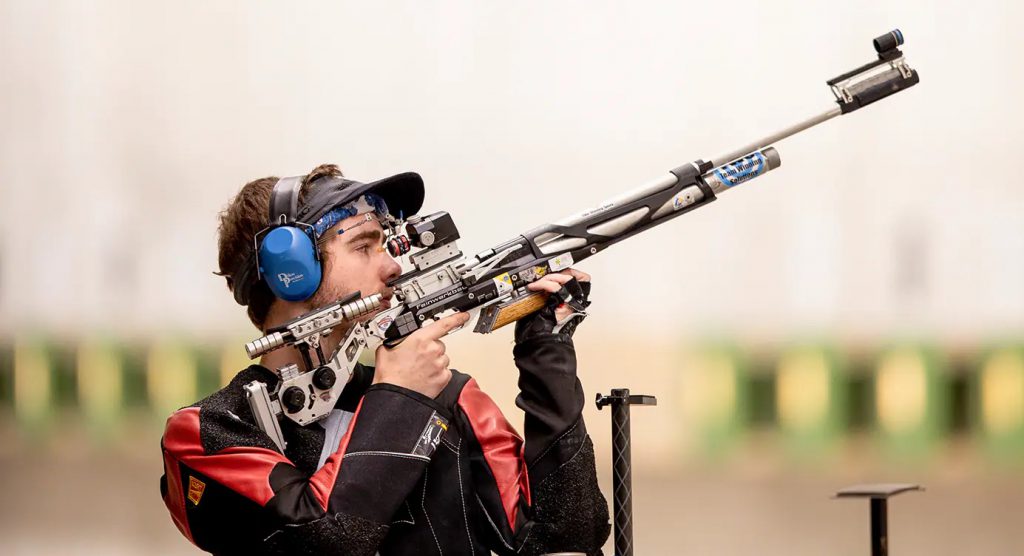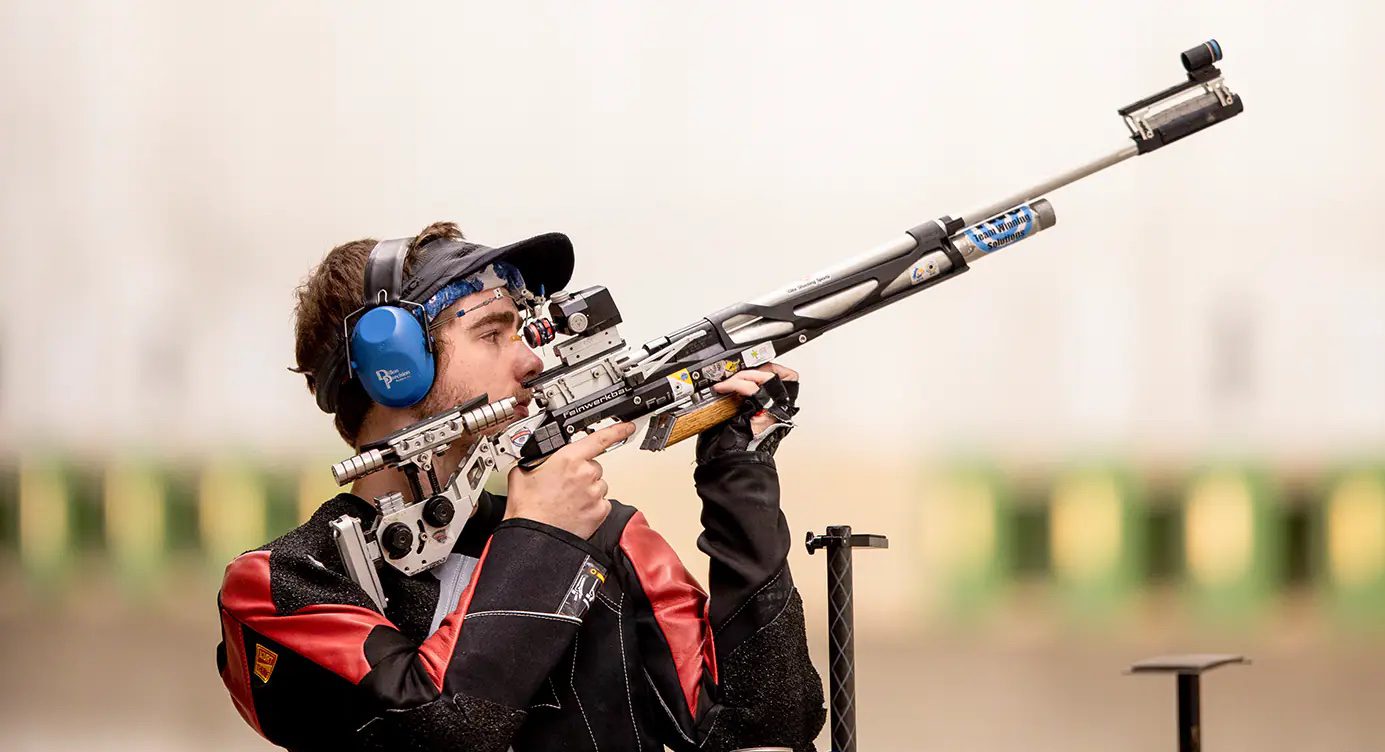 Lucas Kozeniesky, who placed 21st in the men's 10-meter air rifle event in Rio 2016, returns to the Olympic stage in Tokyo. Kozeniesky has earned several national championship titles and was a silver medalist in the 2018 Continental American Championships 10-meter air rifle event. He will participate in both 10-meter air rifle and three-position events.
Shotgun Events
The Olympic shotgun events take place outdoors, where athletes will engage multiple clay targets, also called "clay pigeons," with modern scatterguns.
The trap divisions require athletes to shoot single targets at five separate locations. Clay targets are launched from a bunker in front of the shooter. Athletes are allowed two shots for each target.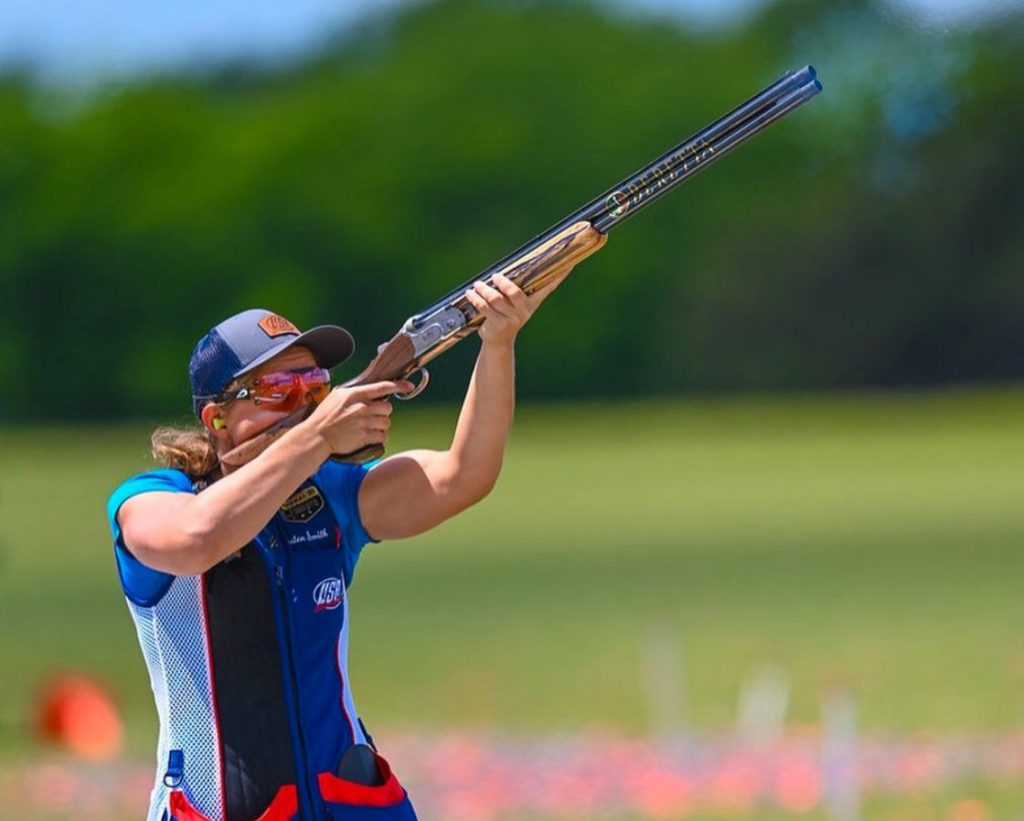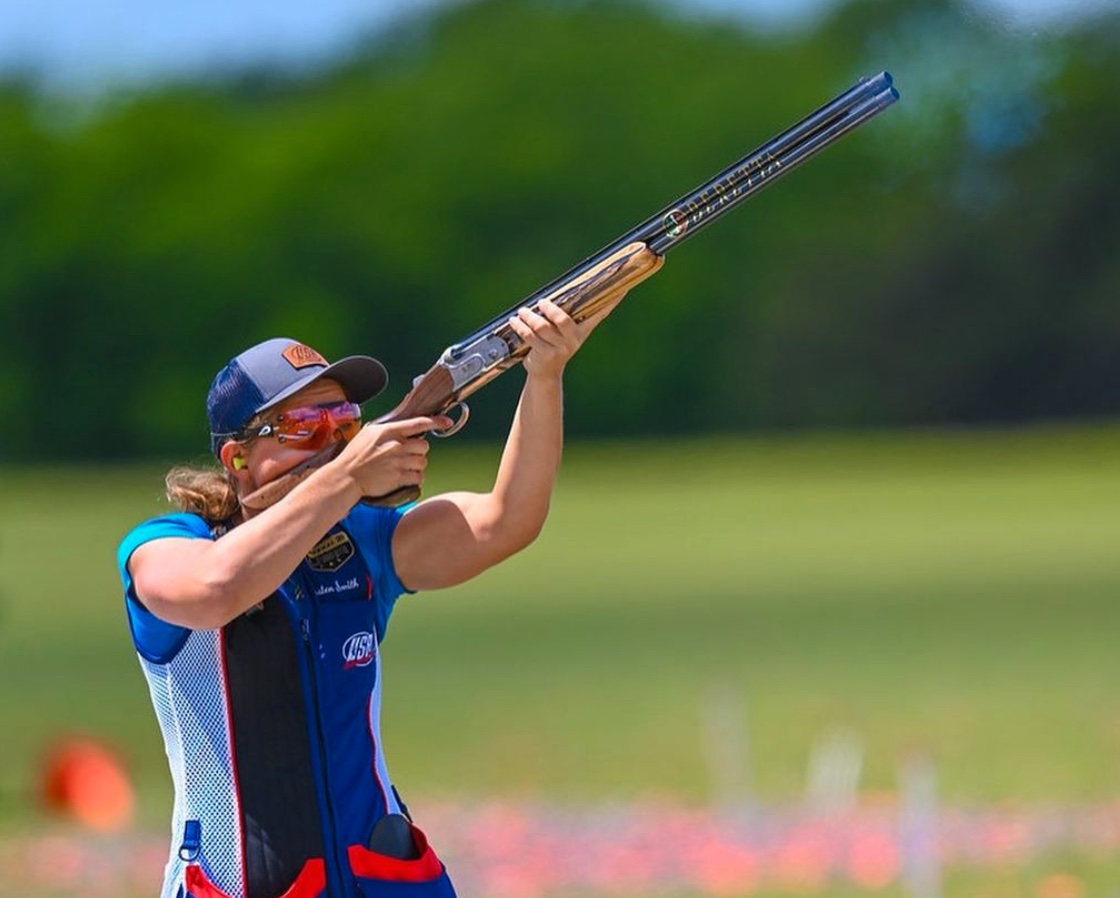 The top six athletes from the qualification round will advance to the final match. Medals are determined by elimination, with the lowest-scoring athlete removed after each round until a winner is determined. During the final match, athletes are allowed only one shot per target.
Athletes competing in the skeet divisions shoot from eight stations. At each station, targets are thrown from two towers located on each side of the shooter. Athletes can attempt one shot on each target.
During the qualification round, each shooter attempts 125 targets, which are divided into five 25-target rounds. The top six competitors advance to the final match, which can consist of up to 60 targets. The lowest-scoring athletes are eliminated after each round until the medal winners are determined. Ties are broken by shoot-off.
Americans To Watch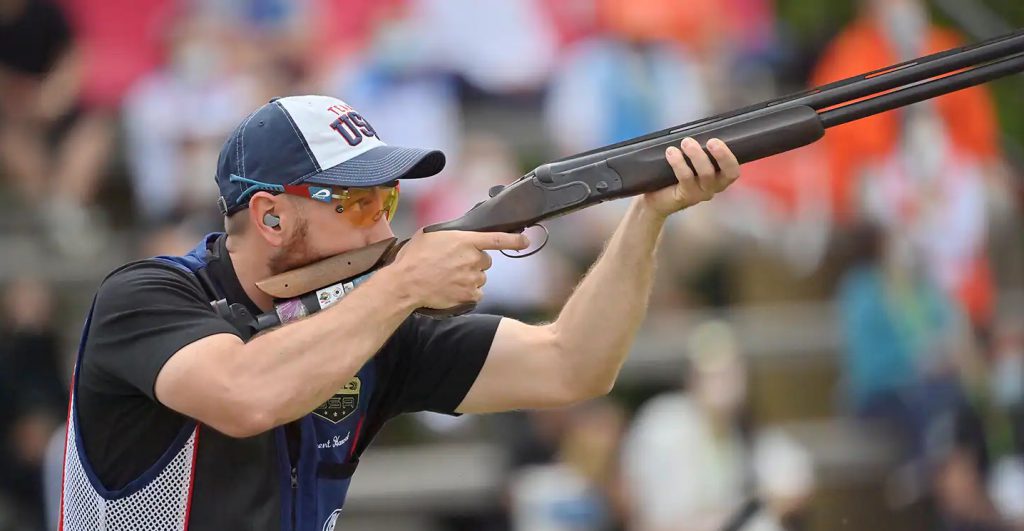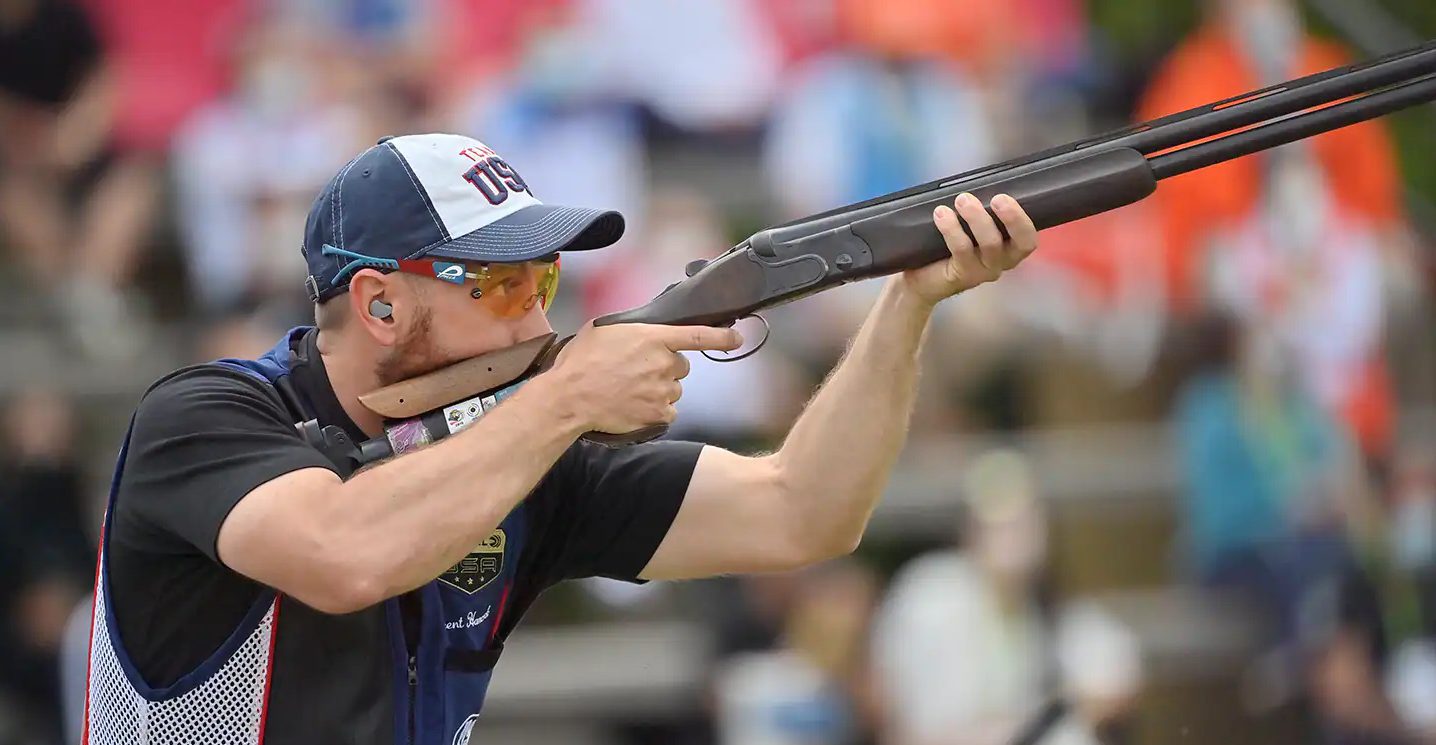 Vincent Hancock, who hails from Eatonton, Georgia, is poised to dominate the Olympic skeet field. As of the 2020 Games, Hancock is a four-time Olympian, and he brought home the gold in 2008 and 2012. He earned a near-perfect skeet score in the final at London 2012, and his results during this year's Olympic qualifiers were some of his best. In addition to his glowing Olympic resume, Hancock is a former sergeant in the US Army Marksmanship Unit, in which he earned the National Defense Service Medal, the Global War on Terrorism Service Medal, the Army Service Ribbon, and the Distinguished International Shooter Badge.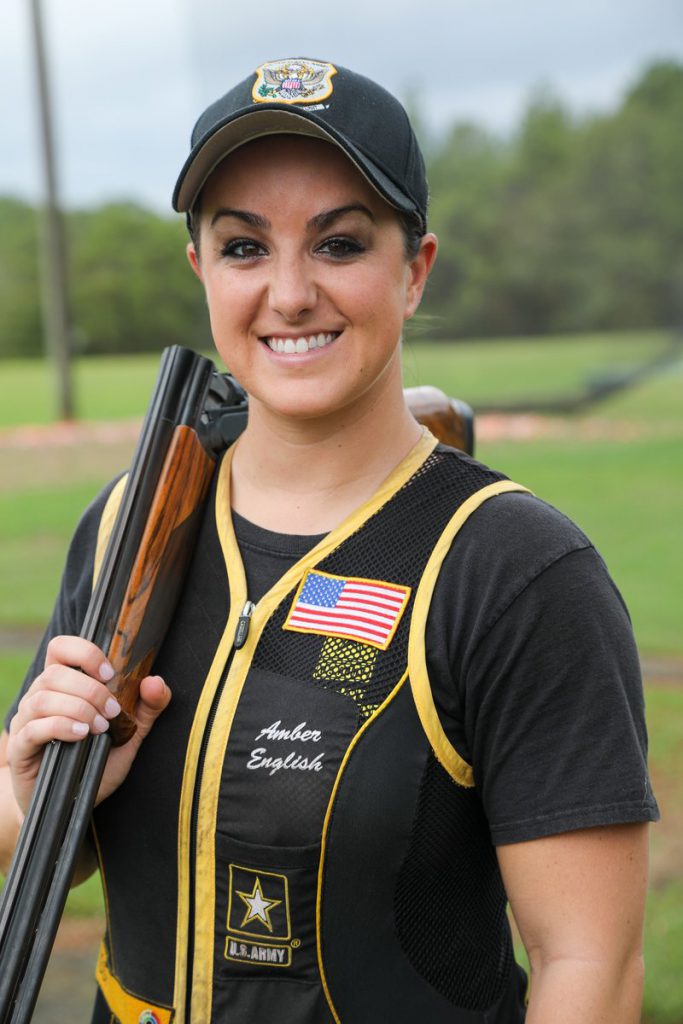 Amber English, a first lieutenant with the Air Force World Class Athlete Program, is making her Olympic debut in Tokyo. Although this is her first Olympics, English is a highly accomplished shotgun shooter. Having been a competitive shooter since 2006, English has four World Cup medals under her belt (2010, 2016, 2018, and 2019).
Read Next: How To Stream and Watch Tokyo 2020 Olympic Shooting