Here's the situation: You're in the wilderness, and you've got a normal survival kit in a nylon pouch. You take a tumble — your flashlight gets crushed, your compass is cracked, and on your way down, all your matches, sensitive electronics, and fire-starting kindling get soaking wet. You're out of luck. Well, you can avoid all that shit by opting for the new VSSL First Aid Stash and First Aid Stash Mini survival and first aid kits.
---
First Aid Stash and First Aid Stash Mini at a Glance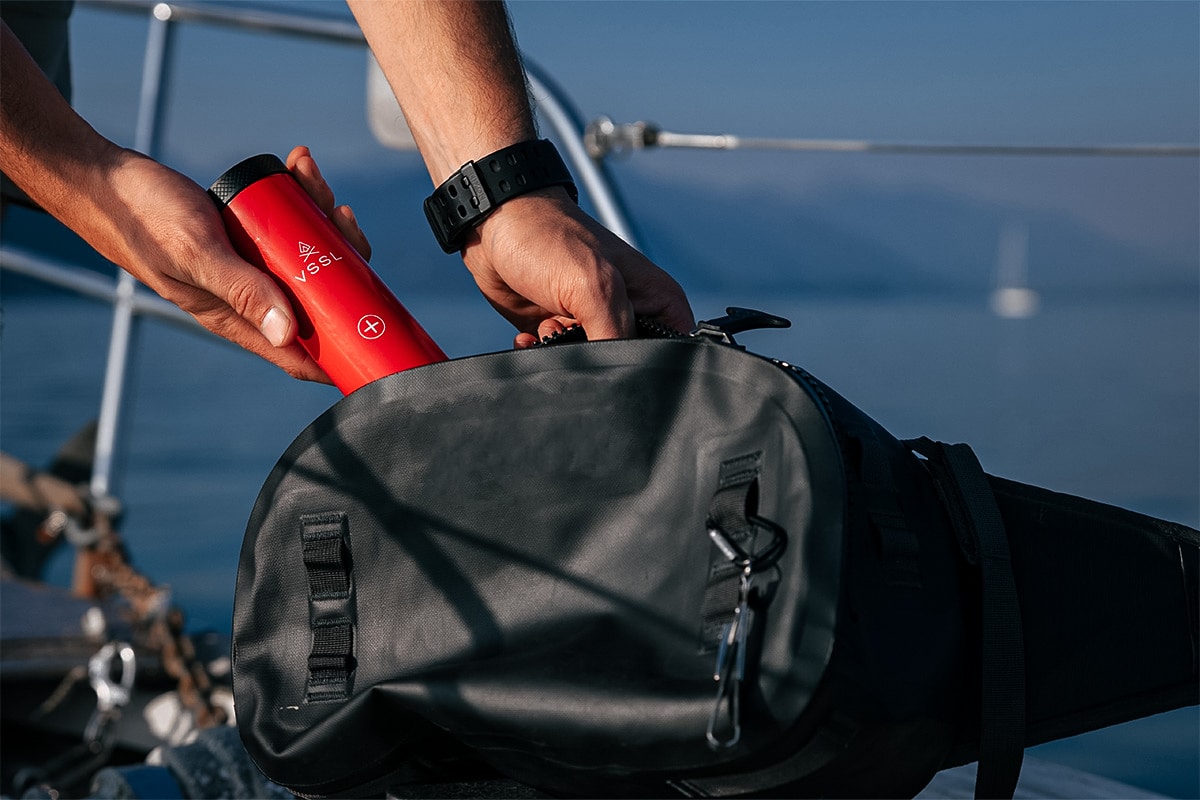 A durable aluminum capsule protects various gadgets from impacts, crushing, and water infiltration.
LED light with SOS beacon, oil compass, and trail marking tape, depending on model
Bright red color for easy identification
Water-resistant containers for other essentials
---
Canadian gear brand VSSL decided to take the survival kit that every hiker should carry and put it into a simply designed, easy-to-use, and highly durable package. They did away with bags, pouches, and ABS plastic boxes, and instead seemingly took a note from Cold War deep-cover spy gadgets and aviation survival kits by stashing survival gear into durable 6061 aluminum tubes, stacked on top of one another.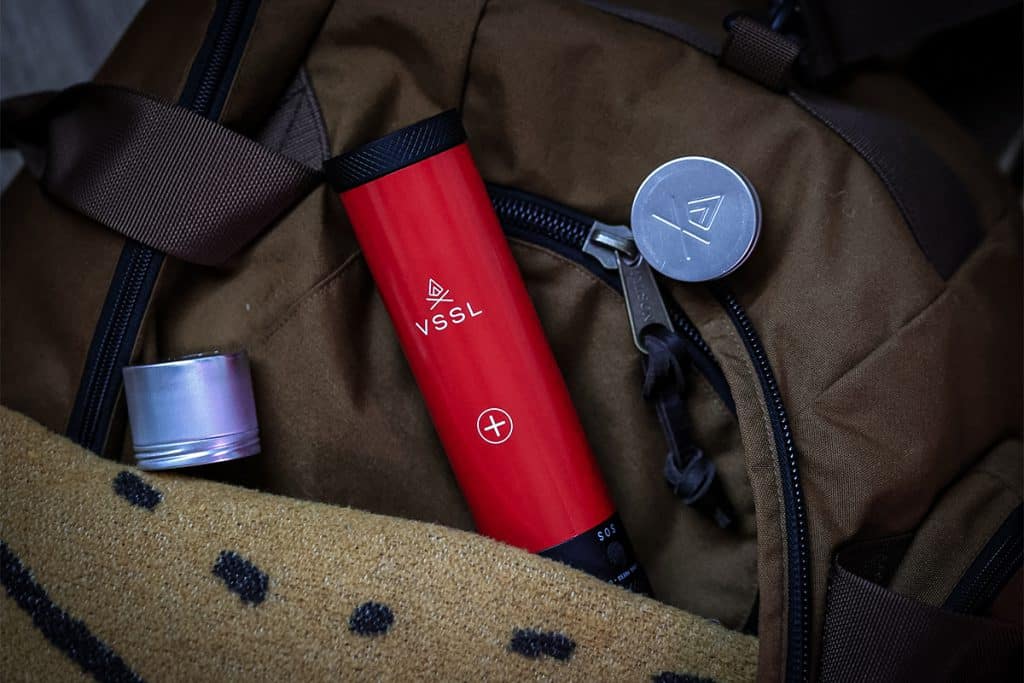 Todd Weimer, the head of VSSL, outlined the intended use of these kits as: "(giving) our consumers the ability to customize their first aids [sic] kits for whatever adventure they're preparing for with the compact, durable peace of mind that VSSL is known for."
The concept of a survival kit capsule isn't a new one, but bringing it into the 21st century with modern manufacturing techniques is.
This kit includes a compass, flashlight, and two large sealable cans plus one small can in the full-size model. The smaller "mini" variant has 3 medium-sized cans; curiously only the mini variant that lacks a flashlight has a medical tape spool.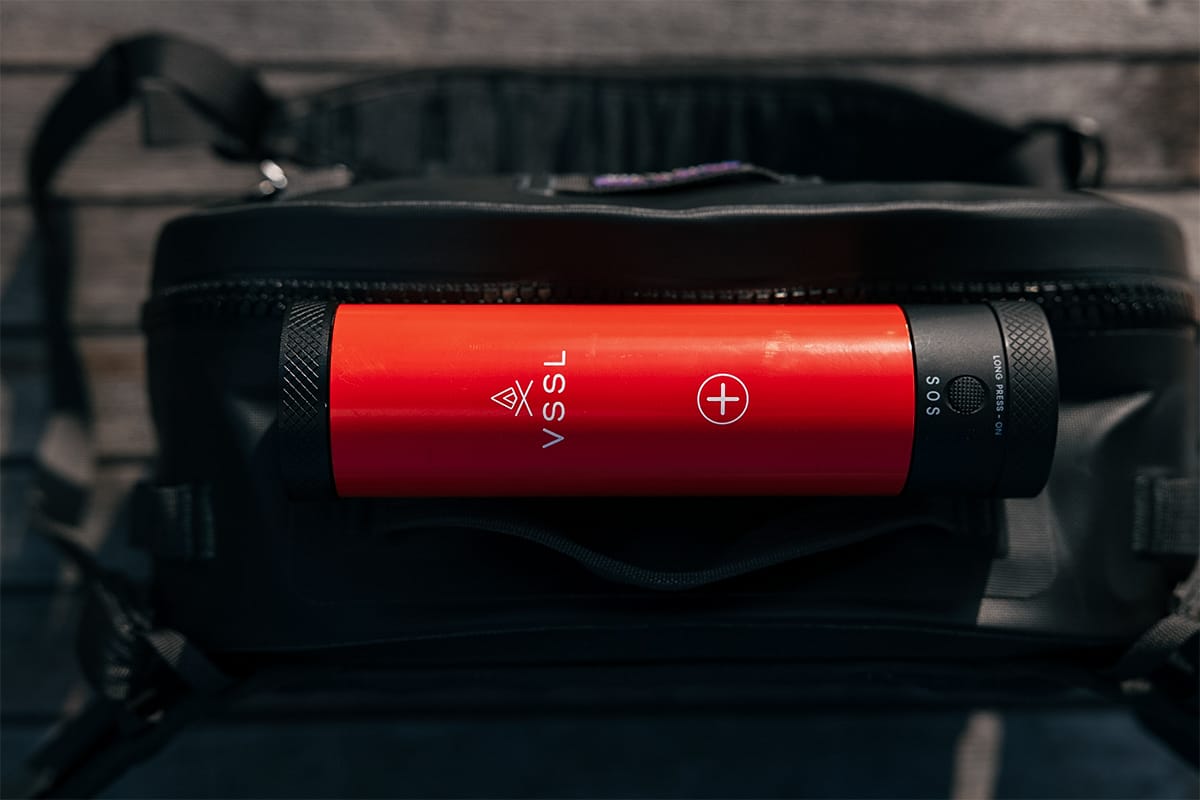 The cans themselves come empty and can be filled with whatever you need, including first aid supplies, batteries, and anything else that you want to keep safe and dry. What makes the VSSL First Aid Stashes different is the aluminum capsule they're packaged in. The 6061 that VSSL uses is a popular grade of lightweight and durable aluminum. It can also be precisely formed, which is why it's used in a lot of aircraft parts. It also has the added advantage of not affecting the performance of the magnetic compass, since aluminum isn't a ferrous metal.
Overall, the VSSL First Aid Stashes are an interesting development in the survival capsule design for backpackers and for go-bags. They can also be useful for non-first aid applications — people who travel hard will likely find them a good option for keeping fragile and sensitive items safe and dry in a back or duffel that gets tossed in and out of vehicles and storage spaces a whole lot.
---
VSSL First Aid Stash Specs:
Height: 9.375 inches
Diameter: 2 inches
Weight: 11.48 ounces
Material: 6061 Aluminum
Included: compass, flashlight, 2 sealable cans (mini version includes 3 medium-sized cans and either a flashlight or a medical tape spool)
---
READ NEXT – Wilderness First Aid: The Backcountry Medkit Every Hunter Should Carry