There are two kinds of people in this world: Christmas song people and people who hate Christmas songs. We get it. It's a struggle for everyone during the silly season.
The haters, many of whom have worked retail at some point in their lives and have a very justifiable loathing for saccharine tunes about trees and snow and a mythical home-invading elf, simply cannot abide the traditional array of holiday staples. This list is for them.
So the anti-carolers can cope a little easier, here's a whole shitload of "Christmas" songs that aren't completely played out.
We've assembled a bunch of our favorite non-grocery-store-fodder holiday tracks in the Spotify playlist above, and the stories behind some of our staff's favorite tracks can be found below. A few tunes are depressing, some are underrated classics, others are hilariously stupid, and one or two are downright offensive — so make sure you play them in a moving vehicle packed full of family members of all ages who can't escape.
No matter what, don't allow the thousandth repetition of "Simply Havin' a Wonderful Christmastime" send you on a holiday rampage. Don't give it, or that damn Mariah Carey song, that power. Instead, pop in your earbuds and listen along with us.
---
Mat Best – All I Want for Christmas is Redneck Sh*t (2022)
Sometimes, amidst all the songs about snow, angels, roasting chestnuts, and other cheesy, gag-worthy holiday cliches, we get a piece of art that stands apart from the crowd, embraces what we love about the holidays, and makes us rethink our general humbug attitude. This is that song.
BRCC's Mat Best lays out precisely what he wants from that obese cookie-stealing home intruder (aka Santa), and we are totally down with it.
I want 5.56 boom boom sticks,
A matching pair of nines like the real John Wick,
A shotty for my truck.
Yeah, I like that shit.
I don't need more socks.
I need Glocks.
Stuff my stocking with some real good Scotch.
All I want for Christmas is some redneck shit.
When my family is perplexed about what to get me for Christmas, I'll just forward this song. Red-blooded Americans want to wake up to all the pew-pews under the tree on Christmas morning, and maybe a "bald eagle eating apple pie sitting on Mount Rushmore waving a big freedom boner."
Fuck, yeah! Merry Christmas, everybody! — Alice Jones Webb
---
The Eels – 'Everything's Gonna Be Cool This Christmas' (1998)
If you don't know the Eels, you're missing out on a whole lot of super coolness. The band, with its ever-changing lineup and ever-present frontman, has been making consistently good tunes for a few decades now. This Christmas jam of theirs isn't a parody; it doesn't sound like something else. It's just a rockin', positive, upbeat song that will lend some real variety to your Christmas playlist. And yeah, this one is safe for the kiddos. 
Well, everybody's lookin' for you down at the house
The tree is lookin' so inspired
There's a yuletide groove waitin' for you to move
I'll go and throw another log on the fire

Everything's gonna be cool this Christmas
(Everything's gonna be cool this Christmas)
Everything's gonna be cool this Christmas
(Everything's gonna be cool this Christmas)
Everything's gonna be cool this Christmas

Baby Jesus, born to rock

As days go by, the more we need friends
And the harder they are to find
If I could have a friend like you in my life
Well, I guess I'd be doing just fine
Hell yeah, Mark Everett — hell yeah. — David Maccar
---
Adam Sandler – 'The Chanukah Song' (1996)
If you grew up in the 1990s, then there's probably a special place in your heart for Adam Sandler. While you may have first laughed yourself sick because of him when he was on Saturday Night Live or when he played a Bob Barker-fighting golfer in Happy Gilmore, but none of it was as memorable as his comedy album, What the Hell Happened to Me? from 1996.
The track list included skits about an abused talking goat, a farting hypnotist, an investigation into sex or working out, and the album's only family-friendly (and Billboard-topping) track, "The Chanukah Song."
Put on your yarmulke
It's time for Hanukkah
The owner of the Seattle Supersonicahs
Celebrates Hanukkah
O.J. Simpson, not a Jew
But guess who is? Hall-of-famer Rod Carew- he converted
We got Ann Landers and her sister Dear Abby
Harrison Ford's a quarter Jewish- not too shabby
Some people think that Ebenezer Scrooge is
Well he's not, but guess who is
All three Stooges
So many Jews are in showbiz
Tom Cruise isn't, but I heard his agent is
Tell your friend Veronica
It's time to celebrate Hanukkah
I hope I get a harmonicah
Oh this lovely, lovely Hanukkah
So drink your gin and tonicah
And smoke your marijuanikah
If you really, really wannakah
Have a happy, happy, happy, happy Hanukkah
Happy Hanukkah
The song officially debuted on a 1994 episode of SNL during a "Weekend Update" segment on Dec. 3, 1994. Sandler later worked it into his stand-up routine, which often involved a lot of original songs, and tweaked and updated the lyrics over time. There are several versions floating around out there, but the original, with the lyrics above, is the best.  — Daniel Terrill
---
Korn – 'Jingle Balls' (1999)
You might know the deep-cut yuletide Korn track off Kevin and Bean's Last Christmas compilation album from the late 1990s simply called Christmas Song. It's a weird, profanity-riddled version of "The Night Before Christmas" with some Jonathan Davis screaming thrown in and, of course, lots of dysfunctional-family angst that so many can sadly relate to. And if family shit doesn't come to a head at Christmas, when will it?
But wait. If you're thinking, "I remember a Korn Christmas song, but it wasn't this — I remember something that fucking rocked," then you're thinking of "Jingle Balls," which the band recorded during their sessions for their hugely popular album, Follow the Leader.
It's exactly what you're looking for. Enjoy, and bang yo goddamn head. — DM
GOOD GEAR – Explore All Things Unknown With the BRCC Beyond Black Roast
---
Trans-Siberian Orchestra – 'Christmas Eve/Sarajevo' (1996)
You don't have to admit to liking it. You don't even have to admit to knowing exactly what it is. But you have to admit that it's super catchy. As you probably guessed, the Trans-Siberian Orchestra originated as a metal band and cornered a weird niche of people wanting membrane-splitting Christmas songs. 
While TSO might be easy to dismiss for recreating traditional Christmas melodies with heavy synths, guitar riffs, and laser shows, its turns there's actually a lot more to it.
According to the band's founder, Paul O'Neill, their iconic instrumental track, "Christmas Eve/Sarajevo 12/24" was inspired by the story of a Bosnian cellist who left Sarajevo and returned decades later at the height of the Bosnian War only to find its ruins.
He plopped amidst the ruins and started playing night after night to demonstrate the power of the human spirit. — DT
---
My Chemical Romance – 'All I Want for Christmas is You' (2004)
Yes, this is a Mariah Carey cover. But unlike Carey's original, this one won't make you want to stab yourself repeatedly in the ears with one of those pointy Christmas-tree toppers. MCR took an upbeat bee-bopping, holiday tune about bucking commercialism and morphed it into an aggressive yet festive song about desire, obsession, and frustration.
This song jumps from a smokey, soulful croon to a headbanging punk rock anthem in half a heartbeat, thanks to lead singer Gerard Way's serious vocal prowess. 
It has everything we want in a Christmas song — raw guitar riffs, driving drum beats, and occasional screaming. It's absolutely perfect for the season. I mean, who doesn't feel the desire to scream and bang their head against a wall after a frustrating Christmas dinner with the in-laws? — AJW
---
Eazy-E – 'Merry Motherfuckin X-Mas' (1991)
This is definitely for the grown-up Christmas party soundtrack — or maybe not; I don't care how you raise your kids. Hell, it might do them some good to hear this raw shit from the heart of the early 1990s rap scene, and let's be honest, if they've gotten their hands on the internet, they've probably heard way worse.
Merry motherfuckin' Chrismas and a ho ho ho!
While I'm riding that cot under the mistletoe,
Now dashing through the snow
In a candy red top 6-4 (hittin' them switches)
That's pure Eazy-E right there. 
This X-rated ghetto carol was the fourth compilation album from the late great Eazy-E, founding member of NWA. And while it was recorded sometime between 1991 and 1992, it wasn't released under this title until 2015. Previously, the track could be found on the 5150: Home 4 tha Sick EP released in December 1992. — DM
---
AC/DC – 'Mistress for Christmas' (1990)
"Mistress for Christmas" is one of those songs where you're better off not understanding the screamy, raspy words coming out of Brian Young's mouth, but with a title like that, you inherently get the gist. While it may be low on the holiday spirit, it's one of those songs that you can turn on and just chill.
Jingle bells, jingle bells
Jingle all the day
I just can't wait 'til Christmastime
When I can grope you in the hay
Easy come, easy go
Have a good time with lots of dough
Slippin' up high, slippin' down low
Love 'em and leave 'em, on with the show
Yeah
Alright
Listen, I like female form in minimum dress
Money to spend with a capital S
Get a date with the woman in red
Wanna be in Heaven with three in a bed
This is the only Christmas song the hard rock legend ensemble AC/DC ever laid down and was included on their mega-popular album The Razors Edge, which also had classic cuts like "Thunderstruck" and "Are You Ready." It was also recognized by the National Film and Sound Archive of Australia. — DT
RELATED – A Holiday Wild Game Roast, Brined
---
Willie Nelson – 'Little Dealer Boy' (2008)
If you have a lover of herbal refreshments in your family, here's a true Christmas anthem for them. From the OG king of cannabis himself, this odd collaboration between Willie Nelson and famously fake Republican Stephen Colbert from a 2008 compilation album is pure country Christmas, with a little toke. It also strikes up the potentially blasphemous idea of someone presenting JC with an ounce of Gorilla Glue instead of a sack of frankincense at the Nativity. Peace and goodwill for all.  
I have no money in my coffer
No gold or silver do I bring
Nor have I precious jewels to offer
To celebrate the newborn King
Yet do not spurn my gift completely
O ye three wise men please demur
Behold a plant that smokes more sweetly
Than either Frankincense or Myrrh
And like the child born in this manger
This herb is mild yet it is strong
And it brings peace to friend and stranger
Good will to men lies in this bong
It's a pretty and tender song that's low-key hilarious, and your Aunt Diane probably won't listen close enough to be aghast before she heads to the bathroom to hit her vape. — DM
---
Robert Earl Keene – 'Merry Christmas From the Family' (1994)
While most Christmas ditties put serious effort into painting wholesome scenes of holiday cheer, this one focuses on keeping it real. Keene's Christmas narrative details a typical family get-together chock full of alcohol, chain-smoking, and family dysfunction, all interspersed with Christmas carols and emergency runs to the convenience store for holiday essentials like tampons, Pampers, celery, and fake snow.
This one also delves into the sometimes confusing complexity of family trees, especially when stepkids, multiple marriages, and double names are totally normal. (We may or may not be looking at you, Texas.)
Brother Ken brought his kids with him
The three from his first wife, Lynn
And the two identical twins
From his second wife, Mary Nell
Of course, he brought his new wife, Kaye
Who talks all about AA
Chain smokin' while the stereo plays
Noel, Noel, the First Noel
The song was originally written by alternative country artist Robert Earl Keene and recorded on his 1994 album, Gringo Honeymoon. There's also a live version which a healthy dose of audience participation that kind of kicks. Keene claims the song is so popular among his fans that he had to implement a hard and fast rule not to perform it until after Labor Day.
This song dredges up plenty of alcohol-laced nostalgia and an intense craving for mid-afternoon bloody marys. — AJW
---
Alice Cooper – 'Santa Claws is Comin to Town' (2008)
"Santa Claws is Comin' to Town" is Alice Cooper's parody of the classic Christmas tune. Instead of upbeat and joyous, Cooper's version has a clean, heavy sound. He delivers the familiar melody with fast drums, loud guitar, and dramatic synth — and his gravelly voice describes a Santa Claws who isn't about gifts and cookies. He wants to party and break toys. 
The kids in girl and boyland
Will have a Jubilee
They're gonna build a toyland town
All around the Christmas tree
And then they're gonna burn it down!
You better watch out
You better not cry
You better not pout
I'm telling you why
Santa Claws is comin'
Santa Claws is comin'
Santa Claws is comin' to town
Your town
My town
Oh our town
And then we're gonna
Break all the toys
And then we're gonna
Make some noise
"Santa Claws" was released in 2008 on We Wish You a Metal Xmas and a Headbanging New Year. In a review from Heavy Metal, the mag said there's "not a clunker" on the star-studded hard-rock album. — DT
---
The Ramones – 'Merry Christmas' (I Don't Want to Fight Tonight) (1989)
The Ramones crashed the Christmas party with their original punk rock holiday anthem in 1989, and this banger still deserves a spot on the party playlist. Like the punk genre in general and the Ramones in particular, the song is somewhat awkward, slightly pessimistic, and kind of janky.
Sure it has a chugging, upbeat rhythm and some catchy lyrics, but the lyrics express a sad, somewhat resigned yearning for a peaceful holiday from a band that is as famous for its in-fighting as its musical influence.
I love you, and you love me
And that's the way it's got to be
I knew it from the start
'Cause Christmas ain't the time for breaking each other's heart.

Merry Christmas, I don't want to fight tonight with
Merry Christmas, I don't want to fight tonight with
Merry Christmas, I don't want to fight tonight with you
The lyrics are about as catchy as a winter cold and so easy to follow that it's a virtual sing-along. Getting Nana and Aunt Diane to join in shouldn't be hard. If you do, record that shit. It's sure to be TikTok gold. —AJW
GOOD GEAR – Brew the Best Coffee With the BRCC 10-Cup Chemex
---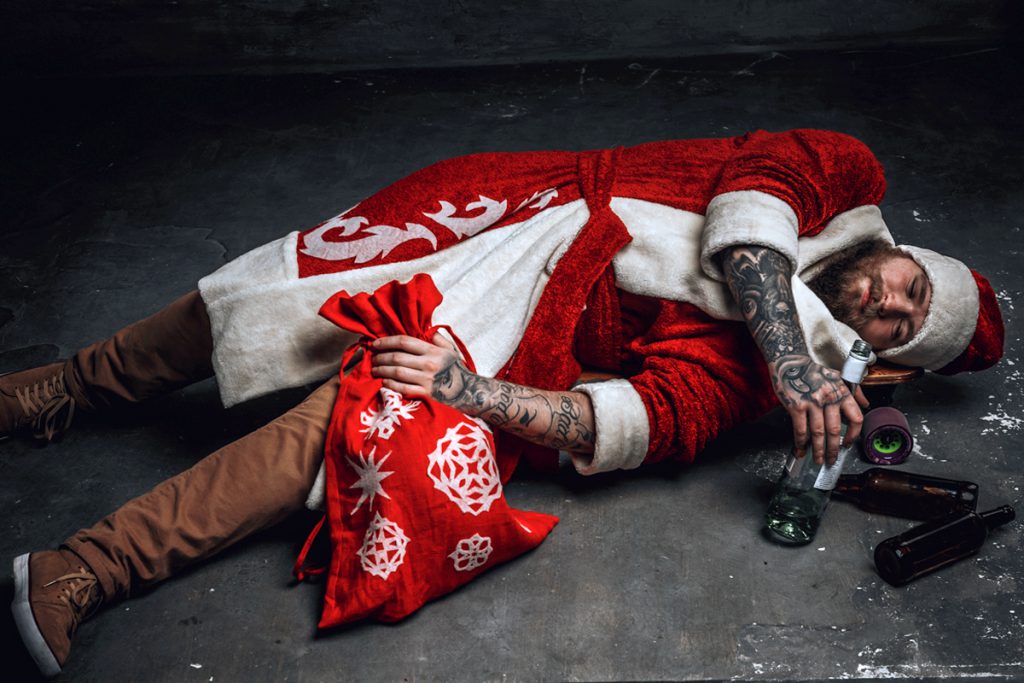 ---
Canned Heat – 'Christmas Blues'
What is a jolly holiday without the blues? Boring, that's what. One of the bands in the original Woodstock line-up, Canned Heat has been playing their style of blues-rock since they formed in 1966.
Heat is known for tunes that get in your head and stay there — but unlike Mariah Carey's "hits," this Christmas jam won't make you want to chug spiked eggnog till you're legless and trying to tackle the tree. Nope, you're gonna want to hit play, turn it up, and have a good howl sesh with your kids and dog. Who knows, your batty Nana might even join you. —Matt Smythe
---
Dropkick Murphys – 'The Season's Upon Us'
If your family holidays are less about cozy fireside gatherings with eggnog in hand and more about beer vomit and all-out, full volume, the-neighbors-might-call-the-cops screaming matches followed by sobbing apologies or dramatic storm-outs, then this dysfunctional holiday tune, done as only the Dropkick Murphys could do it, is your anthem.
It's at once upbeat, sorrowful, and it's a song you can really swing a glass to. What the hell, it's Christmas. Embrace the dysfunction of everything – and know you are not alone. —David Maccar
---
Cheap Trick – 'I Want You For Christmas'
This one feels like a bit of a cop-out for the boys from Rockford, Illinois, but the original, live version of I Want You To Want Me from Cheap Trick is such an inextricable part of my classic 80's I-have-a-crush-on-the-hot-cheerleader soundtrack that I'm willing to let it slide — especially since they stuck so close to the original sound with this holiday remake.
Chances are good that when this song comes on during your festivities, you'll have at least three people join you in playing air guitar when the first notes hit. —MS
---
Tom Petty & The Heartbreakers – 'Christmas All Over Again'
Movies are a big part of the holiday season for much of the VHS generation. When it was cold and school was out until the new year, snowy nights were spent hunkered down in the glow of the TV tube. The first two Home Alone movies got a lot of time spinning in the ol' VCR back in the early 1990s, and that's where a lot of people heard this holiday tune from one of the last great rock icons in history.
Tom Petty was a bridge between classic rock and everything that came after, and this is how a lot of people who are about to hit 40 in the next couple of years heard him for the first time. It also happens to be one of the coolest and most non-abrasive Christmas tunes of all time. —DM
RELATED – Hunting Accidents: Are the Holidays the Most Dangerous Season?
---
Run-DMC – 'Christmas Is'
Run-DMC is just good shit. No gats, muthafucka's, or smokin' trees till you can fly — I mean, there's still room for all that around the holidays, don't get me wrong. But this is an early '90s rap that won't have you tapping at the skip button when your kids and mother-in-law go wide-eyed at Eazy-E cappin' Santa in the knees.
The boys from Hollis, Queens, are OG rap kings that don't have to be G, and this is their other great Christmas track that deserves a listen. —MS
---
Joe Pesci – 'If It Doesn't Snow on Christmas'
I love peppering Christmas mixes with songs that unexpectedly drip with profanity, and nobody does fuck-words quite like Joe Pesci. The Oscar-winning mob movie (and Home Alone) actor has, believe it or not, released three full-length albums to date. He laid the first one down back in 1968!
This track comes from 1998's Vincent LaGuardia Gambini Sings Just for You. He kind of talk-sings through the whole album as his character from the oscar-winning My Cousin Vinnie (1992), including this track where he wonders how Santa's going to get his fat ass around in his sled if it doesn't snow on Christmas like he's vamping at the Bada Bing holiday party. Yeah, it's pretty fuckin' weird, but it sure is funny. —DM
---
Tom Waits – 'Christmas Card From A Hooker in Minneapolis'
Man, screw Hallmark. Sometimes the sad songs help bring in the light, and this song — this is about as real as the holidays get.
How many of us put up a curated, happy front from Nov. 25 to Dec. 31? We crow about kids' holiday concerts, cute pet antics, big feast preparations, visiting family and friends, and ugly sweater parties — when in reality, we're overwhelmed, feeling alone, and just want to stay in bed. This song is a reminder that "ain't nothing perfect," and it's okay to lean on somebody when it isn't. And for the lucky among us, it's also a reminder some folks have problems that make ours look a lot smaller. —MS
---
The Kinks – 'Father Christmas'
I dig holiday songs that have a bit about real life in them. If you've lived long enough or through enough, the silly season is a mix of happiness and sorrow that skews more toward one or the other depending on the year. This 1977 song from British rock icons, the Kinks, is sung from the perspective of a mall Santa Claus who gets mugged by a bunch of kids, which I think strikes the perfect tone for 2021.
It's a song about the idealism of youth falling away as you realize how fragile it was, to begin with, and it's a wry commentary on the commercialization of the holidays and class battles: ideal Christmas subjects since Dickens' day. It's also a funny song that's a little bitter with a classic sound that makes it really tough to say what decade it's from if you don't know, but now you do. —DM
GOOD GEAR – Sport Pure American Sex Appeal With the BRCC X Dixxon Death Pot Flannel
---
Bad Religion — 'God Rest Ye Merry Gentlemen'
There is nothing like some anti-establishment punk icons singing about baby Jesus and being saved from Satan's power to fill a room with comfort and joy. In true punk form, the tune is only 1 minute and 34 seconds long, so it busts in, thrashes the joint, and bounces before your parents know what happened.
Interestingly, even with their name, the band isn't against religion; they just use it to show how any group that squashes individuality is inherently bad. That being said, Greg Graffin, the band's lead, loves Christmas –" Oh, hell yeah. That [was] always the best part of the year growing up." —MS
---
Spinal Tap – 'Christmas With The Devil'
Got an aging headbanger in the family? If this comes on the Bluetooth speaker this Christmas Eve, it will have them laughing in their Busch Light, and before it's over, they're going to get a little too into it — even if it is a fake band. (I know, I know, that's sacrilege to some.)
"The elves are dressed in leather / and the angels are in chains / the sugar plums are rancid / and the stockings are in flames." I mean, that's goddamn poetry right there. And after the stress of the weeks between holidays, it's a welcome hair metal release. —DM
---
Stevie Wonder — 'Ave Maria'
I can't make a playlist of Christmas songs and not include the tune that hits me square in the chest and puts a lump in my throat every time I hear it. A young Stevie Wonder recorded this beautiful version of the very (very) old Schubert song, Ave Maria, in 1967.
The combination of the composition's simplicity and Wonders' unmistakable voice is powerful. Plus, he even gets his trademark blues harp in there. Man, damn. Turn it up, close your eyes, and just listen. —MS
---
Zakk Wylde – 'White Christmas'
Zakk Wylde is the king of electric squeals, but he's also a tremendous unplugged guitarist, and this rendition of the most Christmasy of Christmas songs, White Christmas, rocks about as much as a version of White Christmas can rock. This track is off the Merry Axemas, Volume 2 compilation album. Wylde also released an amazing acoustic version of The First Noel as a single, and his band, Black Label Society, released the Glorious Christmas Songs That Will Make Your Black Label Heart Feel Good EP back in 2011 featuring incredible soul-soothing electric instrumental versions of I'll Be Home For Christmas, O Little Town of Bethlehem, and Wonderful World.
The best part is, because of Zakk's random climbs, riffs, and mini solos, nobody can sing along. Nobody. —DM
---
READ NEXT – The 10 Best Holiday Adventure Movies We All Need to Learn From