Do you have a lucky number? Ammunition manufacturers do, and right now that number is 338. A quick search will turn up cartridges like .338 Federal, .338 Marlin Express, .338 Remington Ultra Magnum, .338 Ruger Compact Magnum, and .338 Win Mag. There are creatively named newcomers, too, like .338 Whisper and .338 Spectre. One that's gotten more attention than all of those is the .338 Lapua Magnum. But that Finnish cartridge's days might be numbered with the arrival of the 338 Norma Magnum, which is coming in with a full head of steam.
With all these cartridges catering to people who want to shoot .338 caliber ammunition, what makes the 338 Norma Magnum stand out? For one, it's gained the confidence of the U.S. Defense Department as a viable cartridge for precision sniper rifles and medium machine guns.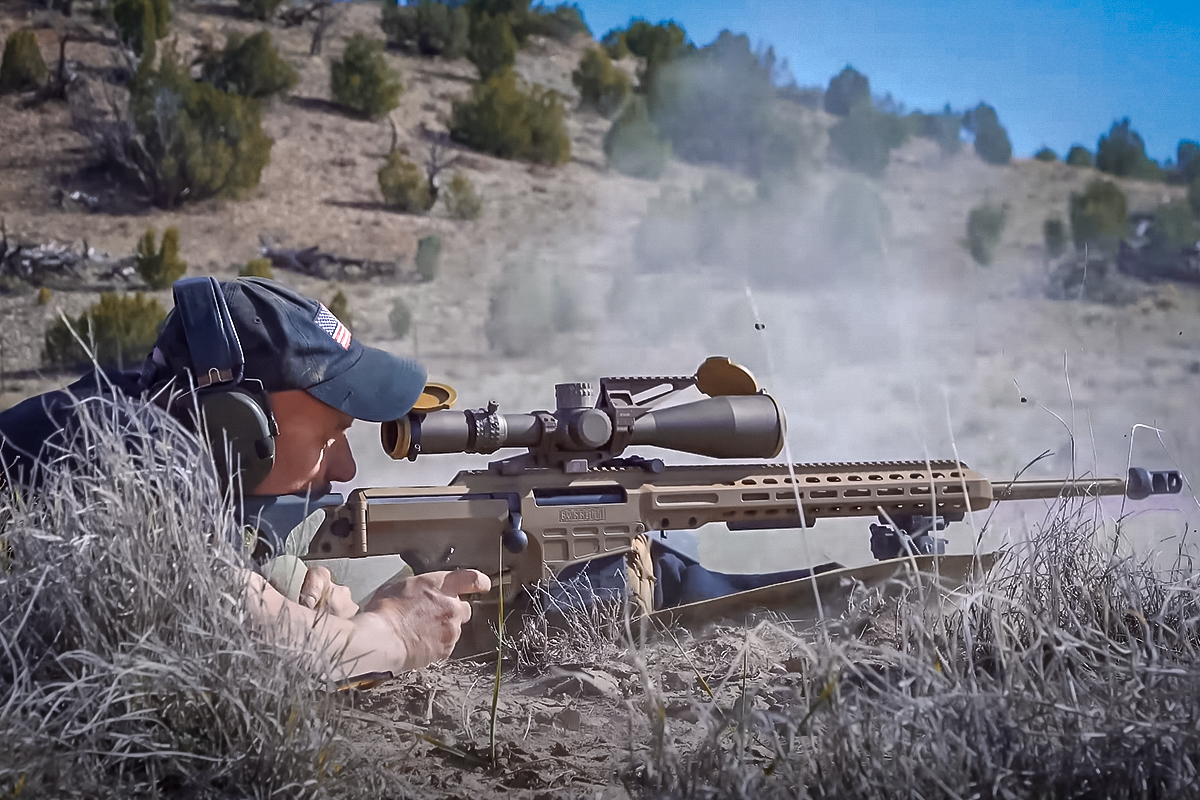 To understand why, we'll have to go deeper than skin deep because there's more to the .338 Lapua Magnum's shorter sibling than meets the eye.
GOOD GEAR – Explore the Unkown With BRCC's Beyond Black Roast
---
Cartridge History Lesson
As the old saying goes, if you want something done right, you have to do it yourself. That's the approach competitive shooter Jimmie Sloan took when he couldn't find what he was looking for on the shelf.
Sloan's goal was to fire a 300-grain Sierra Match King with extreme accuracy achieved by maximizing velocity. The parent case he chose for this project was the .416 Rigby, which you'll recognize from .338 Lapua Magnum fame.
One of his criteria was a maximum overall length of 3.68 inches. To put all the pieces together, he contacted renowned cartridge developer Dave Kiff from Pacific Tool & Gauge.
On February 27, 2008, Sloan filed his new cartridge with the U.S. Patent Office. The Sporting Arms and Ammunition Manufacturers' Institute announced the acceptance of the 338 Norma Magnum as a standard cartridge in February 2021 and lists a maximum average pressure of 65,000 psi and a muzzle velocity of 2,670 fps using a 300-grain bullet in the original announcement.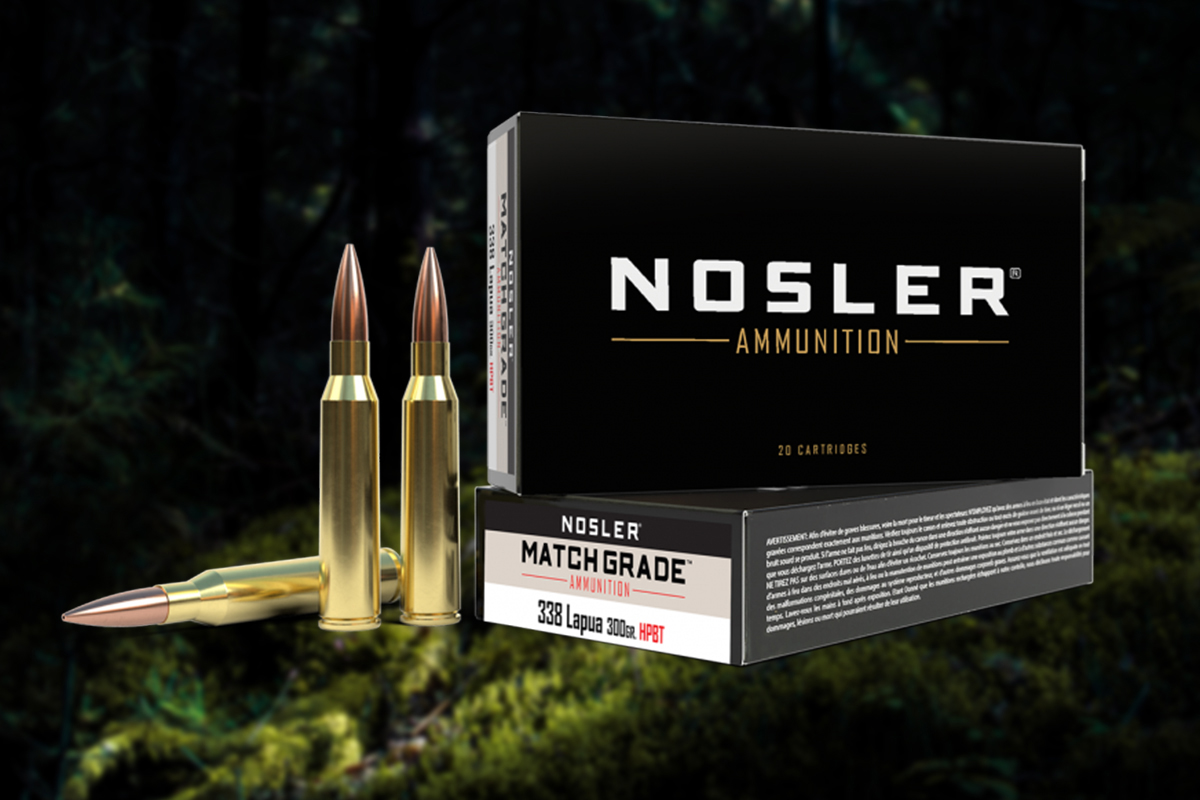 The cartridge saw niche use in the precision shooting world and eventually caught the eye of people at the Pentagon, who were beginning to shop around for a new rifle cartridge to replace the aging 7.62 NATO and bridge the gap to .50 BMG.
The 2009 project brief for the Advanced Sniper Rifle specified that submissions should be capable of shooting a one-MOA group of 10 shots at 1,500 yards with temperatures ranging from 40 to 125 degrees and wind gusts up to 30 mph with or without precipitation.
That's a big ask, but the Barrett MRAD crushed testing by surviving durability challenges and shooting half-MOA groups with multiple cartridges, including the 338 Norma.
In 2022, the U.S. Army and Navy announced a $157 million contract to purchase 4.5 million rounds of .300 Norma Magnum (M1163) and 338 Norma Magnum (M1162) rounds for the Advanced Sniper Rifle and Lightweight Medium Machine Gun from American firearms and ammunition manufacturer SIG Sauer.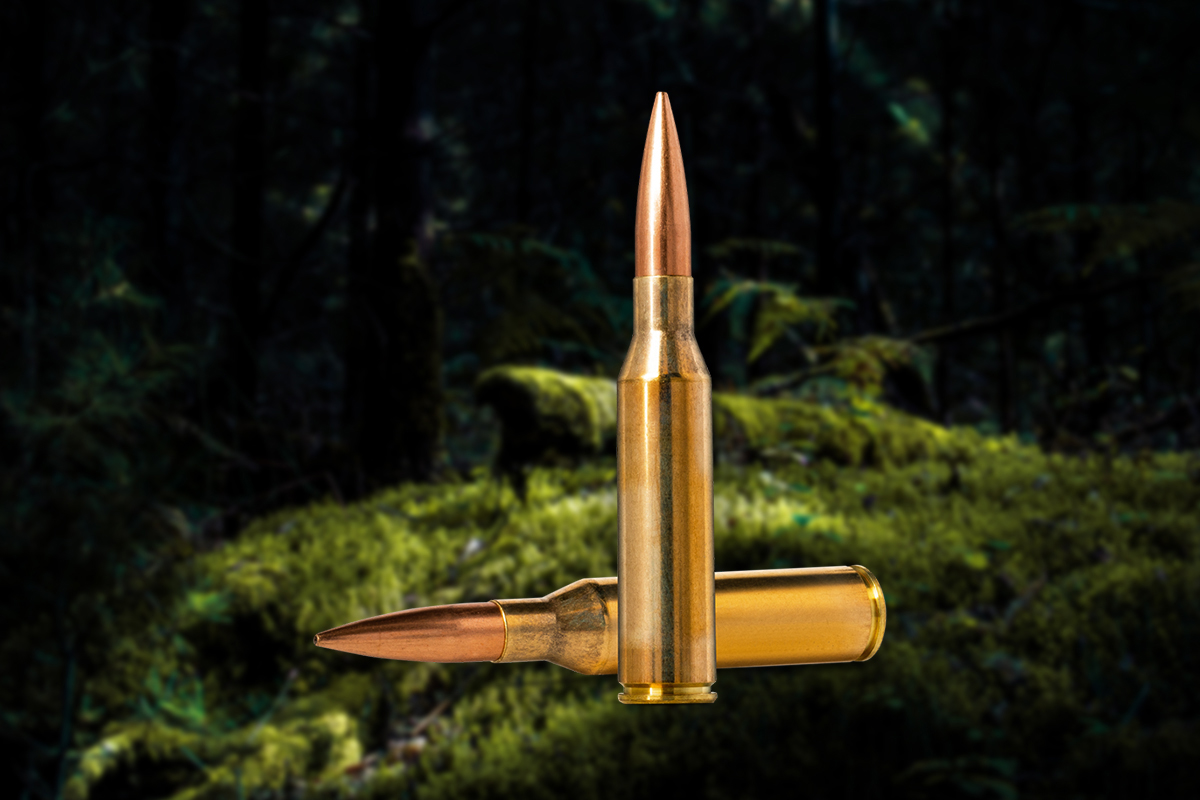 Developing a wildcat round is a costly endeavor with a low success rate, but Sloan pulled it off with his 338 Norma. The cartridge started as a desire for better performance in his shooting competitions and led to a major defense contract with the U.S. Military. I'd call that a hit.
READ NEXT – Springfield Releases Drop-in Threaded Barrels for Hellcat, XD-M
---
Performance Down Range
Ammunition manufacturers know that cranking up the pressure can result in some pretty remarkable cartridges. That's the secret behind SIG Sauer's .357 SIG and Glock's unpopular .45 GAP.
Norma used the same approach to offer a shortened version of the .338 Lapua without sacrificing performance.
Norma Match King ammunition fires a 300-grain bullet at 2,657 fps at the muzzle, compared to Nosler .338 Lapua Magnum Custom Competition match-grade ammunition that fires a similar 300-grain bullet from the muzzle at 2,650 fps. You can play around with Norma's ballistic calculator to get a better idea of what this cartridge is capable of.
Some shooters have independently chronographed 338 Norma Magnum ammunition with a 300-grain bullet out of a 22-inch barrel at 2,690 fps. That kind of speed means that the bullet would still be supersonic out to at least 1,750 yards, where it would still be carrying 1,136 ft-lbs of energy. For perspective, that means the 338 Norma is capable of delivering roughly as much energy at one mile as 5.56 NATO does at the muzzle.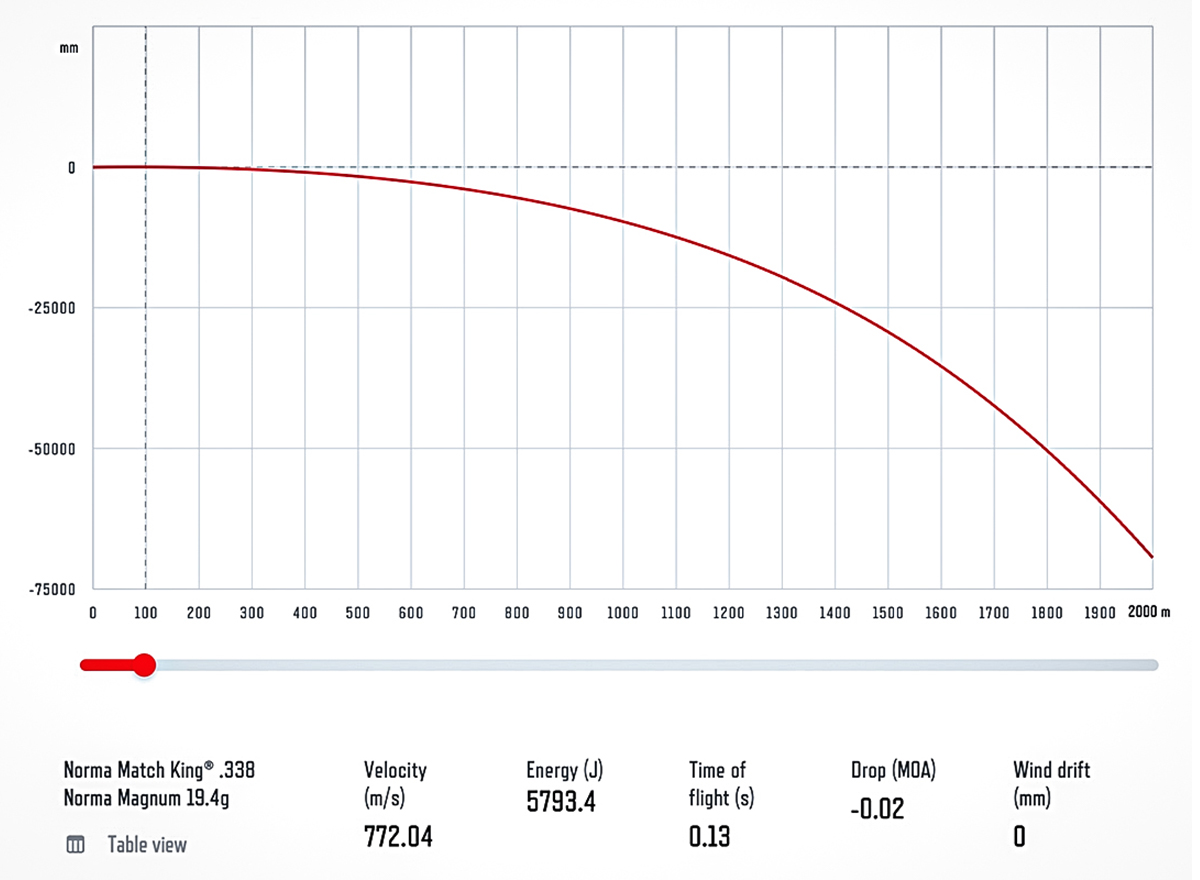 So how does the 338 Norma compare to other popular long-range hunting cartridges? The .300 Win Mag achieves higher muzzle velocities — upward of 3,000 fps — but it does so with a 180-grain bullet.
Match-grade 338 Norma Magnum is clearly the superior cartridge for accuracy and terminal effect at great distances (hence why it's gaining traction as a military cartridge), but more isn't always better. Hunters will find that there are many softer-recoiling, less expensive cartridges that are perfectly effective for deer and large game, and those alternatives offer a much wider selection of hunting ammunition.
Norma's .338-caliber wonder cartridge is screaming fast and remarkably accurate — what's not to like? Price. A box of match-grade ammunition (and why would you feed your 338 Norma rifle any less) can easily cost more than $8 per round.
If you want to hunt with the same rifle, buckle up because a hunting load like Nosler's Accubond Trophy Grade costs $9.60 per round. You can bet that the cartridge's effect on barrel life won't be cheap, either.
---
338 Norma vs. .338 Lapua Magnum
The 338 Norma Magnum and .338 Lapua Magnum both originated from the .416 Rigby case, so they have more similarities than differences — as Commission Internationale Permanente (CIP) standards show.
Although the 338 Norma Magnum uses a shorter case (by 0.28 inches), the two cartridges share an overall length of 3.68 inches because the 338 Norma's bullet is not seated as deeply into its case's neck. The 338 Norma also has a slightly sharper shoulder angle by about one degree.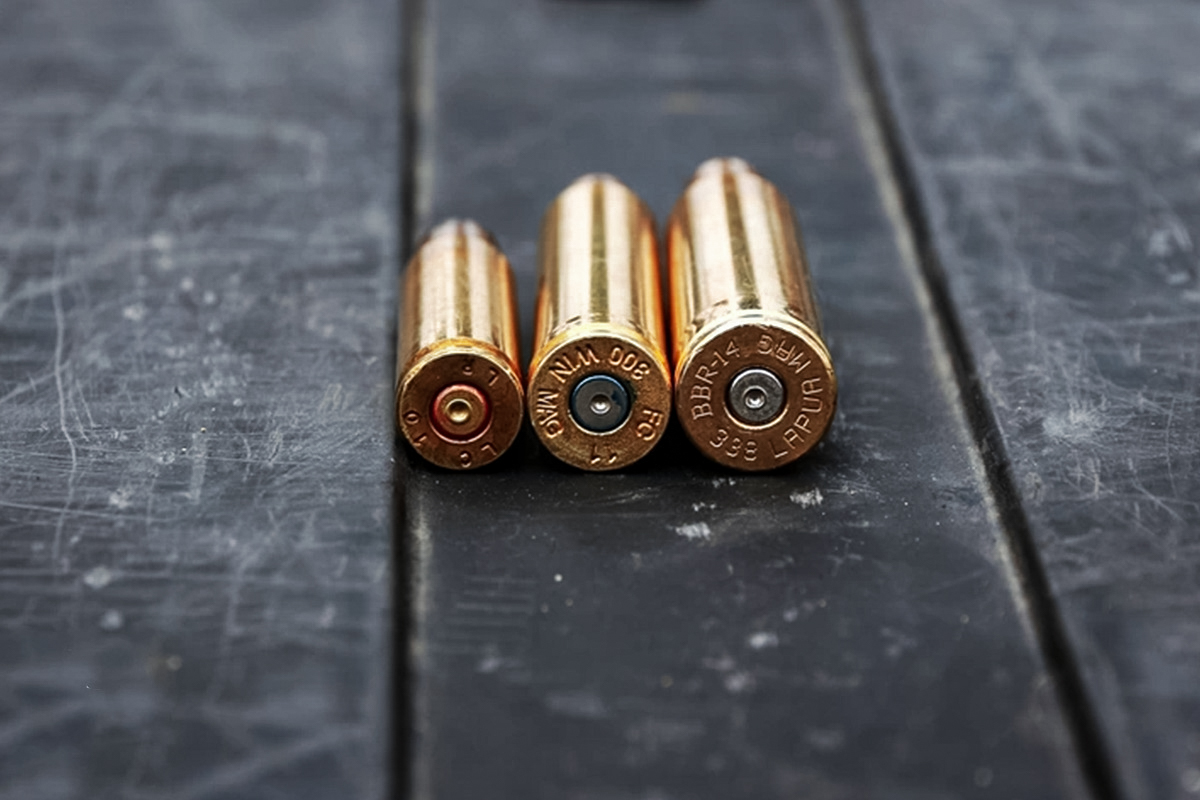 The 338 Norma Magnum makes up for its reduced case size with increased pressure (64,000 psi compared to 61,000 psi). When comparing bullets of the same weight, the two cartridges perform similarly. Muzzle velocity for the 338 Norma Magnum and .338 Lapua Magnum fall within 100 fps of each other.
Some people claim that the .338 Lapua uses stronger brass that's more conducive to reloading, but I suspect that's a function of the 338 Norma Magnum's extra pressure, not a difference in the case material itself.
GOOD GEAR – Fuel Your Next PR With BRCC's Fit Fuel Blend
---
Guns Chambered for 338 Norma Magnum
Accuracy International AXSR

One of the best ways to get 338 Norma Magnum rounds downrange is with the super-precise Accuracy International AXSR. Accuracy International caters to military and law enforcement snipers, and its quality is top-notch. This chassis rifle has a 27-inch barrel (threaded and match-grade, of course), 20-MOA rail, folding stock, and ambidextrous safety.
All that excellence will set you back $9,895.
---
Barrett MRAD

Barrett has long enjoyed notoriety in the world of extreme rifles, and the Barrett MRAD chambered in 338 Norma Magnum upholds that tradition. This one comes with a 26-inch fluted barrel, 10-mil rail (about 35 MOA), and your choice of three colors. This rifle's biggest selling point, though, might be its interchangeable barrels.
The MRAD can also be set up to fire .338 Lapua Magnum, .300 Norma Magnum, .300 PRC, .300 Win Mag, .308, or 6.5 Creedmoor. Swapping out the barrel and trigger can be done at home without specialized gunsmithing tools.
So what's the MSRP on this legend? It's actually relatively affordable at just $6,650.
---
Albert Arms ALR

I know what you're thinking: Those bolt-action chassis guns are great for driving tacks at 1,000 yards, but what if you want to burn through your ammo budget even faster? Have no fear, because the Albert Arms ALR brings the 338 Norma Magnum to the AR platform.
Obviously, Albert Arms had to extensively modify the upper and lower receiver to contain a cartridge that's up to 30 percent more powerful than the .300 Win Mag, but the result is a piston-operated semiautomatic rifle capable of shooting two-inch groups at 500 yards.
Albert Arms lists the ALR's price as available on request, so it's safe to say this isn't an impulse purchase.
---
SIG Sauer MG 338
SIG Sauer won a U.S. defense contract to create a machine gun chambered in 338 with its MG 338. It offers weight and performance advantages over the existing M240 medium machine gun.
Even though the MG 338 weighs less than 20 pounds, the 330 Norma Magnum cartridge allows it to reach farther and hit harder with greater accuracy. It ends up bridging the gap between the M240 and the .50-caliber M2. This platform is ambidextrous, suppressor-ready, and prepped for rail-mounted accessories.
The MG 338 isn't available to the public, so you'll have to sign your life over to Uncle Sam to get any trigger time.
---
Bottom Line on the 338 Norma Magnum
It isn't often that cutting-edge military tech is immediately available to the public, so it's exciting to know that you can pick up a box of 338 Norma Magnum and push your skills to a mile and beyond. Unlike the 5.56 NATO and .308, this new cartridge is so specialized that it's difficult to justify the costs associated with shooting it unless you're going to push the envelope.
The 338 Norma Magnum is generally overkill as a hunting round, but it's going to remain a smash hit with precision shooters who need to buck the wind and minimize bullet drop out to 1,000 yards and beyond. It will also be interesting to see what the military does with the 7.62 NATO going forward.
One thing's for sure, though: If you can't get shots on target with 338 Norma Magnum, the problem is behind the rifle.
---
READ NEXT – Watch Spearfishing Champ Justin Lee in 'By Way of Black Sands'