The human fascination with flight is rooted in mythology and curiosity. From Icarus and his wings of wax, to Alexander the Great and his griffins, to Leonardo da Vinci's ornithopter, breaking the bonds of gravity and soaring to heights reserved for birds and angels was the ultimate challenge — and the ultimate obsession.
Today, more than 8,000 skyward-looking souls are carrying on that tradition by hang gliding and paragliding, with more than 60 clubs across the country sanctioned by the US Hang Gliding & Paragliding Association.
Paragliding and hang gliding are two different types of nonmotorized, foot-launched ultralight flight. Paragliding uses a specially designed parachute with an aerodynamic basket that the pilot sits in, and hang gliding uses a framed wing and cable system that suspends the pilot in a prone position under the glider.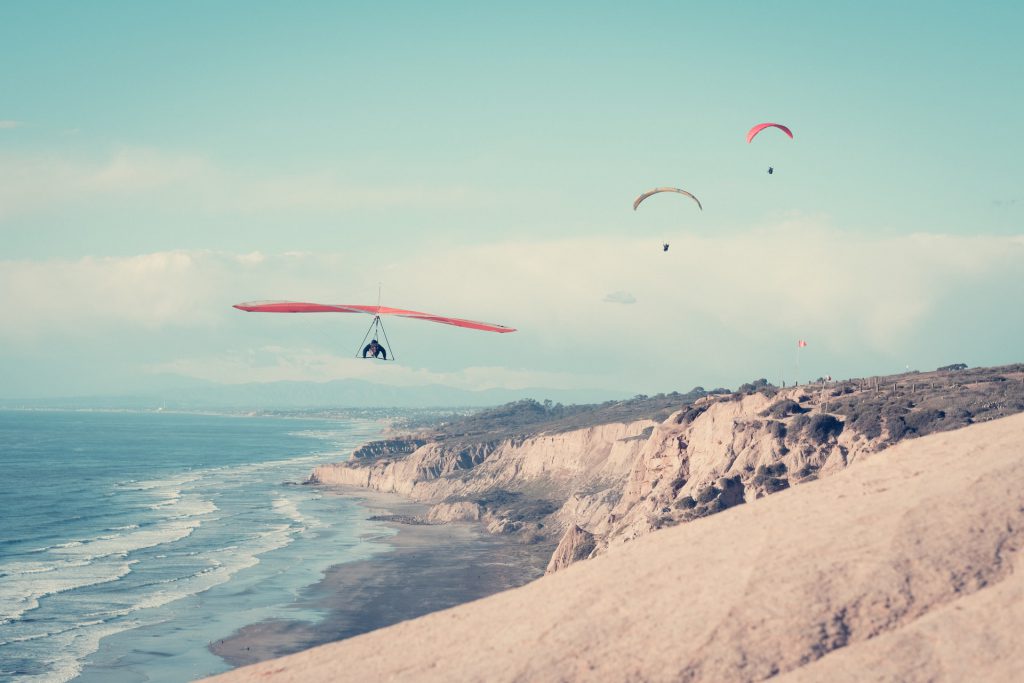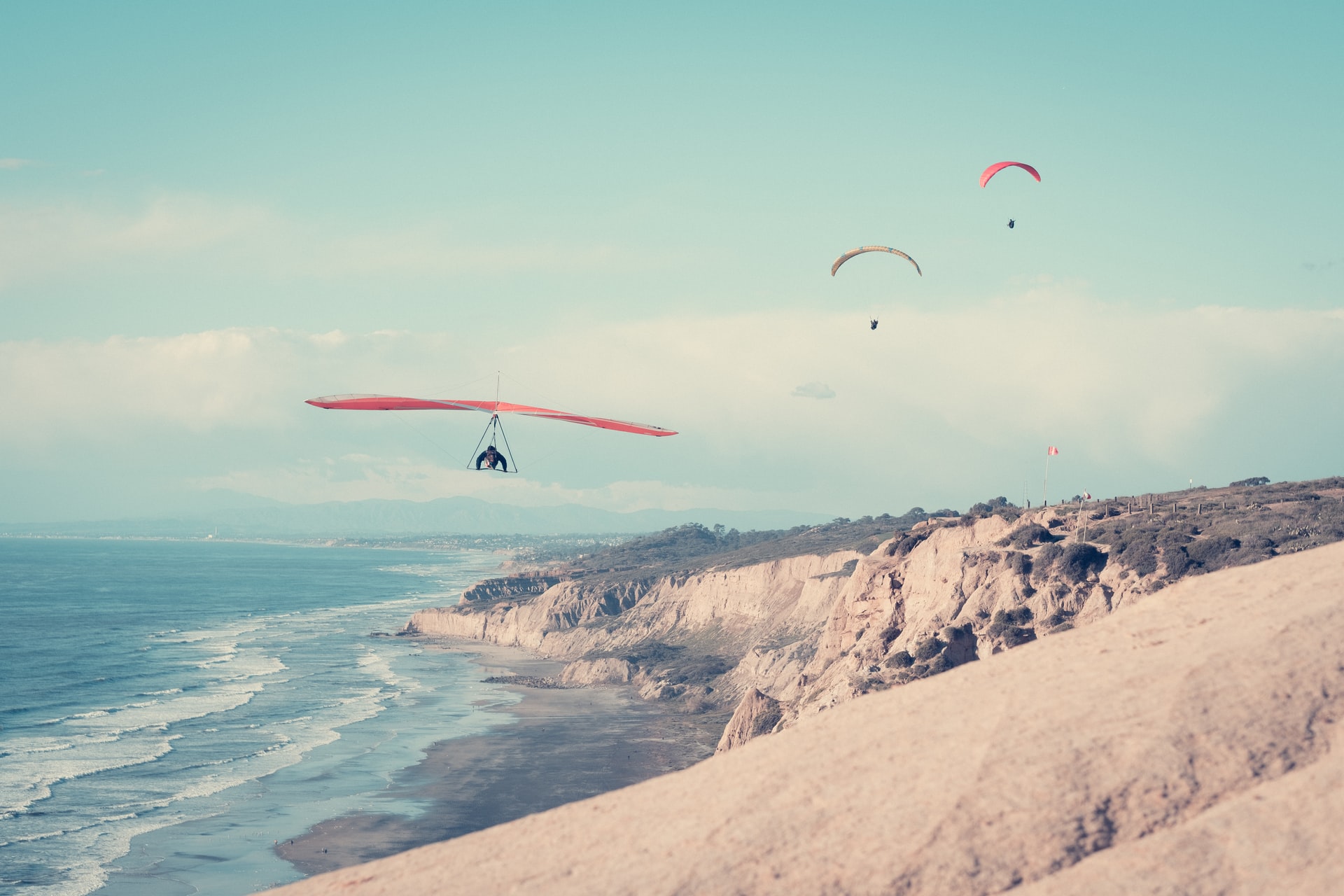 Both stay in flight by riding air currents and thermals, or uprising temperature shifts. The current world record for straight distance in paragliding is 588.27 kilometers (365.5 miles) and for straight-distance hang gliding is 761 kilometers (473 miles).
If you've ever dreamed about gliding into the great blue yonder, here are seven killer places to get some air under your feet.
Torrey Pines, La Jolla, California
Be ready for the ground — quite literally — to fall from under your feet. Located on the La Jolla bluffs above the Pacific Ocean, Torrey Pines Gliderport is the oldest flight site in the country at 100 years old and was the location of Charles Lindbergh's maiden flight. TPG is most definitely on every last glider junkie's bucket list. Side note: Black's Beach, a short walk and even shorter flight down the coast, is a popular unofficial spot for nudists.
Walt's Point, Owens Valley, California
East of the Sierra Nevada, west of the White Mountains, and north of the Mojave Desert, Owens Valley is a glider's playground, but be prepared to confront any fear of heights. With peaks up to 14,000 feet, the deepest valley in the country at 4,000 feet, and very specific seasons and conditions for gliding (spring and fall), if you're a one-and-done type, make this your one.
Bald Mountain, Sun Valley, Idaho
Central Idaho is rugged country that will simply take your breath away, and Sun Valley is right in the heart of it. Bald Mountain in Ketchum is a ski resort with seasonal gondola service to the summit. There are plenty of distance glides that can be done, but they lean toward expert level. The flight to the sleepy mountain town of Stanley comes highly recommended.
Haleakala, Hawaii
Haleakalā is a volcano that makes up about 75% of the island of Maui and reaches 10,023 feet, and Polipoli Flight Park is the launch point for hang gliders and paragliders. Considered a "rare and sacred landscape," Haleakalā National Park offers everything from epic summit views to black sand beaches and subtropical forests, and there's no better way to experience them than from the air.
Mingus Mountain, Sedona, Arizona
When it comes to stunning views, Arizona has them in spades, both on foot and from the air. Rugged red rock cliffs and sprawling valleys of juniper and manzanitas go on forever. Mingus Mountain launch site is one of the oldest and most well-known in the country. Pilots have reached altitudes of 17,000 feet — on purpose and with oxygen.
The Point, Draper, Utah
About halfway between Salt Lake City and Provo, The Point is Utah's designated Flight Park State Recreation Area. With predictable daily winds favoring southern flights in the morning and northern flights in the afternoon, the park grounds have well-maintained takeoff and landing areas. While the view isn't as immediately jaw-dropping, you'll get consistently favorable conditions for lengthy time in the air.
Lookout Mountain, Georgia
Just outside of Chattanooga is the start of a 20-mile ridge that overlooks the pastoral farmland of Lookout Valley. Supposedly, you can see seven states from the mountain. Farther south is Lookout Mountain Flight Park. Lookout is a definite destination for the glider community with creekside campsites, a private pool, campfires, volleyball courts, and a clubhouse where you can unwind after you're done surveying pretty much all of the Southeast in one flight.
Read Next: 5 Cliff-Jumping Spots That Even Influencers Hesitate To Recommend
At top: Photo by Linus Mimietz on Unsplash.