You wanna cosplay as James Reece from the hit new Amazon Prime series The Terminal List based on the Jack Carr novel of the same name? Here are all the guns and gear you'll need to do it — guns first.
There were a lot of firearms in the eight episodes of this show's inaugural season, which covered the entire first installment of the James Reece series of novels. Carr does a great job of describing, in specific detail, the gear and firearms Reece carries, and when it comes to the guns, the show sticks pretty damn close to the source material.
---
Price: Sorry, you can't buy this one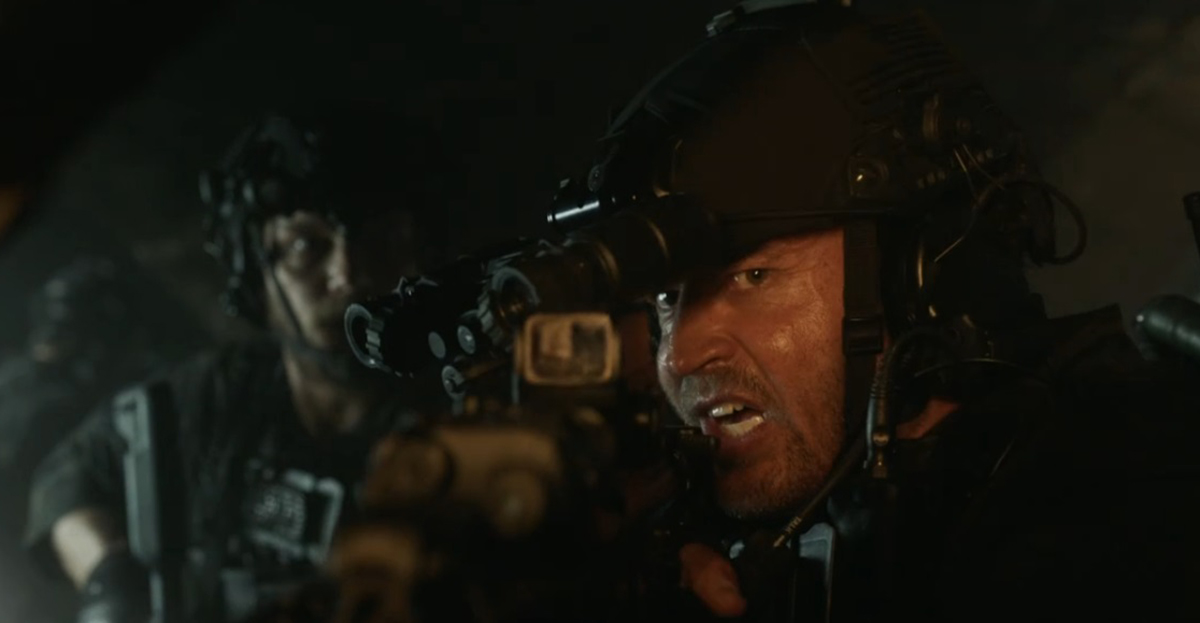 In the opening scene depicting a Navy SEAL operation that goes sideways, the SEALs are carrying HK416D carbines with 10.4-inch barrels, BCM stocks, and Geissele handguards, and they're all outfitted with Vortex AMG UH-1 holographic sights, Surefire SOCOM-RC2 556 suppressors, and Magpul PMags.
If you want one as a civvie, you'll have to settle for the .22LR rimfire version or get really, really lucky somehow. We won't ask questions.

---
Price: $1,499 + accessories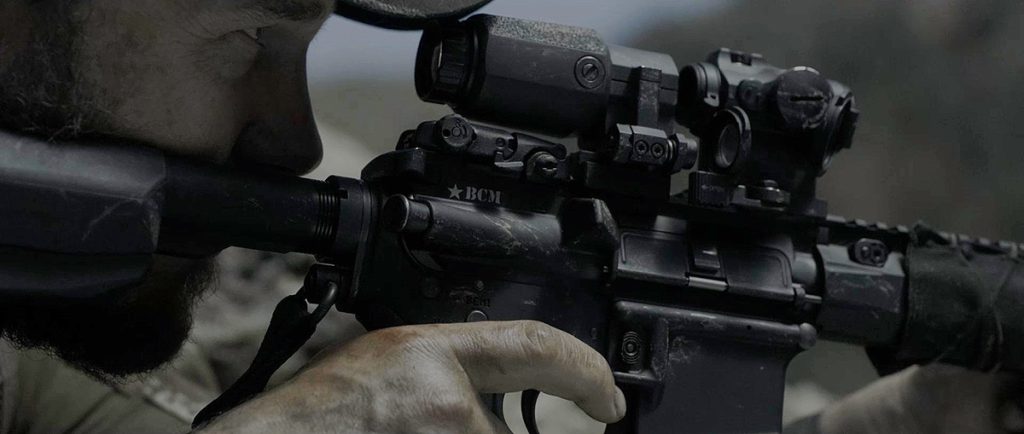 James Reece's (Chris Pratt) main firearm throughout the series once he embarks on his vengeance quest is a customized and genuinely full-auto BCM Recce-14 MCMR carbine with a host of excellent accessories.
On the top rail are an Aimpoint Micro T-2 sight paired with an Aimpoint 3X-C Magnifier and Magpul MBUS iron sights. The furniture includes a BCM Stock Mod 0, a BCM MOD3 pistol grip, and a BCM 13-inch M-LOK modular handguard.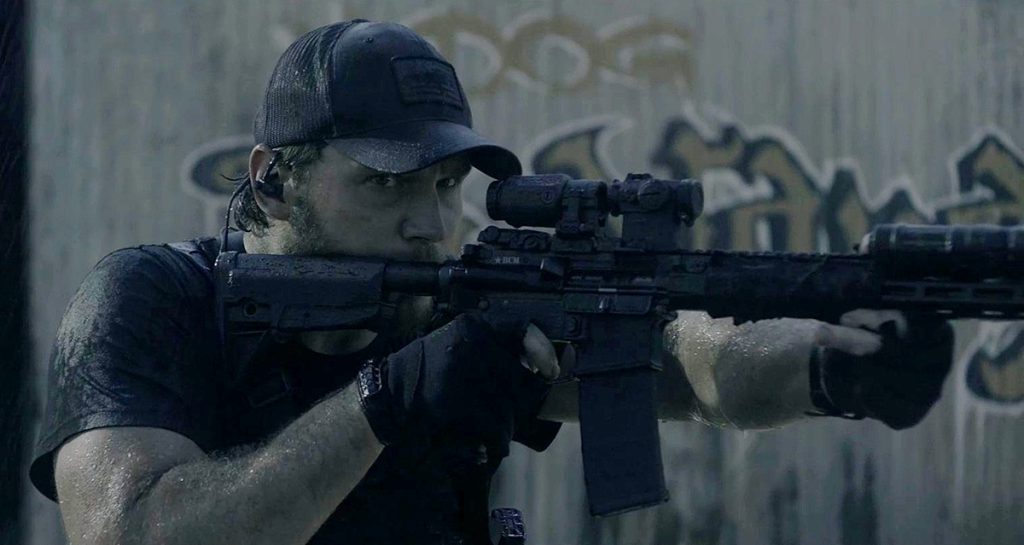 For illumination, there's a Cloud Defensive OWL weapon light and on the muzzle is a Rugged 3-Port Suppressor Muzzle Brake. Other accessories include a Magpul MS4 Sling paired with QD sling mount and QD end plate.

---
Price: about $1,400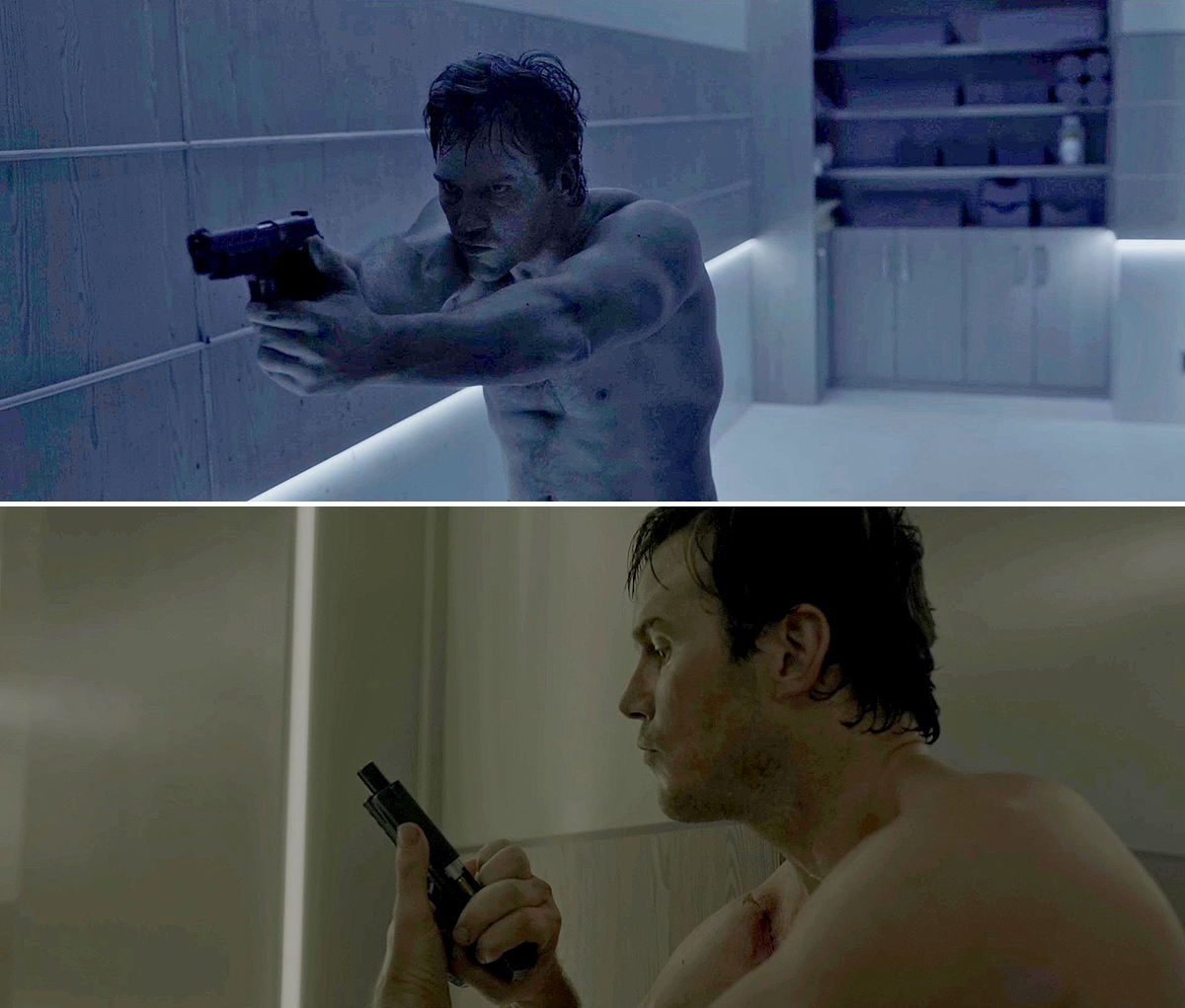 As it is in real life, the SEALs in Reece's team all carry 9mm P226 MK25 pistols on operations, and each member of the team has a customized and personalized P226 that was gifted to them, all with the same dark camo pattern.
The right side of Reece's pistol slide is engraved with his full name, the other bears the letters: LLTB for "long live the brotherhood" — and the same goes for the other team pistols.
The gun becomes an important plot point, as Boozer (Jared Shaw) supposedly uses his P226 to commit suicide. Reece knows Boozer, a huge fan of the .45 ACP and the 1911 pistol platform, would never check out with the 9mm team SIG, which he openly disliked.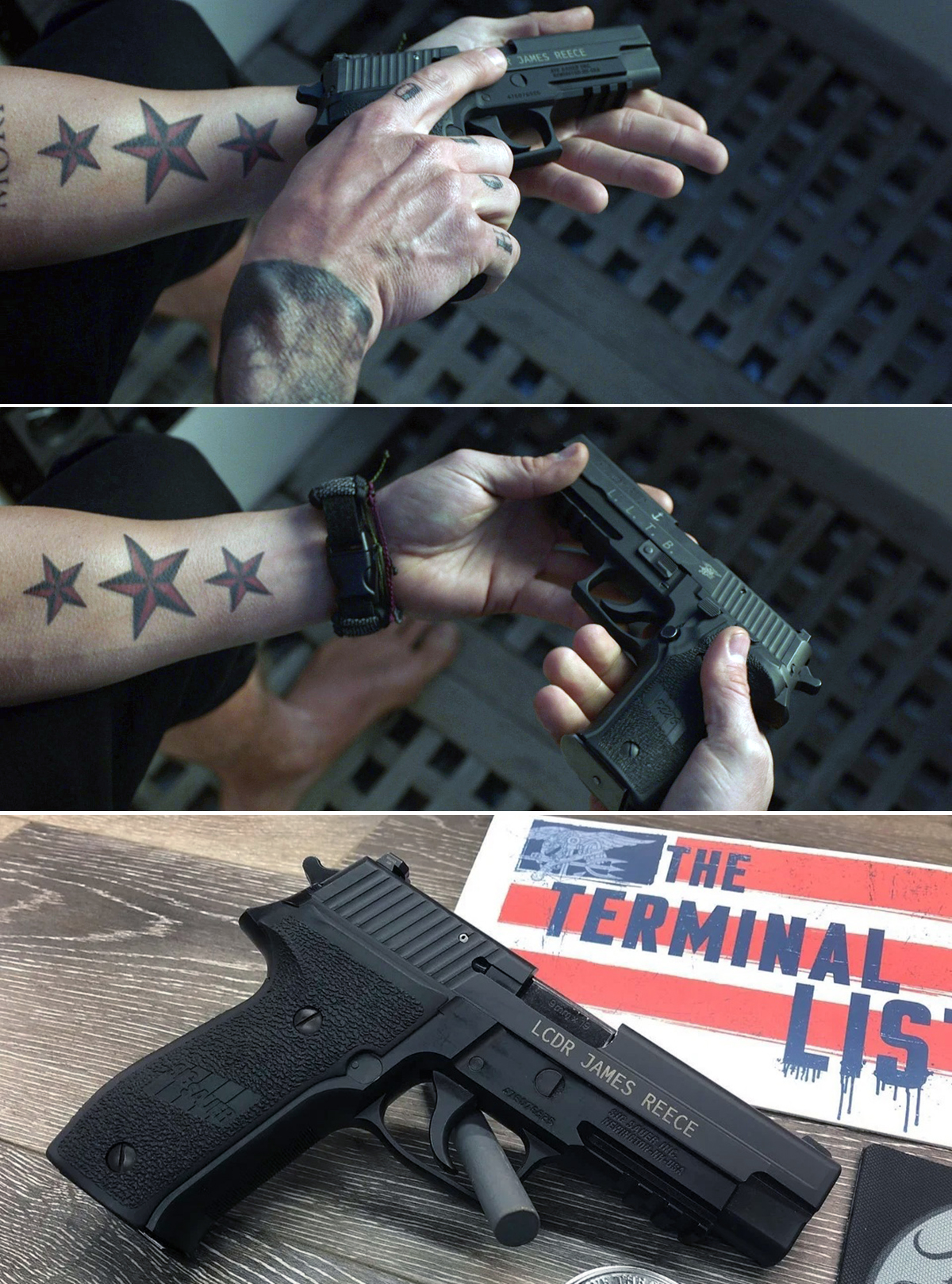 During the MRI gun fight scene, Reece takes a pistol away from one of the assassins sent to kill him and realizes it's actually his own custom SIG stolen from the handgun safe in his home. I won't drop any more spoilers in case you haven't seen the show yet, but it's kind of the puzzle piece that makes everything click.
---
Price: currently produced Warrior II – $1,512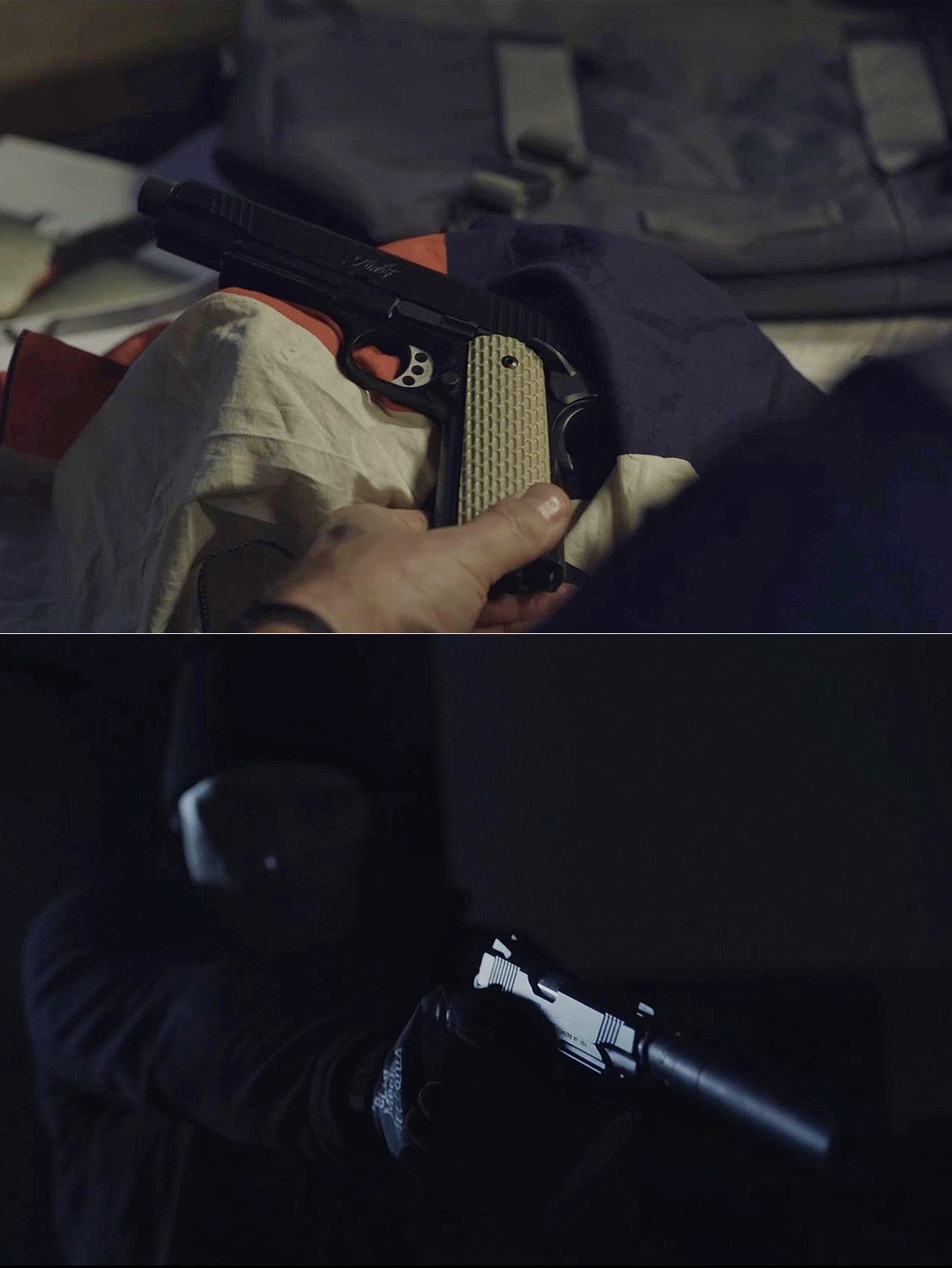 And that brings us to Ernest "Boozer" Vickers' other personal pistol. This is the gun Ben Edwards (Taylor Kitsch) gives to Reece, who uses it to perform an interrogation with a rather final conclusion at the end of Episode 2. The 1911 is an older Kimber Warrior with a threaded barrel, to which he affixes a suppressor for the interrogation scene.
As previously mentioned, Boozer was a big 1911 fanboy who hated the team SIGs, and this Kimber pistol meant a lot to him. Reece using it to begin his vengeance quest makes poetic sense.
The currently produced Kimber Warrior II is a classic 1911 with all the modern amenities, like Tritium night sights, Kimber G-10 grips, front slide serrations, an accessory rail on the frame, an extended beavertail grip safety, and an ambidextrous thumb safety. It has a standard length military guide rod and an old-school capacity of 7 rounds of .45 ACP.
---
Price: $1,599.99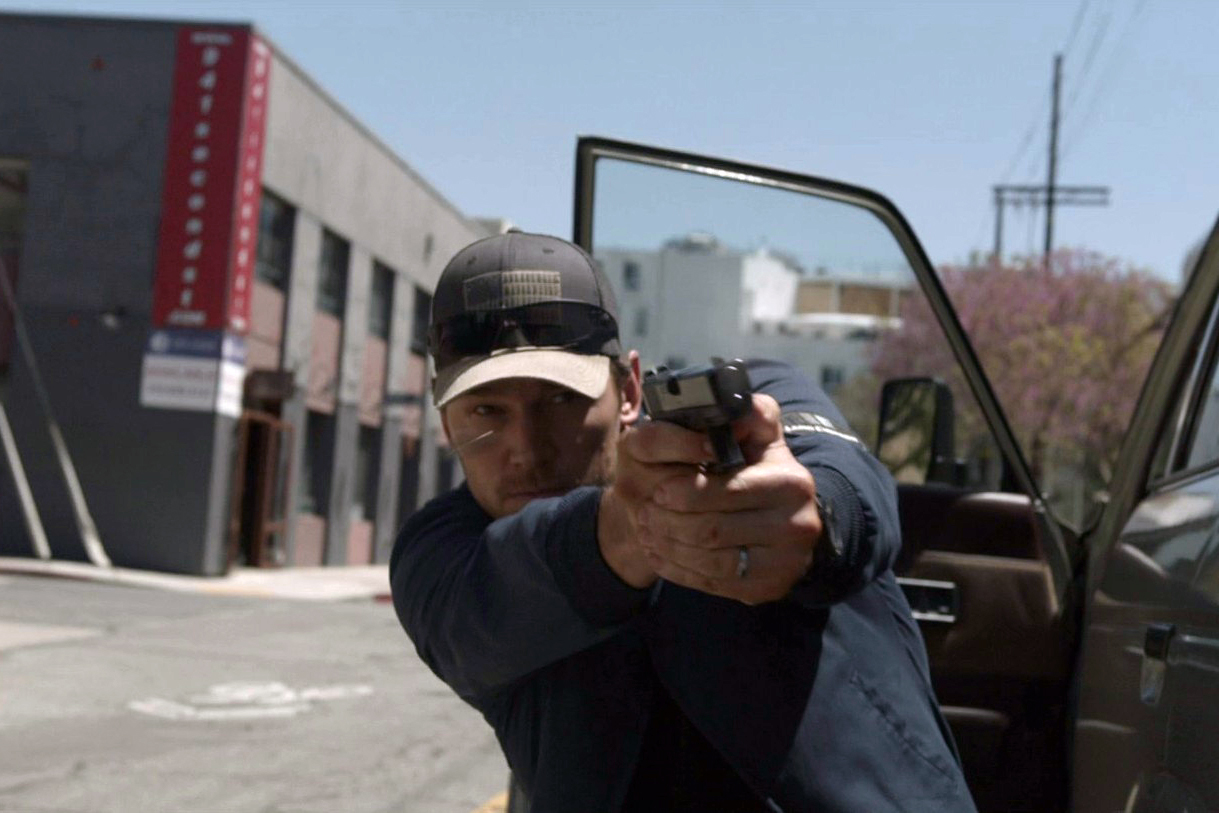 Just like in the books, Reece likes the Glock 19 as a concealed carry pistol, and he carries a custom G19 throughout the season. He also has a smaller Glock 43X in his loadout, which he gives to Katie Buranek (Constance Wu) at one point, and she uses it for the rest of the season — it seriously saves her ass in the stairwell scene.
The pistol was customized by Taran Tactical Innovations (TTI), which is the company responsible for the custom guns in the second and third films in the John Wick series. This is kind of interesting since Reece says in the book that all you have to do to a stock Glock 19 is change out the factory sights, and it's good to go.
If you want the same G19 he uses on the show from TTI, it's going to run you $1599.99. Here's what you get for the price, according to the product description: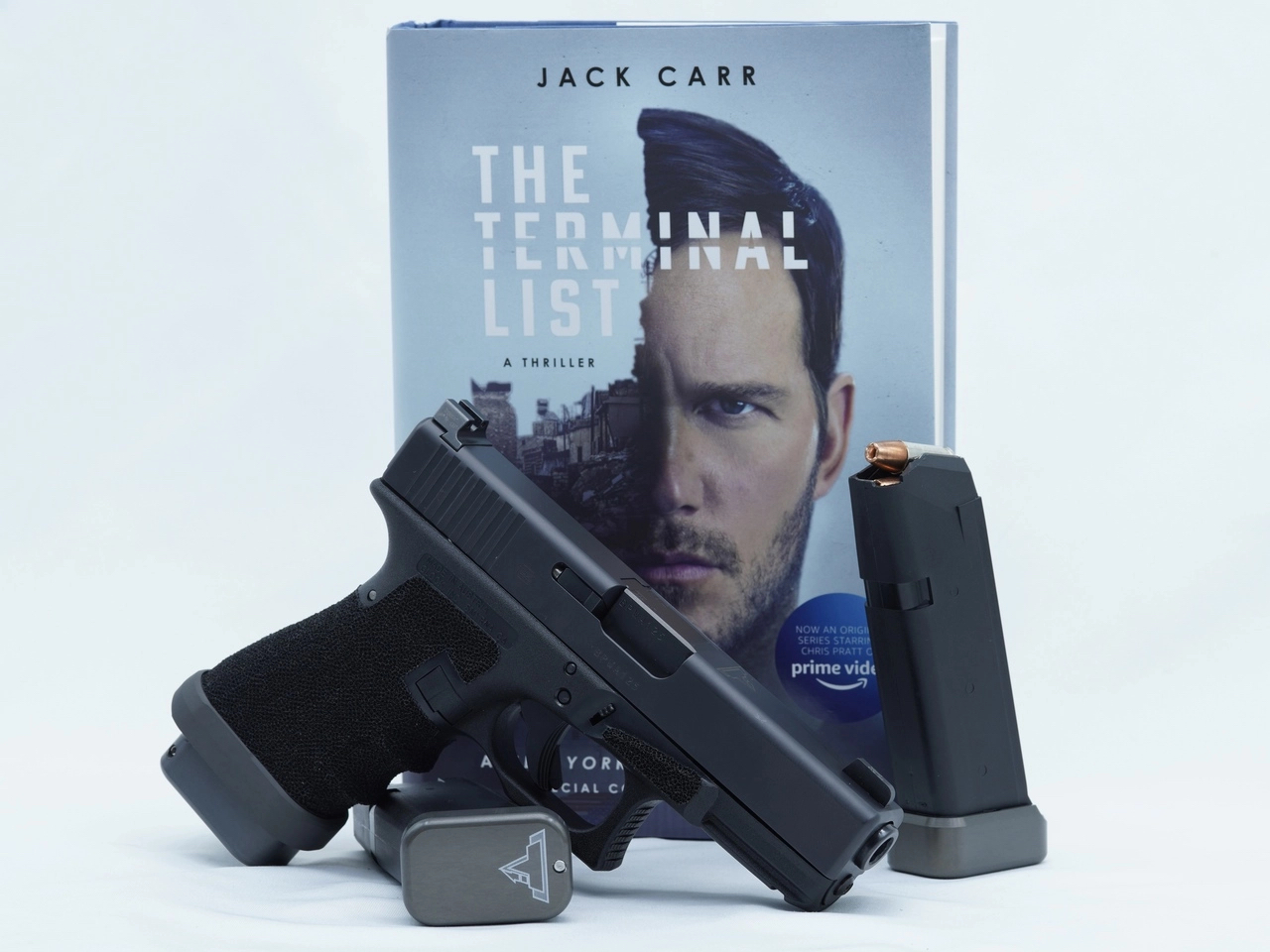 "When James Reece needed ultimate performance and reliability, he chose Taran Tactical Innovations for the Terminal Package. This Glock 19 features a 3.5-pound carry trigger with a positive reset, a custom grip reduction, full wrap stippling, and accelerator cuts. A scallop cut around the magazine release allows the user to eject the magazine easier without the need for an extended button.
"A carry magwell ensures the perfect balance between fast reloads and a low profile. An ISMI guide rod and flat coil spring reduces felt recoil and maintains reliability with a wide array of factory, military, and hand loaded ammunition. As a cherry on top, Trijicon HD XR night sights and our carbon fiber striker plate are included for subtle flair and perfect sight acquisition."
It also comes with two +2/3 round titanium gray base pads for Glock magazines.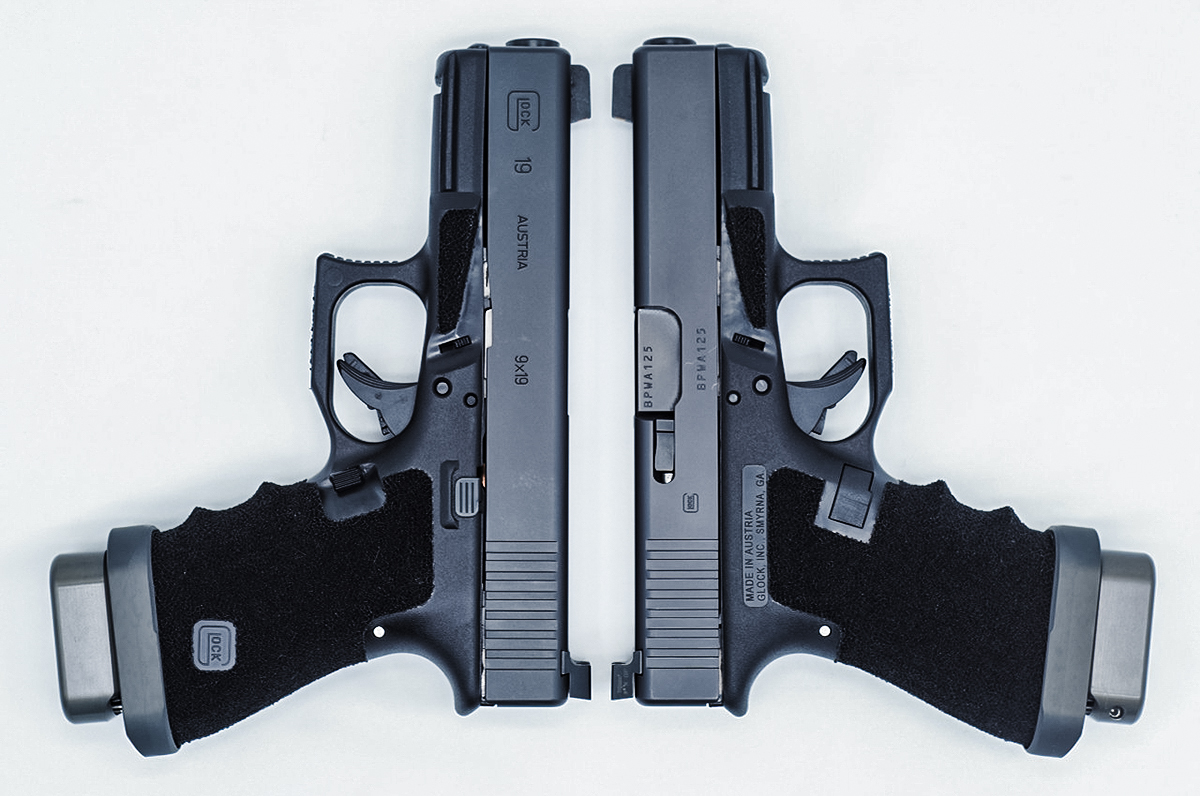 ---
Optic Price: $1,600; Rifle Price: If you have to ask, you can't afford it

Part of Reece's backstory is that he is a sniper by trade, so when he packs up a host of firearms from his home for his vengeance ride, naturally, he includes a precision rifle, which he uses to great effect at the top of Episode 3 to cross off a name on his titular list with a staggeringly skillful shot through the windshield of a moving car from an elevated position in the mountains. The way this scene, which opens Episode 4, begins as a memory of a deer hunting trip with his daughter and morphs into his current vengeance mission is just *chef's kiss*.
The rifle looks to be the same rifle Reece uses in the novel: an Echols Legend bolt gun in .300 Win Mag. In the books, the rifle was handed down to Reece by his father, Tom, and Carr has lots of information about why he chose this rifle, its extremely cool backstory, and how Virginia native D'Arcy Echols builds his rifles today here.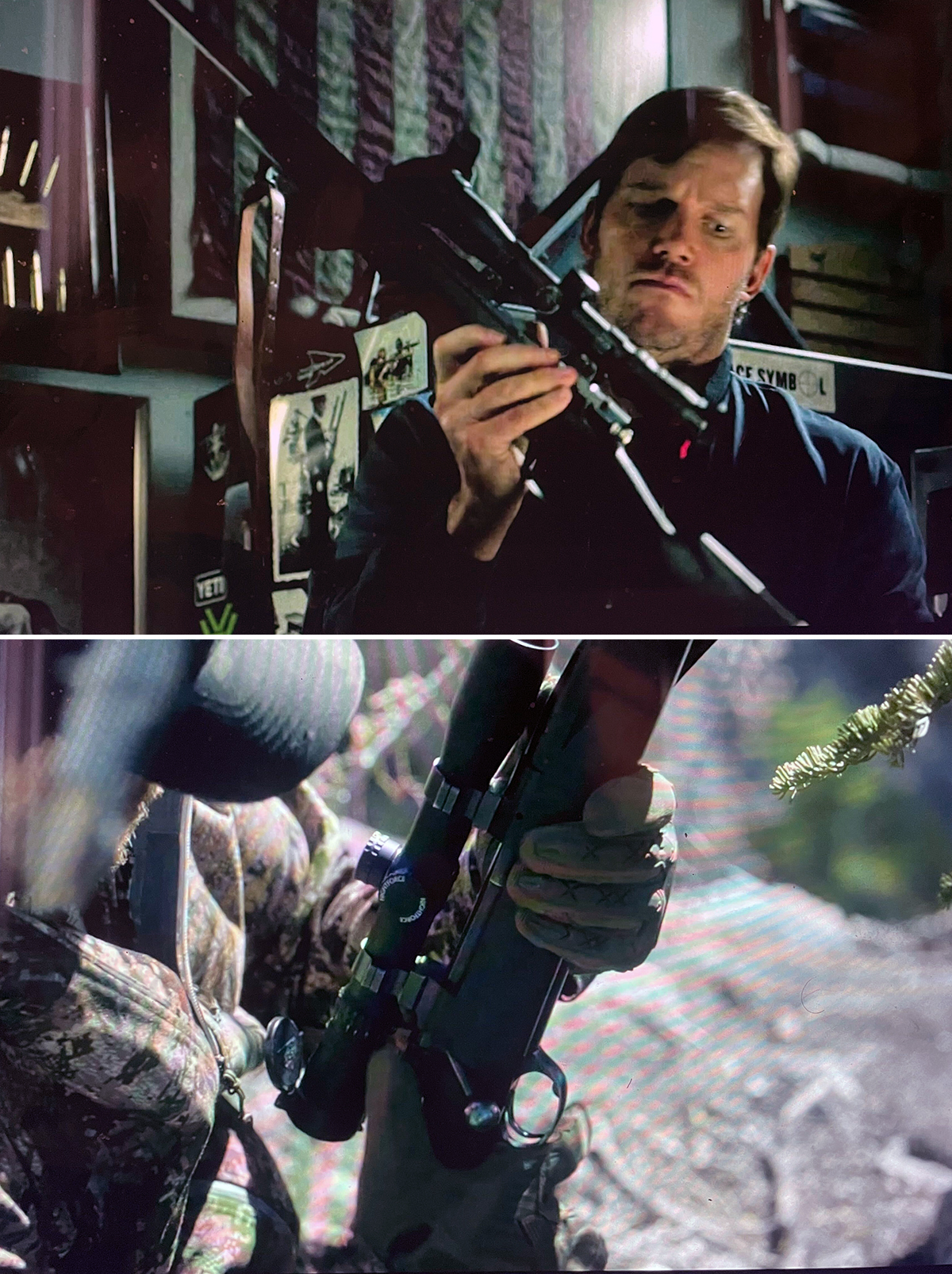 In the book, Reece's rifle is topped with a Nightforce 2.5-10x32mm optic, which is no longer in the company's catalog, though they are made from time to time and can still be found used. The currently cataloged Nightforce NXS – 2.5-10x42mm is pretty close and also looks to be what is mounted on the rifle Pratt uses in the show. Carr also specified that the scope has a MIL-DOT reticle, and that's just what it has in the series (one of the few times a show or movie has gotten a scope reticle even close to correct).
---
Shotgun Base Model: $1,509; Accessories: $769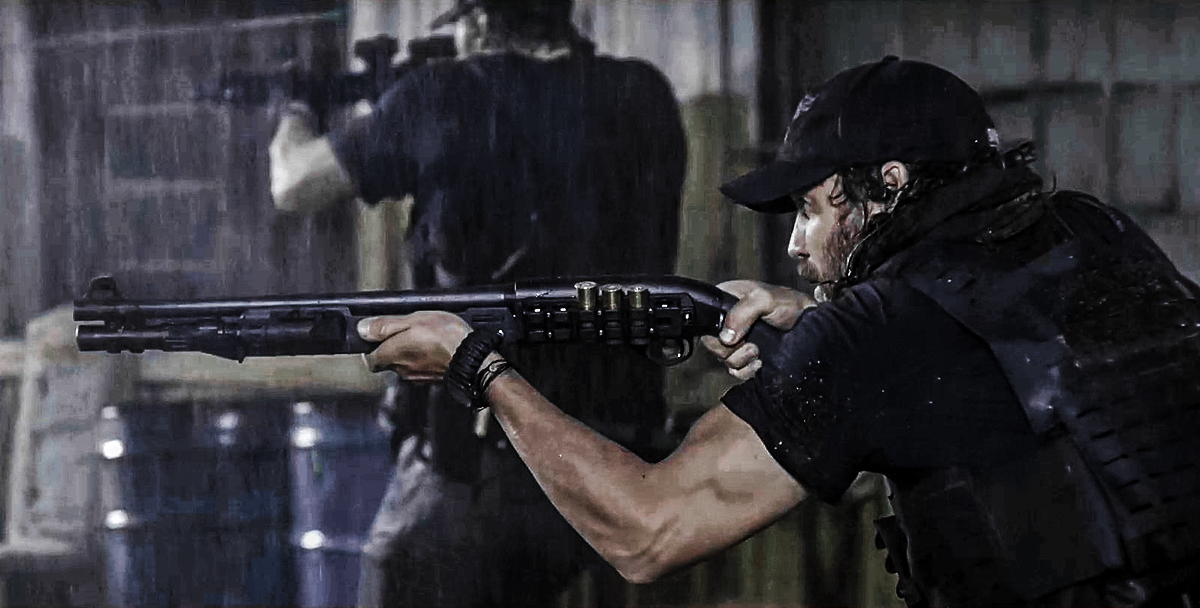 In the season's fourth episode, Edwards uses a sexy-as-all-hell customized Beretta 1301 Tactical semi-auto shotgun outfitted with a Magpul SGA stock and adapter (or a similar custom stock), an M-LOK handguard from Aridus Industries, and an extended mag tube (or it was built on the LE model).
The shotgun is also sporting a five-shell side-saddle Universal Q-DC carrier, also from Aridus, on the left side of the receiver and what looks to be an InForce weapon light on the left side of the handguard.

---
Price: $2,099 to $2,269 depending on options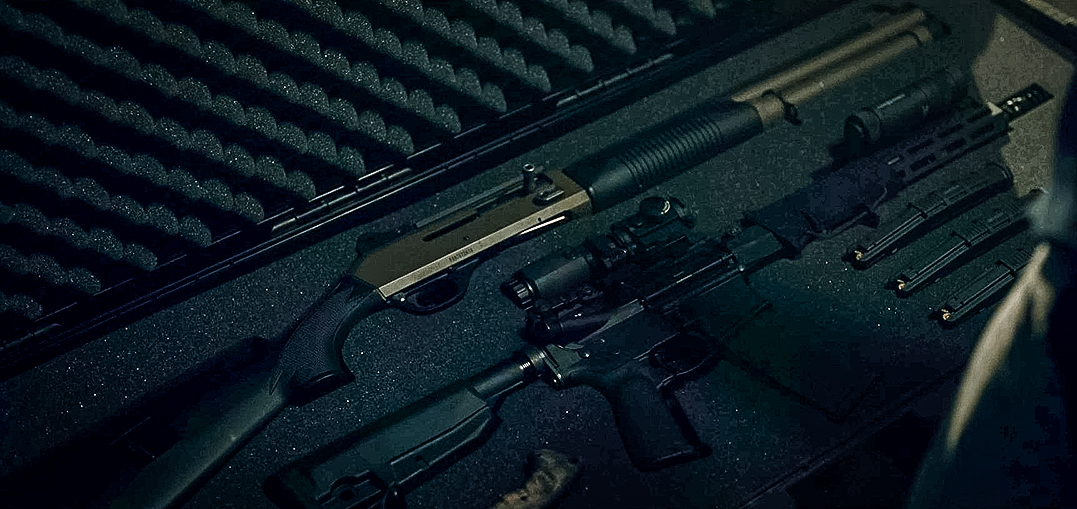 In the third episode, when we get an excellent gearing-up montage showing Reece pulling gear from his gun safe and garage and filling up a bunch of Pelican cases.
We see him pull a semi-auto Benelli M4 tactical shotgun from his safe with ghost ring sights, an aftermarket bolt handle, a full-length mag tube, and an enlarged bolt release, along with a custom Cerakote finish. He places the shotty into the same case as his BCM carbine, but sadly, we never see him use it in the show.

---
Price: About $14,000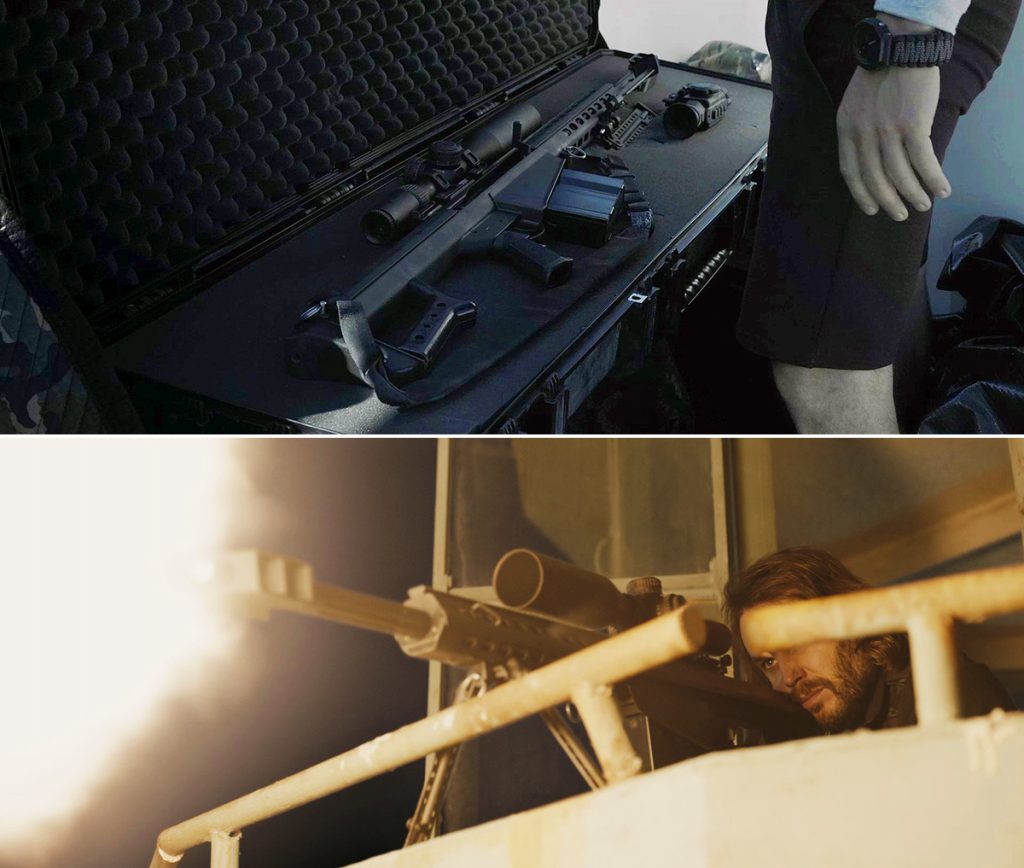 In the eighth and final season episode, Edwards provides overwatch sniper cover as Reece takes what he thinks is his final measure of revenge against the people who destroyed his mind and his family.
For this final mission, the duo is not fucking around. They break out a Barrett M107 .50 BMG long-range sniper rifle, and it does some amazing damage.
It looks like he's rocking the more compact version with a 20-inch fluted barrel in all black. This recoil-operated semi-automatic sniper rifle has an astonishing capacity of 10 rounds of .50 BMG and a surprisingly manageable weight of 27.4 pounds. However, considering it has the old-school muzzle brake, the gun in the show is likely the older and slightly heavier M107.

---
Price: $1,400 to $6,500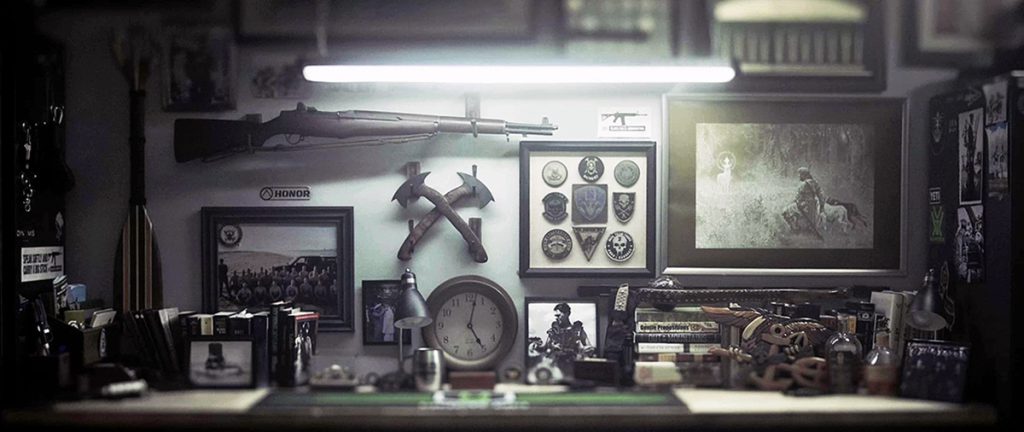 While Reece never uses this rifle, it does get some healthy screen time, and it's featured in the intro to every ep, so it's worth mentioning. In his garage, Reece has a bunch of memorabilia, photographs, his tomahawks (more on those later), and what is likely a family heirloom M1 Garand rifle hanging over his workbench.
Reece's father is a vet, but this is more likely his grandfather's service weapon from either Korea or WWII. That, or Reece just digs CMP rifles.

---
THE GEAR of The Terminal List
Now, you can try to shoot like Reece, but you still have to get the SOF badass look down, too. Here's some of the coolest non-shooting gear from the season.
---
Price: $200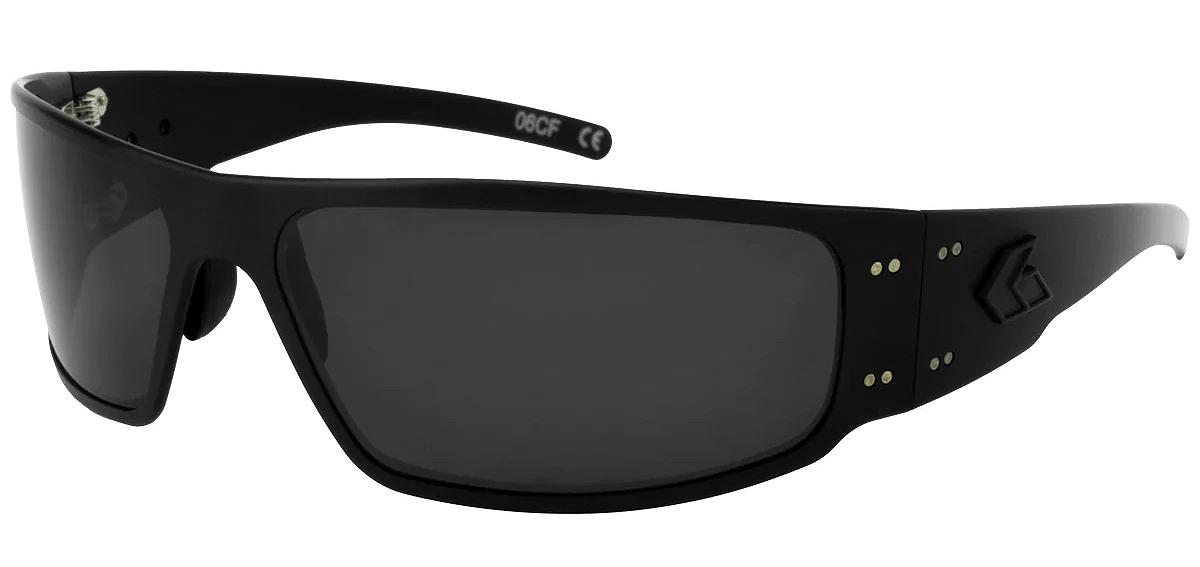 If you don't know about Gatorz Eyewear, you really should. Reece wears a pair of their all-black Magnum shades throughout the season, which is the company's original wraparound style frame. They're large and tend to fit long or wide faces best, providing close-fitting full coverage — but the company has several styles. Law enforcement and SOF guys know them well, and for good reason.
Every pair is made with lightweight yet extremely durable aerospace-grade aluminum frames — you won't find any plastic arms glued to flimsy hinges here. You truly have to work your ass off to destroy these glasses.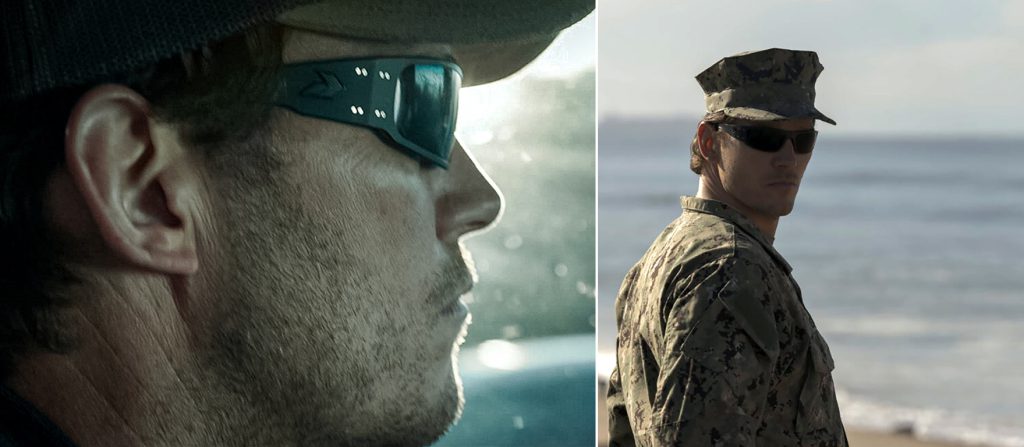 Since they're aluminum, that means they're bendable and therefore fully adjustable, from the entire frame to the nosepiece. Just bend it around until the glasses fit your face just right.
The arms are also incredibly thin, so they fit comfortably under helmets and ear pro like nothing else. Of course, they feature impact-resistant polycarbonate lenses and look cool as shit on your face or up on your BRCC hat. (These shades are American-made, and Gatorz offers a military and first responder discount.)
---
Price: $815+ depending on options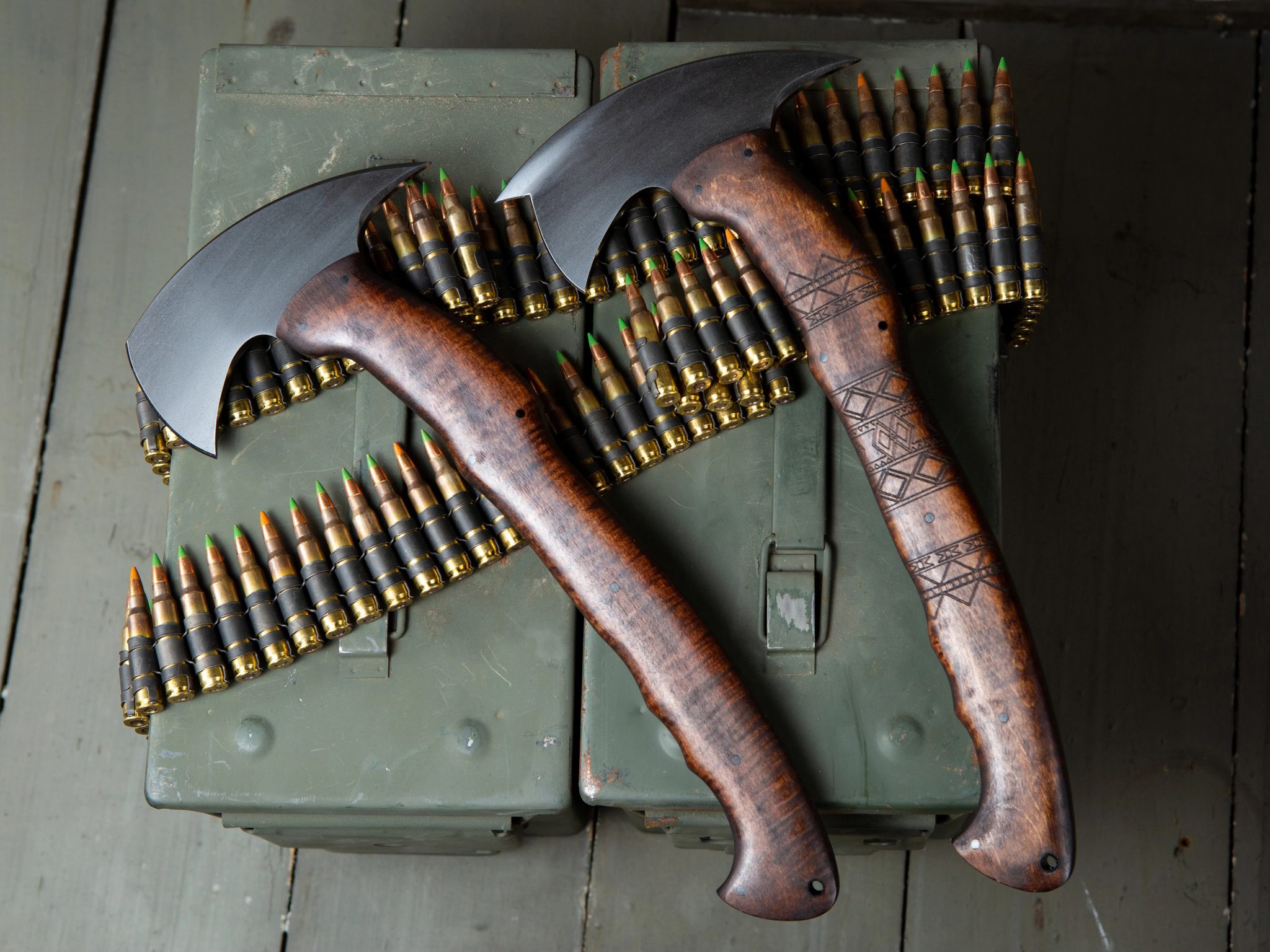 They're the coolest pieces of gear in Reece's arsenal and the most primitive. Tomahawks have a special place in the SOF community, and that can be doubly said of the Winkler Sayoc RnD, which is featured heavily in the series and the Carr novels.
In the show, Reece has two identical hawks mounted above his workbench beneath his M1 Garand. When he gears up for his vengeance ride, both come along. He carries at least one in a quick-access sheath somewhere on his gear.
The small ax is a collaborative design between master bladesmith Daniel Winkler and skilled Sayoc Kali martial artists and trainer Rafael Kayanan. Reece carries the full-size model, pictured above, but there is also a more compact version that's a little shorter and has a smaller head. It has been proven in combat by SOF operators and is a favorite among those who are able to choose their own equipment.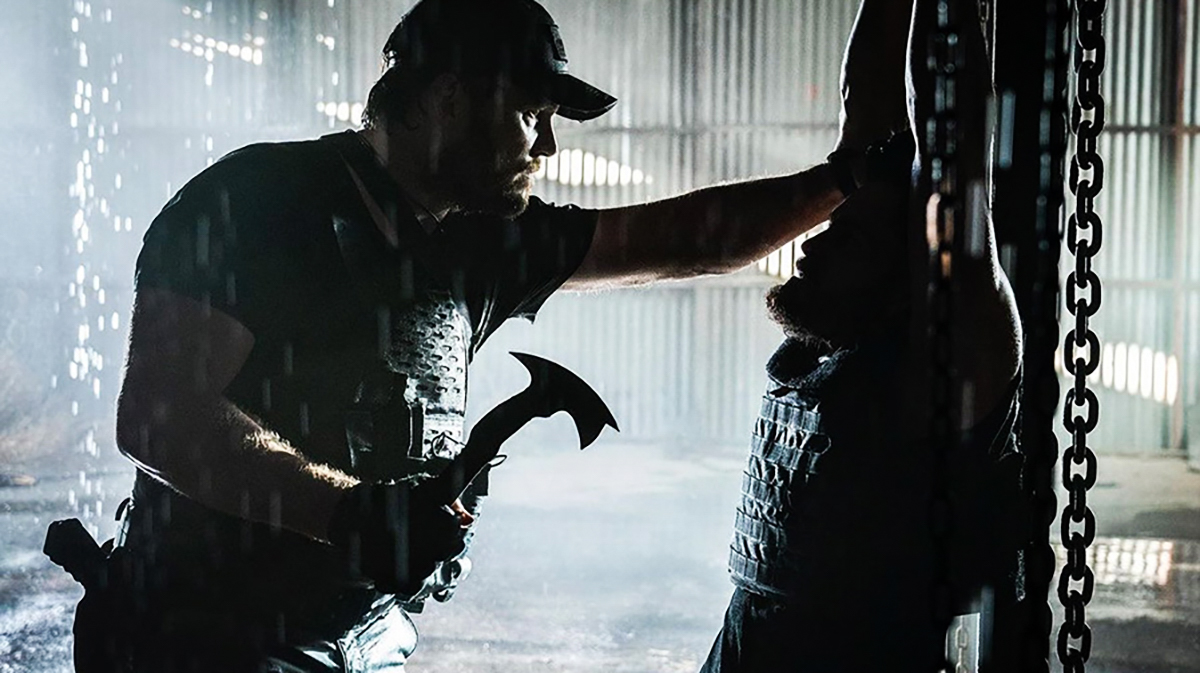 It features a standard grip position, as well as a secondary close-quarters grip closer to the head that was developed to emulate the feel of a pistol grip, the manufacturer says.
The hawk actually factors into one of the biggest differences between the novel and TV versions of The Terminal List. In both, Reece goes to Mexico to hunt down the guy who actually shot and killed his family. In the show, he goes with Edwards instead of going alone, as he did in the book. He also assaults the compound during the day — in the book, it happened at night.
In the book, Reece is trying to kill everyone there, but in the show, he's looking for one guy, in particular, El Navajas (Albert Valladares). He finds him, captures him, and tortures him by eviscerating him with one of the tomahawks before leaving him to die slowly. Presumably, Reece leaves one of his hawks there, pinning the dude's intestines to a pole.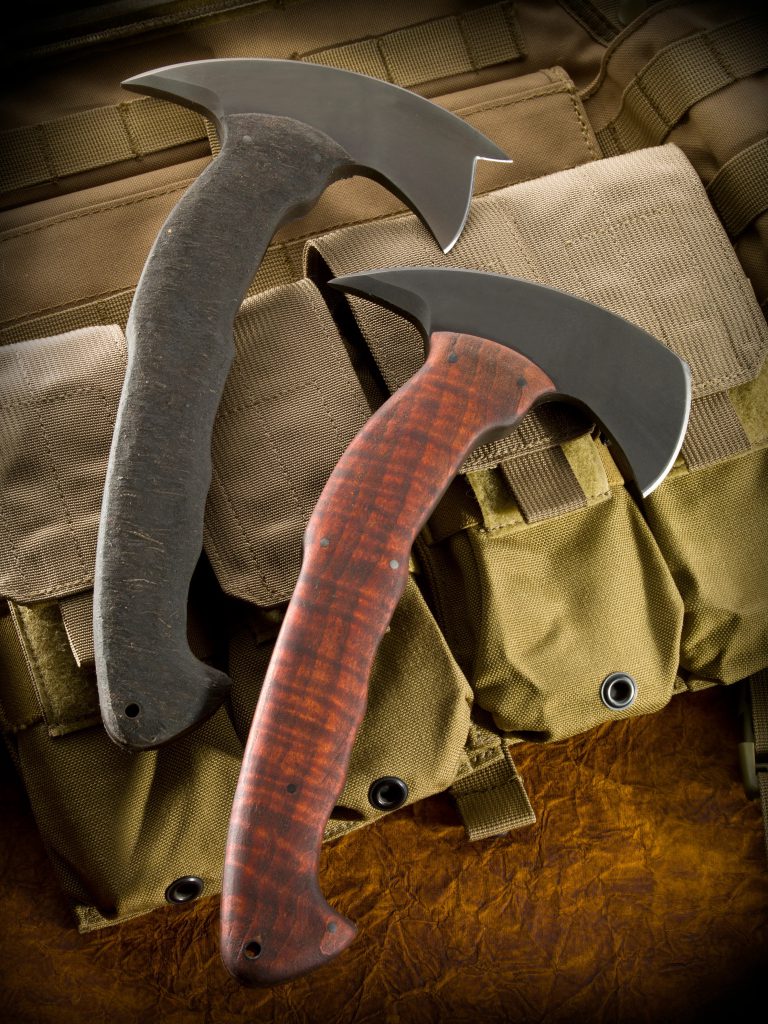 We get the same scene with the same characters in the book, but at a different time and in a different location — the Florida Keys — and Reece used a karambit to do the torturing, not a tomahawk.
If you want one of these hawks, be prepared to pony up some cash and be patient. If you want the version with the front spike like Reece has, you're looking at a 6- to 8-month wait.
---
BRCC Range Cap Trucker Hat
Price: $29.99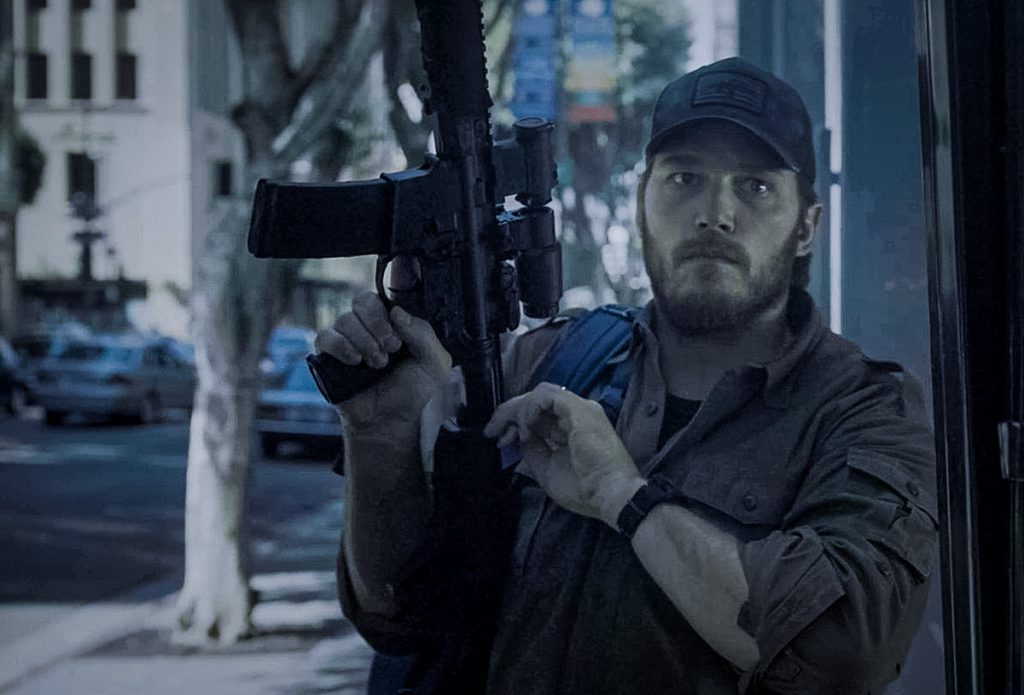 Nobody could possibly make a series based on the SOF community adapted from a Jack Carr novel without adding some sweet Black Rifle Coffee gear, which shows up here and there casually throughout the season. It isn't just shameless product placement — in the novels, Black Rifle Coffee is mentioned as Reece's favorite source of caffeine.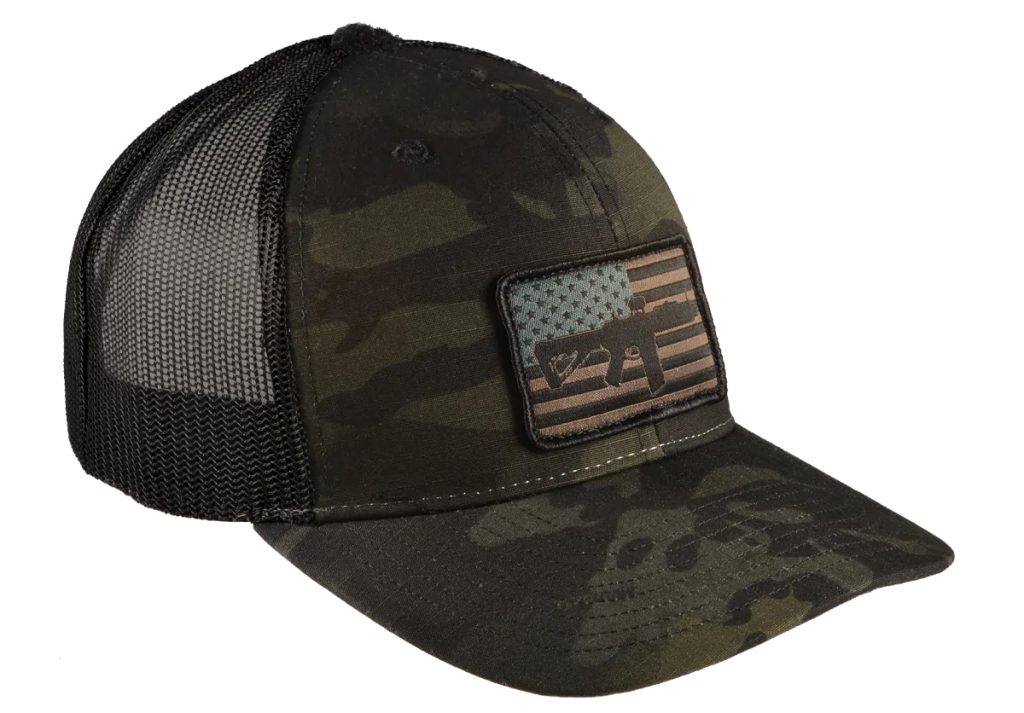 The piece of BRCC gear that got the most screentime was Reece's go-to hat when not in uniform: the company's Range Cap Trucker Hat in Black Multicam. It doesn't have a crown button on top, so it can be worn comfortably with ear pro at the range, and it's made with water repellant US milled NYCO ripstop fabric, an adjustable snapback, and features the AR over the American Flag logo with muted colors.
If you want to really nail the Reece look, this cap is essential. Plus, it's just a badass cap that blends in while you're in the field or practically anywhere.
---
Price: $27.99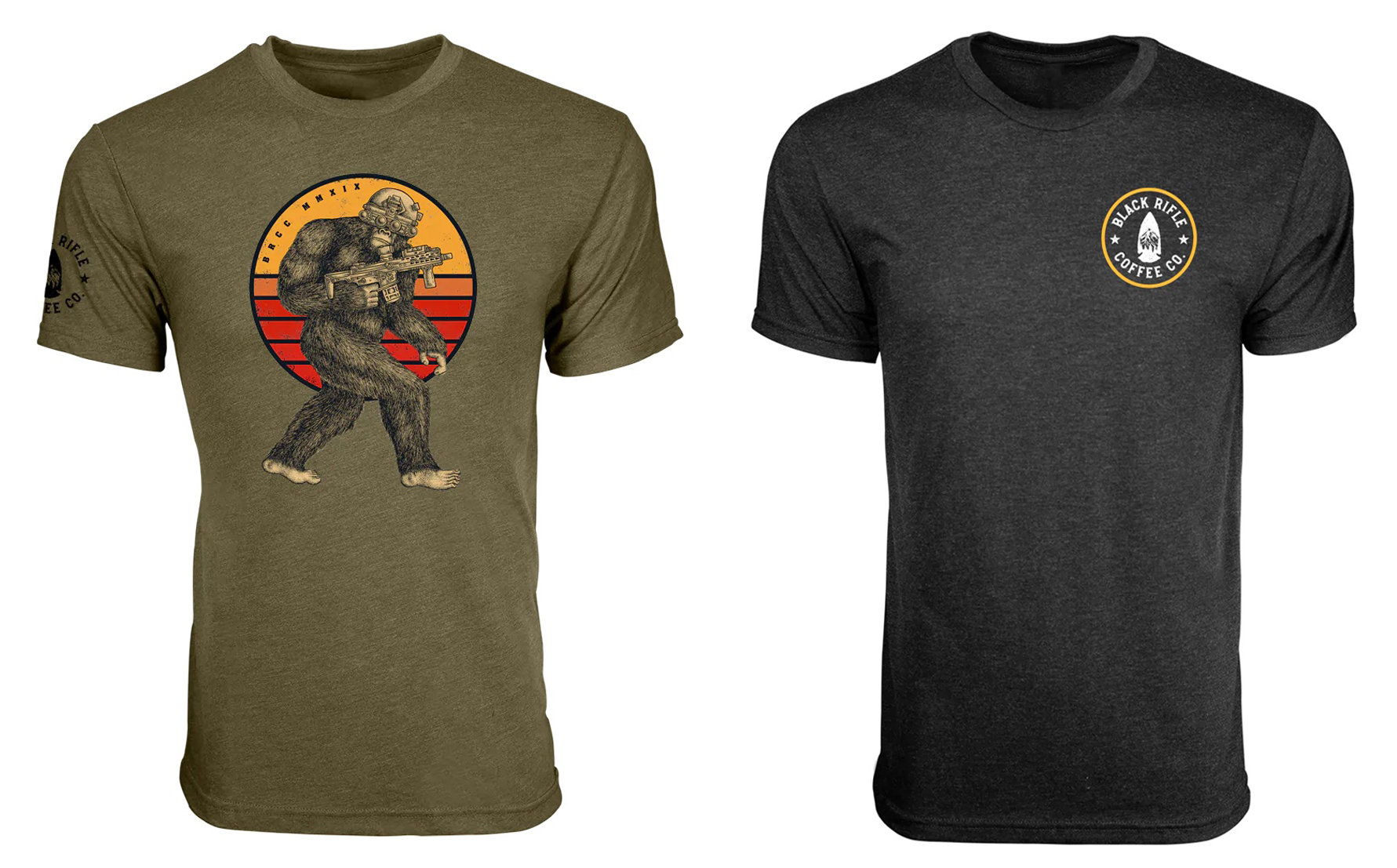 I cannot emphasize how indescribably cool it was to see a Tactisquatch shirt in a big-budget production like this – and there it was at the top of the first episode during the mission briefing.
One of the team members is wearing the military green version of the BRCC Tactisquatch shirt — it's also available in black, and it gets a brief but prominent bit of product placement. That dude sure gets around.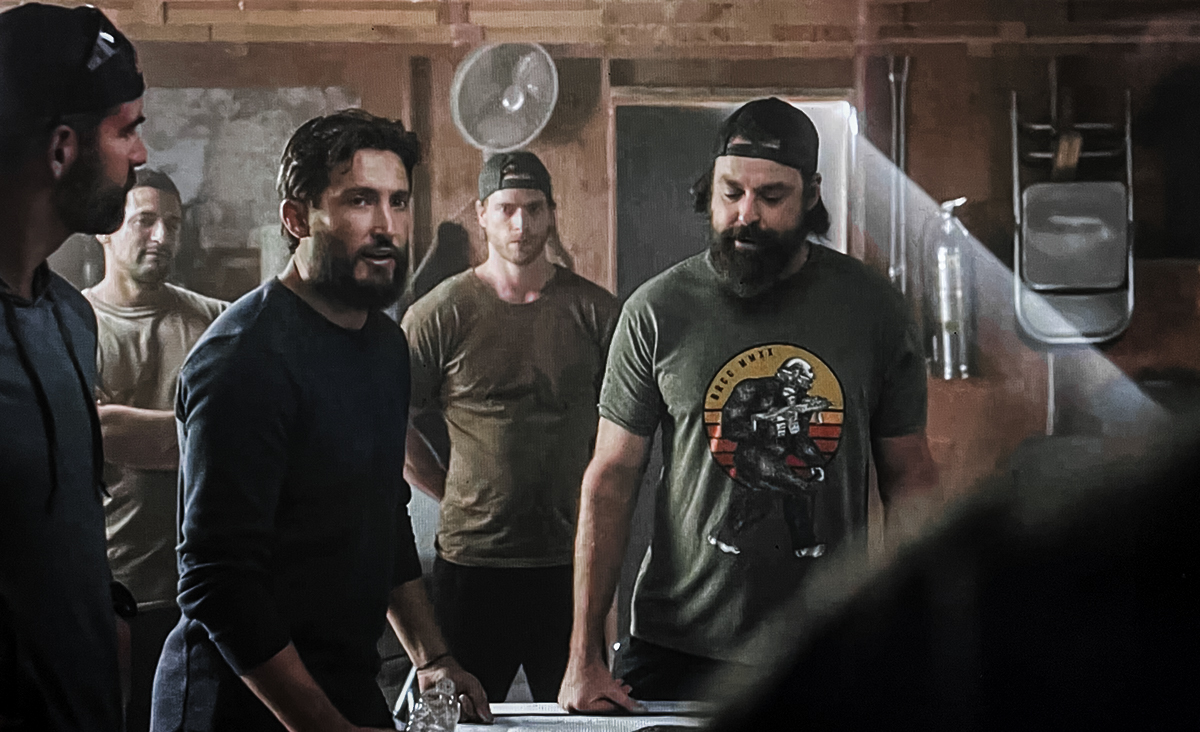 Later in the season, Reece can be spotted wearing the classic BRCC Arrowhead shirt with the more discrete company Arrowhead Logo on the chest.
---
Price: $99; $1,905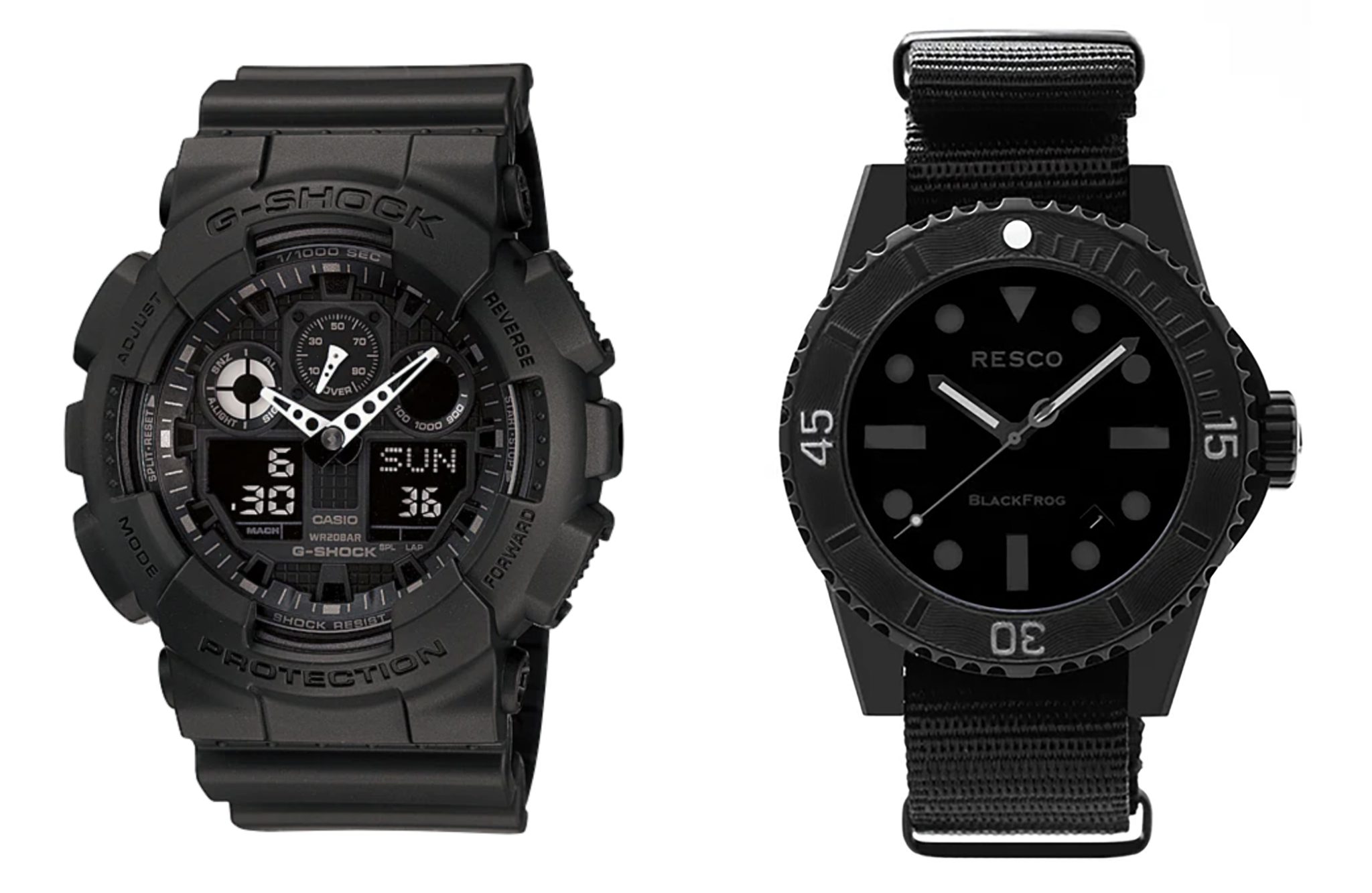 Early in the series, during Reece's ill-fated SEAL team mission, he's wearing what looks like a G-Shock GA-100 watch, and you can also see it in promo photos for the series in which Pratt is wearing the blacked-out gear, helmet, and NODs that he's only wearing during the mission in episode 1. It could potentially be a different model with analog hands, but there's no mistaking that G-Shock strap.
This ultra-rugged timepiece is simple and discreet while still including plenty of useful functions typical of the G-Shock line that has been long trusted by troops downrange and anyone who gets dirty for a living.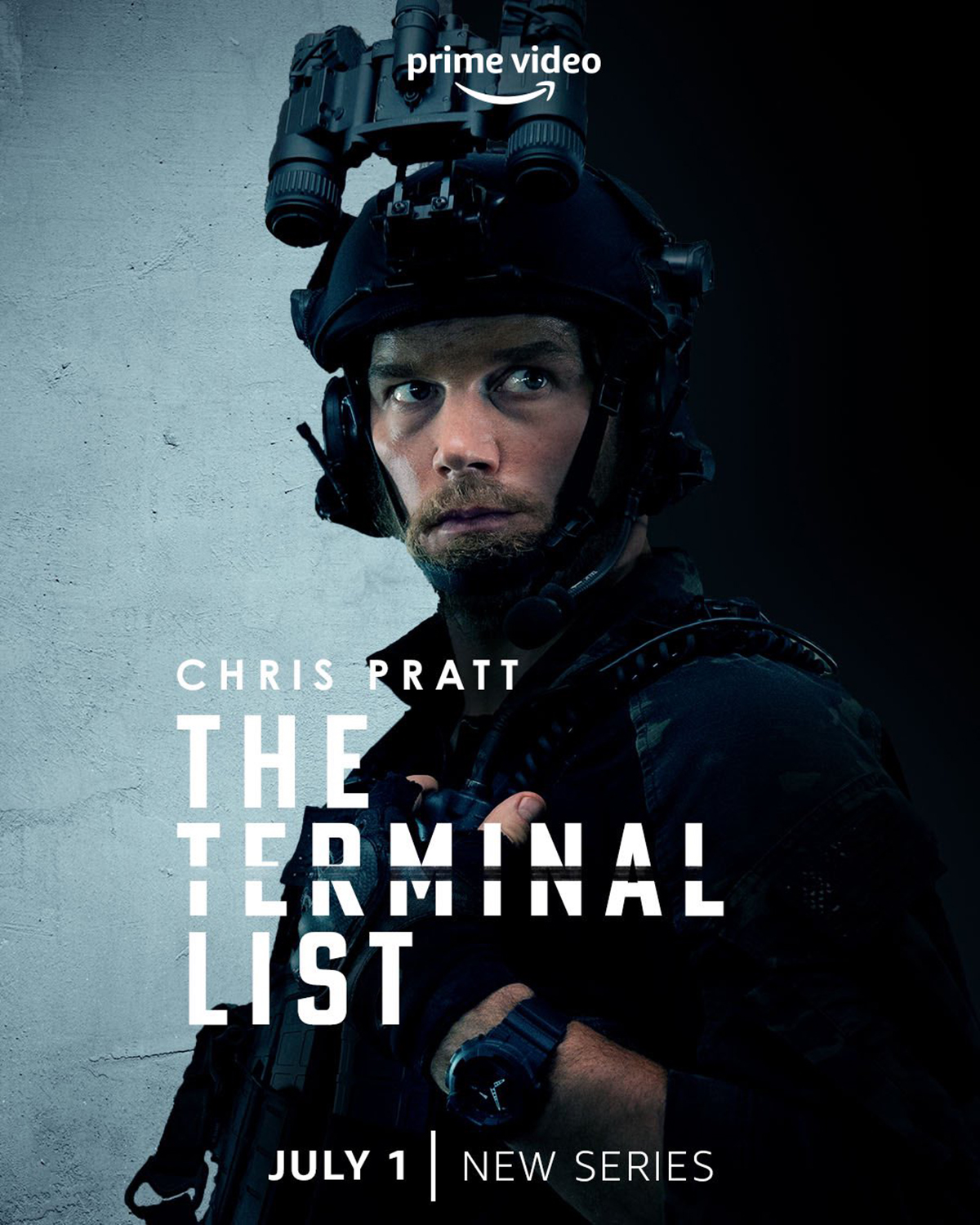 Later in the series, he's wearing a clean and simple Resco BlackFrog Gen2. This excellent timepiece features a stainless PVD black finish case that is water resistant up to 300 meters. The matte black dial sports C3 Super Luminova hands (the dashes for the dial have very little glow, if any).
It's finished in crystal sapphire with an anti-reflective coating and a hex screw-down crown. It's available with a battery-powered quartz movement or with a self-winding mechanism and ships with a NATO-style nylon strap.
---
5.11 Pants, Boots, Packs, and Plate Carriers
Price: $90 to $215

When it came to the actual clothes the characters were wearing, a lot of gear companies were represented, but 5.11 had a bunch of their products show up in the series.
We saw Reece carrying a few of their longtime bestselling RUSH packs, and so did a variety of other characters. You can also spot the 5.11 TacTec Plate Carrier in a few scenes. Reece wears the company's Apex and Icon pants throughout the show, and various characters wear 5.11 A.T.A.C. 2.0 6-inch boots with a side-zip.
---
READ NEXT – Free Range American's Summer Gift Guide