In the early days of the Global War on Terror, all was not well in the world of U.S. military small arms. The sand in Iraq and Afghanistan was wreaking havoc on the internal components of M16 rifles and M4 carbines.
As was the case in Vietnam, those damn AKs on the other side of the fight seemed to rattle off rounds regardless of how much crud got inside or how infrequently enemy soldiers cleaned them. Along came the Magpul Masada, which became the ACR rifle under Bushmaster and Remington.
This all-new rifle sidled up alongside Pentagon officials.
"What the hell is this?" they asked.
"Whatever you want me to be," it answered.
Like a pair of zip-off convertible pants, the ACR rifle promised everything to everyone. It could fire 5.56 NATO or 7.62x39mm. Shooters could swap out barrels in seconds, and it could allegedly run flawlessly in conditions that would render an M4 inoperable. Those who have shot one unfailingly preach about its reliability and outstanding design. How odd, then, that the ACR rifle has all but vanished today.
---
How Magpul Built the ACR Rifle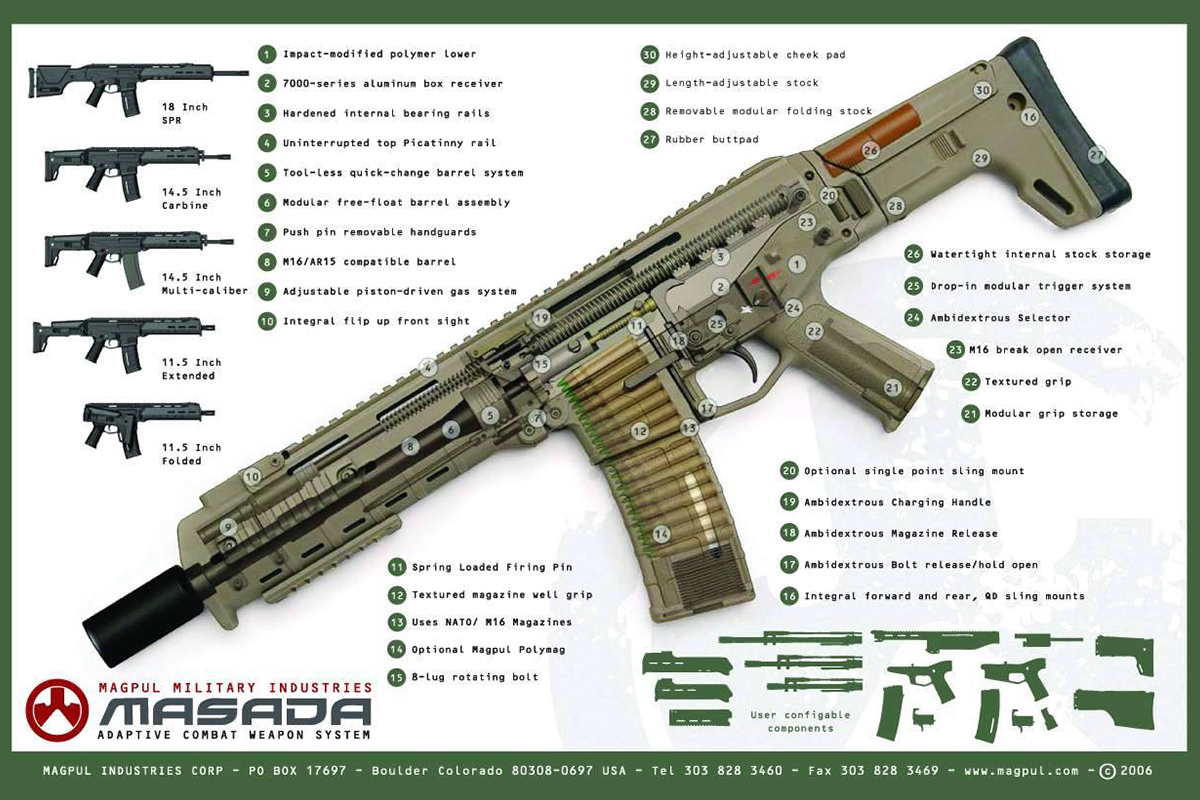 In its earliest days, the Adaptive Combat Rifle (ACR) wasn't a rifle at all — it was a collection of retrofit upgrades for the to the M16 and M4. The people at Magpul hoped that revising a few components could cure the military rifles and carbines of their temperamental ways cheaply and easily. By 2006, they decided that wasn't the case and opted instead to start from scratch.
In 2007, Magpul revealed the Masada, an all-new modular weapon system, at SHOT Show, which was held in Orlando, Florida back then.
At the time, Richard Fitzpatrick, Magpul's founder and chief executive, sought to replace the U.S. military's M16s and M4s with a platform that didn't have the same limitations.
Mike Mayberry and his design team placed the Masada's non-riciprocating charging handle on its side rather than the rear of the upper receiver. That, combined with the elimination of the AR buffer tube, allowed them to build an adjustable cheek riser into a folding buttstock. They made the fire selector lever, magazine release, and bolt release ambidextrous.
The team also ditched the M16's direct impingement gas system in favor of the Armalite AR-18's short-stroke gas system. The rifle also employed several polymer components and a few elements borrowed from the Heckler & Koch G36 and XM8 platforms.
Even though the Masada looked and felt like an M4, the two firearms shared only a barrel, fire control group, and front sight post.
During an episode of Discovery's Future Weapons, former federal counterterrorism instructor Chris Costa attested to how easy the innovative platform was to use.
"Everything's been very well thought out since it was built from the ground up," Costa said. "If you dropped this weapon system overseas right now and gave it to our troops, and they pulled it out of a crate, it's pretty self-explanatory. It doesn't take a rocket scientist to start utilizing this weapon system."

The Masada could fire 5.56 NATO from standard M16 magazines, but it could also fire 7.62x39mm rounds from an AK magazine. The modular design allowed users to mix and match bolts, barrels, lower receivers, and handguards without any tools. The potential for military and civilian use was massive.
Magpul makes a lot of great gear, but the company doesn't have experience in arms manufacturing on a large scale. Freedom Group, then the parent company of Remington and Bushmaster, announced in 2008 that it would build and sell the Masada under the ACR name. Remington was responsible for producing selective-fire ACRs for the military and various law enforcement agencies; Bushmaster would sell semi-automatic variants of the ACR in the civilian market.
Consumers waited not-so-patiently for the hot new rifle to finally become publicly available in 2010. Surprise! It didn't cost $1,500, as Magpul had suggested. Instead, prices ranged from $2,600 to $3,000. That was for one complete firearm. If buyers wanted to take advantage of interchangeable barrels, lower receivers, and bolt faces — you know, the whole point of the ACR — they'd have to spend even more money on those components. People could instead buy multiple firearms for that kind of money — and that's what most did.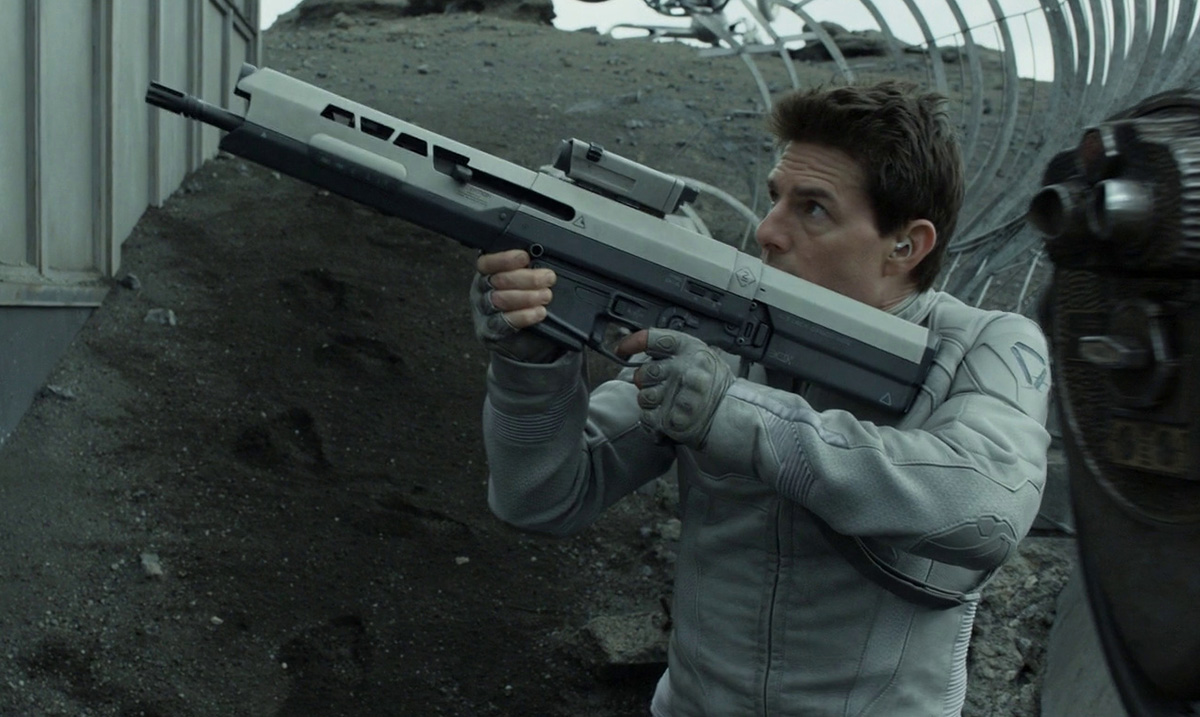 Plus, aftermarket support never materialized for the ACR. While gun owners had (and still have) endless choices regarding AR parts, accessories, and modifications, the relatively few ACRs that made it to market ended up staying in their original form for lack of options.
Overcharging for a rifle your customers can't customize or accessorize isn't a good business model. Some believe Big Green was banking on the lucrative military contracts that never manifested. The ACR's poor sales figures didn't force Remington to file for bankruptcy in 2018, and it didn't temporarily kill off the Bushmaster brand, but its performance didn't help.
"Bushmaster didn't tie up anyone's money by taking orders it wouldn't be able to fill or leave anyone hopelessly unarmed," wrote American Rifleman in 2010. "The ACR also didn't become obsolete or antiquated during the time it was in development. So I don't see any point in judging the Bushmaster ACR on anything other than its merits. The gun certainly delivers on performance and handling, and given the speed with which one can change the barrel, it is certainly adaptable."
Bushmaster resumed operations in 2021 with a line of AR-style rifles, but the Bushmaster ACR is nowhere in sight. For now, it's a thing of the past.
GOOD GEAR – Explore All Things Unknown With the BRCC Beyond Black Roast
---
Breaking Down the ACR Rifle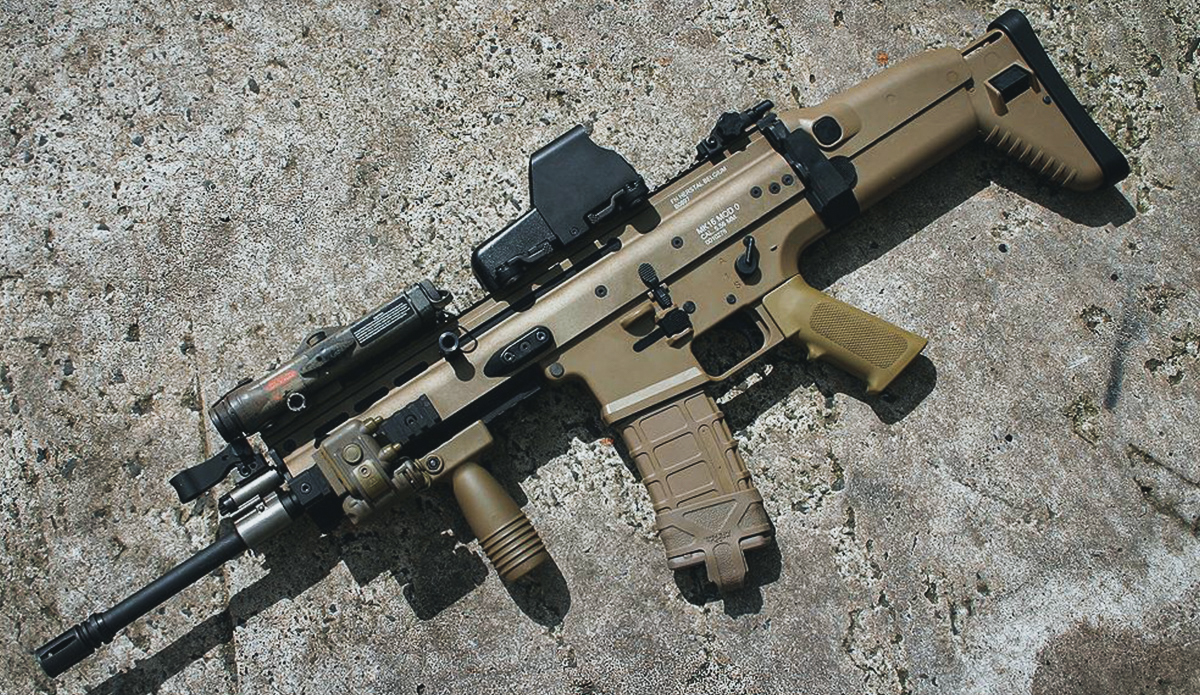 The foundation of the ACR is its upper receiver. Unlike the AR platform and its military variations, this is where the ACR bears its serial number. That's an essential factor in its modularity because owners can buy, sell, add, and remove everything else, like an accessory rather than a firearm.
This upper receiver can accommodate multiple cartridges, thanks to a quick-change barrel and bolt group. The ability to swap out barrels without tools in seconds is a big deal for an infantry rifle. Even without changing calibers, the ACR can morph from a short-barreled rifle to a designated marksman rifle without a trip to the armory.
Switching from 5.56 NATO to 7.62x39mm does requires changing the lower receiver. Doing so enables the ACR to accept AR or AK magazines. Unlike the alloy upper receiver, the lower receiver is polymer to save weight and reduce production costs.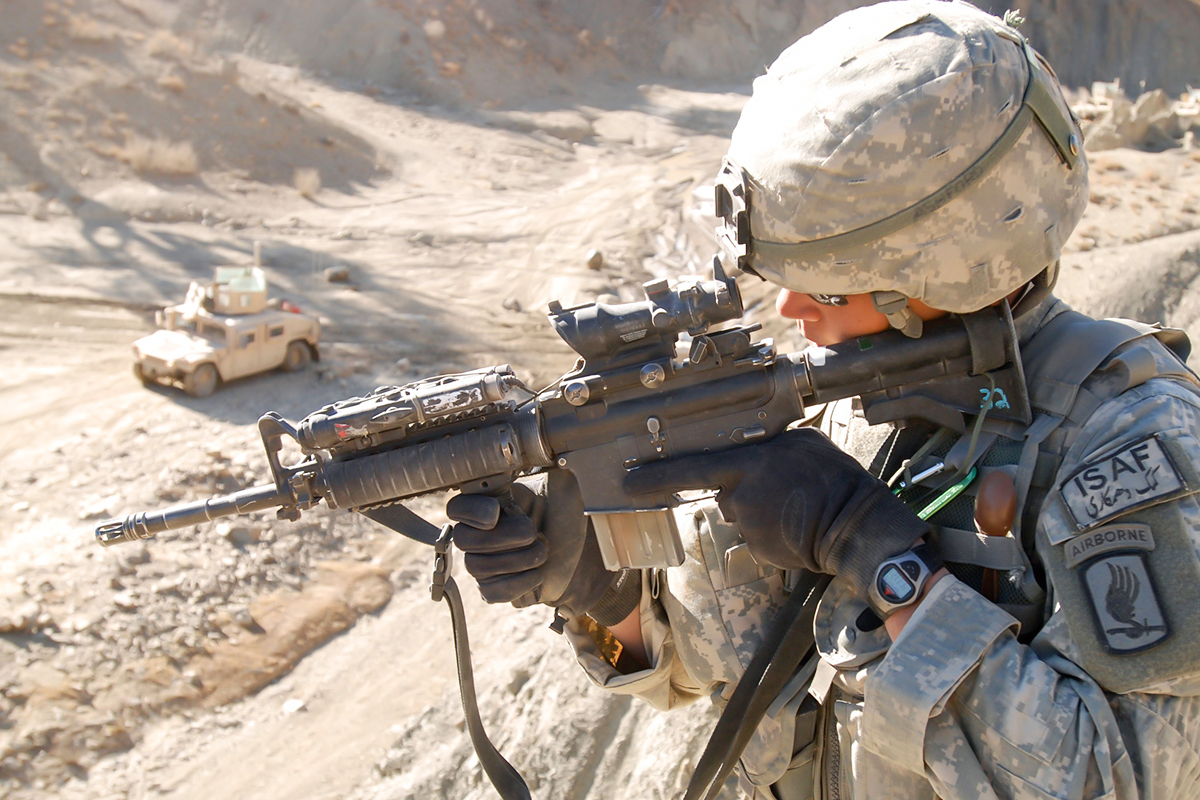 In addition to having a vertically adjustable comb, the ACR's stock is adjustable for the length of pull. With no buffer tube in the way, it can also fold to keep the ACR compact during transit. Picatinny rails allow shooters to mount accessory lights, grips, bipods, and optics.
The ACR's components assemble with enough space to allow dirt and moisture to escape rather than sticking inside and gumming up the gun's moving parts. That was a conscious decision the designers made to avoid existing reliability issues with the M16 and M4. Plus, the short-stroke gas piston system let this gun run cleaner and more reliably.
RELATED – Fight Is on To Kill the ATF's Impending Pistol Brace Ban
---
ACR Rifle vs. the World
When the ACR hit the scene in 2007, it was supposed to be the death of the AR and AK. It was the future and not some other rifle like the FN SCAR. But how did it stack up in the real world?
Look inside any military installation's armory, and you'll see how the ACR compares to the M4. Yes, it solved many of the problems the M4 faced in the early 2000s, but so did changes to the existing platform that didn't require a total overhaul of the U.S. small-arms arsenal.
The same goes for the civilian sector. The ACR is superior in some ways to similar firearms but not enough for most people to justify the cost of buying one. The aftermarket support for the AR platform is so massive that you can make one to perfectly suit your needs, from featherweight SBR to a hard-hitting 7.62 NATO rifle. Today, anyone can build a side-charging, piston-driven AR with no buffer tube and a folding stock, and many have.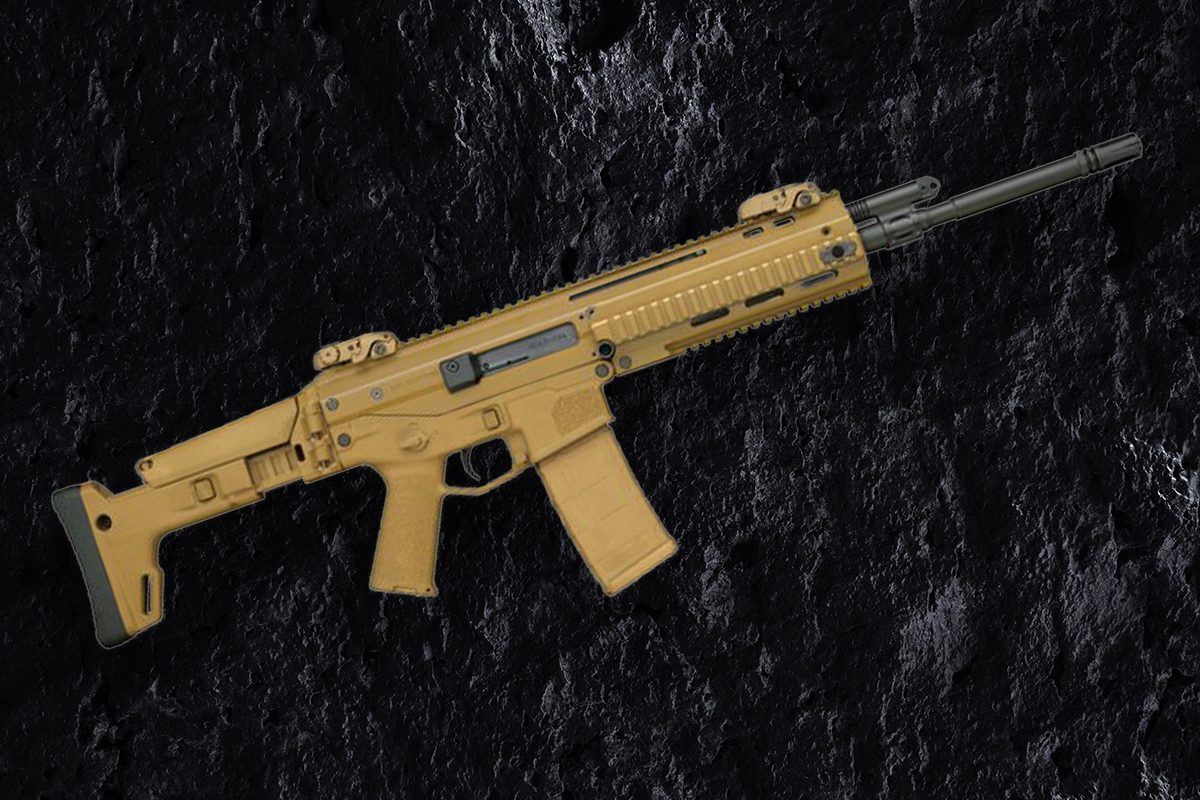 Want a new barrel for your AR? It will take some time to install one, but you can choose its length, profile, and twist rate in any combination you want. Swapping barrels on an ACR is easy and fast, but you better like the handful of options Bushmaster gave you.
The same goes for furniture. People change the pistol grip on their AR like they change outfits, but doing the same on an ACR requires a whole new lower receiver because it's a one-piece assembly. Ironically, the modular rifle is more challenging to customize.
The ACR was miles ahead of the AK in terms of build quality. It incorporated some of the same concepts (like loose tolerances and a gas piston) without sacrificing accuracy; the ACR could reliably shoot one-MOA groups. The ACR is a more advanced platform overall — it's modular, more accurate, and built to accommodate military necessities, such as a magnified optic and PEQ-15.
Civilians might opt to stick with an AK simply because they're so much more affordable and parts are readily available. We can safely assume that the Pentagon never considered replacing the M4 with a Soviet design from the Cold War.
GOOD GEAR – Show Your Support for the 2A With the BRCC Gun Club Mug
---
Parting Shots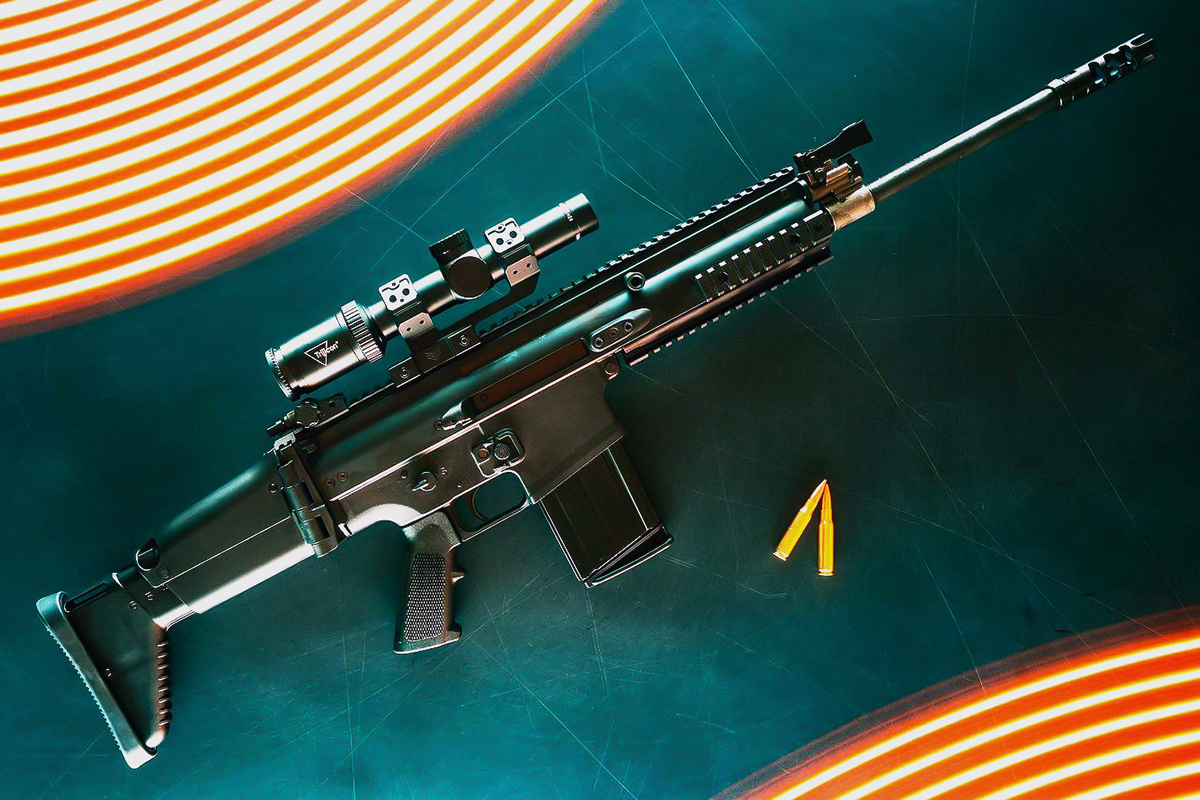 When Magpul pulled back the curtain on the Masada, it looked fantastic — and in many ways, it was. The platform's potential was sky-high. It shot well, was easy to use, and had solid build quality. Civilians couldn't wait to get several guns in one package, and the federal government must have been collectively salivating at the potential for distribution to certain foreign governments without converting entire nations' ammunition stockpiles to 5.56 NATO.
The ACR was a victim of circumstance. Without aftermarket support, the modularity didn't end up being that beneficial to civilians, and it required massive, expensive retrofitting of U.S. military armories because it shared so few parts with the M16 and M4. It didn't help that the companies who built the rifle went belly-up. After filing for bankruptcy, Remington ceased firearms production, but the ACR had been quietly discontinued long before that. While Bushmaster is back, the company, for now, only produces ARs (often with carrying handles and round handguards, oddly enough).
Unless something changes drastically, the ACR will remain a collector's rifle of the past, collecting dust in the "what could have been" file. The good news is that there are still some ACRs kicking around, and prices have come down enough to make them competitive with mid-level ARs. You'll see one in action at your local range if you're lucky. If not, video games will have to do.
---
READ NEXT – Mauser M18 Rifle Now Available in 2 Old-School Camo Patterns