Designed in collab with legendary pro shooter and world champion Lena Miculek
Includes P365-380 and P365-XL Comp models
Rose gold PVD finish on controls
Two magazines and a magazine loader
Optics ready
SIG Sauer recently introduced its new "ROSE by SIG Sauer" line of P365 concealed carry kits created to help encourage and inspire women shooters.
Each complete ROSE kit includes an optics-ready P365 in either .380 ACP or 9mm, a TSA-approved custom ROSE Vaultek Lifepod pistol safe, five polymer dummy training rounds, a magazine loader, and access to a full online training course.
Pink guns became passé a few years ago, but SIG apparently believes smaller, pinker, more feminine pistols are what women want. At the heart of the ROSE kits is a special-edition P365 micro pistol with "rose gold" accents, including the manual safety, slide catch, and takedown lever. The trigger is also rose gold, and the guns feature a laser-engraved rose on the polymer grip module and a pink ROSE logo on the slide.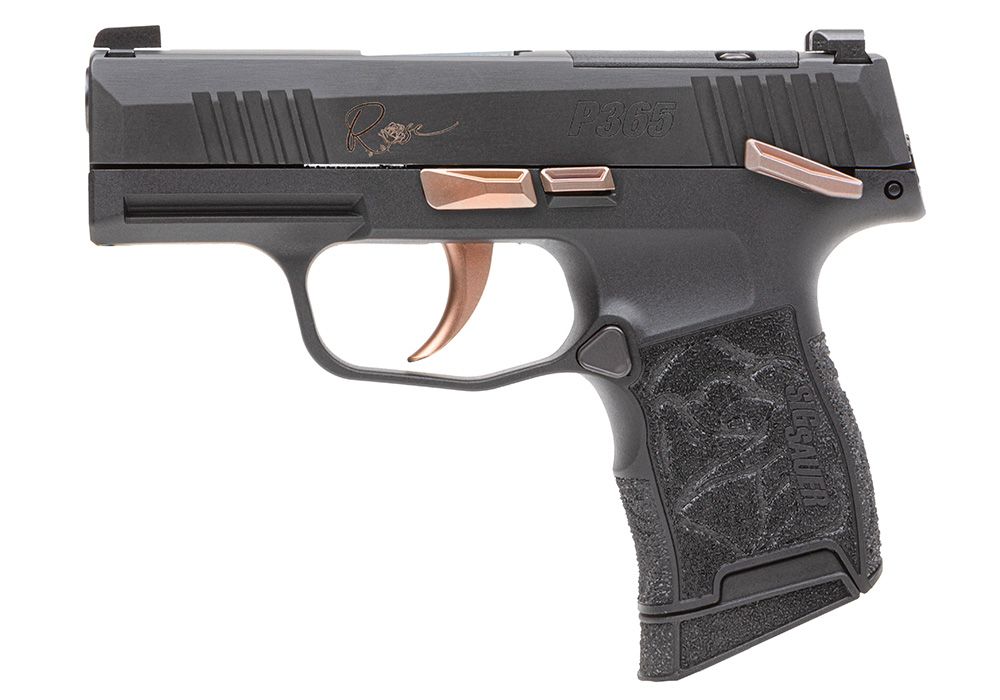 While some women like pretty things, simply throwing the color pink (excuse me…" rose gold") on a pistol doesn't solve women's very real, very serious EDC concerns. However, this isn't just a firearm disguised as a flamboyantly tacti-cute accessory.
Designed in collaboration with badass Team SIG Professional Shooter Lena Miculek, the ROSE kit is also intended to help build confidence and proficiency for women who are new to shooting and want to take responsibility for their own personal safety. The kit includes full access to Miculek's complete step-by-step video training series.
"For the past 10 years, I have been exclusively a professional competitive shooter. While I worked hard for my titles and am proud of all that I have accomplished, the most rewarding part of my career has been to help women overcome fear and get into firearms ownership," Miculek said in a press release.
"ROSE is not only a pistol, it is a kit you take home with you to start your firearms journey and become part of a community where you are supported and can learn at your own pace in an environment you are comfortable in," she added.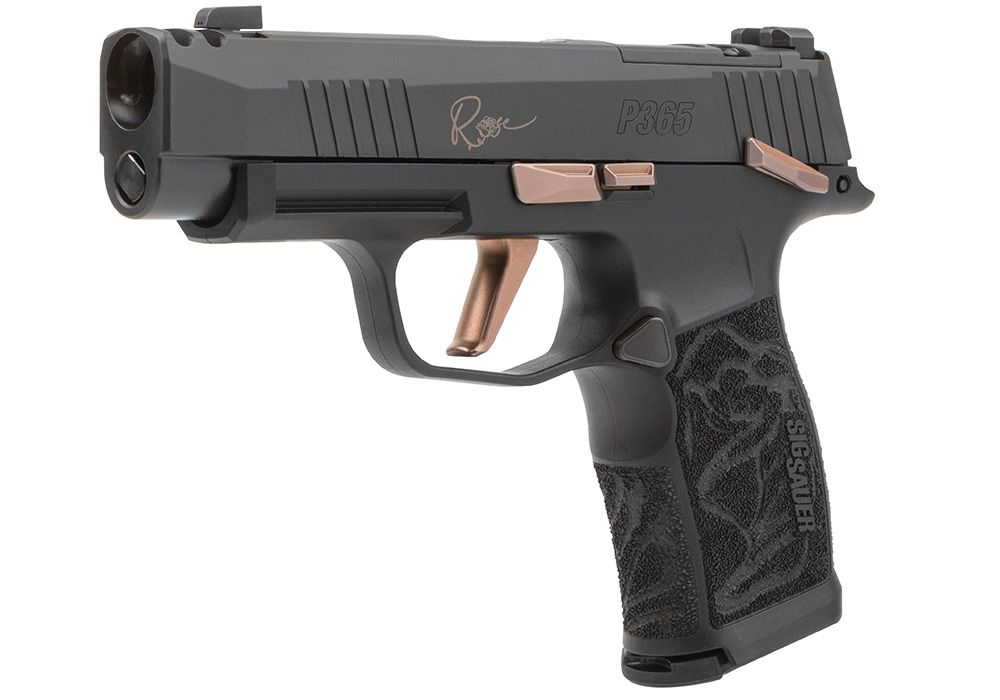 "I have heard countless times from women that they leave the store with more questions than answers, and they want to learn. This is where ROSE by SIG Sauer comes in; the heartbeat of this program is education and getting you from the retailer to the range so you can start your lasting journey with firearms."
It's a good move for SIG not to relegate their new feminine firearm line to soft-shooting .380 AUTO only. In addition to a P365 in .380 AUTO, SIG is also offering their ROSE kit with a 9mm P365XL-COMP.
They are both teensy micro pistols, so ROSE sits squarely in the all-too-common pink it-and-shrink-it category of firearms marketed to feminine shooters.
Personally, I'd like to see this kit come with a full-size P220 in 10mm. That would be seriously badass, rose-colored accents and all.
---
SIG Sauer P365 XL-COMP ROSE and P365-380 ROSE Specs
Caliber: 9mm / .380 AUTO
Capacity: 12+1 / 10+1
Overall Length: 6.6 inches / 5.8 inches
Overall Height: 4.8 inches / 4.2 inches
Overall Width: 1.1 inches / 1.1 inches
Barrel Length: 3.1 inches / 3.1 inches
Sight Radius: 5.1 inches / 4.9 inches
Weight with Magazine: 20.7 oz./ 15.7 oz
Frame: Stainless steel
Slide: Stainless steel
Slide Finish: Nitron
Grip type: PolymerSights: X-RAY3 Day/Night Sights
---
READ NEXT — Zenk Bullpup Revolver: Have You Seen This Thing?!