When Joel Stewart arrived in Iraq in February 2005, he didn't expect he would be able to fly fish in the middle of a combat zone. Fortunately, he came prepared and even started teaching others the sport. The Baghdad Angler's Club was born.
The US Navy captain who began his career as an enlisted seaman has traveled the world for the past 35 years courtesy of Uncle Sam. He has cast flies in Australia while saltwater crocodiles stalked the same fish. He's prepared ceviche on his ship off the coast of South America and taught fly-casting lessons to curious watermen in Bahrain. During a spontaneous weekend retreat with seafarers from Oman, he traded some Clouser Minnow flies for a native headdress. 
Through his travels across six continents, Stewart has always kept a rod and fly box in his sea bag.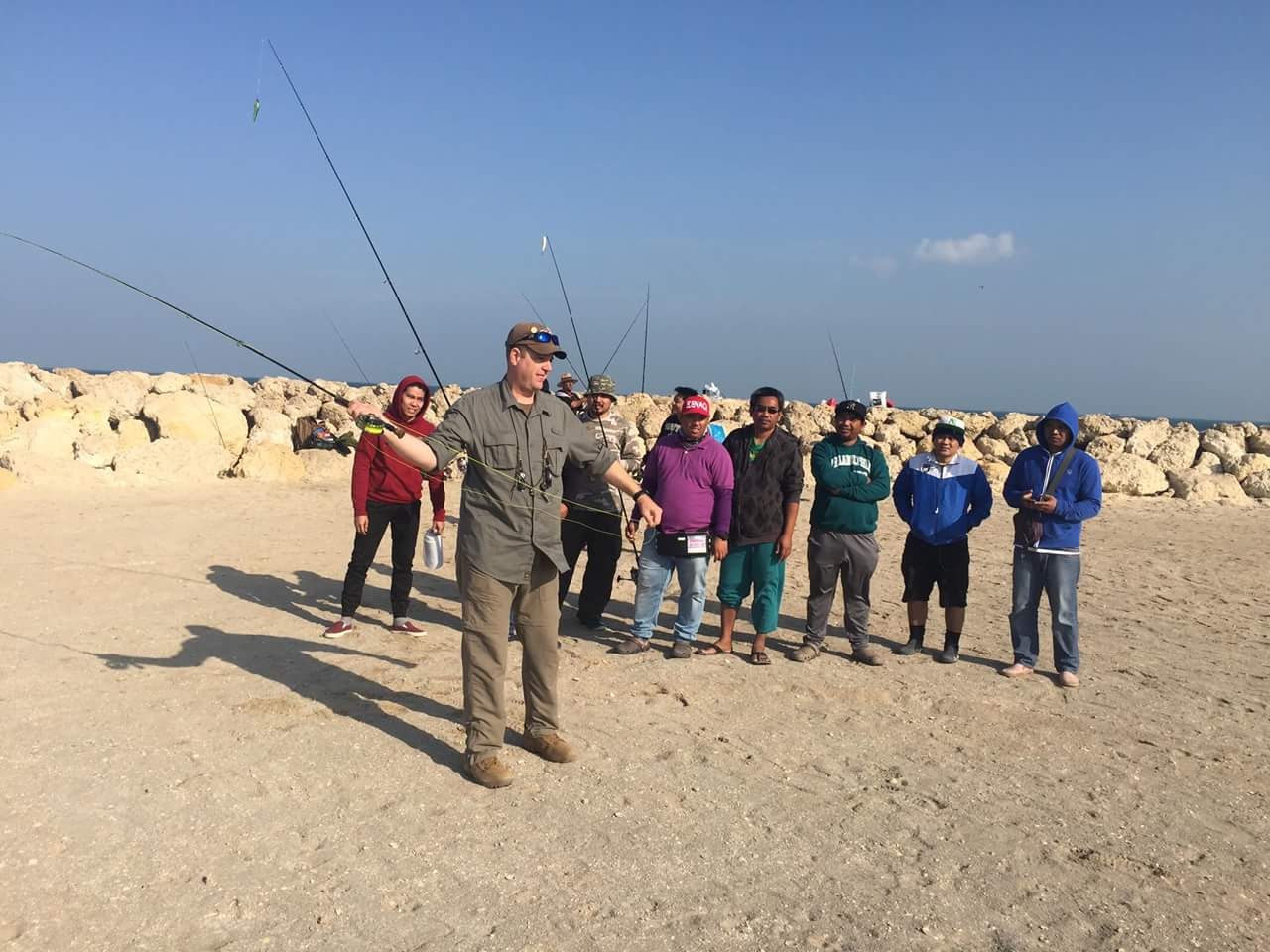 "I don't want to give that stigma as a fly fisherman who turns his nose up at everyone else," Stewart told Free Range American. "Wherever I am, I fish the way the culture fishes, whether it's redneck culture or Indonesian culture. You go and do what they're doing and catch fish." 
Spawning from a boyhood passion in Montana, his education in the wilderness came from real life experiences. The winters growing up were for hunting, and the summers were for fishing. There was trapping in the winter and gardening in the summer, too. Stewart dove deep into mastering the art of reading animal tracks, wind direction, and river flows, which would some day help lead him toward his adventures overseas.
Stewart's time in Baghdad was unique. Near the bridge of Al-Faw Palace — built by Saddam Hussein in celebration of the victory over Iran during the Iraq-Iran War — he watched soldiers at Camp Victory dressed in either PT gear or combat fatigues throw bread and pieces of hot dogs into the man-made lakes boiling with fish. On the third day Stewart approached a soldier who was holding a spinning rod and asked him about his luck.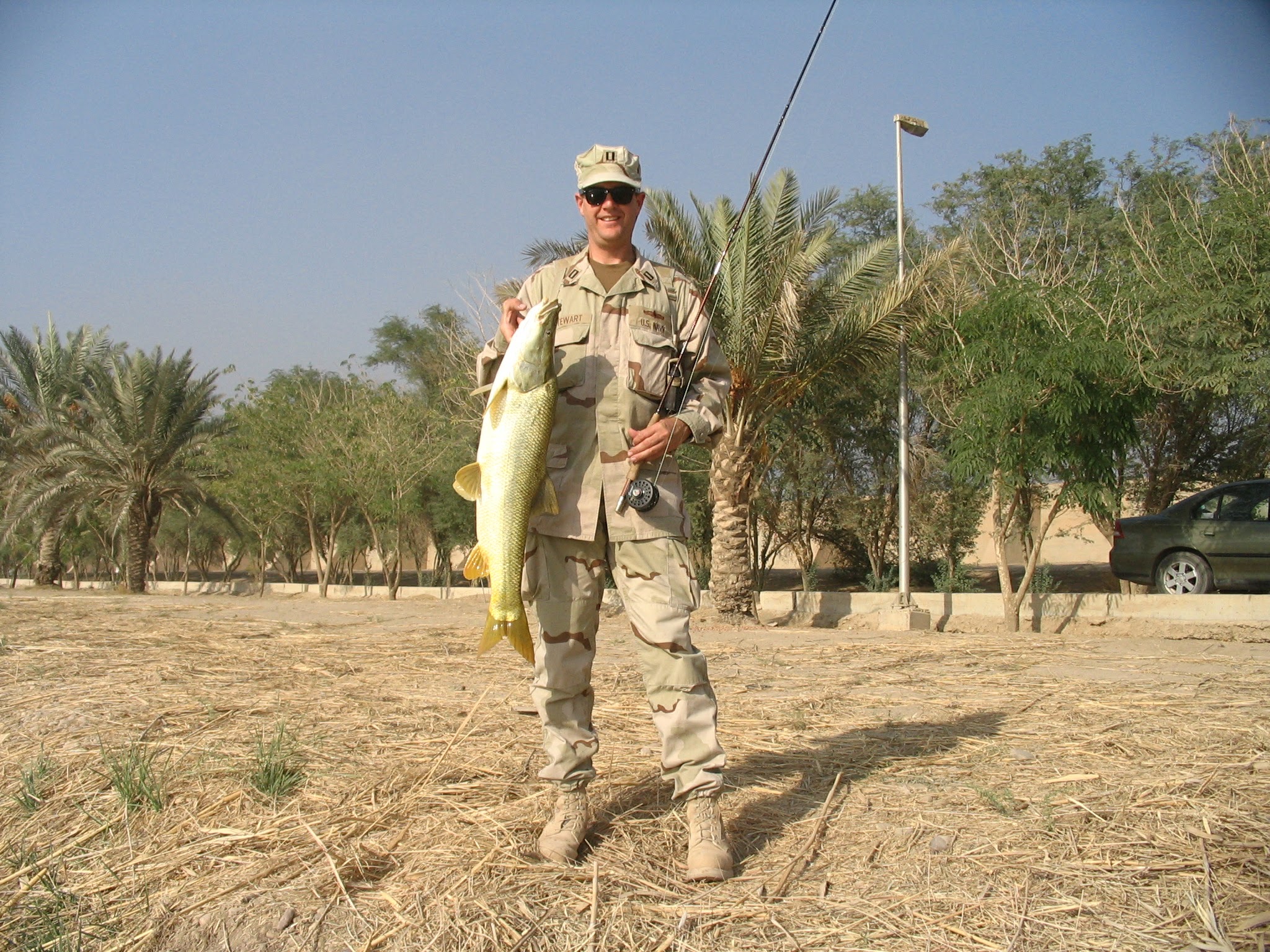 The only rules established concerning the lakes were that the soldier-fishermen couldn't use boats or wade into the water, and they always had to carry a weapon — they were in a war zone after all. It didn't take much convincing for him to show up the next day with his six-piece fly rod in the hopes of catching what the soldiers called Saddam's bass — really, an asp akin to North American carp — or the native Tigris mangar.
Camp Victory was a frequent spot for USO tours and other Morale, Welfare, and Recreation (MWR) activities. With the help of Temple Fork Outfitters, which shipped fishing gear halfway across the world, Stewart founded the Baghdad Angler's Club and School of Fly Fishing and soon became the epicenter of fly-fishing in Iraq. 
"My hooch looked like a fly-fishing hermit's cave," Stewart told Free Range American. "Guys who like to fish, that is our outlet and our way to unwind from what is going on around us. This was our chance to ride that opportunity."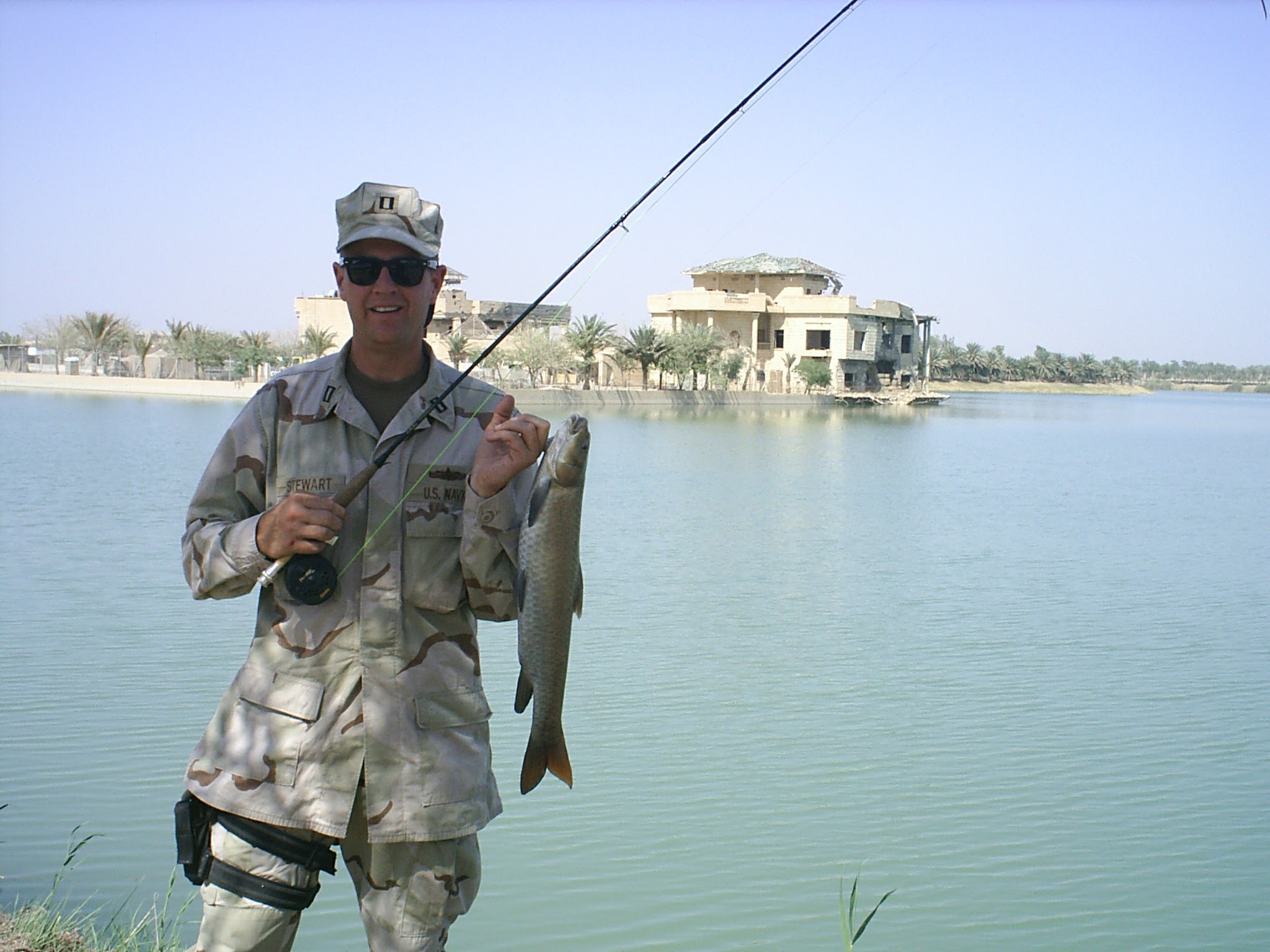 He worked fishing into his daily routine before going off to work in the palace during the night shift. During informal one-on-one and hourlong sessions, he taught interested students a fly-fishing curriculum using a Yellow Jacket instructor's fly rod, designed by Lefty Kreh — a legendary fly fisherman who ran in the same circles as Ernest Hemingway, Michael Keaton, and Jack Nicklaus. This bright-yellow rod had an orange fly line that allowed students to see the full arc in the cast and loop in the line. 
When it came time for Stewart to return home, he entrusted the legacy of the Baghdad Angler's Club and School of Fly Fishing to another soldier willing to continue the project. Although Stewart had left Iraq, he still backed their efforts from afar through donations and other means of support. The one-of-a-kind club remained intact for six years before being disbanded in 2011. 
"I didn't set out to do this, it just fell into my lap and I saw an opportunity and I seized it," Stewart said, adding that as a mustang officer he looked out for the guys who were on the ground. "My whole purpose was so that the E-3, when he's out on patrol and kicking in doors, if he has a chance to go and his idea of relaxing is to drown bait and watch a bobber dance, I wanted to give him that opportunity."