Ask someone which pistol you should buy, and there's a good chance they'll tell you to just get a Glock. That answer isn't necessarily correct, but it's also not wrong. Glock pistols are massively popular for a reason: they're famously reliable, accurate, and easy to work on. You can trick them out with limitless aftermarket support to create a pistol that's all your own. Oh, and they're priced to sell like hotcakes. But which model is the best?
A trip to Glock's website can leave your head spinning. It's a sea of seemingly random model names — model numbers are in the order in which the gunmaker filed for the patents and have nothing to do with a pistol's chambering or capacity — and they all look the same. If you spend enough time in gun shops, you will observe someone behind the counter being a jerk about this to a would-be first-time gun buyer who just doesn't know.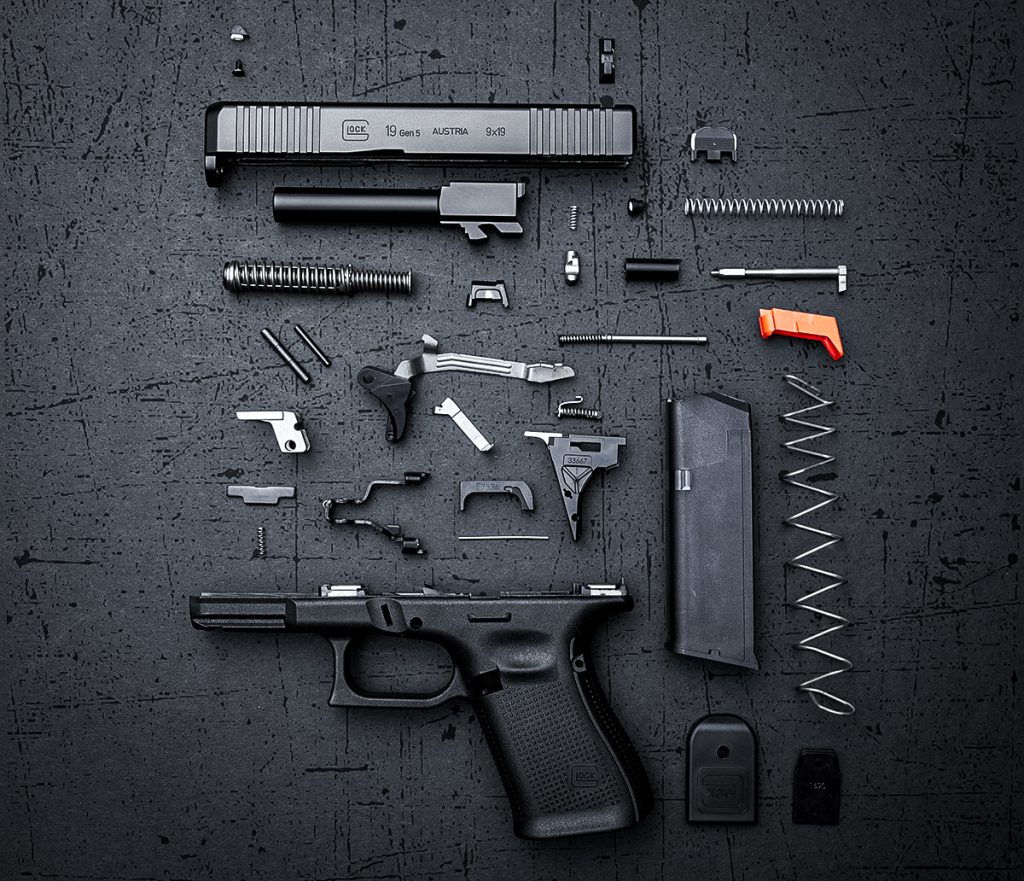 And don't forget about choosing a caliber; Glock makes pistols for everything from .22 LR to heavy-hitting 10mm.
And then there are the generations to choose from — it's a lot to take in.
Ultimately, choosing the best Glock, if you've settled on the brand, depends on how you plan to use it, meaning what it's purpose will be. Are you looking for a concealed carry gun, a home defense gun, a bear defense gun, a range toy, or a gun for getting into competitive shooting?
Maybe you want to hunt with your Glock or ward off predators in the backcountry. Luckily for you, Glock has answers for all of that, even if those answers all kind of look the same.
---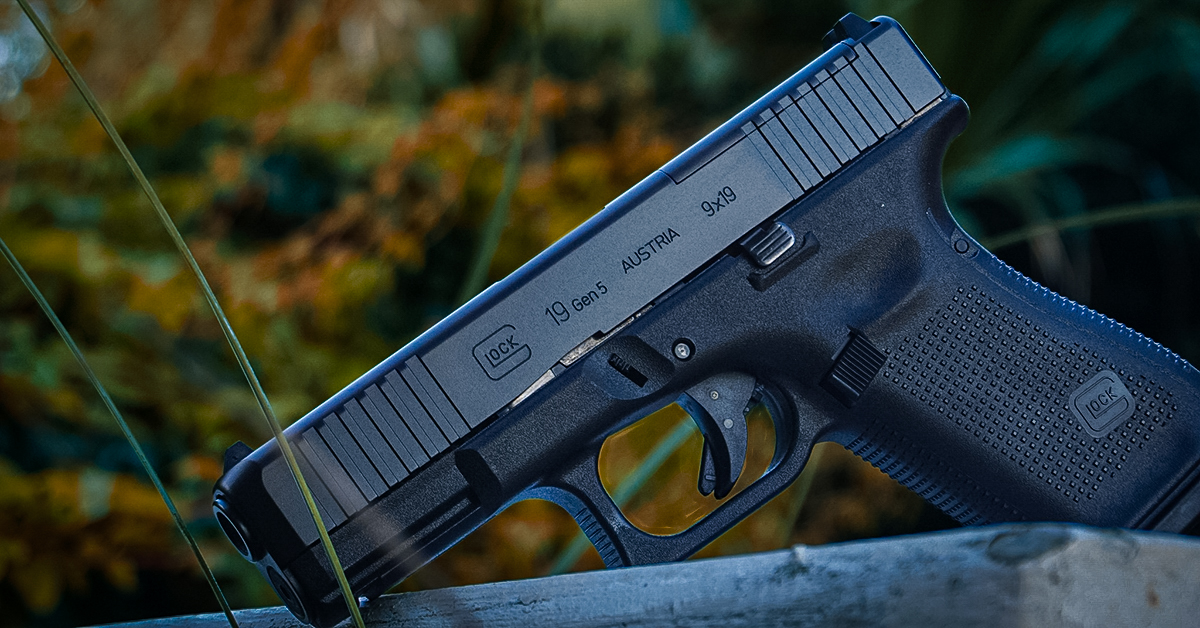 Frame size: Compact
Caliber: 9mm
Capacity: 15+1
Barrel length: 4 inches
Optic-ready: Yes
Price: $620.18
Every Glock conversation should start with the Glock 19, one of — if not the most — popular Glock model. It's an incredibly versatile 9mm pistol that can handle everything from CCW duty to combat. It's so good that SOCOM found clever ways to sneak it by the Pentagon as a duty pistol.
The Glock 19 Gen5 MOS is small enough to conceal, big enough for a defensive situation, and loaded with upgrades over the previous generation. Gone are Glock's controversial finger grooves. Here to stay are strengthened internals, a smoother trigger, a more accurate barrel, and an optic-ready slide.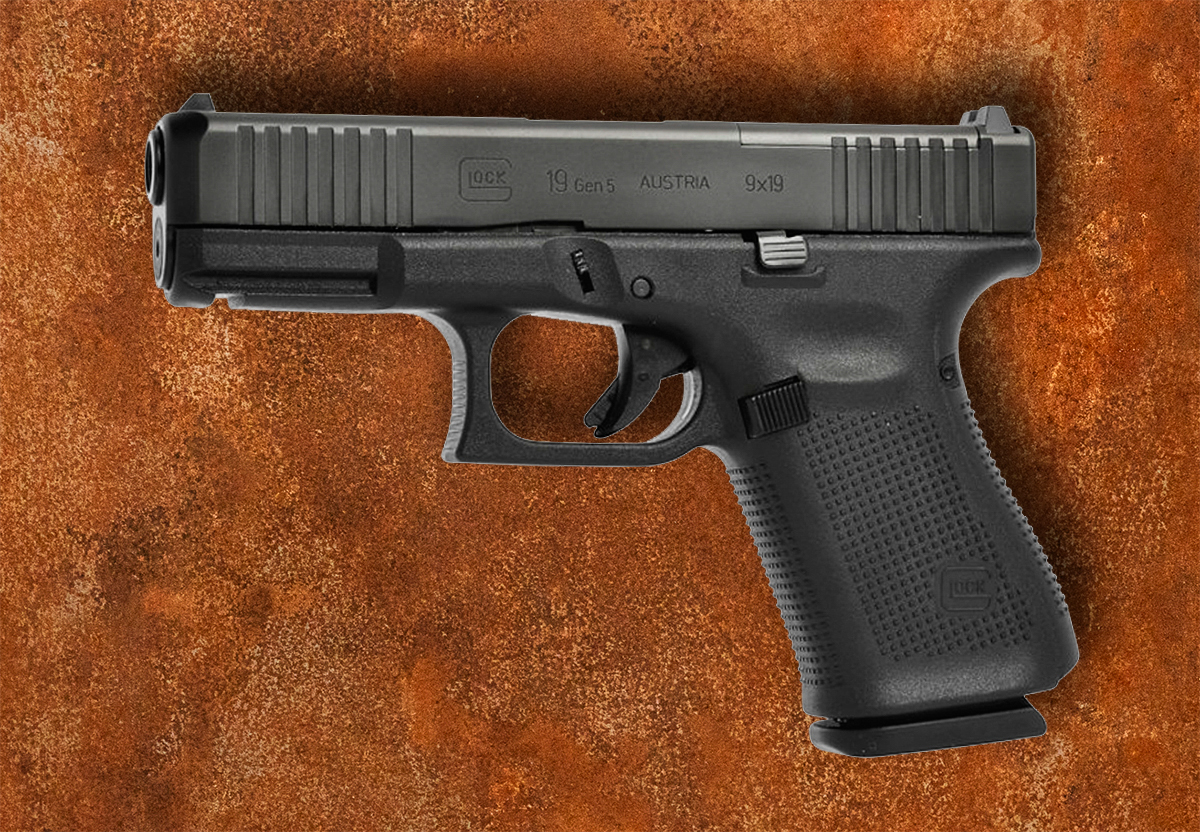 The Glock 19 Gen5 MOS might not be perfect for every situation, but it's damn good in all of them. If you have to choose just one, this is a great answer.
Those who live in a state that limits magazine capacity can get a 10-round pistol and shave some width off the gun by getting a Glock 48 MOS instead. This alternative is basically a single-stack Glock 19 MOS with five fewer rounds in the standard magazine.
RELATED – Glock 26: Pocket-Sized Perfection for Three Decades
---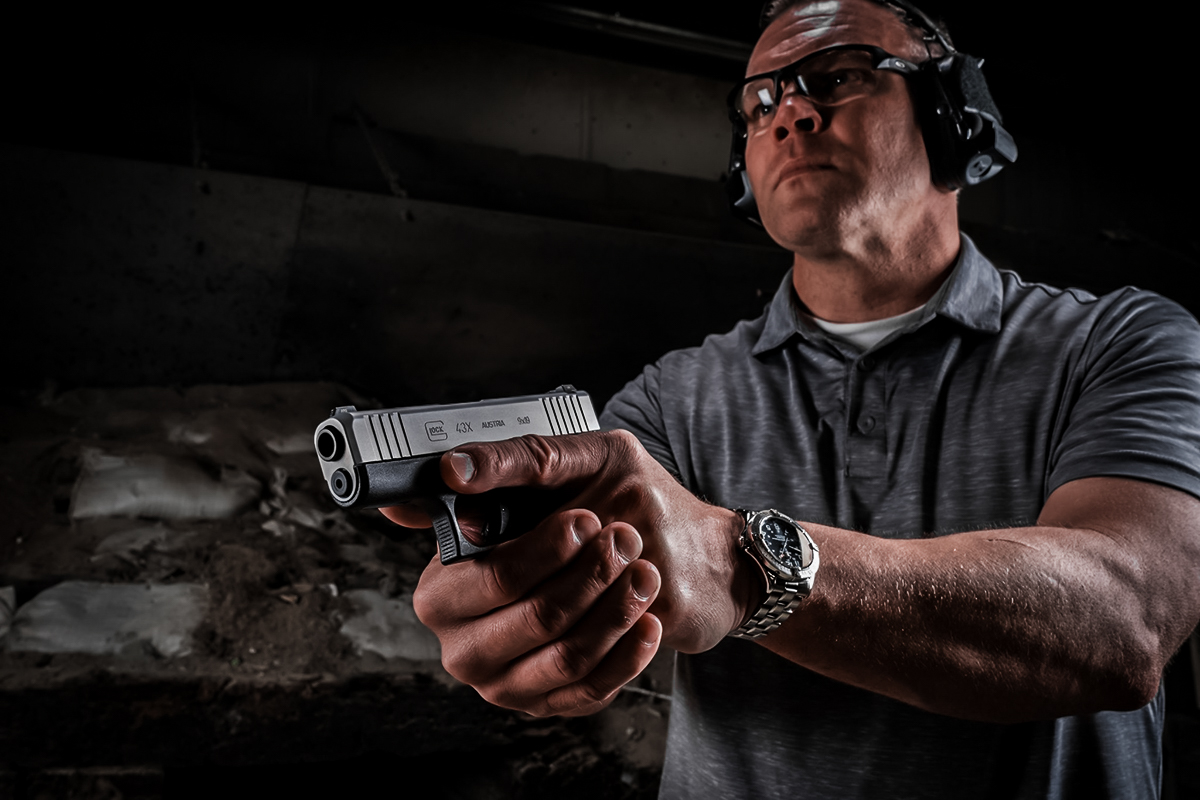 Frame size: Subcompact
Caliber: 9mm
Capacity: 10+1
Barrel length: 3.4 inches
Optic-ready: Yes
Price: $525.99
Technically, almost any Glock is a good Glock for concealed carry outside of the company's competition-geared models. I know people who carry full-size pistols, and you can, too, as long as you have the right holster. The .40 S&W Glock 23 Gen5 MOS, .45 GAP Glock 38, and .357 SIG Glock 32 Gen4 are great CCW guns. So are Glock's tiny models. However, the Glock 45X MOS surpasses them all as a CCW gun.
The Glock 43X is just a touch smaller than the Glock 19 thanks to single-stack magazines and a barrel that's 0.6 inches shorter. While it might seem tiny, that size difference is significant when wearing an IWB (inside the waistband) holster all day.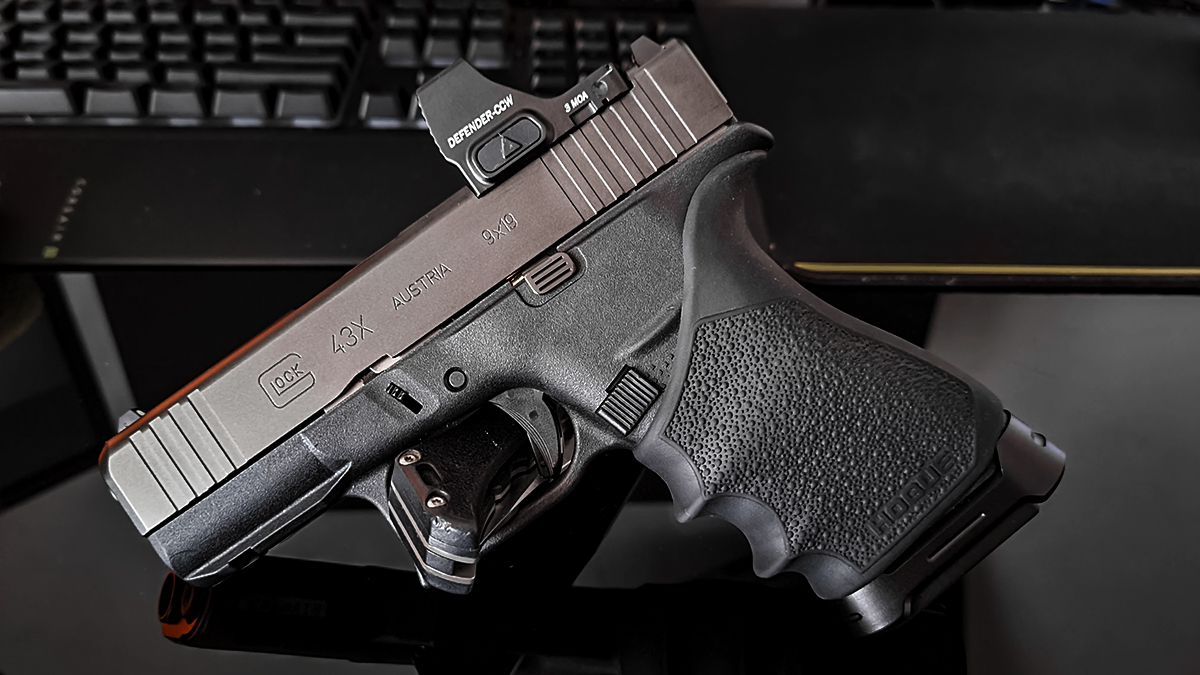 The Glock 43X doesn't cut corners, though. You'll still have enough room on the grip to get a firm hold, and the slide is cut for a red dot optic using Glock's Modular Optic System.
This pistol's 10+1 capacity is usually considered a disadvantage compared to the Glock 19 and many other manufacturers' concealed carry handguns. However, that might not be a problem, depending on where you live. The 10-round Glock 43X is state-compliant without wasting space in an oversized frame.
---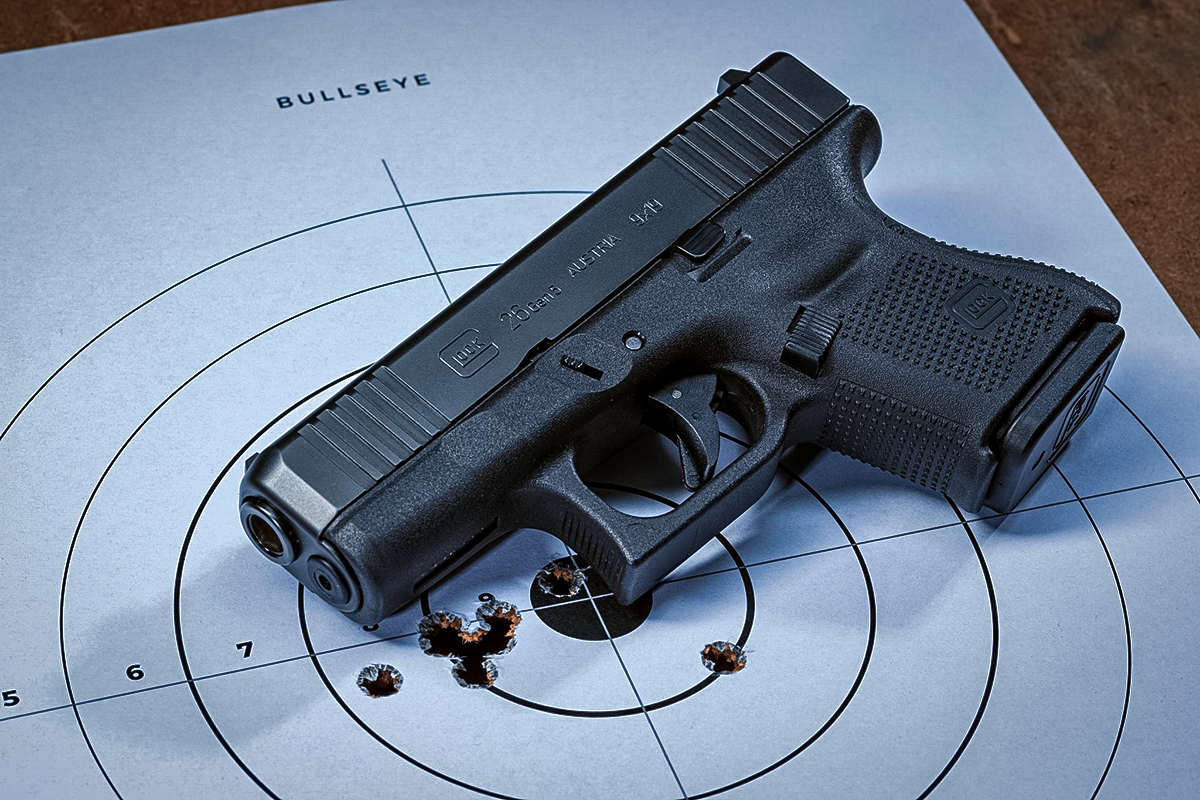 Frame size: Subcompact
Caliber: 9mm
Capacity: 10+1
Barrel length: 3.4 inches
Optic-ready: No
Price: $539.11
If small isn't good enough and you want something tiny, let me introduce you to the Glock 26 Gen5. Known as the "Baby Glock," this one is cut way down in size. It has a 3.4-inch barrel and a shortened grip that won't even fill your hand.
The G26 has a 10-round magazine like the Glock 43X MOS, but the frame is much smaller because it uses double-stack magazines instead of single-stack magazines. That's good news for people who want to deep-carry the smallest pistol possible without compromising on caliber.
The tradeoff is control. The blocky Glock 26 Gen5 is challenging to shoot well. It has a super-short sight radius, and there's very little contact between the firearm and your hands. It jumps around with every shot of 9mm, so you'll have your work cut out for you. It's also not optic-compatible, so you're stuck with Glock's factory sights. This is a truly deep-concealed, close-quarters defensive pistol.
RELATED – Glock 21: Did This Up-Sized Wonder Nine Keep the .45 Alive?
---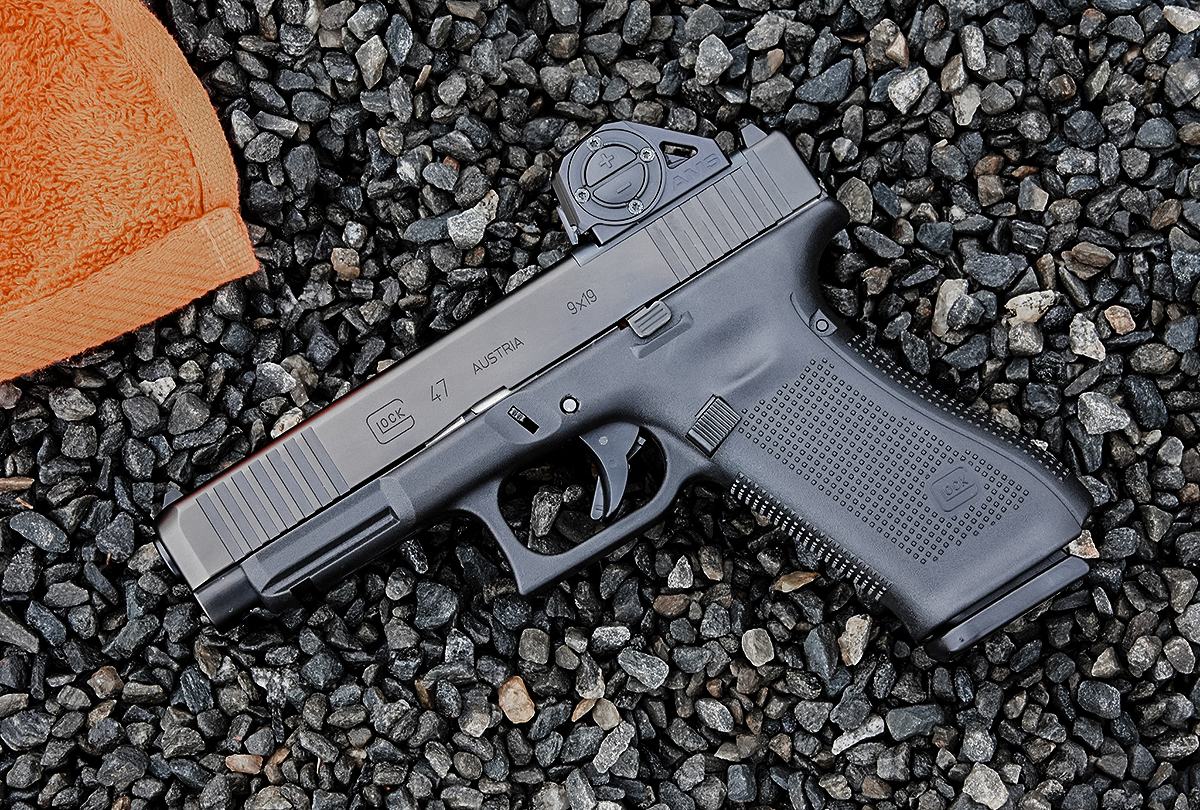 Frame size: Standard (full-size)
Caliber: 9mm
Capacity: 17+1
Barrel length: 4.5 inches
Optic-ready: Yes
Price: $633.99
"Wait, where the hell is the Glock 17?"
The Glock 17 is a legend; it's the original wonder-nine. But all good things must end, and the Glock 47 brings some new tricks to the full-size 9mm Glock game.
In January 2023, Glock announced that the Glock 47 MOS would replace the Glock 17 Gen5 MOS (the non-MOS Glock 17 will survive). The Glock 47 MOS is everything we love about the Glock 17 and then some.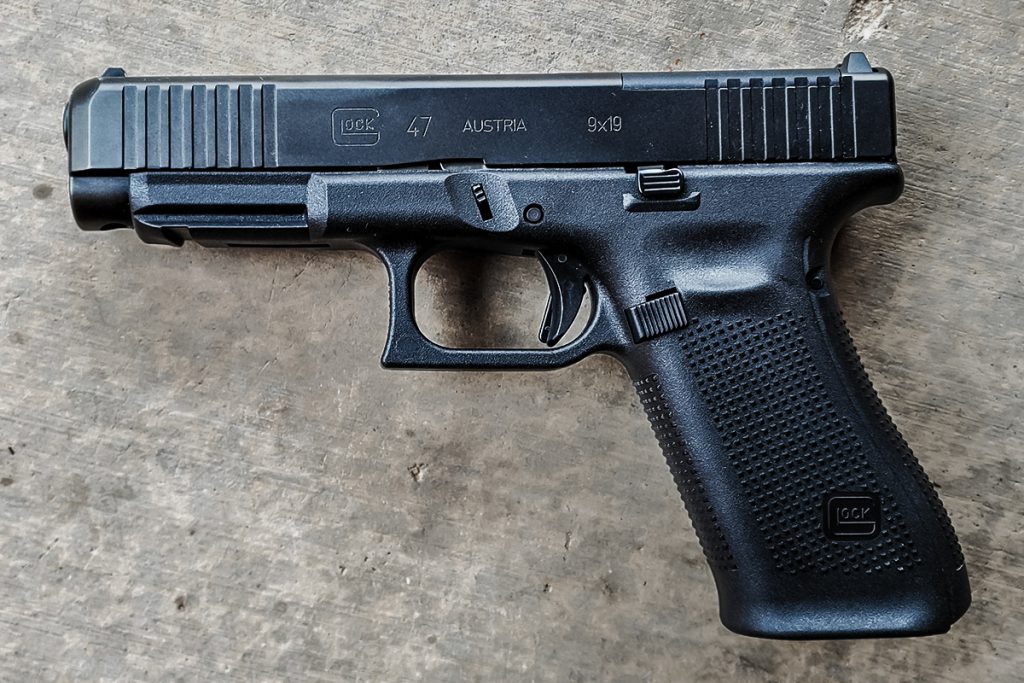 Glock originally built the Glock 47 MOS for U.S. Customs and Border Protection to improve parts compatibility across the agency's arsenal. To that end, Glock patched together the frame from a Glock 45 (which is a crossover of the Glock 19's frame length and the Glock 17's frame height) and a modified Glock 17 slide. It doesn't carry the Gen5 designation in the name, but this is effectively a fifth-generation pistol.
The result is a full-size pistol that works and feels just like a Glock 17 but accepts Glock 19 slide assemblies when you need something more carry-friendly. Since the frame is the only part of a Glock that's serialized, you can buy a compact slide assembly to mix and match without going through an FFL.
---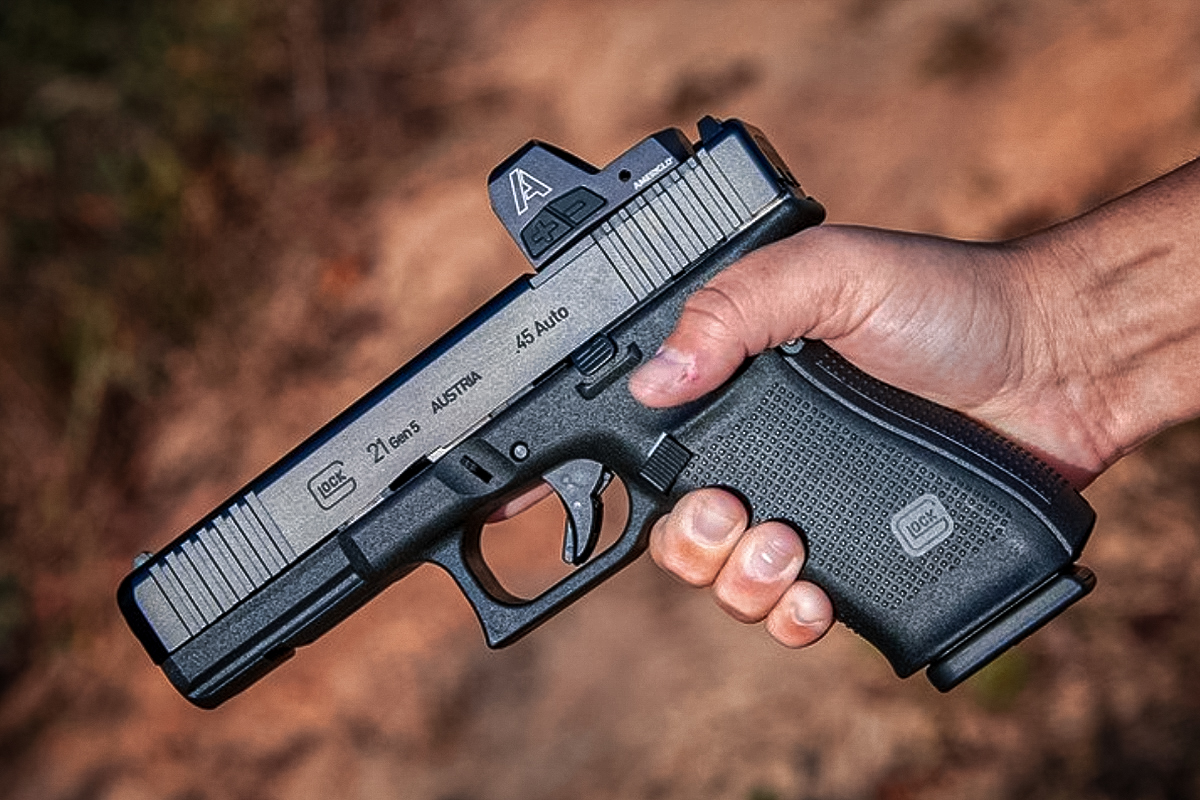 Frame size: Standard (full-size)
Caliber: .45 ACP
Capacity: 13+1
Barrel length: 4.6 inches
Optic-ready: Yes
Price: $663.99
Perhaps you don't give a damn about buying a full-size pistol just to make it compact, and you have no interest in measuring calibers in millimeters. To you, I say, "God bless America, help yourself to a Glock 21 Gen5 MOS."
The Glock 21 Gen5 MOS combines the magic of Glock with arguably the best pistol cartridge the U.S. ever produced: .45 ACP. The thick frame is a handful, but it makes room for double-stack magazines that hold 13 rounds instead of the seven or eight you get in a single-stack 1911.
This Gen5 version has goodies like upgraded internals, increased accuracy, and Glock's modular backstrap system. The MOS designation means you can mount a variety of optics using Glock adapter plates.
Choosing .45 ACP over 9mm will always require a reduction in capacity, but that's less of an issue in full-size pistols than in compact or subcompact models. Load old-school .45 ACP into a cutting-edge firearm and get the best of both worlds with the Glock 21 Gen5 MOS.
RELATED – Glock 17: Respect the Og Wonder-Nine
---
Best and only .22LR Glock: The Glock 44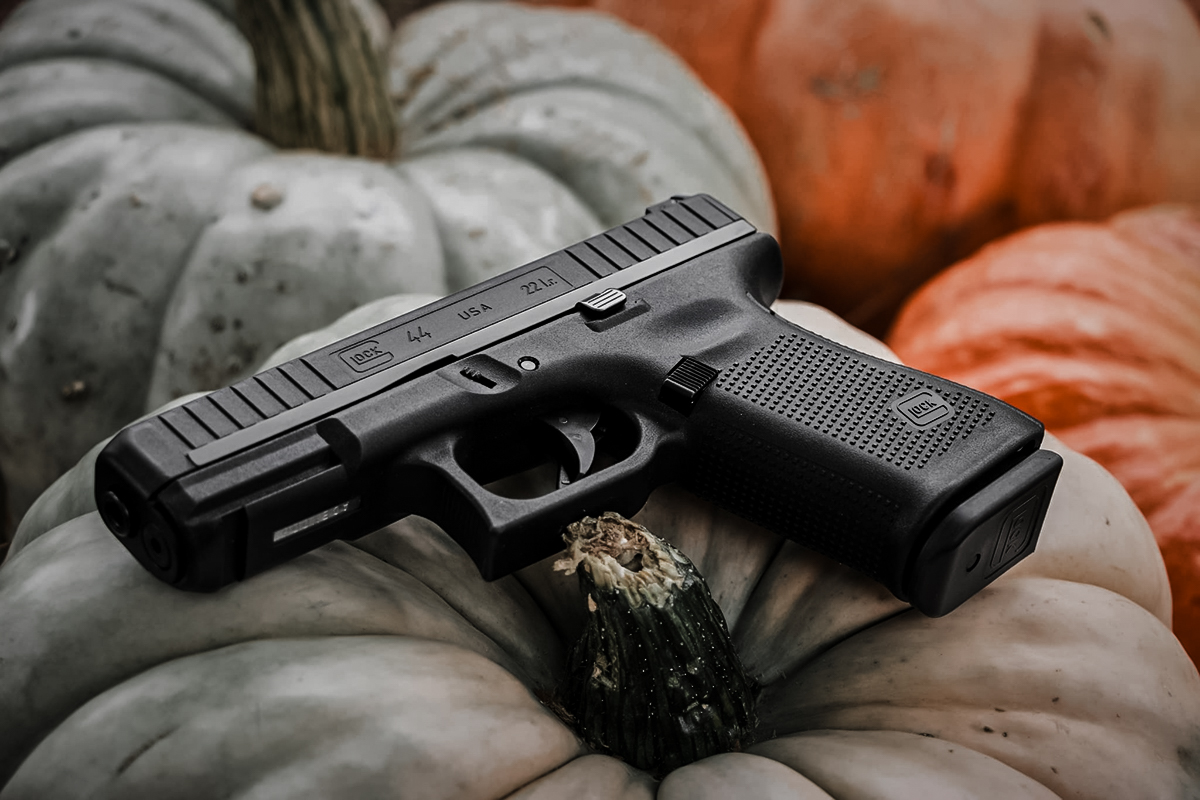 Frame size: Compact
Caliber: .22 LR
Capacity: 10+1
Barrel length: 4 inches
Optic-ready: No
Price: $359
To be fair, there's only one Glock chambered for .22 LR, so this is an easy choice. That doesn't make it any less valid, though.
This compact pistol is perfect for getting quality live reps since you can pick up a giant box of ammo for a few bucks. It's also great for teaching new shooters because the associated recoil and noise levels are unintimidating. Besides all that, plinking is just good, clean, al-American fun.
The Glock 44 is a very bare-bones model. It just has 10-round magazines, and there's no option for an optic-cut slide. I wish they'd offer a threaded barrel, too, since rattling off suppressed .22 LR is some of the most fun you can have on the range. Tin cans, beware.
---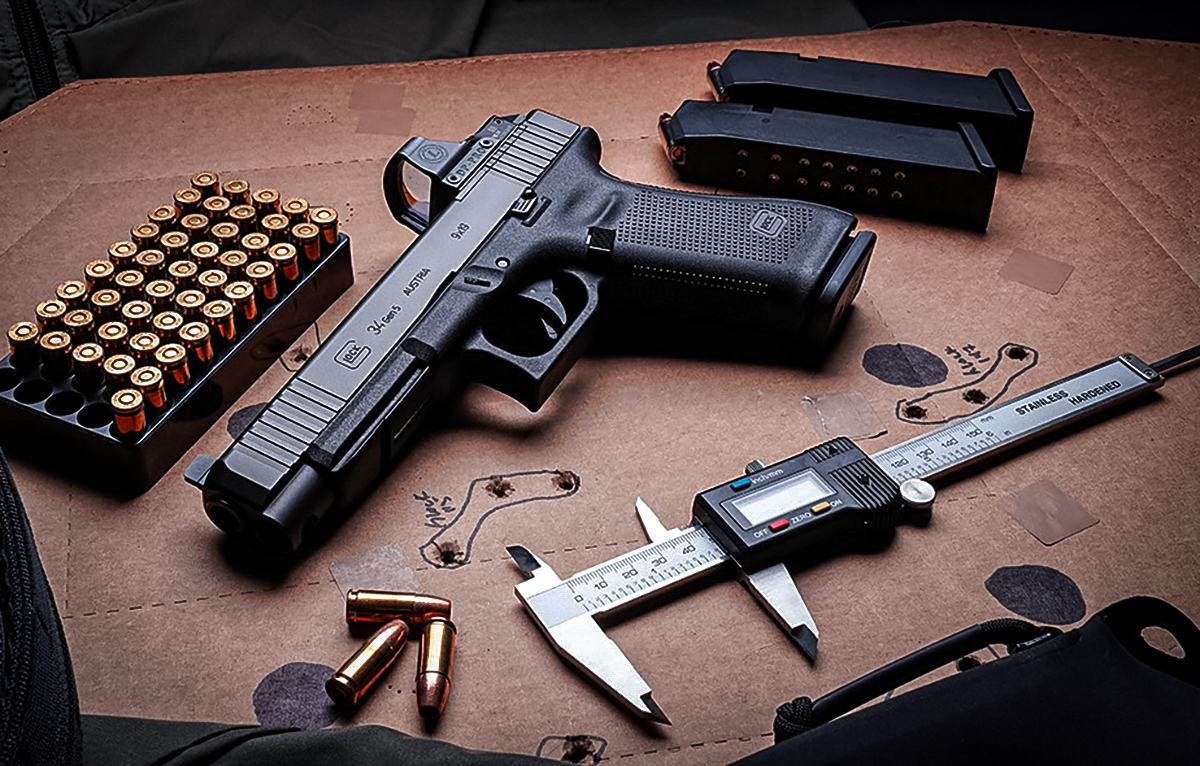 Frame size: Long-slide
Caliber: 9mm
Capacity: 17+1
Barrel length: 5.3 inches
Optic-ready: Yes
Price: $724.99
Glock has been a major player in competitive pistol shooting for ages, and the long-slide Glock 34 Gen5 MOS is right at home on the competitive stage.
This 9mm pistol is based on the tried and true Glock 17, with a full-size frame and 17+1 capacity. It gets a longer barrel (5.3 inches instead of 4.5 inches) to improve accuracy. Otherwise, there's little to set the two apart. Both have Gen5 updates and an optic-cut slide. If you choose not to run a red dot, the Glock 34's longer sight radius helps you make more precise shots.
This is a solid foundation for anyone getting started in competitive shooting. Eventually, you'll want to swap out the trigger, flare the magazine well, and tweak various components to keep up with high-end guns like the exquisite Staccato XL. Fortunately, the Glock 34 Gen5 MOS is affordable and easy to work on, so you should have room in your budget for upgrades.
RELATED – 45 GAP: Glock's Failed Update of the .45 ACP
---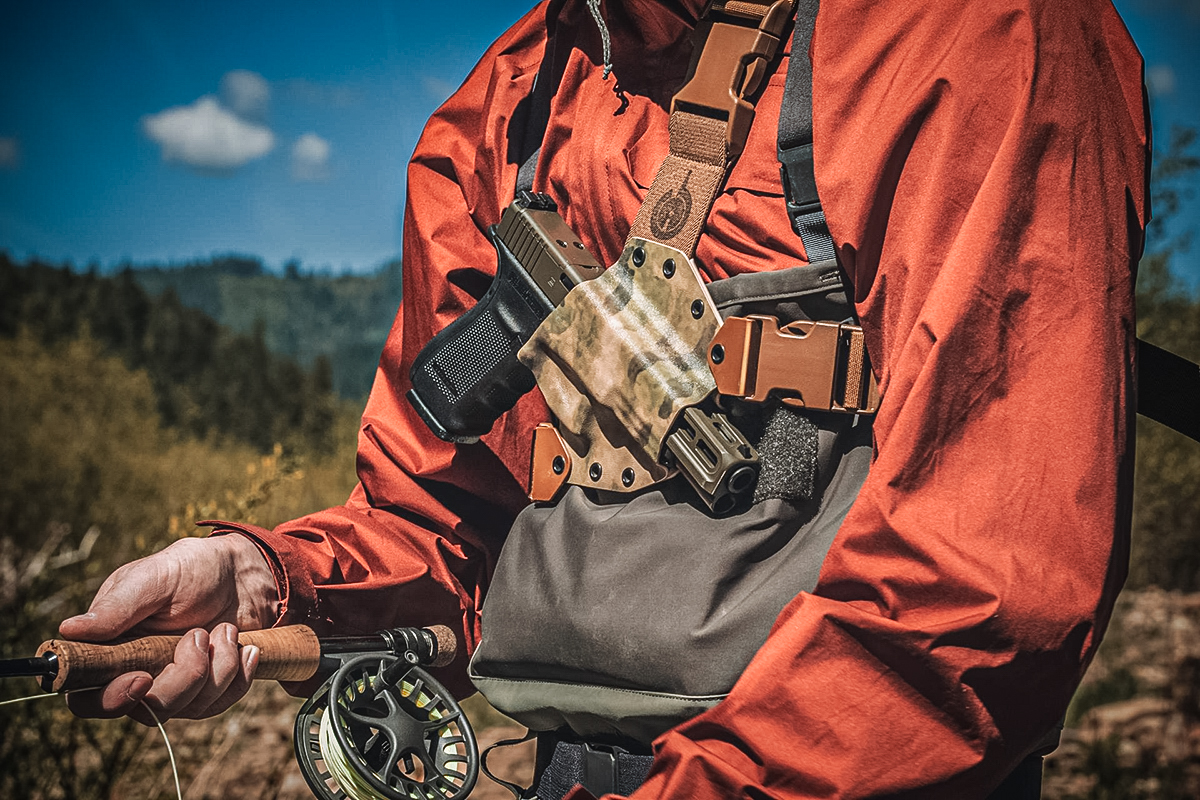 Frame size: Long-slide
Caliber: 10mm
Capacity: 15+1
Barrel length: 6 inches
Optic-ready: Yes
Price: $708.99
Can you hunt with a Glock? Hell yeah, you can. There aren't many game animals or predator species you can't handle with a magazine full of 10mm. Whether you want a Glock for handgun hunting or backcountry self-preservation, the Glock 40 Gen4 MOS has your back.
Like the 9mm Glock 34, the 10mm Glock 40 has an extended slide. That makes room for a 6-inch barrel to get the most out of the 10mm cartridge while helping to tame recoil.
This pistol is optic-ready, but it is a Gen4 model rather than a Gen5. Don't let that deter you, though; this is still a fantastic firearm as long as you can live with finger grooves, polygonal rifling, and the Glock trigger feel we've come to know and tolerate.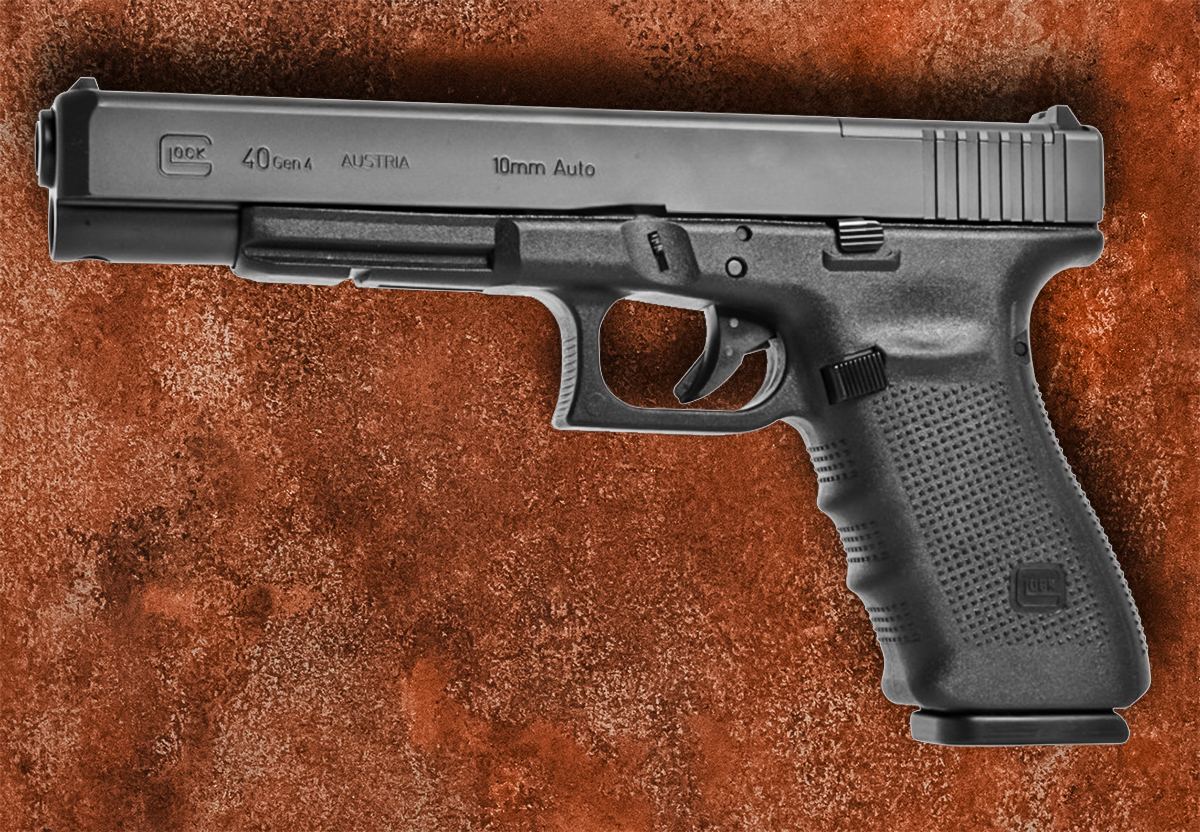 Since the Glock 40 is a long-slide pistol, you'll probably want to carry it in a Kydex chest rig like the ones from Gunfighters Inc.
Pistol hunting isn't just for magnum revolvers. The Glock 40 Gen4 MOS is an extremely capable pistol (remember, 10mm offers more muzzle energy than a .357 Magnum) that can knock the squeal out of feral hogs and save your bacon from a bear.
---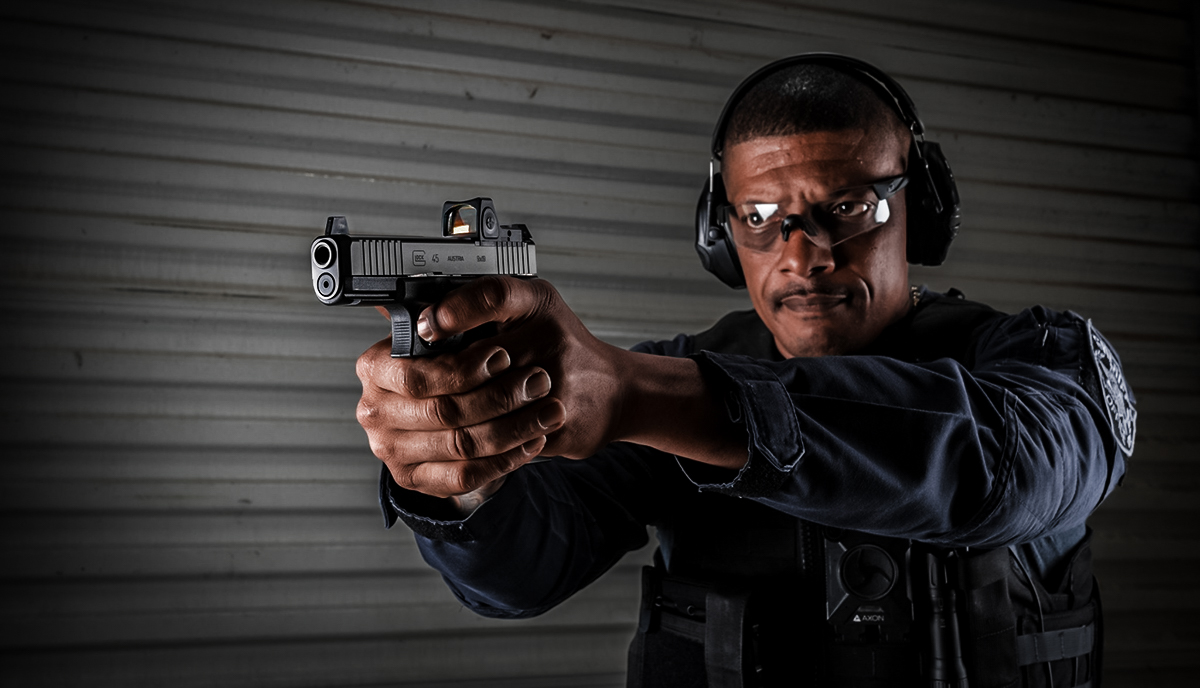 Frame size: Full-size frame with a compact slide
Caliber: 9mm
Capacity: 17+1
Barrel length: 4 inches
Optic-ready: Yes
Price: $620.18
Choosing the best Glock is no easy task, and finding the right one has a lot to do with what you're looking for from a handgun. I have to give credit to the Glock 45 Gen5 MOS, though. If you can only buy one pistol for concealed carry, home defense, and range-day fun, it's damn hard to beat this gun.
Like the peanut butter blaster itself, the Glock 19X, the Glock 45 combines 17+1 capacity from full-sized Glocks with the 4-inch barrel from compact Glocks. Think of it as the love child of the Glock 17 and the Glock 19. However, unlike the Glock 19X, this MOS pistol is ready for a red dot optic right out of the box.
Can you have the capacity of a duty pistol, the size of a CCW pistol, and all Glock's most modern advancements in one gun? Yes, you can. It's the Glock 45 Gen5 MOS — quite possibly the best Glock of them all.
---
READ NEXT – Glock 19: Evolution of the Ultimate Carry Gun