It's time to take a trip to the musical dark side with one of the most beloved subjects of pop songs no matter the era: murder!
There's just something about songs that tell killing stories — they get in your head and stay there in a way to which movies and books cannot compare. Some of these songs could be categorized as true crime, while others are completely fictional and completely messed up.
The tracks on the list below are our favorites, but there are plenty more in the playlist above that didn't get write-ups; they are great tracks nonetheless, including "Henry Lee" by Nick Cave and The Bad Seeds, and "Suffer the Little Children" by The Smiths — and of course murder-song staples like Jimi Hendrix's "Hey Joe," several versions of "I Shot the Sheriff," and a whole bunch more songs about the most awful things people do to each other.
---
'Jenny Was a Friend of Mine' – The Killers
(2004)
This infectious tune got a ton of radio play in the early 2000s (we weren't streaming quite yet) thanks to its brain-boring earwig of a bass line, but like a lot of songs from The Killers, most people only know snippets of the lyrics.
This track is actually about a murderer called the Preppy Killer. Robert Chambers pleaded guilty to a reduced charge of manslaughter in 1986 after strangling 18-year-old Jennifer Levin to death in New York's Central Park. He claimed her death was an accidental byproduct of rough sex. A cyclist found Levine's body near Fifth Avenue and 83rd Street behind the Metropolitan Museum of Art.
He was released on parole in 2003, the year before The Killers dropped this track.
Tell me what you want to know
Oh come on, oh come on, oh come on
There ain't no motive for this crime
Jenny was a friend of mine
So come on, oh come on, oh come on
I know my rights, I've been here all day and it's time
For me to go, so let me know if it's alright
I just can't take this, I swear I told you the truth
She couldn't scream while I held her close
I swore I'd never let her go
This song is considered the third track in the band's murder song trilogy, along with "Midnight Show," which was also on their debut album, Hot Fuss, and a track called "Leave The Bourbon on the Shelf," which was released much later on a compilation album of B-sides called Sawdust.
Bourbon comes first and is about a couple, including a woman named Jennifer, going through a breakup. Midnight has the narrator singing about taking Jenny to a midnight show and includes the line "I took my baby's breath beneath the chandelier of stars in atmosphere […] and watched her disappear." I'm not totally sure what that means, but it don't sound good for Jenny. Then "Jenny Was A Friend of Mine" wraps up the sordid tale by depicting the narrator, Chambers, explaining his crime to the police.
---
'Delilah' – Tom Jones
(1968)
You know how you can hear a song a million times — so often that you come to truly hate it — yet still you have no idea what it's about until a shocking revelation hits you while randomly reading the lyrics one day? This is one of those.
At break of day when that man drove away, I was waiting
I crossed the street to her house and she opened the door
She stood there laughing
I felt the knife in my hand and she laughed no more
My, my, my, Delilah
Why, why, why, Delilah
So before they come to break down the door
Forgive me Delilah, I just couldn't take anymore
Yeah, that's right. The song your grandma loved that was a Vegas lounge-show staple for ages with its soaring brass flourishes and the nauseatingly catchy refrain is about a dude stabbing his girlfriend to death after discovering that she's been cheating on him.
He sees her having sex with another man through the window, waits across the street all night for the guy to leave, and then he straight-up murders her. The song's narrator tells the story as he waits for the cops to break down his door. Damn, Tom Jones. Damn.
RELATED – 12 Christmas Songs That Don't Suck
---
'Having a Blast' – Green Day
(1994)
Before Green Day was releasing concept albums and playing to sold-out crowds of tweens, they were a greasy, pimpled, quasi-punk-emo band who hit the pop culture button just right with their 1994 album Dookie. The first single off that one, "Basketcase," launched the band into a new sphere of fame. There were several memorable tracks from the album, but we're talking about a lesser-known cut that gets in the head of a mass murderer.
Released a full five years before Columbine, 'Having a Blast' is eerily prophetic and really captures that idiot teenage rage at nothing in particular paired with a desire to lash out at absolutely everything just perfectly. It's up to the listener to decide if the explosives that are duct-taped to the narrator's spine are metaphorical or not.
The bridge comes late in the song before a last repetition of the nihilistic refrain, and it reads like an anxiety attack:
Do you ever think back
To another time?
Does it bring you so down that you thought you lost your mind?
Do you ever wanna lead a long trail of destruction
And mow down any bullshit that confronts you?
Do you ever build up all the small things in your head
To make one problem that adds up to nothin'?
To me, it's nothin'
To me, it's nothin'
To me, it's nothin'
---
'Stan' – Eminem feat. Dido
(2000)
On Eminem's first two albums, he rapped a lot about murder. Like, a lot. Most of it had a cartoonish quality to it so you could tell it was just about blowing off steam, but when he dropped "Stan" on his third album The Marshall Mathers LP, it was a dead-serious story about a mixed-up fan that got everyone to pay attention to Slim Shady in a good way for once, sort of.
The song is about a guy named Stan Mitchel with Em voicing Stan's part as well as his own. Stan is Em's biggest fan, and he writes him several lengthy personal letters. As the song goes on, Stan gets more obsessive, angry, and unhinged. After receiving no replies and getting ignored by Eminem in person at a show, he gets nuts and you can tell his life is in a downward spiral.
Then we hear a tape recording Stan makes while driving on the highway after eating "a thousand downers" and chugging a bunch of vodka. He bitterly taunts the artist by calling back to a lyric from his breakout hit "My Name Is" with the line, "Hey Slim, I drank a fifth of vodka, you dare me to drive?" Then we come to the rub. Stand admits he has his pregnant girlfriend tied up in the trunk (much like another Eminem track), and he's approaching a bridge at full speed. Just before he drives into the river, he realizes he has no way to get the tape to Em.
Finally, we hear Eminem as himself finally writing back to Stan, having never heard the recording:
Dear Stan, I meant to write you sooner but I just been busy
You said your girlfriend's pregnant now, how far along is she?
Look, I'm really flattered you would call your daughter that
And here's an autograph for your brother
I wrote it on the Starter cap
I'm sorry I didn't see you at the show, I must of missed you
Don't think I did that shit intentionally just to diss you
But what's this shit you said about you like to cut your wrists too?
I say that shit just clownin' dog, come on, how fucked up is you?
You got some issues Stan, I think you need some counseling
To help your ass from bouncing off the walls when you get down some
And what's this shit about us meant to be together?
That type of shit will make me not want us to meet each other
I really think you and your girlfriend need each other
Or maybe you just need to treat her better
I hope you get to read this letter, I just hope it reaches you in time
Before you hurt yourself, I think that you'll be doin' just fine
If you relax a little, I'm glad I inspire you but Stan
Why are you so mad? Try to understand, that I do want you as a fan
I just don't want you to do some crazy shit
I seen this one shit on the news a couple weeks ago that made me sick
Some dude was drunk and drove his car over a bridge
And had his girlfriend in the trunk, and she was pregnant with his kid
And in the car they found a tape, but they didn't say who it was to
Come to think about, his name was, it was you
Damn!
RELATED – The Mossberg 500 Shotgun: Best Movie Moments
---
'Mary Brown' – Dave Alvin
(1998)
I love me some Dave Alvin, and this is just about one of the prettiest songs about killing you're likely to hear. There's a flinty coldness to the lyrics juxtaposed with the sonorous melody and Alvin's always distinctive and full voice. As the song's story unfolds, you can't help but think it's a song Johnny Cash would have laid down.
Well my name is Charlie Thomas and I'm as good a man as you
And for the love of Mary Brown there's nothin' that I won't do
Well her husband was a banker, yet she told me he was cruel
So I left his body lyin' in the yard where their roses grew.
Well people like him always look down on me
Because I've done a little time for armed robbery
Yeah, but Mary Brown knows I'm from a good family
And she didn't say nothing' when she slipped me the back door key.
The narrator, Charlie Thomas, is a small-time criminal whose childhood-sweetheart-turned-occasional-lover cons him into killing her husband.
You get the feeling Charlie thought they were going to run away together after the deed was done. Instead, Mary goes on to testify against Charlie at his murder trial, and while he's serving 25 to life, he hears about how she got hitched to her dead husband's best friend.
But even after all that, he says, "but for the love of Mary Brown, man I'd do it all again."
"Love. It's a motherfucker, huh?"
---
'Night Prowler' – AC/DC
(1979)
The final track on AC/DC's seminal 1979 metal tome Highway to Hell is full of deep creepiness without any backstory. The fact that it ended up at the center of a controversy surrounding the influence of violence and murder in pop culture makes it even more intriguing. Six years after it was released and five years after the band's original lead singer Bon Scott died, the track became forever linked with the stomach-churning story of Los Angeles serial killer Richard Ramirez aka the Night Stalker.
But I gotta say, the mystique is nearly ruined by Scott saying that shit from Mork and Mindy at the end.
From April 10, 1984, to Aug. 24, 1985, Ramirez killed at least 15 people. During his highly publicized trial in '85, it was revealed that Ramirez was fond of a number of current heavy metal bands. His favorite album was Highway to Hell, which he regularly played on repeat in the tapedecks of stolen cars as he cruised around the city at night, looking for victims to rape and murder, and houses that would be easy for an accomplished cat burglar like him to silently enter, which became his dominant MO as a serial killer.
With that in mind, it's not that surprising that some folks took to blaming AC/DC, particularly "Night Prowler," for serving as inspiration for a sick mind like Ramirez's when those details came out.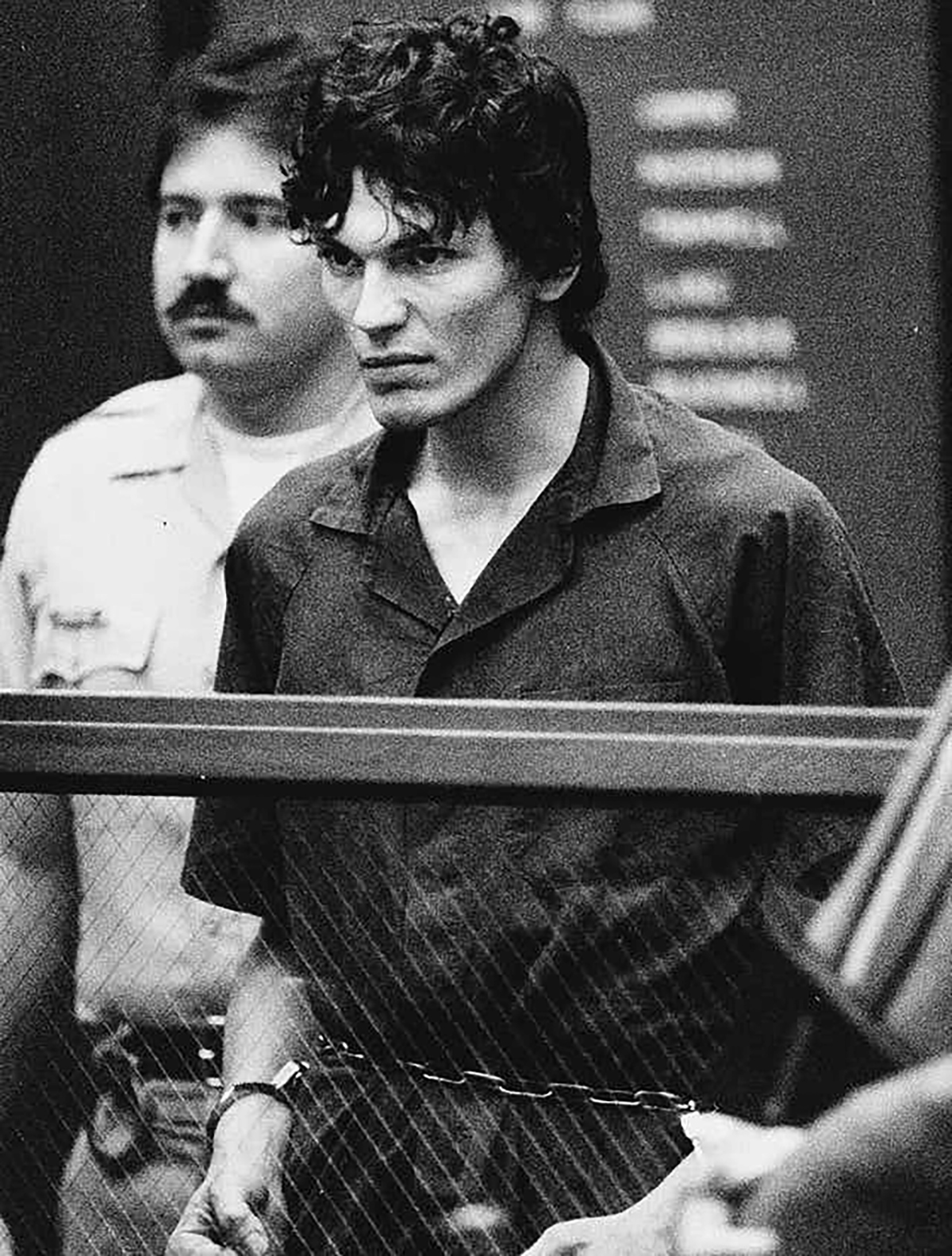 'Cause no one's going to warn you
And no one's going to yell, "Attack!"
And you don't feel the steel
Till it's hanging out your back
I'm your night prowler, asleep in the day
Night prowler, get out of my way
Yeah, I'm the night prowler, watch out tonight
Yes, I'm the night prowler, when you turn out the light
Too scared to turn your light out
'Cause there's something on your mind
Was that a noise outside the window?
What's that shadow on the blind?
As you lie there naked
Like a body in a tomb
Suspended animation
As I slip into your room
Those last few lines pretty much describe exactly how Ramirez went about raping and murdering so many of his victims, usually vulnerable single women and the elderly. He later said he was thrilled with the moniker the press gave him during his killing spree because it was so similar to the title of his favorite song. He took it as a sign from Satan that he was on the right path. One of the few pieces of physical evidence he left at a crime scene was an AC/DC hat.
The band came under harsh scrutiny from parent groups, and AC/DC insisted the song was about a teenager sneaking into his girlfriend's bedroom at night. Sure it was. In 2013, Ramirez died of cancer in prison.
If you're a sick pup like me and want to know more, and you're willing to accept the cost of upgrading your home security system, read The Night Stalker: The Disturbing Life and Chilling Crimes of Richard Ramirez by Philip Carlo. It'll get to you.
RELATED – The Real Spooky Stories Behind 3 Iconic Stephen King Novels
---
'Nebraska' – Bruce Springsteen
(1982)
Oh, this is so wonderfully dark. A record doesn't get more stripped-down and stark than 1982's Nebraska — Springsteen recorded the whole thing alone, in a house, with a guitar, a harmonica, and a 4-track tape recorder. The songs were supposed to be demos that the E Street Band could take into the studio, but when they were all laid down, Springsteen decided to release it as is.
Amid songs about blue-collar characters and highway patrolmen with wayward criminal brothers is the album's title track, which was originally titled "Starkweather." It's sung from the point of view of Charles Starkweather, a young man from Lincoln, Nebraska, who murdered 11 people during an eight-day killing spree in 1958, accompanied by his even younger girlfriend, Caril Ann Fugate. He was 19, she was 15, and their crimes shocked a nation that was already terrified of juvenile delinquents running amok. (In the song, the narrator mentions 10 deaths because Starkweather killed one person before the couple hit the road.)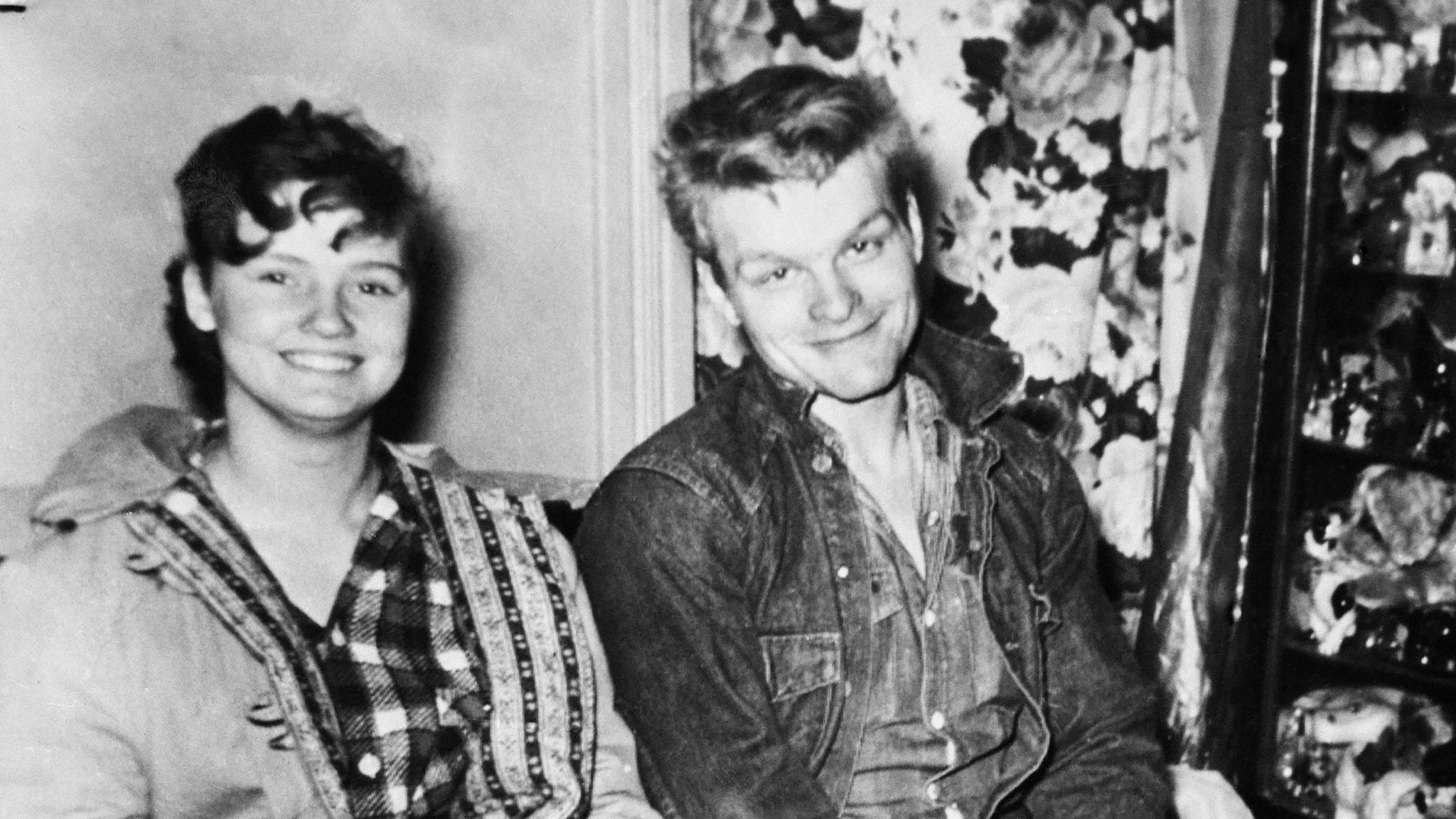 After the pair were caught, Fugate maintained she was Starkweather's kidnapped prisoner for those eight days, but their conflicting and changing accounts of their crimes caused many to believe she was more of a willing participant.
"Starkweather" sings the song while in prison, reflecting on his crimes rather fondly and looking ahead to his impending execution. Charles Starkweather rode the lightning in the electric chair at the Nebraska State Penitentiary on June 25, 1959. His personal philosophy was, "Dead people are all on the same level."
I can't say that I'm sorry
For the things that we done
At least for a little while, sir
Me and her we had us some fun
Now the jury brought in a guilty verdict
And the judge he sentenced me to death
Midnight in a prison storeroom
With leather straps across my chest
Sheriff, when the man pulls that switch, sir
And snaps my poor head back
You make sure my pretty baby
Is sitting right there on my lap
If you listen to this one on a good pair of headphones, you can hear Springsteen smiling wistfully when he sings that line about Caril being on his lap in the chair, and it's creepy as all hell.
---
'Delia's Gone' – Johnny Cash
(1994)
Johnny Cash recorded a lot of songs about death, particularly homicide, but this one is a peach. This song is dark no matter who you hear doing it, and its grim past makes it even darker, but slowed down and sung in Johnny Cash's deep old-man growl of a voice from the 1990s American Recordings — it'll downright freak people out. And so will the unsettling music video (above).
On the surface, this is a fucking brutal and short story of a man in love with a woman named Delia. She apparently doesn't feel the same and splits to Memphis. So the narrator goes there, breaks into her place, ties her to a chair, and proceeds to shoot her in the side. But he's not a totally cold-hearted bastard. He has some feels while watching her suffer like that, so he puts her out of her misery with a second shot.
First time I shot her
I shot her in the side
Hard to watch her suffer
But with the second shot she died
Delia's gone, one more round
Delia's gone
But jailer, oh, jailer
Jailer, I can't sleep
'Cause all around my bedside
I hear the patter of Delia's feet
Delia's gone, one more round
Delia's gone
So if your woman's devilish
You can let her run
Or you can bring her down and do her
Like Delia got done
Vicious, right? There's more.
Cash brought this song up from his deep country roots when he recorded it for the first of several times in 1962. It's based on a traditional American song from 1900 that was written in the aftermath of a 14-year-old girl's murder. Delia Green was reportedly shot in Savannah, Georgia, by 15-year-old Mose Houston on Christmas Eve. Local papers reported on the murder and Houston's trial in 1901. Houston confessed when arrested, but during the trial, he said the shooting was an accident. A witness said Houston got angry and shot Delia for calling him a "son of a bitch." He was found guilty and sentenced to life in prison. He served 12 years and was paroled in 1913.
People love a good murder yarn, and songs about Green's death became popular in the region over the next few decades, and two dominant versions emerged. The version Cash does is originally attributed to Blake Alphonso Higgs and is always told from the killer's point of view. Another version attributed to Blind Willie McTell is more sympathetic, and the narrator is usually one of Delia's relatives. The Waylon Jennings version is sung from the killer's point of view, but it's far more sorrowful and full of regret and sadness.
In the 1950s and 1960s, many versions were recorded by a whole bunch of people, including Cash — five recordings of a Delia song were made in 1955 alone. Bob Dylan even had one in the mix.
RELATED – The 8 Best' Cabin in the Woods' Movies of All Time
---
'Where Did You Sleep Last Night' – Nirvana
(1994)
The only thing darker than the lyrics of this often covered American folk song (which is older than recorded sound) is its cryptic history.
"In The Pines," aka "Where Did You Sleep Last Night," aka "My Girl," aka "Black Girl," began as two songs that were eventually merged into one sometime in the late 1800s called "In The Pines" and "The Longest Train." Nobody knows who wrote the original two songs, which are believed to go back to 1870 and the Southern Appalachian region of the US. The song was recorded by a folk collector on a phonograph cylinder in 1925.
Lots of artists have done versions of this song with vastly different lyrics, but the haunting refrain is usually the same. Today, the song is associated with bluegrass musician Bill Monroe and the blues legend Lead Belly (both musicians recorded multiple and very different versions of the song), but Gen-Xers think of it as a Kurt Cobain song. Nirvana kept this old yarn alive when they recorded a cover of Lead Belly's version during their famous 1993 MTV Unplugged performance (see video above) for the resulting platinum-selling album.
Over many years of being passed down orally, the song came to have three main components that were usually repeated: a chorus about being in the pines, a verse about "the longest train" and another verse about decapitation, usually involving said train. From the Nirvana version:
Her husband was a hard working man
Just about a mile from here
His head was found in a driving wheel
But his body never was found
My girl, my girl, don't lie to me
Tell me where did you sleep last night
In the pines, in the pines
Where the sun don't ever shine
I would shiver the whole night through
This can be taken to mean the girl in the song was involved in her husband's "accidental" death the night before, or to imply she was stepping out the night her husband died, though it's unclear who the narrator is. You can read into it however you want, but every way is dark with a mournful death via train decapitation awaiting at the end.
RELATED – American Monsters: 5 Terrifying, Us-Made Original Horrors
---
'The Night The Lights Went Out In Georgia' – Reba McEntire
(1991)
When people talk about a story being Southern Gothic, this is what they're talking about. This country murder ballad staple with a twist ending was written by Bobby Russell in 1972 and was first recorded by his then-wife Vicki Lawrence in 1973. But we're talking about the 1991 version by Reba McEntire that burned up the country charts 30 years ago. You know why? Because it's such a fucking upbeat song, and the story is so goddamn dark!
The song's narrator tells how her brother stopped for a drink at a bar on the way home from a long trip away and runs into his buddy Andy Wolloe. They get to talking, and Andy tells the brother that his wife has been cheating on him with a guy named Seth. Not only that, it appears the brother's wife gets around because Andy confesses to also sleeping with her, get's scared, and splits on foot since he doesn't live far.
The brother heads home to get the only thing his father left him: his gun and makes his way through the woods to Andy's house nearby. On the way, he notices sets of small footprints leading to and from Andy's house along the same route. Are they his wife's? Treachery! But when he gets to Andy's house, the brother finds him already dead from a gunshot.
He flags down a passing cop the way one always does on a dark country road: by firing a shot into the air. The cops immediately say he killed Andy, and in the space of half a verse, a judge has convicted the narrator's brother of the slaying. The chorus is immediately repeated and suddenly makes sense as you realize the narrator's brother was hanged for Andy's murder and that she thinks the police and judge failed him. But wait! There's more!
Well, they hung my brother before I could say
The tracks he saw while on his way
To Andy's house and back that night were mine
And his cheating wife had never left town
That's one body that'll never be found
You see, little sister don't miss when she aims her gun
Yep, the narrator found out that her sister-in-law was cheating with Andy while her brother was away, and she killed them both. She just didn't bother to hide Andy's body.
How and why she decided to commit a double homicide and dispose of a body in the time between Andy leaving the bar and her brother going home from the bar to get his gun is anyone's guess. Maybe she was on her way back from the quarry to retrieve Andy's corpse for disposal when her brother showed up and ruined everything.
Reba's version delves into the story behind the song a little more with its accompanying music video that includes spoken dialog and gives the anonymous brother a name via newspaper headlines: Raymond Brody. We also find out that Andy was the narrator's fiance, making the murdering a little more understandable — but just a little.
Here's a little bit of movie-music trivia crossover: At the end of Quentin Tarantino's Reservoir Dogs (1992), Nice Guy Eddie (Chris Penn) says, "This is the first time I ever realized that the girl singin' the song is the one who shot Andy." If you just glossed over that line in befuddlement, now you know.
READ NEXT – Backcountry Movies That Will Give You Chills and Coax Some Feels