Some pretty wild things happen in Alaska on the daily, but it's rare that a truly jaw-dropping, circle-of-life moment makes it to social media. Yet sometimes, everything lines up just right, and we are totally here for it.
Last week, Alaskan fly fishing guide Sam Vassar captured some nature-is-metal-as-hell video footage — a front-row view of a brown bear stalking and killing a full-grown moose.
Vassar's video quickly went viral on Instagram, where it has racked up more than 162,000 views. The video also garnered plenty of attention on Youtube.
The footage, which Vassar managed to capture on his phone from his fishing boat, shows a cow moose fording the rushing Alagnak River with a large brown bear in hot pursuit. The moose heads back to the shore, then doubles back to the water, but is unable to shake the bear.
Back in the water, the bear jumps on the moose, and the death struggle begins.
Vassar rightly called the event a "one-in-a-lifetime occurrence." At the moment, he's still working as a guide in the Alaskan backcountry. FRA managed to trade a couple of texts with him, but since service is spotty at best where is, he couldn't share his full story with us. But he wasn't the only person present that day to witness the adrenaline-stoking display of nature at its most primal.
Amateur photographer Bob Chadwick was also cruising the river with another photographer on a photo excursion with Alaska Trophy Adventurers Lodge.
"We saw Sam Vassar in a boat with his father, and they were videoing an event," Chadwick told Free Range American.
"We looked up and said, 'Whoa. That's a moose.' Then we realized there was a bear on the moose."
Chadwick said this wasn't the first time he'd witnessed an animal fall to predators.
"I've been to South Africa on safari and saw a pack of wild dogs go after a wildebeest. That was kind of similar, but it was over in about two minutes," he said.
In contrast, Chadwick said he watched the bear struggle with the moose for nearly 40 minutes, although he didn't get to see the initial pursuit.
"When we got there, the bear was already on the back of the moose."
Despite missing some of the action, Chadwick was still able to snap some incredible shots of the moose's desperate fight from about 75 feet away. And although the moose's death was brutal, Chadwick described it as "surprisingly clean."
"It didn't get too bloody during the actual takedown, partly because of the water and partly because the bear broke the moose's neck instead of going for the throat," Chadwick said.
"After the moose was dead, we watched the bear try to get it onto the shore. It took him three tries at three different places before he finally did."
Even a small Alaskan cow moose can weigh 800 pounds, and while brown bears in The Last Frontier are pretty hefty, hauling that much deadweight out of rushing water is no easy feat — which just goes to show how strong an Alaska brown bear is.
Chadwick was forced to leave the bear and the fresh kill to make a 5 p.m. check-in with his group, but he returned to the scene a few hours later.
"When we got there, the bear that had killed the moose and taken it to shore was gone. It looked like a bigger bear [who was still there] had run him off," Chadwick said. "There were also a couple of smaller bears that looked like females, but the other bear was huge. It was the biggest bear I saw the whole week I was there.
"They were all hanging around [the carcass], and the big bear would eat his fill and then go away for a while, and the other bears would come up and try to get some. Then the big bear would come back and run them all off."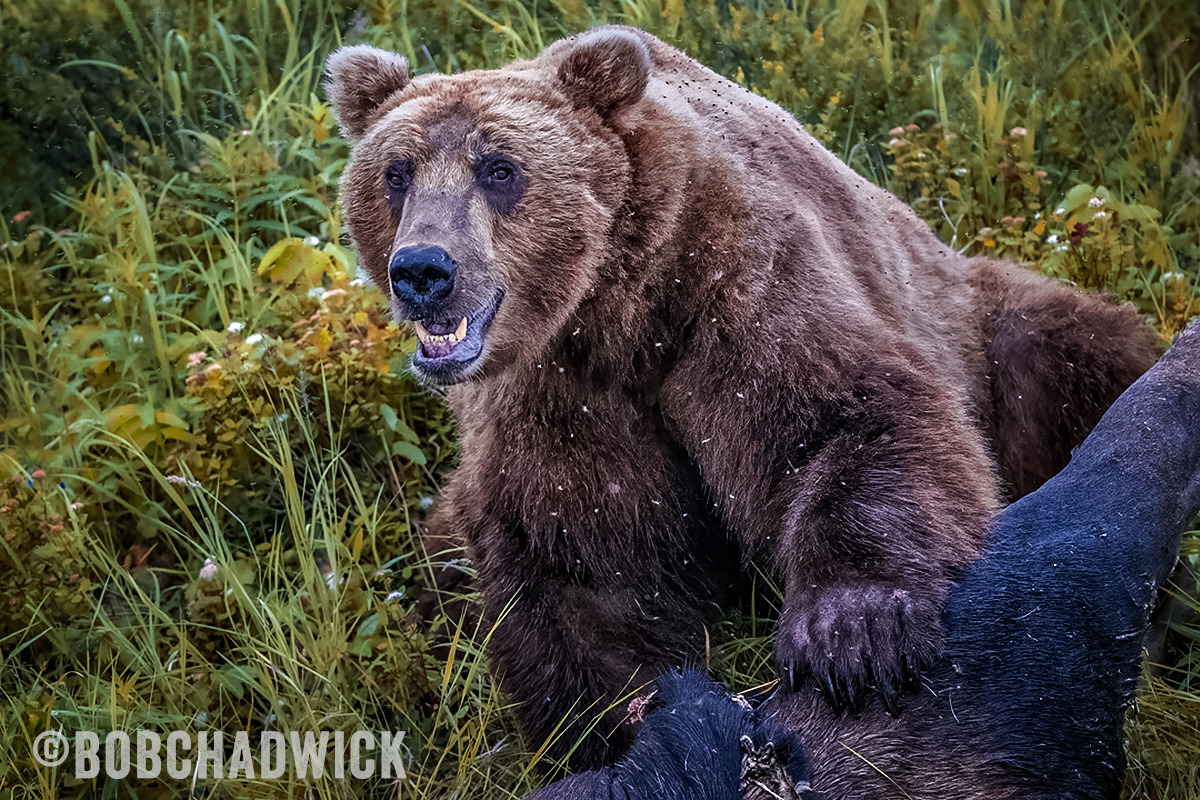 Chadwick admits having a ringside view of the savagery of the food chain was pretty exciting and that some might find it savage and gruesome, but he also acknowledges that this is how nature works.
"A lot of people might be horrified by the fact that a moose was being killed by a bear, but that's nature. It happens all the time," Chadwick said. "It was still exciting to see it happen right in front of us."
---
READ NEXT — Bear Crashes Wedding, Kills Moose During Vows