Read About and Watch BRCC Alberta Bear Hunt Ep. 1
After an exciting first day of the hunt that saw BRCC's Amanda Sheets take a nice boar, outfitters John and Jenn Rivet explain the hardships they faced during the pandemic when travel to Canada was halted and what they did to get by during tough times. 
"We bought this place right before COVID hit. We took the last of our money and put it in here thinking that bear season is going to open up, and we'll make money again," John says, choking up over the memory. "But with two years of not opening up and having spent all our money, it was a little tight. It was a little tough."
"This is really nice to have people up this spring. It's good," Jenn says.
There's a noticeable warmth and buoyancy exuded by the Rivets as they all work to process Amanda's bear the morning after she shot it. You really start to understand what Jenn means by "hunt family," and how difficult it must have been to have been deprived, not only of the income you rely on to survive, but to be deprived of that extended family of hunters.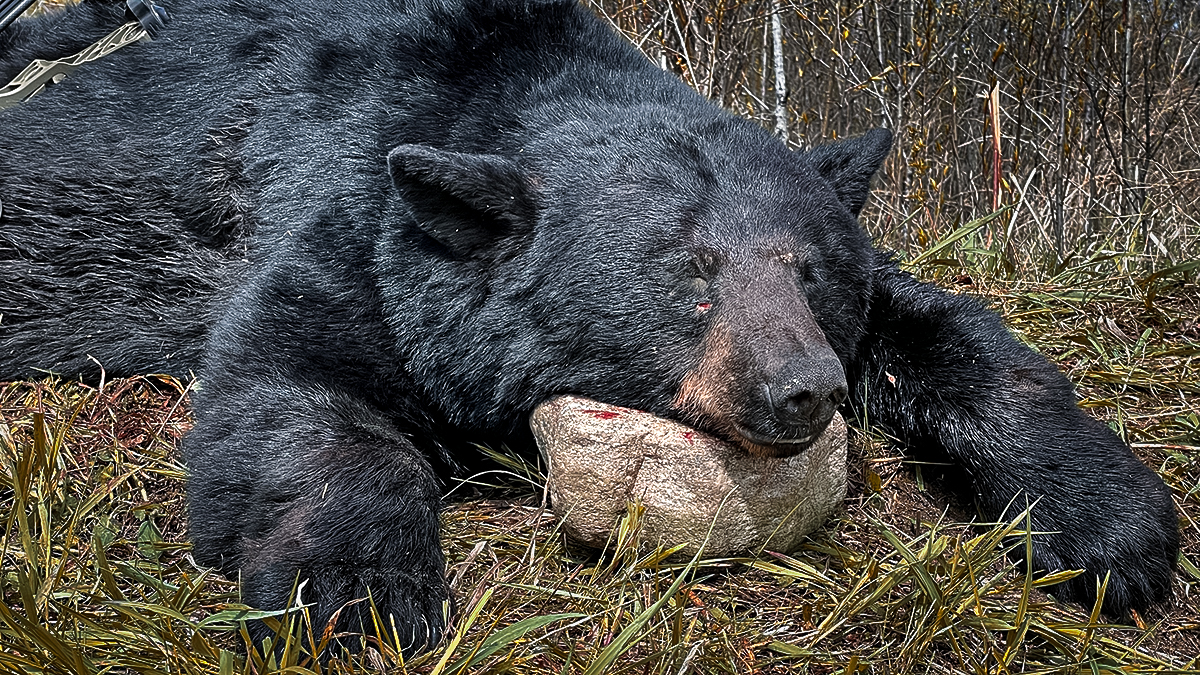 On the final day of the hunt, spearfishing champ and bowhunting vet Justin Lee drops a hefty boar.
"I just stood up because there was a little bear. I thought something was going to chase him off the bait," Lee says. "I was just kind of looking around."
That's when he saw the bigger bear ambling through the trees, making his way toward the bait.
"If he goes to the bait, it's going to be 10 yards," Lee says. "I ranged him at 36. Then he started to walk in, and he turned broadside."
Lee drew his bow and sounded one quick whistle. The bear stopped in his tracks, trying to determine what made the noise. Lee checked the bubble on his site to make sure he was level and then released his arrow.
"It hit him, and he took off, but that arrow was perfect."
Back at bear camp, everyone admires the size of Lee's bear and his menagerie of battle wounds.
"He's got some scars," Jenn Rivet says as she rubs the grizzled bear's head. "I bet he was the big boy in that area dominating everything. Holy crap."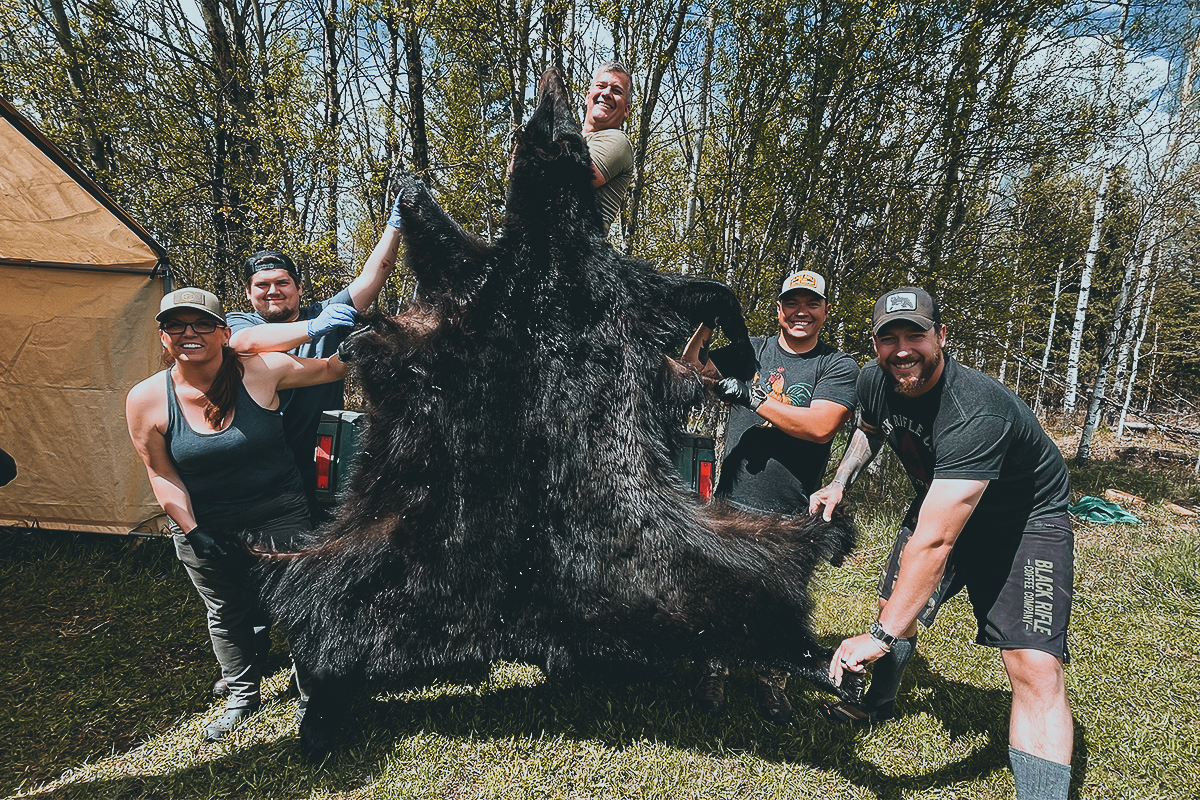 While Lee's big boar is definitely impressive, the defining moment of the entire hunt comes when Caleb Brewer of Stick Sniper Archery makes an incredible shot as the light on the group's time in Alberta literally begins to fade.
Brewer, a retired Green Beret, served in the U.S. Army for 11 years. In 2015, he was critically injured by an IED in Afghanistan that took both of his legs.
"The incredible amount of work I've had to put into this just to be here right now is just insane. Just going through a solid year of my life in rehab and learning how to walk again — my daughter was 1, and we both learned to walk together, which was kinda cool," Brewer says. "There's always pain, so it's something I have to just live with.
"But then, I had to overcome my fear of falling because when you're on a prosthetic leg, and you're walking, falling is like the scariest thing in the world. Good god, if you come across a 6-inch curb and you're on prosthetics, it's the end of the world. It's like the grand canyon.
"My goal in life is to be so good at walking on prosthetics that the normal issues that bother and plague amputees are non-existent for me. Stairs, curbs, ramps, hills, gravel, all that crap. That is stuff you can train to overcome in the gym. If you have the right mindset, you can overcome any of that crap."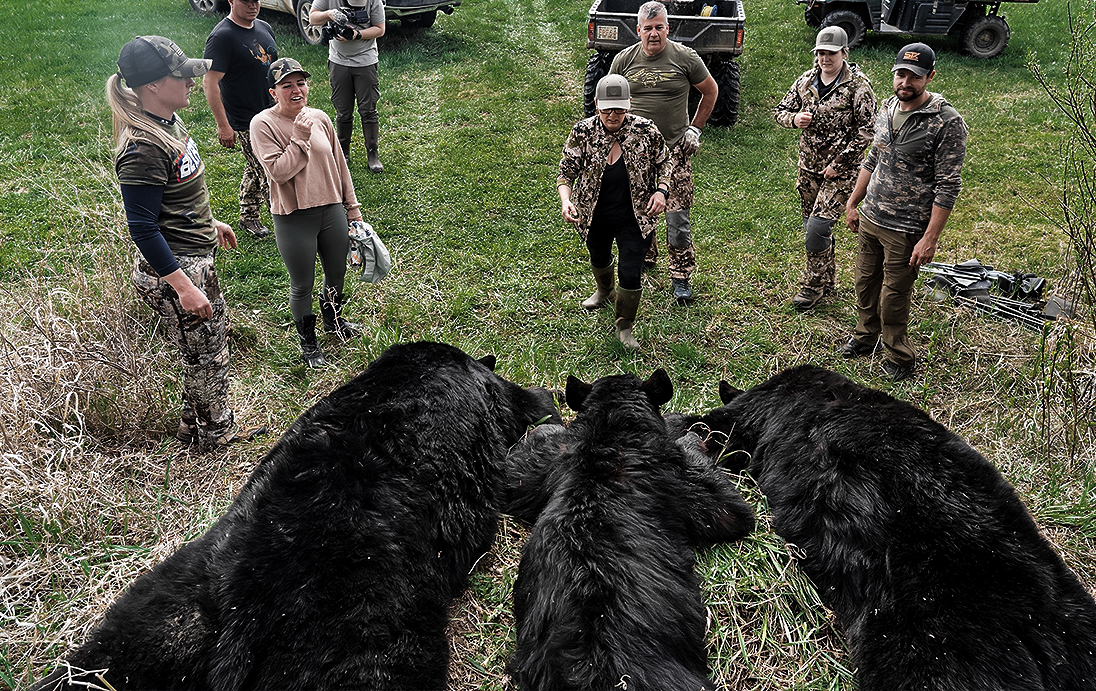 Brewer's passion for archery began in 2017. In 2020, he became the Archery Program Manager for Operation Enduring Warrior, a veteran-founded nonprofit foundation that supports wounded veterans and first responders through physical, mental, and emotional rehabilitation.
"I decided to give up rifle hunting because I shot a ton of guns in the military, big stuff that goes boom and long-range guns," Brewer says. "I hunted with a rifle, and it just wasn't the same anymore. But when I picked up a bow, it just lit a fire in me. Now, I hunt only with a bow."
Brewer definitely overcame his fear of falling — he decided to hunt from a treestand on the last evening of the trip and got up the ladder on his own two carbon-fiber legs.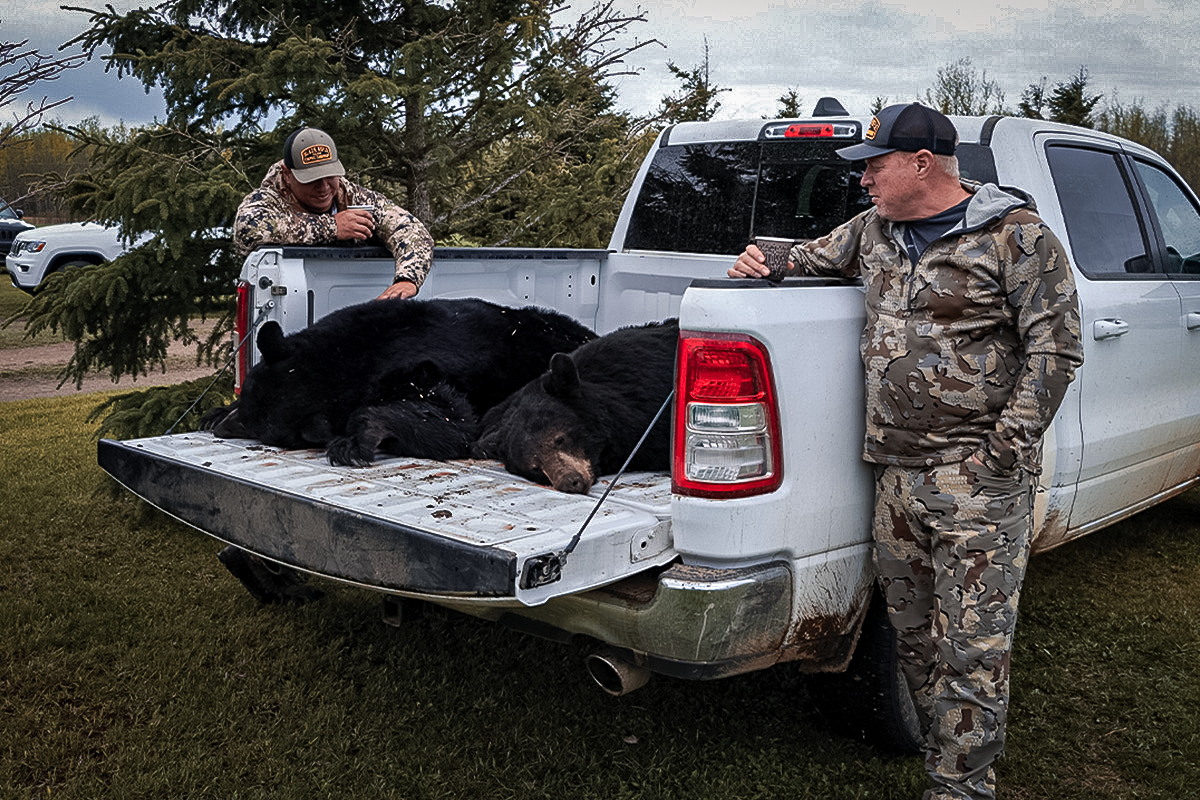 "The bear came in, and I had to stand up. I had turned off the vacuum pump for my legs, so they were wobbly. I was shaking, but I got it done," he says. "He ran maybe 20 yards. It was awesome. He's a really pretty bear."
Brewer uses his phone to video the Rivets hauling his bear back to the truck so he can navigate the muddy, unstable terrain.
"This is why you stay in shape, people. You don't need dumbbells. You don't need weights. You just need a bear. It sure doesn't get any better than that," Brewer says.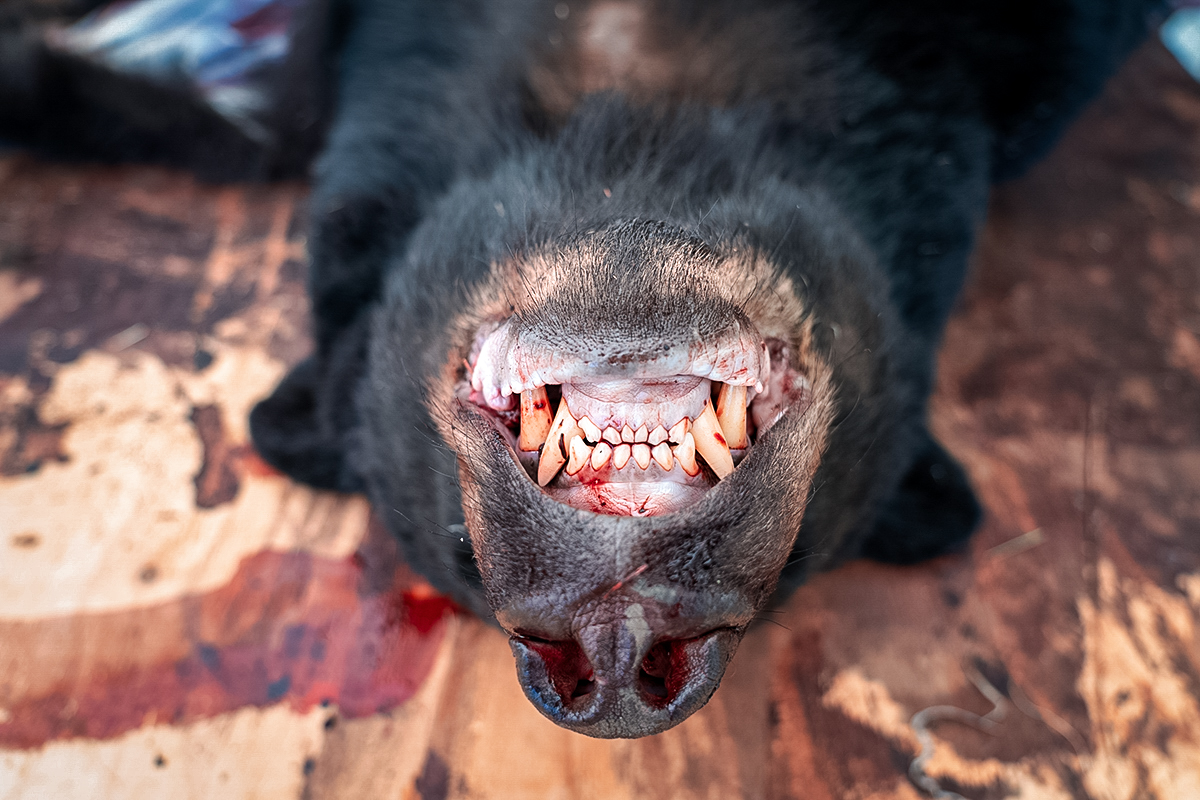 "There's no instant gratification, no like button, no easy win. You have to earn it," Brewer says of his love of bowhunting. "And if you don't train and you don't prepare, then you're not going to get it. I like that hard-earned victory. There's nothing easy about hunting, especially for someone like me who's walking on two carbon-fiber legs — this is some hard, hard shit. And I love it."
Although not every hunter in the party filled their bear tags, everyone had a blast on the trip.
"When I got back into hunting three years ago, I knew that was the main focus I wanted. I knew I wanted to hunt with people I cared about and be around people I enjoyed," says Lucas O'Hara, founder of Grizzly Forge Knives. "I can't thank Evan [Hafer] enough for giving me this opportunity and Black Rifle Coffee and the Rivets for having us out. It was pretty epic doing epic shit with epic people."
---
READ NEXT — Comeback: Canadian Hunting Outfitters in a Post-Covid World