To say that guns once owned by the legendary Buffalo Bill Cody are hot commodities is an understatement. We live in a culture still captivated by the wild freedom of the once-untamed American West, and firearms from that period fetch top dollar from collectors who want to own a small piece of the adventurous spirit, hearty individualism, and rugged self-reliance that tamed the frontier.
If you want in on that deal, now is your chance. Lewis & Grant Auctions got their hands on some rare and unique firearms with Western ties, including a factory-engraved lever action Bullard Rifle that was presented to Buffalo Bill Cody when he visited the Bullard home sometime in 1883. It is the only known factory presentation gun given directly to Cody, and it's scheduled to hit the auction block on Nov. 10 in Newport, Kentucky.
RELATED — The Most Expensive Rifles Ever Sold at a Gun Auction
---
Buffalo Bill Cody: The Most Interesting Man in the World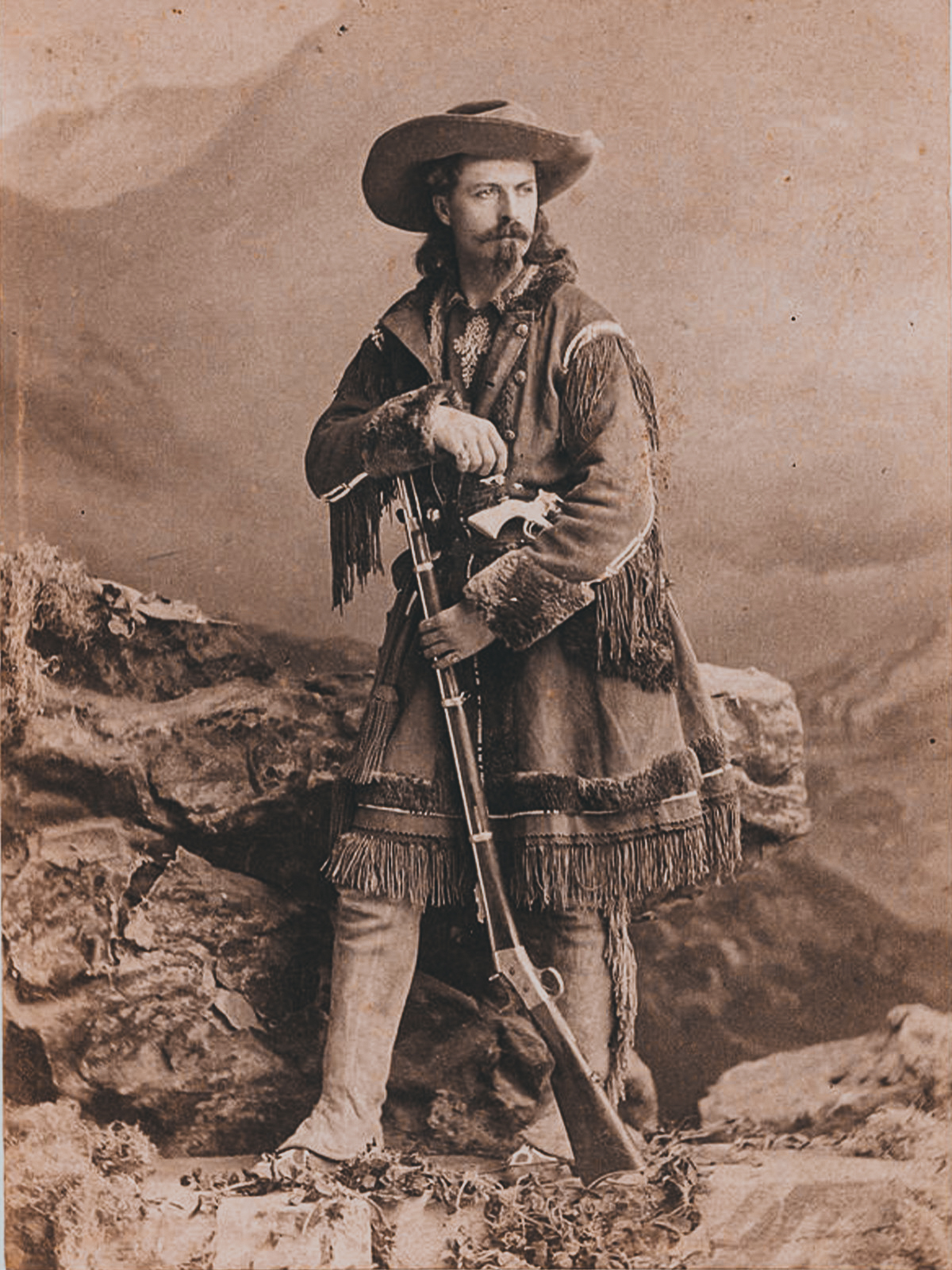 At one time in history, long before the Dos Equis guy made the claim, William F. Cody was the most interesting man in the world. At different points in his life, Cody was a Pony Express rider, frontiersman, Indian fighter, U.S. Army scout, buffalo hunter, and one of only eight civilians presented the Medal of Honor in all of U.S. history.
Cody's life was jam-packed with adventure long before he jumped headfirst into show business with his famous Wild West Show and became known as Buffalo Bill.
Cody successfully turned his real-life Western adventures into entertainment — with a healthy bit of showmanship and embellishment. He opened his Wild West Show in May 1883 in Omaha, Nebraska.
At its height, the traveling outdoor show featured sharpshooters, foot races, rodeo riding, and elaborately staged reenactments of events and battles such as "Custer's Last Stand" (Cody usually played Custer) and even a mock buffalo hunt featuring one of the few remaining bison herds of the time.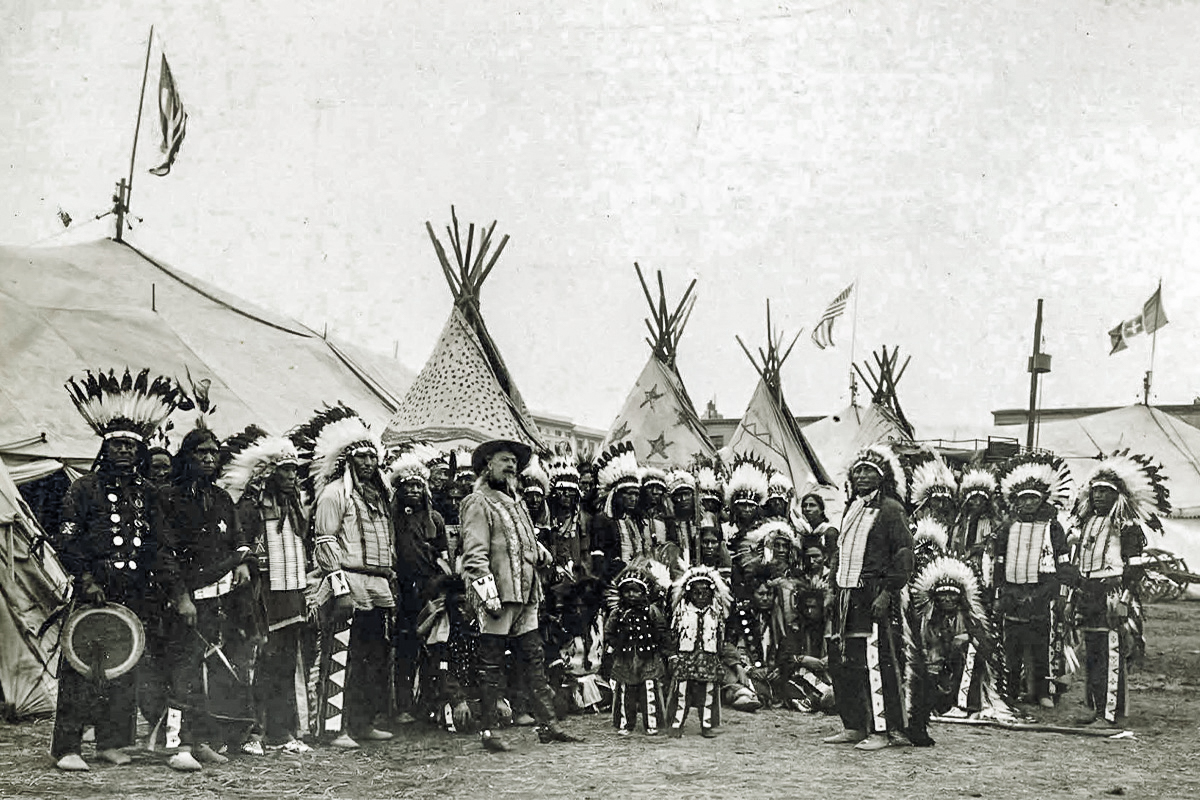 At various times, the show featured other true Wild West figures of note, like James Butler "Wild Bill" Hickok (in the early days before he was killed in 1876, of course), Texas Jack Omohundro, legendary sharpshooter Annie Oakley, and prominent Native American figures like Sitting Bull and Geronimo.
Each show lasted three to four hours and drew crowds by the thousands. The show traveled all across the U.S. and toured Europe eight times, giving the Old World a glimpse of the mysterious, violent, and intriguing American frontier that was rapidly fading from existence.
By the turn of the 20th century, Buffalo Bill was arguably the world's most famous and recognizable man. It can be argued that his traveling show gave the mythos of the Wild West a form and tempo that was digestible for the masses and paved the way for the era of Wild West movies in the following century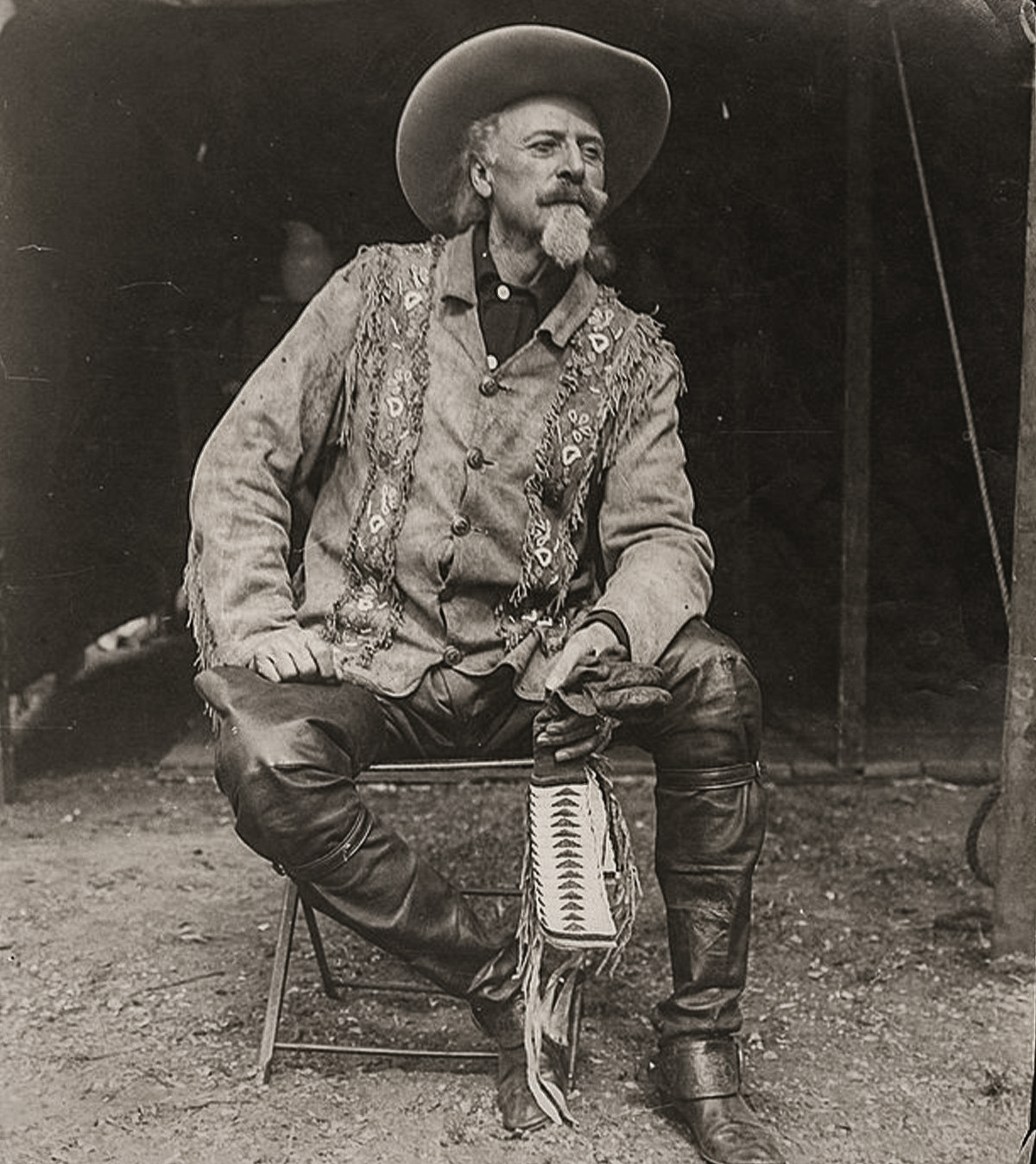 GOOD GEAR – Explore the Unkown With BRCC's Beyond Black Roast
---
The Rarest of Buffalo Bill Cody's Many Guns
Cody's favorite firearm was definitely the Springfield .50-caliber trapdoor rifle he dubbed Lucretia Borgia after a beautiful but deadly 15th-century noblewoman. He toted that Springfield when he became a buffalo hunter for the Kansas Pacific Railroad in 1867.
But Lucretia certainly wasn't Cody's only gun. The man had an armory that would make any gun nut drool with desire, and items from his collection fetch big bucks at modern auctions.
His Civil War–issue Remington New Model Army .44 revolver fetched a whopping $239,000 at auction in 2012, and in 2014, Cody's 1873 Colt model 1873 Frontier six-shooter sold for more than $40,000.
Even firearms that were never fired by Cody himself but still bear his name go for a pretty penny, such as the 1864 Stevens & Co. presentation rifle, engraved "from Buffalo Bill to Night-Hawk & Broncho Bill," that fetched $18,125 at auction in 2019.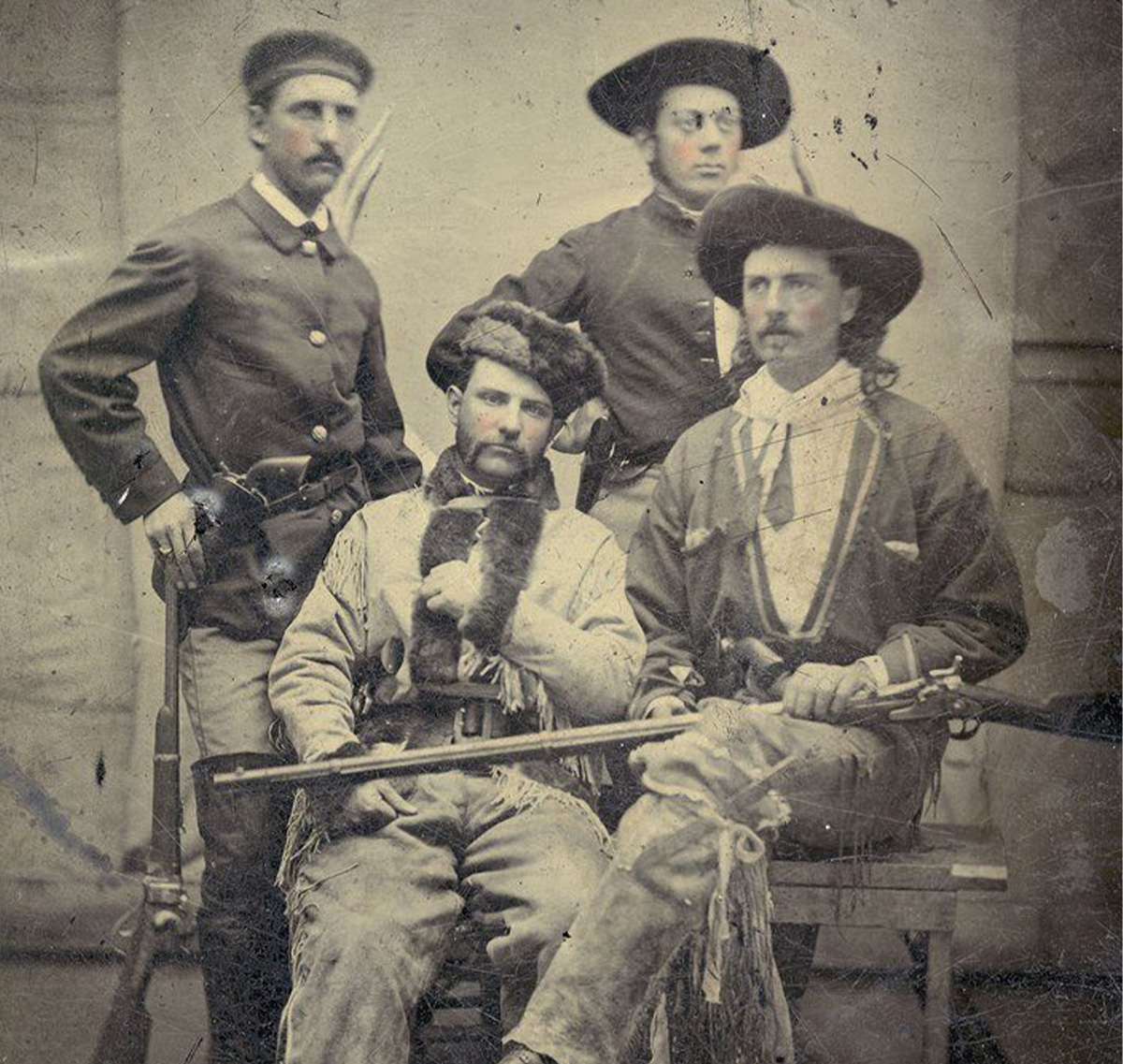 "There have been a lot of Buffalo Bill guns sold over the years at different auctions," Lewis & Grant's chief operating officer Bill Lewis, a third-generation antique firearms expert, told Free Range American.
However, Lewis believes the lever action Bullard rifle intricately engraved with Cody's name that will be up for bidding this fall is altogether different.
"If you look at different sales records, they've all been guns that Buffalo Bill had ordered. This one is more historically significant because it is the only known factory presentation piece given to Buffalo Bill."
According to Lewis, the rifle was purchased by an anonymous museum in February 2002. Before that, the gun was on loan from a private collector and displayed at the Buffalo Bill Center of the West museum in Cody, Wyoming.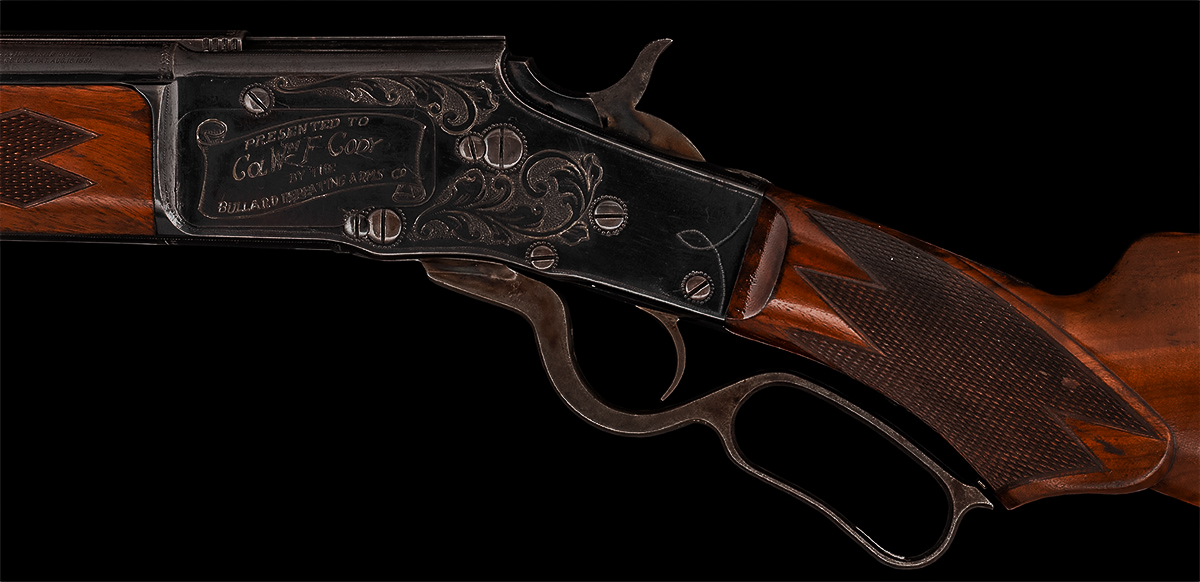 It is a Bullard Deluxe lever action rifle in the proprietary .40-90 Bullard with a 28-inch octagonal barrel. The gun also features intricate engravings — exuberant sprays of leafy foliage surrounded by a fine-line border. 
The left side of the receiver is adorned with a large riband surrounding the Bullard factory presentation inscription: "PRESENTED TO Col Wm F. CODY BY THE BULLARD REPEATING ARMS CO."
Directly behind the hammer is a large and finely executed relief silver-inlaid, bearded buffalo head surrounded by intricately engraved grass.
Although it was made 140 years ago, the gun is in near-pristine condition. While it's possible the rifle has been shot, it probably hasn't been fed more than a handful of rounds — yeah, it was a safe queen, but that's good for history and for whoever ends up the top bidder for this gun.
"With the condition it's in, it would have probably just been a piece that was presented to him, and he just hung on a wall," Lewis said. "It's probably the best Bullard out there."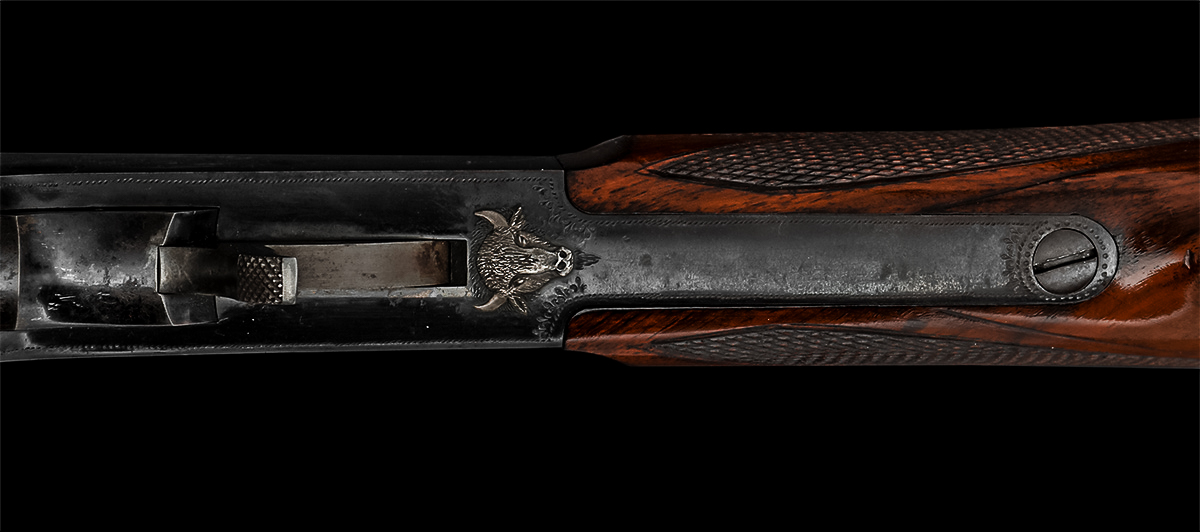 RELATED — Teddy Roosevelt Ran a Suppressor on Three of His Hunting Rifles
---
What's a Bullard Rifle?
Although James Herbert Bullard had more than 100 patents, most were for machinery or product improvements for companies he worked for, including Smith & Wesson. Bullard struck out on his own, founding the Bullard Repeating Arms Company in 1881. The company only lasted a decade, dissolving in 1891.
The interior mechanics of Bullard rifles have been compared to the fine, complex designs of Swiss watches. Bullard was never big on mass production; his rifles were only produced in small batches. With only 2,500 Bullard repeating rifles ever made, these babies are pretty desirable on the collector's market today, whether Buffalo Bill owned it or not.
So how did one of these relatively rare lever guns make its way into Cody's collection?
"Cody was personal friends with James Bullard. This piece was made in 1883. Buffalo Bill's Wild West Show premiered in May 1883. So we're looking at the first year of the show and the first tour. It makes sense that this piece would have been presented to him on his first stop through Springfield, Massachusetts."

GOOD GEAR – Embody the Ethos of the Quiet Professional With BRCC's Silencer Smooth Roast
---
How Much Will Buffalo Bill's Bullard Fetch on the Block?
With the rarity of the model itself, its exceptional condition, and this gun's unique provenance, it's difficult to guess just how much this rifle will fetch.
"We've seen other Buffalo Bill guns sell in that $100,000 to $200,000 range, but they've all been things he purchased, never a presentation piece to him. I think that adds a premium to the piece that sets it apart from those other guns," Lewis said.
When it comes to historic firearms, Lewis & Grant Auctions knows their stuff. Launched in 2020, the company's staff are all life-long researchers and collectors with more than 100 years of combined experience in the consignment of firearms, arms, and American history.
They regularly have cool shit come through the auction house, including Bill Pickett's personalized leather chaps, the interior sacristy doors of the Alamo Chapel, Santa Anna's presidential chapeau, and an ultra-rare Briggs Winchester rifle.
---
READ NEXT — Sharps Rifle: The Original Long-Range Hunting Gun