Pat Smith's boat shop is not a place for those with OCD. 
One step inside and you get the smell of Captain Black pipe tobacco, cedar sawdust, epoxy, and varnish. "A Whiter Shade of Pale" drifts from the transistor radio in the back of the shop. The space is occupied by a cold wood stove, a well-worn recliner, a chaotically organized workbench, five different types of electric saws, and walls full of magazine articles, antique boat posters, postcards, family pictures, pictures of boats from years past, old advertisements, a gun rack, and a fly rod. At least half a dozen canoes and boat molds hang in the rafters. A few sit in canvas yokes and on sawhorses in various states of repair or progress, and two newly restored craft rest on their gunwales on a trailer outside in the sun.
This is exactly what a boat builder's shop should look like.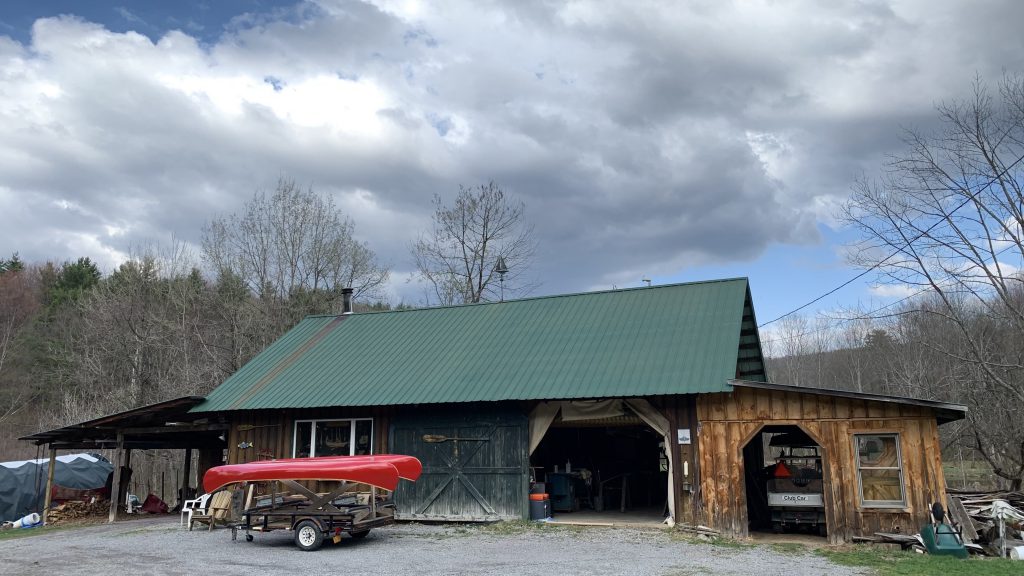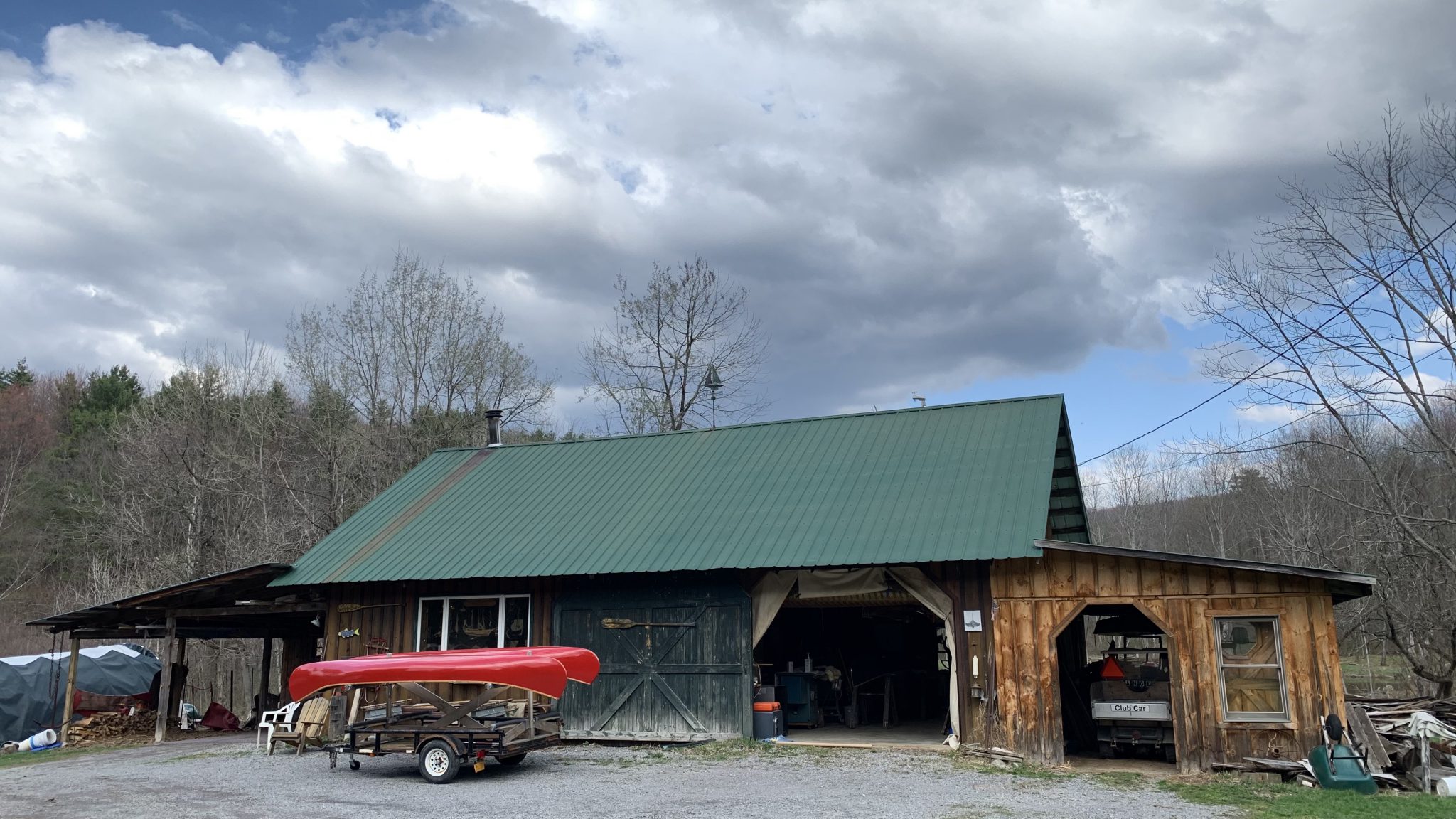 Welcome to West Hollow Boat Company in the Bristol Hills of western New York, the boat-building home of Pat Smith for more than 30 years.
"In '91 I built this barn with logs we dragged down off the hill and milled here. I'd been doing some boat work in the house, in a tiny little basement workshop — but I couldn't even get a boat in it. I had to do a lot of work outside," Smith said. 
The situation was less than ideal since his building season is primarily during cold-weather months.
Smith's love of boats started when he was a kid. "I grew up with cedar-canvas canoes," he said. "I would go with my neighbors to Canada every summer, and we paddled canoes from the early 1900s." 
At 13 or 14 years old he was given his first mahogany canvas canoe — a 1928 Old Town — which he ran from the mid-1960s to the late-1980s, when the boat began to rot. After two years of trying to find someone to help him restore the boat, he finally found a technology teacher by day, canoe shop owner by night in Vermont who offered a class in canvas canoe building. 
Canvas canoes' origins date back to roughly the turn of the 20th century after the economic collapse in 1893. They were cheaper to produce than full-wood models and answered a growing need for people wanting to get out of the hectic stress of the city.
"It was a one-week class, cost me $500, but I'd been looking for years for help repairing my boat," Smith said. "I took the class, and it fired my imagination to design my own."
Pat Smith in his shop at West Hollow Boat Co., with a couple of his finished models and the custom molds. Photo by Matt Smythe/Free Range American.
With his newfound inspiration and know-how, Smith began building original molds for his creations. More than three decades later, he now offers three cedar-canvas canoe models: the 15-foot Ragamuffin, 16-foot Otter, and the 17-foot Bristol Girl, which was his first model. 
"In Britain, Bristol is a boat-building town, and the name Bristol means 'perfect' — bright, shined up, varnished, brass is polished, Bristol condition," Smith said. A name fitting for both the boats and the shop's location. He laughed, adding: "And of course, all boats are girls." 
"My fourth model of canoe is a glued cedar lapstrake," Smith said, "which is very lightweight. It's my version of Peter Hornbeck's Lost Pond boats." Hornbeck, an iconic Adirondack boat builder, artist, and conservationist, crafted his boats with Kevlar, which weighed in at a mere 10 to 12 pounds. He died in December 2020 at age 77.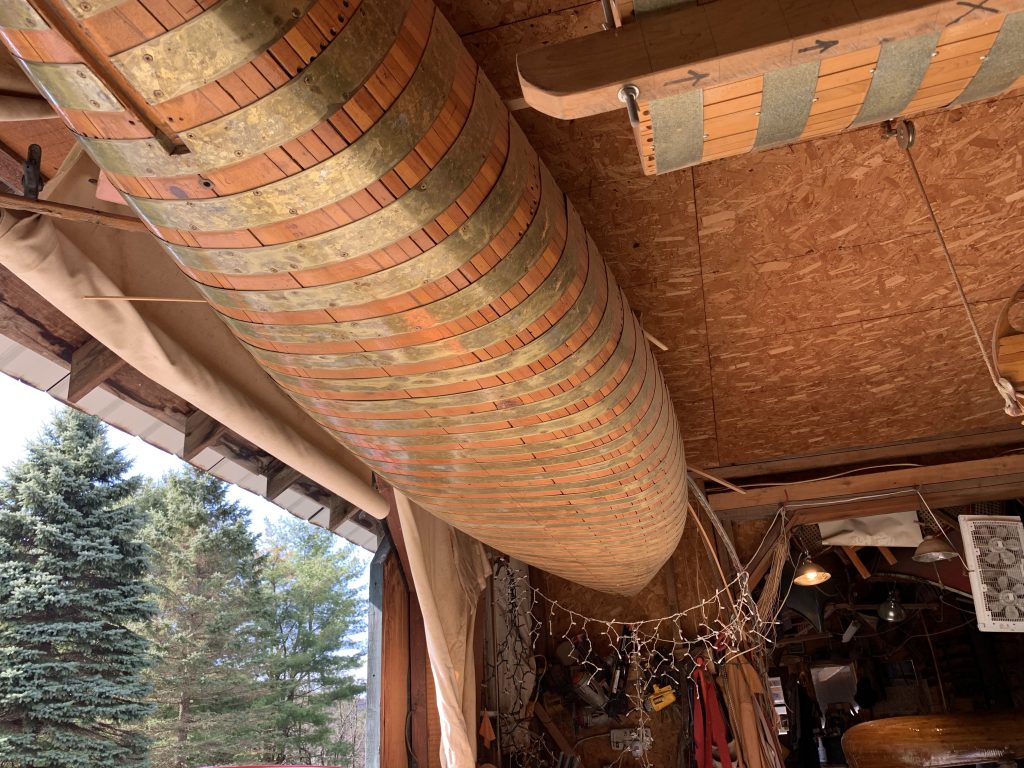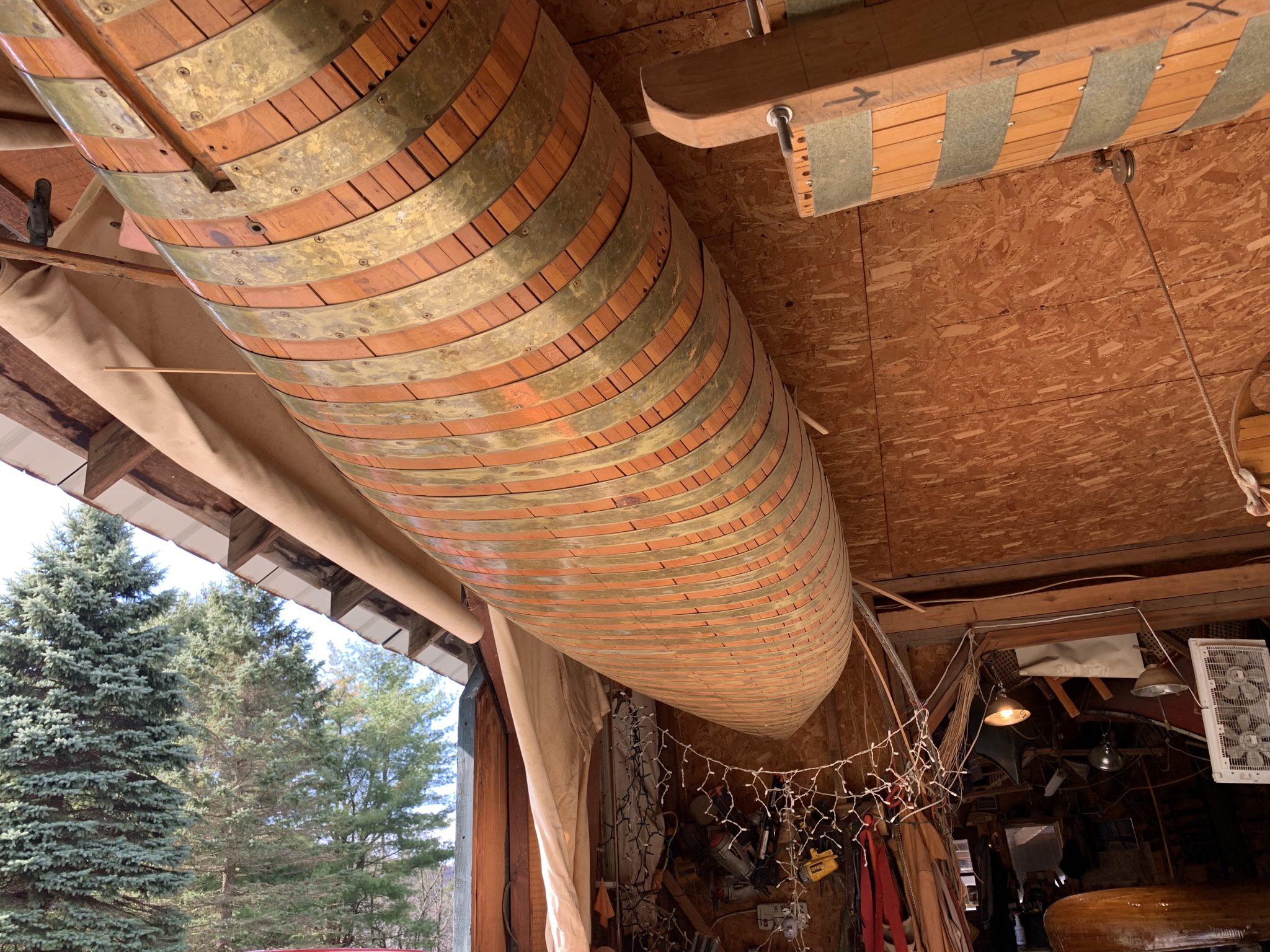 "I wanted a traditional-looking boat which would be lighter than a traditional cedar-canvas canoe and could be paddled kayak-style," Smith said. "So, I developed the Solo 12, which weighs about 28 pounds." The mold for the canoe hangs in the rafters next to those of his other three models.
At almost 70 years old, Smith is one of only 75 to 80 professional boat builders across the US and Canada, a number that's getting smaller every year. He's commissioned for one or two new boats and up to seven or eight restoration projects annually. Currently, he's restored more than 300 canoes and is one shy of an impressive 50 brand-new builds.
"I really want that last one, just to get 50. But I'm getting old, you know?" he said. "Plus, I'm so busy [with restorations] that I've actually started booking in the next winter. This has been one of the busiest seasons for me ever."
"I'm supposed to be trying to slow down and enjoy retirement now," he added with a laugh.
Smith also teaches introductory boat building and restoration to adults and children in hopes of instilling in the next generation the value of a wood boat, its history, and its longevity. Additionally, he teaches at the historic Sagamore in the Adirondacks every summer and at the Finger Lakes Boating Museum in Hammondsport, New York. 
"We got a donation of a dragon boat at the museum recently," Smith said. "I've got a class of students coming up, and we're going to be building the paddles that are specific to that type of boat." 
A dragon boat is in the traditional paddled-longboat family and has its roots in races between villages in China 2,000 years ago and even earlier in the original Olympia games in ancient Greece.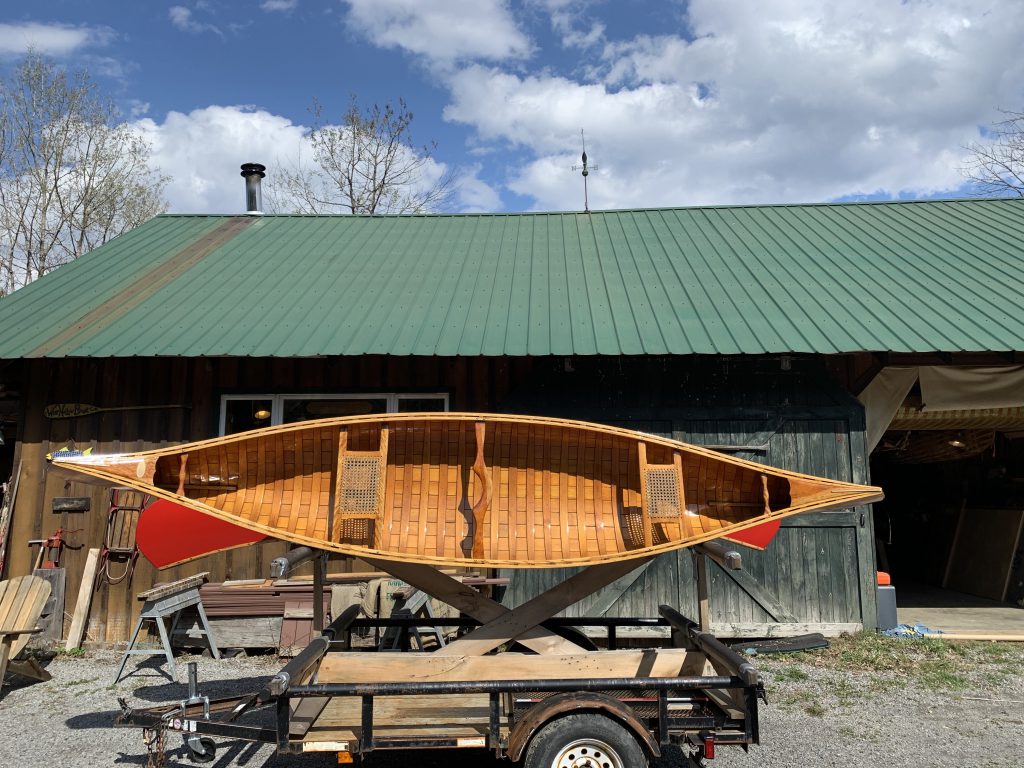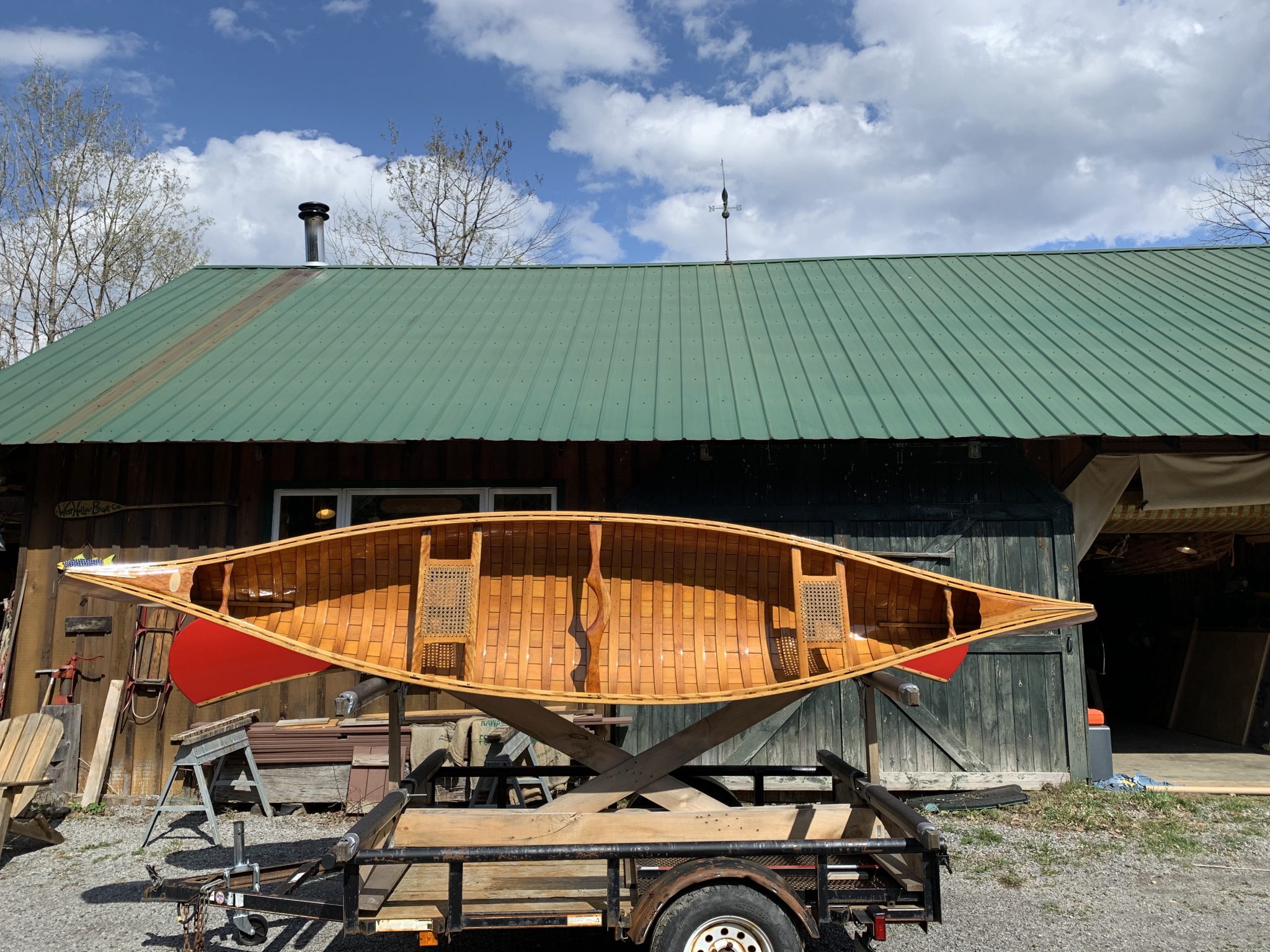 "They've been adopted by a lot of colleges and different places that have teams that race them," he added. "It's fascinating."
Teaching is his way of ensuring the canvas canoe and his own legacy live on. His shop is a comprehensive, albeit chaotic, instruction manual for anyone who has the patience and love to decipher it.
"None of this is written down," he said. "This is all in my head. I've made the patterns, so someone can duplicate what I've done, but these are all by eye and by hand. These are original Pat Smith boats."
Read Next: Forging Forward: Lucas O'Hara Finds Success in Blacksmithing