It's been almost 90 years since the infamous duo Bonnie Parker and Clyde Barrow were gunned down following their 21-month crime spree that included 13 murders and multiple bank robberies. While Bonnie and Clyde remain household names, few people recognize the name of the American lawman responsible for bringing the duo to justice — Frank Hamer.
Although putting copious amounts of lead in the Barrow Gang outlaws is undoubtedly his most famous deed, Hamer's life was chock-full of other impressive gunslinging accomplishments. He was a lawman on the cusp, bridging one century to another, the last remainders of the Wild West with the modern world.
He helped transition Texas law enforcement from horseback riders with single action six-shooters in cowboy hats to modern-day suit-and-tie-wearing Model T Ford drivers with semi-automatic sidearms — although they still donned Stetsons. We are talking about Texas, after all.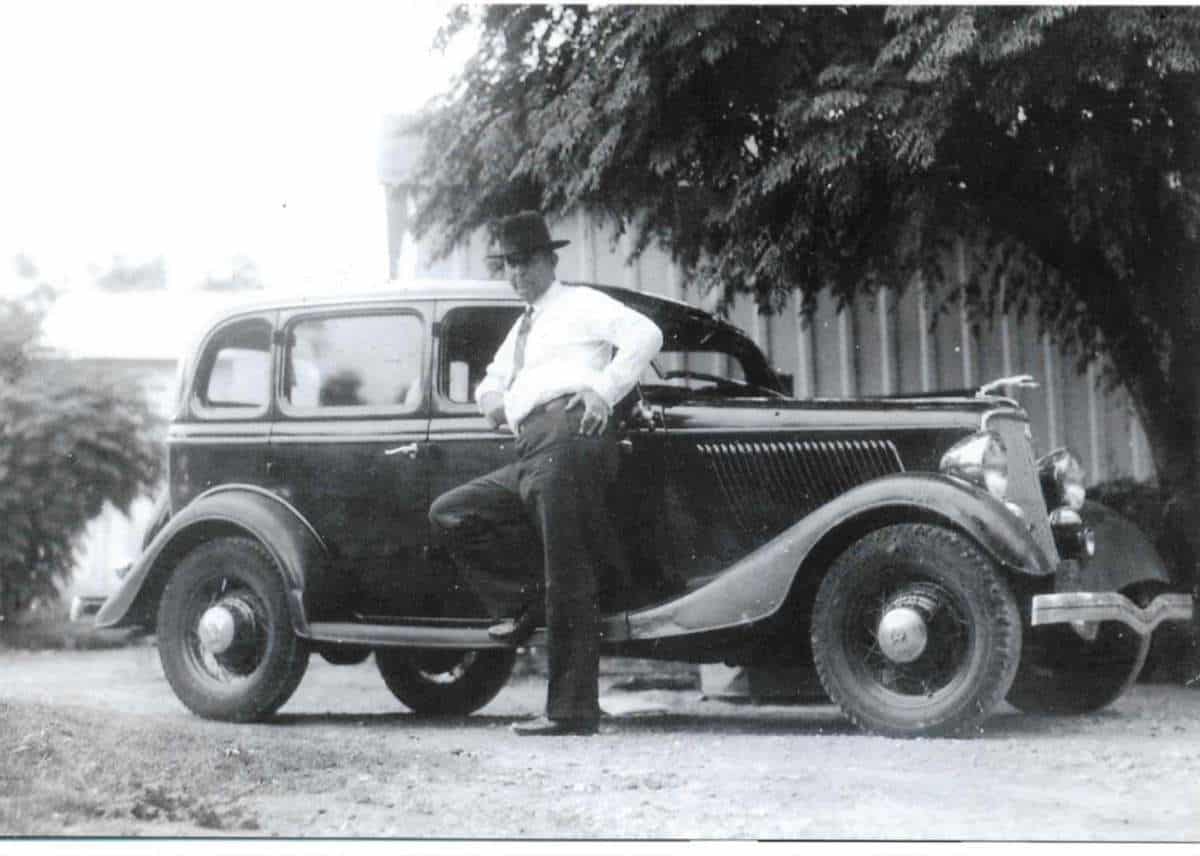 Frank Hamer was bigger than life, the last of a now-dead breed of lawman, and what many would consider the archetype of a Texas Ranger. Here's his wild story — even the parts that sound made up are absolutely true.
RELATED — Carcano Rifle: The Most Infamous Bolt Gun in U.S. History
---
Frank Hamer's Backstory
Francis "Frank" Hamer was born in Fairview, Texas, on March 17, 1884. One of six sons (four of which would later become Texas Rangers) born to Frank and Lou Emma Hamer, Hamer spent his early years working in his father's blacksmith shop.
When Hamer and his brothers were still children, the family moved to Oxford, Texas, which is now nothing more than a ghost town between Marble Falls and Mason. He dropped out of school in the sixth grade, but Hamer later joked that he was the only "Oxford-educated Ranger" in the service.
As a teen, Hamer took jobs wrangling cattle and while working on the Carr Ranch in West Texas in 1905, he caught a horse thief. Sheriff D. S. Barker was so impressed with the deed that he recommended young Hamer for a position with the Texas Rangers.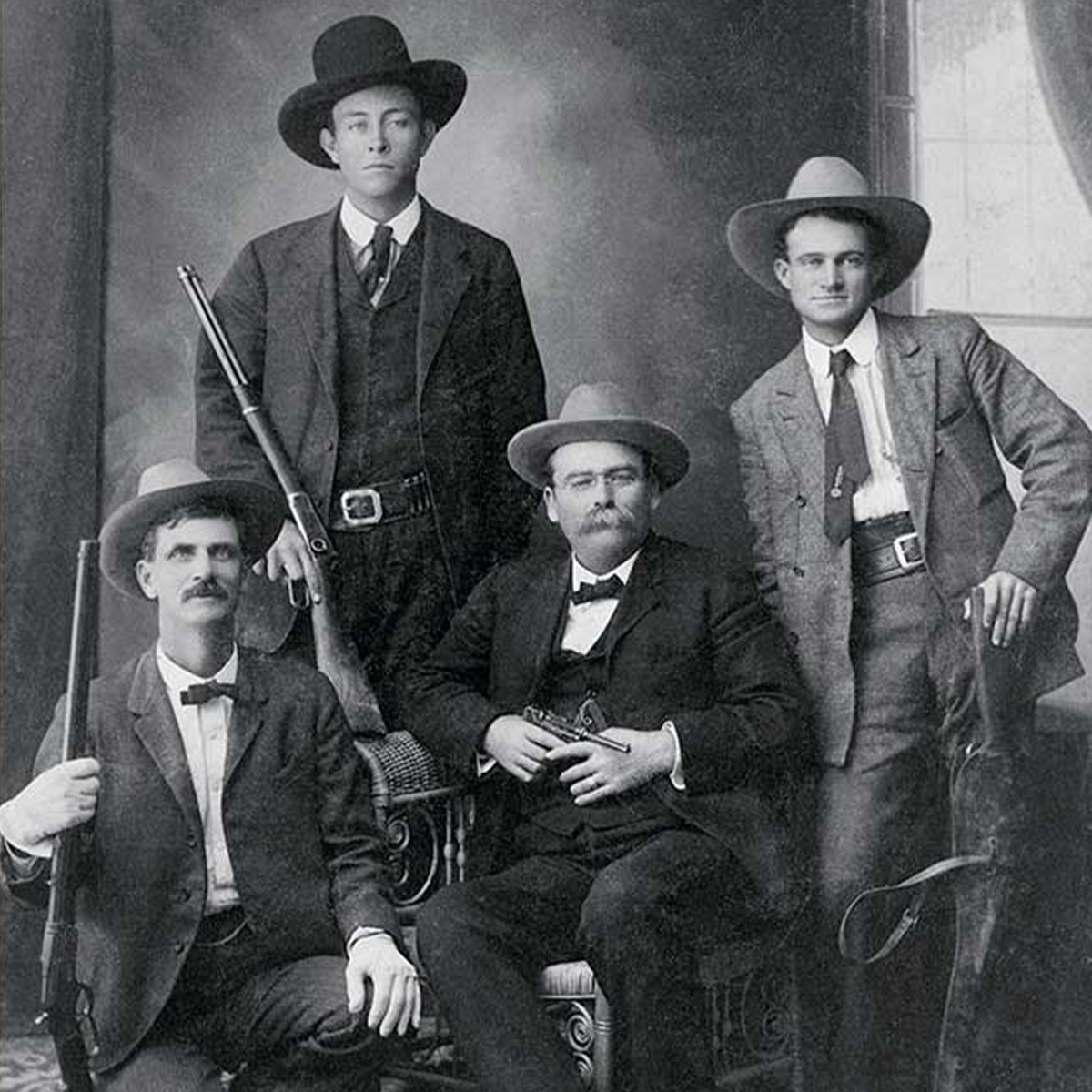 RELATED — The Sad Fate of the Man Behind the Legendary Colt Walker Revolver
---
Frank Hamer, Texas Ranger
At the turn of the 20th century, even the average Texas Ranger was a total badass. It's the oldest state law enforcement agency in the country and the Rangers who wear that star-shaped badge have become almost mythical.
The Rangers were founded in 1823 when the Father of Texas, Stephen Austin, commissioned 10 men to protect nearly 700 new families that settled in Texas following the Mexican War of Independence from raids by the Comanche, Tonkawa, and Karankawa Indians.
In a time when the West was still wild, Rangers patrolled the frontier, arrested cattle rustlers, and generally kept things as tame as the frontier would allow. They earned a reputation as fierce fighters and expert trackers through their bold battle prowess during the Mexican–American War.
The historied law enforcement division was well-established when Hamer joined its ranks in April 1906. He was only 22.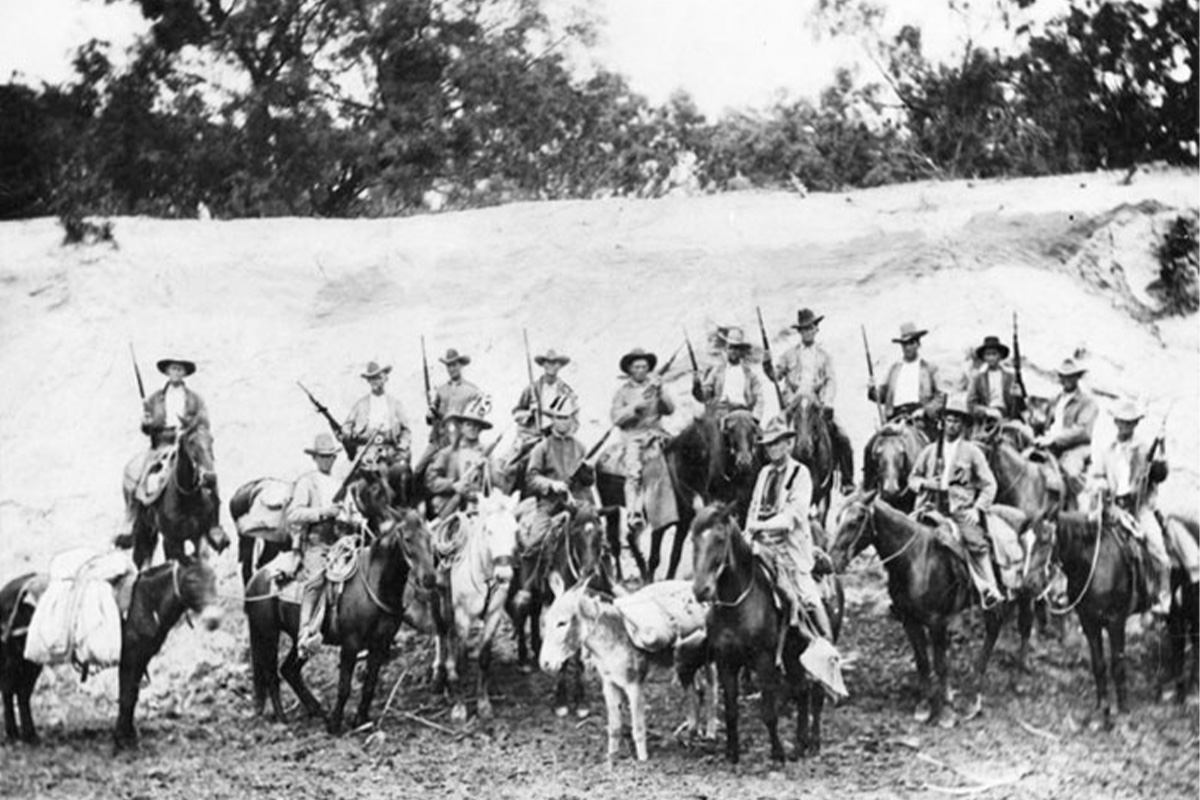 While that was the same year flush toilets were invented, the West was still struggling to settle down and still held pockets of wildness. While history books claim the West had been won by the turn of the 20th century, Texas was still full of wide-open spaces, cattle, and cowboys. It still looked like a scene straight out of a John Wayne Western, and many of the problems from the previous century hadn't simply vanished.
Hamer became part of Captain J. H. Rogers' Company C in Alpine, Texas, and spent his days patrolling the South Texas border. He jumped in and out of the Ranger ranks for the rest of his life, frequently resigning when someone offered him a more challenging peacekeeping position.
He developed a reputation for rapidly imposing law and order on lawless towns, often pissing off corrupt politicians. He liked to compare criminals to coyotes and crooked politicians to "crawfish about three days from water."
He first left the Rangers in 1908 to become the Marshal of Navasota, Texas, a violent oil boom town where Main Street shootouts were so frequent that at least 100 people had taken a bullet there in two years. Although lawmen rarely lasted long in Navasota, either being bought off or run out, 24-year-old Hamer managed to clean house and tame the town — mostly because he refused to take any shit.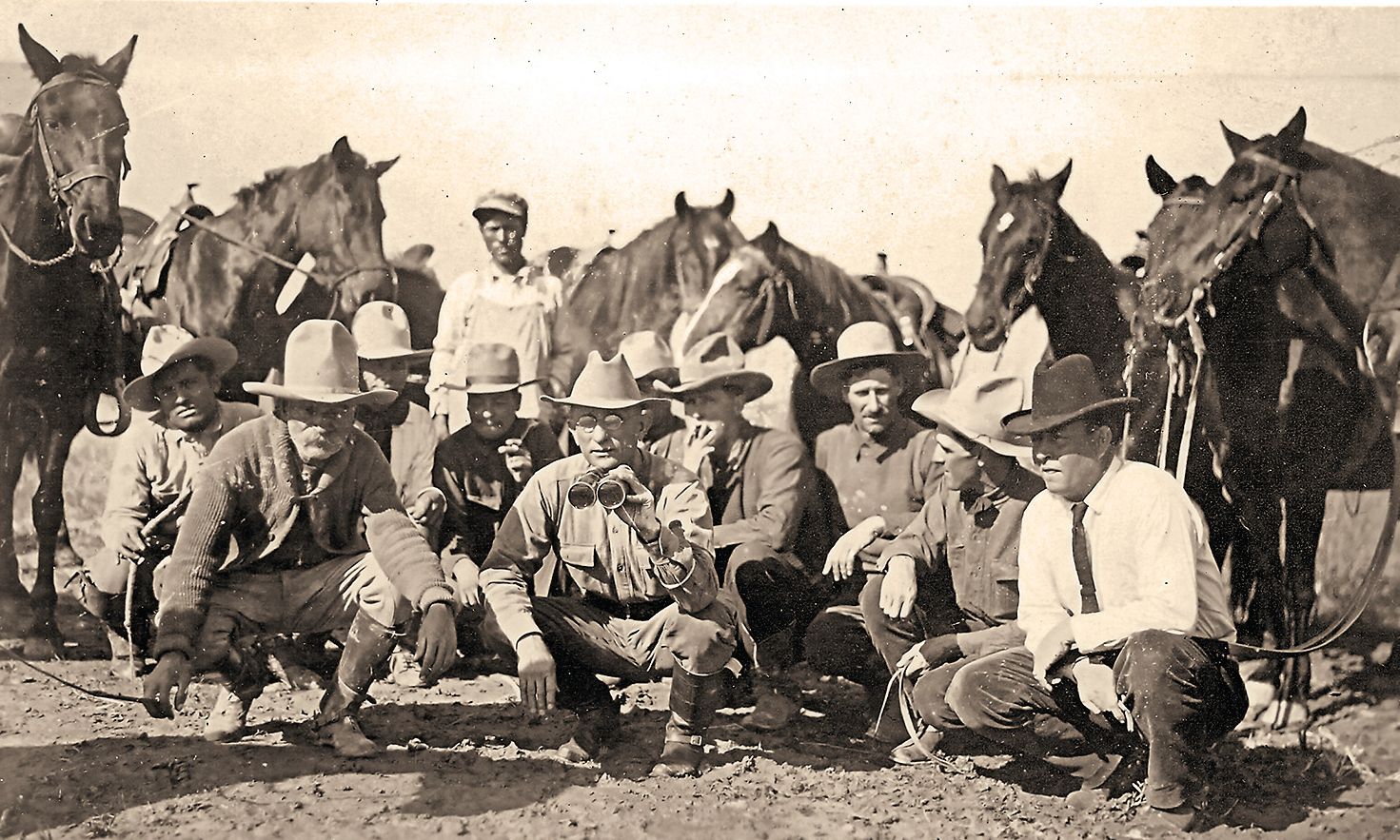 He was a thinking man who knew when to take action, and when he did, it was decisive. He was known to sometimes put away his guns and let his boots do the talking, kicking suspects into submission. He liked to joke that his "feet were always loaded."
Hamer returned to the Ranger ranks in 1915 and was again assigned to patrol the South Texas border near Brownsville. At the time, Texas was smack dab in the middle of the Bandit Wars, a series of violent raids by Mexican rebels that forced the Rangers to deal with dangerous arms smugglers, bandits, and bootleggers.
In 1917, Hamer again laid down his Ranger's cinco peso badge to become a special investigator with the Texas and Southwestern Cattle Raisers Association. During his employment with the association, Hamer mostly rounded up cattle rustlers.
GOOD GEAR – Launch Your Mornings Into Orbit With the BRCC Space Bear Roast
---
Corruption in the Texas Rangers
Despite what watching wholesome episodes of Chuck Norris roundhouse kicking the hell out of bad guys on Walker, Texas Ranger might have made you think about the Rangers, their reputation was far from squeaky clean — and neither was Frank Hamer's.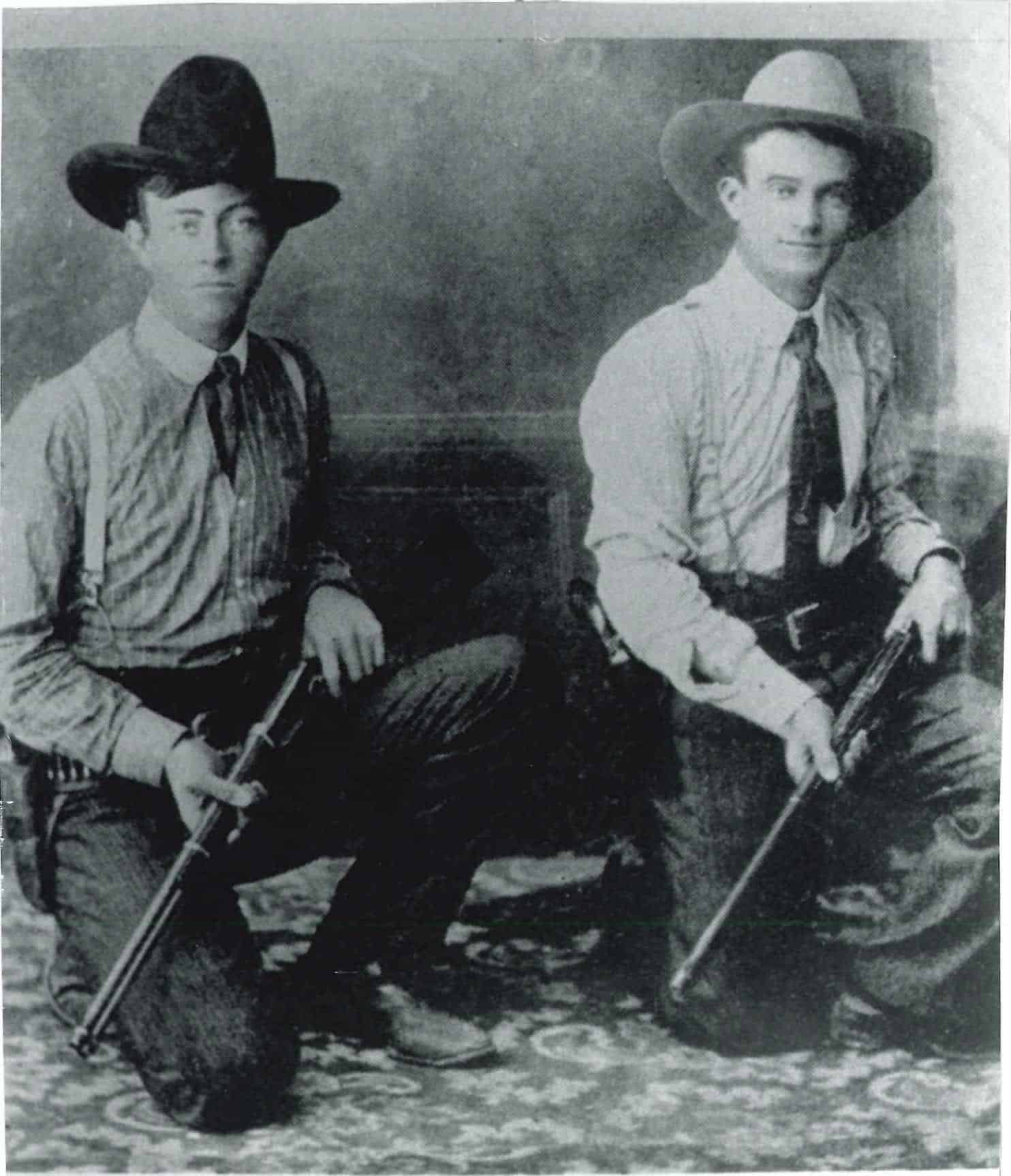 In 1915, Hamer proudly posed on horseback with dead bodies displayed like war trophies. Photographer Robert Runyon turned the grisly image into postcards and sold them for profit.
In 1919, the Texas Legislature investigated the Rangers. The lawmen were accused of heavy-handed bullying, racial profiling, and ethnic violence against Mexicans in Texas.
During the investigation, Hamer physically threatened State Representative José Tomás Canales, who was leading the probe into Ranger misconduct. Hamer also stalked Canales around Austin in the days leading up to the legislature's investigation, trying to intimidate the representative into silence. Although Canales informed the governor about the incident, no action was taken against Hamer.
However, in the end, Hamer's intimidation tactics failed, and the committee found the Rangers guilty of 19 misconduct charges.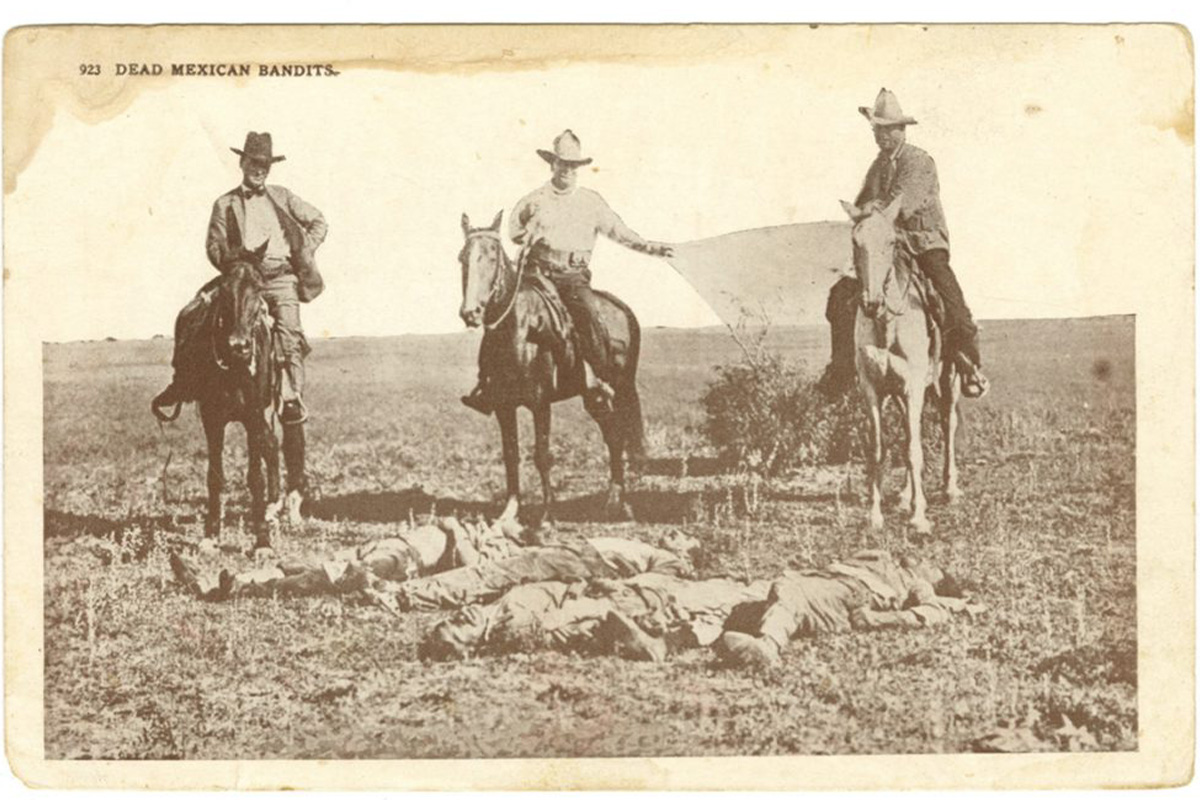 RELATED — Rough Riders: Roosevelt's Wildly Rugged Volunteer Heroes
---
The Couple That Gunfights Together
While rounding up cattle rustlers for the association, Hamer met and married Gladys Sims and ended up in the middle of a Texas ranch war. Sims was a wealthy widow accused of killing her ex-husband, Ed, in 1916. The rather complicated divorce featured a nasty custody rights battle and a gun-wielding Gladys who shot Ed twice in the middle of a town square teeming with Christmas shoppers.
Although the shots weren't fatal, Gladys' brother quickly finished off Ed with a single shotgun blast.
A lawyer somehow managed to win an acquittal for Gladys and her brother, but in typical West Texas fashion, Ed's family was hellbent on revenge.
On the way home from a court hearing in 1917, Hamer and Glayds, along with Hamer's brother Harrison and Gladys' brother Emmett stopped at a gas station in Sweetwater, Texas, to get a tire fixed.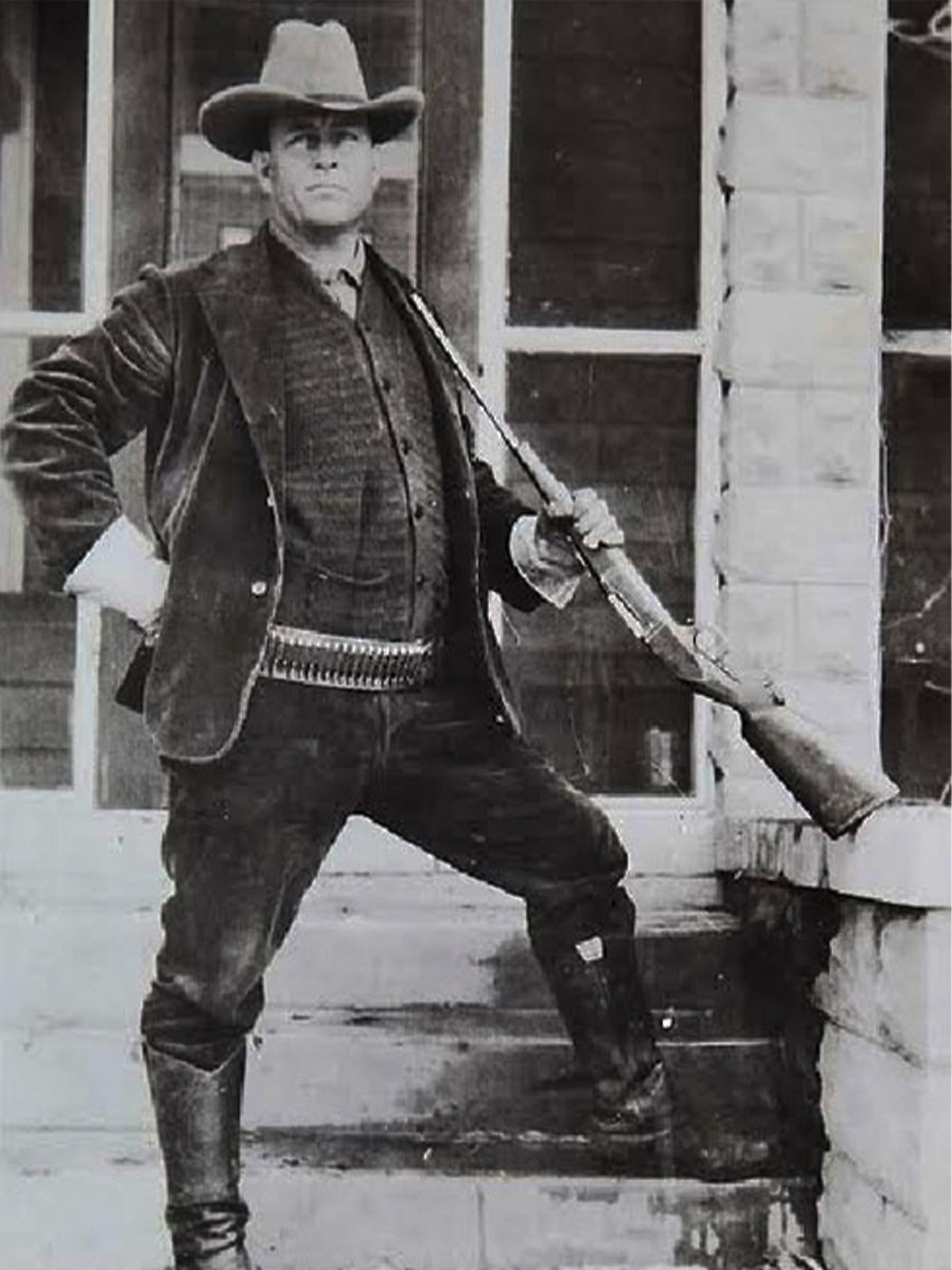 Harrison and Emmet went looking for a bathroom while Hamer attended to the tire and Gladys stayed in the car. That's when Hamer was attacked by Ed's brother-in-law, Gus McMeans, who was also a former Texas ranger.
A genuine Wild West gunfight ensued.
McMeans shot Hamer in the shoulder with a Colt 1911 in the shoulder at close range. Hamer batted the pistol down and McMeans' second shot went into Hamer's thigh. The gun reportedly jammed at that point, and while holding the pistol with one hand, Hamer proceeded to beat McMeans about the face and head with the other.
While Hamer was busy bloodying McMeans' mug, one of his henchmen, H.E. Phillips, ran up behind Hamer and fired a shotgun at his head at close range. The scattergun blast missed his skull, but it shredded the lawman's Stetson, which really pissed him off, and stunned him enough for the beating on McMeans to cease.
Meanwhile, Gladys was firing her Colt Pocket Auto pistol from the car window, emptying the mag and hitting nothing. She was still under indictment for her husband's murder at the time.
With Hamer stunned, his attackers ran for their getaway car. With just a few seconds to gather his wits, Hamer pulled his .44 Special Smith & Wesson just in time to see McMeans pull a shotgun from his car. He fired one shot and dropped McMeans in his tracks.
Phillips ran for it, but Hamer's brother Harrison, who heard the commotion from inside the gas station, came out and raised his rifle, ready to drop the henchman. But Hamer grabbd the barrel and stopped him, not wanting Harrison to shoot the man in the back.
McMeans died at the scene from a gunshot wound to the heart, and local officials quickly arrested Phillips. Hamer was no-billed on the spot by a grand jury who just happened to watch the whole shootout from a nearby courthouse window.
Hamer and Gladys remained together until Hamer's death in 1955. Because the couple that slays together stays together. Or something like that.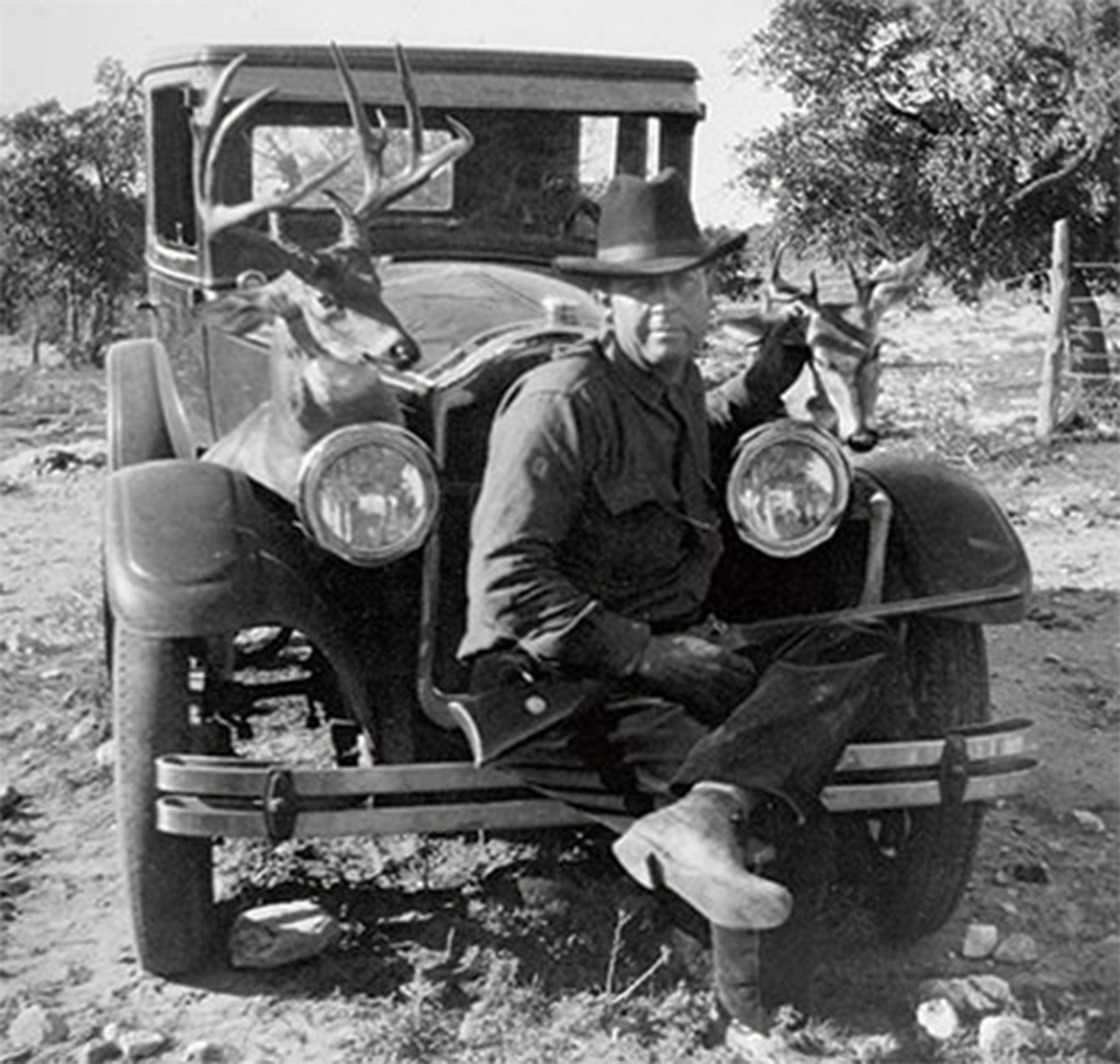 GOOD GEAR – Enjoy the Perfect Blend Between Salty and Sweet With the BRCC RTD Espresso Salted Caramel
---
Frank Hamer Fights the KKK
Hamer also served as a Prohibition officer during the U.S. government's relatively short-lived war on alcohol, although rumor has it he enjoyed sipping liquor occasionally. But he returned to the Rangers in 1921, just as the Ku Klux Klan was growing across Texas and other Southern states.
It's believed that Hamer saved at least 15 people from lynch mobs, sometimes on his own. In 1922, Hamer rushed to Waco, Texas, to confront self-righteous vigilantes who had threatened to yank black murder suspects from a county jail cell. Hamer, all 6-foot-3-inches and 230-pounds of him, stood armed on the jailhouse steps, and the throng scattered.
He had some kind of Atticus Finch–like knack for fending off large groups of people worked up into a murderous frenzy, although usually with a Thompson machine gun tucked under one arm. But nobody wins them all.
In 1930, Hamer was once again wearing the star badge of the Texas Rangers. He and a handful of other Rangers were charged with keeping peace at the trial of George Hughes, a black man who pleaded guilty to raping a white woman in Sherman, Texas.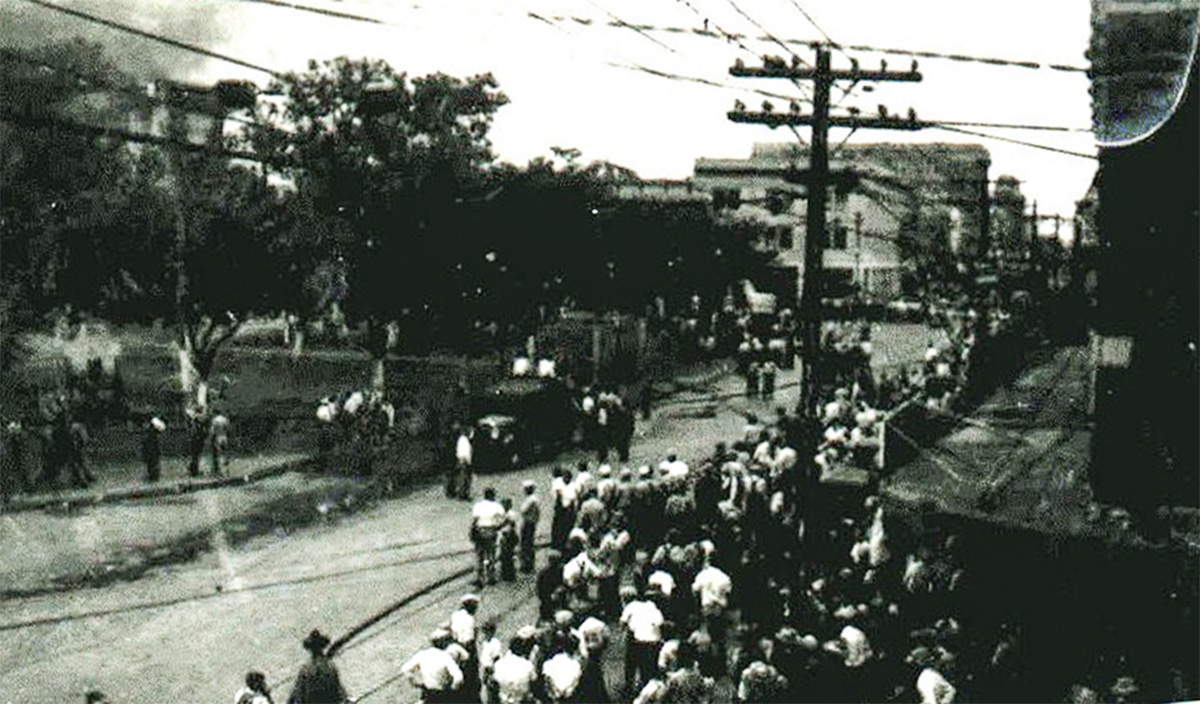 A rowdy crowd of 5,000 gathered outside the courthouse during the trial. When they rushed the courthouse, the Rangers, led by Hamer, used tear gas and brandished their sidearms to keep the mob at bay.
When rioters demanded Hamer surrender the prisoner, he replied, "Any time you feel lucky, come on, but when you start up the stairway once more, there are going to be many funerals in Sherman."
Although Hamer was unsuccessful at stopping the bloodthirsty horde, he peppered the crowd with buckshot and killed at least two people as they charged the courthouse stairs.
Two young men in the crowd doused the building with gasoline and set it ablaze.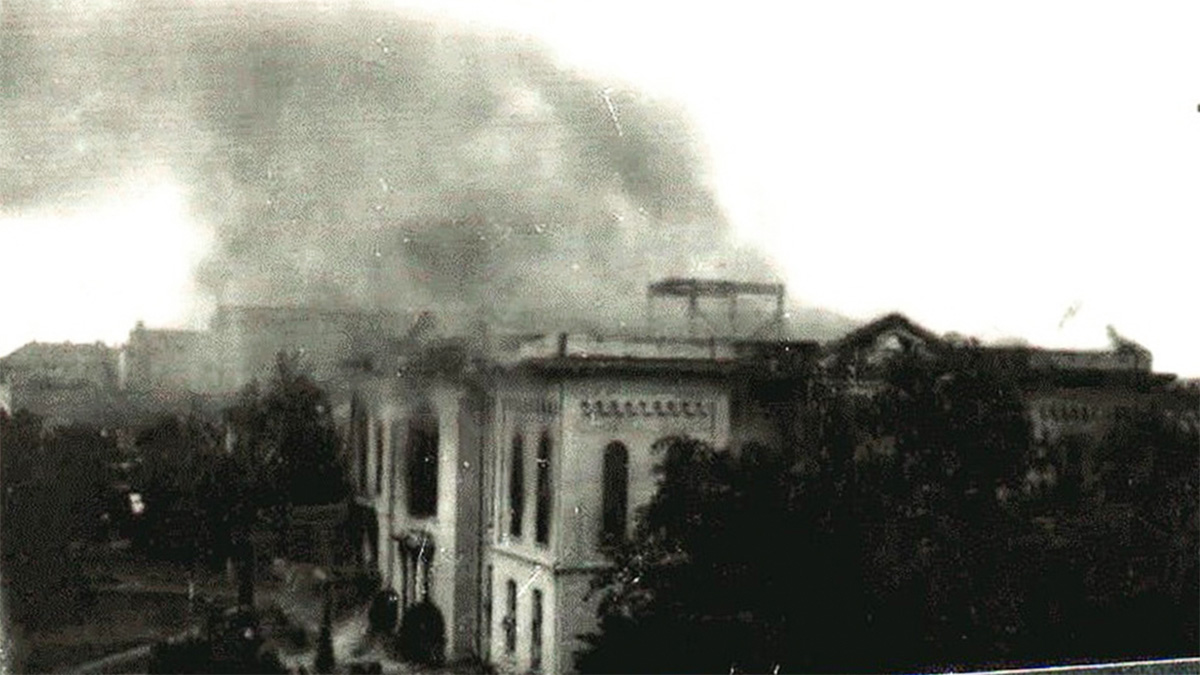 Hughes had been evacuated to the district clerk's office, a vault of steel and concrete, and the crowd breached his cell with a dynamite blast, pulled out Hughes's body, chained it to a car, and dragged him through a black neighborhood. Then the mob strung up his corpse and set it on fire.
RELATED — The Valentine's Day Massacre Tommy Guns and Birth of the NFA
---
Frank Hamer's Body Count
While most modern law enforcement officers go their whole careers without ever discharging their firearm in the line of duty, Hamer killed at least 53 people during his time carrying a gun and badge.
"When he was a captain with the Rangers, he used to tell his troops the best way to enforce the law is with a slug in the gut. And he didn't mean a punch," said Jeff Guinn, the author of Go Down Together: The True, Untold Story of Bonnie and Clyde.
Frank Hamer retired from the Rangers when Miriam "Ma" Ferguson became governor of Texas. A former Texas First Lady, Ferguson was the first woman elected governor of the Lone Star State and only the second female to hold that position in any state in the Union.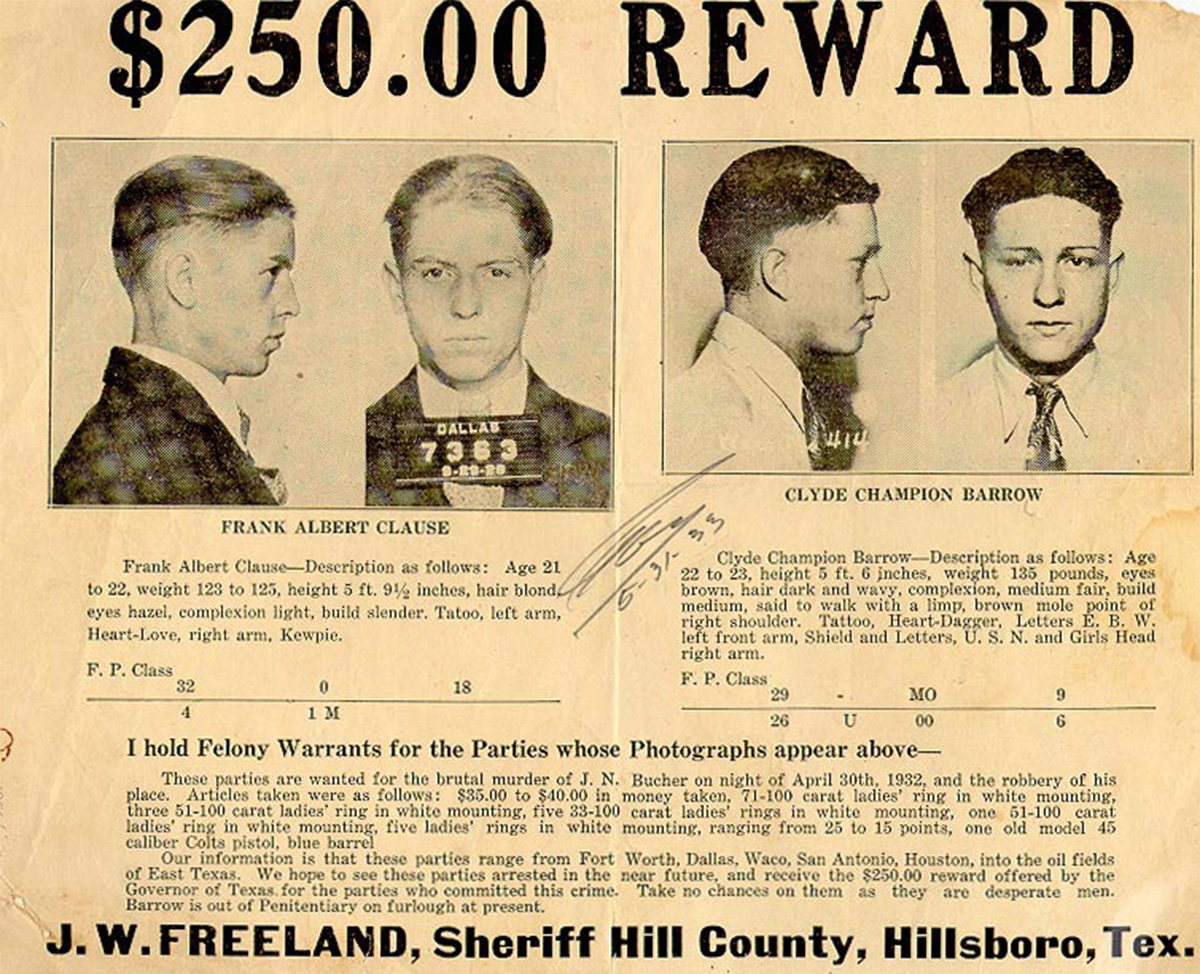 "When they elected a woman governor, I quit," Hamer told the New York Times.
Ferguson also took it upon herself to slash salaries and state funding and discharged all serving Rangers in 1933, after the group had openly supported her opponent, Ross Sterling, in the 1932 gubernatorial race. As a result, the Texas Rangers were reduced to a mere 35 men.
However, Hamer, by then a grizzled old lawman, came out of retirement in 1932, at Ferguson's request, to go after the bad guys nobody else could catch: the now infamous Bonnie and Clyde, who continued to grab headlines as they continued to evade capture.
But Hamer didn't take on this historic manhunt as a Texas Ranger. Instead, Hamer was named "special investigator" for the Texas Prison System and given a meager salary of $180 a month.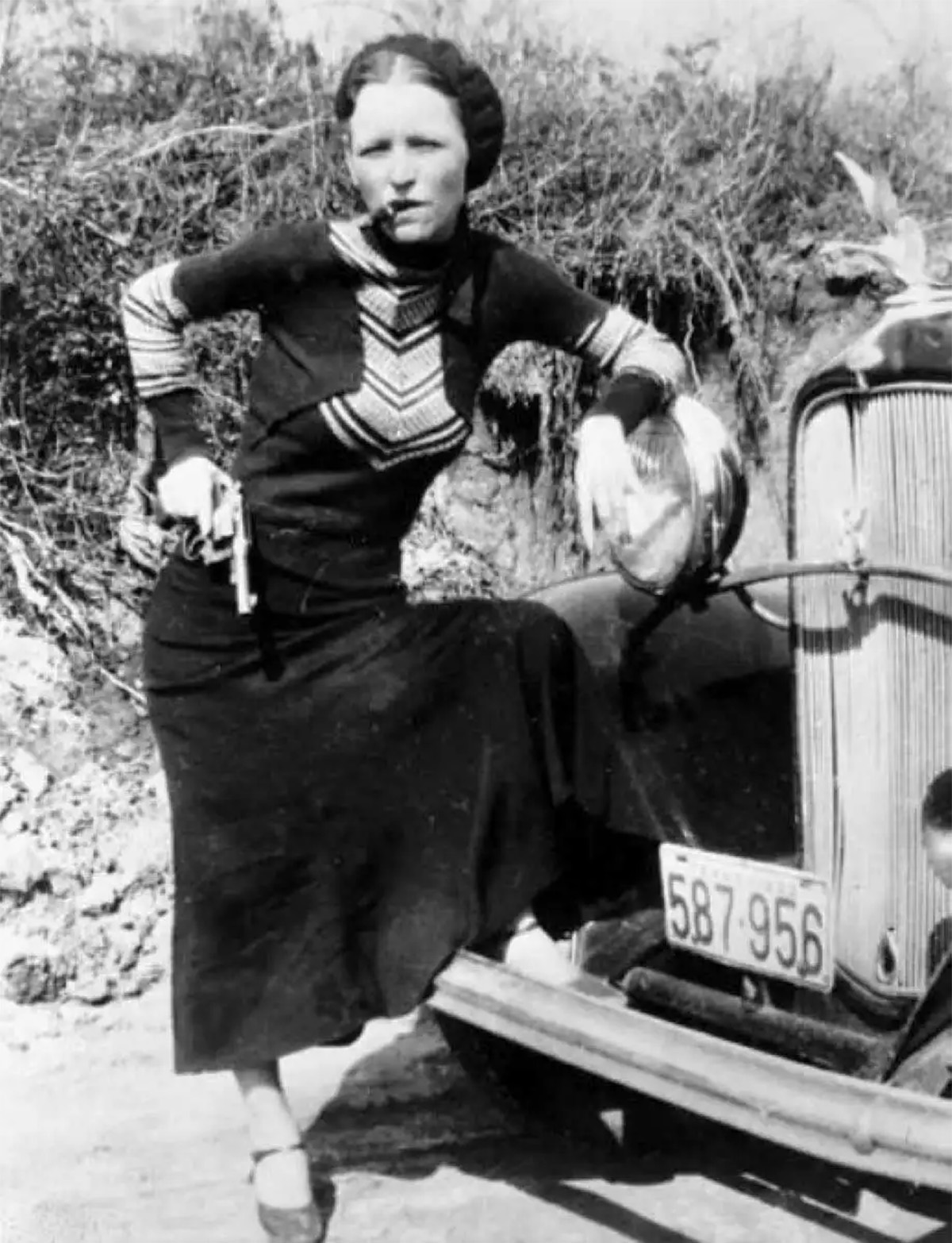 After a three-month search, Hamer and Maney Gault, who had also left the Rangers upon Ma Ferguson's election, finally tracked the elusive and murderous duo down on a barren road near Gibsland, Louisiana, in Sailes on May 23, 1934. With the help of Texas and Louisiana law enforcement officers, Hamer and Gault ambushed and killed the outlaws in their car.
Hamer was carrying a semi-auto Remington Model 8 rifle, which he used to fire the first shot of the salvo.
The ambush ended with at least 150 bullet's in Bonnie and Clyde's stolen 1934 Ford Model 40 B Fordor Deluxe sedan. Clyde was hit at least 17 times. Bonnie's body was riddled with at least 26 bullets. Neither of them got off a single shot.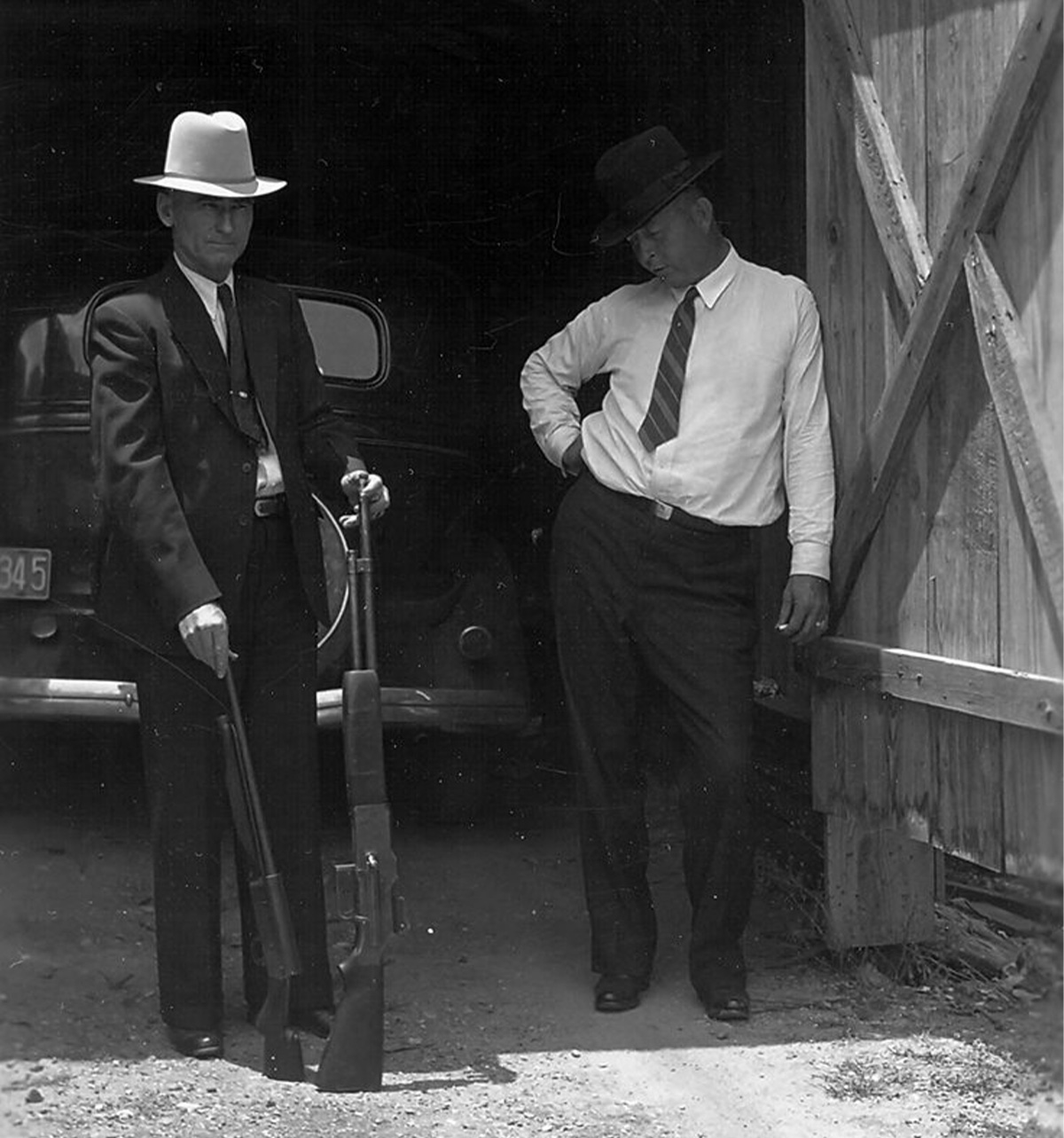 The duo was toting a considerable arsenal in their vehicle at the time of their death, including three full-auto Browning Automatic Rifles (BAR) in .30-06, a 20-gauge Remington Model 11 Semi-Auto sawed-off shotgun, a 10-gauge Winchester Model 1901 lever-action, sawed-off shotgun, several revolvers, and multiple Colt automatic pistols.
GOOD GEAR – Keep Your Coffee Hot or Cold With the BRCC Coffee Saves Tumbler
---
Frank Hamer in His Sunset Years
The deaths of Bonnie and Clyde made Hamer famous in ways he didn't want to embrace. He refused interviews about the investigation and the ambush, and even shirked the Hamer-Gault Hero Day that was thrown in Austin in his honor.
In his later years, Hamer played various law enforcement roles, mostly quelling worker strikes for oil and shipping companies throughout Texas. And in 1948, he made one last bid with the Rangers, playing a minor role in the 1948 United States Senate election in Texas as a bodyguard for Gov. Coke Stevens.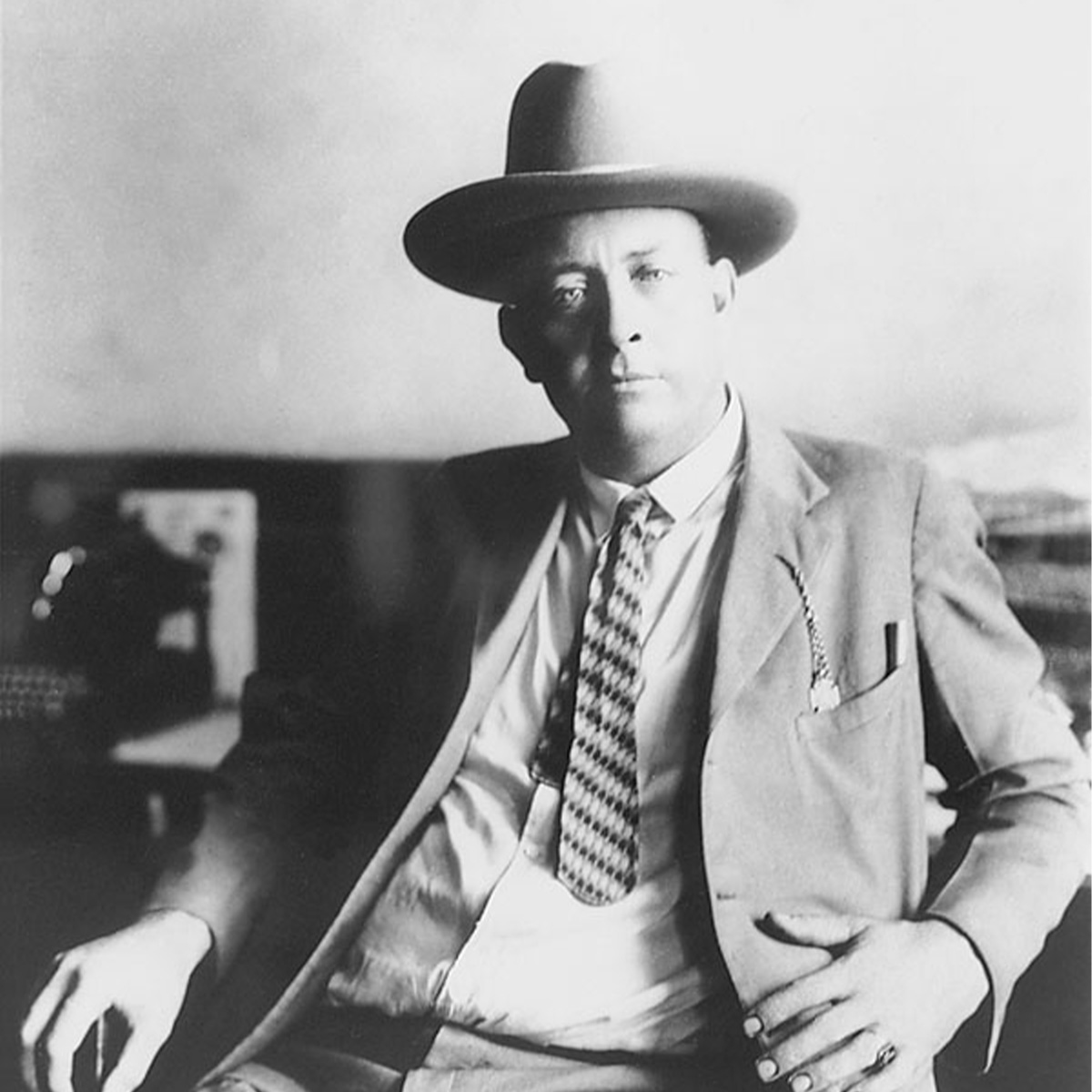 His reputation was so powerful by that time that the legendary lawman didn't have to flash a sidearm to intimidate anyone. He just had to show up.
When he arrived with Stevens at the Texas State Bank to examine tally sheets for election ballots, Hamer approached two groups of armed men. According to Robert Dallek in his book Lone Star Rising: Lyndon Johnson and His Times, Hamer muttered a single word to the first group.
"Git."
The group skittered away.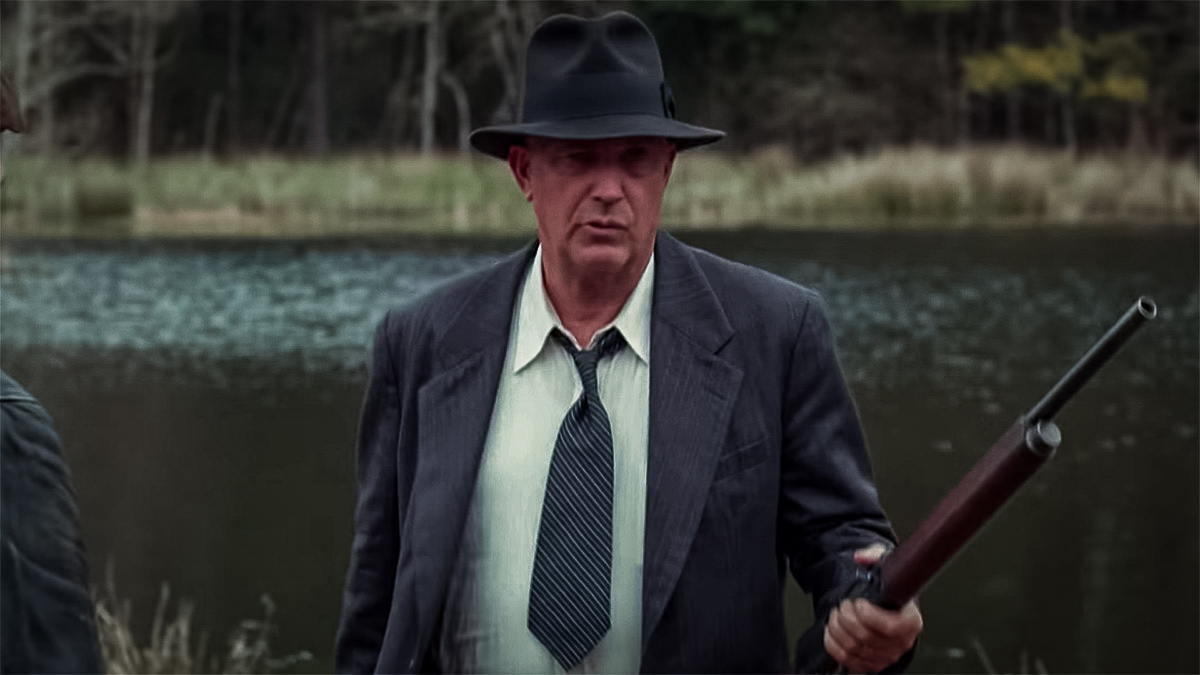 He told the second group to "fall back," and they immediately complied. He was 60 years old at the time.
Hamer died in his sleep in July 1955, two years after suffering from a heat stroke. He is buried in Memorial Park Cemetery in Austin.

The iconic lawman was immortalized by Hollywood in the 2019 movie The Highwaymen, starring Kevin Costner. The movie received a seal of approval from Hamer's family, so the portrayal must have gotten close to how the man really wasl. Plus, it's just a damn good film full of gangsters, cool cars, and historic firearms. You should totally watch it.
---
READ NEXT — Why Theodore Roosevelt Was the Most Badass President Ever