Archery was added to the Olympics at the Paris Games way back in 1900. Many facets of Olympic archery have changed over the last 120 years, including the bows and arrows used, the attire, and regulations.
Today, the standard distance for Olympic archery is 70 meters — equivalent to 76.5529 yards. That's a poke considering that athletes shoot recurve bows and don't use peep sights. Not many folks can shoot consistently well at that range with a tricked-out compound bow, so to watch Olympic athletes stick arrows in the bull's-eye from that range is absolutely impressive.
Targets are 122 centimeters in diameter. Each has 10 scoring rings. The dead-center ring — about the size of a navel orange — counts for 10 points. The goal is to hit the 10-ring as much as possible. Athletes don't get to choose the best days to compete. If it's windy, they must account for wind drift, not to mention that the wind affects their aiming stability, too. Add to that all of the spectators and competitors watching, and 10-rings are no easy task.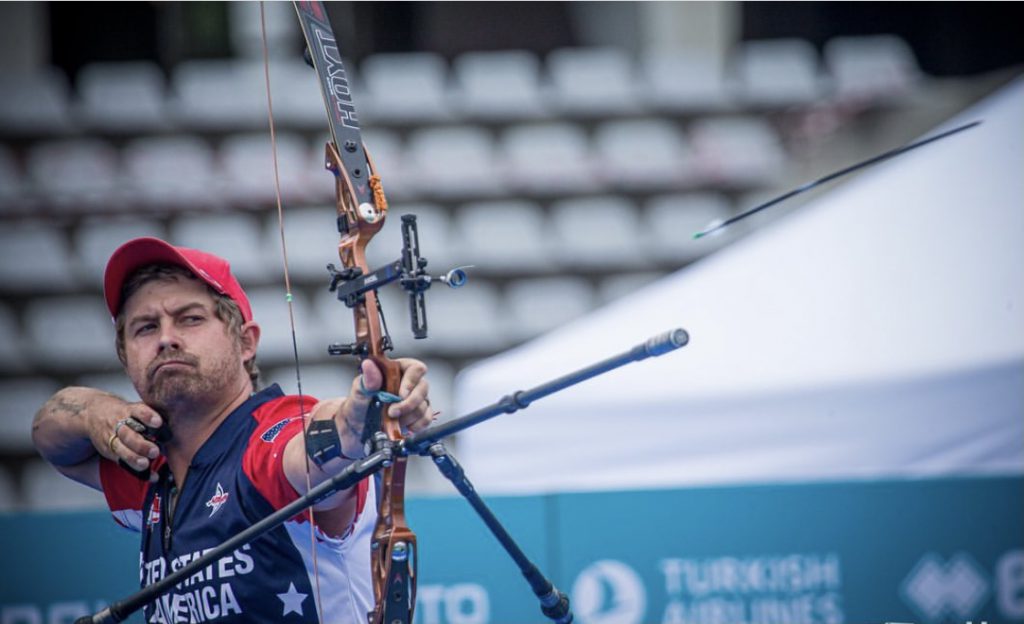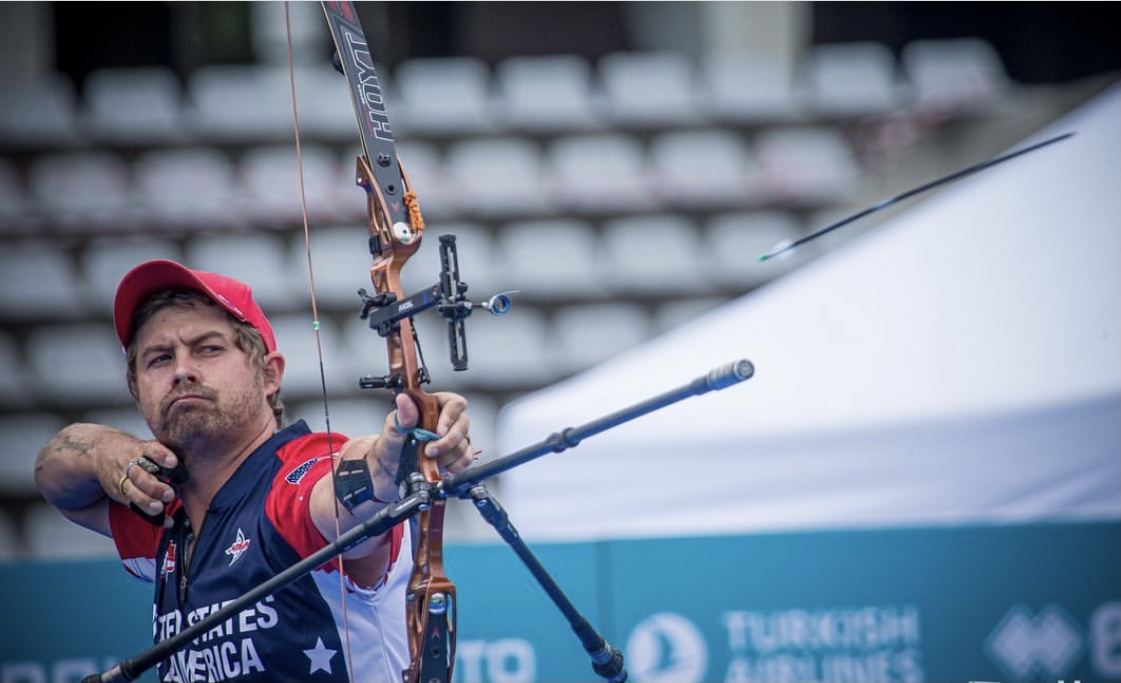 The Best Olympic Archery Gear
There are several arrows designed for Olympic archery, but Easton's USA-made X10 has won every Olympic medal since its competition debut at the Atlanta Games back in 1996. Top competitors, such as Brady Ellison, use the X10. In other words, put it in skilled hands, and it does the rest. Precise specs are to thank: Straightness tolerance is plus or minus .0015 inch, and weight tolerance is plus or minus 0.5 grains. Further, every shaft is weight coded and matched to a set of a dozen shafts, each exactly the same weight.
But perhaps most important is the construction. X10s feature a 7075 precision alloy core for impeccable straightness, while a high-strength carbon shell provides the arrow with memory so that straightness isn't compromised. The aluminum core is ramrod straight, and the carbon wrap keeps it that way. The shaft tapers at the ends, too, with a larger rear diameter for increased stiffness and forgiveness with a finger release; the slimmer front diameter improves aerodynamics to deliver the best possible flight.
Olympic athletes will compete in Tokyo this year with PSE, Hoyt, and Samick bows, yet the most Olympic medals have been captured by athletes shooting Hoyt bows.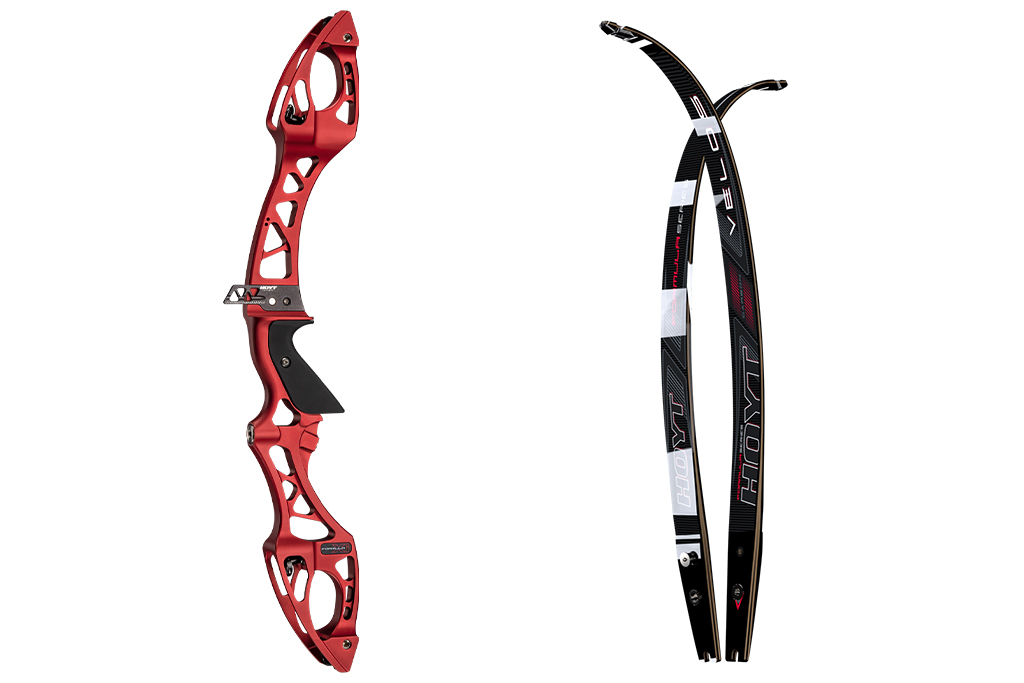 The go-to riser is Hoyt's proven Formula XI. Its geometry prioritizes weight distribution. Near each end of the riser there is greater surface area and mass, which creates an unrivaled balance and improves stability. Another standout is the String Tension Technology, which lets each individual archer customize limb feel, lengthening or shortening the limbs without affecting the bow's tune. The riser also boosts accuracy by utilizing an engineering wonder Hoyt calls Dynamic Flex Control. Basically, the riser is designed to minimize flex throughout the shot cycle. Finally, the Pro Series Dovetail Adjustment makes the limbs laterally adjustable, perfect for achieving the ultimate tune. 
Top archers are outfitting the Hoyt Formula XI riser with Hoyt Velos or Carbon Integra limbs. The Velos limbs are Hoyt's fastest ever and feature engineered carbon layers, whereas Carbon Integra limbs have the same profile but incorporate a rock maple core for a slightly different feel.
Olympic archers use arrow rests that are different from most rests found on compound bows. Most athletes use an adjustable plunger, such as the AAE Micro Plunger, along with a very simple rest. Usually there's a wire launcher that springs toward the riser as the arrow passes the shelf, then a magnet returns it back into position for the next shot. There are bolt-on styles and stick-on styles. Popular brands are Shibuya and Spigarelli.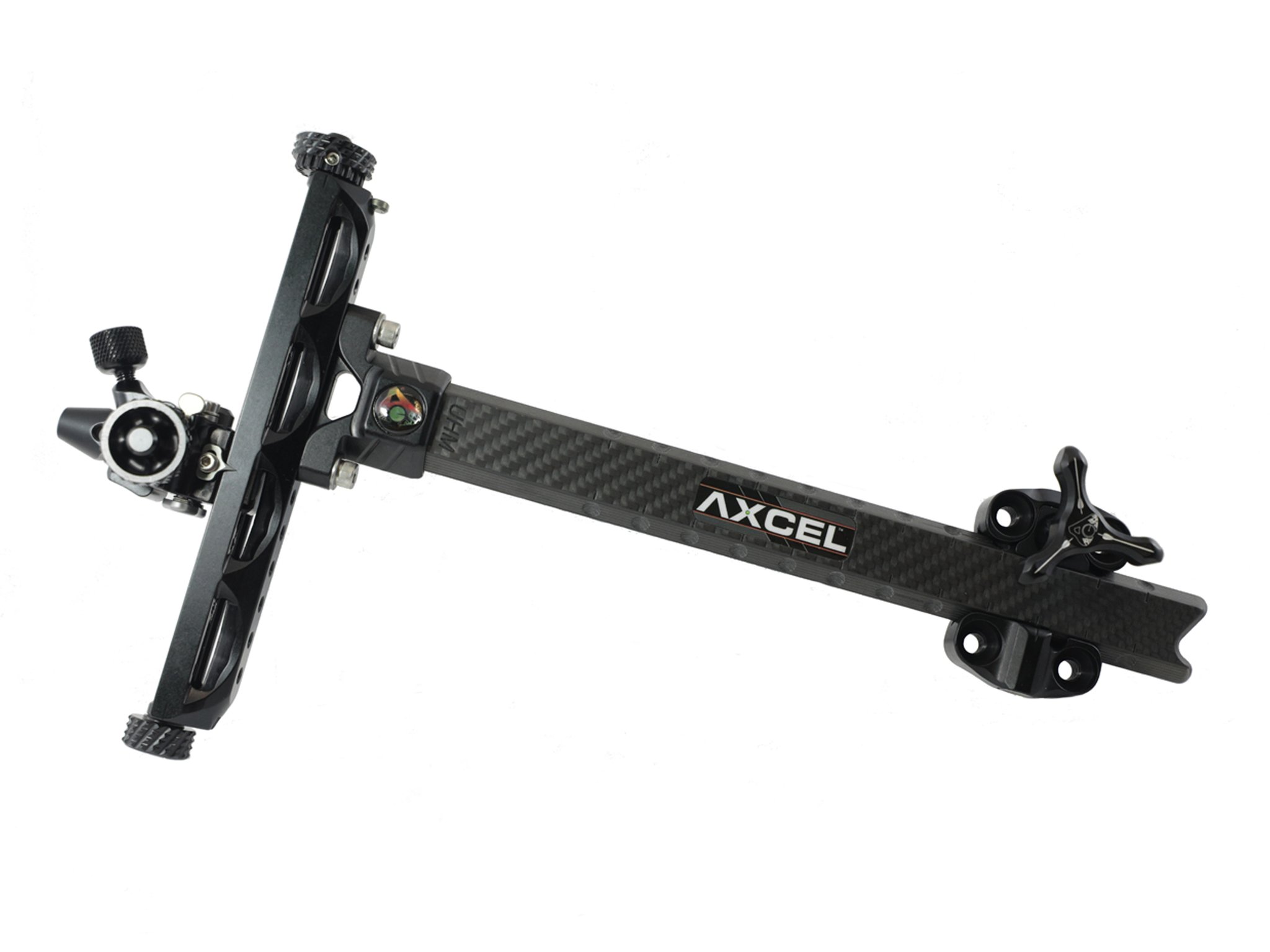 For sights and scopes, Axcel, Shrewd, CBE, Black Gold, Shibuya, and Sure-Loc are popular choices. America's Brady Ellison, one of the most decorated and well-known Olympic archers today, uses Axcel.
If you've ever watched any Olympic archery games, then you've seen archers using multiple stabilizers. These are designed to optimize stability and to promote proper follow-through with every shot. Not only do you see a long front stabilizer but usually two rear stabilizers connected to a V-bar disconnect such as the Shrewd Atlas Double V-Bar. Popular stabilizers are those by Shrewd, Easton, and Bee Stinger, to name a few.
Most Olympic archers use an arm guard and chest guard to prevent the bowstring from catching their shirts and affecting their arrow placement. Also, unlike compound shooters, Olympic archers shoot with their fingers and usually some form of finger tab.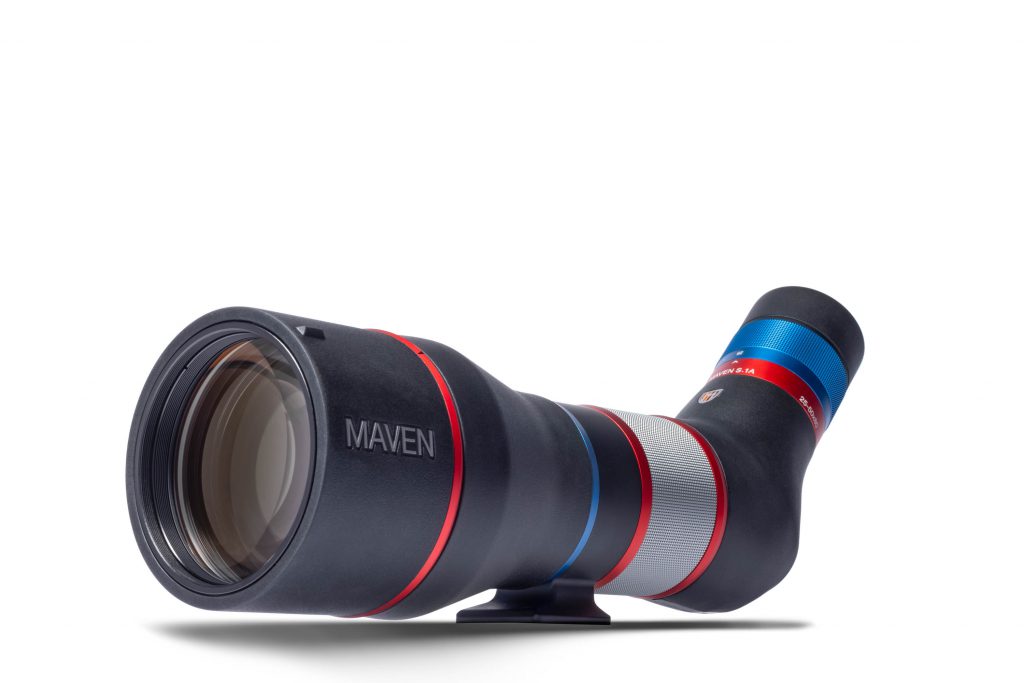 Aside from bows and arrows, Team USA uses custom spotting scopes and binos to spot shots on those 70-meter targets. This year they're using custom red, white, and blue glass from Lander, Wyoming-based Maven Optics. The USA edition S.1A Spotting Scope and B.2 Binocular are available through Maven's Custom Shop.
Read Next: How To Stream and Watch 2020 Tokyo Olympic Archery