The first year I hunted elk, I drove from New York to Colorado in my beat-up Tacoma and camped high on a forest service road. I wanted to kill my first one solo and with my bow. I hiked in by myself on the second day of the season. A few miles deep, the inReach dinged with a message: "Call home." My grandfather, a World War II vet whose combat story I made my Master's thesis, had died. My mom said I didn't need to come home. My family knew I'd planned this hunt for a year. But, she said, the funeral is Saturday. I hiked in a half-mile or so farther before it all hit me. You can see the point on the inReach Map where I made a big U-turn to my truck and a three-day drive east to receive his flag.
I didn't kill an elk that year. This was my first cursed elk hunt. Many more would follow.
The second year I hunted elk, I got sick. Camped at 11,100 feet with bulls glassed up and a rock I planned to sit on in the morning, I got sicker than hell. A pain in my side shot through my whole being like lightning. I've broken bones that hurt less than whatever this was, I thought, as I sat 9 miles from anything, writhing in my tent in the dark the night before opening day. I made it to my rock spot that morning and threw up globs of almond butter and rehydrated meals. Then the dry heaves came. I threw up or dry-heaved 36 times — I counted. Something for real was wrong.
I zipped my shit into my tent and started the 9-mile hike down. At a high alpine lake near the trail, I saw a person wading in the water a few dozen feet from shore. In the middle of this mountain nowhere, I watched this man in black double-haul a dry fly and send it out, out, out: a thin wipe of line in the air then across the water.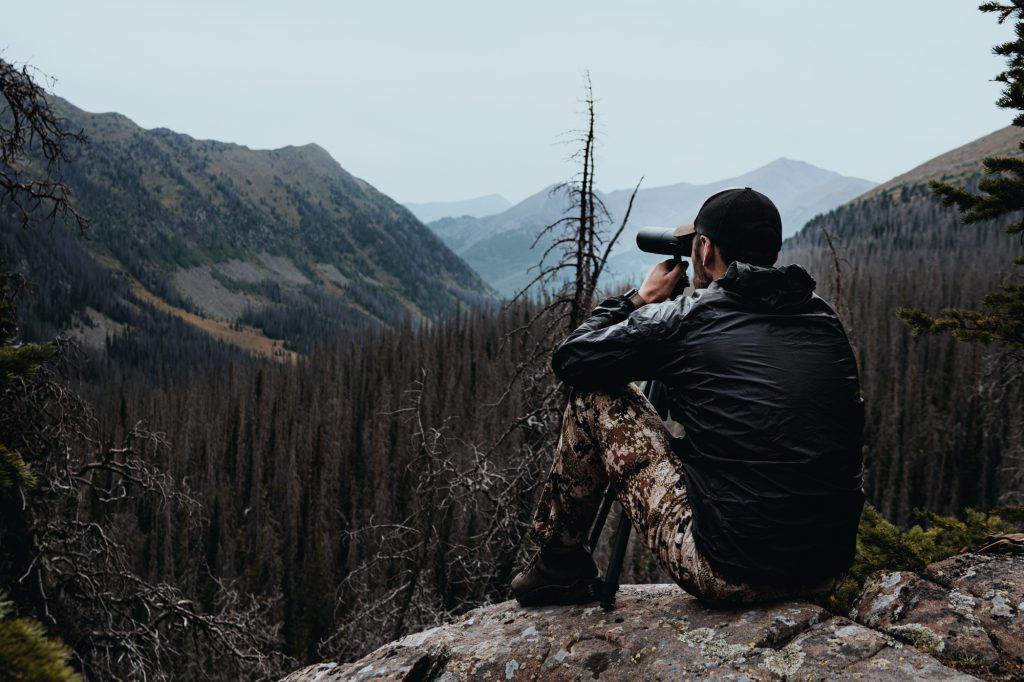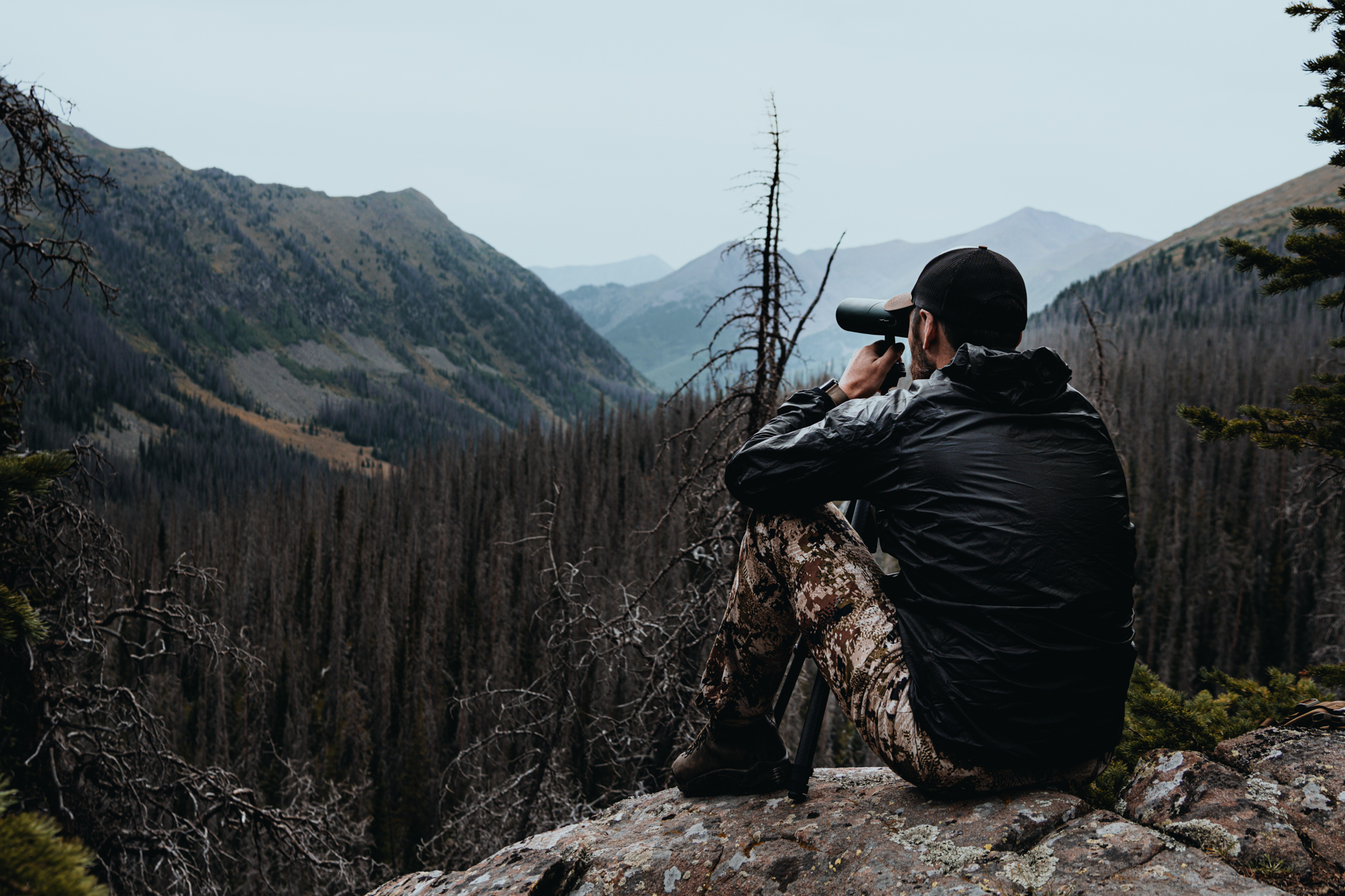 "Hey!" I yelled. "Hey!"
I must have looked insane: Optifade-clad, arms swinging, wild, out-of-control — a sick, wounded animal.
"Hey! Dude! You know anything about medicine?" I yelled.
So much noise in these quiet mountains. The fly fisherman looked horrified.
"Actually, I'm an ER doctor," he answered.
"Oh, thank fucking god," I said. Then I pointed and grunted and obsessively explained the pain in my side.
"Lay down," the doctor said before bending my knees to my chest. He prodded my belly.
"Look. Either your appendix burst, or you have a kidney stone," he said. "I think your appendix burst. Either way, I can't help here. You need to hike out."
I told him I'd drive to the hospital I passed in the little mountain town near the trailhead.
"No," he said. "Drive to Alamosa. There's a surgical suite and surgeon in Alamosa."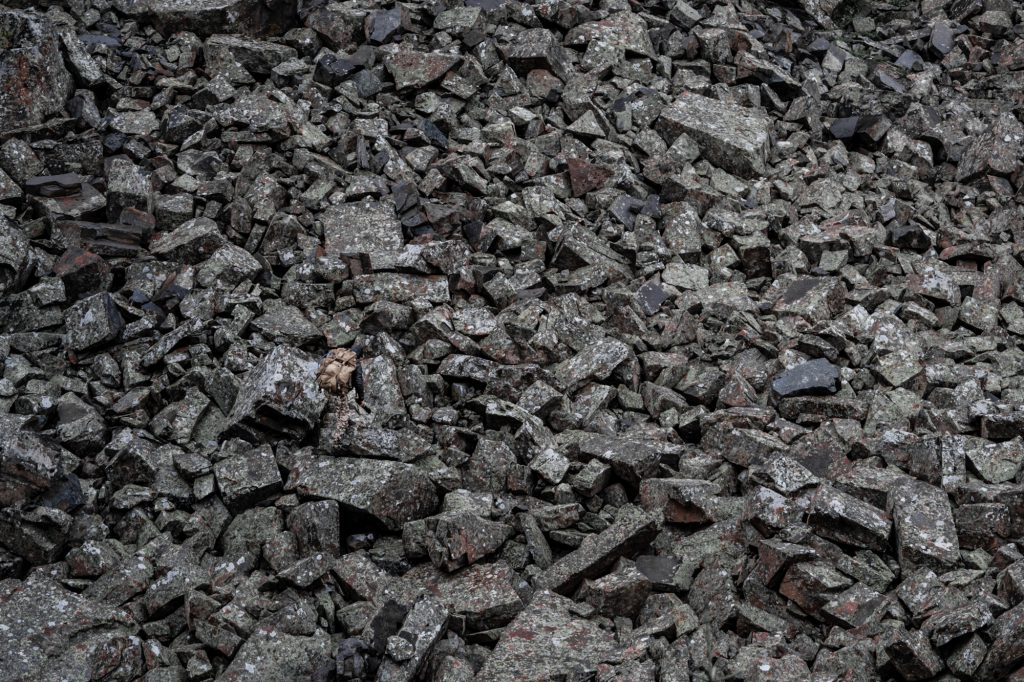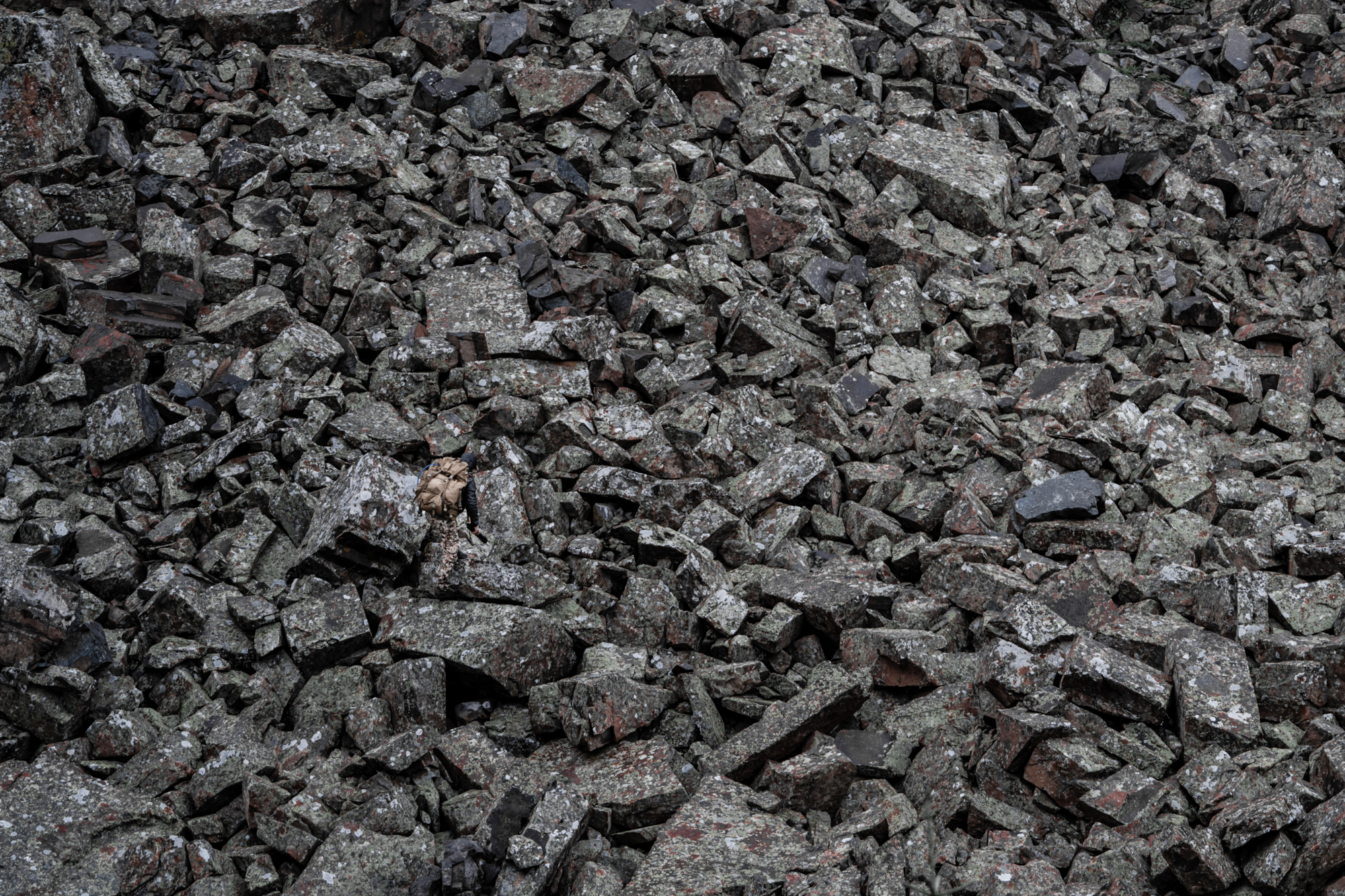 I don't remember much of the hike out. I blacked out a few times. Once I woke up sitting Indian style. Another time I woke up splayed out, face in the dirt, pine needles in my nose. I thought of hitting that SOS button but couldn't do it. I thought I could pull through this. Then I thought maybe this was it.
I got emotional about it when I thought about my mom and wife, of the ripple of pain death causes the living — and for something so dumb as a solo hunting trip in the mountains. I sobbed and stumbled. I still had the dry heaves. In that moment, I saw no comedy in any of it.
Eventually, I made it off the mountain and drove almost 2 hours on the wide, flat, empty highways of southern Colorado. At the hospital, they prepped me for surgery. They told me to call my wife. We talked and cried, and I told her I loved her, and she said she loved me. They started running tests. The surgeon, they said, was on his way in.
"Doctor," the nurse called soon after she put the ultrasound machine to my side. "Doctor!" The old doctor with a silver handlebar mustache popped his head in and looked at the screen.
"Oh," he said. "Kidney stone. That's good news."
Morphine did the trick. Away went that pain I wouldn't wish on anyone.
I went back up into the mountains a few days later. I didn't kill an elk that year. This was my second cursed elk hunt.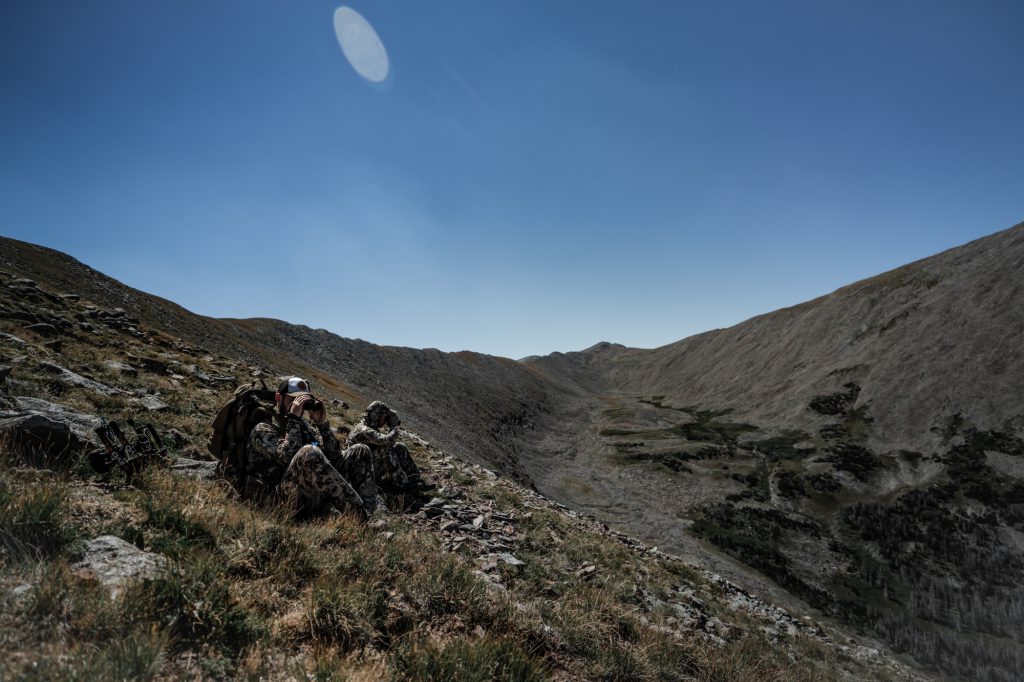 The third year I went elk hunting, I brought a rifle. Under glass, I watched three guys merc five cows and a spike. This is very illegal. They were friends of the guy I was with, and when the lawman knocked on our motel doors and asked why three elk were rotting in the field, I was lumped into the mess. "These motherfuckers!" I said, pointing, furious still. Said like I did when they came back to the parking area all, "Whoopsie! Oh well! "
I didn't get implicated or issued a ticket or anything, but I regret this one most of all because I didn't call Parks & Wildlife. I'd rather have another kidney stone than watch something like that again and not pick up the phone and call the warden myself.
I didn't kill an elk that year, or the year after that, or the year after that, or the one after that. I didn't much try after this one, either.
Every hunter carries a curse. Maybe it's an animal, or a spot, or an inept hunting buddy they just can't shake. My curse is elk. I had kids. Got jobs. Lost jobs. Got new jobs. Every summer, I'd think, is this the September I go back? Remember the elk, I'd tell myself. Remember the elk. I didn't go back for a long time.
This September was different. I told my buddy about the curse while standing in the booth at Total Archery Challenge, Snowbird.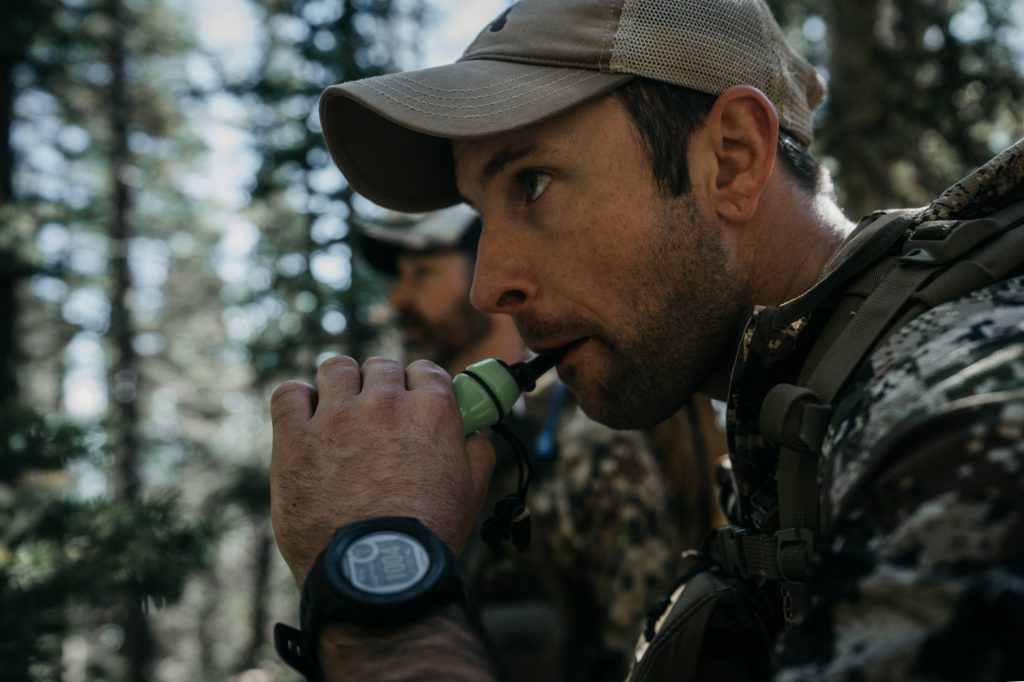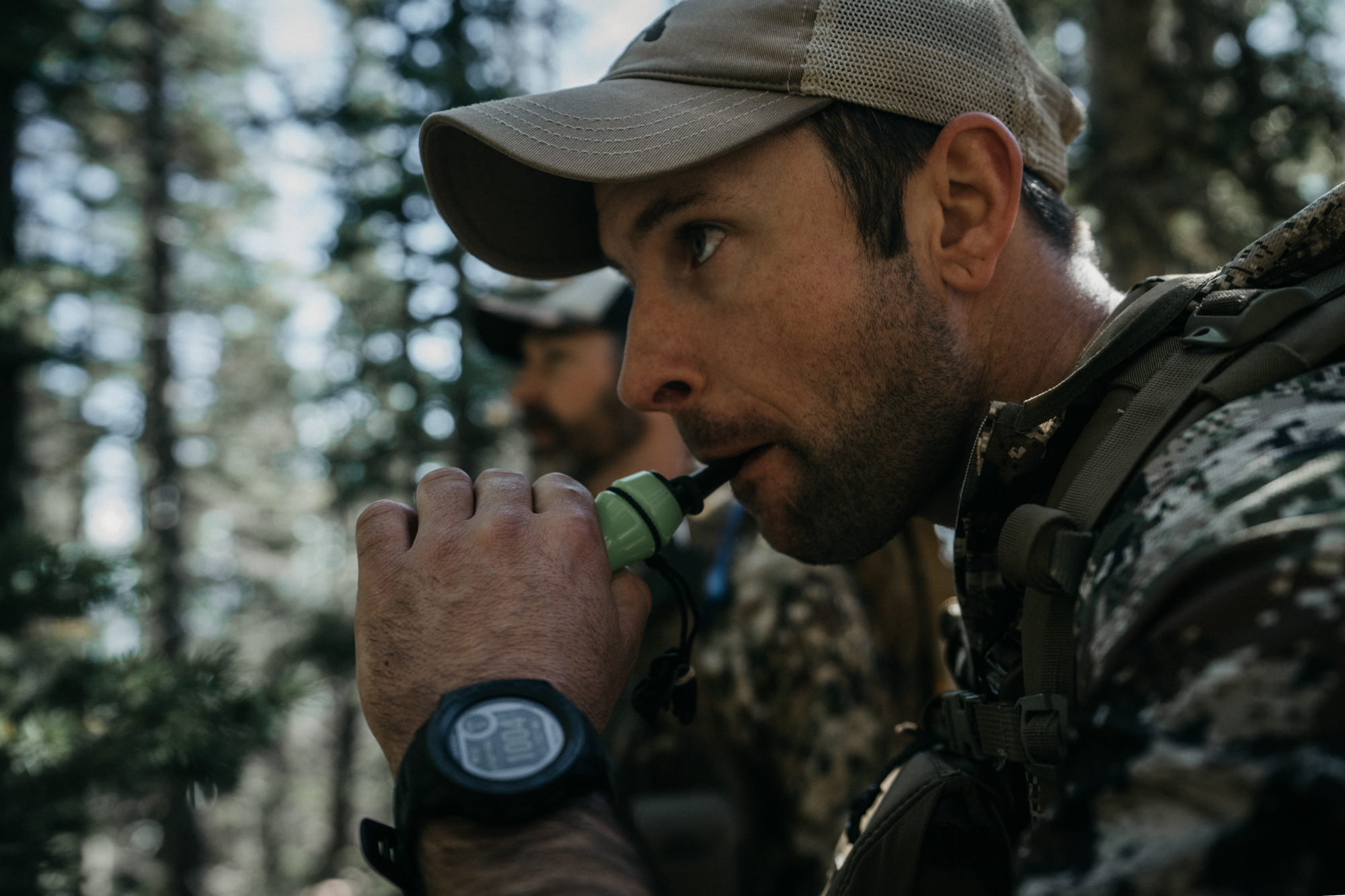 "We gotta go," Kurtis said.
"Really?" I mumbled. "Do we?"
"We do."
I told him I'd think about it. Two weeks before the season, another friend got looped into my apprehensive plan. He didn't have time off, then he did, and just like that, we were a party of three.
We hiked in 9 miles to the same spot, to my spot. I showed them the rock where I got so sick. The years had washed away the vomit. We thrashed our legs going in so deep, and didn't get on elk, then moved spots and got on them less than two miles from the truck. The hard way is so not often the best way. At least not the first way.
We heard cows close in an overlooked patch of timber near a draw. They moved through, but we sat down anyway and waited. Then in the dappled morning light, a straggler cow poked through the timber. She stopped broadside, and I drew. We had previously glassed up three bulls but hadn't seen them in days. We'd seen dozens of other hunters in this public OTC unit but hadn't heard a single bugle. Seven days in deep. DIY. Living off our backs. Suffering. And there she was, broadside.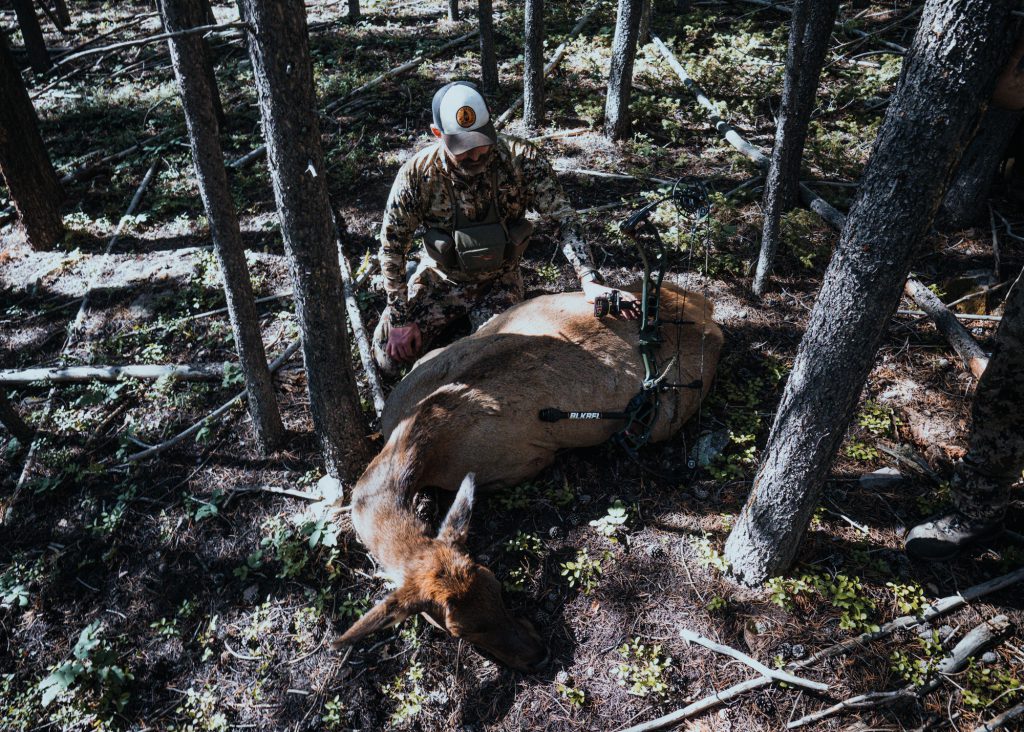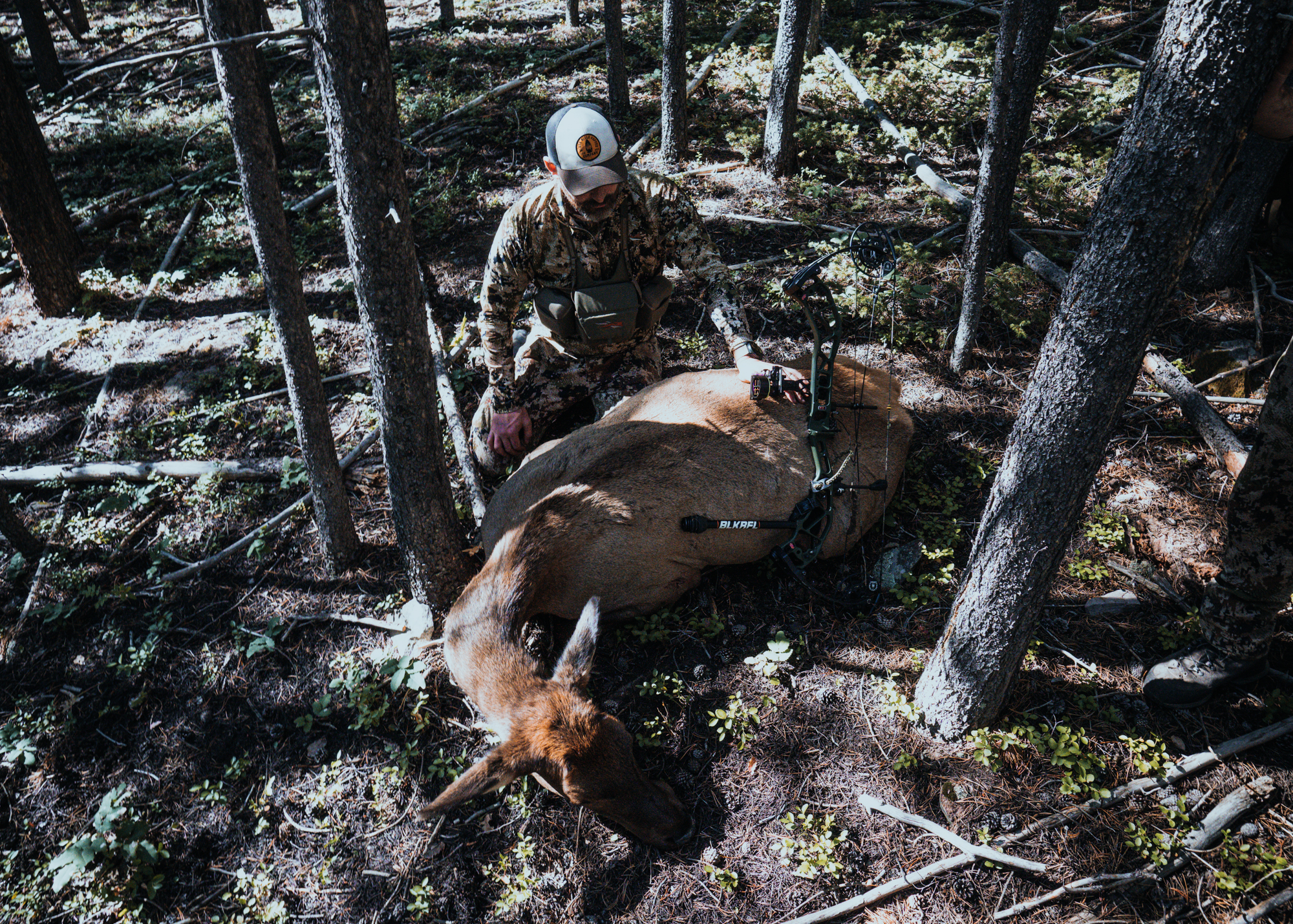 My arrow caught her just behind the shoulder in that soft triangle of flesh that covers heart and lungs. When she jumped, the arrow broke inside her, the broadhead skittering free into the timber on a fractured shank of carbon. She ran not 10 seconds before we heard her crashing, all ass over neck, rolling dead down through the trees. There was no blood. No time to bleed. The cow lay there near the creek bottom, perfect and clean.
I killed an elk this year. The curse, I think, is broken. I didn't do it alone. I couldn't do it alone. I did it with friends, with my new tribe, the lot of us all feral and stinking of ass, eating freeze-dried meals huddled over fires in the cold, light rain, sitting on glassing knobs for hours, telling stories and secrets and lies, and suffering through beat legs, bad sleep, and laughing about it all before getting quiet as trees — no wind but our breathing. Then a whisper: "50 yards, Shea. Take it."
Read Next: The Bear: Hunting Ursa Major in the Idaho Wilderness