In fly fishing, a "dead drift" is the perfect float, where the fly drifts freely in the current. The current controls the fly, not the fisherman. The technique is central to the art of fly fishing.
Dead Drift is also a kickass clothing brand that combines the Mountain West with the hardcore fly fishing lifestyle, creating a feel that's central to the company's unique design art.
Passionate fly fishing brothers Drew and Grant Doorn started Dead Drift in 2014. They wanted to fill what Drew calls "a huge hole in the outdoor lifestyle apparel industry." While there were plenty of gear brands catering to anglers, most of their everyday T-shirts and hats were basic and boring. Nothing made you want to wear them off the water. The Doorns wanted something better.
"We started Dead Drift in our garage, focusing everything around fly fishing but with more of a graphic design feel than some of the other outdoor brands out there," Grant told Free Range American.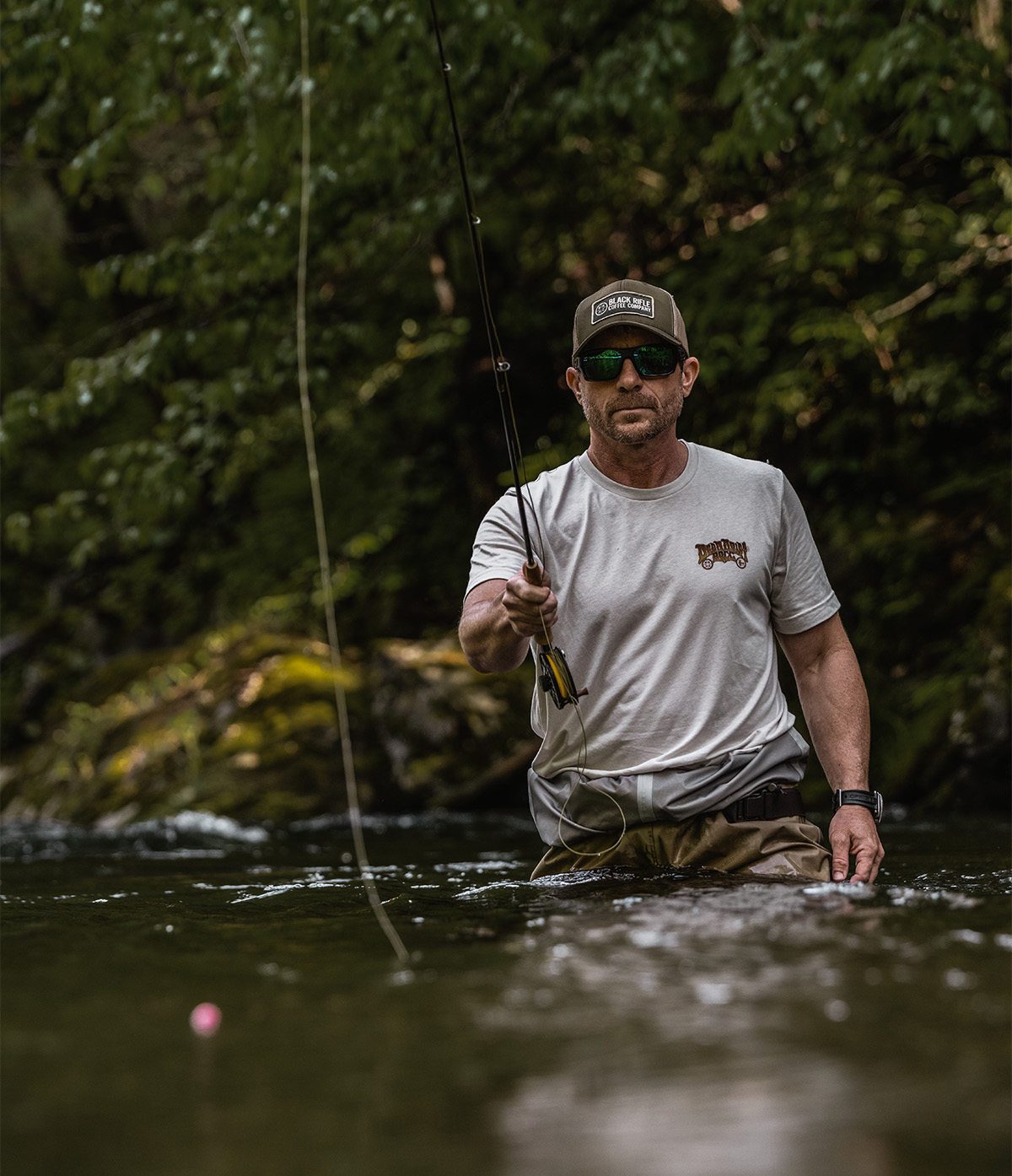 Good things start in humble spaces. Evan Hafer started Black Rifle Coffee Company out of his garage in Salt Lake City in much the same way. The Doorns began selling their fresh fly fishing–centric gear online and at local farmers' markets and have seen remarkable success.
Today, Dead Drift Fly Fishing Apparel has an impressive catalog of hats and shirts that every fly freak will love, and now the Doorns and Dead Drift have partnered with BRCC to bring Shirt Club subscribers a unique, limited-quantity shirt and sticker pack for May 2023 that won't be sold anywhere else.
"We wanted to bring a different look, something that anglers could wear to represent themselves on or off the water," Drew said. "It gives them something a little different that they can rock at a bar. It's representing what they love to do and where they love to be. And since it's cool enough to wear out, it's not strictly on-the-water gear."
RELATED — Marine Veteran Promotes Healing for People, Planet Through Fly Fishing
---
The Roots of Dead Drift Fly Fishing Apparel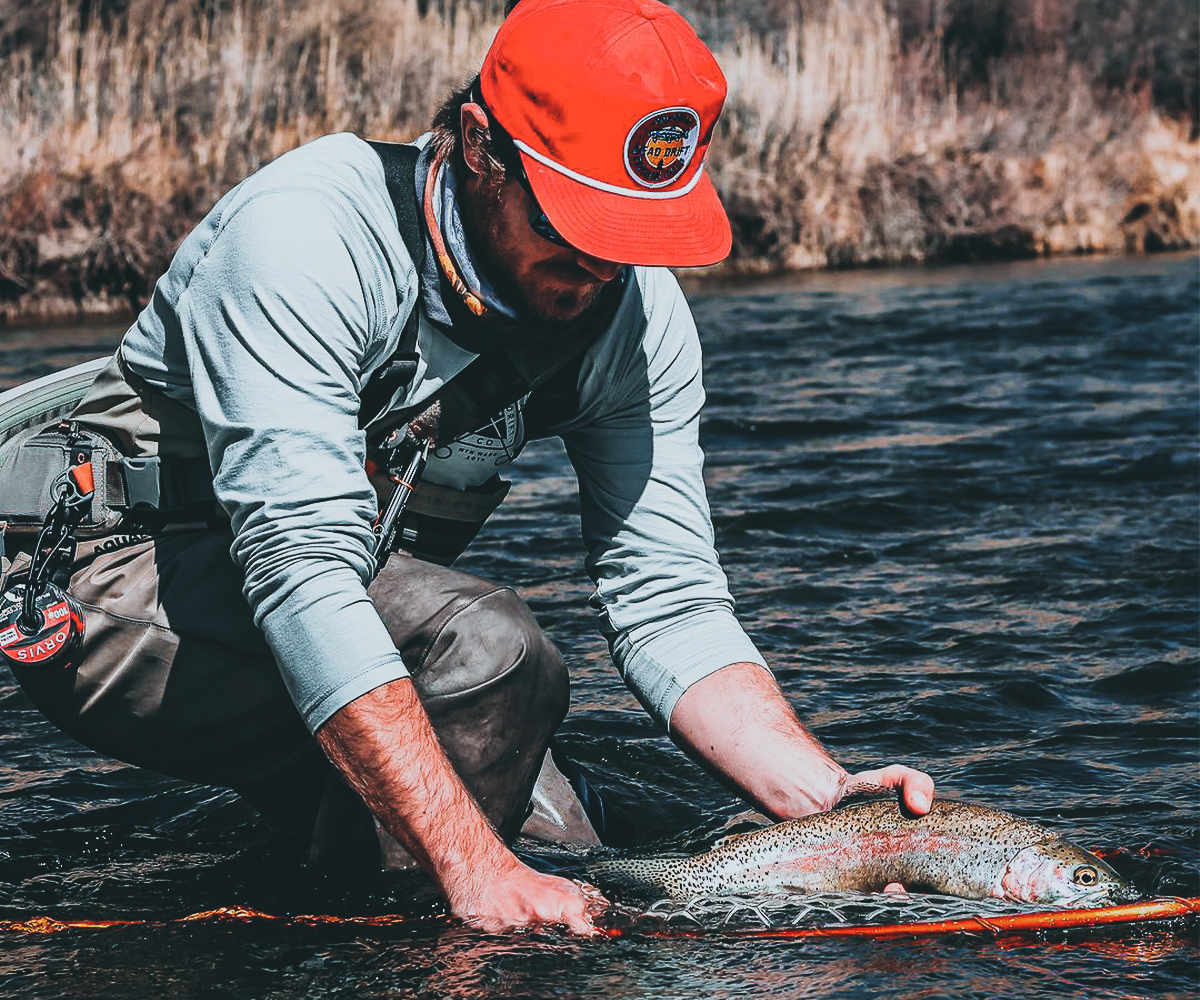 The Doorns grew up near Pinedale, Wyoming, a tiny map-dot-of-a-town in the Wind River Range a little over an hour south of Jackson.
"I grew up fishing a little creek there," Grant told Free Range American. "I was probably 7 or 8 when I got my first fly rod. I've been doing it ever since. We've always lived in places where there are trout streams and fly fishing. That's just what we do."
The brothers kicked off their business while Grant was still in college and working toward a Business Administration degree at the University of Wyoming. At the time, Drew was working in Baltimore as a designer for Under Armor, but he wasn't exactly loving the urban East. He decided to move back West and help his brother start something new.
With Drew at the design helm, Dead Drift's hats, tees, and hoodies are about as far from boring as Baltimore is from the Cowboy State. The company's lineup features everything from uber-simple designs inspired by woodblock prints to highly detailed optical illusions that play with the eye.
Many of the shirt designs resemble sick concert tees, some that look like they just stepped off a retro Grateful Dead tour bus and others with a hardcore, heavy metal vibe, only with cowboy hats, big streamers, and swirling trout. Like Pantera on a fishing trip (if you're old enough to remember Pantera).
"We just do stuff we think is cool," Drew said. "Because we're small, we have incredible flexibility. I get to really stretch my legs graphically."
GOOD GEAR – Kick Start Your Workout With BRCC's Fit Fuel Blend
---
Two Garage Businesses Meet
"We basically started with one T-shirt and a folding table at the Laramie farmers market," Drew said.
That Main Street farmers market is where fly fishing fanatic and Black Rifle Coffee Company's Kyle Heckman stumbled across the Doorn brothers' merch.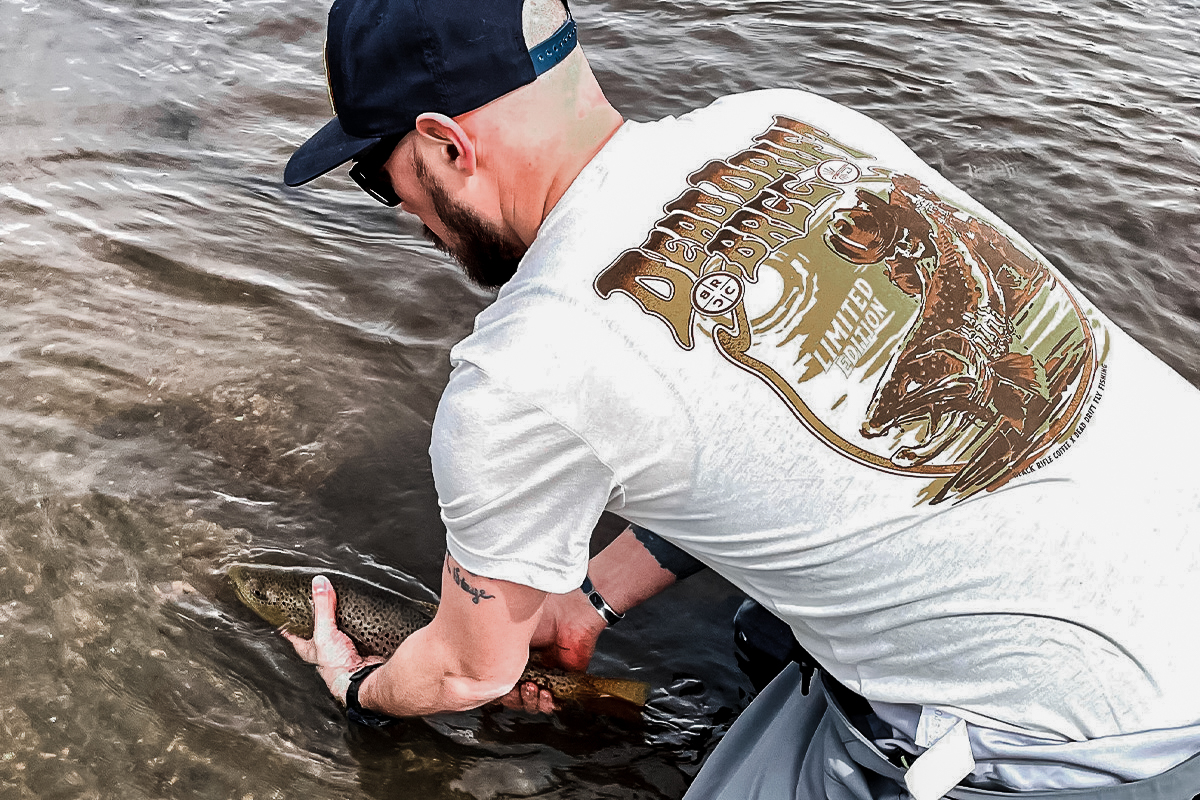 "I first saw Dead Drift's designs around 2016," Heckman said. "As a lifelong fly fisherman, I was instantly into what these guys were producing. All of them were rad designs for us trout bums who live and breathe fly fishing.
"My first hat from them I wore so much that it fell apart, and I pulled the patch off just in case they discontinued the design."
The duo grew their apparel business from a side hustle to a full-fledged, full-time business by developing what Drew describes as a "grassroots kind of vibe."
It is working. The company has more than 25,000 followers on Instagram and another 38,000 on Facebook. Both accounts not only feature Dead Drift's unique apparel designs but are also peppered with fly fishing imagery so stunning it will make even non-anglers itchy to wet a line on some freestone stream out West.
Dead Drift also landed a gig with Black Rifle Coffee Company thanks to its folding-table farmers market tour and one die-hard fan of the brand.
"Last year, I heard BRCC was looking at doing some apparel that was more fishing centered, and as the apparel buyer for the company, these dudes came straight to mind," Heckman said.
"I went a little rogue and shot them an email introducing myself and asked if they would be interested in collaborating with us, and they were into it.
"Now me and these great guys are getting to see our idea turn into reality."
The collaboration T-shirt features one of Drew's killer designs and will hit the mailboxes of BRCC Shirt Club subscribers this month.
"Obviously, I went with a big trout and then a skeleton with a Western appeal," Drew said. "Skeletons resonate with Dead Drift's customers. They love skeletons. They look cool, and they're pretty badass.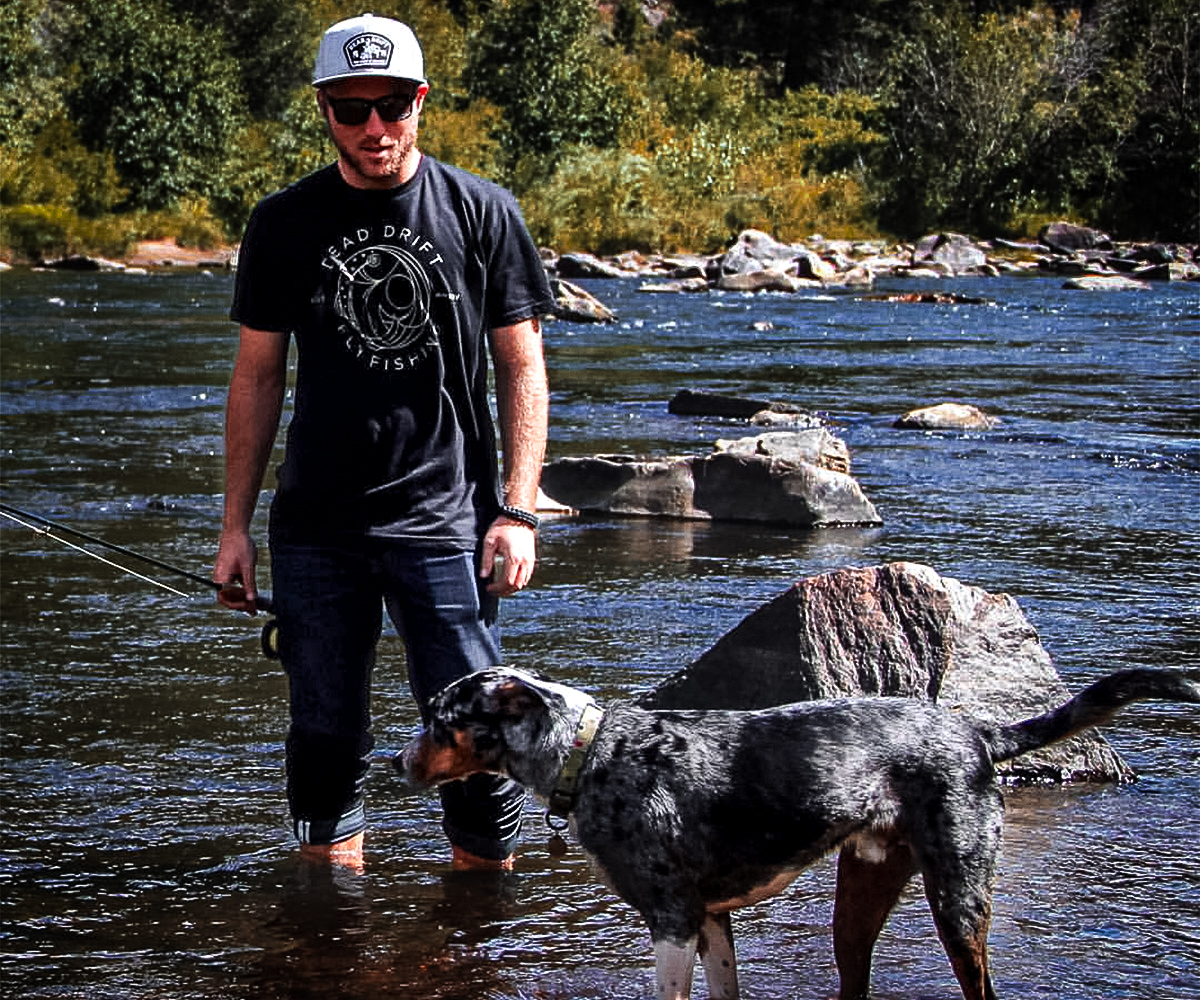 "It's a cool image. It was fun to do. It was challenging for me to create, and it's something I think will resonate with both Black Rifle Coffee and Dead Drift customers."
RELATED — Free Fly Fishing Video Series Sets up Beginners for Success
---
Staying Small While Continuing to Grow
Since the company's humble street-market beginnings, the Doorn brothers have moved the business from their tiny Wyoming garage to an even bigger garage in Bozeman, Montana.
However, running Dead Drift is still mainly a two-man job, although their canine director of public relations, Hatch, likes to keep an eye on things to ensure the business runs smoothly.
"This is very much a family business. We get help from our significant others, and our mom helps us with a lot of stuff. At Christmas, there are a lot of extra hands," Drew said. "But most of the time, it's just us day to day."
With no one besides Hatch barking orders, the Doorns can occasionally sneak away from the responsibilities of their growing business to wet a line.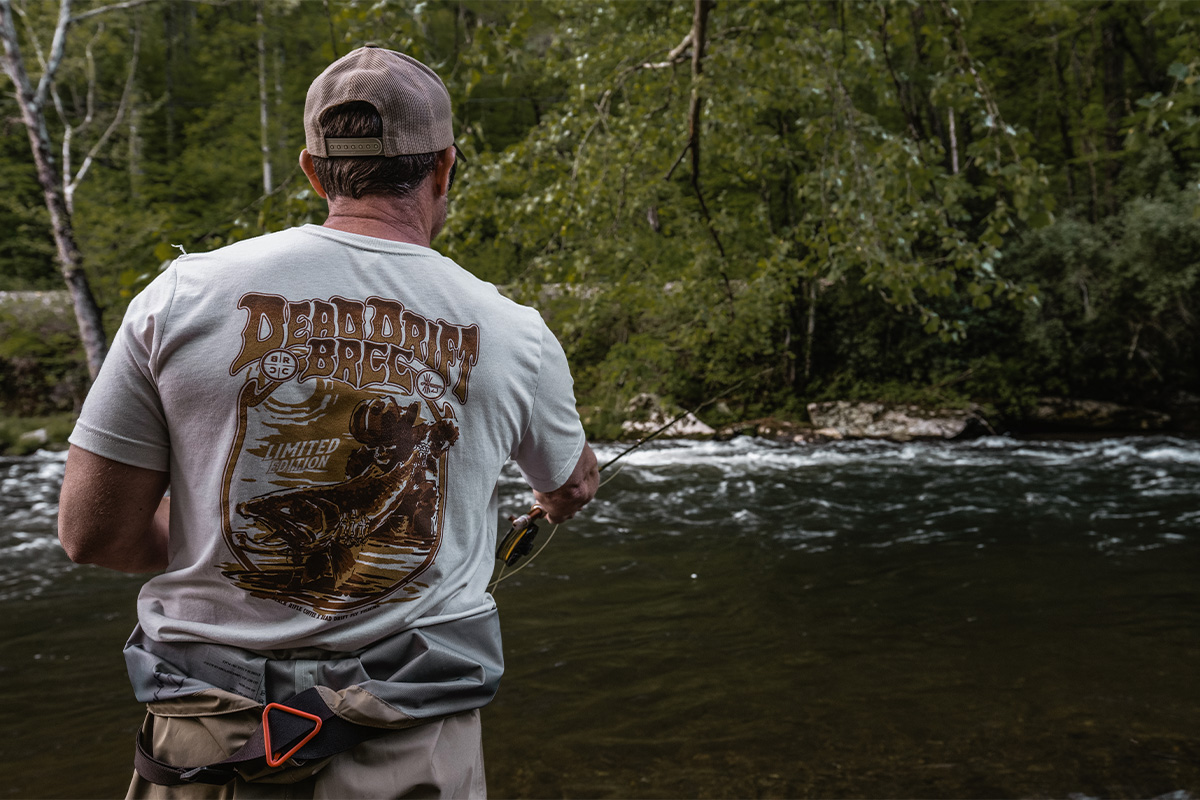 "I try to go fishing at least once a week," Grant said. "I just had my son three months ago, so I haven't gone out as much as I usually do.
"I tend to just go out in a pair of shorts and a T-shirt. Here in Bozeman, there's easy access to three major trout rivers, so you can go out after work, before work, or even at lunchtime if you want to.
"Fly fishing is just very therapeutic. It's one of those practices where I can go and not think about anything other than what I'm doing in that moment. If I have a tough day at the office, it's a good place to go and relax, decompress, and chase fish."
And you can bet Grant is totally rocking a cool shirt while doing it.
---
READ NEXT — Sex Dungeon? The Best Named Fly-Fishing Flies of All Time