Head 500 to 800 feet into the ocean depths off the Comoro Islands near the East African coast and you might find an ancient species of fish that can grow as big as a man and live for a century. Nicknamed "the living fossil," coelacanth outlasted the dinosaurs and haven't changed much since.
A recent scientific study in Current Biology shows that the coelacanth, which was believed to have a 20-year lifespan, actually lives to be closer to 100, making it one of the slowest-growing fish on the planet.
Fossil records led early biologists to think that the coelacanth had gone extinct more than 65 million years ago. Then, a live fish was discovered in 1938 off the coast of Africa. Of the approximately 90 species of this ancient order of fish that show in the fossil record, only two are still swimming the seas: the West Indian Ocean coelacanth, which lives off Africa, and the Indonesian coelacanth.


To be among the ranks of the slowest growing fish takes some serious physiological chops. Such fish need to have incredibly slow metabolisms and be able to survive on very small amounts of oxygen, but they also have to reproduce far less often than other fish do in order to conserve valuable energy and nutrients.
The coelacanth takes that to a whole other level. The females don't reach reproductive age until they're somewhere between 58 and 66 years old, and when they do get pregnant, they carry that bundle of joy for at least five years.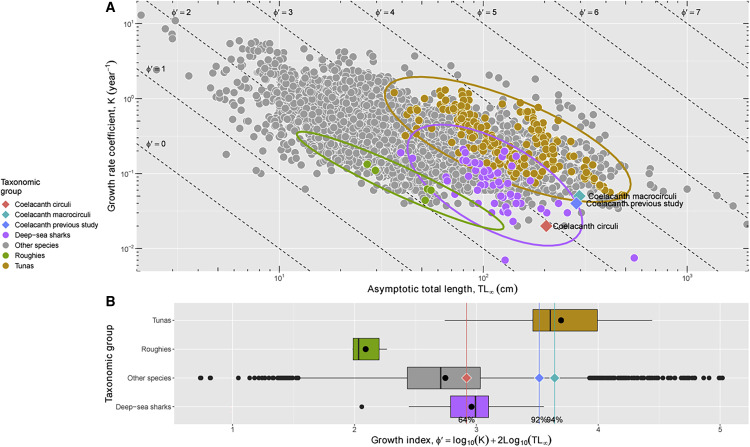 In a process known as ovoviviparity, female coelacanths and sharks grow their young in eggs inside the mothers' bodies. There, the young develop from fertilized eggs to embryos that hatch and are nourished by their own yolks. Once the pups are sizeable enough able to fend for themselves, they are birthed live.
Basking sharks can carry their young up to three years. The sperm whale clocks in at 480 to 590 days. Even the African elephant, the undisputed long-term mammal-pregnancy champ, only carries for 645 days. Coelacanths — in a "hold my beer" moment that only Mother Nature could construct — double the elephants' carrying time at 1,825 days, scientists think.
Still, when it comes to longevity, the coelacanth has a long way to go before catching the Greenland shark, the oldest specimen that scientists conservatively aged at 272 years old.
Nature is so freaking cool.
Read Next: In Praise of Shad